"Machi ★ Asobi vol.20" All articles summary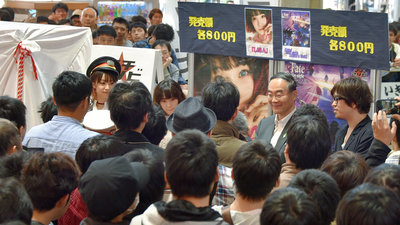 "I assimilate TokushimaCombined large event such as animation · game etc being held as the theme "Machi ★ Assobi vol.20"Will be held from May 4 (Fri) to May 6 (Sun) in 2018. With vol.1 being held in October 2009, we celebrated one division of eight and a half years, 20 times, and its momentum is increasingly flourishing. We have many guests and events to be held that can not be reached very much.

Machi ★ Asobi vol.20 2018.05.04 ~ 05.06 holding
http://www.machiasobi.com/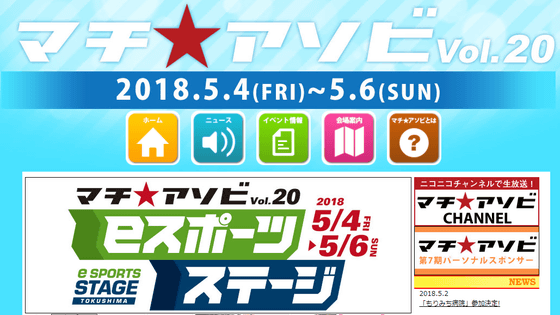 ◆ May 04, 2018 07: 00: 00 second
Awa dance collaboration poster I also tried all six kinds of collabo suit of 'Machi ★ Asobi vol.20' with a reprint of the picture - GIGAZINE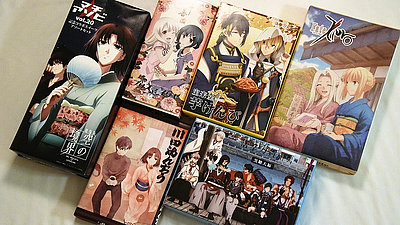 ◆ May 04, 2018 10:59:00
LiSA took office at the Tokushima station as one day station manager and held a departure ceremony - GIGAZINE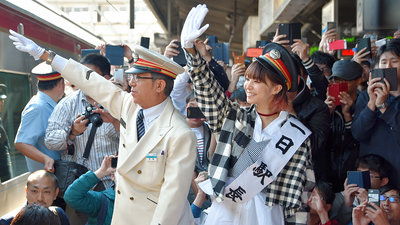 ◆ May 04, 2018 11: 16: 00 second
"Rice guardian's today's rice" Shiro Shinomiya and "Lucky △" Mountain Rope Guide Announcement announced by Kakamigahara Nadeshiko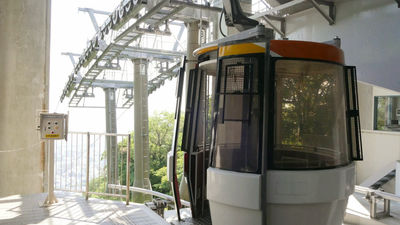 ◆ May 04, 2018 12: 1: 00 second
Governor of the prefecture is a big game and beautiful pro gamer and gash battle & general visitors can also compete with professional gamers "e Sports Stage" opening ceremony report - GIGAZINE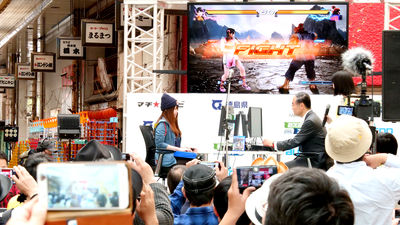 ◆ May 04, 2018 14: 23: 00 second
2018 Awa dance poster is "Today's rice of Sanemi-san", Gusset ★ to illustration where "bonds" to Awaodori who became the opportunity to organize Asobi graze - GIGAZINE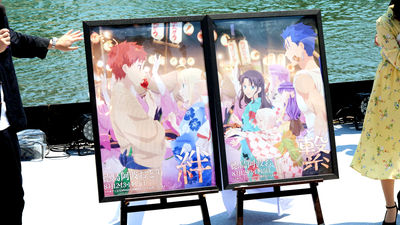 ◆ 2018 05/04 4:01:00
Theater version "Fate / stay night [Heaven's Feel] II. Lost butterfly" key visual lifting ban - GIGAZINE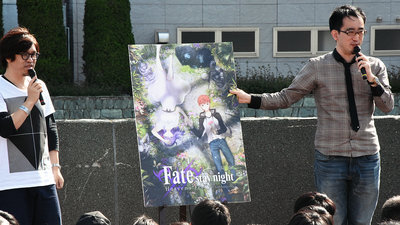 ◆ May 04, 2018 18: 22: 00 second
"Blood donation saves somebody's body (Sekai)", an anthropomorphic animal "Hataraku cells" donate blood and collaboration - GIGAZINE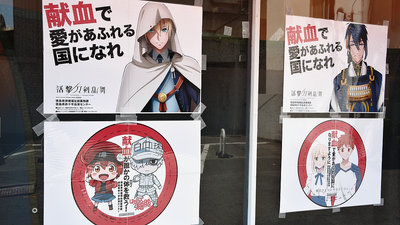 ◆ May 04, 2018 18: 40: 00 second
Exhibition of super large giant pla rail linking rails thoroughly as if "compromise death" is eminently embodied - GIGAZINE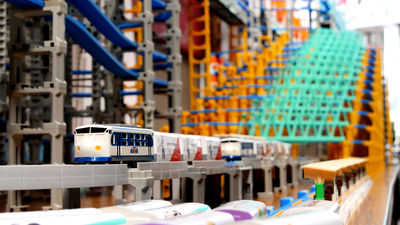 ◆ 2018 05 04 4 21 00 00 00
【Cosplay Summary】 Beautiful Cos & Creative Tribute Crazy Cosplay gathered "Machi ★ Asobi vol. 20" - GIGAZINE



◆ May 20, 2018 22:43:00
A competition is held to decide the master who manipulates the game mostly skillfully by playing the game "RUN! RUN! Lancer!" That Lancer of Fate / stay night becomes an 8bit wind dot picture. - GIGAZINE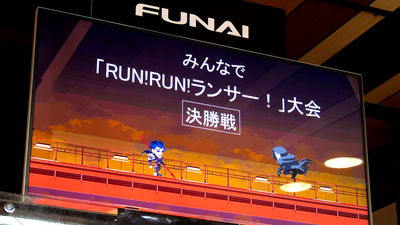 ◆ May 04, 2018 23: 10: 00 second
Looking back on Machi ★ Asobi vol.1-19 "Machi ★ Assobi Photo Exhibition to Make with People" and "Machi ★ Assobi Album"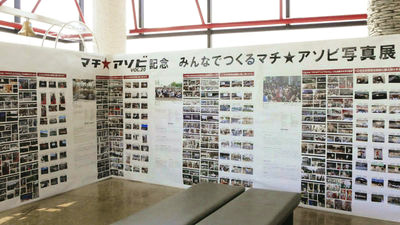 ◆ May 05, 2018 06: 00: 00 second
Animation to draw deliciously anyway "Today's rice of Mr. Minori" Staff talk show - GIGAZINE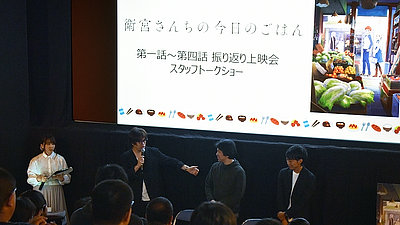 ◆ May 05, 2018 10: 42: 00 second
"FLOW × Machi ★ Associate Talk Event" where the deep relationship of FLOW and animation was told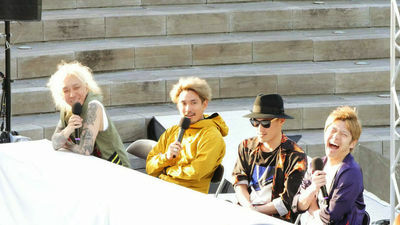 ◆ May 05, 2018 13: 18: 00 second
Collaboration illustration with Coca-Cola & "Tranny" talk event which "release on Pilgrim traveling by train" was decided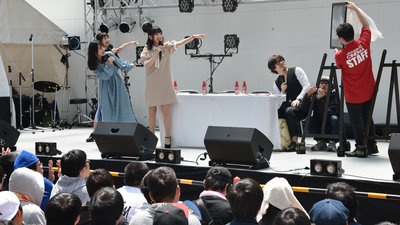 ◆ May 05, 2018 14: 52: 00 second
Superimposed document "Mechagodzilla Development Proposal" was distributed in the movie GODZILLA Talk event Director Shizino, Director Segushi, Ao Yo Ozawa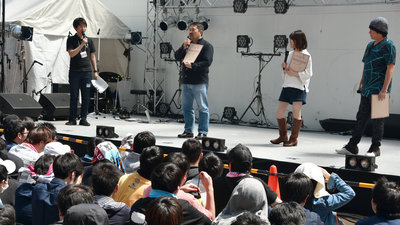 ◆ May 05, 2018 16:20:00
"Imperial family's today's rice" and the Tokushima specialty collaboration cooking event, "Tokushima prefecture bamboo gratin gruel" gathered by the fans gathered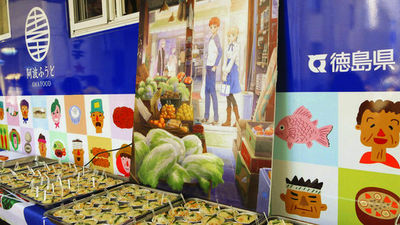 ◆ May 05, 2018 17: 21: 00 second
What is the difference between hand drawing and digital drawing? Director Yasuhiro Irie, drawing on "FULLMETAL ALCHEMIST" and "Burning table tennis daughter" while drawing - GIGAZINE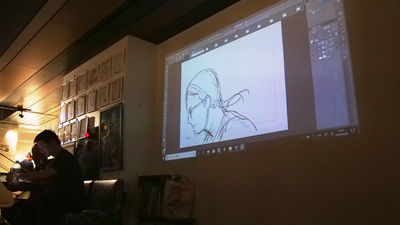 ◆ May 05, 2018 17: 55: 00 second
Animeization of 'Ulysses Jeanne d'Arc and Alchemist's Knight' announced at the stage event of Machi ★ Asobi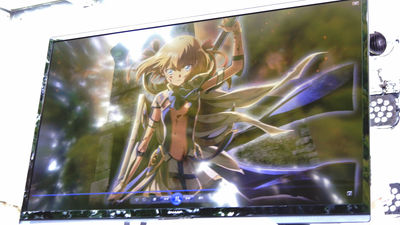 ◆ May 05, 2018 22:49:00
I ate a "ramen noodle curry rice" which a ramen noodle worked with a flavor of taste at creators in pack



◆ May 05, 2018 23: 10: 00 second
Sports manga "Hanebado!" And "Haruka Receive" originally duplicated original exhibition in July 2018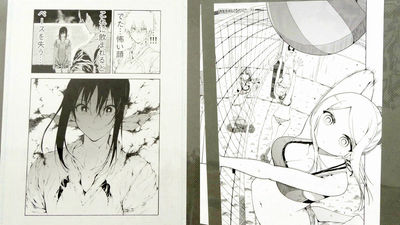 ◆ May 1, 2018 01: 39: 00
Real event report of animation "Last period", which is constantly laughing even at the screening with gag heavy bursts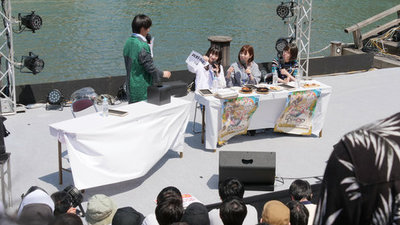 ◆ May 06, 2018 06: 00: 00 second
Books produced by voice actor manager "voice actor" "manager" "work theory" a book "produce voice actor" is a book that also leads to other work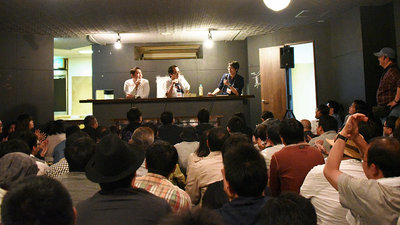 ◆ May 06, 2018 18: 17: 00 second
"High Score Girl" "Happy Sugar Life" Exhibition of Square Enix's Popular Manga Works Original Drawing Exhibition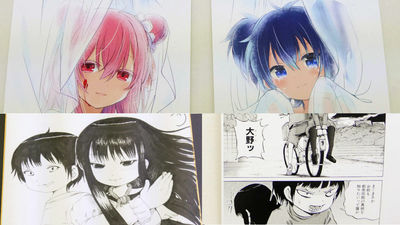 ◆ May 06, 2018 18: 23: 00 second
"Machi ★ Asobi vol.20" closes, the next round will be from October 6th to 8th, 2018 - GIGAZINE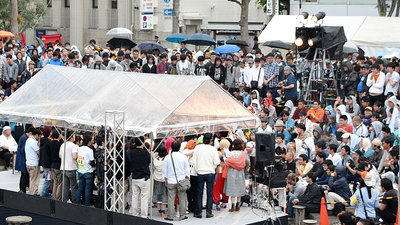 ◆ 2018 05/06 22:40 minutes 00 seconds
He ran over Gosa floating in the river and answered quizzes where Otsuka Akio and Nakamura Ririko asked quizzes "Machi ★ Asobi RUN King"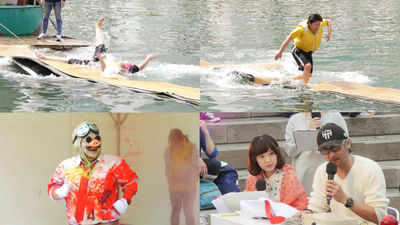 Although it rained a bit on May 2 (Wednesday), the weather recovered on the 3rd, and it became a forecast that it will be almost sunny during the gore ★ Assobi period. Once seen from any direction, it is like an eyebrow, so you can see the appearance of "Bizan" with its name clearly.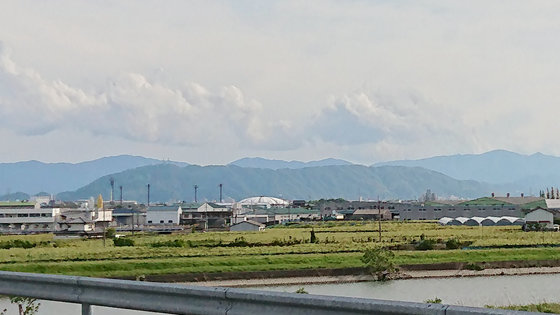 ◆ Machi ★ Assobi presents "Night falling singingConcert ~ Second night ~
The gore ★ Asobi is held for three days from May 4 (Fri) to 6 th (Sunday), but there are related events held outside the exhibition period. One of them is "the night when the song falls". In the event held for the first time at Machi ★ Asobi vol.15 held from September to October 2015, this time is the second time, the appearance isLiSAWithAimerMr. All tickets specified · 4500 yen tickets were sold out beforehand.

The venue was the outdoor theater in Tokushima Prefecture Cultural Forest Comprehensive Park. It is the part of the white roof at the back of the photo.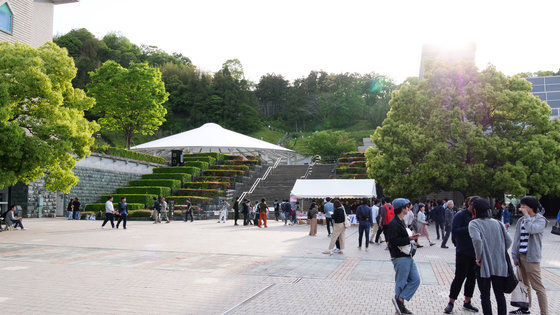 In the location that there is a mountain behind, a museum in front, it comes with origami as a live environment.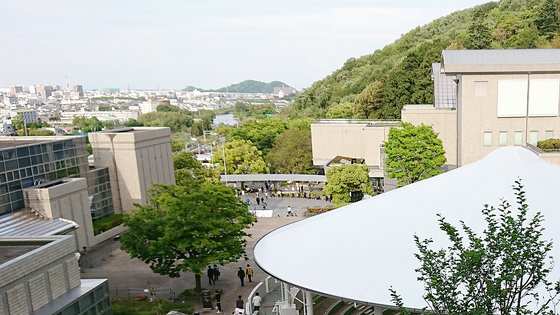 People waiting for the opening were waiting around the performance.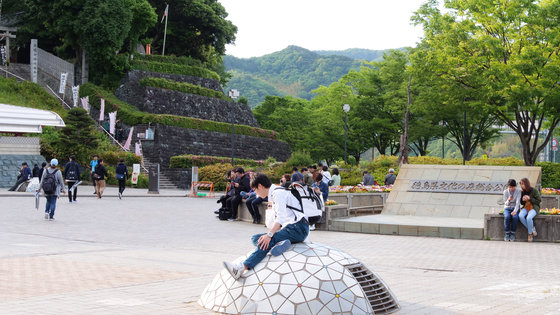 You can see a glimpse of what kind of concert it was made, LiSA's publicly showing the situation for a bit.


Tokushima, Thank you Tori!# Machiasobipic.twitter.com/0GfMlnBBtj

- LiSA (@ LiSA_OLiVE)May 3, 2018

Aimer says "I feel like Tokushima even more" and tweets impression. It seems that it was a wonderful night.


"Night of the song" with LiSA The second night is over. The night Tokushima came to like me more. The song with LiSA was also very pleasant. Mr. Staff, LiSA, everyone, thank you. I am very happy to see you again. Aimerpic.twitter.com/9faCPNGzjZ

- Aimer & amp; staff (@Aimer_and_staff)May 3, 2018

◆ Noh · Kyogen performance in Machi ★ Assoby
In addition, "Noh · Kyogen performance" was held at Awagin Hall as a special collaboration. This was sponsored by the Tokushima Prefectural Culture Promotion Foundation, which is organized by the Public Interest Foundation Tokushima Prefectural Cultural Promotion Foundation. The theme is Noh "Small Blackhead", Kyogen "Awadaguchi", Semi "Nobashige Bridge", Mai "Tsuruyama Kiri".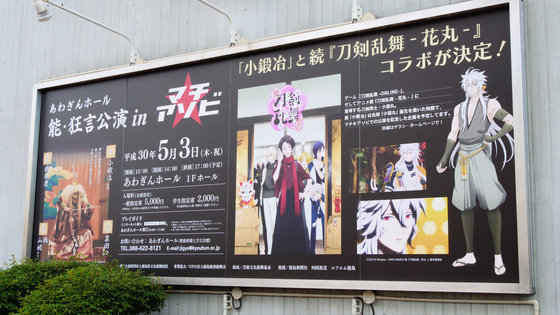 Noh "Smithsmith" is a story depicting the birth of a sword "Kofu-maru", a collaboration with "Continuing" Takenoran Ranbu - Hanamaru - "was performed and the entrance draws for this collaboration Small fox round illustration called me greeted. Also, the collaboration clear file was distributed.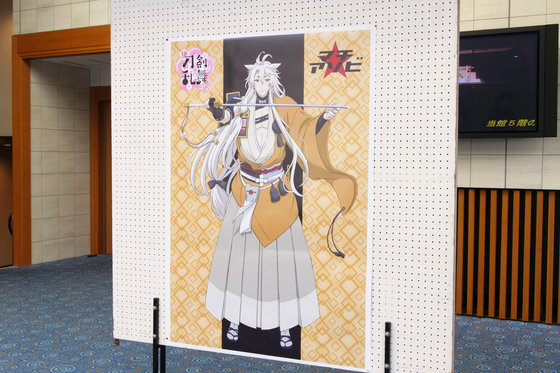 Here is "Rai ken Tanbu Ranbu"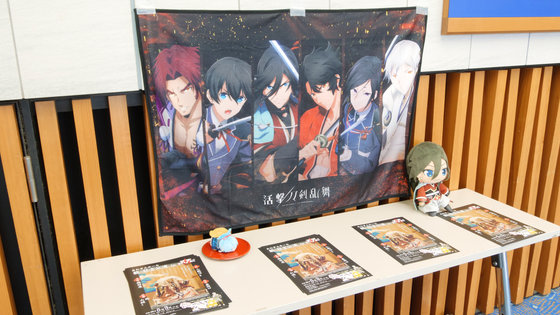 An explanation panel of "Smithsmith" was prepared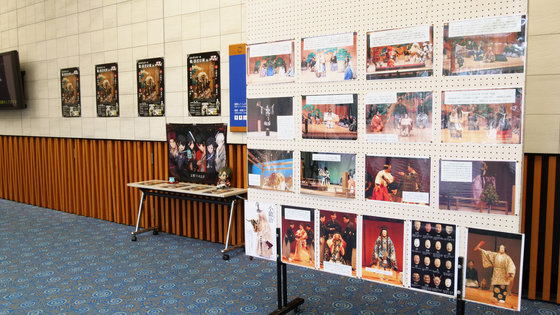 Exhibition of folding fan etc. Although the content of the performances to be held this time is Noh and Kyogen itself unrelated to Sword Ranbu itself, it is said that there was also anxiety about how much interest may be gotten before the event, but customers are quite It was entering and it was interestingly watching the exhibition.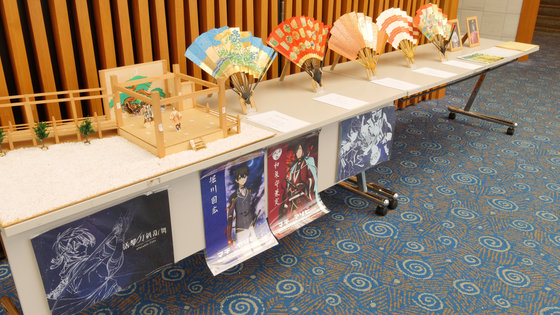 ◆ Solder Somen
Many eating and drinking establishments are connected to Asobi. One of themShirataki noodle"Solder Somen".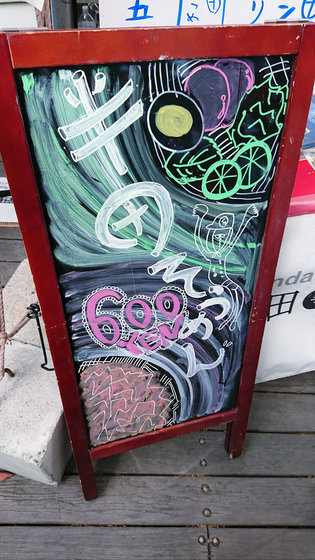 The menu is a cold soup of dried shrimp Mori Iruko Mix soup and warm sorimo of soup stock of Milkfish Grasshopper Mix. Both of them are 600 yen per cup, and you can get one collaboration fan (all three types) "Oranha."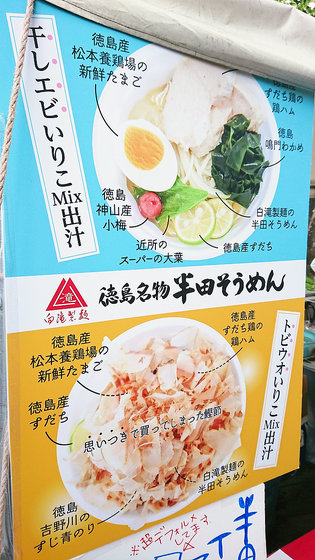 This time I ordered a warm somen. We purchased together "Energy drink only for Awa Odori" New flavor of Awa Rise "Awa Rise Sushi taste"(150 yen)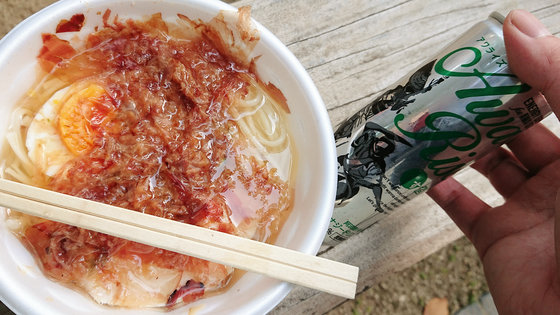 Chicken ham and sushi are hidden under a lot of bonito. As something seems to stain into a body without habit, a somnolen with a slightly thick, solid texture gives power to the event-tired body.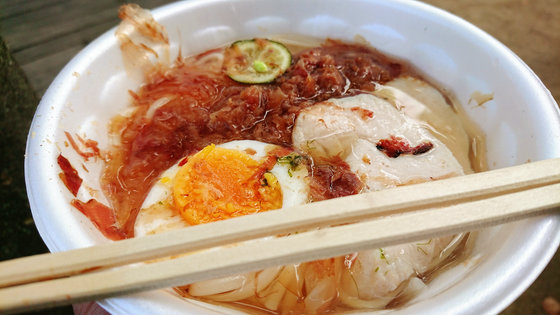 By the way, this time, the first day was sold out at 16 o'clock in "Demonic like sales". The shop is behind the Binji Bridge Nishikoen Stage and there was also a charging space, so please charge when eating a noodle when the smartphone is stuck.

Machias mouth first day!
It sold out at 16 o'clock unexpectedly how soldered Somen made sold like a demon.
I will do my best with this member tomorrow!

Since this time the cute staff is full, please do look it!# Solder Somen# Machiasobipic.twitter.com/4SoV7AflMf

- Shirataki made noodles ★ Asobi! ! (@ shirataki_co)May 4, 2018

◆SWEETS WAGEN
Movement crepe shop decorating store name with balloon · SWEETS WAGEN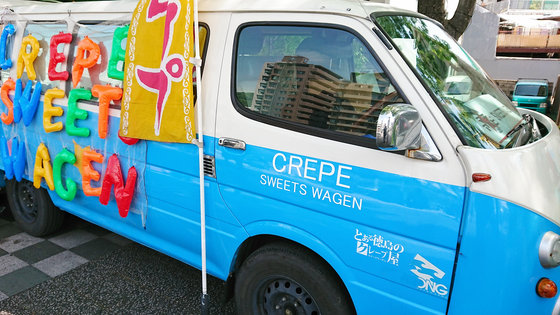 game"Rui calls Ji"I saw the 10th anniversary collaborative crepe" Yuzu Kim Jong-il Crepe "(450 yen) and" Gokushima indigo crepe "(450 yen) exclusively for Aoshi, so I ordered it.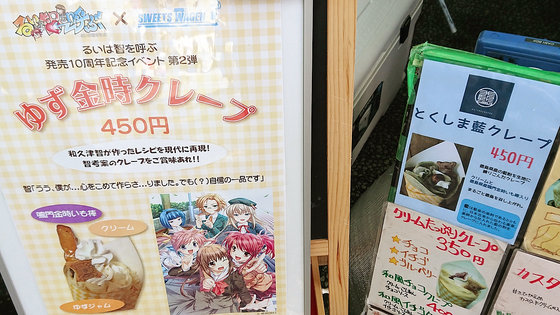 In any case, gold sticks are included, but Tokushima indigo crepe contains indigo leaf powder to be used for indigo dye, so the color of the fabric is slightly blue or gray, or somewhat food To a color that is not good. However, although it looks intense, it is creepy and sweet crepe when eating, so please order with confidence.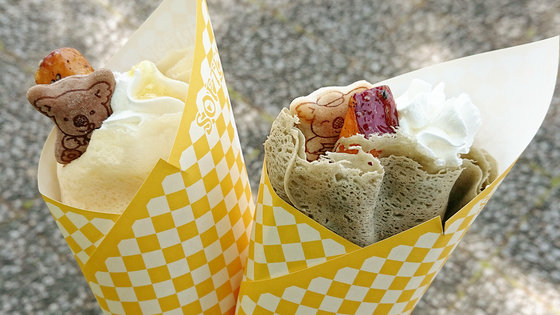 ◆ ufotable cafe TOKUSHIMA × "Today's rice of Sanemiya" Collaboration cafe
ufotable cafe TOKUSHIMAThen, an acclaimed animation "Today's rice of Mr. Sanemiya"It was holding a collaboration cafe with. Two food drinks "Spring vegetables and bacon sandwiches (1000 yen)" "Spring fragrant, Hannari sakura rice (850 yen)", drinks are "Assassin" "Shiro" "Kasugi & Caster" "Issei" "Konbu tea "(Five for each 600 yen).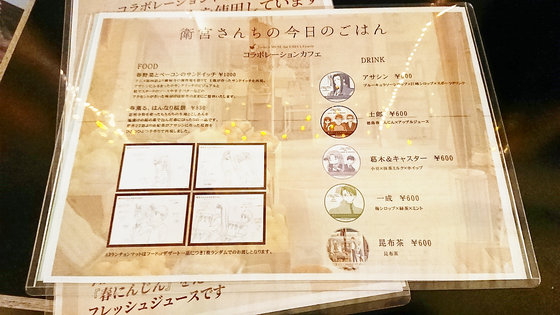 However, at the time of visit, since all the food menu was sold out, I order "Shiro" using Tokushima Spring carrot.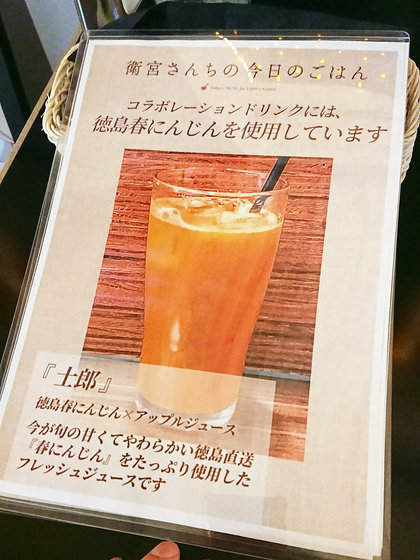 "Spring carrot + apple juice" combined product. It was a fruit juice which became cooler and cooler as a whole, while the grilled carrot with a little granular feeling remained.