"Machi ★ Asobi vol.17" All articles summary


An event packed with various animation, games and other content "Machi ★ Asobi vol.17"The climax run will be held from October 8th to October 10th. In addition to events along the river, events at cinemas, entertainment using shopping streets, live events and other events with a special stage on the mountain are scheduled. Many events are available for free viewing. This time, I will also follow the situation for three days.

Machi ★ Asobi vol.17 2016.09.24 ~ 10.10 held
http://www.machiasobi.com/

"Machi ★ Asobi vol.17" has been running for the climax run called "first run" "second run" from September 24. At the Tokushima Awaodori airport, a huge Wickermann (human type cage) appears.

Giant Wickerman starts airing at the airport "Machi ★ Asobi vol.17" First run started - GIGAZINE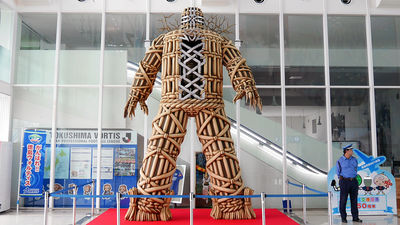 And Tokushima station was dyed in the ticket gate and building "Tales of Sustria the Cross", "Tales of Berceria", "GOD EATER ONLINE".

"Tokijima station wrapped in animation" Machi ★ Asobi vol.17 "Second run - GIGAZINE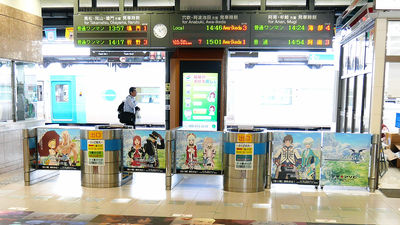 I will summarize what kind of event is scheduled in the following article, please check with official website and official Twitter information as well.

Summary of event information revealed at "Matsuri Asobi vol.17 Eve aging festival" - GIGAZINE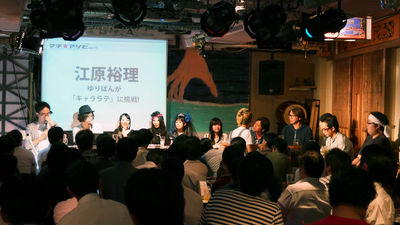 Below are the climax runs.

◆October 08, 2016 11: 21: 00 second
Tales velvet and Sley tried a tour of the mountainside ropeway which will give tourist information for a limited time - GIGAZINE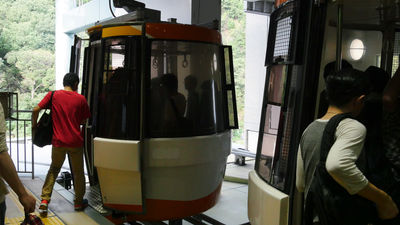 ◆October 08, 2016 12: 47: 00 second
Opening ceremony of "Machi ★ Asobi vol.17", governor, anime ambassadors and others challenged Sudoko-kun painting songs - GIGAZINE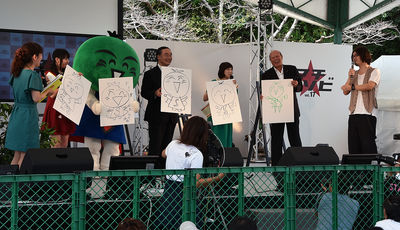 ◆October 08, 2016 14: 25: 00 second
Become a pain car to that Ferrari, descend to the venue of Machi ★ Asobi vol.17 - GIGAZINE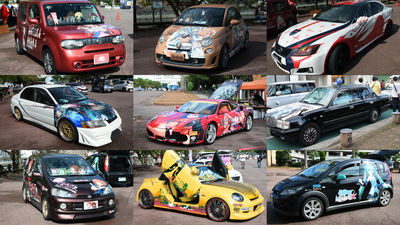 ◆October 08, 2016 17: 39: 00 second
Three popular idol voice actors are appointed chief of police station one day, patrol cars to the city patrol - GIGAZINE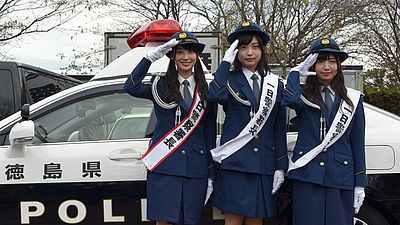 ◆October 08, 2016 19: 48: 00 second
That "Blue Demon" made a black comedy and wrong / screenwriter · Abiko Takesuyu real suspense horrorized animation "blue demon" talk show - GIGAZINE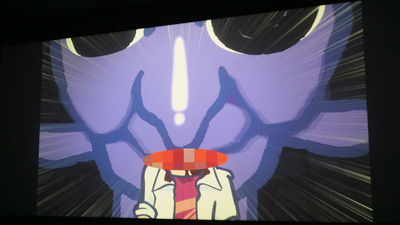 ◆October 08, 2016 20: 15: 00 second
Kishida Mel is Charadesa & Supervised Bishoujo × Gakuen × Magical Girl Heroic RPG "BLUE REFLECTION The Girl's Sword Fluttering in Phantom" - GIGAZINE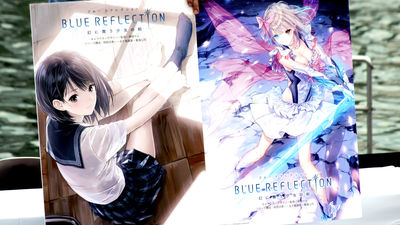 ◆October 08, 2016 22: 41: 00 second
Animation "Gabu reel dropout" special animated drawing depicting a falling angel gathering in the everyday animation strongest staff and falling into Netoge - GIGAZINE



◆October 09, 2016 00 hours 11 minutes 00 seconds
"Qingshu Talk & Drinking Party" to drink lots of beer & Japanese sake with voice actor - GIGAZINE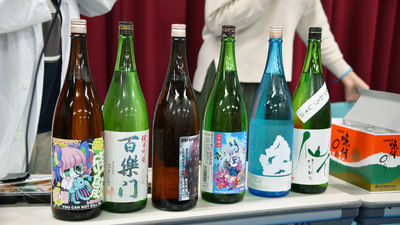 ◆October 09, 2016 01: 03: 00 second
Udon prefectural vice governor's next notice impacts oversized "Udon no Kuni golden hair ball" screening & talk show - GIGAZINE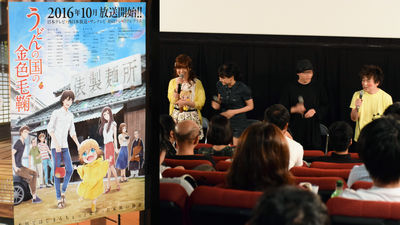 ◆October 09, 2016 08: 36: 00 second
Girls' enthusiastic table tennis story "Burning table tennis girls" participated in gore ★ Asobi, table tennis table appeared - GIGAZINE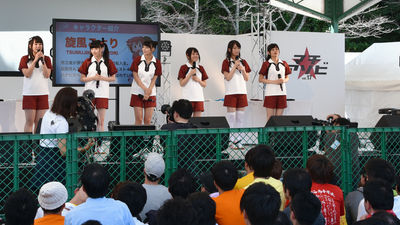 ◆October 09, 2016 12: 30: 00 second
Demon gourmet of notable manga "Dungeon Rice" taking the No. 1 in "This manga is amazing!" And "Recommended comic book chosen by nationwide writing clerks" food samples - GIGAZINE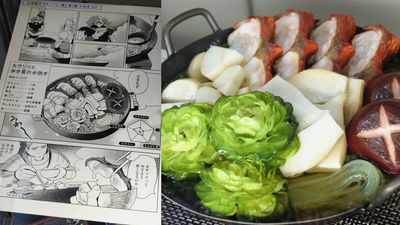 ◆October 09, 2016 14: 1: 00 second
First stage event report of VR idol project "Hop Step Sing!" Voice actor experienced VR experience - GIGAZINE



◆October 09, 2016 14: 28: 00 second
Ministry of the Environment × "Orange." Reuse Cup Experience I tried to acquire a special tumbler with a stamp rally - GIGAZINE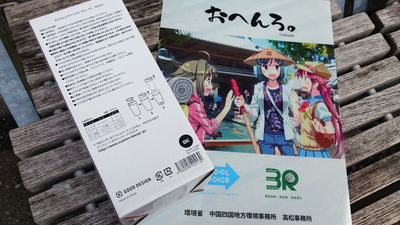 ◆October 09, 2016 15: 37: 00 second
Mizushima Shiji × Takahashi Ryuya × Minazuki Toru project "Escaquone" decided to animate - GIGAZINE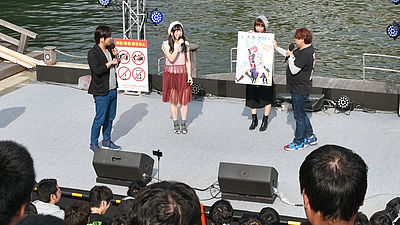 ◆October 09, 2016 19: 25: 00 second
New type animation award 2015-2016 Result announcement, the work prize is "Your name is." & "Kabaneri of armor castle" - GIGAZINE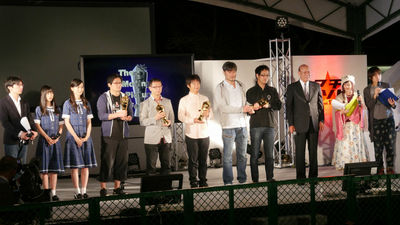 ◆October 09, 2016 21: 35: 00 second
"Hakkodorumachi ★ Assorted vol.17 Special Stage" that Hakka Doll No. 2 No. 3 invented his own work and invented a chaos work "The Ultimate Animation" and "The First Story of an Interesting Manga" - GIGAZINE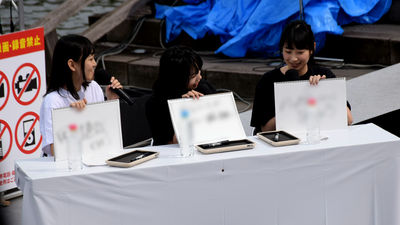 ◆October 10, 2016 03: 00: 00 second
"COCOLORS" special collaboration LIVE report screening in unprecedented voice actor posthumous drama & band live performance & singer live songs - GIGAZINE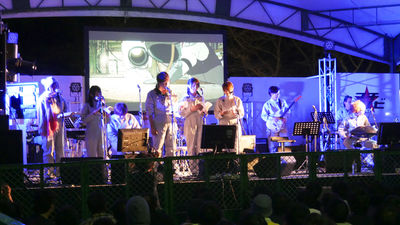 ◆October 10, 2016 14: 30: 00 second
Animator understands how much you are concentrating on 5-minute animation "Taro Boy's Youkai Picture Diary" & "Mr. Bernardo says" 1 episode screening in Cinema - GIGAZINE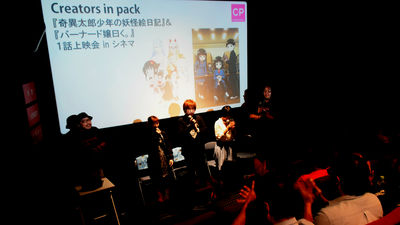 ◆October 10, 2016 17: 07 minutes 00 seconds
400,000 yen high price bidding also pops out anime & game full of rare goods ★ Asobi vol.17 "Charity auction" - GIGAZINE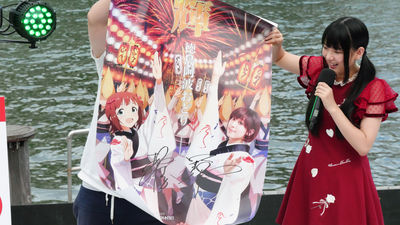 ◆Eve of night event: 1stSaku eve"Talk & recitation meeting"
On the eve of the climax run starting on the 8th, the first attempt was "Talk & Recitation".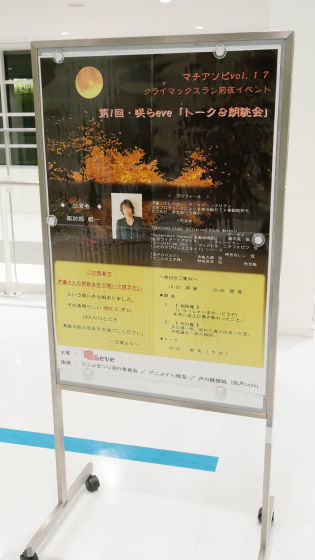 The hall is the hall of the Civic Center. It is a place that is not used in too much gore ★ Assobee.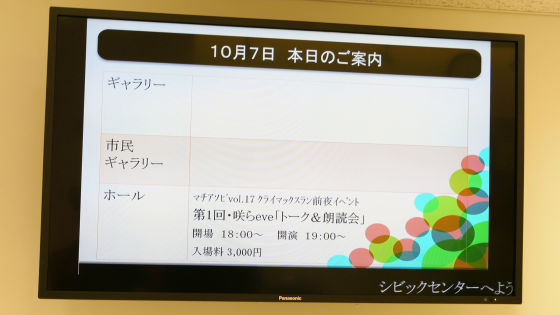 "Fate / stay night [Unlimited Blade Works]" Widely active in the role of Archer, "The Prince of Tennis", Keigo Atobe, "Yuri !!! on ICE" role as Viktor Nikihorov, "Masked Rider Exe" narration Mr. Junichi Suwabe appears.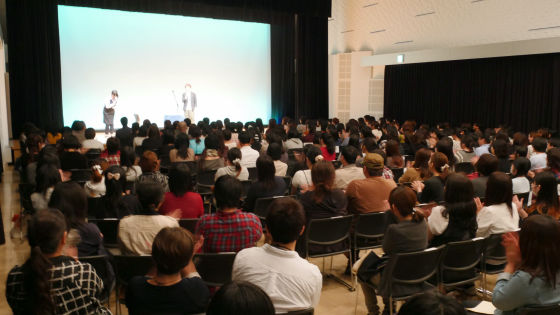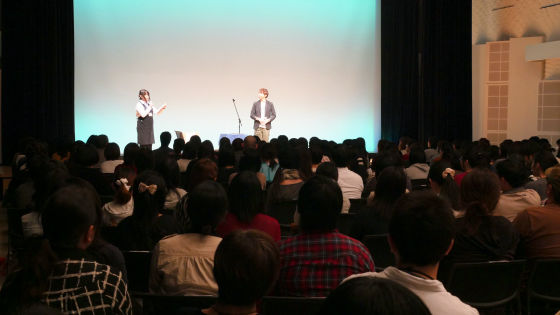 Outside the venue, merchandise sales were held.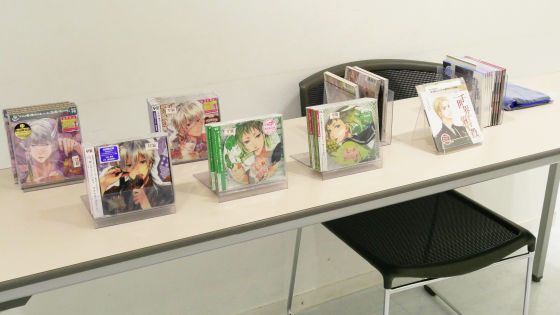 ◆Eve of the night
The stage / venue was set up for the event from the next day.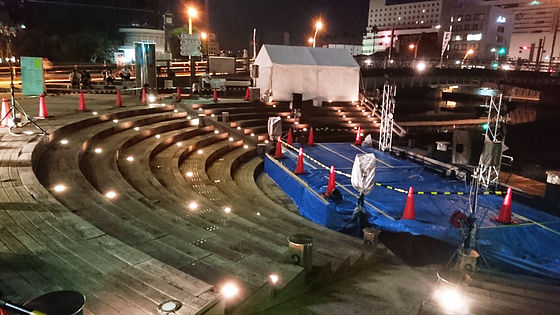 Information on venues established in shopping areas.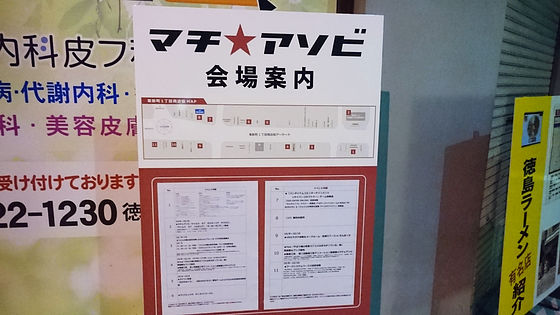 Gusset ★ According to Asobi, a ramen store · Lunch shop introduction also appeared.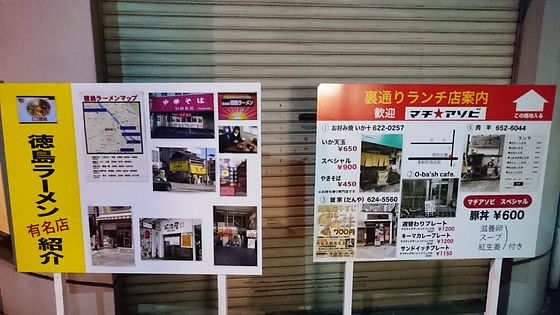 Even ufotable CINEMA, the installation was done late at night.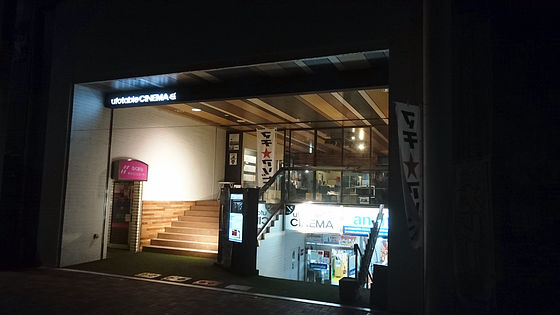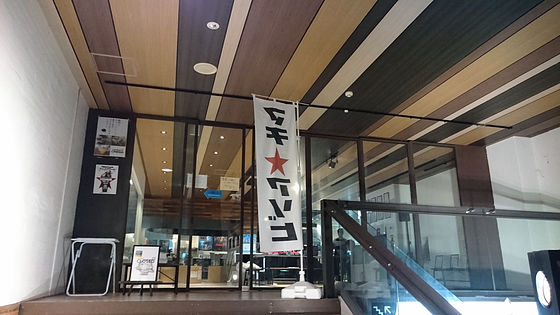 Although the interior of the arcade is dark, light was leaking from the store where the setting work is done.



"Match ★ Asobi shopping street playing everything!"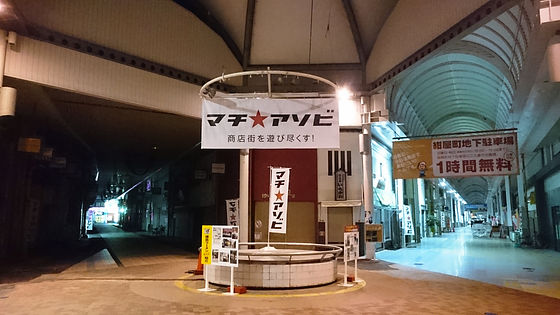 ◆State of the first day
It rained in the morning, but before the event started somehow it became cloudy weather.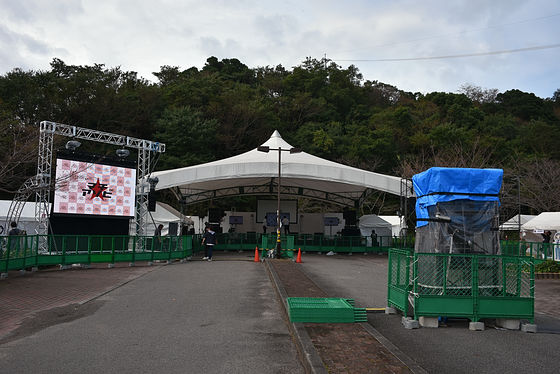 ◆Wake Up, Girls! 7 people gore ★ Asobi
"Wake Up, Girls!" Seven people gathered at the Mountain top of the Mountain, and performed live.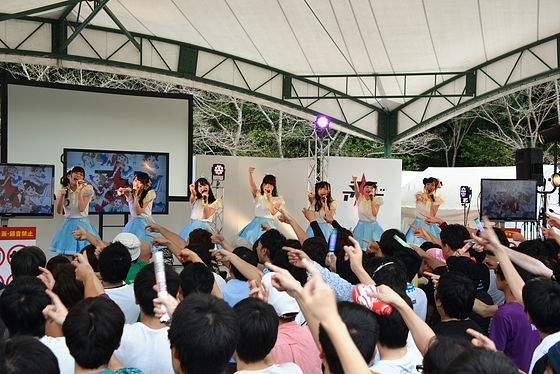 There are people who shake the psylium to match the songs, there are people who watch the live quietly.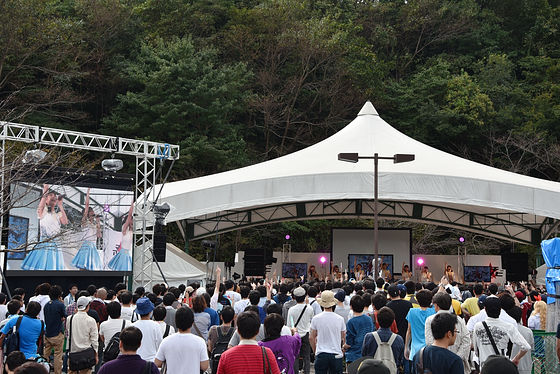 It was a very exciting 30 minutes.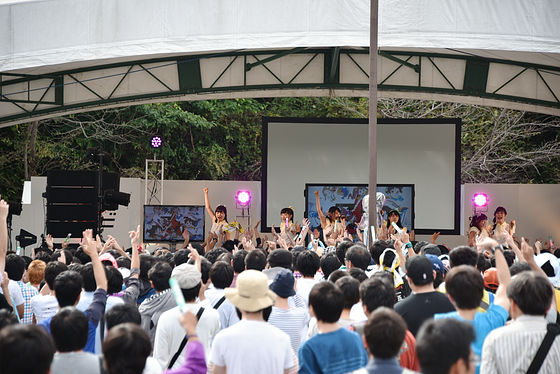 The group photo after the stage is over here.

【Event Information: Machi ★ Assortment】
Seven people gore ★ Asobi stage ended a while ago!
Today's princess, of course Yamashita-san!
Thank you very much for everyone who came to Mt. Bizan!
TwitCasting Alertshttps://t.co/SYtkKlRV7k# WUG_JPpic.twitter.com/NB 948 n 7 E dv

- Wake Up, Girls! Official (@ wakeupgirls_PR)October 8, 2016

◆Tokyo 7th Sisters
On the first day of the climax run of Machi ★ Asobi vol.17, at the Shinchomachi Higashi Park stage, the talk event of the "Tokyo 7th Sisters", an idol breeding rhythm & adventure game was held. In the event it was just held on August 21Tokyo 7th Sisters 2nd Anniversary LiveMr. Takada Takada role as Musubi temple temple temple, Mr. Michi Michi of Kamisasu Sui, Mr. Ayaka Shimizu of Mr. Usuda Sumire, Mr. Sakura Nakamura of Harumi Sawaara, Maika Takai of Harumi Kajika, Ms. Harumi Shinju role of Harumi Kajika Mr. Yui Kuwabara of Mr. Kuwahara did it. It was an event that took place from the earliest time of the first day of Machi ★ Asobi · Climax Run, but a lot of manager gathered in the venue and it got exciting. The end of the event was shut down with one tightening for some reason.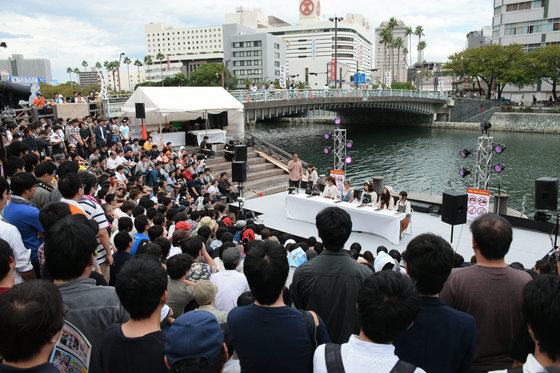 Maiko Takai says she was also tired of talk show.

Though it was early in the morning, Thank you Nanaashi talk show!
Finally, I could say thank you for coming to the manager (* '꒳ `*) Satisfied!

Today after this, I hang around Tokushima and I will be shoping at the mouse booth. ♬ Do not hesitate to hear! I'm waiting!# Nanasis# Machiasobipic.twitter.com/1yDHeh5CuQ

- Maika Takai @ Maika Maika 2016 ♬ (@ takaichan 18)October 8, 2016

◆Konso also participates in Asobi ★
"Konnosuku" which is the game guide of "Takenora Ranbu - ONLINE -" also appeared in Machi ★ Asobi. Konokekusu will appear in the Shinmachi river waterfront park near Boardwalk only during a specific period of time for climax runs.

I just discovered that walking near boardwalk.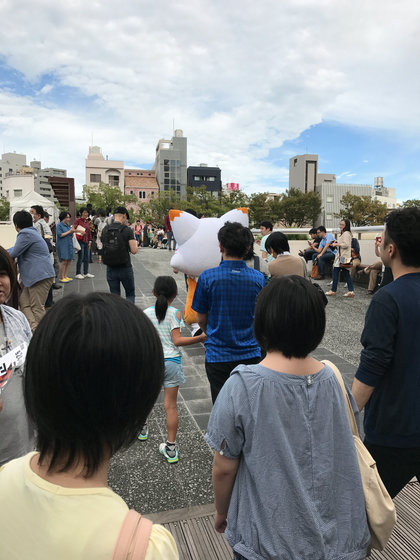 While various people got impressed with photos and cuddly posed, photography was perfect.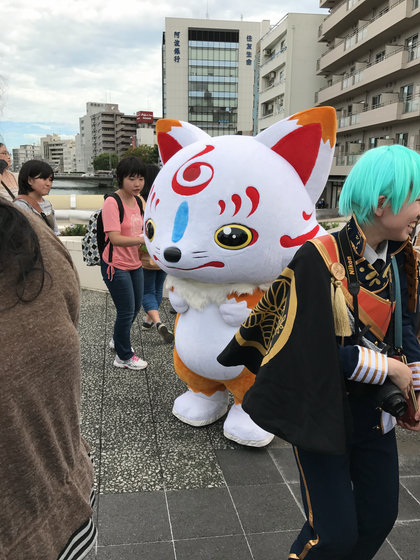 ◆Shimachi Boardwalk "Parasol Shop Anime Jack!"
Board walking in which the animals and game umbrella booth gathered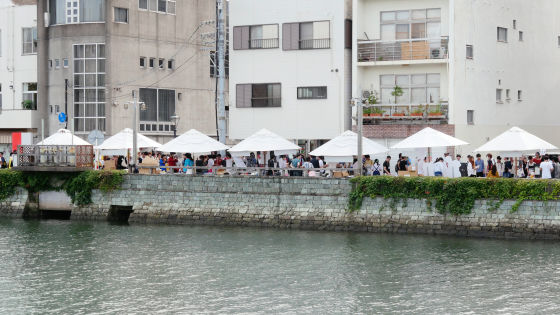 It is a great success as it is hard to pass.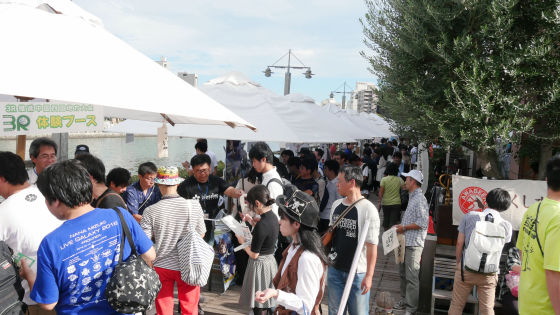 Auwa dancing costume "Super Sonico" panel was displayed.



At the Creators in Pack booth ......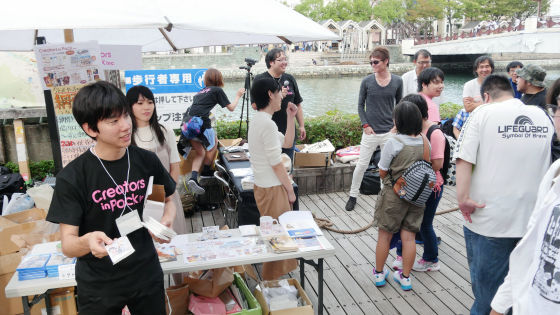 What a tug - of - war competition was held.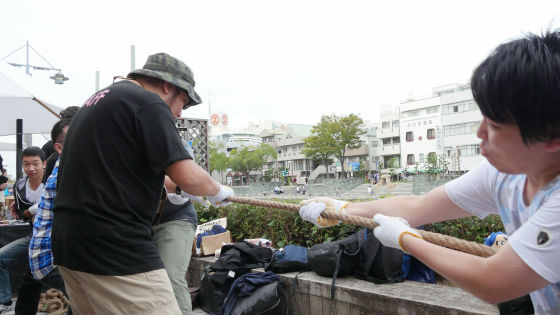 Small girls participate and other tug of war dead battles hold for the whole 3 days of gore ★ Asobi holding period.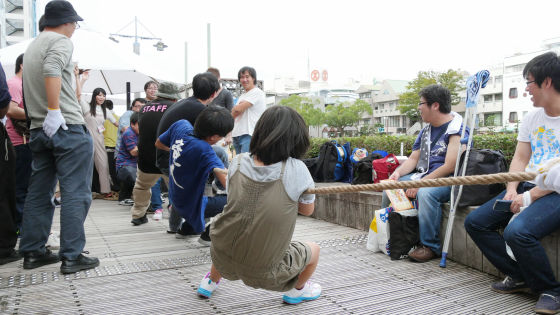 ◆State of the second day
A little rain falls on the first night, and the second day also rains in the morning. However, believing in the forecast that it will be sunny from noon all decided the progress on schedule. As a result, this hit it all the while, the weather improved and the event was advanced as planned.


Machi ★ Asobi the second day, it started! Miraculously the rain has also risen since the morning and it is cooler than yesterday! A lot of nice events will be held today as well so please have fun!#machiasobi# Machiasobipic.twitter.com/XKmxkcejDI

- Machi ★ Asobi (@ machiasobi)October 9, 2016

It is said that "that one vote is important". × Newspaper companies' public relations poster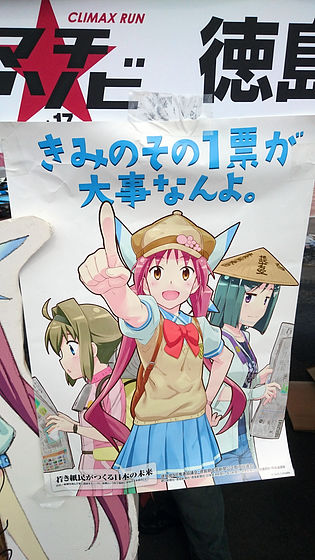 "Omoro: Mobile Zabon" (900 yen + tax) that appeared as a new goods.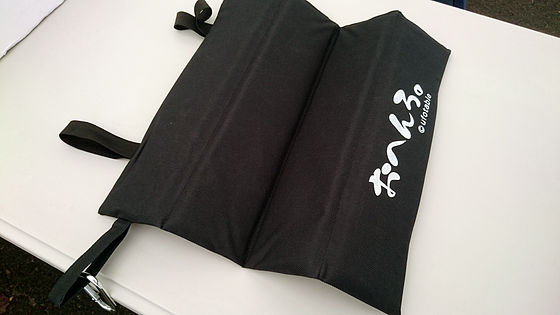 Machi ★ Asobi Guide Book 15's cover is Slay.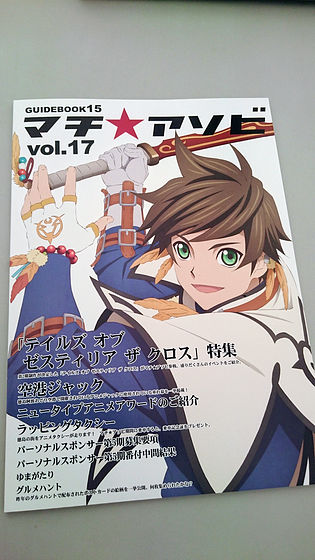 This time "Tales of Sustria the Cross" feature. Because it covers the decoration of the airport Jack and the wrapping taxi, those who could not see the real thing complement the information with this book.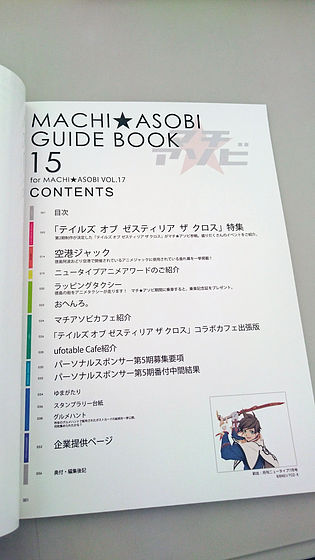 "Awa specialty Kawada manju cherry blossom flavor" which collaborated with theater version Fate / stay night Heaven's Feel.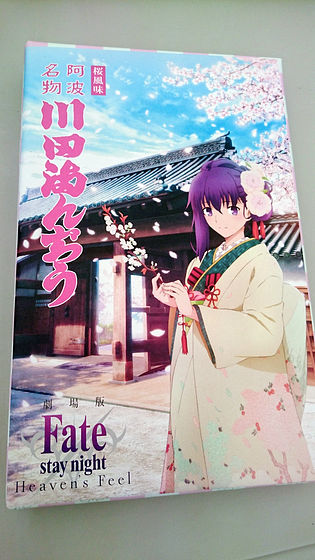 Certainly, the buns are slightly cherry blossoms. Postcards with slightly different textures are bundled with those distributed in gourmet hunts.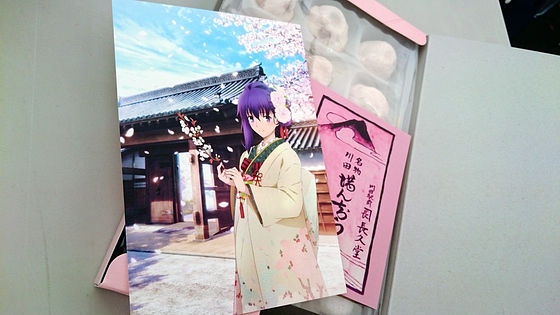 The blood donation event, this time two people posters poster to the participants + a big battle of the can badge.



Author of Shinkai Makoto directed by "Your name is." Panel.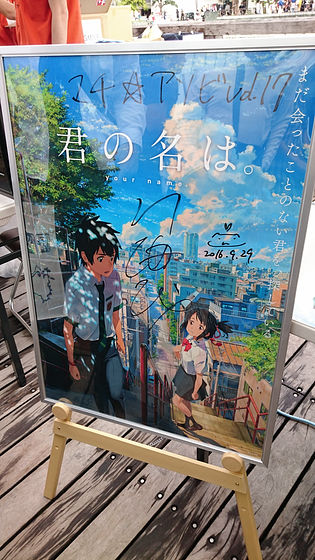 In "2nd Movie Studio Animation Original Picture Exhibition in Machi ★ Asobi", there is a huge POP of the original project "BREETSCHLAG (Brett Schlatter)" at Movie Studio. It is autographed by Takuya Fujin.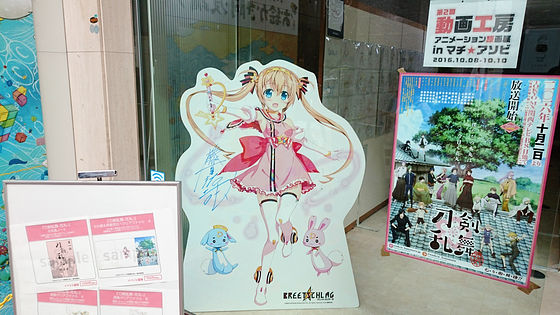 Mr. Hiroyuki Matsuyama of cyber connects took pictures of dogs at the entrance of Higashi Shinmachi Arcade.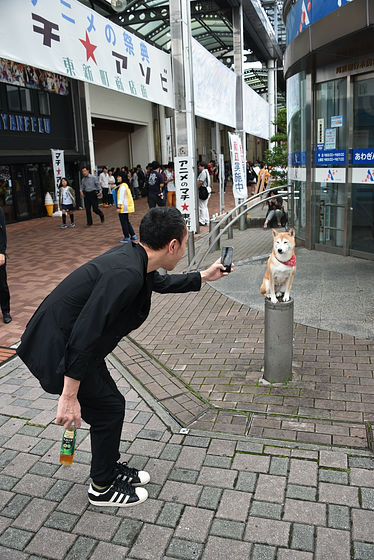 Sortie, U - san.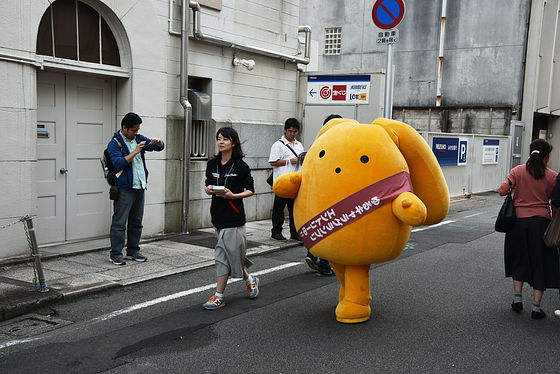 ufotable The crowd of CINEMA's first floor was filled with "Amezari Hirai × CC 2 Matsuyama's" Super Picopic Club "Cyber! in Machi ★ Assobi".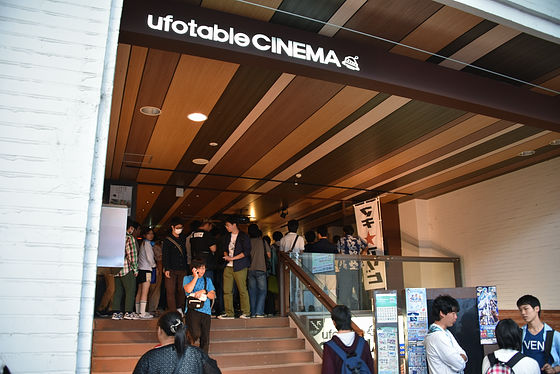 ufotable One of the events held at CINEMA, an event where the staff of ufotable speaks details of BD - BOX benefits of "Tales of Sustria the Cross". "The best images, along with nice benefits -"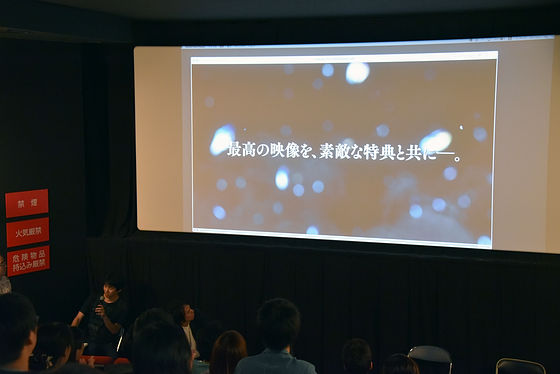 Director Yuichi Terao, who will explain each of them.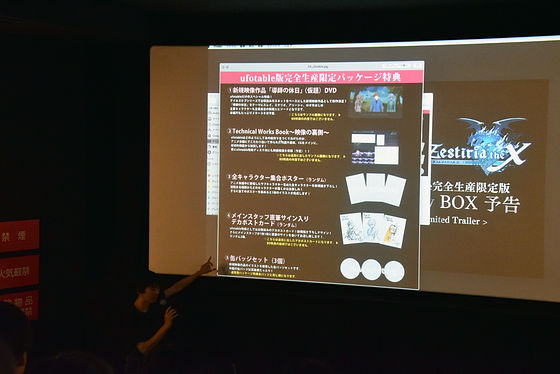 ◆ufotable CINEMA figure display
ufotable In the first floor entrance of CINEMA,ANIPLEX +'s latest figure displayIt was done.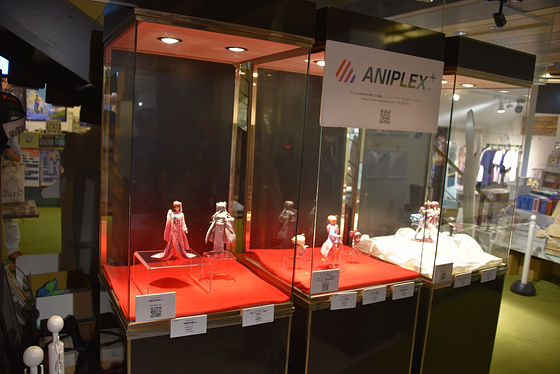 "Kato Ebisu ver. 1/8 scale figure"Scheduled to be accepted · Scheduled to be released in July 2017) &" Sawamura · Spencer · English Pinnacle Kimono Ver. 1/8 Scale Figures "(Under prototype supervision · to be released in July 2017)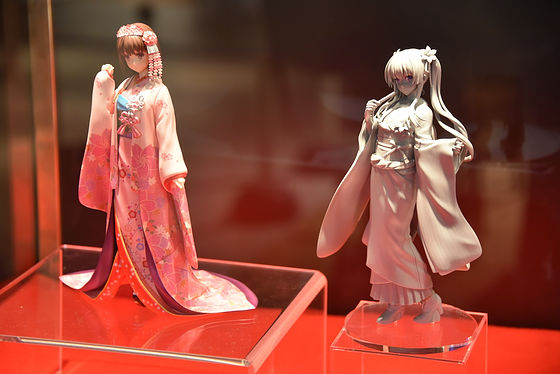 "Chara Furumu + Saber Kimono ver."Scheduled to be accepted · Scheduled to be released in April 2017 & &Saber clothes ver. 1/7 scale"Scheduled to be accepted · Scheduled to be released in May 2017 & &Chara Furumu + Tosaka Rin Kimono ver.(Scheduled to be accepted · Scheduled to be released in April 2017)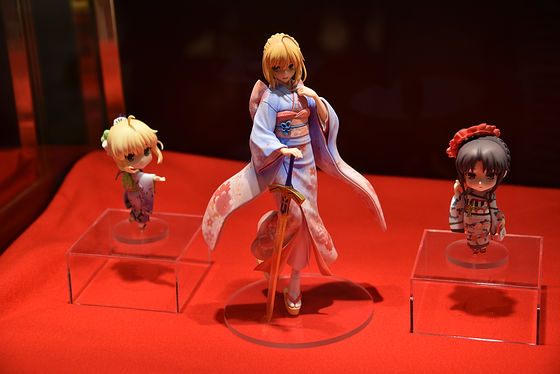 "Idol Master 10th Memorial Figure"(We are accepting reservations · Scheduled to be released in June 2017) &"Idolmaster Cinderella Girls Chara Fellow + Producer(Scheduled to be accepted · Scheduled to be released in January 2017)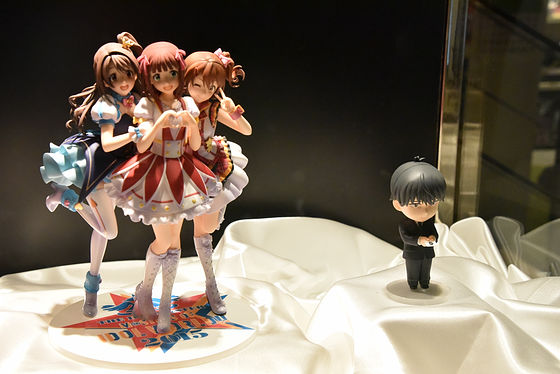 In addition to this, "TYPE-MOON × plusone RACING / Saber TYPE-MOON RACING Ver."Was also exhibited.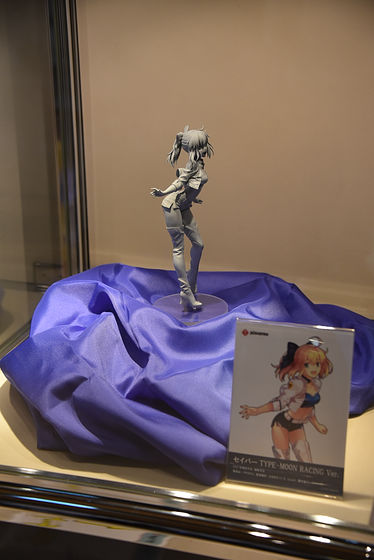 This is a figure made of Saber Takashi Takeuchi drawn for Ferrari Pain.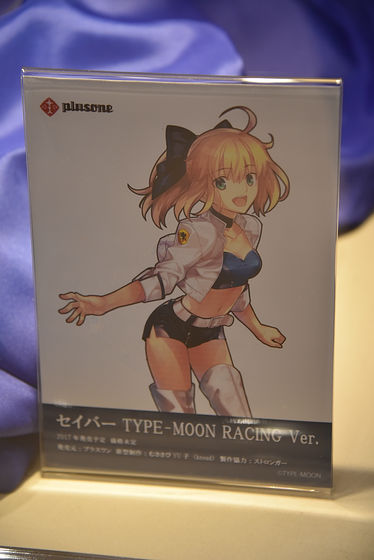 The prototype was exhibited this time this time.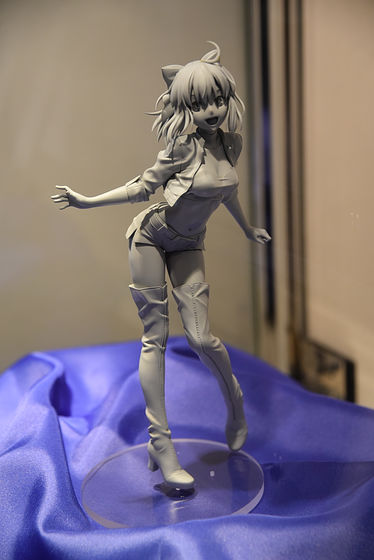 ◆Industry Participant Talk Event
"Industry stakeholder talk event" continuing from gore ★ Asobi vol.1 as a full-time event was also unexpectedly held this time. The content is "Do not say, do not write, do not murmurOut of the door. Even this time, various people entertained everyone with various talks.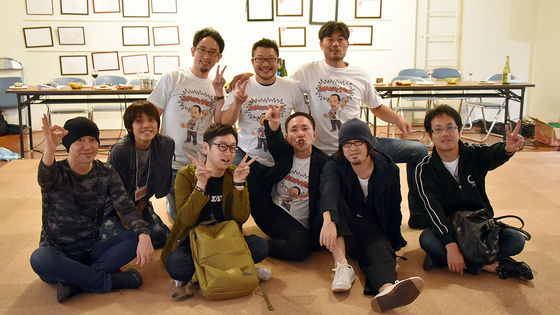 ◆A state of the third day
Rain did not rain on the last day, the weather allows the event to be done without problems.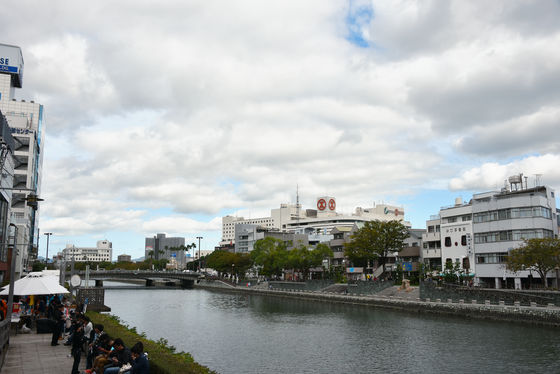 ◆"Fate / Grand Order" Machi ★ Asobi vol.17 SP talk event
Talk was held with Ms. Ayako Kawasumi who is also a game user, Altria · Pendragon, and Ms. Rumi Okubo as Elisabeth · Bartley.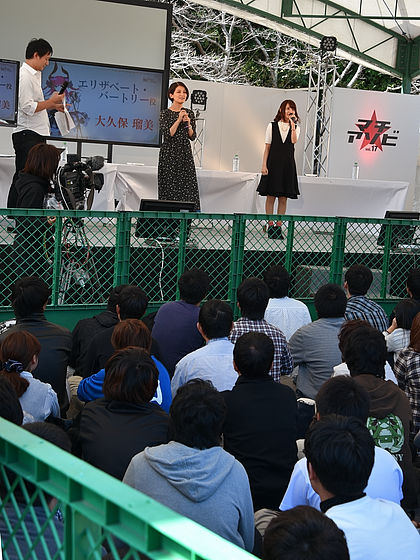 The weather will improve better and more and weather with less clouds.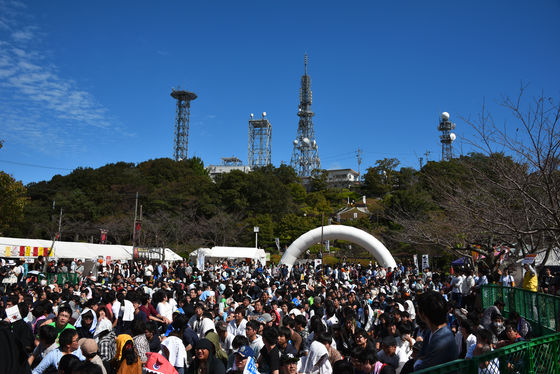 In the second half, FGO PROJECT creative director Yosuke Shiokawa also participated in the talk. "Reprinted: the adventure of singing pumpkin castle ~ Mad party 2015 ~ Lite version" and "Halloween · Comeback! Ultraman ☆ big pumpkin village and adventure ...... †" is held It was announced.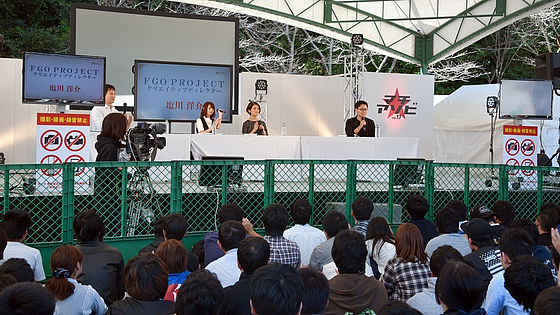 Two illustration boards announced in the event were exhibited at the Aniplex booth on Boardwalk in the end, it was said that they will be able to shoot.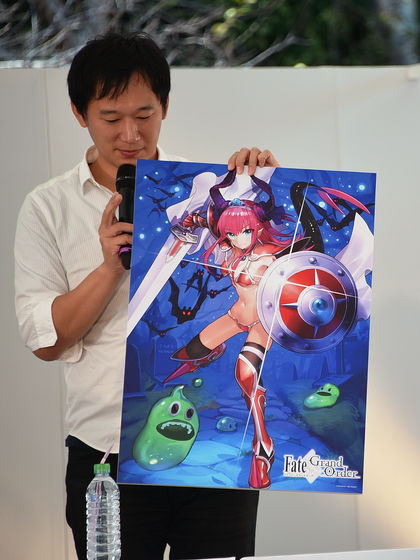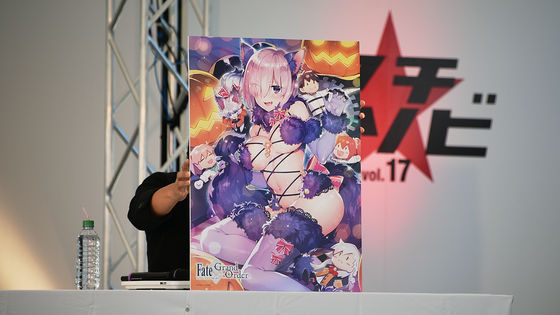 ◆Sakura Taisen 20th anniversary
game"Sakura wars"Celebrated its 20th anniversary, at the Awaodori-kaikan"Sakura Taisen 20th anniversary in Machi ★ Assoby"Was held.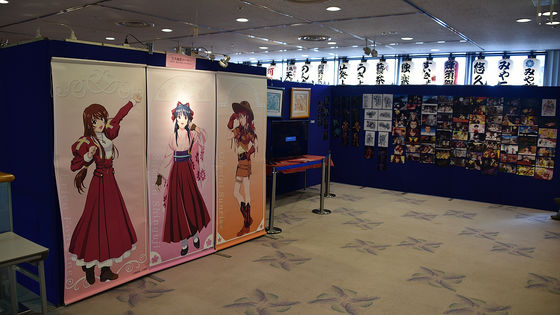 Erika Fontaine & Shinkoji Sakura & Gemini Sunrise's life-sized tapestry which ordinary people also shot OK.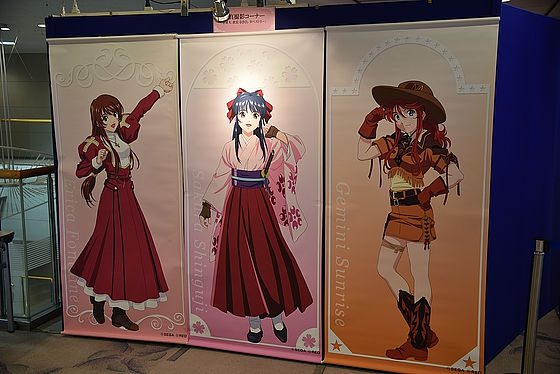 ◆GOD EATER ONLINE
The stage event was also held "GOD EATER ONLINE", I was able to do the first trial with the gore ★ Asobi instead of the Tokyo Game Show, a queue waiting for the test was made.



In the GOD EATER series, ufotable produced the opening movie, but ufotable produced opening animation also in this work. The picture was completed on October 9th and was unveiled at the stage event on October 10th.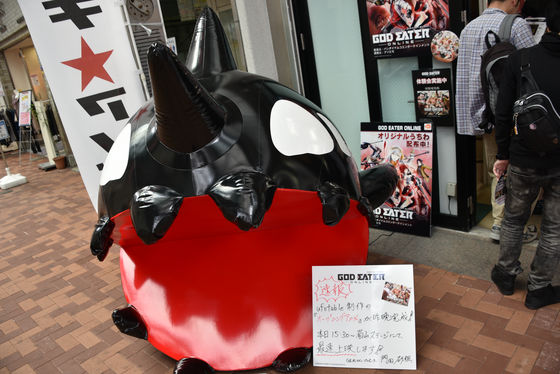 Next to NAMCO BANDAI Games is Cyber ​​Connect to Booth. Although game playing and selling were done, "CC2 notebook" was sold out safely on the last day.

Good morning. Machi ★ The last day of Assobi! Because I announced it at the event of yesterday, everyone came to buy goods properly from the morning! Talkative execution! I love you guys! Although it is promptly "CC 2 notebook 2017" sold out! ! Thank you!pic.twitter.com/KFi 6 oqo B d 6

- Hiroshi Matsuyama @ Cyber ​​Connect to (@ PIROSHI_CC 2)October 10, 2016

Illustration "Loose Hiro" at the booth.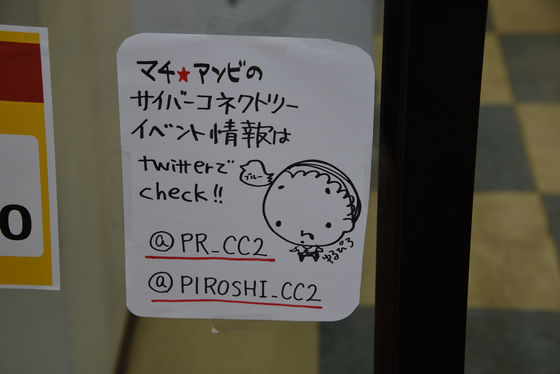 ◆Closing session
Machi ★ Asobi vol.17 over three days was safe, the event was not stopped due to rain, and the schedule of the schedule was able to be completed. Next time, Machi ★ Asobi vol.18 is held in May, 2017 in the case of the past. Probably, "Petit ★ Assortment" will be held around March 2017, so please look forward to that.


Machiasobi VOL.17, All the events of Mt.
I was able to close without fail.
Thank you very much.
I will upload a picture of the closing ceremony.

I would like to hold VOL.18 again next year.
Please come and see us again in Tokushima.#machiasobi# Machiasobipic.twitter.com/Hqxyxmqkie

- Kondo Hikaru (ufotable) (@ hikaruufo)October 10, 2016