"Machi ★ Asobi vol.16" All articles summary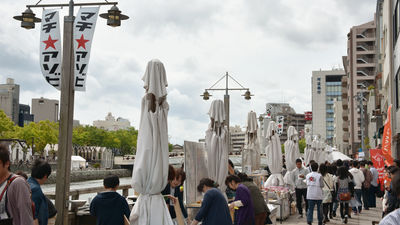 From the casts related to animation · game · manga etc and stuff talk show and live, panel exhibition, PV screening etc, from a thing like a fishing competition, a bakery class, a tug of war etc to things which are not understood, a crowded event "Machi ★ Asobi vol.16Will be held from May 3, 2016 to May 5, 2016.

The venue is along the Shinmachi River which flows through the center of Tokushima city, such as "Shintomachi Bridge East Park", "Binji Bridge Nishikkoen" and "Shimachi Bridge Walk" "Higashi Shinmachi Arcade" "Poppo Street Shopping District" "ufotable CINEMA". Some events require a numbered ticket, but many events are free to view. This time I will pursue the situation over three days.

Machi ★ Asobi vol.16 2016.05.03 ~ 05.05 held
http://www.machiasobi.com/

◆ May 10, 2016 11:50 minutes 00 seconds
Limited memorial admission ticket with luxurious illustration of "Takaraser Ranbu" "Theater version Fate / staynight" "Tales" sold out in large matrix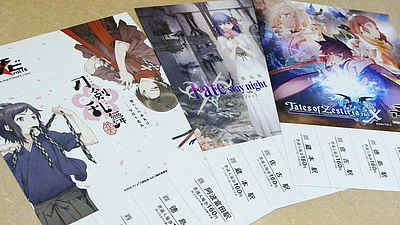 ◆ 2016-05-03 12:40 00:00
Value exceeding 100,000 yen jumped out one after another to the super rare goods of animation and the game Machi ★ Asobi vol.16 "Charity auction"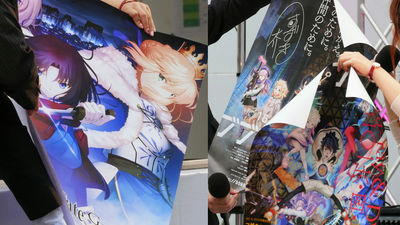 ◆ 2016-05-03 13:01:00
I've seen "planetarian world's fastest opening 5 minutes screening" where the screening was performed at the earliest timing in the world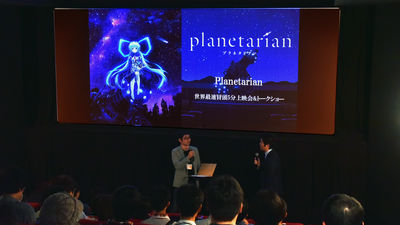 ◆ May 3, 2016 14:37:00
"Bridge under the bridge" looking up from the ship a beautiful giant illustration such as swords and men and Fate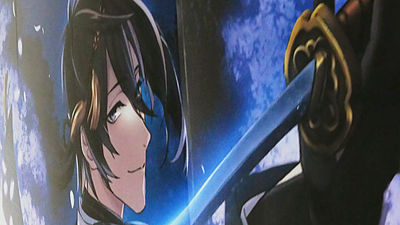 ◆ May 05, 2016 15:00:00
Ultra Super Pictures Booth where you can see original animations and making movies such as "Kizunaiba" "Kirakirakiru" "Bubuki · Blanky"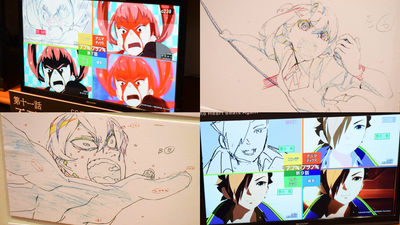 ◆ May 3, 2016 15:20:00
Awa dance post that fusion of animation and live action poster The latest work announcement in 2016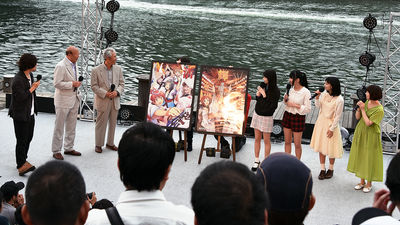 ◆ 2016 05 March 03 18: 30: 00 second
【Cosplay Photograph Collection Summary】 Cosplayers of Freemdom past & cute too "Machi ★ Asobi vol.16"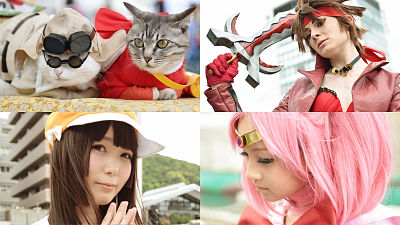 ◆ May 06, 2016 18: 45: 00 second
A special event report of Hacka Doll who thought the person himself thought the monthly charge service like "I can meet Hacka Doll once a month"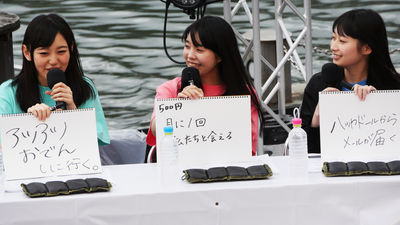 ◆ May 20, 2016 19: 20: 00 second
Former rugby man also engaged in production, the first real rugby anime "ALL OUT !!" talk show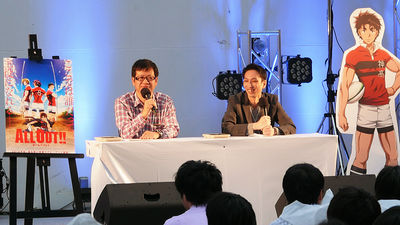 ◆ 2016-05-03 20: 23: 00 second
"Oranha." Three of the voice actors took office as the manager of the Seven - Eleven 1 in no case, hat off for a gathering of fans who can not defeat the storm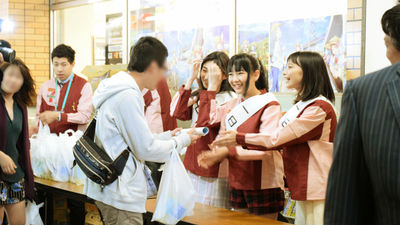 ◆ 2016 05/04 00:08 minutes 00 seconds
A shrine maid serving a shrine serving a bear has released a shivering illustration "Kuraseide Village Okoshi Project in Tokushima"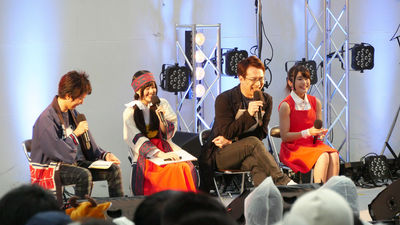 ◆ 2016 05/04 10:36:00
Micrio and Lyra of 'Tales of Zestilia the Cross' tried a ropeway which will guide tourist information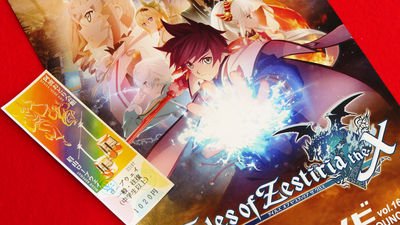 ◆ 2016 05/04 14:12 minutes 00 seconds
The mystery that 30 men who participated in "Life Redo Tour" calls up a mystery Group image play "Hazy home - Mayoiga" Special talk show & screening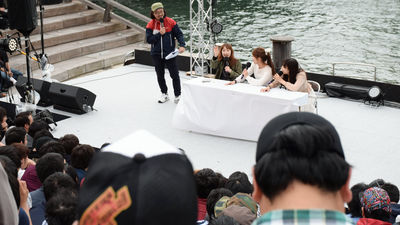 ◆ 2016 05 04 4:15:40
Special stage of "Alternative Girls" application with VR mode which seems to really touch a beautiful girl if you reach out



◆ 2016 05/04 4:00:00
Voice actor Ryota Osaka & Noriko Shimoya became the station leader of JR Tokushima Station one day, express express "Uzushio" departure ceremony & talk show report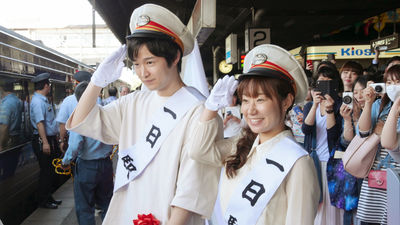 ◆ 2016 05-04 21:10 minutes 00 seconds
Young producers carrying the future of the animation & game industry gather in Tokushima three times, looking back on their own ambitions and announcing new pledges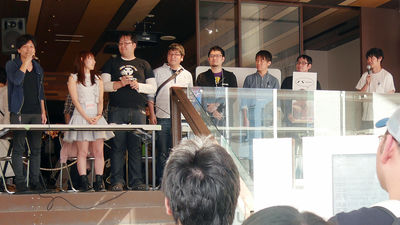 ◆ 2016 05/04 4:21 PM 14:00
"Fate / Gutderon racing" which made web magazine of "Fate / Grand Order" a painful car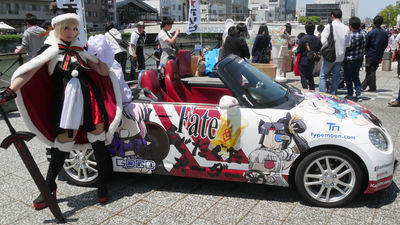 ◆ 2016 05/04 4:08 PM 00:00
One of the world's first idols of plaster image made over 1,000 years for development "Trismegistus" will be a tax-included 380,000 yen "Visitor's gypsum Boys" grand prix screening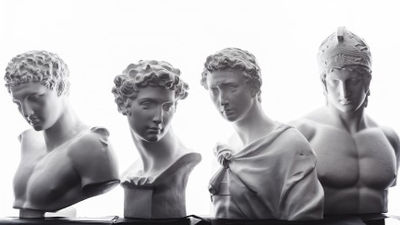 ◆ 2016 05/05 01:12 minutes 00 seconds
"Bornly Forearm For rhythm" talk event where a holding pillow was taken off as chuck like real clothing was released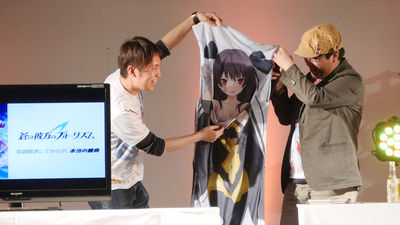 ◆ 2016 05/05 14:06 minutes 00 seconds
A singer, a horse, and a producer rushed under sunny weather The situation of the second time "Machi ★ Asobi RUN" looks like this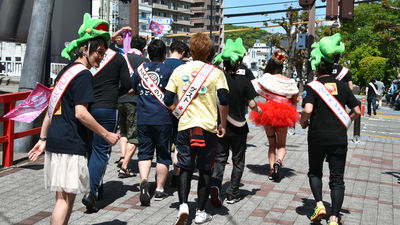 ◆ 2016 05 May 05 14:30:00
"Touken Ranbu - Hana Yoru -" Tiza PV to be lifted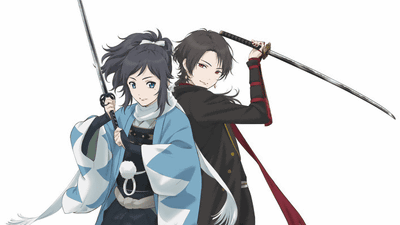 ◆ May 05, 2016 17: 15: 00 second
Youth Dance Anime "Poppin Q" Official Presentation & Talk Show Report "Girls Save the World with Dance"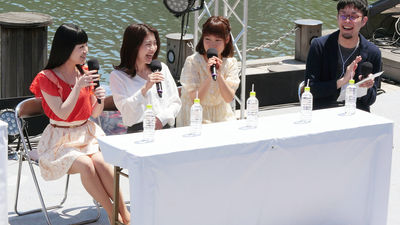 ◆ 2016 05/05 20: 43: 00 seconds
What is "Animation" born from "Bonds of Abusive Battle"? - GIGAZINE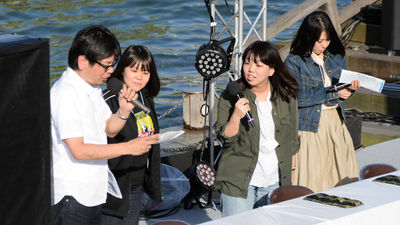 ◆ 2016 05 May 05 22:30:00
"Cosplay fashion show" gathered together cosplayers wearing ornate costumes Photos summary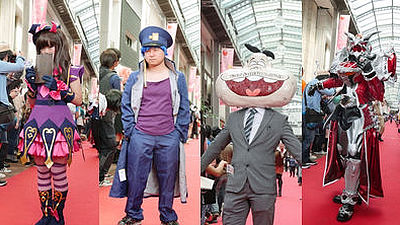 ◆ 2016 05/06 01:24 minutes 00 seconds
All you can do for Japanese drinking drinks and voice actors at 1000 yen "Qinghua Talk & Drinking Party" event is preeminent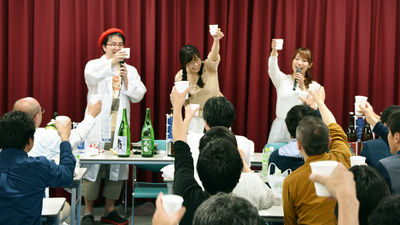 ◆ 2016 05/07 19:39 minutes 00 seconds
"COCOLORS" New PV complete with nearly new cut only, the main volume will be released in the fall of 2016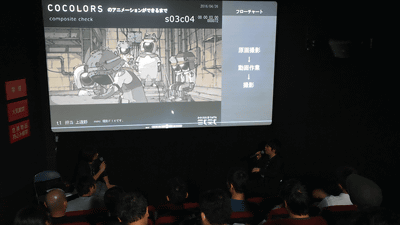 ◆ 2016 05/08/15/00/00/00
"Fate / Grand Order" talk event which staff who held ceremonial announced game development backstage & new information - GIGAZINE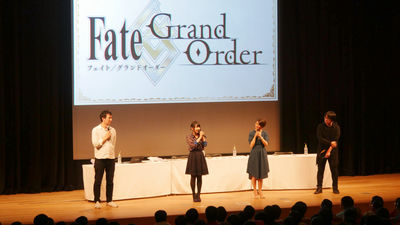 In the weekly weather forecast before GW, prediction of rain occurred on May 3rd and 4th, but the day before, the weather is likely to have some evening though wind is there on the 3rd, so the event is To be carried out almost as planned.

Machi-sobi information: This information on the weather on May 3rd, tomorrow, it is safe to stop the event until 18 o'clock.
We will only move two events after 18 o'clock.
Continue)

- Kondo Hikaru (ufotable) (@ hikaruufo)May 2, 2016

The weather is cloudy around JR Tokushima station.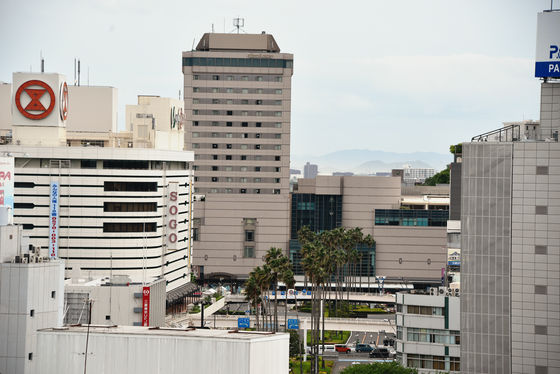 With the influence of the wind, the Bizan Ropeway became out of driving.

5/3 Because of the strong wind, the Bizan Ropeway stops driving from the beginning.
Poster distribution will be after driving has started.
please note that.# Machiasobi

- Awaodori Kaikan (Tokushima City Tourist Association) (@ AwaodoriK)May 2, 2016

There is a queue waiting for tickets at the arcade in Higashishincho.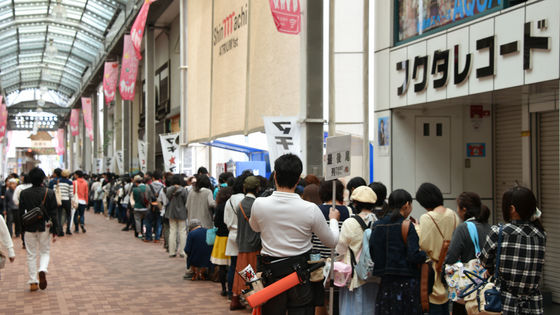 ◆Opening ceremony
Opening ceremony is a gossip ★ Associated ProducerKondo HikariAnd Mr. Tokushima with Ambassador AmbassadorRiko NakamuraIs in charge.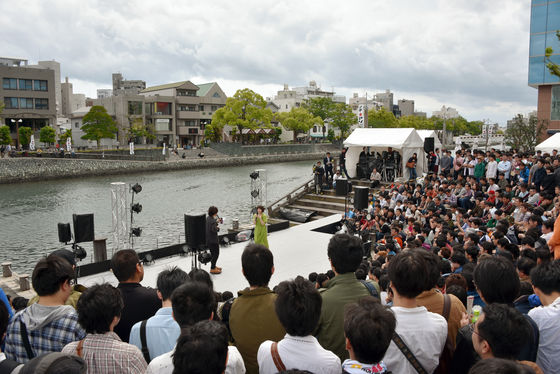 Mr. Nakamura entered Tokushima the day before and is fluent in Suzushi. This day appeared in costume of "Sudachi color".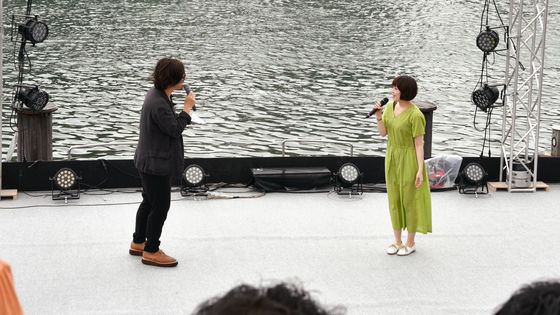 Because the ropeway was stopped with a strong wind, it was announced that the scheduled 3 day guide announcement will be flowed at the Awaodori Kaikan 2F.

Machiasobi information: Countermeasure after the ropeway is no longer moving due to strong wind today ①
I was able to listen to the guide announcement on the second floor of the Awa Odori Hall free of charge. Thank you very much for everyone involved.
"Fate / Grand Order" Risa Teruta.pic.twitter.com/IYprhqC4cl

- Kondo Hikaru (ufotable) (@ hikaruufo)May 3, 2016
The locality seems to be like this.

The ropeway does not move, but Mash guides us ...#fatego#machiasobi# Machiasobipic.twitter.com/7ATZyQWNrm

- Dai (@ nandakaomo) somehow funnyMay 3, 2016
For the announcement itself, the 3rd was initially planned as "Fate / Grand Order", the 4th and 5th as "Tales of Sustria the Cross", but on 4th we changed to "Tales" · 5th "Fate" It is said that it became.

Machi-soba Information: Countermeasure after the ropeway has stopped moving due to strong wind today.
"Tales of Zestilia the Cross" With the consent of the person concerned,
4th: Tales
5th: Fate / Grand Order
We will do ropeway guidance with.
Thank you for your response.

- Kondo Hikaru (ufotable) (@ hikaruufo)May 3, 2016
Also, novelty will be handled by ticket purchase.

Machi-soba Information: Countermeasure that the ropeway is no longer moving due to strong wind today ②
For those who can only stay today at Machiasobi, if you wish to have a "Fate / Grand Order" novelty, I will give you a ticket by purchase. Please.pic.twitter.com/U4ogVRHsac

- Kondo Hikaru (ufotable) (@ hikaruufo)May 3, 2016

In the opening ceremony as a guest voice actorYuji EnataAlso appeared. Mr. Ehara graduated from high school in March 2016 and came to Tokyo. Currently I am going to a training center for mouse promotion. Also, at the same time becoming an employee of the UFO table, I also helped with the production, and I am doing work while watching the timesheet. Mr. Nakamura was also surprised at this information.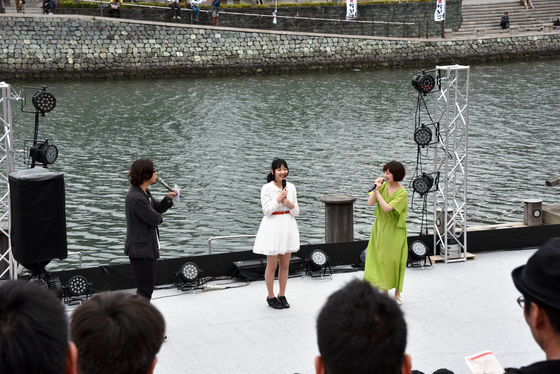 Incidentally, Mr. Nakamura served as the cover for public relations free paper as Ambassador of Tokushima animation, but that the sequel plan is raised. Also, since "Tokushima Ichigo Aramu" supervised as ambassador's work is said to be the final project this time, please take this opportunity to worry.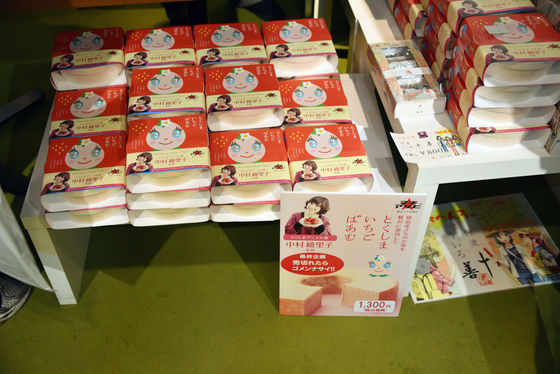 A few gore ★ Asobi who is a person who achieved achievement awardHiromi IgarashiAlso entered Tokushima. Today I am going to participate in many events here and there.


· 15 o'clock and 27 minutes added
The weather kept at the limit was beginning to collapse around around 14 o'clock so the location and time of the event has changed. be careful.

Shintomachi bridge East Park → ufotable in front of CINEMA
15: 30 - "Grimoire" talk show
16: 15: From "Tokyo 7th Sisters" talk show
17: 00 - From: SEGA feat. HATSUNE MIKU Project We came to Tokushima and said "Kushima". Vol.3
17: 45: From: Machico Special Live
18: 30 -: Fragrance - DIVINE FLAME - Immediate Special Stage
19: 15: From: Dakishi Showdown Tonight ~ Kamikaze Movie VS CC 2 VS Sangjigen ~

For this reason, ufotable before CINEMA is seriously .... While people are gathering here, watching other places is also a hand.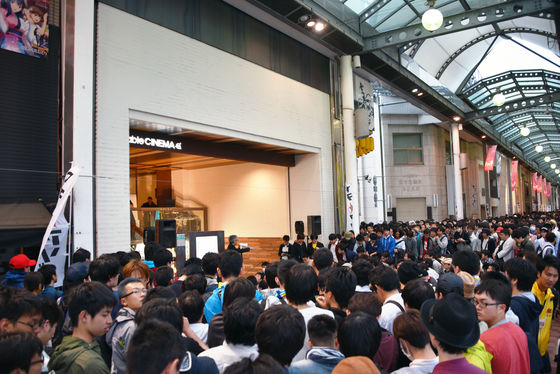 ◆Venue landscape
The curtain of "Welcoming Anime Festival Machi ★ Asobi Higashi Shinmacho Shopping Street" was raised to the Higashishincho Arcade.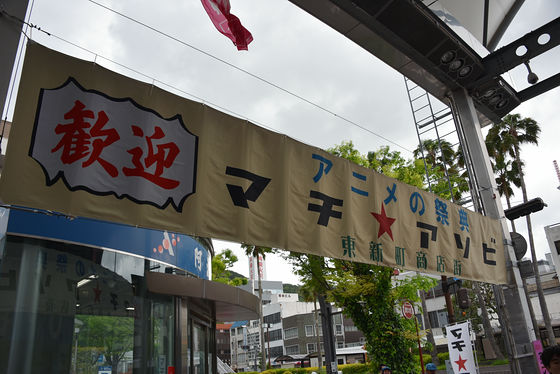 Large crowded ufotable in front of CINEMA



At the entrance "Witch girls sister Yoyo and NeneYo Yo and Nene chat welcome. However, there are many events to be held at the entrance, and also the absence.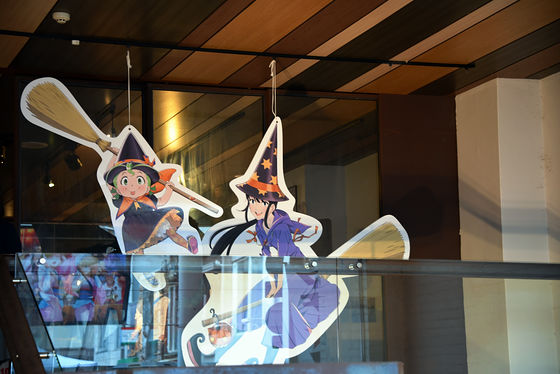 I entered the lobby of the movie theater ... ...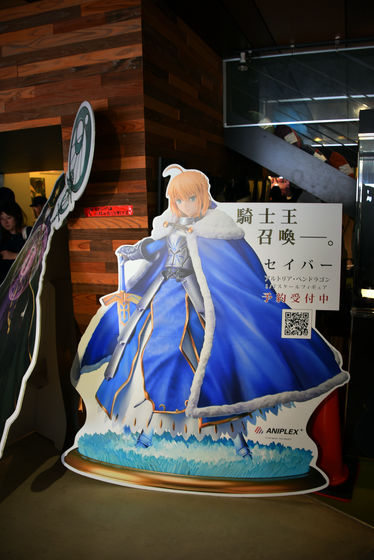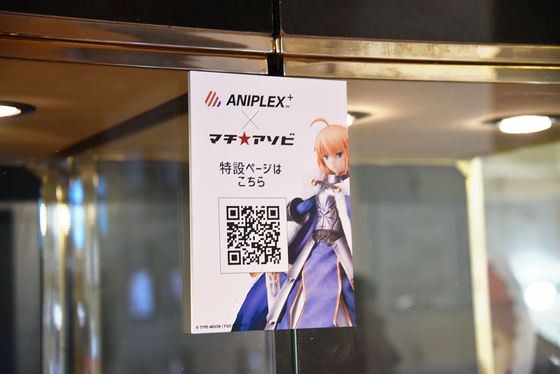 Aniplex plus figures are on display.



"Fate / Grand Order" Sealer Mash Killierite (1/7 scale tax included, 13,000 yen in March 2017 scheduled to be scheduled for reservation)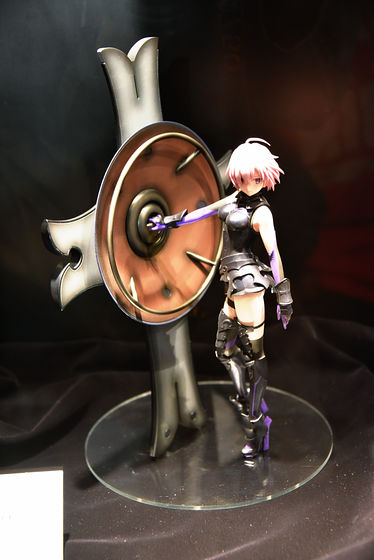 The smaller one is "Fate / Grand Order" Chara Fuurumu + Shielder Mash Kirier Light (4800 yen including tax) Scheduled to be released in October 2016 Reserved for reservation)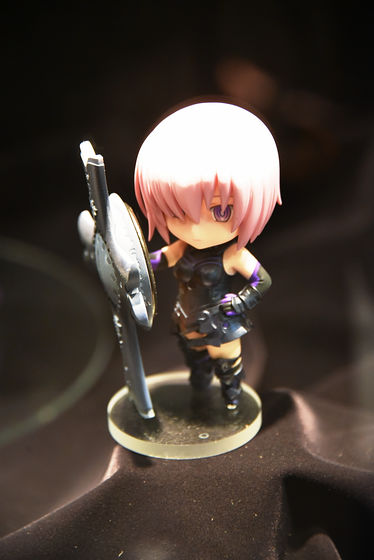 Next to Saber.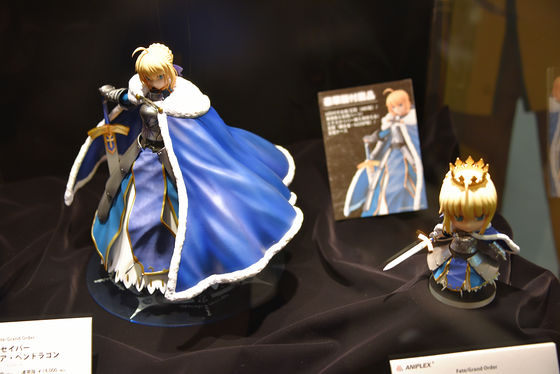 "Fate / Grand Order" Saber Altria · Pendragon (1/7 scale luxury version 18,000 yen Tax incl. 14,000 yen including tax) Scheduled to be released in January 2017 Scheduled to be released)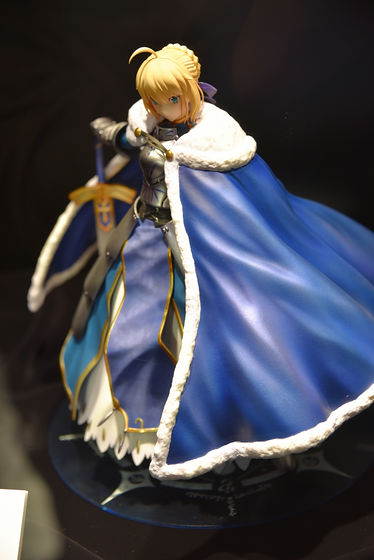 "Fate / Grand Order" Chara Fumuru + Saber Altria · Pendragon (4800 yen including tax)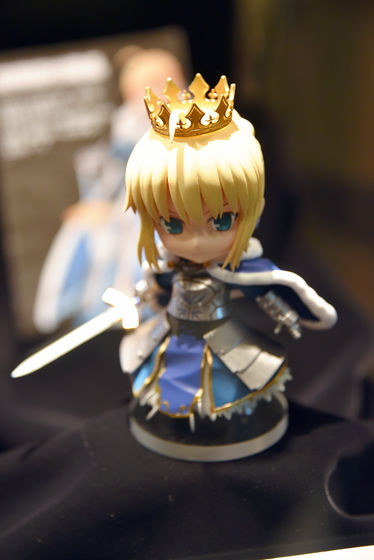 In the space opposite the movie theater, we are carrying out a blood donation campaign by saying, "Being a country full of love with blood donation". 400ml If you donate blood, you can receive 3 posters.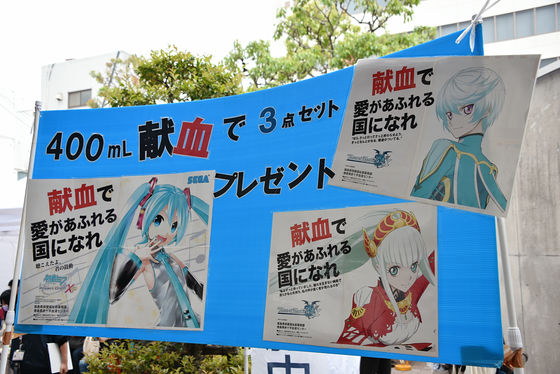 Here as well, long matrices can be made depending on time zones.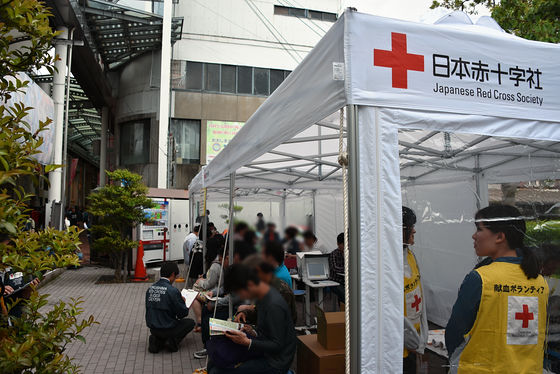 And inside the arcade, there are times when the air traffic increases at a stroke such as before and after the event.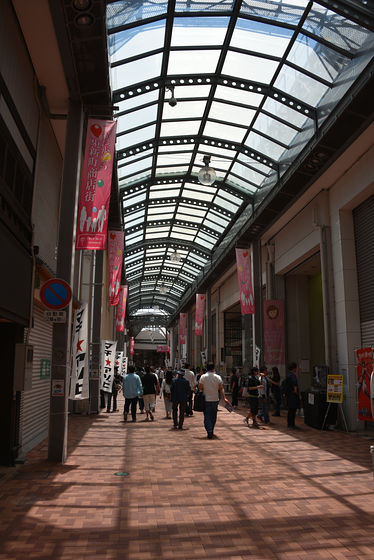 Because the ufotable cafe will take time by all means, the queue stretched to the bottom of the stairs.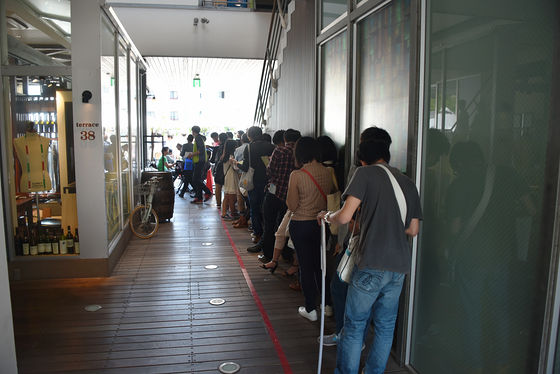 Aniplex umbrella on Boardwalk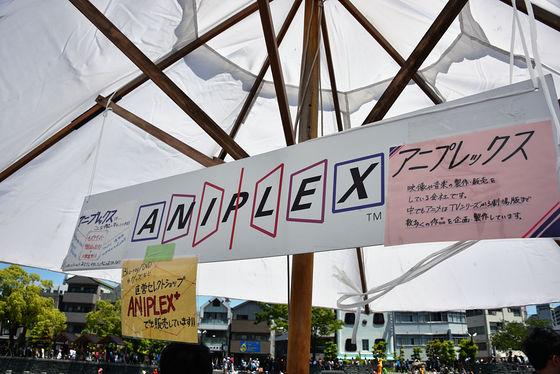 The guests who came to the talk event were leaving colored paper and were shooting OK. this isAyako KawasumiMr.,Risa TodaMr. "High School FleetDraftTakuaki Suzuki'S.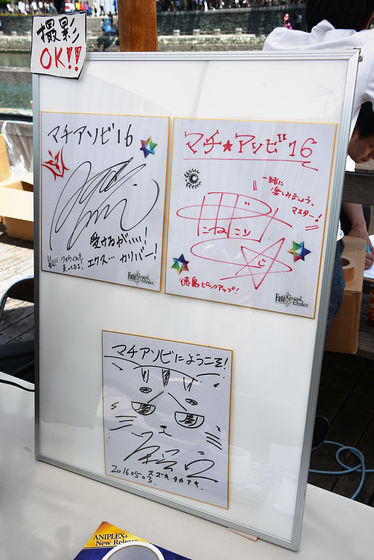 In addition, "High School Fleet" Manyashiroji -Nakamura Cherry, Mr. Wakasa KeiroAyaka ShimizuMs. Ville HelminaHiromi IgarashiMr. Tateishi ShimaNozomi Koki'S.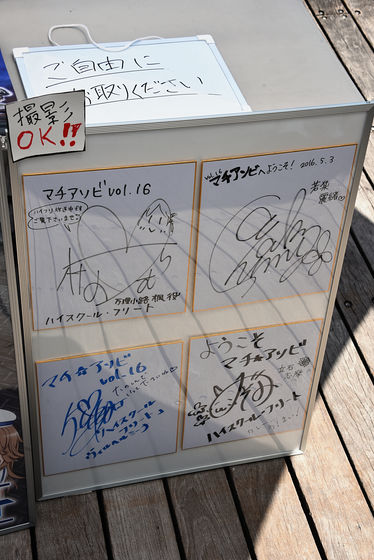 The weather was very good on the 2nd and 4th May, and the people along the Shinmachi River became full of people. This is a place I saw from Shimomachi Bridge East Park, one of the main event venues, from the contact bridge in the downstream. There are people tightly up to Shincho-bashi.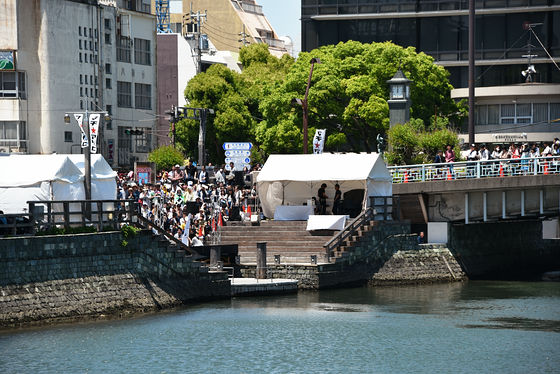 The umbrellas shops line up on the board walk that continues from the Shinchomachi bridge to the nearby side, and the guests are gissiri. Here, as each booth event is held, it is hard to get through.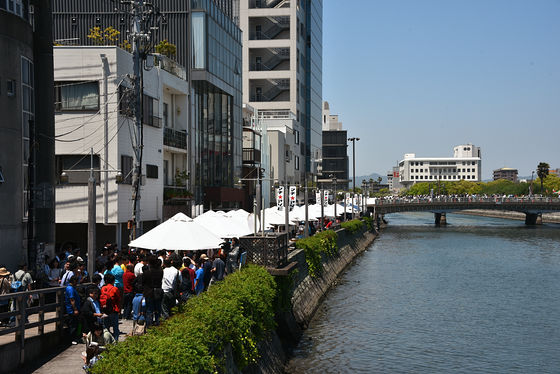 This is the opposite side of Boardwalk, a place that is a cosplay photography space (Shinmachi river water park).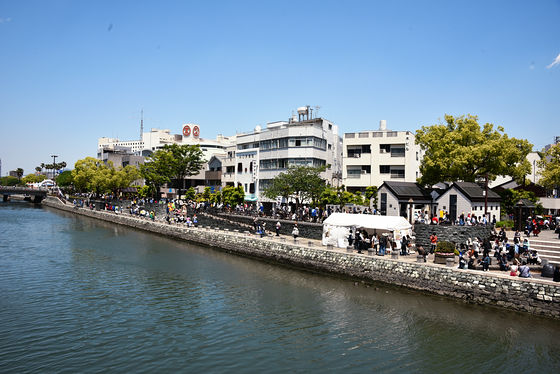 Please see this article on what kind of cosplayers were there.

【Cosplay Photobook Summary】 Cosplay Years of "Machi ★ Asobi vol.16" too much freedom & cute ~ GIGAZINE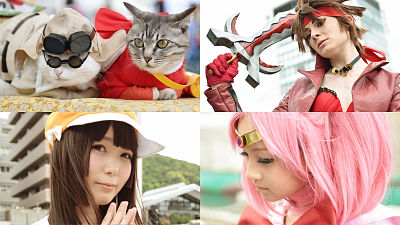 In addition to the cosplayers, pain paints are lined up, just like an exhibition.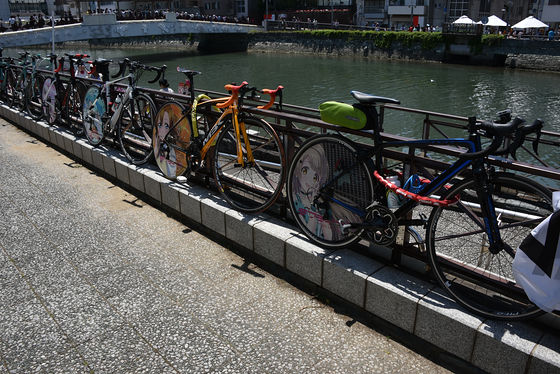 A parasol shop as seen from the other side. The second floor of the building on the right side of the front is ufotable cafe, the umbrella in front of the building ufotable shop. There was selling limited goods etc. this time, and a great queue was formed.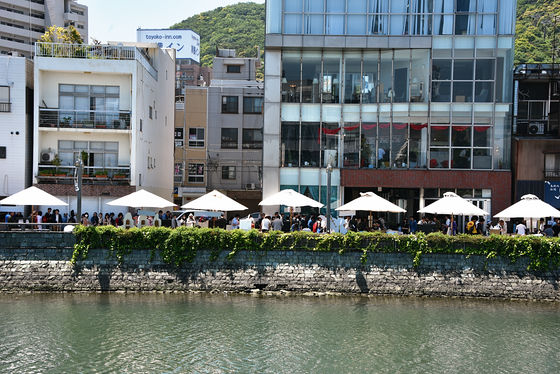 Next, I saw the bridge over Nipponbashi Nishigo from the Fureai bridge. There is a park on the other side of the building of Awa Bank.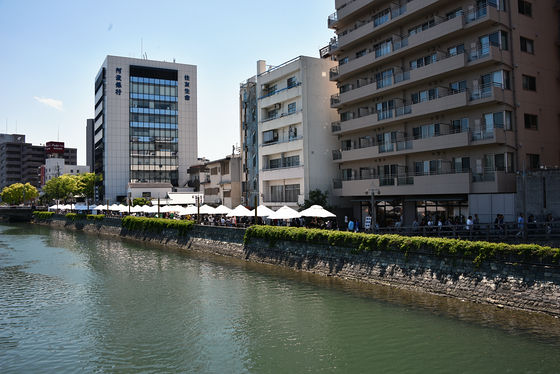 There were booths of Go, Shogi and Renju in this line and it was made possible to play matches.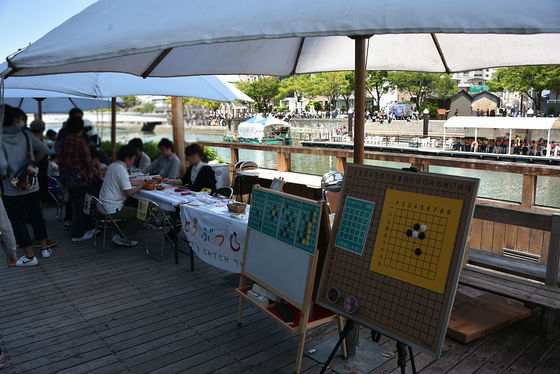 Binji Bridge Nishikoen seen from the bridge. By the way, Shintomichi Bridge East Park is on the west side, Binji Bridge West Park on the east side in the direction, Shinchochibashi is upstream (west), Binji bridge is downstream (east), and it is named based on the bridge Therefore, it is a name that feels like the opposite.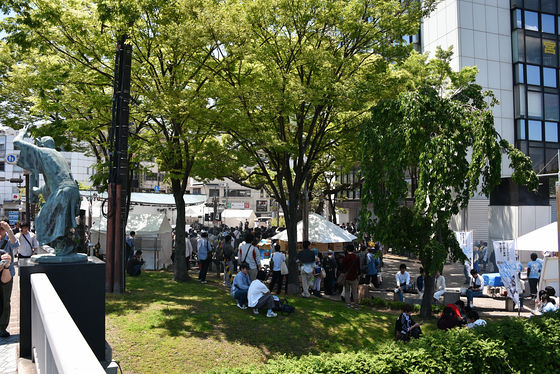 That is why umbrellas shops are lined up across the contact bridge.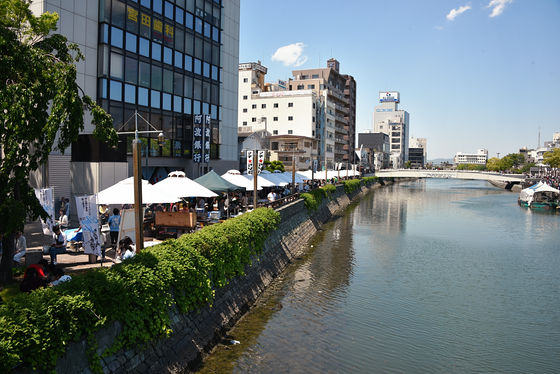 Besides, the other side of Binji Bridge Nishikoen is also a cosplay shooting space.



There is a handing place of a gourd island boat here, "Bridge under the bridgeYou can leave for.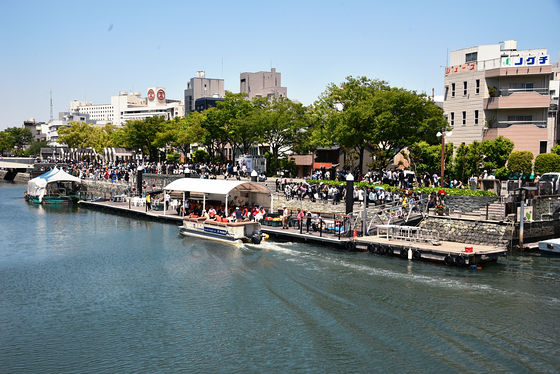 ◆Tug of war
At the Creators in Pack booth of Boardwalk, a tug - of - war competition was held. This is Creators in PackHataka TachiThings planned.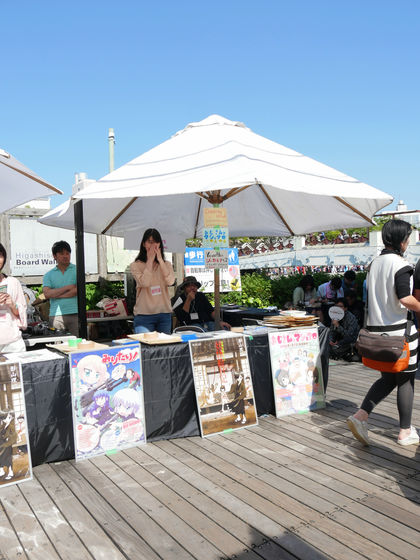 A tug-of-war tournament tournament was held for the whole 3 days of the gore ★ Asobi period, and when I visited there was a cat who wanted to get into the zodiac for sure.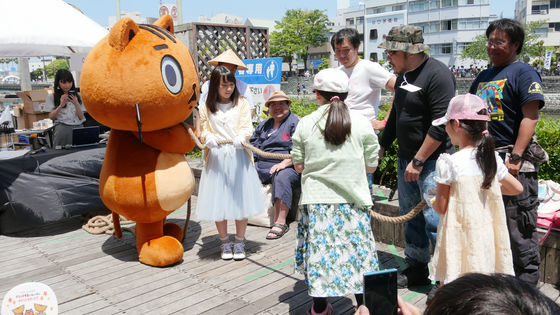 Drawn in 2 to 2 and pulled the rope ... ...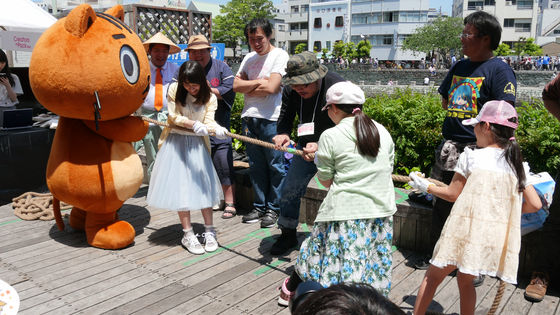 Two girls on the right side victory!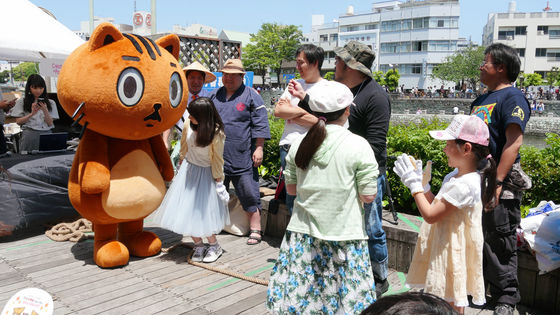 When I participated in the tug of war, I seemed to get goods such as fan and can badge.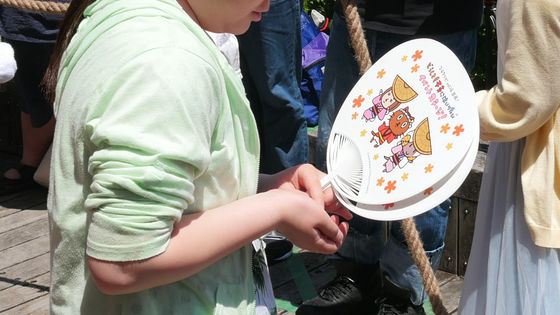 Furthermore, a 1: 1 battle is also held.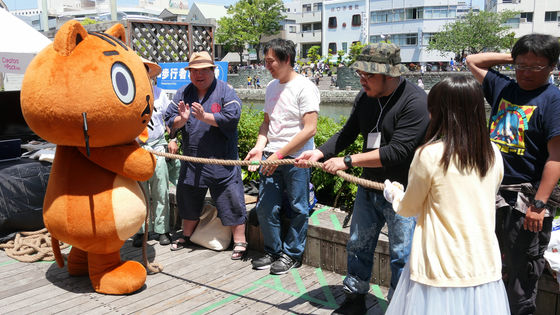 In the 4 to 4 tournament mode held with pre-registration, the winning team was awarded a tote bag with a powerful letter of "Tug-of-War King".

Machi ★ Asobi vol 16 Tug of war 2nd day Tournament mode The winning team has been decided! !
Thank you for your participation!

Now we are doing an exhibition match so please feel free to join us!# Machiasobipic.twitter.com/a56N8T7U0A

- Creators in pack (@ CreatorsinPack)May 4, 2016

◆Industry Participant Talk Event
On the evening of the second day, "Industry Participant Talk Event" which is a full-time event of Machi ★ Asobi was held. "It is an annual event where the contents of mouth-outside prohibition and out-of-entrance examinations are told under the iron's rule that it does not say (to someone), does not write (on the net), (does not tweet with Twitter)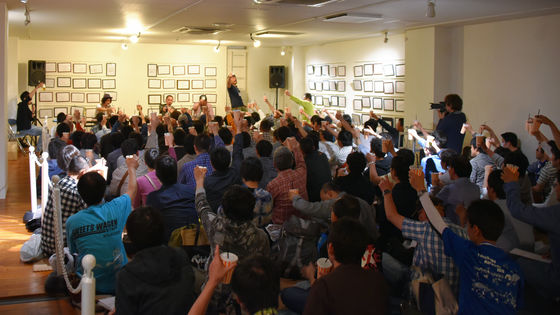 Talks of inviting luxurious guests have also been held this time again. This is one after the event.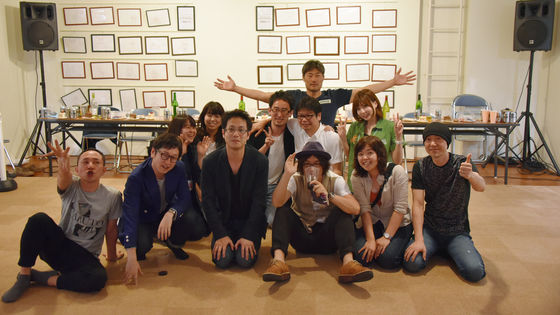 ◆Closing session
On the final day, closing ceremony was held from 15 o'clock when Ms. Ayano Ayano's live ended, and it was announced that "Machi ★ Asobi vol.17" was held in October 2016.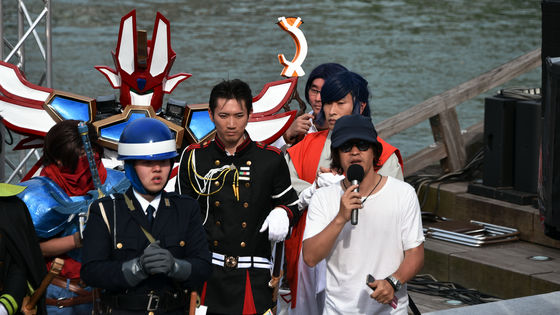 Events will be powered up every time we repeat times ★ Asobi. What will evolve next time?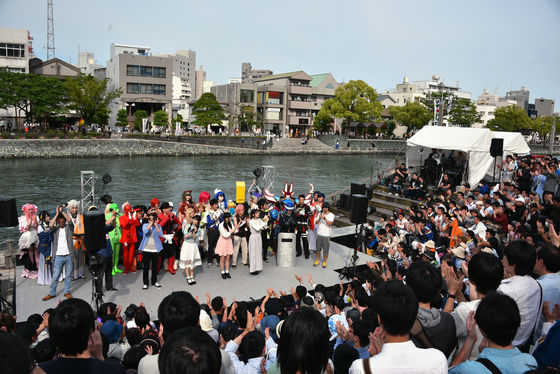 Tighten with the group photo at the end.


Machias sovi VO.16 Closing ceremony commemorative photo ②

I think that it was able to accomplish by borrowing the power of everyone this time, Machiasobi to make with everyone.
Please take care and return safely on your return trip.
I really appreciate it.#machiasobipic.twitter.com/FVCv1Y2Ny9

- Kondo Hikaru (ufotable) (@ hikaruufo)May 5, 2016

The shooting scenery of this picture was like this.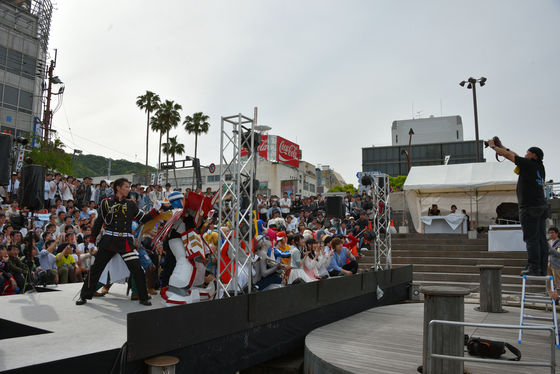 ◆Theatrical version "Fragrance -DIVINE FLAME-" Special stage just before the release
Theatrical version released on 21st May 2016 "Fragrance -DIVINE FLAME-"Director Yuichiro Hayashi (man in the picture center / blue clothes) took up the stage and talked about the charm of the works and characters.



◆Dakishi confrontation Tonight ~ Kamikaze Movie VS CC 2 VS Sangjigen ~
Sandigen participates in the new Okini confrontation with the Kamikaze movie and CyberConnectTo becoming an annual event. This time again, the adults became Daki interest tournaments who will do stupid thoroughly. By the way, while you are drawing neta seriously. Mr. Mizusaki Junpei, Yokojima Toshihisa, Cyber ​​Connect Two Hiroyuki Yonemura, Yukimura Yuki san, Skincatch Book is flipping through Shuichi Eko Sanguigen, blue shirt is Hiroaki Matsuura.



The winner will be decided by the customer, but if you try to decide the 1st place, it is likely that everyone else will applaud almost the same number of applauded people, so that the loser will be "to boost the most disadvantaged company" It is decided to decide the company will create a cool T - shirt and distribute it to applicants punishment game to be carried out ... ...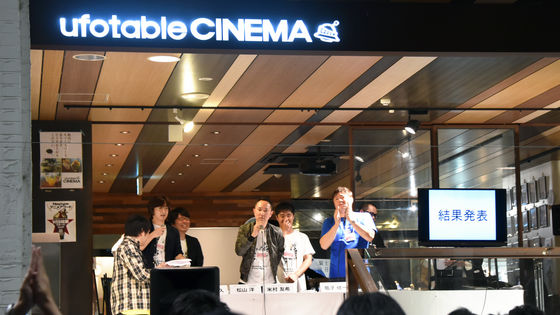 This time it was the result that overwhelming number of boo gathered in cyber connect - to - two.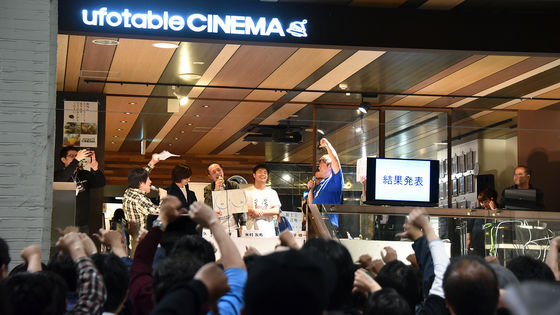 ◆ufotable 15th Anniversary Exhibition Bookmarking session
In September 2015Uchibashi Asobi vol.15 ufotable 15th anniversary exhibition that started at Tokushima at the same time as openingIs completed in March 2016, at the same time as the ufotable 15th anniversary exhibition started at Tokyo Anime Center, sales began.

This time, autographs were held for people who purchased the catalog for three days. Members are May 3, May, Takuya Nonaka, Yukako Seto, May 4, Takuya Nonaka, Mitsuru Funabu, Takayuki Mogi, May 5, Akira Funai, Takayuki Mogi, Yukiko Seto. This picture is from May 3, and there is a glance at Mr. Nonaka in the center (man with a light blue shirt sitting).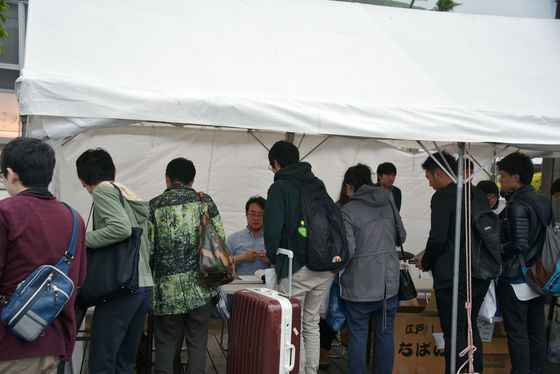 ◆Sega Pain Screening & Staff Talk Show @ Tokushima Server
TV anime broadcasted in 2006, this year is the 10th anniversary "Zegapain". AnimeJapan 2016Three major announcements including "The Zega Pain Adaptation" theater screening as the 10th anniversary projectAlthough it was done, a screening & talk show was held to boost the 10th anniversary even at Machi ★ Asobi.

Mr. Makoto Shibuya of the Sunrise public relations department, who was in charge of Bandai visual advertisementHirooka YujiMr. Izumi Izumi of the 7th studio setting production of Sunrise Production Department.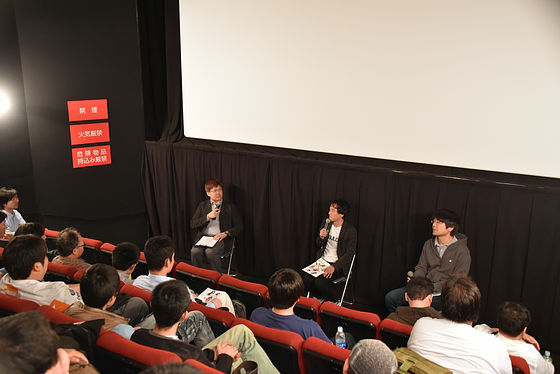 At the screening, director Shimami Shimoda added some edits to the 4 episodes of episode 3 "Deftella territory", episode 6 "Phantom", Episode 11 "Remaining Mashedra", and Story 16 "Resurrection Battleground" Sunrise Festival 2012 Selection Edition "was screened.

After the screening, I looked back on the 10th anniversary, there was a story that thanks to the fans who supported me for 10 years now that the animation broadcast in 2006 was still screening at the event. Even in the Sunrise Festival, most works are screening a specific number of talks, while Sega Pain's stuff's attention is pleasant, in the 2015 version editing has entered and the sound has changed, as if it were a new summary collection It seems that it was supposed to be.

Currently it is working on "Zegapain Adaption (ADP)". Design director Mr. Hiroyuki Hatakei participates in meetings every week and has given us new ideas, plus scenarios Masashi Sekijima and mechanic designer Nakahara Reina will also be participating in the work.

It has already been revealed that some new characters will appear on Sega Pain ADP, but this time the color version design was made public at the venue of Machi ★ Asobi for the first time.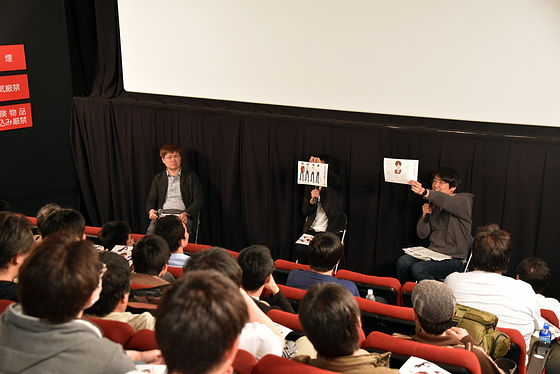 Below is the thing when it was published at AnimeJapan, a senior in Kyowa junior high school · Kohakura.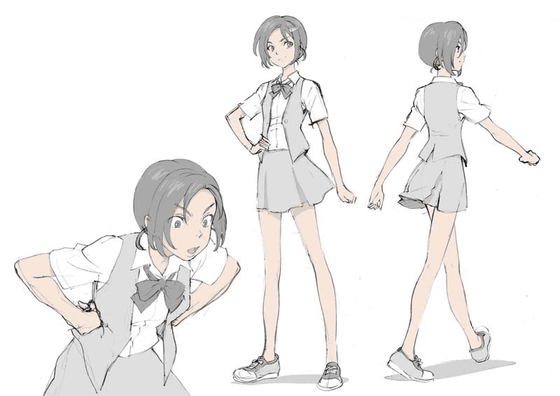 © Sunrise Project Seega

Speaking of Sega Pain is a story of summer. In the summer of this tenth anniversary, it will be a hot summer with a commemorative event and BD - BOX release.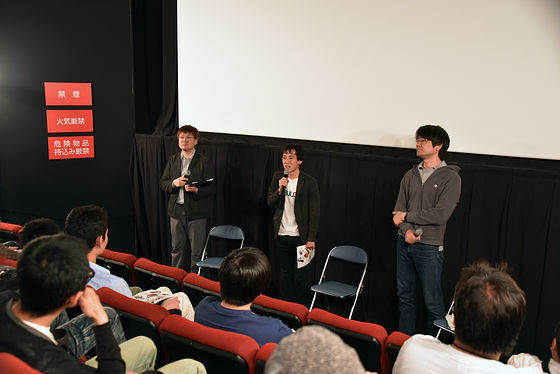 ◆Director Hayano Seiwaki handed-over meeting
The animation whose broadcast has been decided in 2016 "Golden hair ball of Udon no Kuni"Stuff Book 1", which was broadcasted from April 2015 "Yamada and seven witches"Directed by PV work for those who purchased a positive collection, is the director of both worksShigeo OnoA transfer was held by Ms.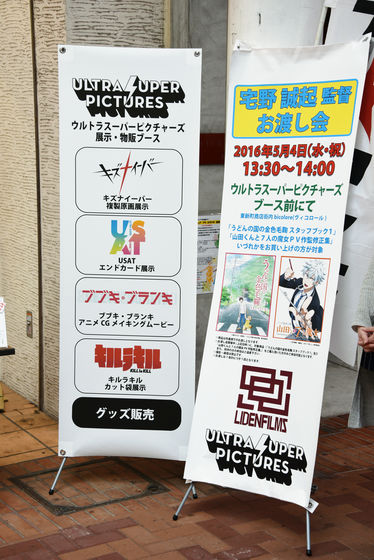 A queue made in front of the venue.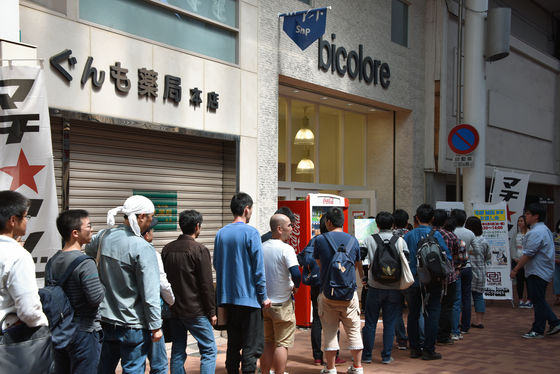 Director Hayano"Plaster boys" single screeningI ran shortly after. At the screening time I was making a make-up like a pattern on my face, but that complete version was Kore.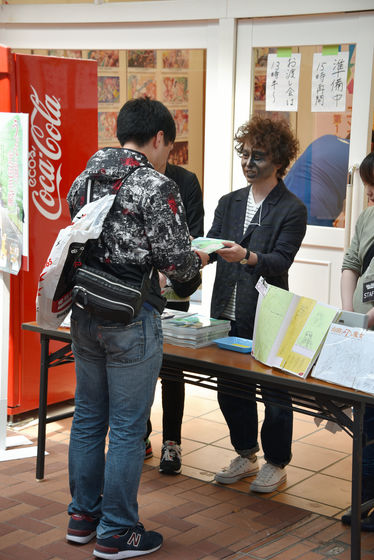 With the key visuals in between, Director MaruoHirokazu Shibaproducer.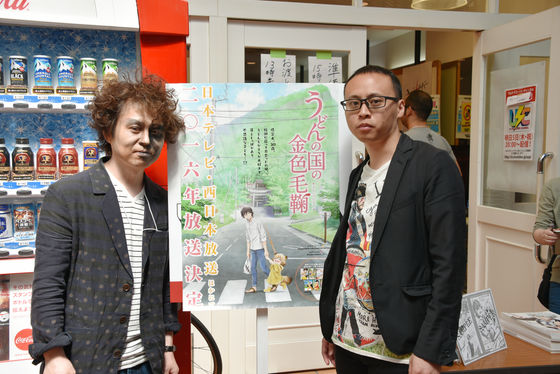 ◆ Yuru Character
Machi ★ Asobi has Tokushima Mascot characterSushi kun, As well as a lot of loose characters participated. I encountered Sudoki in front of ufotable CINEMA.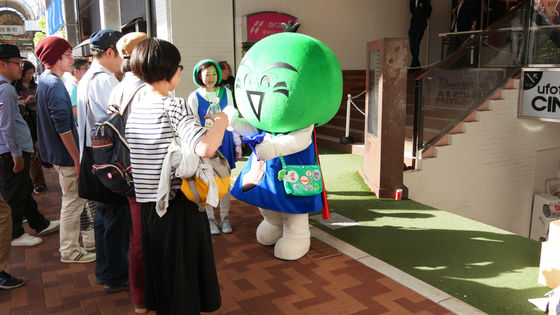 It seems that it was after shopping at the animate Tokushima store, and I had an animated blue shopping bag in my hand.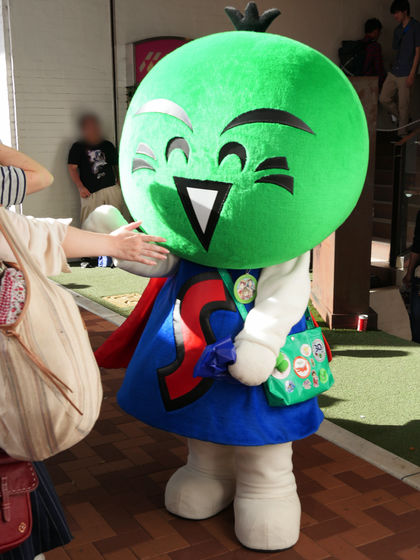 "Gunslinger StratosThe 'Machi ★ Asobi RUNI also participate as a guest runner.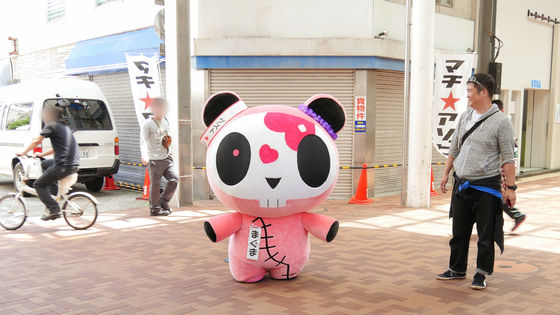 "U-no's daily lifeAnd, "Touken Ranbu"When there were 2 children in the Higashi Shinmachi shopping street, a lot of people stopped holding their legs.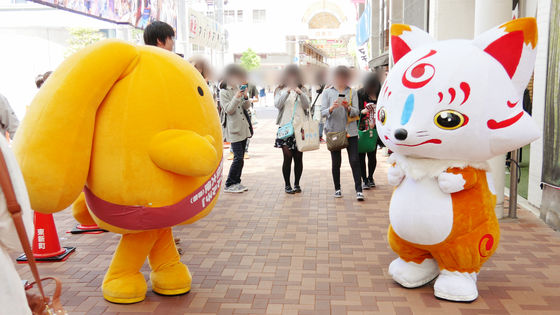 ◆food
Sanda noodles (noodles made by Shirataki) who had opened stores at Binji Bridge Nishikoen. There is warm soup stock (500 yen) and dried shrimp cold (600 yen), this time 600 yen is chosen. The ingredients are the same, Isobe fried eggs using Komatsushima Chikuwa, hot spring eggs, snow blue clams. The drink is Awaraizu (150 yen) of Energy Drink here.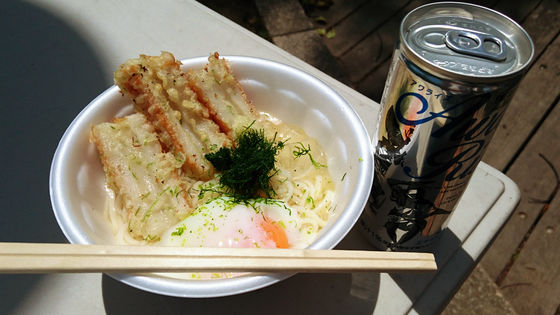 Solder Somen is a bit thicker than ordinary somen.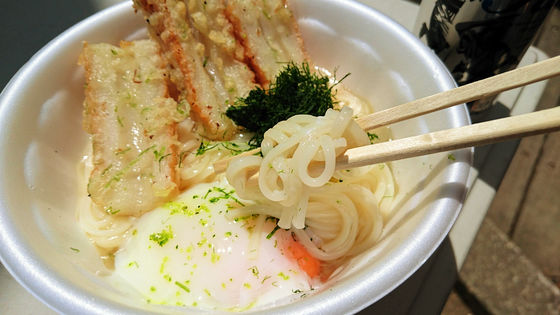 As you cross the Bridge Bridge from the Binji Bridge Nishikoen Stage and walk along the road, you will find "Tokushima Ramen Bilateral Countries". Business hours are from 11:30 to 14, 18 o'clock to 24 o'clock.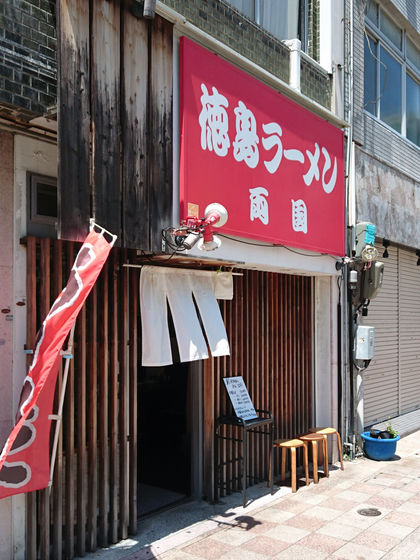 I ordered a paddy (280 yen) and meat inbuilt · large (700 yen).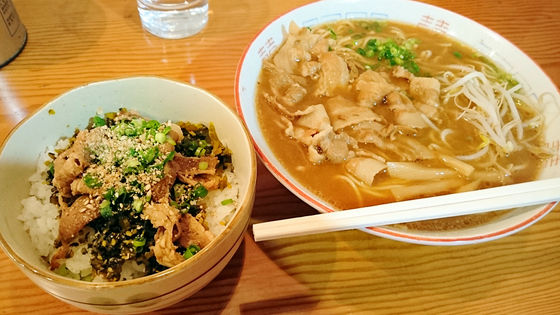 It is a narrow straight stem, and a sweet and sour pork belly meat is characteristic of "tea series Tokushima ramen".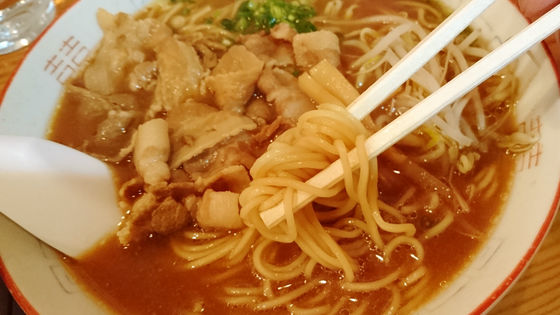 Separate eggs can be bought for free.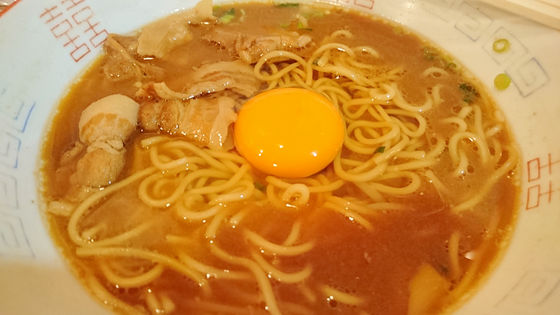 The inside of Higashi Shinmachi Arcade is "CHU CHU CHURROS CAFE"there is.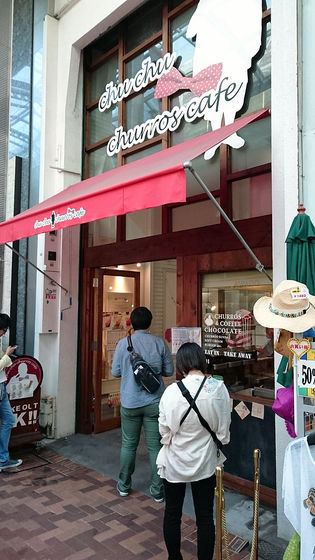 Turo's "Turo ★ Assobi set" using Awa Wakasan syrup was on sale.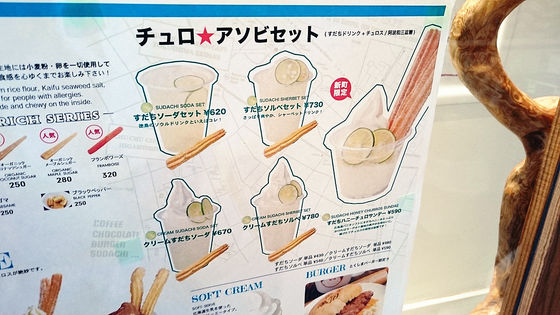 This is "Sudachi Hanichiro Sunday" (590 yen) which pierced a honey and deep-fried Tyros in Hokkaido vanilla soft. The sweetness of vanilla soft is even more prominent by acidic honey. It is exceptional to eat the vanilla softly with freshly baked crusty turos. Let's eat a long time before the taste of Tyros is lost.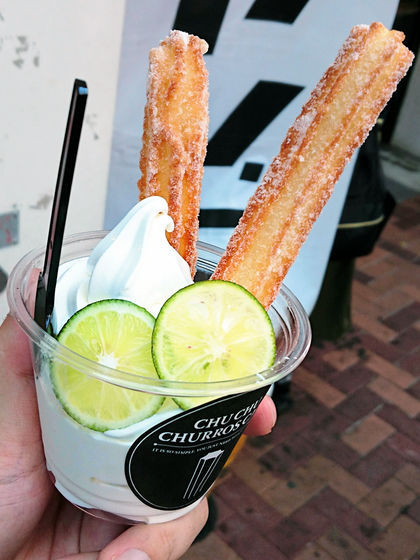 As I walked from Shintomichi-bashi Eastern Park towards the Awaodori-kai, a ramen shop called "Daigo" is located in front of the entrance to the Higashi-Shincho Arcade. Business hours are as short as 11 o'clock to 15 o'clock, and I see a queue in many time zones.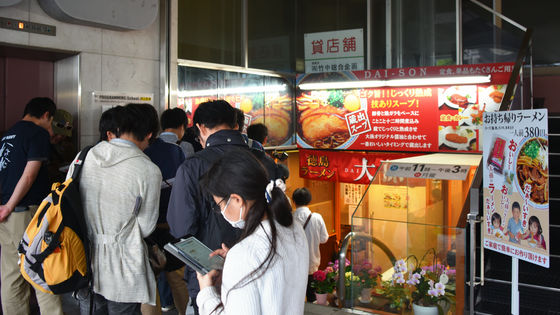 In addition to ramen there is a set menu of western food, but we order "Chashu" (800 yen), which is the most popular this time. There are two huge and thick chishees.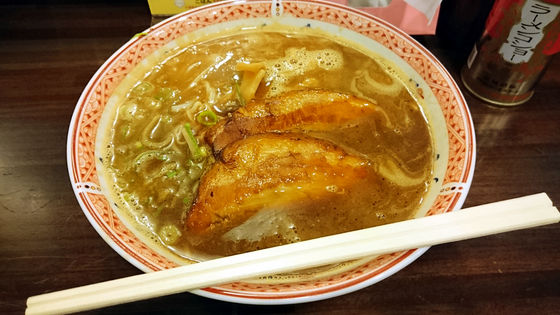 Here too eggs are free. The noodles were straight and medium in size and were firmly wearing the flavor of a thick soy sauce soup.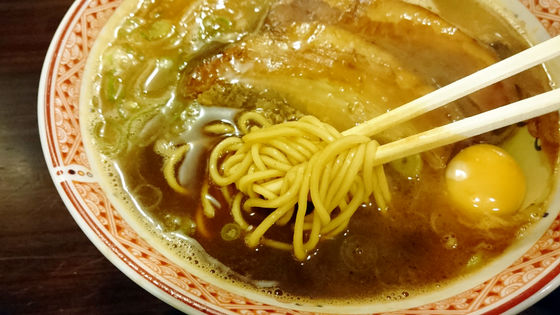 When walking from Shintomichi bridge east park towards Tokushima station towards Tokushima station, we cross the national highway at the Motomachi intersection, but before entering it we enter the alley on the right hand side (Sanuki Highway) and go there for a while "There are parfait and gelato stores Oz. "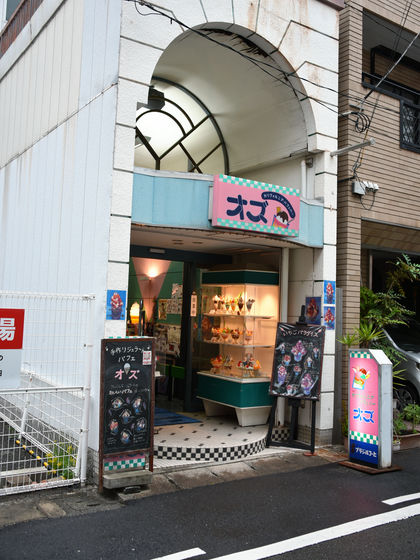 We deal with various parfaits from parfait-sized parfait to something big for 4 people. This is the maximum size for one person (1580 yen including tax). It is the iPhone SE that is lining up. If it is a big parfait, there will be a thick layer of cornflakes in the middle, but here there are plenty of cake layers but plenty of cream until the last fruit punch.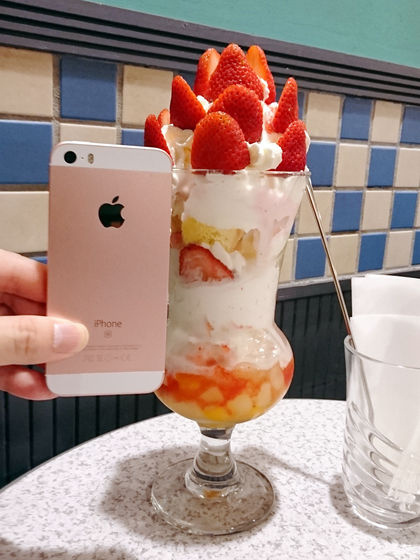 When it is the strawberry season, the combination of sweet and sour strawberries and vanilla gelato is the best.



◆ I.G store business trip store in Machi ★ Assobee
Shinmachi River Culture Gallery along Shinmachi Boardwalk includes Production IG's official store "IG store"Opened a business trip store.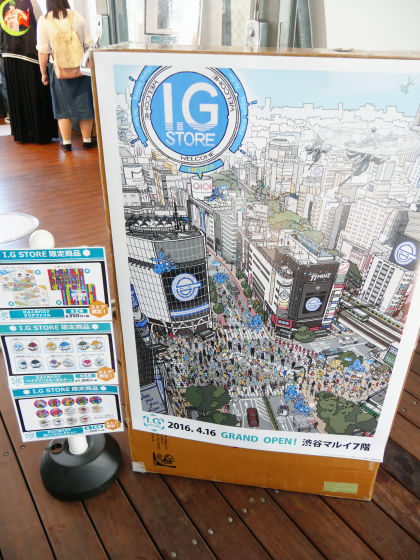 In addition to business trip stores in the gallery there was also a corner where you can experience the toeser image of "Ghost in the Shell New Theatrical Version Virtual Reality Diver" to be delivered in 2016.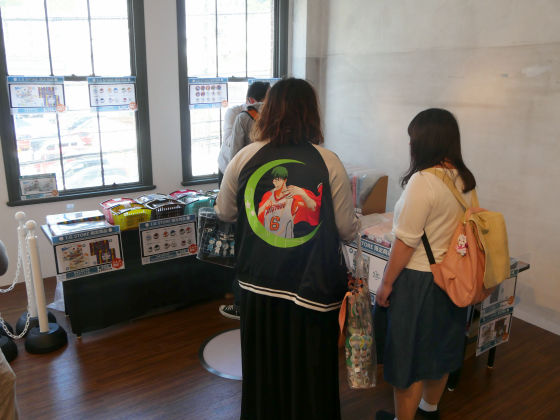 ◆Other
The "Machi ★ Asobi Guide Book" on which "Illustration used at the Bridge under the Bridge" and the outline of the event etc. are published is No. 14 this time. It is 1,000 yen per book, and the cover is the main page of "Fate / Zero Cafe" Ryunosuke. Since ufotable CINEMA and back number sales will be done in the next gore Asobi, those who are interested should check it.