Summary of what is expected to be announced at Apple's annual developer conference 'WWDC 23'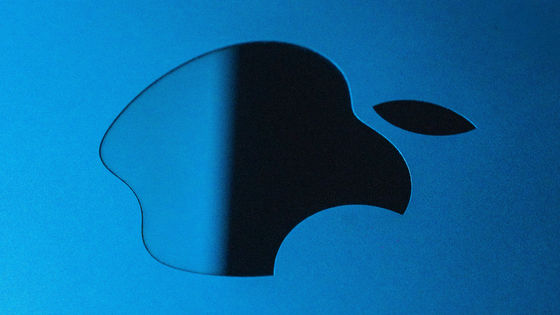 ` ` WWDC23 '', the 2023 version of Apple's annual developer conference WWDC , will be held from Tuesday, June 6, 2023, Japan time. At WWDC23, in addition to Apple's first mixed reality (MR) headset , which has been rumored to be developed for a long time, it is expected that new Macs and OSs will appear, and overseas media The Verge will announce what is expected. I'm putting together.

WWDC 2023: what to expect at Apple's Worldwide Developers Conference - The Verge
https://www.theverge.com/23728368/wwdc-2023-date-time-live-stream-watch-how-to-rumors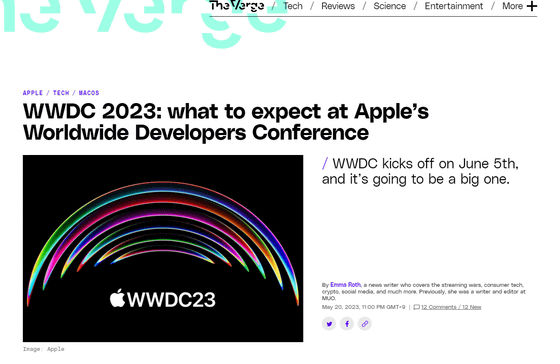 WWDC23, Apple's annual developer conference, will be held for five days from June 6th to 10th, 2023 Japan time. The latest version of the OS developed by Apple such as iOS, iPadOS, macOS, watchOS, tvOS will be announced at the keynote speech held from 2:00 on June 6th. The WWDC23 keynote will be streamed live on Apple's official website or official YouTube channel .

Apple's developer conference 'WWDC 23' will be held on June 6 - GIGAZINE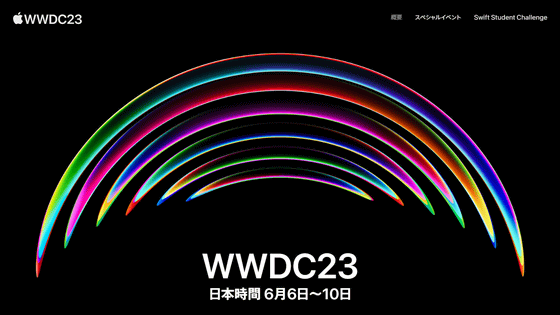 According to Bloomberg's Mark Garman, who is familiar with Apple-related leak information, Hideo Kojima, a world-famous game developer as the creator of Metal Gear Solid and Death Stranding , was spotted at Apple's headquarters. Garman points out that ``There is a possibility that he will be on stage at WWDC.''

Hideo Kojima - creator of Metal Gear Solid, Death Stranding - has been spotted by Apple's campus over the past week. Could mean he's a part of WWDC. Perhaps a port to Mac/Apple Silicon, if not headset. No Man's Sky for Mac, announced in 2022 but delayed, could also finally ship.

—Mark Gurman (@markgurman) May 18, 2023


What is expected to be announced at WWDC23 is as follows.

◆ Apple's first MR headset
It has long been rumored that Apple is developing an MR headset. This will be 'one of the most exciting products in the last few years' for Apple, according to The Verge. According to reports, the MR headset being developed by Apple will be able to enjoy both virtual reality (VR) and augmented reality (AR).

From Apple's trademark filing, the MR headset will be named 'Reality Pro' and is expected to look like 'ski goggles' with a physical dial that can turn VR on and off.

Apple has filed a trademark application for ``Reality One'' and ``Reality Pro'', and rumored AR headsets will soon appear - GIGAZINE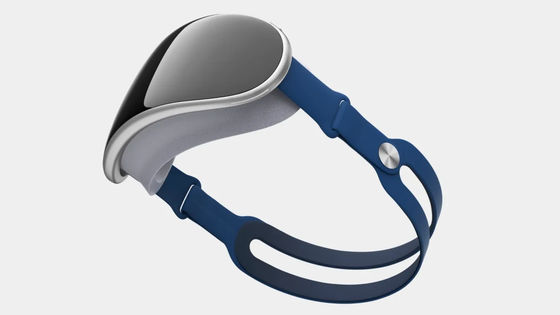 There were also reports that Reality Pro would have a camera to support hand tracking and a sensor for eye tracking. Sensors installed inside the headset track the user's line of sight, and cameras installed in the headset track the movements of the user's hand, displaying buttons, app icons, list items, etc. By operating it, you will be able to execute the task.

Is Apple's MR headset 'Reality Pro (tentative name)' equipped with gaze and hand movement tracking, 3D iOS-like UI, Mac external display function, etc. - GIGAZINE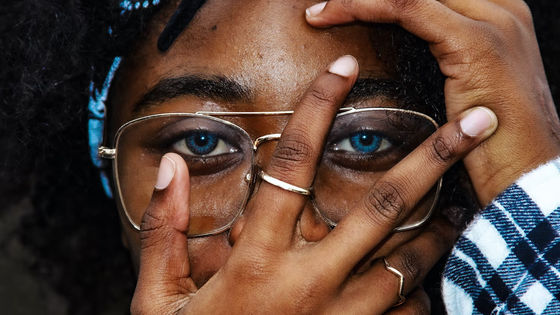 In addition, although Reality Pro functions as a standalone headset, it is also expected that the battery pack will be used by connecting the main unit with a cable to lighten the goggles worn on the head. The Reality Pro battery pack has a size and shape similar to the MagSafe battery pack , and it is said that one battery pack will be able to operate for about 2 hours.

Report that Apple's MR headset uses a removable battery by connecting it with a cable & adopts a USB-C port for data transfer - GIGAZINE



According to reports so far, Apple seems to be developing VR versions of genuine apps such as Safari, FaceTime, Apple TV, Apple Books, and Freeboard.

The selling price of Reality Pro is expected to be about 3000 dollars (about 410,000 yen), and it is reported that Apple is also working on the development of a low-priced version of Reality Pro, but this low-priced version is WWDC23 It is not expected to be published in

◆ New 15-inch MacBook Air
In addition, Apple is expected to announce a 15-inch MacBook Air with a larger display than the existing MacBook Air. The MacBook Air has long had a 13-inch display.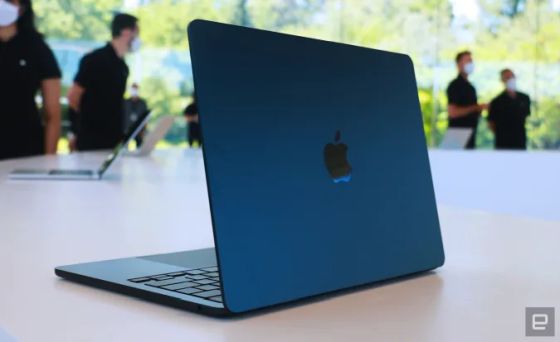 It seems likely that this 15-inch MacBook Air will be equipped with the M2 chip announced in June 2022. Also, the display resolution is expected to be 3024 x 1964 pixels, the same as the 14-inch MacBook Pro, and it is pointed out that the 15-inch MacBook Air has a larger display, so ``the pixel density may be slightly lower.'' .

Apple announces 'M2', the next generation version of the M1 chip, the number of transistors reaches 20 billion with the second generation 5 nm technology - GIGAZINE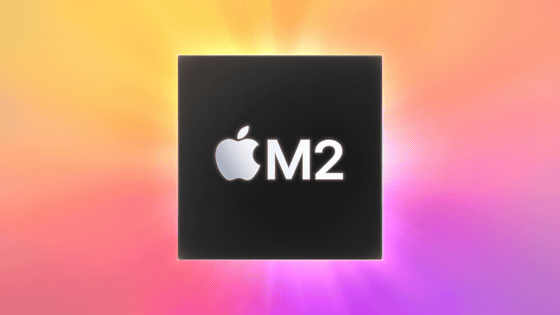 It's not exactly clear if Apple plans to announce any new Macs other than the 15-inch MacBook Air. However, Apple is rumored to be developing a 13-inch MacBook Pro, a 13-inch MacBook Air, a 24-inch iMac, etc., all of which are expected to be equipped with the new M3 chip.

New features for iOS, iPadOS, and macOS
On May 16, 2023, Apple announced `` Live Speech '' that allows you to create synthesized speech that reproduces your voice simply by recording your voice into your iPhone or iPad. These functions are expected to be new functions of various OSs announced at WWDC23.

Apple announces a function that allows you to talk to others with ``synthetic voice similar to yourself'' just by training for 15 minutes on the iPhone-GIGAZINE



In addition, it is rumored that Apple is planning to update the stage manager with iPadOS 17. The stage manager is a multitasking function that Apple implemented in iPadOS in 2022, but The Verge reporter David Pierce points out that ' the stage manager is not yet working ,' and the degree of perfection seems to be not good enough. is. Please note that this Stage Manager update will focus on technical aspects rather than general functionality.

There are not many rumors about what new features will be included in macOS 14 and tvOS 17, but watchOS 10 for Apple Watch will implement a big update that adds a new widget-heavy interface. possibility has been reported.

A journaling app for iPhone focused on mental health
The Wall Street Journal reports that Apple will release a new journaling app for the iPhone that will allow you to jot down your thoughts and activities throughout the day. The app could offer people detection, suggesting topics to write about, keeping track of who you spend time with, and detecting if you've done something you wouldn't normally do on a given day. .

Apple is expected to announce this app at WWDC23, but it seems likely that the release date will be around the fall of 2023.

The opening of Apple's closed ecosystem
Apple must comply with the European Union's (EU) Digital Market Act (DMA) by March 2024 at the latest for users to download apps from third-party app stores and sideload apps within the EU. I have to make it possible. Apple strongly opposes sideloading permission, saying , ``Installing apps from outside the App Store is dangerous for users .''

However, The Verge points out that it wouldn't be too surprising if Apple announced that it would allow sideloading of apps on iPhones and iPads at WWDC23. Bloomberg reports that Apple is considering overhauling iOS to comply with EU regulations.

Possibility of Apple allowing external application installation 'sideloading' on iOS 17 - GIGAZINE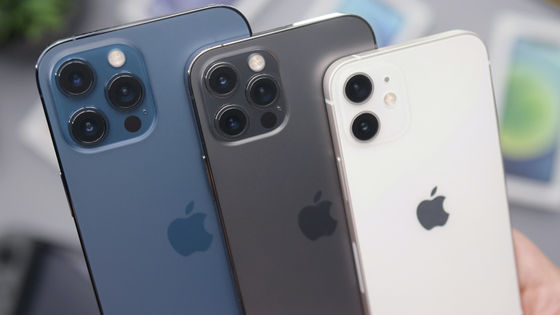 In addition, Apple may no longer force third-party browser apps to use Apple's proprietary browser engine, WebKit. Apple has long been criticized for forcing WebKit in third-party browser apps on iOS.

Claiming that ``WebKit enforcement on Apple's iOS deprives the future of web browsers''-GIGAZINE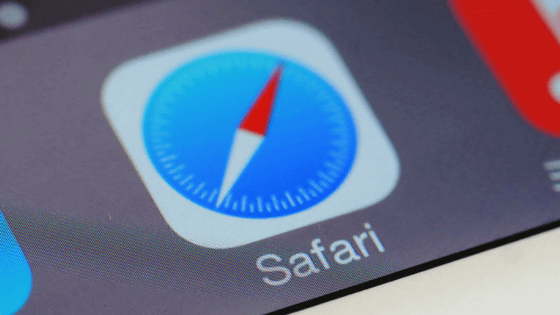 by iphonedigital

In addition, Apple has made NFC chips available only for Apple services such as Apple Watch and Apple Pay, but it has been pointed out that this may be available for third-party apps as well.