"Machi ★ Asobi vol.14" All articles summary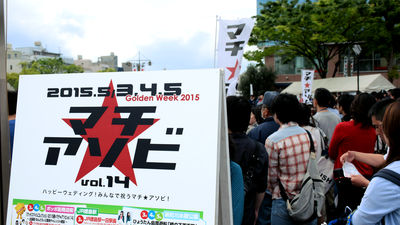 A distinctive atmosphere different from the event to be held in the metropolitan area is distinctive and it is the one that involved and participants together fill the streets of Shikoku and Tokushima with animation and game events and exhibitions "Gusset ★ Asobi"is.Last time heldAlthough the event period shrank to 2 days due to the influence of the typhoon,A total of 50,000 peopleVisited Tokushima hotly. During the three days from May 3 to May 2015, the 14th time "Machi ★ Asobi vol.14Since it was held, we also got on the site this time.

Machi ★ Asobi vol.14 2015.05.03 ~ 05.05 held
http://www.machiasobi.com/

◆ 03 May 2015 03: 24: 36 seconds
300 people requested a coupon ticket at midnight ★ Asobi vol.14 Fate / stay night on the eve of the night [UBW] Real time audience meeting report - GIGAZINE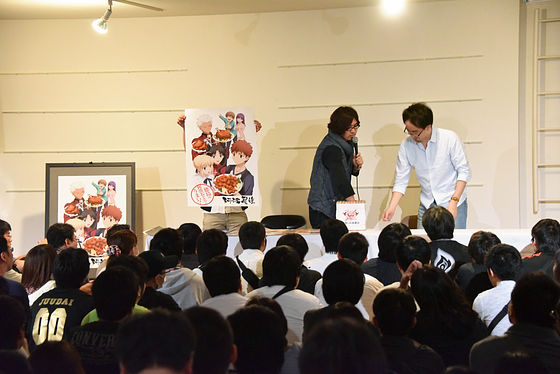 ◆ 2015 May 03 11:33:21
Bleu mountain ropeway guide announcement that Delemas 'Rin Shibuya' and Fate 'Girugamesh' will guide tourist - GIGAZINE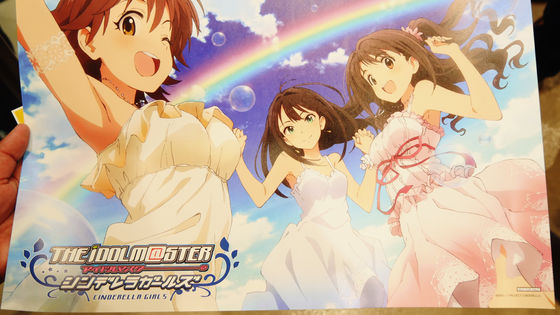 ◆ 2015 05 March 03 12: 24: 08 seconds
Limited express "Uzushio" departure ceremony with memorial entrance ticket release ceremony by Tokushima station filled with people five day voice actor station staff ceremony - GIGAZINE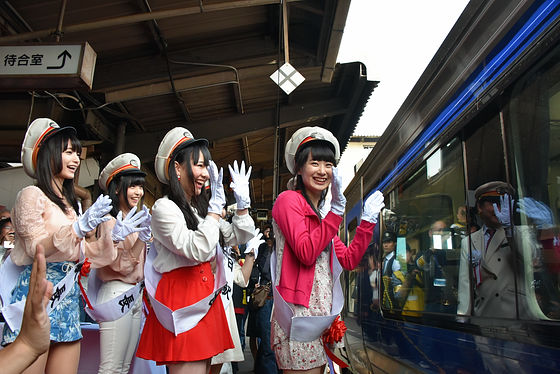 ◆ May 20, 2015 19:30:31
Fate · Deremas · Nozaki-kun · Riding on a ship. Enjoy a huge illustration such as 'Bridge under the bridge' - GIGAZINE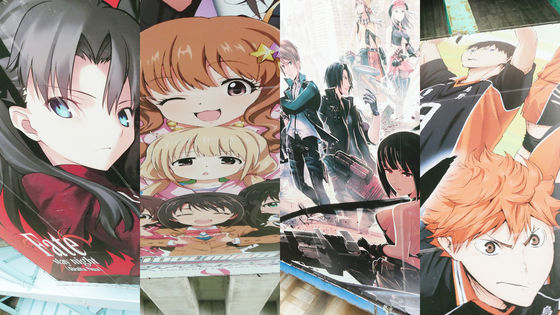 ◆ 2015 May 03 23:48:41
Awaodori poster announced in 2015 which will be culmination of the past four years, finished total of 11 episode at last finished - GIGAZINE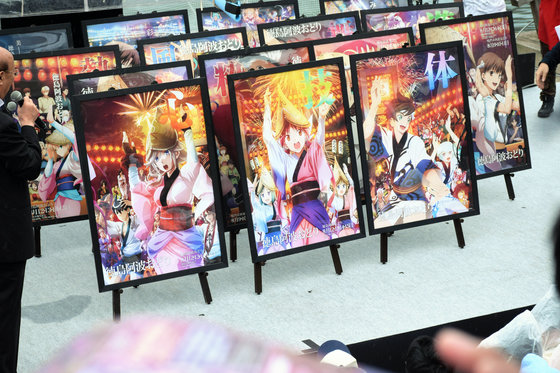 ◆ 2015 05/04 00:31:14
Subaru and GAINAX collaborated with tags of different colors "Pleiades after school" Special talk show and wrapping car exhibition - GIGAZINE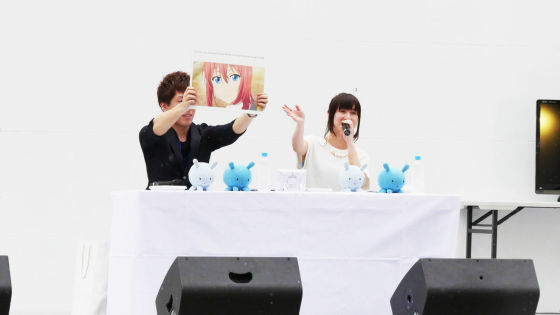 ◆ 05/04 2015 03: 14: 20 seconds
Special announcement such as animation and web version service continued "Hackador" special event & autograph session - GIGAZINE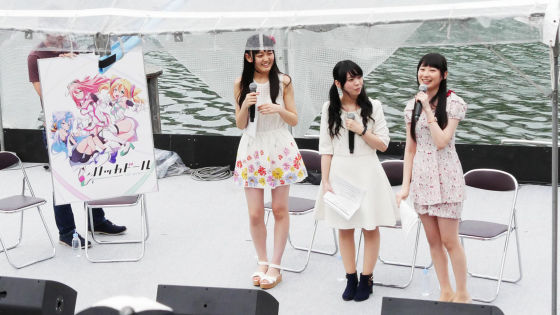 ◆ 2015 05/04 4:30:52
Dinner Cruise · Talk Live · I tried chasing "Oranha" team that was a success of the transfer and the big car - GIGAZINE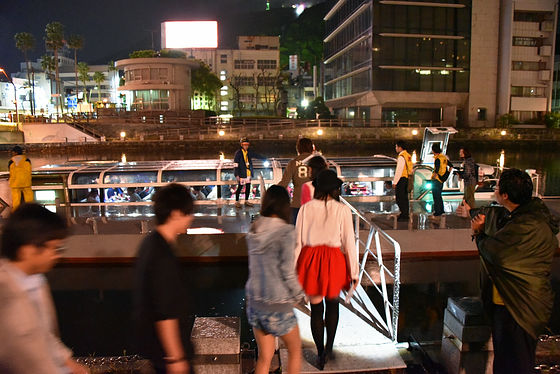 ◆ 2015 05/04 13:30:51
Trinity Seven · Prepara · Hanayamata · Wake Up Girls! Achievement 4 Awards of Asubi vol.14 Achievement Talk Show Report - GIGAZINE



◆ 2015 05/04 4:11:59
An original author · Yasuhiro Naito also got excited "The brain shook" Anime "Bloodfront Frontline" Pre-screening Event - GIGAZINE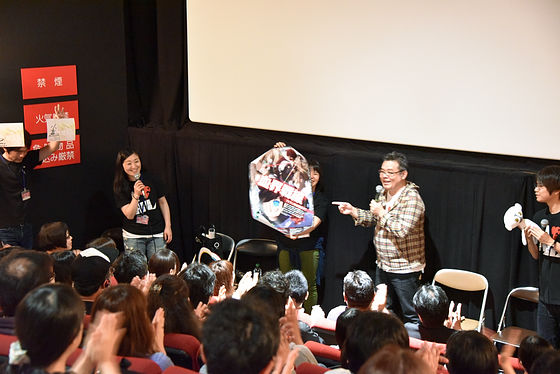 ◆ 2015 05 04 4 22:45 55
"Advance giant" "Director Tetsuro Araki and" God Eater "Hatto Takayuki Director's meeting was held" Digital Creators Human Resources Discovery Seminar "- GIGAZINE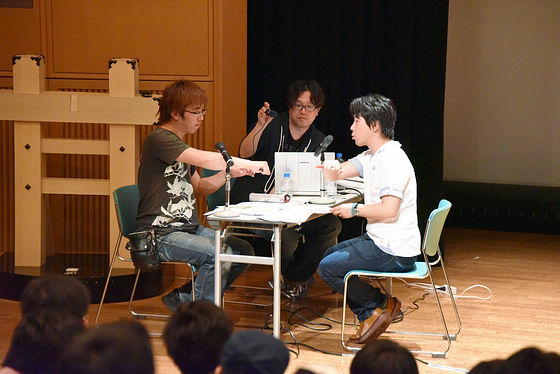 ◆ 2015 05 04 4 23 00 00 57
Seiyu Mitsuhiro & Mr. Inanoi's Public Wedding Report in Machi ★ Asobi vol.14 - GIGAZINE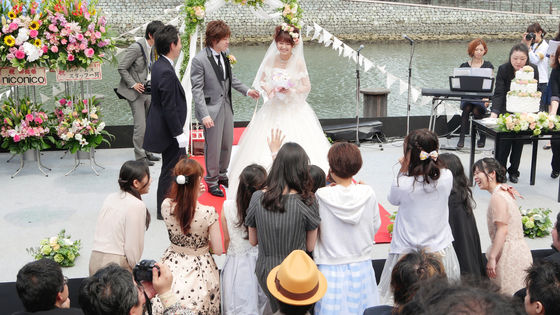 ◆ 2015 05-04 23:12:33
Original work of Kamikaze Movie "Cocorols" CG and Prints Combined Miraculously, World's Fastest Screening Talk Show - GIGAZINE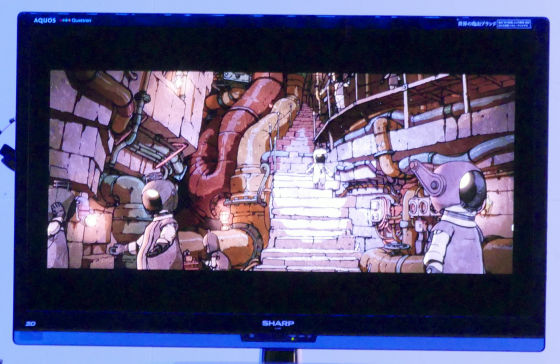 ◆ 2015 05-04 23:50:25
"Fate" "Orange" "Wake Up, Girls!" Limited Memorial Admission Ticket with Luxurious Illustration - GIGAZINE



◆ 2015 05 May 05 02: 0 5 min 23 sec
I'm sneaking into the staff talk event that shows how the animation "Fruit of Grisaia / Labyrinth / Paradise" was finished to be a nasty content - GIGAZINE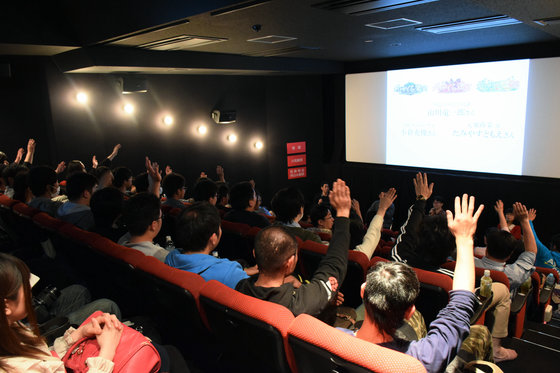 ◆ 2015 05-05 11:38 23 seconds
What is the ambition of seven young producers who carry the future of animation and the game industry? - GIGAZINE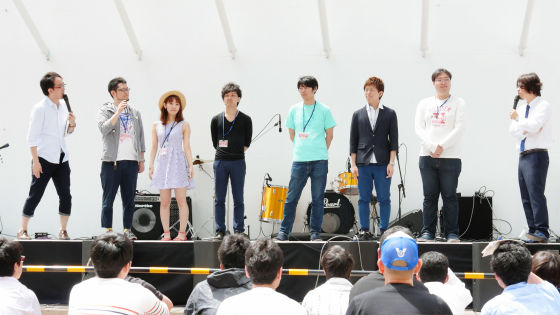 ◆ May 05, 2015 17:30:37
Mavel · Gaking · Beast Beer's Hero Show and Old Story-like Drama Performed "Mavreasovi vol 2" - GIGAZINE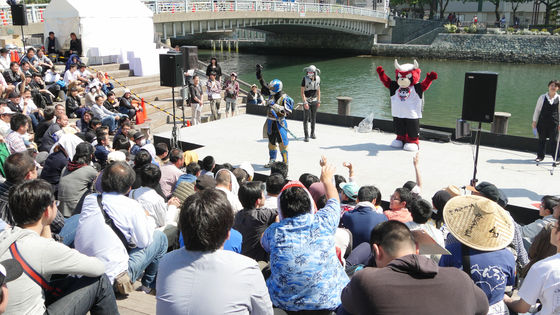 ◆ 2015 05/05 20 o'clock 35 min 31 sec
Event that NG came out from the administration with extreme word rush and became legend "VALKYRIE DRIVE talk show boobs are nice!" - GIGAZINE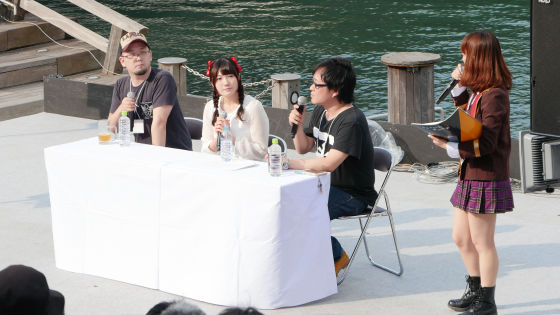 ◆ 2015 05/06 00:20:19
"Charity auction" in which a lot of valuable goods of anime and game such as illustrations and scripts are drawn out - GIGAZINE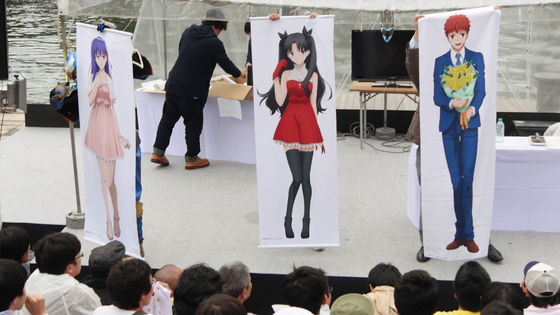 ◆ 2015 05/06 16:30:42
"Cosplay fashion show" of cosplay large population full of individuality such as high quality Shinobu Oshino and Doarra - GIGAZINE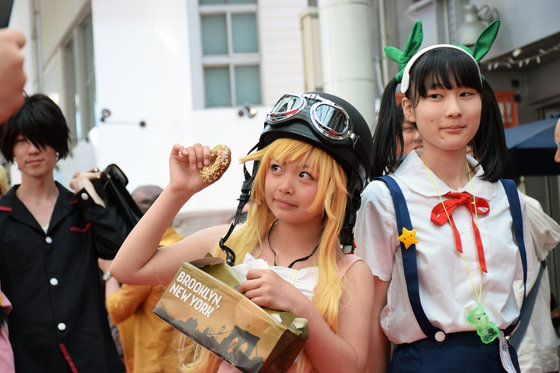 ◆ 2015 05/06 17:00:35
I watched "Animation · Game · Local Chara fought a chaotic battlefield" Costume Destroyed Showdown! Daruma Missed "- GIGAZINE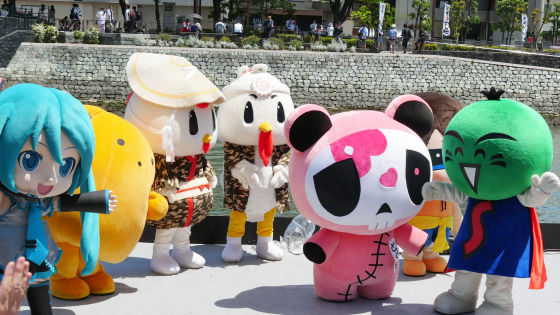 ◆ 2015 05/06 22:45:19
Cast announcement of animation "Chaos Dragon red dragon battlefield" and story behind the project A lot of gossip ★ Assoby talk event report - GIGAZINE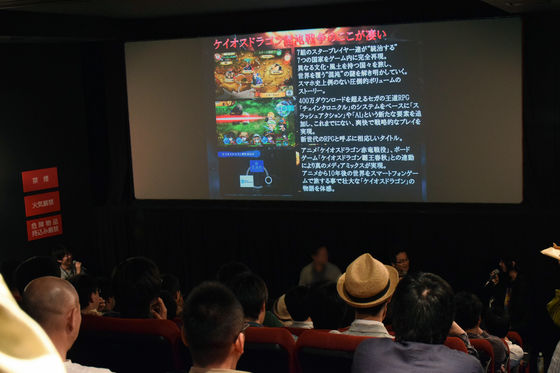 ◆ 2015 05/07 03:19:27
Industry people, voice actors, musicians and super-large giants also ran 4 km "Machi ★ Asobi RUN" - GIGAZINE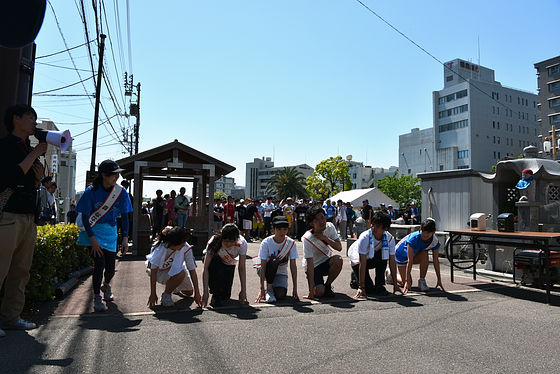 ◆ 2015 05/07 03: 58: 40 seconds
"Mexicana - Miss HOKUSAI ~" Prior Screening & Director Eiichi Director Talk Event in Machi ★ Asobi vol.14 - GIGAZINE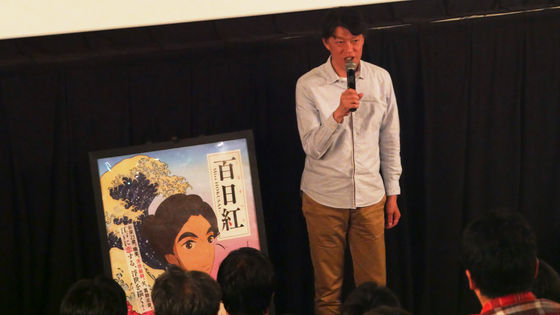 ◆ 2015 05/07 16:01:21
A precious painting story was dealt and it was just blue sky animation classroom "Fate / stay night [UBW]" staff talk event - GIGAZINE



◆ May 10, 2015 07:00:40
What is amazing what anime movie "In this corner of this world" gathered 20 million yen in only 8 days? - GIGAZINE



◆ 2015 05/14 14:30:12
Interview with innovative "VALKYRIE DRIVE Valkyrie Drive" fly-out setting to transform into a weapon when a girl with a tits gets excited - GIGAZINE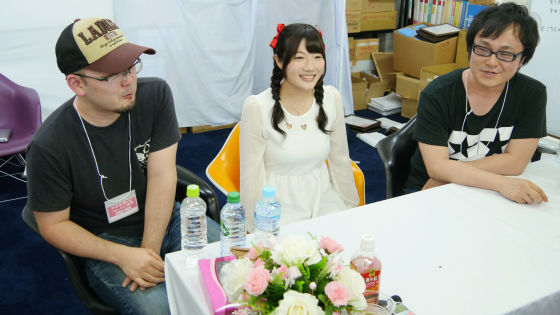 Immediately before opening
The situation of each venue before opening ceremony is like this.

Ufotable CINEMA already had long rows of rows.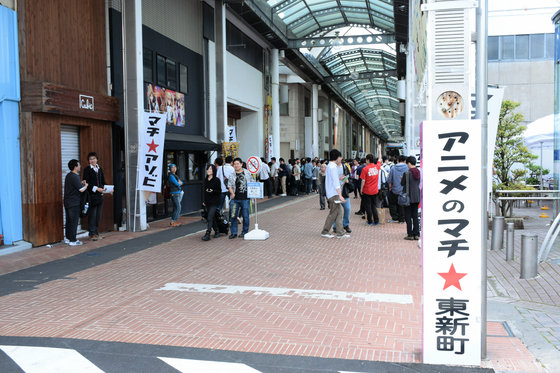 And a banner with "Welcome Anime Festival Machi ★ Asobi" written.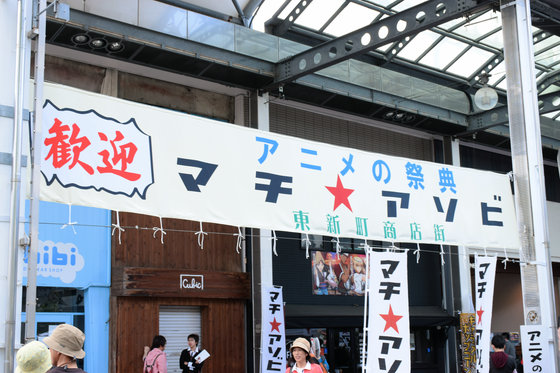 Animeate Tokushima where a queue was made before business.



People are gradually increasing ... ....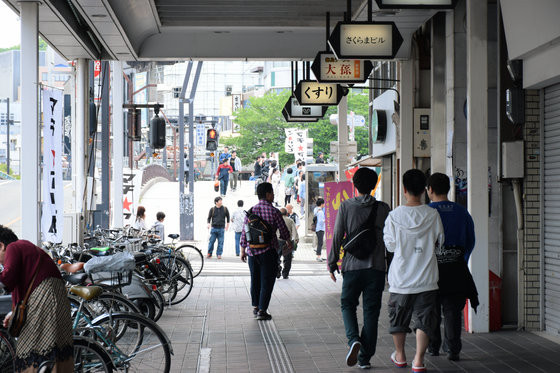 At Shintomachi bridge east park live was performed by casting of gore ★ Assobi cafe, and a considerable number of crowds were made.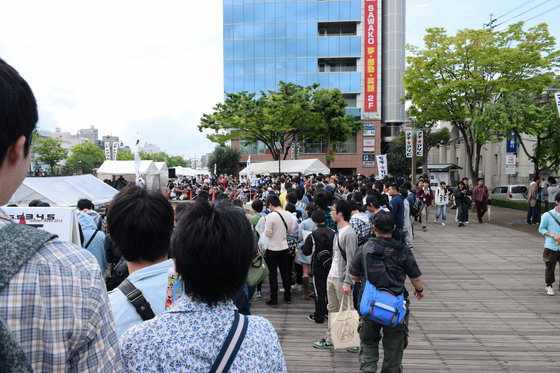 The signboard on which the event list and the itinerary are printed is located in this Shinchamachi Higashi Park.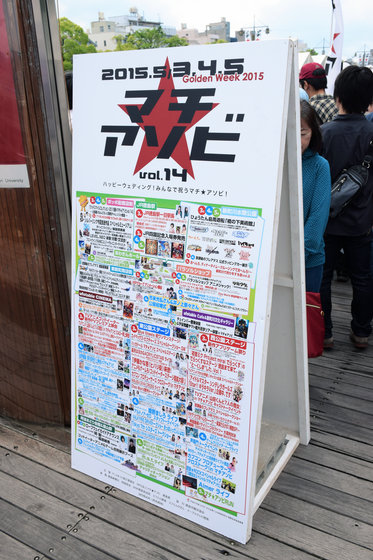 Characters of "Machi ★ Assobi" in and around the streets.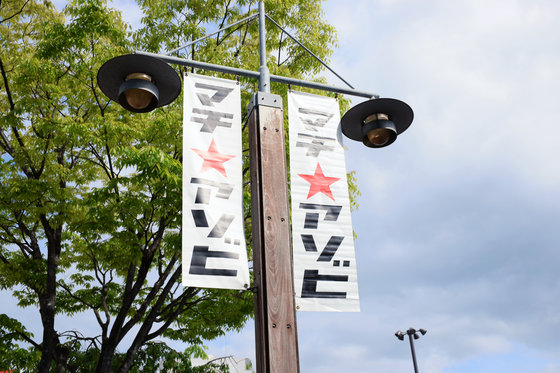 Shimaji Boardwalk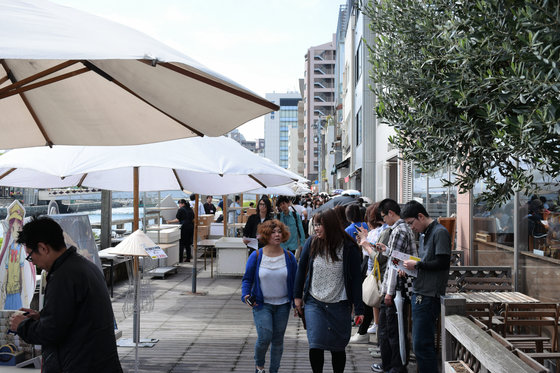 Binji Bridge Nishikoen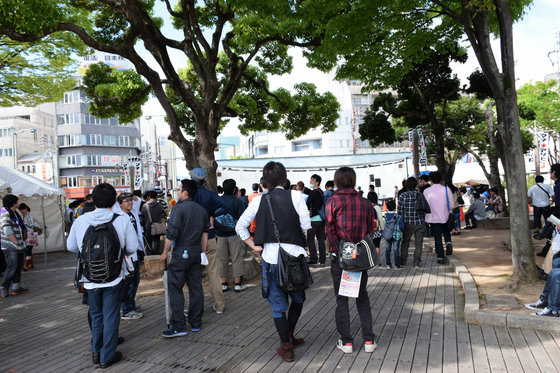 Although the event is not yet held, Walla Walla and people gather. People who say "I want to see this event in a good position!" Are waiting for the start of the event with a tripe.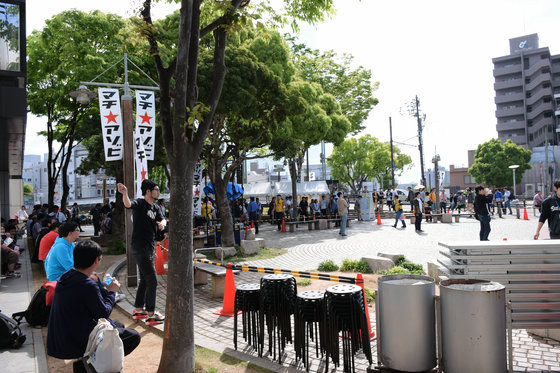 Then I entered Higashi Shinmachi shopping street, I found a Petit queue.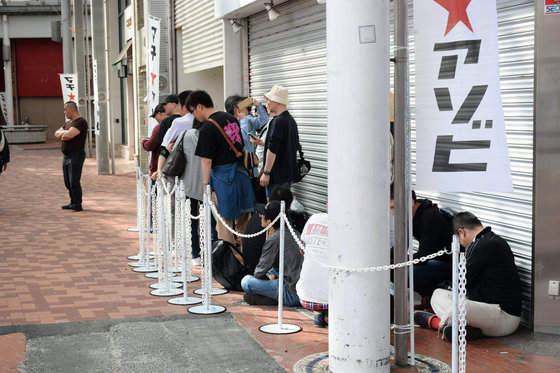 This was a row waiting for entrance into the space where Sega Shop · Arcs Shop · "Hatsune Miku Project mirai Promotion" experience corner · PSO 2 Arcs caravan retail section got together. Huge luggage of a mystery is carried here, and it is very worrising what is unity ... ....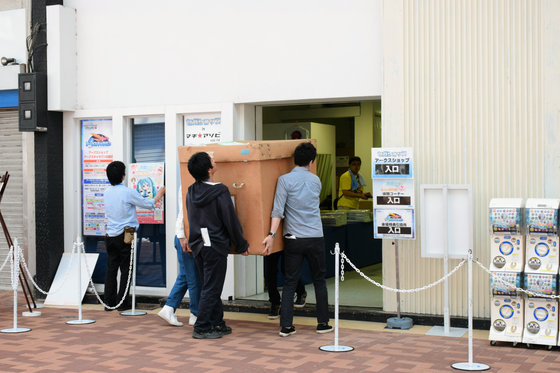 Parapara and people gathering in front of the game experience corner by Capcom.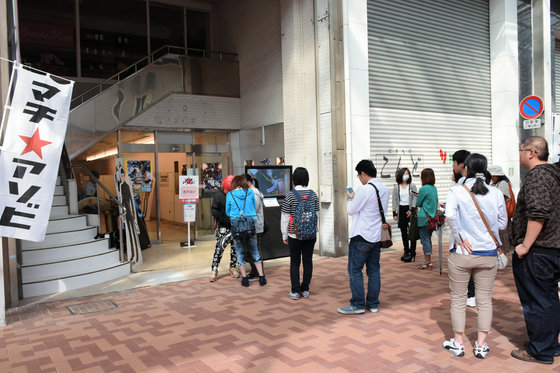 ◆ Personal Sponsor 4th term recruitment
The 4th term recruitment of personal sponsors who support "gore ★ ASOBI" personally started. This is ufotable CINEMA 's first floor queue waiting for reception, and all visible columns are those who subscribe to raw animation course.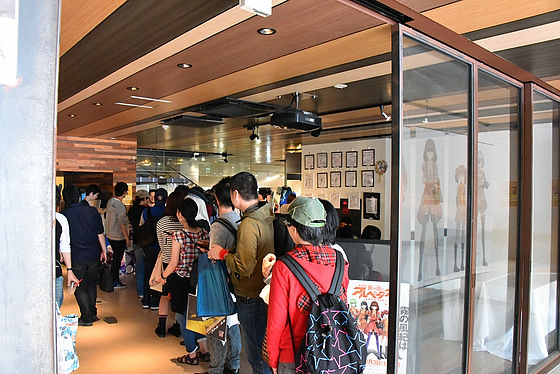 ◆ Orange. × Awa Tailed Bird Poster
"Fate / stay night [Unlimited Blade Works] real time viewing party" held on the eve of the start of Machi ★ Assobi vol.14In collaboration with Fate and Awa Okae, a collaboration PR poster was announced, a collaborative poster with "Ohanaro" was made before Fate.

I found a poster stuck on a shop called "Food" on the way to the Awaodori Kaikan.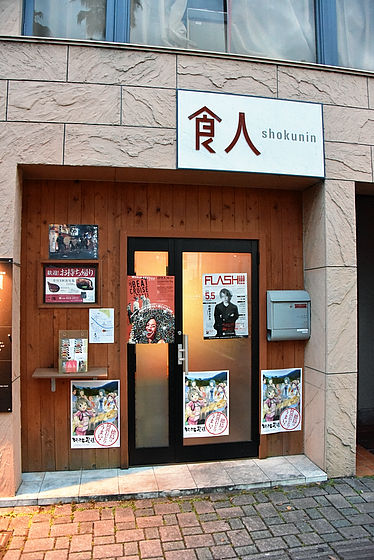 "Awaodori is good at Tokushima!"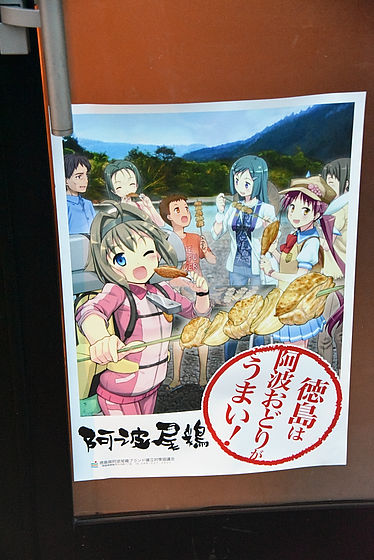 ◆ Amezari Hirai × CC2 Matsuyama's "Super Picopic Club" Cyber!
Cray crab Yuriyuki Hirai and CyberConnect - 2, President Hiroshi Matsuyama played the game live, or played free game during the game was held at ufotable CINEMA 1st floor entrance. President Matsuyama took out "Super Picopico Club" badge & clear file after the game got excited a lot.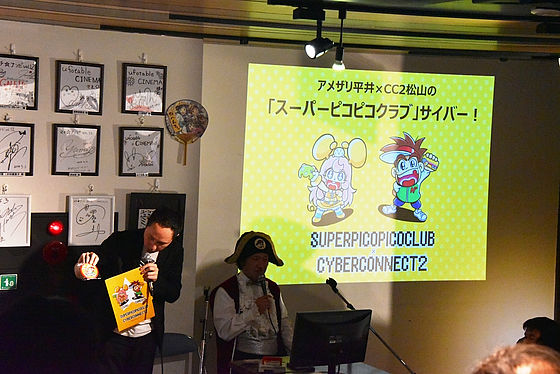 After the event was on sale, Mr. Matsuyama and Mr. Hirai had autographed signature.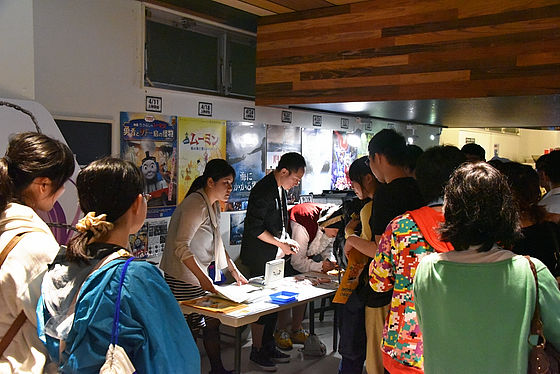 ◆ "Rainbow gypsy complete version" publication commemoration talk event ceremony Do you know about you? 【Machiavailable Business trip version】
Science fiction writer who used writer activities by using many pen names ·CeremonyFrom the theory creation company "Gypsy of rainbow Complete versionIn commemoration of the publication, Kotaro Gosho, a "ceremonialist researcher", held a talk event.

Mr. Yuuma Takahashi, Mr. Yuuma Takahashi who came in preparation for the next talk event, Euphor table · Kondo Hikaru producer, Kotaro Gosho, writer and Kazuyoshi Takei.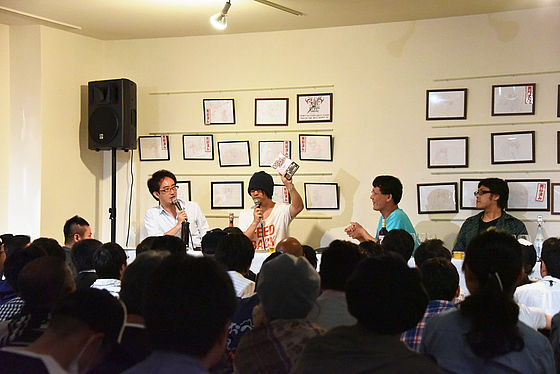 ◆ Industry Participant Talk Event
The annual "Do not say, write, do not murmur" event. The guests who came from the animation industry, the game industry etc etc this time also made various talks.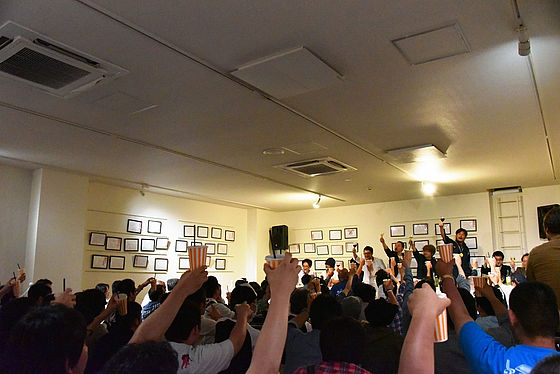 A group picture together with the speaker, the person who did not attend, is like this.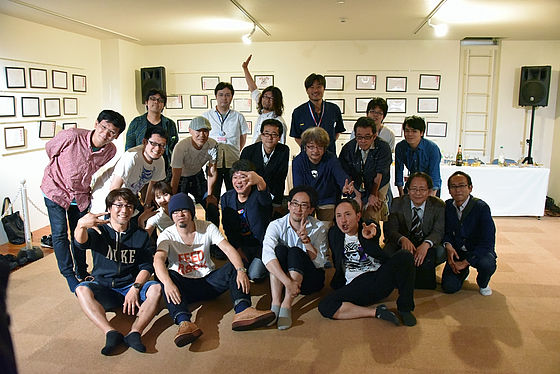 ◆ NOTTV presents Yoshida Naomi × Tadashi Azusa special talk show
It is a broadcast station for smartphonesNOTTVBy the offer of Nippon Broadcasting announcerYoshida NaotohiMysterious event that Mr. Talk shows. Guest is a voice actorTadashi AzusaMr. Although NOTTV increased the number of channels since April 2015, it was an event that also served as its PR, but almost all the story was written by Mr. Tadashi because the script was written as "42 minutes free talk" It was filled up.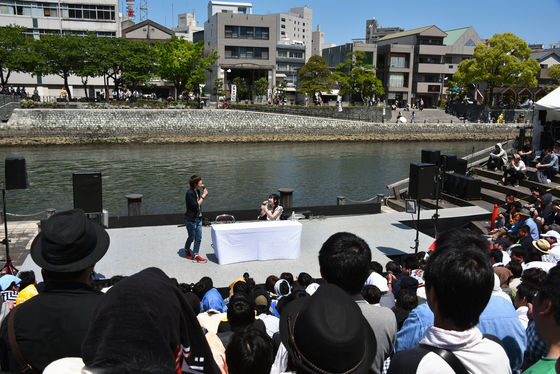 Regarding the contents, those who participated are picking up and writing until the radio broadcast of the evening of the day, so please refer to that.

I went to the talk show of Machi ★ Asobi Yoshida Naoki and Tazo Azusa (impression) |
http://mobilewatch.jp/?p=1771

◆ Closing Ceremony
At the closing ceremony held at Shintomachihashi Tokaido Stage, cosplayers came to a large audience.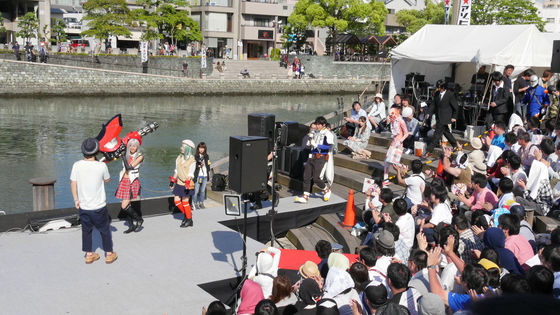 Align on stage.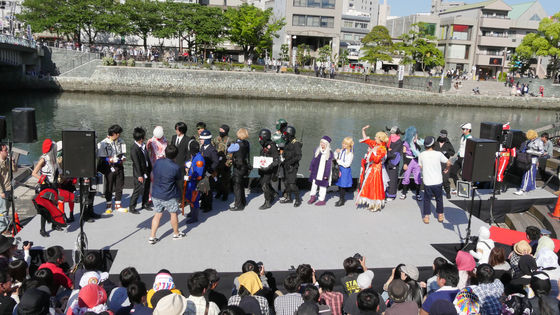 Customers are not only seated on the auditorium, but also on the bridge.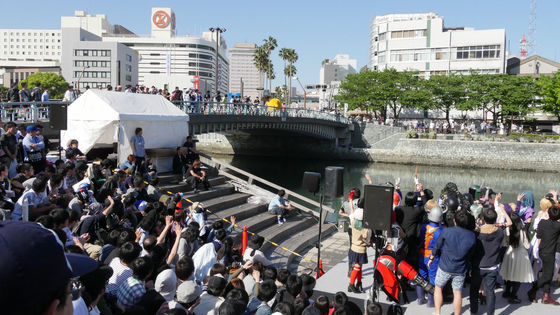 In the closing ceremony, Mr. Ichigo and Inogami who just published public wedding ceremonies on the previous day also participated.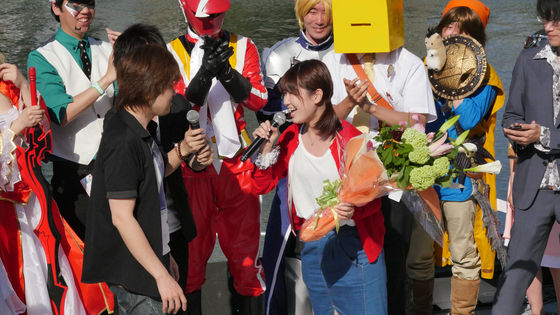 It is a closing ceremony where attendees are on stage. Next time Machi ★ Asobi vol.15 announces that the first run will be held from Saturday, September 26, 2015, and the climax run will be held from October 10 (Saturday) to October 12 (Monday). Also,Tokushima Prefecture Cultural ForestIt was also informed once again that the entrance of the cosplayer and shooting were OK and Kalafina and Aimer are planning to perform an acoustic live outdoors in the museum.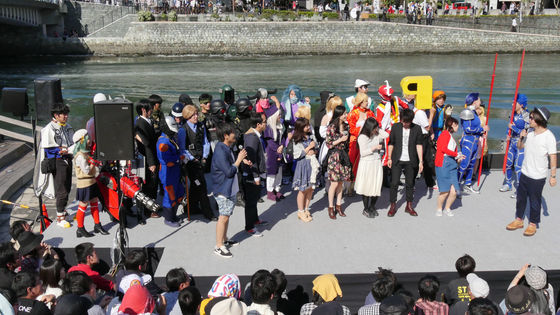 With that in mind ★ Asobi vol.14 is closed safely. Next time it will be a fifteen-time commemoration, so a lot of tremendous events should be waiting.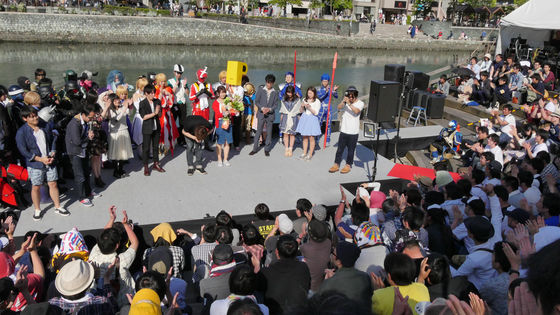 In addition, it is said that 74,000 people participated in Machi ★ Asobi vol.14 in 3 days, and it became the highest number of customers.


7,400 people geek ★ Asobi closing to the celebration of animation 【Tokushima News】 - Tokushima Shimbunhttp://t.co/tT1QAUUaz3@ From Tokushima NewspaperRecord high number of customers. Thank you very much.# Machiasobi

- Kondo Hikaru (ufotable) (@ hikaruufo)2015, May 6