Kentucky sells fried chicken using plant-derived meat substitute 'Beyond Meat' throughout the United States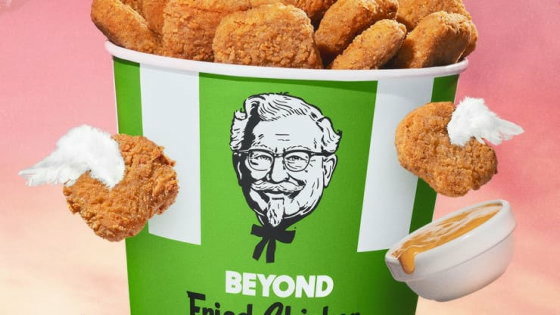 In recent years, people who are highly interested in health and environmental issues have been paying attention to 'meat substitutes' that reproduce beef and chicken with plant-derived ingredients. Meanwhile, Kentucky Fried Chicken (KFC) announced on January 10, 2022
that it will sell fried chicken using the plant-derived meat substitute 'Beyond Meat
' throughout the United States for a limited time.
Behold! A crispy miracle coming 1/10. pic.twitter.com/QgHiYsYfqX

— KFC (@kfc) January 5, 2022


Beyond Fried Chicken: KFC's new menu item tastes like chicken (but isn't) --CNN
https://edition.cnn.com/2022/01/04/business/kfc-beyond-fried-chicken-launch/index.html

KFC to launch plant-based fried chicken made with Beyond Meat nationwide
https://www.cnbc.com/2022/01/04/kfc-to-launch-meatless-fried-chicken-made-with-beyond-meat-nationwide.html

Beyond Meat is an alternative meat that analyzes the flavor and texture of meat at the molecular level and reproduces it with 100% plant raw materials. KFC has long planned to partner with Beyond Meat to sell 'fried chicken using plant-derived meat substitutes,' and in 2019, it will actually sell 'Beyond Fried' at some stores in Atlanta, USA. In addition to the test sale of 'Chicken,' in 2020, the target stores were expanded and test sales were conducted. In 2021, KFC, Pizza Hut and Taco Bell developers Yum ! Brands and Beyond Meat announced that they have signed a global supply agreement.

Kentucky sells meat-free fried chicken 'Beyond Fried Chicken' at some stores --GIGAZINE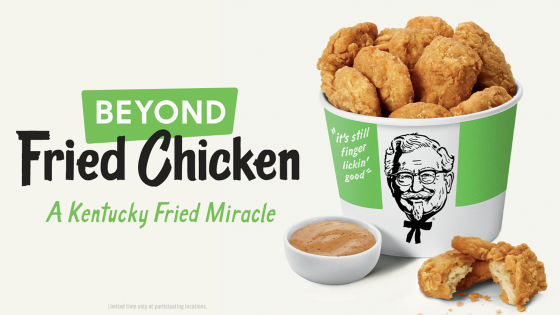 And on January 4, 2022, KFC announced that 'Beyond Fried Chicken using Beyond Meat will be sold at KFC stores throughout the United States for a limited time from January 10th.' Beyond Fried Chicken can be ordered in units of 6 pieces or 12 pieces, and although the price varies depending on the location, the lowest price is 6 pieces and it is $ 6.99 (about 810 yen) excluding tax.

Kevin Hoffman, president of KFC in the United States, argues that the deployment of fried chicken with Beyond Meat reflects the needs of customers. 'Customers want to eat less animal-based protein, but they don't want to give up on comfortable food,' Hoffman said. 'January is the time for the New Year's determination and people are in the diet. We want to change something, 'he said, making Beyond Fried Chicken an attractive option for customers who want to move their protein source from animals to plants.

In addition, Beyond Fried Chicken seems to be particular about taste, and it is said that some changes have been made from the test sale in 2019 according to the needs of customers. Hoffman even says, 'The taste (of Beyond Fried Chicken) is so great that it may be chosen over regular fried chicken.' KFC stores receive Beyond Fried Chicken that has already been fried and fry it twice at the store before serving it, but since it is cooked in the same space as other regular menus, it is strict that you do not eat anything of animal origin. It seems that it is not a menu for vegetarians and vegetarians.

Beyond Meat CEO Ethan Brown said, 'I have some experience in initial testing from a supply perspective and it feels very good,' he said, showing confidence in expanding to the entire United States. Beyond Meat supplied Tyson Foods as supply chain manager in December 2021 with Doug Ramsey, who held key positions in the chicken division at Tyson Foods , the largest American meat processing company, as Chief Operating Officer (COO). It is said that it has been preparing for expansion, such as welcoming Mr. Bernie Adcock who was in charge of chain management. "We continue to grow our operations team," says Brown.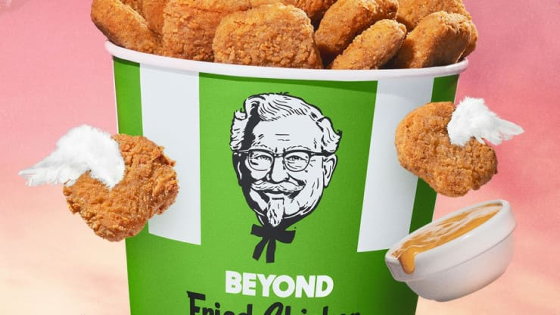 Beyond Meat has partnered with McDonald's as well as KFC to test-deploy the alternative meat burger 'McDonald 's' from November 3, 2021, and reports that it plans to further expand the deployment of McDonald's in 2022. It has been .

In 2021, Beyond Meat's stock price fell by nearly 50% due to concerns about a decline in competitiveness, but in the market transaction on January 5, 2022, Beyond Meat's stock price rose by nearly 9%. ..