McDonald's launches 100% plant-based hamburger 'McPlant' without meat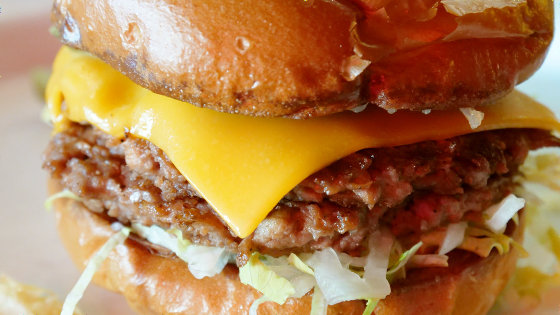 In the United States, artificial meat and alternatives such as Kentucky's release of meat-free fried chicken ' Beyond Fried Chicken ' and Burger King's use of artificial meat 'Impossible Whopper' for patties. The demand for meat is increasing. Finally, in response to this trend, it was found that McDonald's will start selling the 100% plant-based product line ' McPlant ' using artificial meat in 2021.

McDonald's to debut'McPlant' in 2021, Beyond Meat says co-created patty | Reuters
https://jp.reuters.com/article/uk-mcdonalds-food/mcdonalds-to-make-its-own-mcplant-items-beyond-meat-says-co-created-patty-idUSKBN27P2GA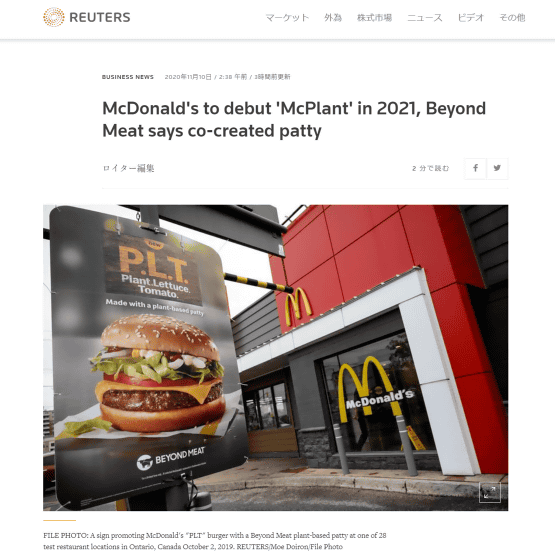 McDonald's'McPlant' news spooked Beyond Meat investors, analyst says
https://www.cnbc.com/2020/11/09/mcdonalds-mcplant-news-spooked-beyond-meat-investors-analyst-says.html

McDonald's announced on Monday, November 9, 2020 that it will finally launch a plant-based hamburger called McPlant. Although artificial meat made only from plant materials without using meat is manufactured by multiple manufacturers, 'Beyond Meat' will be used for McPlant.

You can read what McDonald's plans to use Beyond Meat in the article below.

It was amazing to actually bake and eat artificial meat 'Beyond Burger' and 'Impossible Burger' that reproduce the flavor, taste and texture of meat at the molecular level --GIGAZINE



McDonald's is conducting a test sale of a plant-based hamburger called 'PLT burger' in Ontario, Canada in early 2020, and among them, the hamburger using Beyond Meat was especially popular.

A Beyond Meat spokeswoman emailed Reuters, 'Beyond Meat and McDonald's have jointly developed a plant-based patty that can be used on McPlant's platform.' However, McDonald's has not disclosed details of which manufacturer to use for McPlant's Patty.

McDonald's McPlant is rather a latecomer, as many fast-food chains offer plant-based products, but McDonald's CEO Chris Kempczinski said, 'Plant-based products are modern consumers. It's a trend, and what's important to McDonald's is not 'whether to sell plant-based burgers,' but 'when to sell.'

In addition to hamburgers, the McPlant line will offer chicken burgers, breakfast sandwiches and more, and McDonald's representative Joe Arriger said he will sell meat-free crispy chicken sandwiches in 2021.