Kentucky sells fried chicken 'Beyond Fried Chicken' that does not use meat at some stores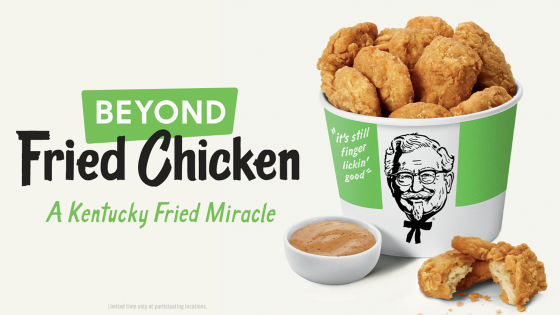 It became clear that Kentucky is selling some fried chicken that does not use meat at some stores in the United States. This fried chicken uses
Beyond Meat,
a new type of artificial meat that has been reproduced with 100% plant material by analyzing the taste, flavor and texture of meat at the molecular level.
Beyond Fried Chicken-A Kentucky Fried Miracle-Beyond Meat-The Future of Protein ™
https://www.beyondmeat.com/whats-new/beyond-fried-chicken/
KFC will test Beyond Meat plant-based chicken
https://www.cnbc.com/2019/08/26/kfc-will-test-beyond-meat-plant-based-chicken.html
Plant-Based Chicken Is Here, Courtesy Of KFC And Beyond Meat
https://www.forbes.com/sites/aliciakelso/2019/08/26/plant-based-chicken-is-here-courtesy-of-kfc-and-beyond-meat/#5d4f9d7f2b61
Artificial meats such as "
Impossible Foods
" and "Beyond Meat", which are made of 100% plant material, are very popular in recent years.
`` Impossible Foods '' which is 100% plant raw material but has meat juice when it is baked, taste and smell are meat itself-GIGAZINE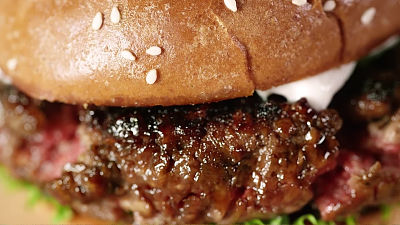 These artificial meats are not only meaty in appearance, but also analyze the key to the taste and texture of the meat at the molecular level and reproduce the taste, smell, texture, `` Mycoprotein "And other existing" artificial meat ".
What is the taste of the fungus 'Mycoprotein' tasting review that can be eaten instead of meat? -GIGAZINE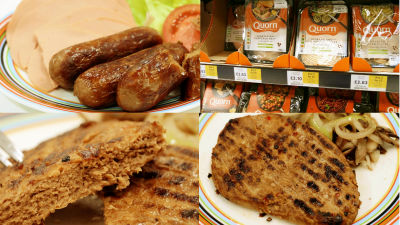 In Europe and the United States,
vegetarian
movements are particularly popular, and it was reported in December 2018 that
McDonald's was paying attention to hamburgers without meat
. And from August 27, 2019, it became clear that Kentucky Fried Chicken will start testing the artificial meat Beyond Meat in some parts of the United States.
A new type of chicken called `` Beyond Fried Chicken '' is not intended for vegetarians who severely restrict diets, but
quasi-vegetarianism that
attempts to reduce meat intake
who
things to be assumed as a customer. Therefore, Beyond Fried Chicken will be fried in the same fryer as regular fried chicken.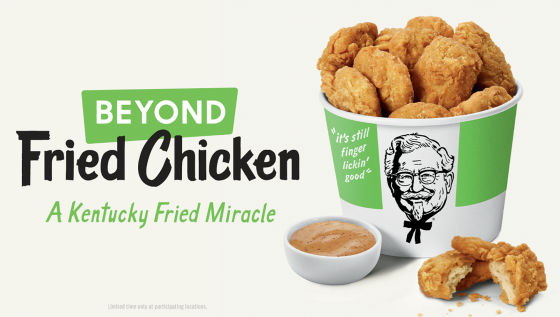 Kevin Hochman, the American representative of Kentucky Fried Chicken, said in a
May interview
that `` I do not plan to use alternative meat '', but after that it seems that the schedule has been changed by meeting with multiple suppliers . This test is limited to one store in Atlanta, Georgia, USA, but the scope of the test is expected to expand further depending on customer feedback.
As of 2019, Kentucky Fried Chicken's business growth has come mostly from stores outside of the United States, and stores in the United States are forced to fight hard against other chains. Artificial meat testing is seen as a strategy to overcome this trend. In addition, the American Mexican food chain "
Deltaco
" has succeeded in increasing sales again by selling "Beyond Taco" using Beyond Meat.