What's behind the proliferation of 'monkey icons' on Twitter?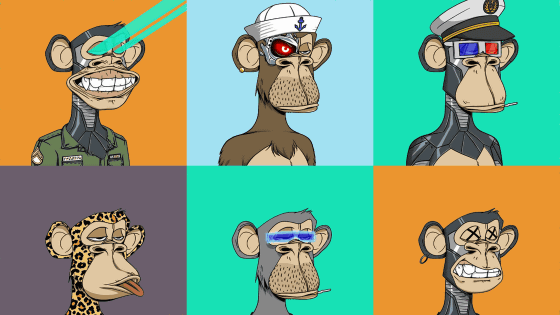 From around May 2021, the number of people who changed their Twitter icons to unique monkey avatars, such as monkeys irradiating lasers from their eyes and funky monkeys with leopard prints, has increased rapidly. Behind this, the New Yorker describes the existence of a new 'NFT club' that combines investment, art, and the community, as there is an online community using
non-
fungible tokens (NFT) , which has been attracting attention in recent years. Is telling.
Why Bored Ape Avatars Are Taking Over Twitter | The New Yorker
https://www.newyorker.com/culture/infinite-scroll/why-bored-ape-avatars-are-taking-over-twitter
From around May 2021, the number of people who changed the Twitter icon to 'monkey avatar image' has increased. The monkey drawn as an avatar has a unique look, such as irradiating a laser from the eyes, having a leopard print, and smoking a cigar. This is a digital art sold as an NFT by the Bored Ape Yacht Club, which was launched on April 30, and was originally priced at $ 200 in Ethereum currency (about 22,000). It was about Yen).
BAYC
https://boredapeyachtclub.com/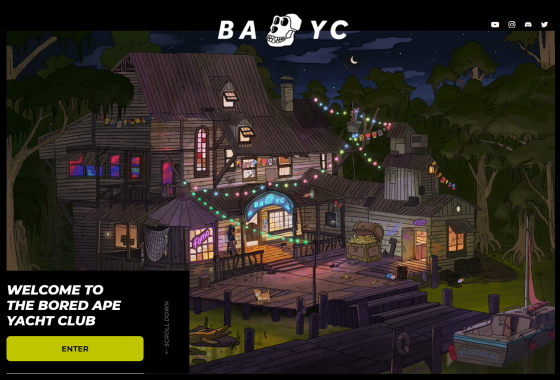 NFT uses the blockchain
mechanism that is the basis of virtual currency, and can attach a unique ownership certificate to digital works. The world of art and digital content are fraught with replication problems, but NFTs are believed to be able to guarantee 'real' and solve long-standing replication problems.
What is an NFT is explained in detail below.
What exactly is a 'non-fungible token (NFT)' that gives a unique value to a digital concept? --GIGAZINE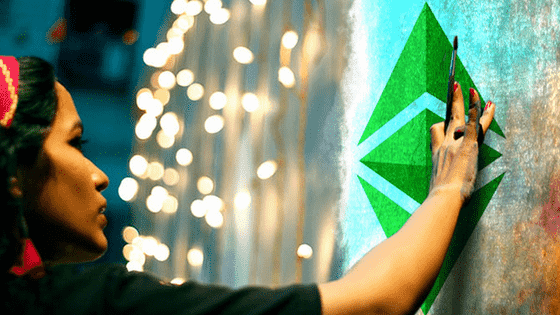 The popularity of NFTs surged in 2020, partly due to the pandemic of the new coronavirus infection (COVID-19), which restricted people's behavior. It was also reported that in March 2021, one NFT art was sold for 7.5 billion yen.
One piece of NFT art will be sold for the highest price ever for 7.5 billion yen --GIGAZINE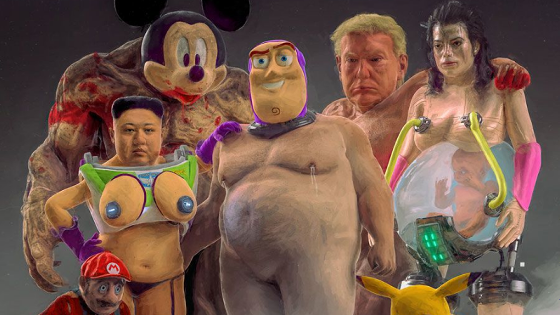 The 10,000 BAYC avatar images were sold out within a few days after their release. According to Kyle Swenson, who purchased the avatar on May 3, the selling price at that time at the NFT marketplace OpenSea had risen to $ 1,700 (about 186,000 yen).
BAYC sold $ 2 million in its first release, and the total amount of transactions since then has risen to nearly $ 100 million, even the cheapest monkey avatar at the time of writing. The price is said to be 14,000 dollars (about 1.5 million yen).
An avatar club like this is like a mix of three elements: an online community with a gate, a stockholder, and an art appreciation event. At BAYC, if one of the monkey avatars is sold at a high price, the price of all avatar images in the series will increase. This is the same value standard as traditional paintings, where 'when one painting is sold at a high price, the value of all the works of the same painter increases', which is an investment aspect of the Avatar Club. Also, changing the Twitter icon to a purchased avatar is a manifestation of 'loyalty' that indicates that you are a member of the community centered around the writer. In fact, when Swenson changed his avatar to a monkey, he added millions of followers in a single day. This is the Avatar Club's "online community connection".
The following is an account that actually makes the avatar a BAYC monkey.
Well I did it ... made the biggest trade of my life today. For a truly special ape. Https://t.co/Zf4tVvunsw

— Dystopian Beams Ape'Saru' Bones ???? (@ BBones6345) July 31, 2021


BAYC members are actively interacting mainly on Discord , but unlike on the chaotic Internet, BAYC is said to have a strong sense of community because it is a community where each invests and bears risks. I am. BAYC is supplementing the sense of community that the Internet is losing.

BAYC founder Gargamel (pseudonym) originally worked as a writer and editor, but became a cryptocurrency day trader because of his illness. Mr. Gargamel said with his 10-year-old friend Gordon Gonner (pseudonym) that 'the NFT project so far has been a closed system and we did not anticipate expansion after the limited release' and 'Avatar so far' The project used low resolution pixel images. ' With these in mind, the two planned an extensible NFT project with more detailed and rich illustrations and storylines.

This is an illustration of BAYC. In the world of virtual currency, purchasing a new currency or NFT while taking risks is called 'Aping in', so it is said that a monkey avatar was created as a joke using the word Ape (monkey). The illustration depicts a monkey getting bored with a lot of money. Also, the 'yacht club' is said to have been named after Mr. Gargamel and Mr. Gonner's personal preference, 'Miami's music pub.'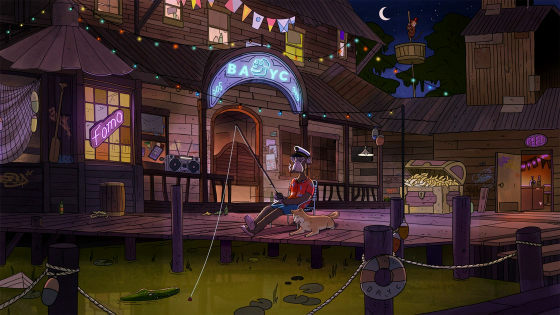 Gargamel and Goner hired a professional illustrator to ask a friend programmer to do the programming needed to build the blockchain. Then, with an initial investment of about 40,000 dollars (about 4.4 million yen), we created an algorithm that generates thousands of patterns of random images by combining the body, head, clothes, etc. Each image is not displayed until the collector pays, and like a slot machine, the image is displayed after payment. BAYC can also make a profit by buying an avatar at a low price and selling it when the price rises, but because it requires 'new buyers to buy an avatar at a high price', The The New Yorker writes, 'It's a bit like MLM.'

Following the success of BAYC, many have created NFT clubs, and the creators of these NFT clubs, like crowdfunding projects, have raised funds for pre-launch prospects. Shows the 'roadmap' of. There are various contents such as access to physical products and YouTube channels, donations from charities, etc., but in the case of BAYC, in addition to 'Sales of BAYC brand baseball caps' and 'Donation to monkey sanctuaries', 'BAYC's' It is characterized by providing 'commercial rights'. This allows club members to sell their own products under the BAYC brand.

The core of the business model of many existing brands is monopoly rights, and intellectual property is not freely distributed. Meanwhile, BAYC's founders aim to make NFT clubs a scalable culture, just as Silicon Valley start-ups create open and scalable software to grow their businesses exponentially. That thing. Investors have pointed out that BAYC could become a 'distributed Disney' in the future. In other words, getting a popular BAYC avatar will get some of the rights of Mickey Mouse in the future. The New Yorker writes that this makes participation in NFT clubs very attractive.

in Note, Posted by darkhorse_log