Facebook reveals that user tracking claims to 'help keep the service free'
At the same time as the release of iOS 14.5,
Apple enabled
App Tracking Transparency (ATT),
which requires the user to ask for permission when the app tracks the user for advertising.
ATT is already enabled in many apps, but
Facebook, which has continued to express its opposition to ATT,
said on its app, 'To keep the service free, allow user tracking. We need to. '
Facebook and Instagram notices in iOS apps tell users tracking helps keep them'free of charge'--The Verge
https://www.theverge.com/2021/5/2/22415824/facebook-instagram-notice-ios-apps-free-privacy-tracking
With ATT enabled, some apps are starting to show pop-up notifications asking for permission to track users. Pop-up notifications asking users for permission to track have some freedom to change the wording of the app developer, so the wording may be longer or shorter depending on the app, as shown in the screenshot below.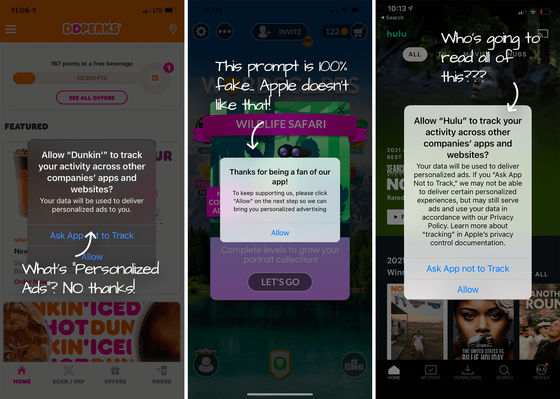 On this pop-up notification that Facebook displays on the iOS version of the Facebook app and Instagram app, 'Keep Facebook (various services) free' so that users can get permission to track. It became clear that I was trying to write 'useful for'.


A blog
published by Facebook in December 2020 contains a notification asking users for permission to track when ATT is enabled. The red box in the notice says 'Facebook will continue to be available for free,' and Dan Levy, Facebook's vice president of advertising and business products, called the notice an 'educational screen.' I was surprised.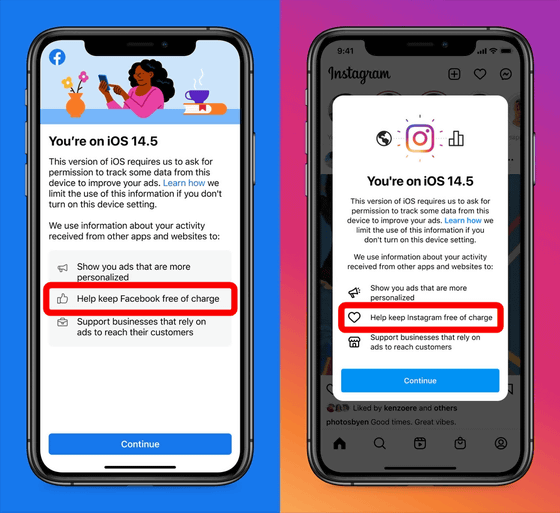 On the pop-up notification, 'In this version of iOS, you need to ask for permission to track some data from your device to improve advertising. If you do not turn this setting on, use the information. Find out how to limit it. Use information about activities received from other apps and websites to display more personalized ads, keep Facebook free to use, and rely on ads. We can support the business of reaching our customers. '

Please note that if the user allows tracking, the app developer will be able to obtain information to serve targeted advertising, but that information cannot be shared with other companies.