Facebook's AR / VR Research Director gives a look back on 2020 and the outlook for 2021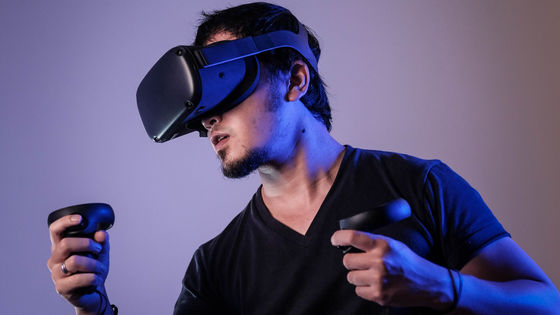 Andrew Bosworth
, head of
Facebook Reality Labs (FRL)
, Facebook's Augmented Reality (AR) and Virtual Reality (VR) research division, looks back on 2020 on topics related to FRL and gives a vision for 2021. Posted. In it, Bosworth mentions the video chat terminal '
Portal
', the VR headset '
Oculus Quest 2
', and the smart glasses scheduled to appear in 2021.
No Looking Back
https://tech.fb.com/no-looking-back/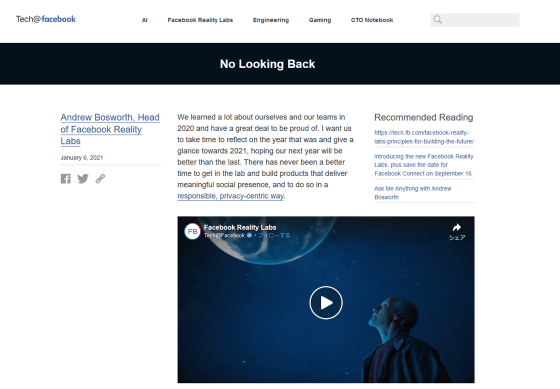 Facebook Smart Glasses Coming'Sooner Than Later' Without AR --Bloomberg
https://www.bloomberg.com/news/articles/2021-01-06/facebook-smart-glasses-coming-sooner-than-later-without-ar

◆ Initiatives related to 'Portal'
In 2020, the epidemic of the new coronavirus forced people all over the world to keep a physical distance, but FRL has strengthened its belief in their work. Portal, a video chat device developed by Facebook, helped people stay connected in a pandemic and celebrate birthdays and weddings of distant people. According to Bosworth, Portal usage was the highest during the holiday season and played an important role in connecting families who spend their vacations physically apart.

◆ About VR products
Facebook is getting a lot of attention in the AR / VR field, and the VR company Oculus , which was acquired in 2014, is no longer an independent organization, but is deeply embedded inside Facebook. The VR headset Oculus Quest 2 released in 2020 is said to be 'the fastest growing VR headset' according to Bosworth, and the number of monthly active users of the original Oculus Quest in less than 7 weeks after its release It was said that it exceeded. Bosworth also said that there are more female users than any other VR headset and the user base is diversifying.

Bosworth also mentioned a spec change that ' requires a Facebook account to log in to Oculus devices, ' which has caused a great deal of criticism and confusion. By asking users to log in with their Facebook account, it will be easier for users to find and play with friends, improving the social experience and providing strong privacy and security measures. In 2021, it plans to provide more options and management related to VR, such as settings on VR and privacy management.

There is also a view that the obligation to link Oculus products with Facebook accounts 'may violate antitrust law.'

German authorities investigate 'Oculus's mandatory Facebook account may violate antitrust law' --GIGAZINE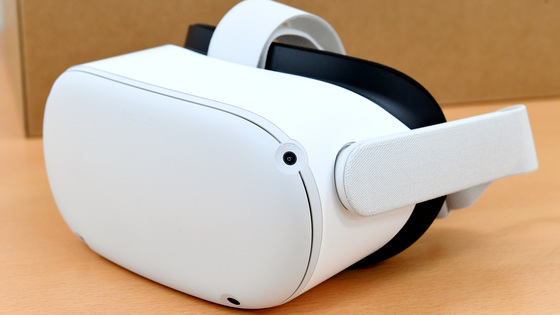 ◆ Prospects of VR world 'Facebook Horizon'
'2021 is the year we will take steps to make the immersive experience more social with Facebook Horizon, ' said Bosworth about Facebook's planned VR world, Facebook Horizon . As the demand for remote work increases with the pandemic, it is said that it will work not only on VR as entertainment but also on expanding VR functions as a tool to improve collaboration and productivity.

◆ AR initiatives
Mr. Bosworth said that FRL has been building an AR ecosystem for a long time, and more than 400,000 creators have released AR effects on Spark AR , an AR platform provided by Facebook. Inspired by the creativity of creators outside Facebook, FRL will continue to expand Spark AR.

In addition, Facebook is a global sunglasses brand Ray-Ban to expand the looks Oh Atlantica affiliated with, first in '2021 smart glass is scheduled to be released'. The smart glasses are said to be 'a step towards the realization of AR glasses,' but in an interview with Bloomberg, Bosworth said that the smart glasses that will be introduced in 2021 are 'realistic', which is the central concept of AR. 'Technology to project digital objects into the field of view' is not installed.

Bosworth said that the smart glasses that will be introduced in 2021 are 'certainly connected glasses and provide many functions', but if you call them 'AR glasses', it will be a hype. I admit. Therefore, Facebook calls it 'smart glasses' instead of 'AR glasses'.

Smart glasses co-developed by Facebook with Ray-Ban will be launched in 2021 --GIGAZINE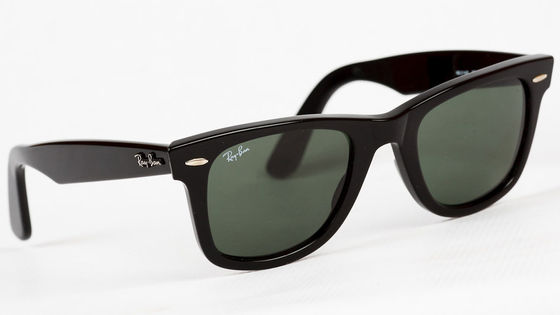 by Stefan Sager

'Facebook's mission is to empower people to build communities and bring the world closer, which is rooted in and the basis of our work at FRL,' Bosworth said in a blog post. comment. FRL said it will continue to prioritize privacy and responsible innovation, while developing products that are safe and can be adopted by a wide range of societies and bring true value.