4K compatible liquid tab "Wacom Cintiq Pro 24" that realizes the world's top color accuracy and pen followability has appeared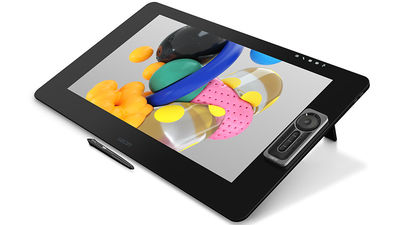 Wacom's liquid crystal pen tablet series "Wacom Cintiq ProAlthough compact terminals of 13.3 type and 15.6 type had been released so far, 24 types of "new type" which can sketch and draw on a larger screenWacom Cintiq Pro 24"Has appeared.

Wacom Cintiq Pro 24: LCD pen tablet | Wacom
https://www.wacom.com/ja-jp/products/pen-displays/wacom-cintiq-pro-24

You can see what kind of liquid crystal pen tablet Wacom Cintiq Pro 24 is by looking at the following movie.

Wacom | Wacom Cintiq Pro 24 - YouTube


This is Wacom Cintiq Pro 24. The display size is 23.6 inches and the main body size is 677 mm in width × 394 mm in length × 47 mm in thickness, the weight is 7.2 kg.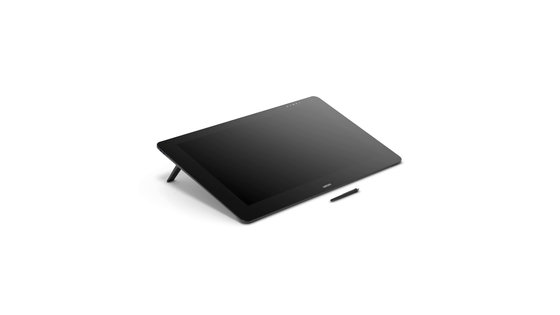 The built-in stand is set up as follows and can be inclined 20 degrees.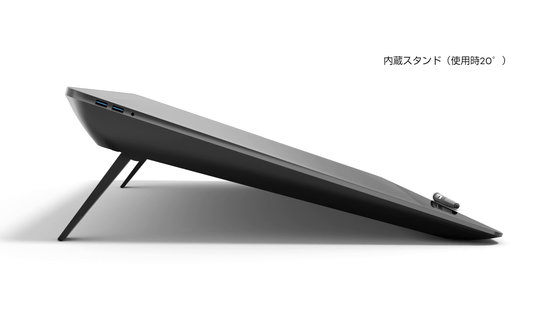 Pen pressure and ...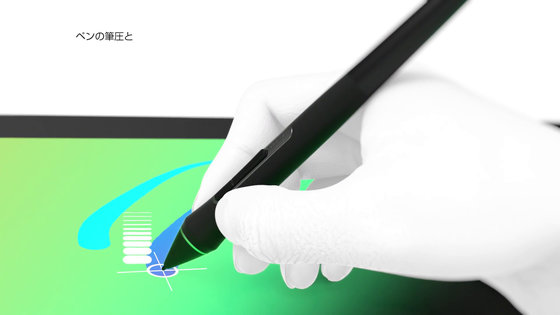 Includes Wacom Pro Pen 2 to sense inclination. With pen pressure of 8192 level it is a battery-less battery-less stylus pen.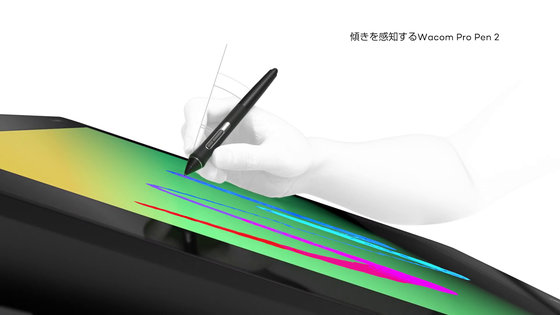 With the strongest stylus pen in the history of Wacom, it realizes a feeling like drawing on paper.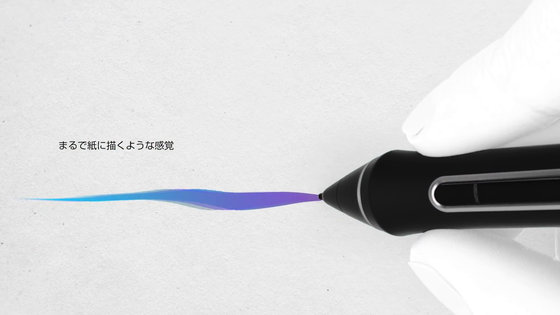 The display glass is a spacious one of flat glass finish is adopted.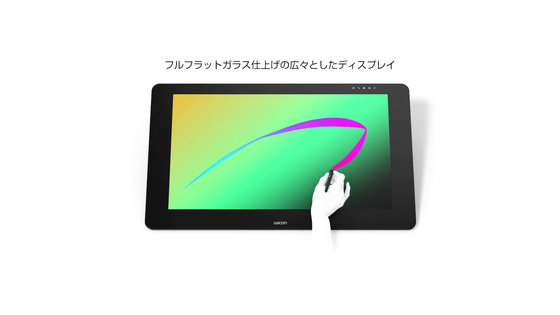 It also supports high precision color display and maximum 4K resolution.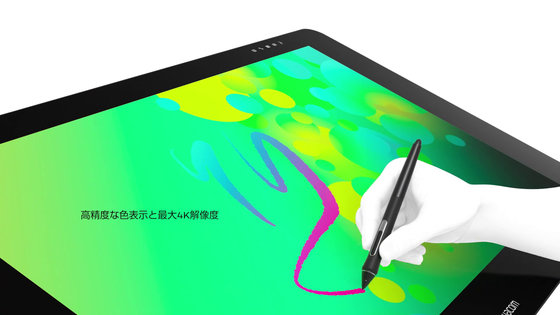 You can set up shortcuts on ExpressKey Remote or on-screen controls on the side of the display to make your work more efficient.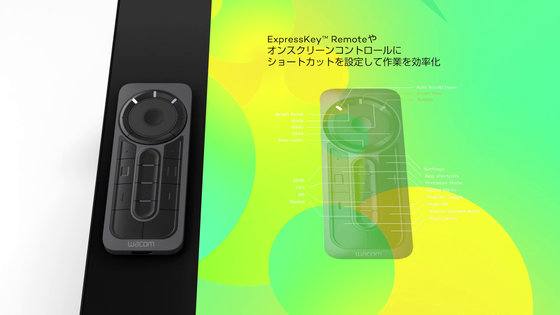 In addition, it is also possible to dock the Wacom Cintiq Pro Engine dedicated to the Wacom Cintiq Pro 24 to the top of the dedicated PC developed to use it as a more professional tool. With this, you can adapt to work that requires machine power such as 3D modeling and CAD, while keeping the size of the main body. Wacom Cintiq Pro Engine is scheduled to be on sale from Thursday, March 29, 2018.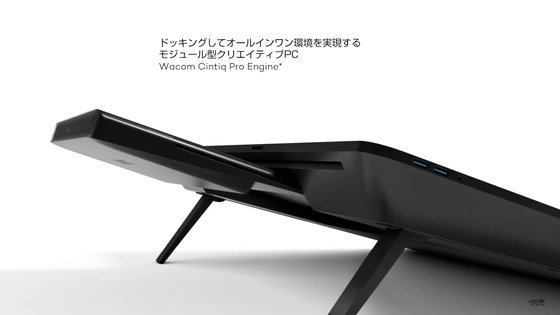 In addition, Wacom Cintiq Pro 24 "Wacom Ergo Stand" which is perfect for people who want to finely adjust the height and inclination angle will also appear.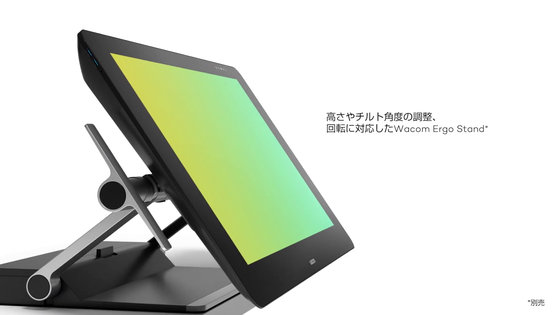 It is also possible to arrange the liquid crystal pen tablet vertically, and this is scheduled to be on sale from May 2018.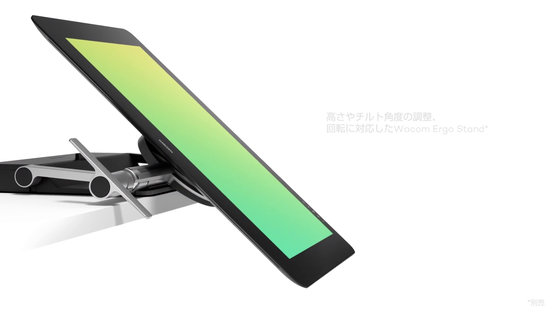 In addition, "Wacom Pro Pen 3D" which can operate 3D / 2D software more conveniently is also available. This stylus pen is newly added with one side switch, it is three, and it is used frequently when 3D application such as "pan / zoom" "tumble (object rotation)" if 3D application corresponding to Wacom Pro Pen 3D Since the function is set from the beginning, software operation becomes easier.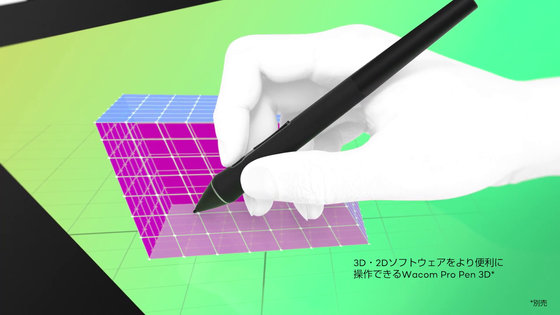 The Wacom Cintiq Pro 24 is expected to include a pen-compatible model and a pen and touch-compatible model, including a pen-enabled model "Wacom Cintiq Pro 24 Pen Model" including tax 250,000 yen, tax-compatible model "Wacom Cintiq Pro 24" Will be sold at 3110 1040 yen including tax. Wacom Cintiq Pro 24 pen model started reservation sale on Thursday, March 20, 2018 at Wacom Store and some home appliance mass merchandisers, and started selling on March 29 th (Thursday). Pen & touch correspondence model will be released in May, 2018. In addition, "Wacom Cintiq Pro 32" with a larger display is planned to be released within 2018.

A review movie actually used by the Square Enix artist is released to the Wacom Cintiq Pro 32, so you can listen to the actual creator's "live voice".

Wacom | Wacom Cintiq Pro Square Enix Artist Review - YouTube


Existing Wacom Cintiq Pro series "Wacom Cintiq Pro 13" and "Wacom Cintiq Pro 16" have already been reviewed with GIGAZINE. Please have a look at those who are worried about what kind of liquid crystal pen tablet it is supposed to be because you are telling a frank opinion by having detailed setup method and actual use by the illustrator of a gut.

Full HD liquid tab "Wacom Cintiq Pro 13" review using "Wacom Pro Pen 2" with 4 times higher precision and 8192 level pen pressure than before - Review - GIGAZINE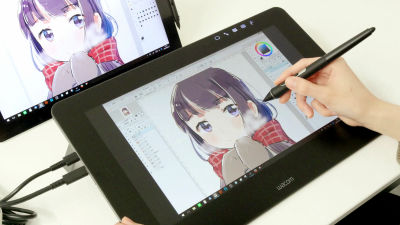 4K correspondence & writing pressure 8192 level "Wacom Pro Pen 2" overwhelming liquid tab "Wacom Cintiq Pro 16" review - GIGAZINE