Communication carrier unintentionally publishes high resolution photograph of Google original smartphone "Google Pixel"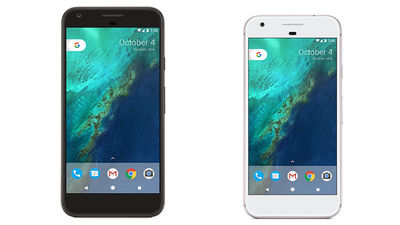 A new company-made smartphone series rumored that Google is developing is "Google Pixel"is. The terminal is expected to develop two sizes of Google Pixel and Google Pixel XL, but Canadian communications carriers mistakenly released these high resolution photos.

Canadian carrier Bell leaks the Google Pixel in white, Pixel XL in black | 9to5 Google
https://9to5google.com/2016/10/02/canadian-carrier-bell-leaks-the-google-pixel-in-white-pixel-xl-in-black/

Google announced a mystery movie on Twitter and YouTube and was foretelling "to announce something on 4th October". Since a silhouette like a smartphone finally appears in the announcement movie, it is thought that it is not a smartphone called "Google Pixel" that development was reported until now. Speaking of Google's own smartphone, it reminds me of the "Nexus series", but it is expected that this name will be changed to "Pixel" and announced as a new series.

Google publishes a mystery movie, is a notice of our own latest smartphone "Google Pixel" - GIGAZINE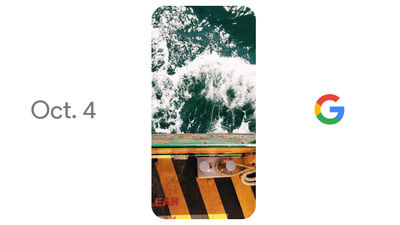 The terminal picture of that Google Pixel is Canadian communication carrierBellIt was displayed incorrectly on the home page. Published photos are as follows.

The following pictures are from Google Pixel XL.



Although it seems that there is almost no difference in feeling when it looks good, the following picture is from Google Pixel. The terminal colors seem to have black and white.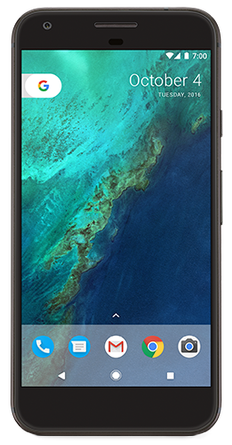 From the photo, where the physical button is located on the terminal, the power button and the volume control button are gathered on the right side of the terminal. By the way, the physical button of the terminal is gathered on the right side of the main bodySame as Nexus 6P.

In the new Google Pixel, what is called "Pixel launcher" is adopted as the standard home application, but you can see from the released pictures what it looks like.

In addition, it was not only Bell, but the same Canadian communication carrier that inadvertently released the picture of Google PixelTelusHe also said that he released the following images.

A picture of Google Pixel published on Telus.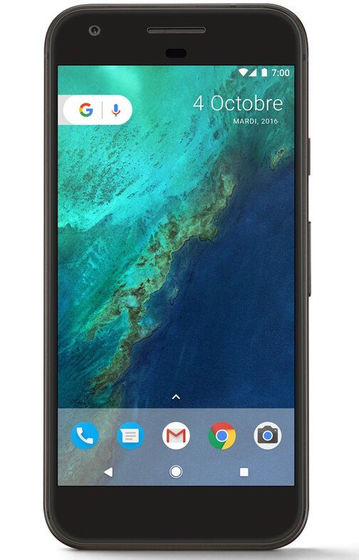 This is a picture of Google Pixel XL. Although it looks exactly the same picture, in the picture published on Telus side, there is a difference that the microphone button is displayed next to the round icon written "G" in the upper left corner of the Google Pixel home screen .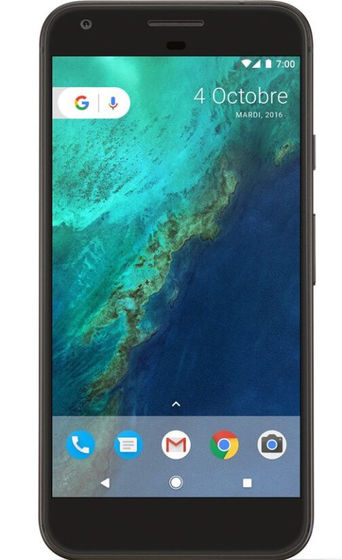 Google Pixel and Google Pixel XL are expected to be first showed in Google's announcement schedule to be held on October 4, but Google is planning to announce more than one other And overseas mediaThe VergeIsExpectationdoing.

What is expected is that,Google I / O 2016Information on the release of the personal assistant home speaker "Google Home" announced at.

Google's Home Audio Assistant Speaker "Google Home" helps you recognize and help you understand conversations such as "turn on the electricity", "show that video on TV" "play music" - GIGAZINE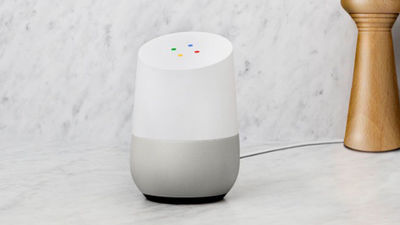 In addition, "Chromecast Ultra" will be Chromecast for 4K.

This is the 4K Google Chromecast Ultra | VentureBeat | Business | by Evan Blass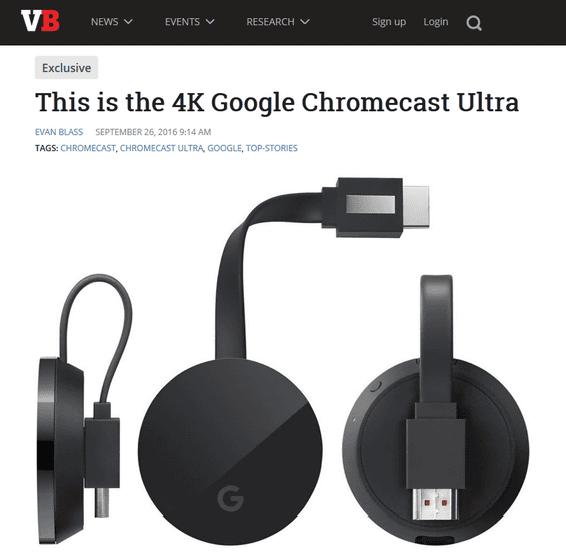 "Google Wi-Fi" of the wireless router that Google originally developed. This was released by Google in August 2015OnHubIt is believed to be the successor to.

Exclusive: Google will introduce Google Wifi, a $ 129 home Wi-Fi router, on October 4th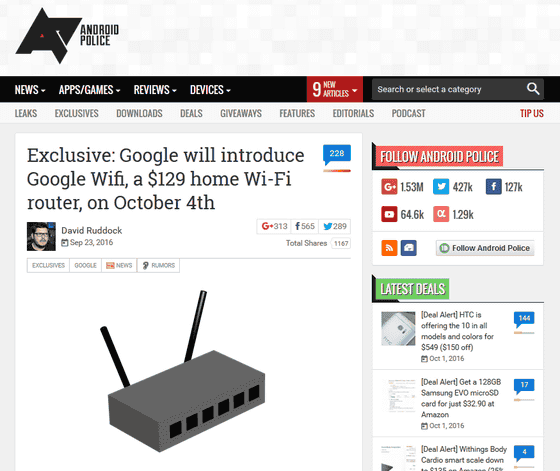 In addition to these, it is also expected that announcements will be made on Andromeda, a new OS that integrates Android and Chrome OS, which is rumored to be developed by Google for PC / tablet.

A new OS "Andromeda" which integrated Google's Android and Chrome OS appeared from multiple terminals? - GIGAZINE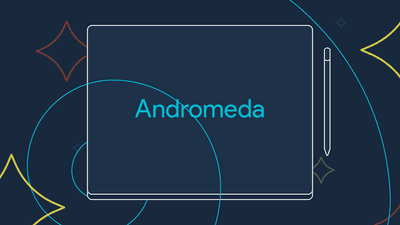 · 2016/10/04 Additional note:
The retailer Carphone Warehouse leaked more images from Google's Pixel and Pixel XL.

Carphone Warehouse's Google Pixel site reveals extensive renders, unlimited full resolution Photos backup, more | 9to5 Google
https://9to5google.com/2016/10/02/google-pixel-carphone-warehouse/

It was like a screen shot of the website that leaked out. "Introducing Pixel. Phone by Google (Introducing Pixel, calling by Google)" and images ...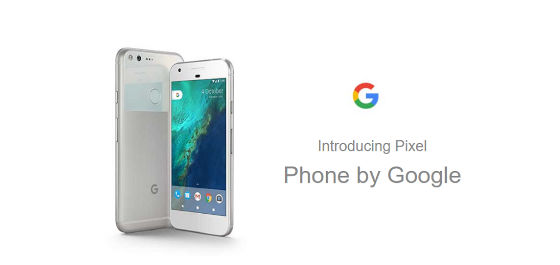 Picture of actually using Pixel. It is written that the caption has 2 sizes.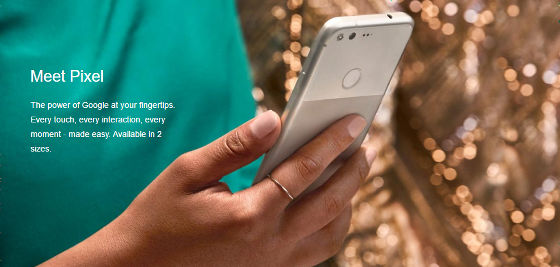 Google Assistant or ...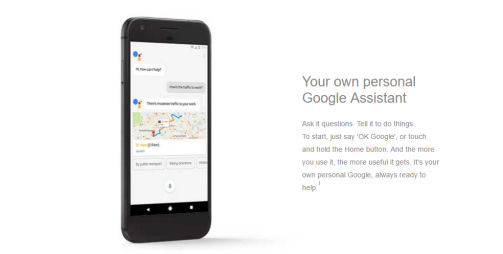 About storage.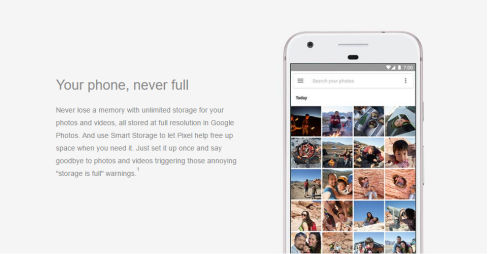 Camera function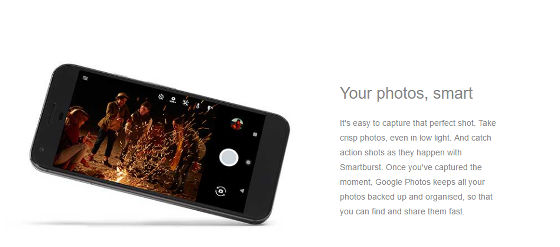 Video call application "Google Duo"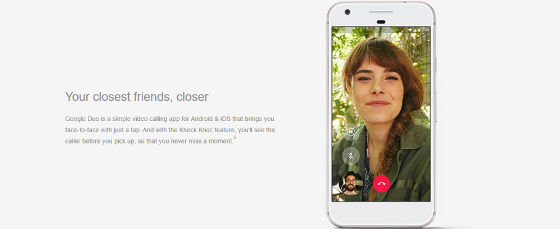 The message application "Google Allo" can be done like this. You can use Google Assistant to find nearby restaurants and share movies in Allo too.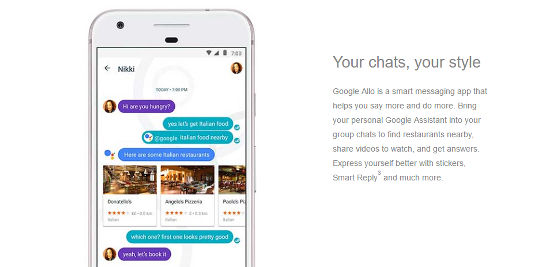 The charging terminal corresponds to USB Type-C, and it is said that you can get battery life of 7 hours by charging for 15 minutes.



The case looks like the following.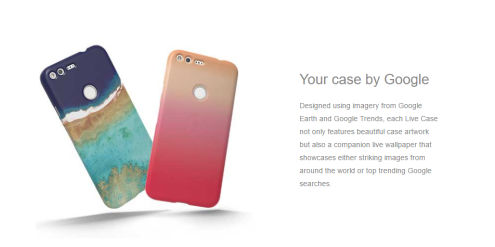 In addition, the specifications below are known from the specification table.

Display: AMOLED display of Pixel / 5 inch, 1080p
Pixel XL / 5.5 inch, 1440 p AMOLED display
CPU: "Snapdragon 821" at 2.15 GHz
RAM: 4 Gbytes
Internal storage: 32 Gbytes or 128 Gbytes
"Android 7.1"
Fingerprint sensor
Front camera: 8 megapixels
Rear camera: 12 Mpixels
MicroSD slot
NanoSIM

Since the above information is open to the public by retailers, it is unknown how far the information is correct. We plan to have a recital on October 4th local time, where official information will be revealed. The schedule of the presentation will also be updated in real time at GIGAZINE this year. Every time I update the article I am officially GIGAZINETwitter·Facebook·Google+I will notify you by account, so if you keep following up I know the latest situation as soon as possible.