Interview with Terasaki Oyama's new subscriber & Go ☆ Jas and Nakamura Ririko with a fun kids program "Warachcchio!"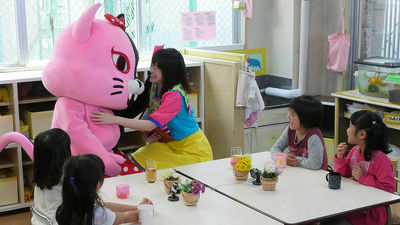 Variety program for kids broadcasting at NHK · BS premium "Warachciao!"Has welcomed three new members from the broadcasting on April 5 (Sunday). I joined as my second sisterTerasaki YukaMr. Then,Go ☆ Jas'S voice in chargeVirus"When,Riko Nakamura'S voice in chargeSmith"is.

The children are 4 to 6 year olds, but they have such children doing Majik Okiri, and even their sisters really think about Gattsuri and participate in Okiri, cats at the Rehabilitation Association It is becoming a program that can be enjoyed even by adults, as if your older sister is taking out trouble from character Catherine. This time, I accompanied a little with my first sister's position as second sister and had a chance to talk with Ms. Nakamura and Mr. Gus Jas and Mr. Smith and Mr. Smith, so I came close to "Waracha Tao!" .

NHK Warachcchio!
http://www.nhk.or.jp/waracchao/

A picture of a new member posted on the official website. From left, Ms. Riko Nakamura, Yuka Terasaki, Go ☆ Jas, Virus Kun, Smith.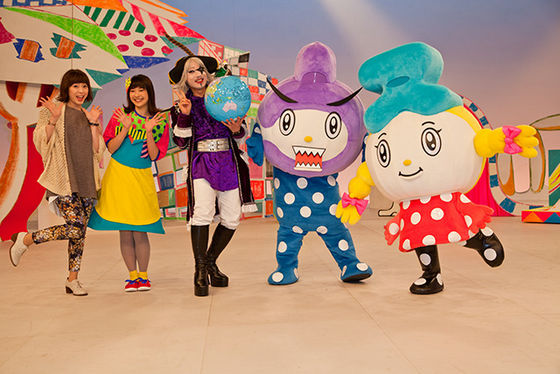 Terasaki sister interview
First of all, Mr. Yuka Terasaki accompanied him for the first time she became her second sister. Mr. Terasaki is also active in Children's animation, such as the role of Temma Hinomaki of Inazuma Eleven GO, the role of pack of "Pack World", Ryuu role of "Yu-Gi-Oh 5 D's", Raquel role of "Doki Doki! Pretty Cure" A voice actor / actress who is doing. Radio drama that has been running for 9 years at TOKYO FM "NISSAN Oh, Abe Atsushi ~ beyond the average ~"Has appeared in southern total Satomi.

The stage of location is a nurseries in Tokyo. It was a forecast that the weather will be difficult, but just as the sun is coming in the time zone of the location is good.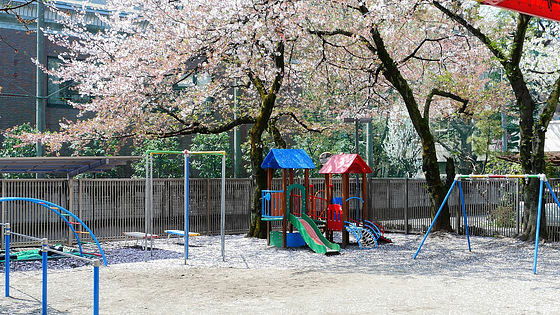 Children of senior couple dancing with a locator team & sister.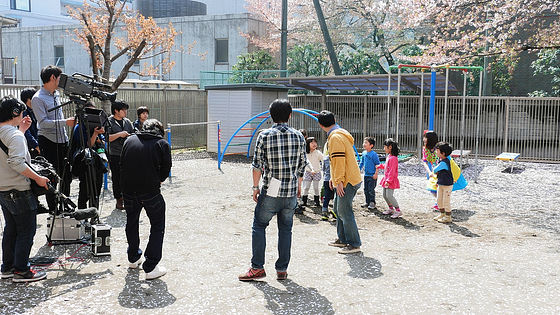 First of all, warming up what kind of movement to do before recording.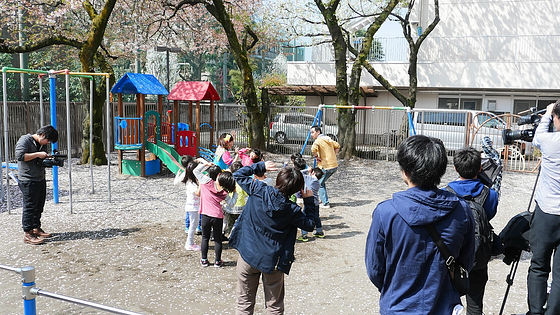 Everyone is following the move of your sister.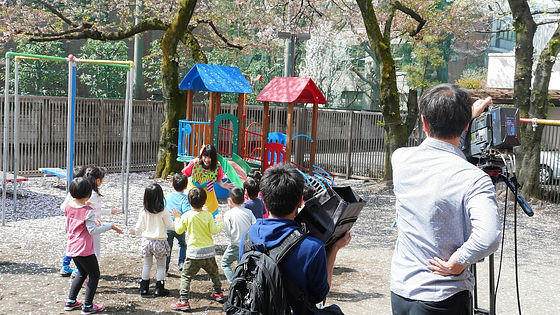 And finally preparing for the production.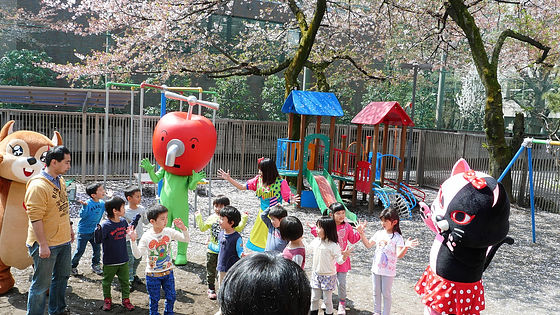 "Henteko Dance" is starting.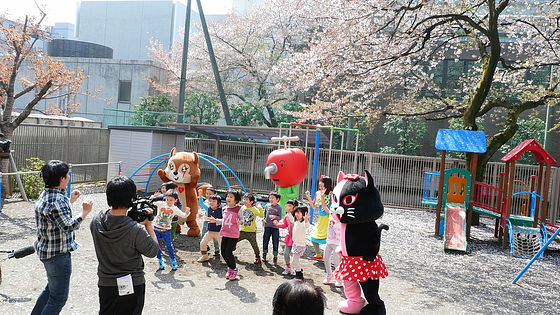 Norinori children.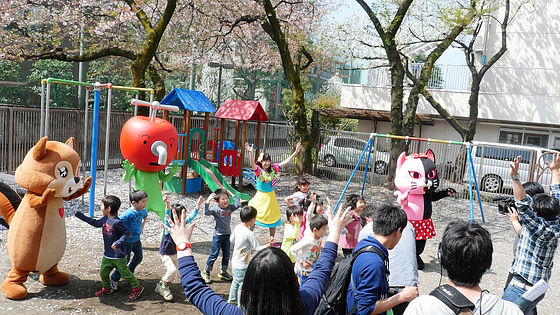 Posing according to the lyrics of the last of the dance, "great guy".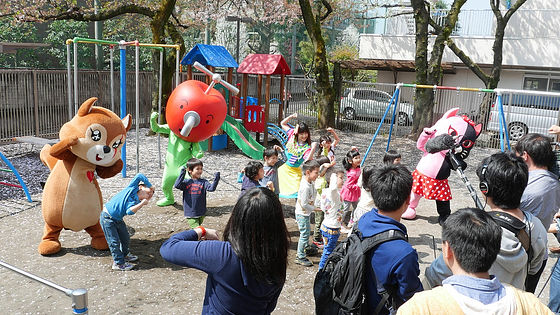 When OK gets out, it straightens to the characters who were interested. It seems that Dokkun's tail is anxious.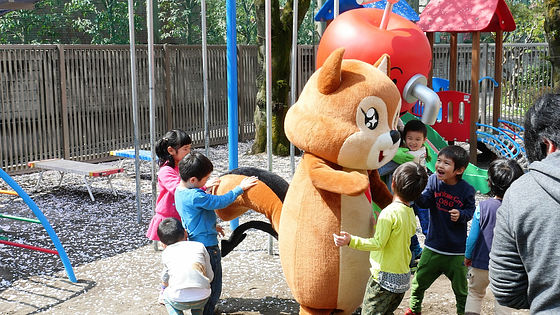 Have fun with Hawaii.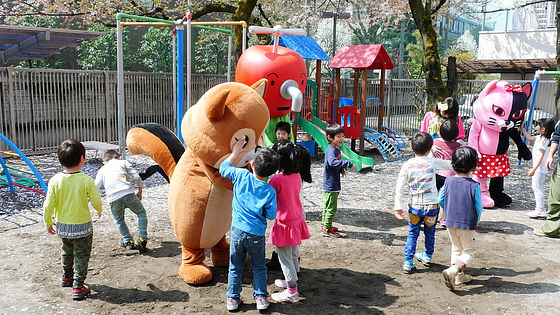 Afterwards, the older sister carried out recording of four girls of the senior couple and "Girls' Association" to be broadcasted at a later date.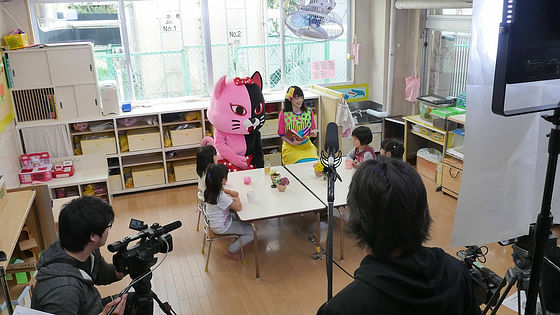 It is such contents that your older sister cries in Katherine. What on earth is it ...?



Sister just after the end of the position, posing in the cherry blossom dancing.

Nursery school location shopping! It is!Cherry blossoms were dancing like snow with really nice weather, it was awesome! A new first grader at the end of the entrance ceremony is coming to see the teacher ♡ It is spring! It is!And, anyway the kids were too powerful (lol) ♪ enjoyablePic.twitter.com/ uWSwgw 4 N 5 J

- Yuka Terasaki (@ terachan 0804)2015, April 6
Thus, my sister who finished dancing and the girls' society got a little time and interviewed.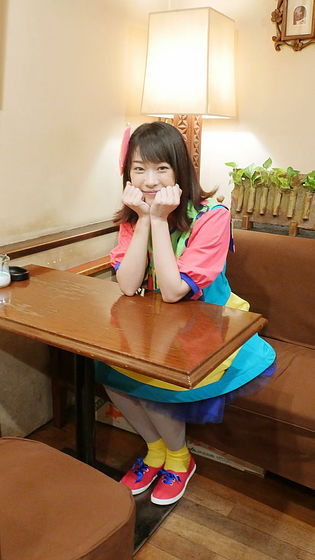 GIGAZINE (hereinafter, G):
It is said that it was my first time to become an older sister this time, how was it when you tried outdoors?

Terasaki Yuka (Terasaki):
I felt like I came to see nursery school rather than location. I had a sort of kindergarten teacher 's license and I felt nostalgic as I went to the garden several times during my practice.

G:
I think that it is not easy to come to such a nursery school usually like this, but how was the atmosphere after seeing you for a long time?

Terasaki:
"By the way it was like this!" I thought. As the concentration of children faces all directions, how do you concentrate on me (laugh) After all, since the children 's interests go there, how are they doing Did you have it? I worked hard and remembered.

G:
As I thought I had done the training after all, did there also be parts like "Takeshi Tamashita taken in the past"?

Terasaki:
I feel that I felt a little remembered the feeling at that time.

G:
"Work that you can touch with your favorite children. Actually it is my job I always wanted to do."Although it was written in the blog, was it that one of the jobs aimed at the kindergarten teacher was that the license was taken in this way?

Terasaki:
I came out to Tokyo for the purpose of acting, but if I pay a high tuition fee, I will keep a license. Since I have a sister, it was natural that a small child was around. Sometimes I lived in a shopping district, and everyone was playing with my brother and sister of the same shopping district friend.

G:
Ooo, I see.

Terasaki:
I liked the kids and if I go to college anyhow, I will have a kindergarten license, I will be able to do a work that will allow me to touch, so I chose a university with a lot of practical training. After all, I thought that there are many things I can not learn without practice. But for me it was one of the reasons for appearing in Tokyo, while I went to college, I was also playing in parallel.

G:
I came to Tokyo to become an actor, got a kindergarten license, and I am doing a job that both are living now. Indeed, that people doing is doing ... ....

Terasaki:
I appreciate it. However, in the meaning of making a program, there are so many things I do not understand yet, so it is a future task that I can become such an older sister how I can make use of my children while touching with children.

G:
A little while ago I saw a touch of touching, but the power of children was amazing.

Terasaki:
Senior citizens said, "Oh, this is how many people have been listening to the story yet?" (Power) There was a lot of power in it (laugh), but I enjoyed it when I became a henteco dance , Laughing with Gajagaha as if movement is interesting.

G:
You were dancing and caculating. There was also a collection of 'Women's Association' after the dance in the location, there was also a scene where the elder sister was fascinated by the power of the girls.

Terasaki:
Because unexpected remarks came out, I was surprised all the time. In this recording I did a love consultation, but the child is more aggressive in romance. I can not say absolutely when I become an adult, "I like a lot of people, there are lots of people! ○ ○, ○ ○, ○, ○ ○ ..." I definitely can not say it (laugh) I surely also when I was a child I thought that it would have been heard and heard it.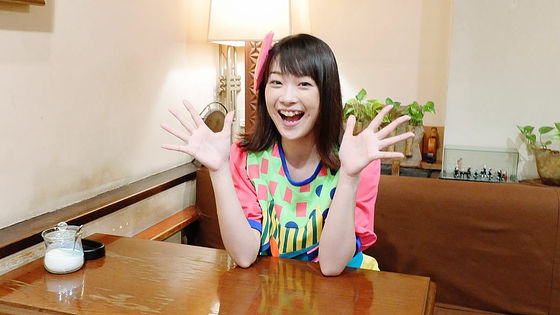 G:
The children who participated in the girls association this time was 5 years old, but my sister's son is also 6 years old, it is the age to just watch the program.

Terasaki:
That's right.

G:
Is there something like having your age overlap and becoming a practice partner?

Terasaki:
It is common to have a look and listen to real impressions. As pretty cure, Pokemon, and other animations for children out there are almost seen, I've been listening to my nieces how they are watching in real time and what they feel.

G:
Did you have any opinions, comments, feedback, such as "I see!?"

Terasaki:
I think it is time to go see a movie together, but it was a shock when I was told that "I could not understand a bit." However, it seems pretty much somewhat convoluted and talking about the character, even remembering the very fine things, it sometimes seems like "Do you see in such a wind" or "Do you catch it like this?"

G:
I do not mean that Mr. Terasaki's impression of acting or failing to do it.

Terasaki:
While recognizing what I am doing, there are parts that are not so much of it. I talk about stories and play with my character after my character has come true but the world of the work is actually there and the characters are not actually played by someone but really exist and that story You know that it is a feeling that you are showing me part of your niece.

G:
Is there something you want to do like this while you are interacting with your child?

Terasaki:
I think that I think that I will become a child with my eyes as well.

G:
Finally, as a second generation sister from now on, is there an image of "older sister" aiming?

Terasaki:
I think that it would be nice to be an older sister who can love that stupid part though it seems that you are doing stupid things.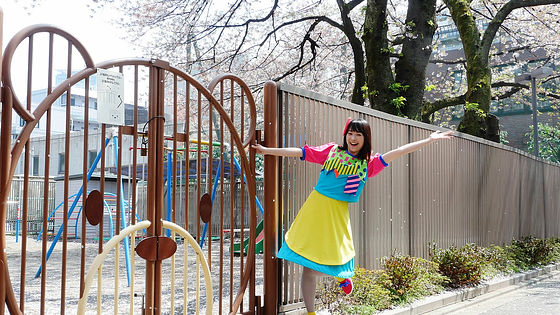 G:
Thank you for today.

◆ Go ☆ Jas and Riko Nakamura interview
In addition, I was also talking with Go Tsu Jas who is a viral actor and Ms. Riko Nakamura who is a role of Smith who joined the program with Terasaki sister.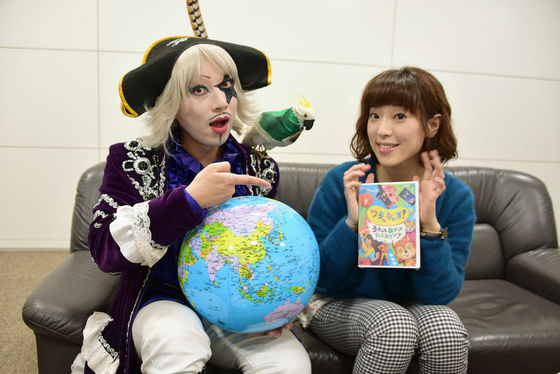 GIGAZINE (hereinafter, G):
Riko Nakamura says "THE IDOLM @ STER"Amanai Haruka and"Space Battleship Yamato 2199Miyuki Kiryu of "More"Valkyrie RomanzeNoel, "Love and election and chocolateChisato Sumiyoshi, "Bridge over to the starry sky"Nakatsugawa Elementary, etc, playing many pretty girls' characters, In Amakai HarukaNew type animation awards 2012When2014Nakamura himself has also won the female voice actor award twice. At the same time, at the Anime Awards 2012, the Muscat Character Prize has also been awarded at Ham Collection. This time, Mr. Nakamura in charge of "Warachciao!" Is in charge of Smith's character, what kind of character is it?

Nakamura Riko (Nakamura):
In the case of Ham warehouse, even though the mind is in line with each other, that word was transmitted only to Hibiki, but Smith speaks lots of things eloquently, so for myself, especially for mascot characters, I play a play It is a character that can convey the emotion of "fun".

G:
Even though it is a fun-conveyed character, when I see an interview that was done before, it seems that children are said to be "not cute", are not they?

Nakamura:
That's right! I think that it is a problem with the form (laugh). Surely the children had attachment to what they were familiar with, and I think that it was the reaction because it suddenly appeared a new character there.

G:
It is said that someone you do not know is missing in "Warachciao!"

Nakamura:
61 episodes, just when Terasaki sister told me that there was a scene to draw a dog at a painting song, but a virus and a Smith chan had been added to the board. Virus kun and Smith who goes over it, Wallachciao! I felt happy that I was watching the screen, thinking that I was being greeted as a friend of the other.

G:
So then I would like to visit GO JAS. Go ☆ Jas is active as an entertainer, but animation "Date A LiveAt Nakatsugawa role, there are also experiences of voice actors. What kind of character is Virus-kun responsible for "Warachaja!" This time?

Go ☆ Jas (hereinafter, Go ☆):
Virus has pure places. It is being swayed by Smith, but being controlled with a good feeling, there is a feeling that it is doing as an unhappy evil like "It is actually being pulled here". I have been brought out in a villainous standing position and it is different from the enemy, but I think that I want the momentum to catch up of it for a moment. I am also thinking of spin - off ... ... inside me?

(All the members laugh)

Go ☆:
While thinking about the meaning that I was chosen ...... When I was auditioning for virus, I was don slipping, but I feel like "it was nice", I wonder if I have to slide any further? I am thinking. Viral kuns come from the place called Suberst.

Nakamura:
I agree.

Go ☆:
I do not pull out my hands, I think that it is possible to spread laughter which makes me feel uncomfortable while having missed out.

G:
The audition which was done at the time of the start of the program in March 2013 was received as an inner rider role and it remained until the last.

Go ☆:
This time, since the waiting room before the interview was the waiting room of the audition at the time of the onner rider, it trembled.

Nakamura:
Did you remember? (Lol)

Go ☆:
damn! (Laugh). I took a flashback "I did it in a large conference room over there that turned around here." But, when I thought "I am going to work with the virus and Smith now," I felt all of my feelings.

Nakamura:
There are places to be encouraged if they are together.

Go ☆:
Well, I feel a burden if "a new character increases by one", but because there are two parts I can leave it to Mr. Nakamura if it is two people.

Nakamura:
It is unexpected. Smith is my husband who is selfish, selfish but not hateful, I get almost pulled.

Go ☆:
From here I have "I like it, so I do not have any choice".

Nakamura:
But Smith does not notice at all.

Go ☆:
I hope you can take it someday ... (lol)

G:
Whether there is any difference between the subject character being drawn like an animation and the character being present in front of him like this "Waracha Tao!" In handling the voice?

Nakamura:
There is a sense that it is totally different. I was thinking "I will give a voice", but it is not so, in response to the content we talked, viruses and Smith move. When it is a usual dubbing, I will add ad lib into "picture" and "え っ ょ" according to the slight movement in the picture, but if I look at the picture recorded with "Waracha Tao!", The screen When Smith was not from, I noticed that "Smith is quite silent!" So, I felt that it was moving with the feeling of Presco.

G:
Ooo, I see.

Nakamura:
Docks are already doing with the team for about two years, so it feels like being in the spot. In other words, there are people who are in charge of voice by our side, and there are characters on the other side, but both exist as "real thing".

Go ☆:
I also saw it when I first showed it. Because it links too, it is amazing. I have not done much work to voice, but I tried exploring what it looks like, trying to find an ad lib, if the virus responds properly. However, there are things that we can not deal with if it's strange things, so it's a role of dockMr. TanoIt would be nice to have a meeting like "I'm thinking of doing something like this" in advance in advance "I got advice.

Nakamura:
Because we are partners and we are partners, even if we are making arrangements, we will never express like "a man of character." That is "whole body and soul", so if you change partners, I think that you will do from breathing again.

Go ☆:
So, we want to unite as soon as possible. Since the mouth of the virus grows and there are movements such as returning to the original after the face collapses, I really want to do it together.

G:
The character in front of me is exactly my own altar.

Nakamura:
Just the other day recording, when the camera was stopped, children went to touch Smith, "Do not touch me for a while" or "get angry if you are not quietly sitting!" I put it in. Then there was a scene where Smith took a move like she dislikes it, and there was a scene where children watched Smith as "Move!" This is not the part used for the show, but how does Smith talk about it anyway? It will be an experiment, and when you try it, you know that "this was not Smith", there is a sense that the grooves are buried quietly.

Go ☆:
There is a place where the camera is not turning, thinking it is a test and trying out "How about this, this is different?"

Nakamura:
It was a lot of saving because there was an atmosphere in the scene that reacts even at such off timing, making Smith and the virus.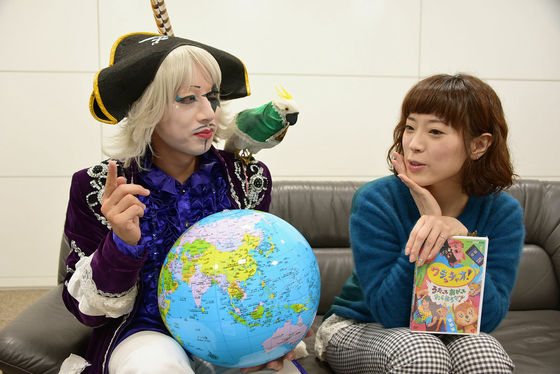 G:
Then the story goes away from the program for a while. Yuka Terasaki, the second generation sister, had a sister, so it seems that having a small child around her was a natural childhood, but what kind of childhood did the two of you spend?

Nakamura:
I had the same sister as Terasaki sister, so I had a feeling that I became an older sister and playing. However, because I had a long rebellious period, I became friends since becoming an adult (lol)

Go ☆:
Oh, did you rebel?

Nakamura:
That's right. However,NervouslyI grew up with, then my sister "Doremifa · Dokutatsu!As I was watching the program together, I was watching a lot of children's programs.

Go ☆:
My brother is here. Because it is a teacher 's family, it seems tough, but I was a second son, so I was spoiled and grew up ... It was like this.

(All the members laugh)

Go ☆:
When I was a child I always watched TV education. I was not doing much adventure because small, middle and high school was up for club activities ... ... It is the most adventurous now. I did not have anything like that in early childhood. I did not do too much with NES, so my parents were teachers, so I was thinking not to inconvenience, so I did not do anything and I was raised with spoiledness.

Nakamura:
It was not a rough man.

Go ☆:
I did not say selfishness, nor was there a rebellious period.

Nakamura:
It's amazing ... I, I was leaving the study desk.

Go ☆:
How old are you?

Nakamura:
It was when I was in junior high school.

Go ☆:
I was a junior high school student at all. Because it was a rural area in Fukushima Prefecture, I was not caught in intense things and I was doing club activities so I was in a regular life. I was watching a lot of animation, so I originally wanted to be a voice actor and came out in Tokyo.

G:
Oh, is that so !?

Go ☆:
I went to a school of voice actor for a year, and then I entered another office. So I thought that "voice actor is different" I also won the comedy competition in the office where I thought, "Let's go with a comedy", a harsh life began from there. It's a feeling that I was able to become a voice actor with a work called "Dating a live" around 15 years ago. However, it was a challenge from almost amateurs, because I remembered what I learned at school was just to spade a bit between the microphone and the face.

G:
It took 15 years to reach the original admiration.

Go ☆:
Koyasu TakehitoBecause I was the one I was watching, because I was on the same spot, I thought "Wow ... ...." I'd like to teach everyone that "You may be a voice actor from comedy", it may be wrong knowledge (lol)

(All the members laugh)

"Warachciao!" Producer (NHK):
Why did you want to be a voice actor?

Go ☆:
You will want to be watching animation or something, do not you? Therefore,Yoyogi Animation CollegeI went to. Since the name came out as an entertainer, I went to see "I was actually a student" at the planning of the program. So, I'm very happy with my voice work. I am now a space pirate, so it may be easier to accept if a space pirate vandals a comedy and then thinks that his voice work has also come to vandalism. Not "turning into a voice actor".

G:
It may be (laugh). So, why did Mr. Nakamura aim for this job?

Nakamura:
I do not mean "I want to become" like watching anime as GO ☆ JASS, but it may be a slightly negative reason ...... Originally I wanted to play, I was thinking about theater, TV drama, movie theater. But since it began to be vagueness to want to play, I just came to adolescence, realizing that my voice is strange, I did not point out, but there was a feeling that everyone thought so .

Go ☆:
Is it different from the current voice?

Nakamura:
It was this voice.

Go ☆:
Well, it's not weird at all, is it?

G:
Yes.

Nakamura:
However, when I go on daily and say "standing up" there is sometimes laughing with couscous and I was never bullied, but I think that my voice might give a sense of incongruity to people I am bad. Then, when you play, you become troubled that you might be laughed even if it is a tragedy like "Romeo and Juliet", and conversely "Will not the opportunity to play only with voice?" It began to think. Then, knowing the work called a voice actor, "I see, that character who was watching as a child was played by such a person" connected with my past experience and knowledge, "Well, I'd like to try it."

G:
I see…….

Nakamura:
In response to the question "If I had not played, what would have been if I had not become a voice actor?" I said "I think he was dead" (laugh)

Go ☆:
Bad luck! I'm glad I got it!

Nakamura:
Since I was strongly conscious of not being accepted in this so-called three-dimensional real world, I thought that it was "dead."

Go ☆:
Throwing a study desk, such life is too sad. It was nice to be used as a voice actor.

Nakamura:
So, as a voice actor, I think that I have been saved by the profession of voice actor, I will do various work from there. But it was not that I did not feel badly concretely, but my concern was that there was a time when anxiety was swelling in me and I could not successfully communicate with people.

Go ☆:
Wow ...... It is a spectacular story. My story is flimsy.

Nakamura:
No, no such thing, I can not be a pirate!

G:
The voice actor is the existence which it is bitten into the upper part as "want to become professional ranking", and a child aiming for a voice actor may come out from the child hugging Smith 's caught.

Nakamura:
However, it is not thought that it is a voice actor in "Warachciao!", But I want to be in the program as Smith. When I was watching "Nikko-nippon", then it is better to go around the picture, the perception is perfect, the spirit is perfectly recognized, and after turning into an adult,Mr. Lippen's·Mr. Yokohama·Mr. NakaoI thought that if they thought that they would think that "after all," children who think "Virus - kun, Smith - chan, Aichi - ku" are now thought that it was doing It is. At least, since the docks who are doing earlier exist from the perspective of my eyes as well, I am aiming for themselves as well.

G:
This is also a question about the childhood a little away from the program. There are some episodes clearly remembered clearly in the child's age that I have idly totally forgotten, but the two of you are impressed by some sort of childhood episode such as childhood Do you have?

Go ☆:
I still like Masked Riders, but when I was a child I went to the roof of the department store to see the Kamen Rider's show "I really have a Kamen Rider!" I thought. Those like Shocker show up, and they put children on the stage. If you were hiding secretly so that it would not be caught by it, when the mask rider appeared at a high place "Do not let me do", if you think I'm coming as "Go, Tou!", Come down the stairs ......

(All the members laugh)

Go ☆:
There is sense of incompatibility. I remember thinking "I am ... ... this is different" in the child's mind. It is about 4 years old.

Nakamura:
I was the same. My father took me to the show because he liked the heroes, but it was a different squadron thing show that I was eagerly watching. It is "It is a handshake with me in Korakuen". I got a panel with a signature there, but I have a memory that I thought, "Who is this person?" But, since there was a very strong impact, I began to see squadron things from about the next year. that is"Dengeki Sentai Changeman"was. I thought that I could be a changemermaid, so I tried to transform "changemermaid!" With the brace and look at the picture with change pegasus (blue color warrior) "I will be Wondering if Pegasus will come to the place "... It was a girl who dreams a little about dreams.

Go ☆:
Even such a child will come to throw a study desk.

Nakamura:
In the meantime, there was a time when I thought that I could manipulate the wind! (Lol)

NHK:
that is"Nausicaa of the Valley of the Wind"?

Nakamura:
Nausicaa and then another one was influenced and it coalesced, "I can call the wind" (laugh) It is a coincidence that when it says "Take the wind" towards the bamboo shoots "Zawazawa" There were about 2 times. There was a bamboo shoot on the school road just right, so when the strong wind blows it is so terrible that I was afraid of the beginning, but I became less afraid after I thought that I was windy. If it's for girls "Bishoujo mask Poitrin"And"Magical Girl Happy Papa!"And"Magical Girl Small Puffy!Or ... or ...Three sisters Schushtrian nicely executedOr, I liked it very much! Maybe the desire to transform yourself was strong.

Go ☆:
It was good as it became a form.

G:
There are lots of live-actions as it is now, but how about others?

Nakamura:
At the same time it is "Magical star Magical EmiJust a little back, "Magical Angel Creamy Mami" or "Mami EsperIt is also true, but that is the "Doraemon"Sazae"Chibi Maruko-chan"World Masterpiece TheaterAnd many things. It's NHK's work "fly! IsamiIt was only a little bigger.

Go ☆:
"Nadiah of the Mystery of the Sea"And?

Nakamura:
"Nadia" It is a while later. It was around my "Wind blowing!" Came down. When I recalled it as an adult, when I was a child there were a lot of relocations, and I could not see it in the channel and time zone I was looking at before, and it was sometimes I left my work. But, since "Nadia" and "Isami" have been seen all the time, I thought that such a work is necessary. "Dennon coilIt was a little shocking, and now, "Boundary RINNEI'm sure it's nice being broadcasted from 17:30 on Saturdays.

G:
"Warachciao!" Can also be seen at the same time anywhere in Japan if there is an environment where BS can be seen.

Nakamura:
Now I'm envious as more programs are seen at the same time or a bit later on the Internet delivery. "Warachciao!" Also works with Twitter, hash tags attached and tweets,
Everyone together at the same time broadcasting "Warachciao! Tsukkonjao!If I could do something like that, it might be fun.

G:
Certainly, it is a program that you want to intrude without thinking. The main audiences of such "Wallachcheo!" Are children 4 to 6 years old, Terazaki sister is just 6 years old in niece, but the opportunity for the two to contact with children of this age is do you have?

Nakamura:
Well, not much ... However, there are times when the fans have children who are of this age and get the impression that they are enjoying watching the work together. If you include animations that are broadcast at midnight, there are some works that express quite radical expressions, but I am happy that they are being presented to works that can be seen with your child and are being accepted It was.

Go ☆:
As the child is born soon, as the child is born and there is a concept that he wants to work regularly until he sees "Warachciao!" ... Because the brother's brother's child is 3 years old, he wants to show that child There is. Eventually, our child also ....

Nakamura:
But, if your child comes to the scene, it will be ballet if it is "Dad = Go ☆ Jas"?

Go ☆:
Well, hmm ... .... In the meantime, I was talking to my daughter that I will not tell you that he is doing GO JUSS until 20 years old, but I will do it by 15 years old. Tell them what you are doing when you turn 15 and let's ask "Do you want to succeed?"

Nakamura:
At the age of fifteen, she told space pirates completelyMoorec Space PirateIs not it cool to have pirates with parents and children (laugh).

Go ☆:
At that time my story may be prevalent, perhaps because I am preaching too much. If my daughter breaks (haha)

(All the members laugh)

G:
"Warachciao!" Has all the characters of individuality, but is there a character you care about?

Nakamura:
It is one jug apple choice, it can not be helped becoming matter of concern!

Go ☆:
As a character Smith likes jug apple, so I think that it may be linked. I am an ona rider.

Nakamura:
In various ways, is it?

Go ☆:
Honor rider roleYamamoto TakumaKun is doing, but I think heKamen Rider KivaBecause I am watching the figure that I was doing, I have a respect, it is not hateful. However, I am very worried that "Would it be like that?" "I wish I could have done so."

G:
I see, i see.

Go ☆:
After that, he is a senior in comedyAmerican crayfishofMs. HiraiIt is Hayabuchao who is doing it. In the meantime, when I drunk until the morning after another show, Mr. Hirai was glad that he always said "Go ☆ Jas is all right."

Nakamura:
I heard that there was a boys' party like 'Warachciao!' Metaphone'sMs. TaniyamaI like alcohol so much.

NHK:
Because I am a stage person, I think that it is caught in a rough wave.Flower performance showIt is a historic theater company that has always been messed with as a young man.

Nakamura:
Although it is seriously serious for the entertainment, it is a person who does not show such a place, such a place is interesting and it is also interesting as a metaphone. Mr. Taniyama calls me the only one "Erie".

G:
"Erie".

Nakamura:
The father's wish that named "繪 里 子" was that it would be nice if it would be easier for overseas people to call their name in internationalization. So I thought of the name "Erie", but I thought that because I am in trouble in Japan, I made it "里 里 子" ... Metaphone is amazing! (Laugh) Actually, when I go abroad, I call out the name as it is, so it is called "Erico". Dad, I regret that it is not Ellie!

Go ☆:
But that wish has come true at NHK! (Lol)

G:
I had a lot of fun story so far, but as soon as the last time, please give me a message from the two of you to the people who will see the program from now on.

Go ☆:
Thanks to the virus and Smith coming in, I'd like to develop it like stirring the old "Warachciao!" On behalf of my older sister, I would like to breathe new winds different from the previous one. New, revolution ... ... Revolution ... ... ie "Revolution ☆!I'd like to do it, so thank you.

Nakamura:
If you were interested in reading this article if you missed the past 61 times with the recognition that you knew that there was a program called "Warachciao!" But because it is a child program, I think that it is the perfect program. Because, of course, it is a program that can be enjoyed mainly by children, but if you think that we are enjoying it and it is fun to write an article that makes it fun and that everyone who read it is fun, It should come. I will continue to enjoy making things that a wide generation of people can enjoy, so do your best and do a revolution ...? revolution? ……revolution……"Revolution ☆!I want to do it. Thank you very much.

G:
Thank you very much!

Go ☆ Jas and Riko Nakamura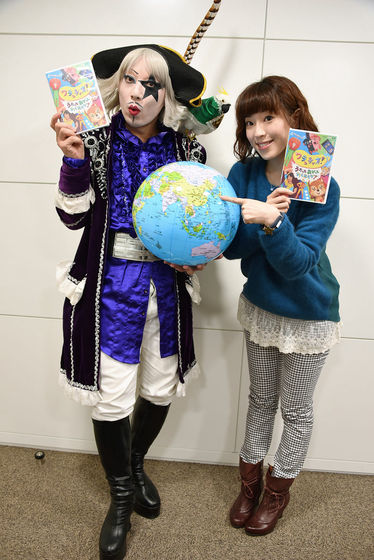 By the way, "Warachcjao" is broadcasting at 10:30 every Sunday at BS premium. Rebroadcast is being held twice from 6 o'clock Thursday and from 18 o'clock.

In addition, the best version DVD "Warachcchio! Utauta Oto っ て る ら ぁ お う ぜ!" Collecting selected contests and animations will be released on Wednesday, April 22. The price is 3024 yen including tax. Terasaki's older sister · Virus kun · Before joining Smith Chan Warracciao! It is a perfect piece to look back on what it was like, so please watch it if you like watching the show.

Warachciao! Let's sing and talk! | Character · For toddlers | DVD
http://www.nhk-ep.com/products/detail/h20629A1