【Old News】 Ms. Yuko Fujita who played numerous characters such as Ms. Ikkyu, Kiteter, Yagami Taichi and Malai etc. died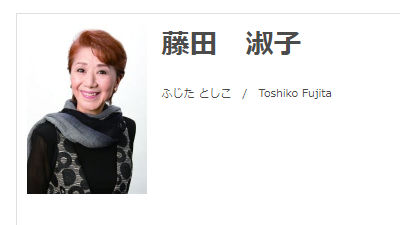 "Mr. Nagaya-san" 's 1st holiday role,' Kiterets great encyclopedia 'role,' Digimon adventure 'Yagami Taichi role,' Cats 'Eye' coming from the battle, 'Patari'! Role as Malai, 'Glass no Kamen' , Yoshiko Fujita, a voice actor and actress who has played a number of major characters with numerous animations, was announced from his affiliated office · Blue 2 Production, who died for invasive breast cancer. I was 68 years old.

Blue 2 Production - Management and promotion of voice actors, narration, dubbing etc
https://www.aoni.co.jp/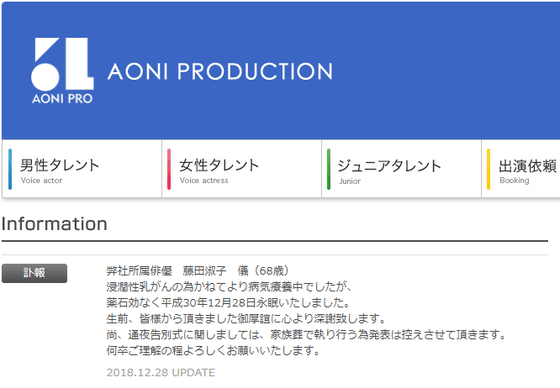 Fujita Yoshiko | Blue 2 Production Co., Ltd.
https://www.aoni.co.jp/search/fujita-toshiko.html

Fujita was born in Dalian, China. She is an actress active in movies and dramas since she was a child, and she has a career as a singer.

In addition to playing a hero 's holiday in TV anime broadcast from 1975 to 1982, the role of Kiteter (Kiichi Kido) of' Kitarez Encyclopedia 'broadcasted from 1988 to 1996, 1989 The role of Pier Marco of 'New Bikkuriman' broadcasted in 1990 from 1990, role of Alfredo of world class master theater 'Romeo's blue sky' in 1995, 'Digimon Adventure' and 'Digimon Adventure 02' broadcasted from 1999 Yagami A lot of boys' roles, such as Taichi role, are famous, but on the other hand, they showed the impressive performances even with roles such as "Birth of Cats ♥ Eye" and "Masked Glass" role.

Although it is quite a long term in the period in which it was performed, "Digimon" plays Tajichi Yagami again as a character of past works appeared in "Digimon Cross Wars" broadcasted from 2010 to 2012, It is a voice actor whose voice is known to a wide generation.

I was in charge of narration at the drama "Ikkyu-san" starring Fukumi Suzuki that was broadcasted in 2012.

Until 2014 I was continuing activities such as "Big Mum" "One Piece", but after that I had to squirrel down and sick.
in Note, Posted by logc_nt