Interview about movie Yoyonen to Masaru Kosumi & Kaoru Kakuma who played the role in nature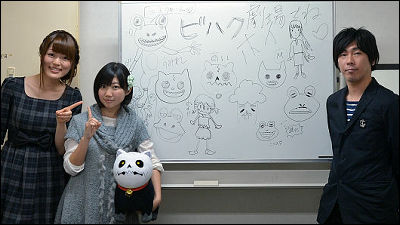 A movie to be released from December 28 tomorrowWitch sister sister Yoyo and Nene"about,Long interview with director Takayuki HiraoYaStage greeting report in KoreaAlthough I have posted the final, I played the role of Yoyo of the leading roleVenus violetMs. played the role of NeneKaomi YamaThis is an interview with Ms. We asked the director to attend the manager, such as how the two played the role, how did the dubbing proceeded, and so on.

Witch sister sister Yoyo and Nene
http://www.majocco.jp/

Ms. Kakuma & Mr. Seki who answered the interview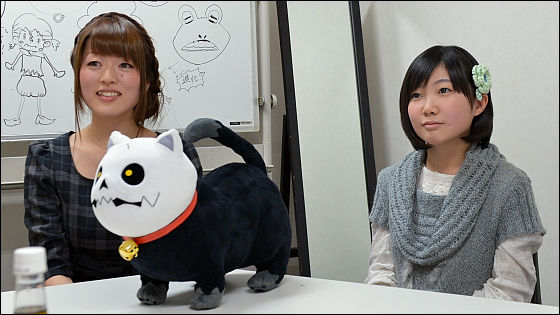 GIGAZINE (hereinafter, G):
The stage greetings carried out on 16th December - the screening with after talk became full and the ticket was sold out in about 40 minutes.

Director Takayuki Hirao (hereinafter, Ping):
It is a great thing, I appreciate it. Because the original is not a high-profile person, I think that it was because people gathered in it because it was widely advertised.

G:
In terms of publicity, Mr. Kakuma also participated in the events of Tokushima as a cheering supporter.

Kao Yui (hereinafter, addition):
I realized that it was difficult for people to get to know them, and I realized that I participated in various events, so I thought that it was sold out in 40 minutes, "I was widespread" However, since it is recently that CM started on TV, I felt that there were many people who have a strong feeling to see even if they came to the preceding screening.

flat:
Under such circumstances, Mr. Kakuma was appreciated by Yo Yonene as a cheering headmaster for long time ago to be in charge of promotion.

G:
Mr. Hoshi watching the venue full, how was it?

Venus violet (hereinafter, various):
I was very nervous.

G:
The distance between the stage and the audience seats was also close.

flat:
I also greeted you at the time of the pre-screening of Machi ★ Asobi, but this time I became tense.

various:
I was nervous because there were not so many people in the space many people came, but I was glad that there were so many customers, as I thought that as many people as possible should see it.

flat:
Shinjuku Baltic 9 will come again?

various:
It was my first time, so I got lost for a while (laugh)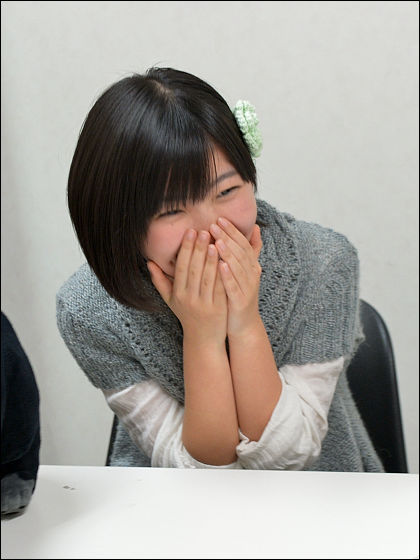 flat:
I am surprised that the UFO table is in Koenji and it is close by train and I often come to watch a movie, so my work will be screened at the movie theater that I always come on.

Addition
I have come to see the movie from time to time, but I do not know that there is a special booth where Yoyonnes' images flow and leaflets are placed on the Balt 9, and the images that they are talking flow as they are watching I came up and said "Ahhhhhhhhhhhhhhhhhhhhhhhhhhhhhhhhhhhhhhhhhhhhhhhhhhhhhhh" (haha) on the big screen, the songs sung by PV and Mikakoshi (Komatsu Msuiko) are flowing, and the two women who were in front are "Ao, Yoyonene Because it reacted, I seemed to call out "Please look" in spite.

flat:
It's really nice.

Addition
I am pleased that it is interested in me.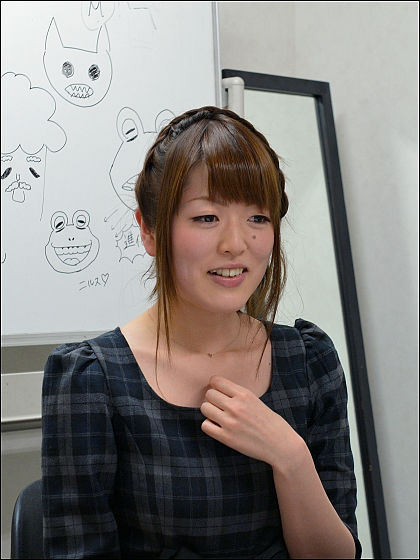 G:
How was your impression when you learned that the two of you will play Yoyo and Nene?

flat:
Surely, Mr. Hoshi left the final candidate in the audition, right? At that time I was an audition for the role of Aki-chan, but since the audition will be in the form of asking a fixed line of speech, I thought that I wanted to see the swing width of the acting, and separately got some speech to say is. Then, "Well, let's go with the stars ..." ....

various:
I got a phone call from the manager "I decided to Mr. Yoyo." Since I had never done a role like Mr. Yoyo, I was surprised because I thought he was not Yo Yo but I was surprised very much, but I thought if I could step up with this role, I put in a spirit I tried to do my best.

flat:
Have you stepped up?

various:
(Powerfully) Yes!

flat:
Well, thank goodness!

various:
It was really fun to be able to play various Yoyo san.

G:
How is Mr. Kakuma?

Addition
I also received three roles, Mr. Yoyo, Nene and Aki. From that time on, there was a place I saw somewhere with Nene's perspective, "Mr. Yoyo is cute." When I was told that it was decided to be Nene role, I also told some people around me that they resembled "I look alike" and I thought that myself "I do not look like that much sister, so they may not look alike" However, while I was doing, not only the mature part of Nene 's but also the girls' part could be seen ... ... The impression of Nene is different from what I received.

G:
I see.

Addition
As I was new to the movie, I was worried about what I was able to accept, "I wonder if it is OK".

G:
I see the story of Mr. Kosaku and Mr. Kakuma talking side by side, and I receive the impression that I am addicted as a sister cast perfectly.

Mr. Hoshi and Kaku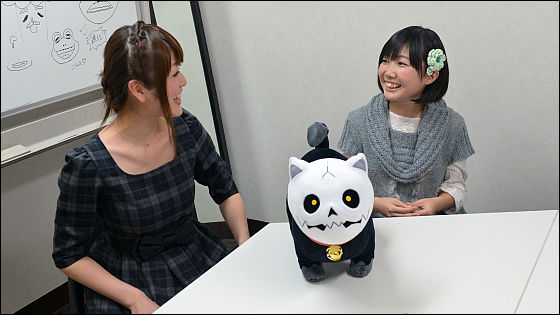 flat:
It really is. When I saw two people lined up in front of the microphone at the after-recording site, I felt "Oh, it's perfect."

G:
Please tell us what you felt and the charm of the character.

Addition
I thought that you would like everyone to know about Nene, who has various aspects, differently from the first impression, carefully depicting the depth as a person of Nene as opposed to the impression received from the appearance I will. There are lots of things I want to say, but there are parts that become spoiled (lol) ...... I feel warmth for Mr. Yoyo and I hope the goodness of Nene is transmitted to everyone.

various:
Mr. Yo is a character that shows various facial expressions, the movement is cheerful and there are cute places, and the place to do magic with everything is cool and I think that the place that has various aspects is attractive.

G:
Mr. Yo is also a great magic used in the "Great Wizard", but there is also a gap that lightly comes out as "Hui!" Do you have the part that the manager told you to "do this" as you play?

various:
I got an acting guidance "in a bouncy way of speaking".

flat:
Rhythmically, I told that I wanted to speak like dancing. Others ... ... was there? (Lol)

various:
...... (Troubled thinking)

G:
So, is it that there were many parts called "OK at the present performance?"

flat:
I agree. This time, I telled that the character's birthplace and the character that speaks like this, some of them instructed that "It's a little up here", but many have left it to their individuality . Even what I was originally thinking was not a play, I thought that it would take in "I thought it was good". So, there is not much part of "I guided, instructed". Because I thought that the quality of the voice will match at the time of choosing between them.

Addition
I did not receive too much direction during recording. After the recording was over, the director told me that there was "darkness" in my voice in the interview ... this is caught in a bad sense by being sometimes said to the surrounding people and managers It is OK because it is not because it is the type of the shadow of "Yin" (laugh), there are also many, often so-called "weak role" received. If I had heard this story beforehand, I thought that I was acting with thinking that I was being asked for darkness, so I thought that I had better not ask him before.

G:
Indeed, he said that it was "OK with this because they are acting like this".

flat:
It is as planned! ...... No, really, this time we have chosen a person who fits the voice in the audition, so if the character is born personality at the time we chose Cast, the person who stretched it will feel emotion naturally I thought that it was. I will not say "That scene is not that kind of feeling", but try to listen to things that came out with serifs and play first. Then, "... can not be done with this".



G:
I wonder if there was a scene in which a better acting came coming than the director had imagined, "Okay, this is go!

flat:
Well, it was a lot. Thank you (towards 2 people).

G:
So, did the dubbing also proceeded smoothly?

flat:
The dubbing was three days.

Addition
Well, it is my first movie to see if it is going well ......

flat:
Sometimes it takes a week for movies, so it's going well.

Various additions:
Was good!

Addition
When it's after dubbing, Mr. Yo has a crystal ball and "I will contact Nene, I will take it" has gotten stuck.

flat:
Oh yeah, that's what he says to bounce.

various:
It is a line that seems to be dropping the crystal ball that Mr. Yo lifted, but at the beginning, I played with ad lib into the middle, "I will contact you, wow!" But I thought it was interesting to say while bouncing the line itself.

flat:
It was a play where the dialog itself was a reaction. It is a flow which originally did not exist in Conte, but it is just in time for dubbing.

G:
There is such a thing, too.

flat:
It was taken in as if it was better to have such movement at the stage of drawing, so we had you play. Since the idea came out quickly, I thought that it was not in the drawing, as I painted it ... .... Conte and the script I handed it over.

Addition
I feel like I was going straight.

flat:
When actually looking at the picture Yo Yo was moving with a lucky mouth, maybe I was surprised?

G:
When you are talking about stories, it sounds like a lot of fun.

flat:
It was truly fun. How was the two of you?

Addition
Depending on the part at the time of dubbing, depending on the part, there are plenty of colors in it and the expression of the character is also attached, "What kind of thing do you want this child to do?" Is it easy to understand? "... It was a lot of information.

various:
Yes.

Addition
There was sometimes I wanted to inflate that kind of thing, Does the director surely want to do this? There were plenty of hints like this. Thanks to that, I am wondering if I could have taken less direction.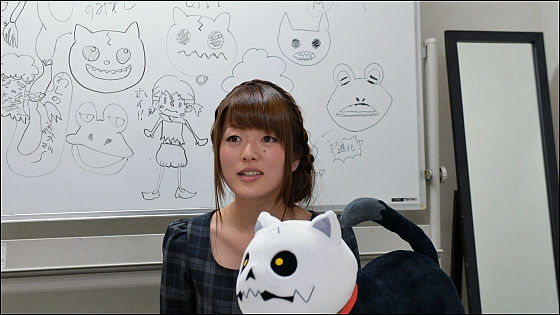 flat:
As planned! (Lol)

G:
There are lots of interesting places in the setting of that world, such as the current communication, communication with a crystal ball, various flashy magic, and so on.

Addition
A flying broom is good, is not it, I want to ride that. I said that he wanted to talk about "What would you like to do if you could use magic?" With Sanmi-chan and want to fly in the sky.

various:
You want to ride a broom.

flat:
It was a pleasure to have you told me that Mr. Yo will fly in the sky "It is rare to fly with a Quick Le Wiper". Speaking of a witch, I fly in the sky with a broom, but I made it thinking what it is in modern times.

Addition
It is a substitute for a broom.

G:
I also straddled fire extinguishers.

flat:
I was able to say "You can fly even with a fire extinguisher".

Addition
It is interesting to compare foods when there is a world of mischief and this world.

various:
When Mr. Yoyo was eating yakisoba, Nene made it ... ...

Addition
(Hammo) Mini Mammoth Deep-fried eggs of meat!

various:
Well, I'd like to try it.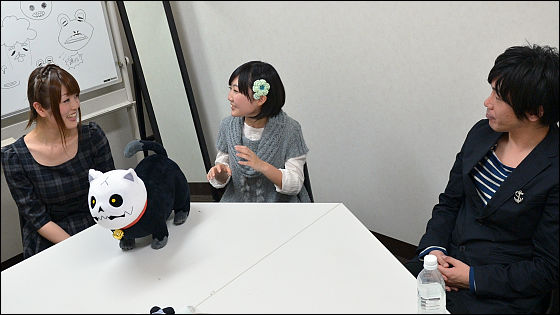 G:
Speaking of food, Takayama 's making "I soba" is also impressive.

Addition
Mr. Yo also looked at the place to make with awesome face, and the expression was changed, so it was also pretty there.

flat:
Staff will be pleased if you say so.

G:
Soba soba, I guarantee it will be delicious from the reaction of Mr. Yoyo.

flat:
I think it's delicious. Actually this is a menu I used to do when I was eating or eating even though I used to eat.

G:
It was a director's menu! The impact of "Iso soba" is considerable, but what else are there scenes and dialogues left in the work while in the works?

Addition
There are various things ......

various:
Yoho's "From the Eyes ○ ○" series was fun. Oike, Kinako, Udonpowaku ... ... I thought that it was expression like Mr. Yoyo.

Addition
The dialogue of "healthy scales?" Against it is also a tone of voice, it seems to be laughing even at dareco ... ... (lol)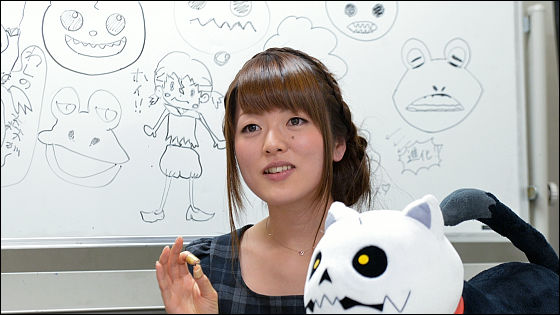 flat:
Health is Takahiro Sakurai. You said twice at the same height as if you were copying.

Addition
Moreover, the first time I saw it in the theater from the front, the second time I heard it from the left.

flat:
"Waste of 5.1 ch" is not it (laugh)

Addition
Because Nene has lots of important scenes in the second half, if you say it here, it will be spoiler, so please check it by all means.

G:
I will show you a crisp expression on the second half of the scene, from the image of an adult woman who was a bit fluffy in the first half. This time, the story is not the contents in the original comic but it is completely original, but here and there we have seen "I have seen it" and it has been scrambled and smeared.

flat:
Reading the original and gradually stuffing "with hints on this part of the frame" little by little. I intended to make a story by just watching once, but how about you?

G:
I think that it is saying something strange even if the original is unread, and there is a place where it reacts with the pin if it is read. In terms of Mr. Yo-yo, the words "I do not hear details as the first impression is diminished!"

flat:
It's a long line of speech but it's fun, so I really wanted to use that.

G:
In the meaning of being easy to understand, it will be the part of the Aban title, but the scenes where Mr. Yoyo will change the broom is exciting anyway.

various:
Yoho is desperately struggling to pedal.



G:
That's right, desperately the look has changed a lot and it is fun to watch.

flat:
The staff will be delighted, since the number of sheets is quite expensive ... ... (Does Morning Star understand the number)? As the picture moves, it makes motion one by one, so the more you move it the more you need it.

Addition
It is like para para manga.

flat:
As the number of sheets increases, it becomes thicker and it becomes about this (about 2 cm in height) with 1 cut.

various:
Wow!

flat:
Even with the Aban title alone, it was saying that there were about 10 boxes of cut bags ... ... It is about how much it takes to change the expression of Mr. Yoyo.

G:
Even in the scenes after that, Mr. Yoyo switched her clothes back to himself and thought that it was "That costume!" From the drawing side ... ...

flat:
The responsible person was holding "a head, is not it ...?"

Addition
Also, the place where the title back of the opening was a gimmick picture book saw "I am impressed" was impressed.

flat:
That made a theme with a tricked picture book, but it is hard if you do it with pictures.

Addition
I felt like I was pulling on my own to move the trap, and I was wondering if it was such excitement when I read the picture book, that it would be drawn into the picture book. I like it very much.

flat:
I did not come up with ideas and I was really annoyed.

Addition
Did not it be an idea like that from the beginning?

flat:
At the beginning there was no title back, and it was in the main part immediately after the title came out. But when I was talking to Editori, I was told, "Would not it be better to have an opening?", So "Would you like to make it?" As title back, it was decided to draw what Mr. Yoyo and Nene are doing in the world, or something I usually do, but since I decided to make it after I drew the contest There was a feeling like going back to the beginning once and it did not come out easily. While I was searching for ideas for a long time, I came across a picture book by chance and thought of "I want to make a picture book", but it is difficult to say that the picture book as it is, the title back is a piece of work so it must be gorgeous. How will it become luxurious? Thinking that, I got to the picture book.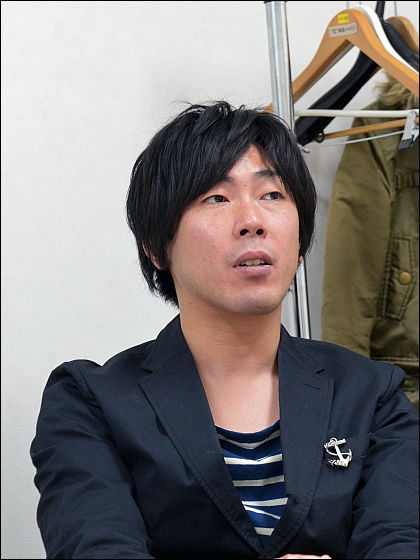 G:
I see.

flat:
I bought a lot of books and analyzed as "How inside is moving" ... ... I made the title back so that it works properly when I actually made it.

Addition
It is! It is! I want it.

various:
I desire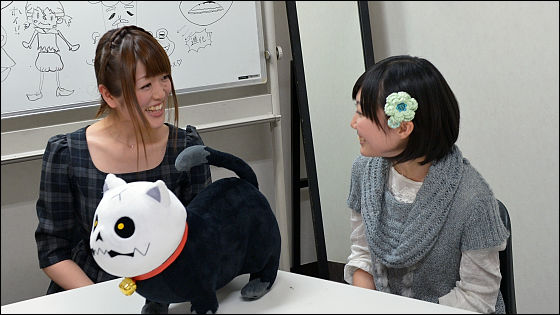 flat:
I showed a painting story by Mr. Takahashi Takuoo of Assistant Director or a person in charge of drawing and explained "It's moving", he said, "If that is the case it actually does not work? It made me to.

Addition
There are parts that are connected by opening and ending, too, big girls appearing in the opening are also in the ending cut ......

flat:
That seems so, I'm looking closely! After making an opening, I tried to make an end card, and I drew Yuka Shibata. Because I am drawing an amazing number of people, if I thought that it was "plenty", I saw that there were children at the opening, that other people and this person were ... ... all with Shibata's idea , I was just watching (laugh)

Addition
Because I was connected, there was also a feeling that I finished reading a picture book.

flat:
Indeed, it is a coincidence (laugh) Even so, I am watching the details.

Addition
I thought that I might notice it as I see it in a movie theater. Kondo Producer sticks "About not being embarrassed wherever I stop", so I'm stuck with it, so "I have to see the details!" Because it is fun to find various places ... ....

G:
I hope that everyone will do it, too.

Addition
Like "Looking for a Wally!" (Laugh)

flat:
Even if the staff did enjoy the work and I did not issue instructions in detail, there are such small stories in the picture that came up, that if there is a view of the world like this there will be a kore ... ...

Addition
Inevitable?

flat:
Yes, as individuals inflated their imagination and reflected it in the picture, it might be connected with the depth of the world view ... ... I think that it is a work that was helped by the staff, I do nothing Maybe not only (laugh)

G:
In this interview, I thought I was going to watch what I had a hard time fighting, but when I heard the story like this, did not you fight so hard?

Addition
When I first read about one of the lines of Nene's words in a certain scene in the latter half, I thought that even if I thought that "I do not think such a thing would be like Nene," it was finally here. Do not say such a thing in a scene in which the heroine of a movie is like a child or an important thing. But, when I was watching the story from the beginning I was able to become Nene 's feelings, and Nene congratulated me for saying that I love Yo Yo, so I accepted it as nature. At the time of dubbing, since the experience of dubbing itself was still too small, I was stimulated by seeing the back of Sanmi-chan, but when Sanmi is concentrating and there is not much memory during recording (laugh) ...... But I was inspired by such focusing power.

various:
Mr. Yoho could play naturally, it was easy to play emotion, but Mr. Yoyo was knocked down on the ground in the middle stage and the play "I want to voice but I can not put out" was difficult.

flat:
I asked for a voice like "When a frog collapsed", I was able to successfully express pain. That scene was difficult, was not it?

various:
It was very difficult.

flat:
I thought that it was a kimo is the word "do not touch" which follows it is a dialogue. The sharpness of the voice of Yoyo here was important. As I came out suddenly just because I talked a couple of words, it was good.

various:
It was easy to imagine and it was easy to understand because I specifically told how to make a voice. Thank you very much.

flat:
Thank you too, a nice play. That "do not touch" is excellent. Yoyo is causing a cerebral artery, so when people around me came, there was nothing we had ever thought, but it seemed to be a subject of fear, and an unknown person is about to touch Bjac. "Do not touch" is a negative speech, which seems to sound like a nuance that will forcibly stop the customer, but "I do not hear so, it will be obvious if it is Yoyo at this time" Because I thought that it was bad, I embodied it, so I thought that "I overcame this with this," at that time.

G:
In that scene, there is a dark mood overall as a scene, suffering attacks of Mr. Yoyo and Bihak, and it is a scene that the feelings are sinking even if I see it, so it is impressive.

flat:
Because it is also the turning point of the story, yo-yo becomes more heavy than the performance so far, but still there was also the original honest feeling actor Yoyo's acting really, I feel relieved really There was a place where something was saved with that nuance of voice being given out.

G:
Yoho's brightness at that time can be saved. In this work, the two played the "witch" child, but what is the image like a witch / witch?

Addition
The witch who first met was probably a scary witch who laughs as "Kekekekeke" that appears in a movie of a famous animation company, but recently it has become a witch's moe system as well. I heard that Yoyonene is also a "witch-sister", it seems that it seems to be a feeling of a recent witch or a witch child, but while the standing position is in the middle, it seems like old-fashioned "good old witch" I think that the places are drawn. Speaking of scary, I am scared, because "curse" comes out.

various:
At the beginning I was listening to the title "cursed ya shiti", I thought I was scared, but the movie is not such a thing, the devil country is also colorful, beautiful and really nice ~.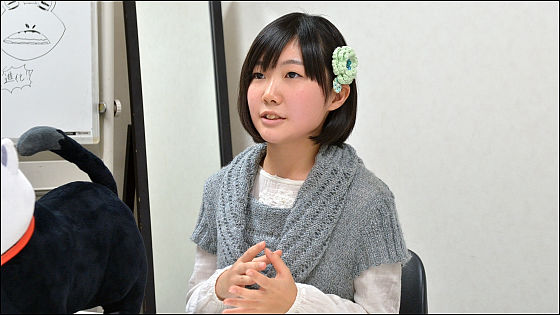 Addition
I wish I could meet this witch, but I am afraid if I get angry (lol)

flat:
Were Kokuma san "a witch child child" and "magical girl thing" when he was a child?

Addition
Well ...... I've been watching "Snow White" for a long time ... Ah, Sally was briefly watching. Although I had a stick, it got broken and came out of light, but I was shaking and playing.

flat:
Mr. star?

various:
I love Yubamaki who comes out in "Spirited Away" and started entering the play entering the theater company because I wanted to be a young woman, so I was glad that I could become a witch this time.

flat:
Were not you doing so much on TV, "Witchcraft things"?

various:
My sister was watching "Ojamajo Doremi", so I watched it together.

Addition
Also, "Kiki's Delivery Service" also. I looked for a deck brush when I saw it.

G:
It is amazing that Mr. Hoshi who started admiring as a young woman and became a witch like this ... ....

various:
While doing a gesture like drawing a magic team in the air) I was glad that I could do magic like this.

flat:
Does it become a magical girl properly? I was making it while thinking so it is nice to say so. Even though I know I was doing "witch girl thing" on TV, I was a boy so I did not touch the witchcraft culture, so it's my first challenge. So it was uneasy whether the woman saw it as "it is a witch child" to be felt.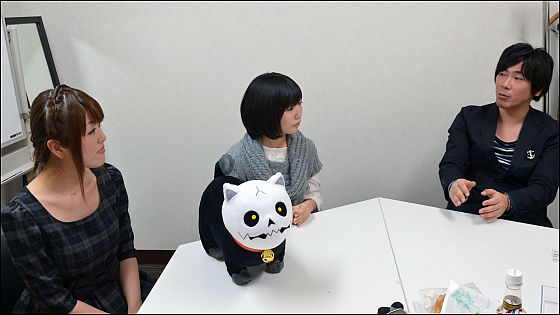 Addition
What is the image of the witch in the director?

flat:
That is like drawing western magic clubs and having a stick ... ...

Addition
(From the word magic team) Ah, Guruguru!

flat:
Hmm? Magic team Gurururu, it is nostalgic.

Addition
I saw it surprisingly ... ....

flat:
For me, witches are recognition like occupation. A witch is something to do as a bloodline or a profession, and an image that there is no right and wrong nor guilt even when magic is applied. ...... Witch hunting and others (lol)

Addition
I was very fresh saying "This time" of this work.

G:
Even in the trailer, "I will call you, when will" come out.

flat:
Certainly, it 's time to not just "ka". I thought it was orthodox when I read the original.

G:
Then, please give me a message at the end.

Addition
I was involved from the audition and had me do it for such a long time, and I was also a supporters headmaster. It is my first time to appear in a movie, and myself, I've been trying hard to release it, thinking about how to get to know Yoyonene for everyone. From now on, I am very concerned about how you feel. I'd like you to enjoy our favorite works and I think that both sounds and pictures are sticking to the whole thing, so I would like to see it at the cinema. What I found by looking at small details is a wonderful work that also makes it possible to solve it even if I think "what is it?" We are waiting at the theater.

various:
I was also the first time in theatrical version of animation, it was my first time to appear on the event, Yo Yonane was the first time, I enjoyed doing a lot of new things, I enjoyed it. Everything is magnificent, everything is magnificent, the picture, the sound and the movement of the character are all large, it is a wonderful movie that is watching over and watching more and more in the movie, Yo Yonene! I think that I want to see those who are not watching at the theater as soon as possible.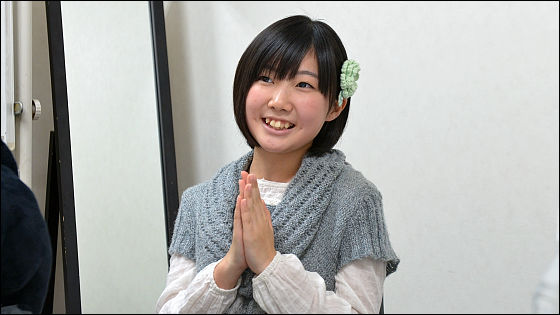 flat:
Yes. I definitely want you to watch it at the movie theater. Since it has become sound acoustically designed for movie theaters at 5.1 ch, including sound, I think that there is a place where the degree of experience is different when viewed at a movie theater.

G:
Thank you very much for a long time today.

Finally, Mr. and Mr. Kakuma asked me to take a picture in front of the white board I was drawing at the waiting time. Before that, Mr. Kakuma who redraws a little thinner Nene.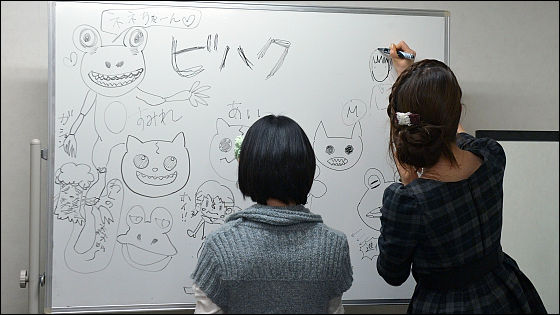 That's why a white board with a message is completed. The popularity of Bihaku and Nils is evident.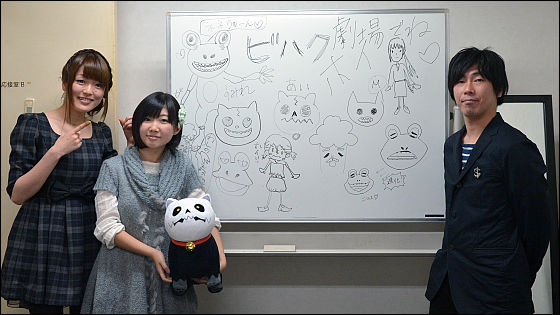 Nils who said that "I would like you to put it all means." It will appear in scenes with impact even in the movies.