What are the visual aspects of "Witchcup sisters Yoyo and Nene" that all the staff loved on the work?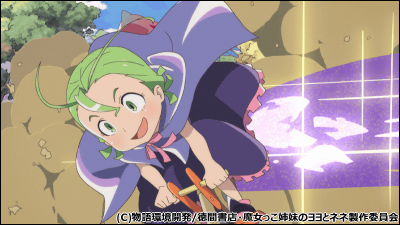 movies"Witch sister sister Yoyo and Nene"about,How did the project start up and the project progressed,How was the musical aspect made?I listened to, but the last part is the part of the animation which I care about as animation. As a matter of fact, when I tried asking "What is the highlight?", The answer was "art and color".

GIGAZINE (hereinafter, G):
I am talking about the time when the movie is going to be released, but where is the main attraction of this work? As a director I think that it is a place called "everything is a highlight!"

Director Takayuki Hirao (hereinafter, Ping):
Well (laugh) Among them, I stuck to art and color. It is difficult to give out this color ...... Although details of the background can be made precise, since details of the character are not that much, usually it is processed using Photoshop or AfterEffect to adapt the character and art It is. But I do not do it this time, so I use soft colors for both characters and background so that it does not mean "do not fit".



Kondo Hikari Producer (hereinafter, near):
Looking at the trailer, everyone said "It's a nice color."

flat:
Drawing is, of course, moving so much, so it will be an art in the sense of "seeing here also".

Near
Yoyonene is also good magical effects. It is used in the hospital's rooftop.

flat:
The best part of the effect is where you can act. This is the meaning to manually paint the effect. (While watching the rooftop scene) I can not give out this part if it is CG. Indeed, I think that the expression that Yoho's feelings are included. If it is time to paint it, you want to do something magical. It is not just a spectacle scene but a "spectacular scene using" magic ".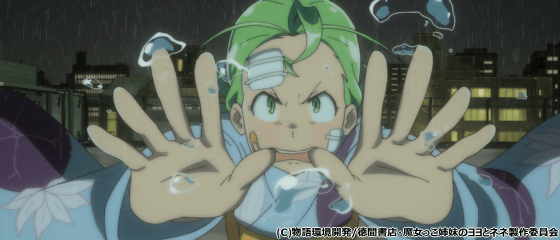 Near
The effect is also hand-hitting, it's a luxury movie.

flat:
In the sound making of Mr. Shiina, there was a story saying "I will degrade the sound of the back", but I also do the same thing about the picture. "Picture" is to draw on the plane, but if you look at the landscape with human eyes the distant one is hazy and you see. So, even with animation, it makes sense of perspective by blurring as it goes backwards. This is "air perspective", but this time I quit it, I am trying to clear up to the far side and make a depth. Because of that, it seems that art was hard work (laugh)

G:
Method

flat:
Since I became digital and not hand-painted, I felt that the "haze of the air" is not so beautiful, so I thought "I need to remove the air nearby and make it look like clear air", this time I decided to express the depth in color. I think that the country of the demon is easy to understand, but if you look at it, the front is colorful and the back is colorful in the back. In terms of art, the main line is also included in the background and so on. It is characterized by "Mr. Miwa Miyake" following "Cherry Temperature".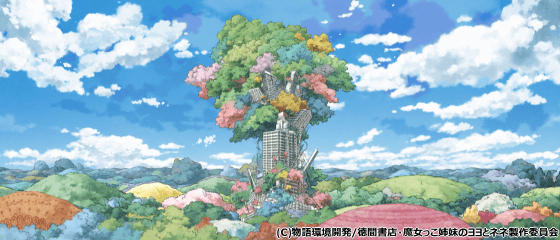 flat:
By the way, at the drawing group, Aki was popular and I was in a relationship.

Near
You will get in touch with low-headed characters.

flat:
Aki seems to have been popular because it does not make too much voice and it has to express by movement.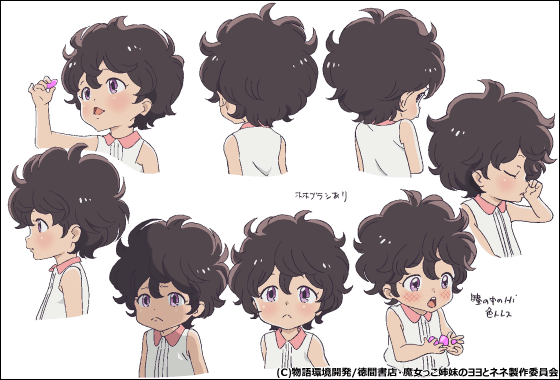 Near
The title back part was also pretty elaborate, I got one telop so much made a special font. It is a mass of luxury.

G:
That part was a trick to feel luxurious.

flat:
The trick picture book was really hard ... ....

Near
I really want to make that picture book! I thought. However, it is abandoning because it costs extraordinary money, but that opening is good!

G:
Even in the original work, there were frames sometimes drawn as if the book was opened, and I felt the part to link.

flat:
Actually, in the first conversation, the picture book was opened at the beginning, it was a feeling that that picture became a monster country as a rabbit. Lastly the book closes, the story ends, it is the form. But, that is why, as the story of Yoyonnes seems to be like a fictional story, we decided to quit. However, because the staff already made parts to open the picture book, I thought that it was a waste to leave it as it was, and diverted it to the wind that shows the picture book in the title back.

Director Hirao recalls the episode at the time of production while reading back the original.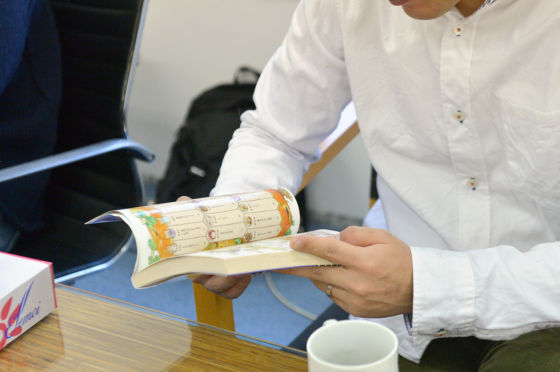 G:
I see!

flat:
The gimmick picture book itself is a kind of idea game. I examine a lot of interesting where I move it. Do you know that it is technically "slide"? It is a way to move one stop picture, but since it will not be nuances, try adding a shadow to the arrow that moves the trap or reproducing the print misalignment of the book, slightly shifting the outlines and colors Moral, it contains a lot of ideas.

Near
True, I really want you to see it .... It was a hard time, after all I thought so and it came so far. It was like raging two or three months in the last ... .... Anyway, because it was carefully carefully worked, I can not run through. Staff, stress and frustration were serious.

G:
Is there still anything at the end that you can run fast and what you can not run fast?

flat:
In the case of this work, even if you try to raise it sooner than it is, it will be a storm of retirement as it makes you feel like you did it on a hurry.

Near
Truly retiring was serious. However, Hirao-kun's commitment is about the last 70 cuts of the retake. Even if I saw it, it was a level I do not know what is a retake.

flat:
No, no. (Lol)

G:
By the way, the stage is like Yokohama, but why did you decide to go to Yokohama?

flat:
When Yoyo came from the demonic country to the present age, there are many forests in the demonic country, so there was something I wanted to donate the Chinatown in the sense of contrasting with it. After that, there is a difference in height and it becomes a picture, the streets of Yokohama also become a picture. There was a man who had a deep reading of the setting called Chinatown in the original staff, and the Chinatown in Yokohama was originally a foreign settlement place, where the foreigners lived. So, does Mr. Yoyo also remain as a foreigner? I was surprised to hear that.

G:
I recently thought that there might be such an intentional cut as to make it possible to specify the place specifically in the work.

flat:
Indeed, I have no intention of doing that. Because Yokohama is a popular tourist spot, it does not matter whether you bother to bother here (laugh)

Near
I think that the sacred place pilgrimage has a work to the last. The object of pilgrimage to the sacred place should be first and you should not make a work. Oh yeah, I thought of it as a pilgrimage pilgrimage, but as I said, "The temperature of cherry blossoms" is made in the hometown of Hirao-kun. But, it is not made into video software, is not it? In such a case, it would be hard to do a pilgrimage to the sacred places and a map, too (laugh)

G:
surely. Moreover, the public theaters are in TokushimaUfotable CINEMABecause it is limited ... Some people can switch immediately after the work is finished, but how about director Hirao?

flat:
Well, there is regrets ... But, I do not mean "I want to fix it". It was September that it was completed, and a long time passed since then, but since it has not yet reached its release date, there are places where my feelings have not been sorted out.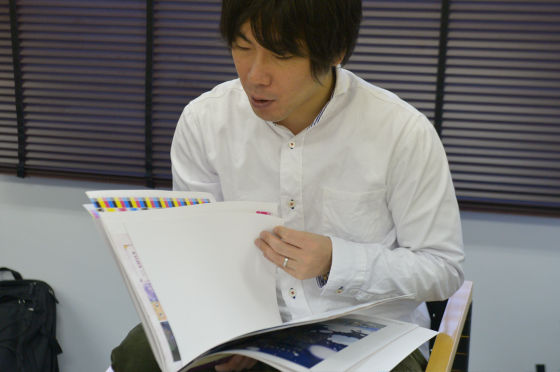 G:
Do you have a scene that you made it better than you expected at the contest stage?

flat:
That is a lot of it. This time I made it thinking that "I throw away my prejudice and incorporate everyone's opinion." There is an expression "a world of radius of several meters", but since the radius of one person is very narrow, I decided to note that I should not judge with my likes and dislikes. Thanks to this, many unexpected ideas came out, "This is good for here," and I took it in if it's fine. Actually, the song of Yoyo is also so.

G:
It is something Mr. star sang.

flat:
There is a huge setting for Mr. Yo's character, but when I was thinking about how to explain it, suddenly Shibata says "I wish I could do it in a song?" A song was born there. In B part, it is the reminiscence scene of Aki's father and mother. Although it is a little romance scene, I am not good at love things, it was nice to draw a container, but when asked by the staff it was taught from the foundation "I have not become a love affair at all" (laugh) There are many around Bihak, there are many parts that I reworked on C part. And the last was serious. Although there are many pictures in the ending, in fact there is no container. That part was handed down to the animator people who took part in the main only by drawing them.

G:
For example, do you feel like "Please schedule a party?"

flat:
That's right. If I draw in a story I will become like an explanation. The layout that makes the character look attractive is better with the animator's drawing, so if you are talking about Mr. Shibata, Illustration has come up like that when you issue a subject titled "Yo-Yo's Return Party." Speaking of which, Mr. Yoyo says "I am powdery from the eyes" and runs like running "Yoshi" like a guts pose, but this was not a contest, but it was a nice play. This time, many female animators are entering and there is no complaints, but a play that is cute is naturally included. Perhaps, the play that everyone saw and thought "This is fine" is not what I ordered (laugh) Because drawing will draw one by one oneself, "let me play like this Wanting to say that I want to draw quite a bit, so I put as much as possible of it.

G:
If it is such a scene, it seems to be able to draw with noodles.

flat:
However, at the time of rough I am drawn in a stagger, but when someone entered the cleanup work of the original picture, there was a person who had a blank eyes to say "Why did I say so much?" Lol) When I was at the temperature of gyo and cherry blossoms, there was not such a thing, although I decided to work, I worked a little, but I loosened Yo Yonen slightly to make it run out, so I could freely make various stories and suggestions, Many people said they could work clearly. The staff's feelings may come out in the picture.

G:
Is there a part that was made use of from the previous work?

flat:
First of all it is the staff who engaged and worked continuously. Following my part I did not. I mentioned that I was making a scenario while drawing a contest, but even at the temperature of cherry blossoms there was no scenario in the same way. So it became confident that we were already able to complete the temperature of cherry blossoms.

G:
Although it may be a quick story at the end of the public release, what kind of work do you want to make next?

flat:
There are things that are currently progressing, but I want to make it for various people after all. Machi ★ At the time of Asobi, people in their thirties who were tired at work came to Yo Yonene's preliminary screening and said "I thought that I will try hard tomorrow as I watched this ...". "Cherry Temperature" and "Gyo" have been made considering something more interesting than the high school students, but in this work there was a desire to make original and interesting things. ...... Because it is said that I will regain the infant when I get older?

Near
In the middle of thirties, infant retreat is a bit too early (lol)

flat:
It is difficult to find out where originality comes out. But I think that primitive things for children are things that can be enjoyed by everyone, it will be a bright feeling, and I think that it is a theme that can be made from now on. In the preliminary screening, "Attack on TitanDirector'sTetsuro ArakiYou told me, "I did not think there was such a thing in you" (lol)



flat:
I told that it was a turning point for the work when I returned to the country, but when I go back to the country and drink with my friends, guki comes out as "hot spicy" after all. I want to cheer up those people. Everyone wants to see what you want to see in the movie, you will have a good feeling and see work that you think will work hard tomorrow. When I looked around, I thought that I did not make such a work and thought that I would like to deliver happy. I,"KaleidostarI like it.

G:
Kaleidostar, the protagonist is quite forward-looking.

flat:
so. You will be fine when you see it. During my three years of making Yoyonene, my teacher's presenceMr. Imatoshi passed away.. Until then, I've chased after my teacher all the time, but when my master ceases to exist, I wonder if I just have to follow the shadow. I've been doing a piece of work that has always been bleeding and I have been showing the disgusting aspects of people all the time, so I wonder if I want to do a work that is true and reverse, the person does not die. In any case, I'd like to make a completely fantasy story.

Near
Fantasy is difficult because you have to make everything imaginable.

flat:
How do people in this world live, what kind of things are used in letters and languages, what is meal circumstances, toilet circumstances ... ... it is really hard to have to think about everything ... I think.

G:
Finally, please give a message to those who read the article.

flat:
In "Witch sister sister Yoyo and Nene", a primitive experience is one keyword. If it is an adult, it is like feeling the excitement of animation that I saw when he was a child. If it is a child, this may be exciting for the first time. In this era, that is an unbelievable world, but I think that it is okay for such an anime to be there. I think that you can "experience" at the cinema, so please do come and see.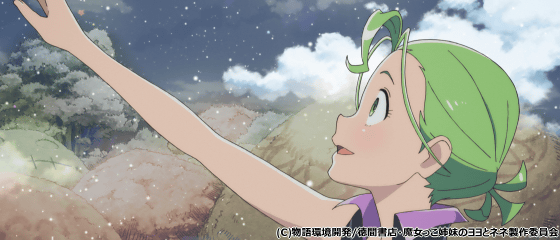 G:
Thank you very much for a long time today.