Interview with Yoshinobu Sena, director of the original anime movie 'Kimi wa Kanata', how the director, who also serves as the original, screenwriter, and producer, created the work between commitment and compromise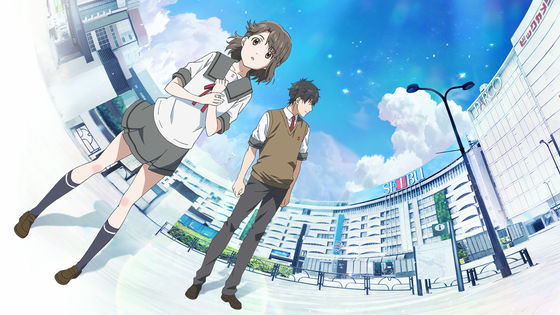 The anime movie ' Kimi wa Kanata ' to be released on November 27, 2020 (Friday) is a completely original work. This time, I had the opportunity to interview Yoshinobu Sena, a creator who is also the director, screenwriter, and producer of this work, so how did you decide to bring this original work to the world? And I asked him about the details of how he created the work.

The movie 'Kimi wa Kanata'

https://www.kimikana.jp/
Director Sena who answered the remote interview


GIGAZINE (G):
I was shown a storyboard as a reference material, and I was surprised that it was one of the best storyboards I've seen so far. Who was in charge of this?

Director Yoshinobu Sena (hereinafter referred to as Sena):
I think the content is the number one point. This time, the section is divided into three. I'm also a producer and spend four years making movies. At first, I was involved in the production business and the script business, and I entered the storyboard in the middle, but after all the storyboard consumes the most calories. When the process of movies and animation stops as I proceed with the work, there is also a script, but I found that the storyboard is particularly difficult, so unless I take care of it, it will not fit within the budget I was thinking.

G:
He said he reviewed the contest process.

Sena:
By the time this movie project started, I had been making OPs for the game, but instead of drawing storyboards, I first wrote the character content as a word content. It seems that this was epoch-making, and I think there are pros and cons because it is a theory, but when talking about word content, the most famous haiku in Japan is Matsuo Basho's 'Frog Poem ...?'

G:
...... 'The sound of frogs jumping into the water'?

Sena:
That's right! As expected. If this is expressed in a four-frame manga, the first frame draws an 'old pond', the second frame depicts a frog, the third frame depicts a frog jumping into a pond, and the fourth frame is called Pochan. I think everyone draws the flow of making a sound. So I knew that the information in the picture could be written to some extent. It takes a lot of calories to make a picture, but you can easily make it by writing it, and you can see the whole thing. Often, after drawing a picture, I noticed that it wasn't connected here and redrawn it, but when I made the word contest, I knew it, so I changed it there. After that, I created a storyboard, made a layout from the storyboard, and pasted the layout on the storyboard for easy understanding, which was used as a guideline for everyone. By doing this, it will proceed extremely properly.

G:
By creating a storyboard, you can save the trouble of redrawing the storyboard, and at the same time, you can share the image and improve the quality.

Sena:
However, word content is also a short sentence if it is a haiku, but animation is not so simple. Because there is a character and what kind of positional relationship is important. What do you do when you express it in words? First of all, the angle. I can understand the eye level from the perspective of the characters, but I will write it so that the contentman can understand how much the tilt is if it is tilted, and how high it is looking down from a bird's-eye view. After that, I will write in letters so that I can visualize how the characters are arranged. If you tell it 'Please make it a storyboard', the storyboard will come up almost exactly as I expected, except for difficult cuts. By reducing the amount of time I spend drawing, I was able to reduce retakes and mistakes, allowing me to focus my time and talent on the main cuts.

G:
I see, when it comes to adjusting the schedule.

Sena:
For me, storyboards are 'a collection of all the information about pictures,' which is a demo tape in music. Word content is a musical score. Whether it's a drum or a piano, a professional person can see what's going on, and suddenly making a demo tape takes time, so first write the score by yourself. Since the points to be improved can be seen at that stage, it takes a lot of time from the storyboard, but by recognizing it from the storyboard, the total amount of mistakes is reduced.

G:
Will it be transmitted without problems with the character content?

Sena:
It is difficult to express the action scene in characters. So, when asked about the person next to the person who draws the storyboard, use a doll to show 'This is this character.' Also, regarding camera work, by moving the mobile camera together with the doll and teaching 'I'm approaching and turning like this', I solidified the parts that are difficult to convey with letters. Even so, there was a part that 'I really can't understand from the letters alone', and I drew a storyboard for that. However, basically, if you specify 'This is such an angle' in the text information, the correct one will come up.

G:
That's why storyboards are very easy to understand. I'm not wrong.

Sena:
At the stage of changing from word content to storyboard, I draw by myself, but it takes time for the animation director to see it and fix the storyboard, so I will fix it at the layout stage. It feels like the storyboards are fitted with what was fixed at the layout stage so that everyone can easily understand it. That's why the quality of storyboards is extremely high, and when many people look at it, it's easy to understand, 'This is what this is.'

G:
How much can the production time be shortened by that work?

Sena:
I can't say anything because I don't know other sites, but I recognize that it has been shortened considerably. There is also the fact that the decision is quick because he was also the original, script, director, conte, and producer. Waiting for a section somewhere, that kind of thing is almost zero. For example, in the case of the word contest, the picture is almost completed in the head when the script is given, so you can write the next word contest while throwing the word contest to the picture contest man.

G:
It doesn't stop there.

Sena:
When Conteman asked, 'What does this mean?', Bring a doll like the previous story ... It will take time to finish the quality to that extent at the time of storyboarding. Also, this time it's a story of two people, Mio and Shin, so there may be a place where I tried to simplify the screen composition so that I could concentrate on these two people and empathize with them.

G:
Director Sena is credited as 'Director / Screenplay / Original: Yoshinobu Sena' because he is also a producer, a part of storyboards and storyboards. What kind of project did this work 'Kimi wa Kanata' start in the first place?

Sena:
Originally it was a short film, and I thought it wouldn't be possible to make it a feature film. However, I had the opportunity to make it as a feature film, and I corrected the script about 20 times. Make the short story 60 minutes, make it 90 minutes, and so on. Some of them were cut because they thought they were not necessary for a movie. All the information such as 'Why did this character know this fact' and 'Why was this character here at this time' is complemented by the novel 'Kimi wa Kanata' from KADOKAWA Fantasia Bunko.

G:
On August 14, 2020, on official Twitter, there was a notice that Saori Hayami will appear in the role of a mysterious girl who helps the hero who gets lost in a mysterious world, and the director commented, 'After dubbing, this movie I explained how I made it, but Mr. Hayami was crying all the way from the middle. ' How did this happen?

???? Saori Hayami & Yui Ogura will appear ????

The movie ' #Kimi wa Kanata '
Saori Hayami plays the role of Kiku-chan, a mysterious girl who helps the main character Mio who gets lost in a mysterious world.

Yui Ogura decided to play the role of Mio's friend Enka in the real world ????

Very cute atmosphere is perfect ????
Please look forward to Kiku-chan and Enka played by the two of you ✨ #Kimi Kana pic.twitter.com/FZGQLt4VVy

— Movie 'Kimi wa Kanata' Official (@kimikana_movie) August 12, 2020
???? Saori Hayami & Yui Ogura will appear ????

The movie ' #Kimi wa Kanata '
Saori Hayami plays the role of Kiku-chan, a mysterious girl who helps the main character Mio who gets lost in a mysterious world.

Yui Ogura decided to play the role of Mio's friend Enka in the real world ????

Very cute atmosphere is perfect ????
Please look forward to Kiku-chan and Enka played by the two of you ✨ #Kimi Kana pic.twitter.com/FZGQLt4VVy

— Movie 'Kimi wa Kanata' Official (@kimikana_movie) August 12, 2020


Sena:
Don't make the mistake of saying 'I cried'! Since the recording was relayed remotely due to the influence of Corona, there is still evidence properly (laugh) This first explained to Mr. Hayami how he started making this movie before the recording started. After that, I explained in a little more detail the origin of the work and what kind of life I had lived. Um ... Mio-chan is basically useless, isn't it?

G:
No (laughs)

Sena:
In a way, she's my alter ego. It's not a movie-like love story, but I'm the type I don't want to appear in front of me at work, so there are a lot of things I came up with but didn't write on my profile. In my life when I gave up 'Please give me another person instead of me', I thought that it would be useless if I kept going like this, so I started the project 'Kimi wa Kanata'. When I explained that to Mr. Hayami, he was screaming from the middle and said, 'I couldn't stop crying when I was listening to the director.' I thought he was a pure child.

G:
As Mr. Sena's comment, I was also interested in the first report of this work, 'I wish I could release it to the theater with a strong feeling that this might be the last work.' Why was it suddenly 'may be the last work' even though it was the first feature-length theatrical anime?

Sena:
If you think about it normally, I shouldn't go out (laughs) It's not a director with no track record or a popular original. When this proposal comes around objectively, I say 'OK !?' (laughs)

G:
(Lol)

Sena:
I'm laughing, but this is 100% useless! (Laughs) I say, 'I can't push the stamp.' It 's too much. If you think about it normally, if a person with no track record is moss, there is no more. But that's all. The ideas are endless, and there are more than 100 stories. However, it takes 100 years to make one by one before dying. In the rest of my life, I can make one or two new ones a year, so I'm thinking 'what should I do?'

G:
It's fierce.

Sena:
It's fierce (laughs) I'm angry if I say too much about this, so I think it's a story that can be given at the right time.

G:
It is said that it took more than 4 years from the start of the project. If you are both the original and the director, you will be involved in the process at all stages of the production. What were the most difficult scenes / situations in the last four years?

Sena:
It is a contest. I have to proceed with the storyboard and storyboard in parallel, and the work sometimes overlaps. During the contest work, I got a call and asked, 'What's going on with this?' I'm doing the production and progress, and I haven't decided on the scheduled timetable for the rush, so I get an inquiry asking 'When is the time?', So I adjusted it and asked my assistant to call me ...

G:
You're doing 'everything'.

Sena:
I agree. ...... The assistant next to me is saying yes. Even if people say, 'Ghostwriters are actually doing it,' I do it myself. There are no people other than me, and if there were more people, I wouldn't cry three times in Shinjuku (laughs)

G:
Why that (laughs)

Sena:
There are many more ... If anyone says 'I did' what I was supposed to do with closing credits, I would rather know. At the beginning of the project, I was doing the promotion myself.

G:
In the 'Yoshinobu Sena Talk Show in Todai-The Real Face of an Anime Creator Who Handles From Directors to Voice Actors-' at the University of Tokyo, he said, 'I used to watch anime at home when I was a child.' What kind of work were you looking at at that time?

[11/25 Yoshinobu Sena Talk Show]
The 'Yoshinobu Sena Talk Show in Todai-The Real Face of an Animation Studio from Director to Voice Actor-' held today ended with great success. Thank you to everyone who came to the event today!

— The University of Tokyo Animation Study Group (@ssa_info) November 25, 2017


Sena:
It is ' Dotteraman '. I can still sing. Isn't it a great concept? I'm fighting in Dotera!

G:
Why are you so fond of it (laughs)

Sena:
Because I was wearing a doll. I also liked ' Dororon Enma-kun '. Others are ' Revolutionary Girl Utena ', ' Sailor Moon ', ' Yu Yu Hakusho ' ... You saw the jump animation.

G:
In this talk show, when Mr. Sena decided to make an animation, he called in the order of the Japanese syllabary in the list of animation production companies and teamed up with the company that heard the story to make ' Inkan Stall '. There was a talk. How did you negotiate and get to the point of making an anime?

Anime 'Mark Stall'-YouTube


Sena:
It's true that I looked at the official website in the order of the Japanese syllabary, but Asahi Production, who made the call with this 'Inkan Stall', was the first to make a call. I thought I'd stop the place where I couldn't even call if it was a system that would accept strange guys like me. So, it feels like 'one shot at a time'.

G:
It is said that he got a hit with one shot.

Sena:
At that time, Asahi Production was just looking for a project, and when I wrote the script and brought it with me, the producer responded that it was 'interesting' and said 'Let's do it together', and it was a blast. It led to the work.

G:
The schedule for the day at that time was 'I get up at 6:30 and work while eating breakfast. It's like sleeping at 12 o'clock.' What is it like now?

Sena:
It was like that at that time. Now ... sometimes it's a little harder. Even if I'm already doing it in a few dreams (laughs), even if I'm drinking alcohol, when I get a call for work, it switches to a snap.

G:
At the talk show, when asked 'Do you think anime is a cool business?', 'The swing is amazing. What sells sells tremendously, and what doesn't sell doesn't sell at all. That's why I may have a dream. I think, 'he said, but is this still the same idea?

Sena:
It's exactly the same. Whether or not it is 'cool' may change depending on whether or not this 'Kimi wa Kanata' hits (laughs) If this is moss, 'Well, that's right ... the reality is not so sweet. 'When. But I don't want to regret it, so I'll do my best. I try to smile outside, so I'm usually told at the scene that 'Mr. Sena, it doesn't look painful at all' (laughs).

G:
No, it's fierce when listening to the story.

Sena:
I try not to let that kind of thing go out. I can't hit things. Even if he wanted to throw his slippers on the floor, he thought, 'If you throw your slippers here, it might be a nuisance to your neighbors,' he said.

G:
(Laughs) I want to explode so much ...

Sena:
Well, I was doing creative and said, 'What should I do with this cut ... it's not like that.' Every day, about one impossible thing happens a day.

G:
One per day !? So if you can't hit things, how do you release your anger?

Sena:
Well, why are you doing that? …… I remember, I'm too busy to get lost (laughs) Even if I'm in a state of 'War !!!!', when I get a call, I get 'Hi Hello'. The person who called is not bad at all.

G:
surely. Is there anything that was harder than you imagined while you were so busy, or that it was hard but it was particularly good here?

Sena:
In the picture part, how to distinguish the mysterious world from the real world. Also, in the production, I decided the rules first. [Since the content up to the final edition is included, some of the director's remarks will be added after the work is released. looking forward to】

The rest is the movement of the character. We made it easier to empathize with the main character by making it simple without making too many characters appear on the screen. 'This character cuts and splits in consideration of how he wants to bring the emotions of the customers in this scene.' Due to the budget, I couldn't put a burden on the original drawings and drawings by doing difficult things, so I had to change the expression. However, there are some cuts that I removed because I thought they were high in calories. For example, even if you want to turn the camera here, it is difficult to go around because 3DCG is not used at all in this work. Therefore, I narrowed down those things and thought only about what I could do. However, when I thought about removing it, I realized that I removed it when it became a storyboard. 'I want to turn Sena's camera here, but I made it a cutback.' (Laughs) So he said, 'I'll think about it for a moment,' and when it was completed, when I was wrapping around, I felt the heat of the scene. I realized it.

G:
Oh, that's nice.

Sena:
There are many points that changed the way I was thinking about the total calories as a producer, taking into account my intention as a director. For example, the opening is completely different from the one I first drew. We know that the opening part uses calories visibly, but spending resources there makes the rest hard. So I drew a restrained content, but the scene said, 'Director Sena. You're leaving. It's the opening of the movie version.' Even if I said, 'No, I can't use calories,' I sometimes said, 'It's okay.' When I saw it actually came up, I thought, 'Is this the end?' I really wanted to do this, but on a budget ... I might have said it all at once. The on-site production picked it up, brushed up my content with a passion, and moved it ...

G:
Are you particular about sound effects and music?

Sena:
I went to record the sound, but it's amazing. There were about 30 people in the strings alone. I used to keep the social distance and divide the musicians, but I think there were about 40 to 50 people in total.

G:
It's insanely gorgeous.

Sena:
I also play music, so I want to stick to the sound. How to get the depth of the sound with 5.1ch because it is a theater and the sound of dialogue. The balance between sound effects and dialogue, how the sound sounds, and how the bass sounds. The sound is not just in the ears, but somehow visible. The low notes are low, and I've always wanted to create a sense of realism for the entire movie with 'pitch'. Here, we use our knowledge of music to thoroughly implement effects, balance, and how to enter music.

G:
What kind of team do you make your favorite music?

Sena:
Nichion is doing the music production. The fact that the sound effects will come out in front of you when you look at the picture is off the peak of music. For example, in the scene where a whale has come out to the surface of the sea, the moment the whale reaches the surface of the sea, the sound of 'Zabburn' comes with 100% sound effect. The excitement of music is usually there, but I dare to put it in front of 'Zabburn' so that the sound of 'Zabburn' continues immediately after the music. Thoroughly, don't let the music, sound effects, and lines overlap.

Both the composer and the music producer are wonderful, and if there is a line that Mio says strongly, the sound is shifted in seconds and frames so that the strong parts of the music do not overlap. In order for the story to shine and the play to shine, I have them think about how to enhance it and even think about the melody. When you first see 'Kimi wa Kanata', you will hear a loud sound. That's because there are no overlapping parts. There is no voice in the place where music is made. The shiny sound of the light bulb and the music do not overlap. As a whole, you can surely convey what you want to convey without extinguishing the power of the scene and the power of the sound. When I saw the demo with sound, I cried even though it was my work that I had seen many times.

G:
Finally, please re-appeal your work to the readers who have read this interview to the end.

Sena:
At the time of the script, I thought it might not be good for everyone. The theme looks like a royal road, not a royal road. I thought it would be a theme that people who feel stuffy when they are alive, relationships, and future love affairs ... people who feel stuffy in their lives will get stuck. Because when I was thinking about what to say in a work that I was thinking of making a big gambling at the end of my life, there was a person who was living with a feeling of suffocation like I was. There are a lot of them, but I can't say 'I'm suffocating.' Like I was. I thought maybe some of the people who watch the movie would be like that.

I've lived in the same suffocation, so when such a person saw a movie, he said, 'I feel like I've changed.' When I left the movie theater, I wish I could think, 'I and I are feeling stuffy now, but it may or may not change.' It may be awkward, but I hope it will happen.

G:
Thank you for today.

The movie 'Kimi wa Kanata' will be released on November 27, 2020 (Friday).

Movie 'Kimi wa Kanata' Special Report ① 30 seconds --YouTube

©「君は彼方」製作委員会