'Movie Crayon Shin-chan Clash! Rakuga Kingdom and Almost Four Heroes' Interview with Director Takahiko Kyogoku & Producer Keiichi Kondo, 'Development that makes children feel' proud ''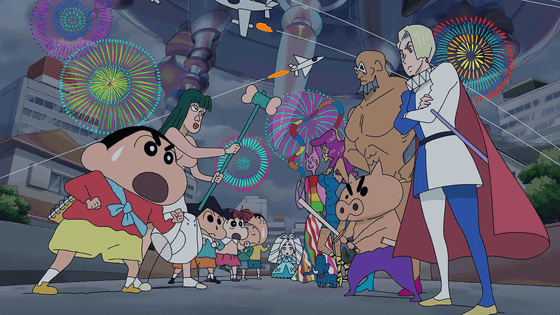 The 28th movie series of the anime 'Crayon Shin-chan', 'Movie Crayon Shin-chan Clash! Rakuga Kingdom and Almost Four Heroes' has been postponed due to the spread of the new coronavirus infection, and will be postponed on Friday, September 11, 2020. It was published in.

The director of this work is 'Love Live! , And directed by
Takahiko Kyogoku,
who is known for 'Land of the
Lustrous
'. We asked director Kyogoku and producer Shin-Ei Animation Keiichi Kondo about how he made this work, which he describes as a 'ghost work'.
'Movie Crayon Shin-chan Clash! Rakuga Kingdom and Almost Four Heroes "Official Site
https://www.shinchan-movie.com/
GIGAZINE (G):
In this movie of 'Crayon Shin-chan', various things are in full swing, and while it looks like 'I'm doing whatever I want to do', it depicts the reality and obsession that 'I will never cheat on children'. I felt it from the fineness of. I felt like a science fiction movie, but what kind of movie did you aim for this time?
Director Takahiko Kyogoku (hereinafter referred to as Kyogoku):
There are such works in 'Crayon Shin-chan' so far, but I just wanted to make an adventure drama that makes me laugh and get excited. Rather, it feels like I've been serving dishes that I can cook naturally so as not to force myself strangely.
G:
In
the announcement
of the
release date decided
on August 1, 2020 on the official movie website, director Kyogoku said, 'I love movies. I remember being excited when I went to the cinema when I was a kid. However, in an instant, a situation has arisen in which the existence of a movie theater is felt far away. ' What was the movie that the director was excited to see in the cinema when he was a kid?
Kyogoku:
'Doraemon' and 'Godzilla', and Studio Ghibli works ... He was an ordinary child who was watching 'Dragon Ball'.
G:
Is the image of 'fun and exciting' in making this movie an extension of the movie you saw when you were a kid?
Kyogoku:
I agree. I thought that I didn't like being told 'I didn't understand' when my child saw it. 'Crayon Shin-chan' is seen by a great variety of people, but although it is an adventure activity as a main point, I put in whatever I can think of with a service spirit for all generations, so depending on the viewpoint, ' I think it's the part that feels like 'Tenkomori'. Even so, I think I was able to keep the point of 'what I want to show'.
G:
What kind of points did you want to look the strongest in such a situation?
Kyogoku:
At the same time as I wanted to make an adventure drama, from my point of view that I haven't done 'Crayon Shin-chan' as a production for a long time, 'Crayon' appears so much in 'Crayon Shin-chan' that children have always known. I simply thought it wasn't.
I had the idea that 'what I drew becomes a reality', but I heard that a similar image appeared in the original, so even if it becomes SF-like as a result, it is barely possible. With the courage to think that it would be okay, I decided to come up with the image that 'scribble drawn with crayons is a reality.'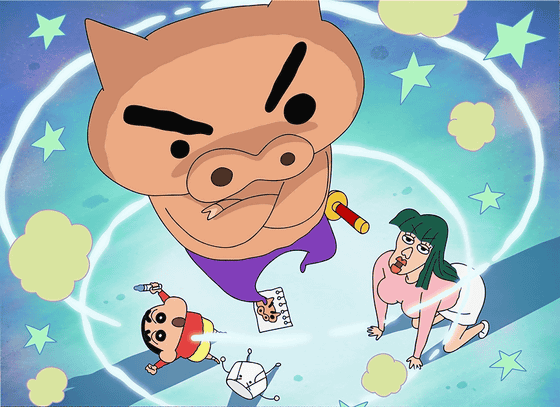 G:
In an interview published in Futabasha's mook voice actor MEN Vol.17 , director Kyogoku, who was offered the movie version, said, 'I don't know the world view of anime at all, so let me do the TV series first.' In 2018, he worked on several storyboards and productions for the TV series. What is the 'Crayon Shin-chan's world view' that the director understood after working on the TV series?

Kyogoku:
It's hard to put into words, but ... Shin-chan's world is basically not a drama in which Shin-chan runs around like you see in a movie, but it has the appearance of everyday life and family. I think it's great that I was allowed to do that kind of atmosphere in the TV series.

G:
I would like to ask Producer Kondo about the near future, but why did you decide to make an offer to Director Kyogoku?

Keiichi Kondo Producer (Kondo):
This was the first film I produced for a feature film, and I had to think about the director when I was in charge of it. When it became, Kyogoku-san had been interested as an animation director before that. Looking at 'Land of the Lustrous', I was also reading the original, but it was directed after being chewed in an easy-to-understand manner as the original animation. In addition, the comical production of characters that was not the original is also a person who firmly grasps the fun of moving around instead of gag, the origin of animation.

Also, 'Love Live! After seeing the first episode, I thought that there were quite a few people who could do this. I thought, 'It's a TV series, but it's a movie. Someone who has a solid understanding of the structure of the movie and knows what makes it look attractive as an anime,' and offered to work with him. It's that to tell this directly to the director (laugh)

Kyogoku:
I'm grateful (laughs) I met him before I got a job, and I somehow heard about it.

G:
How did you feel when you actually received the offer of the movie Crayon Shin-chan from Producer Kondo?

Kyogoku:
When I got the offer, I went home without thinking it was an offer (laughs). It really took me that long to chew and understand. From my point of view, 'Crayon Shin-chan' was a work made by a person far away, so I didn't feel like I was suddenly asked 'Would you like to go to America?' But I wanted to do it intuitively. No one would imagine going from 'Land of the Lustrous' to 'Crayon Shin-chan', and as a person who likes CG and likes drawing, I think that I can make something that can be mixed. did.

G:
Speaking of CG, the profile of director Kyogoku says 'Graduated from Takarazuka Revue University of Art and Design'. What was the reason for choosing this?

Kyogoku:
It was simply close ... It's a long way to say that it was close, but I was a 1st or 2nd gen member doing art on a computer. At that time, I couldn't do computer graphics (CG) at home. It's completely momentum. At that time, I didn't think of anime as a job.

G:
That's right. What made you want to do CG in the first place?

Kyogoku:
...... What is it? Originally I liked making things, so when I was a kid I liked drawing manga on paper and making movies on videotape. I heard that 'I can do CG at a university in my neighborhood', so I wanted to go there. Perhaps it was a time when I wanted to touch something like that, rather than having a clear desire to make something.

G:
What made you decide to go to the anime industry under such circumstances?

Kyogoku:
At first I was aiming to direct a music video so that I could make use of the CG I learned at university, but I didn't know which company to use because I lived in Kansai. There was sunrise while receiving multiple companies including live-action films. The only misunderstanding was that Sunrise wasn't a regular hire, it was just looking for a part-time job. So I accepted it and entered with a part-time job.

G:
It's amazing to work part-time because of a misunderstanding and now make a movie of 'Crayon Shin-chan'.

Kyogoku:
It may have been suitable because it was a laid-back industry.

G:
I would like to ask Producer Kondo about casting, but what I noticed suddenly was that Kyary Pamyu Pamyu was in charge of the voice actor. When I saw the movie, I was addicted to it without any discomfort, but how did you cast it?

Kondo:
As for Kyary, the one who had a high affinity with Shin-chan was the first. I was asked to sing the OP in the TV series, and I was asked to appear in the main story as the person himself. After that, the OP changed a little, and when I saw the work that NHK Kyary was calling out without knowing it, I thought that he was a good person. When I looked it up, it was Mr. Yary. After confirming with the producers, we asked Kyogoku to give guidance on acting in trailers, etc., and we went to the main dubbing.

G:
Did you feel that you can use the image of your voice as a director?

Kyogoku:
At first, I thought that there might be a difference if I was a talent because the others are veteran voice actors, but as a result, I tried to make Kyary's voice as it is without processing it strangely. However, I think it's good that it looks natural to the customers. A voice actor can make a proper voice with a voice actor, but if you ask the talent to guess it, it will be boring to do too much with the voice actor, but if it floats, it will disturb the story. Every time I feel that it is difficult to balance such a place, I am nervous, so I would be happy if you could see it without any discomfort.

G:
The message from director Kyogoku posted on the official website is 'This work is a bright and fun adventure drama that weaves together the encounters between Shin-chan and new friends. There may or may not be a scene where you laugh and get excited and feel a little horror ...! I don't have to think about difficult things, I just want to make a movie full of dreams and excitement. That feeling gave birth to a work called Rakuga Kingdom. Now, I just watch this movie for as many people as possible. I want it. We are waiting for the moment of release with me, all the staff, and Shinnosuke! ' Immediately after actually seeing the movie this time, the impression was that 'I saw a terrible movie ...', but the direction to push forward vigorously was decided by the director from the stage when the offer was made. Or is it something that has set its direction as it was made?

Kyogoku:
From the beginning, I wanted to play an adventure drama, and I had the image that crayons would be the key to the sword of a brave man. Fake Nanako appears in the original, so I think it would be nice to have a solid feeling like Momotaro or Robin Hood. Such a direction has been settled, and each development etc. was written in consultation with the producer and the script Ryo Takada .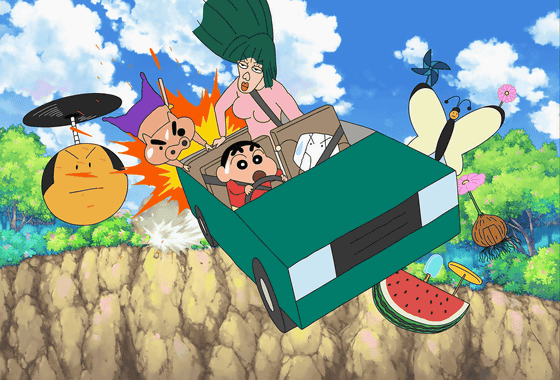 G:
It has been a tremendous momentum since the first development.

Kyogoku:
As a result, it started from the point that Rakuga Kingdom was dangerous, and while the scale was limited, it became like a historical drama such as 'a person who escaped once revenge'. I wonder if that happened.

G:
As a producer, how was the intense introduction?

Kondo:
It was already formed in the long plot by Ryo Takada, and he showed me what kind of confrontational structure this movie is and what kind of solution should be solved at the beginning. I felt it. It's boring to just explain the structure that the Rakuga Kingdom floating in the sky may fall, so I was impressed with the calculated composition of drawing in the flow of intense action scenes.

G:
This work had many memorable parts in the action scene. The rapid development that Kasukabe fell into confusion was just interesting to watch, but was this a difficult or difficult place for the production side?

Kyogoku:
I may have been able to do that because I'm Shin-chan. People in Shin-Ei Animation might have thought, 'What a storyboard I'm drawing' (laughs) Personally, I still have the image that 'Crayon Shin-chan' is moving, and children Even if you have the same action twice, you will get bored. Even if I move it all the way, I get tired, so I was conscious of where to stop. It was a challenge for me because it was something I had never experienced before.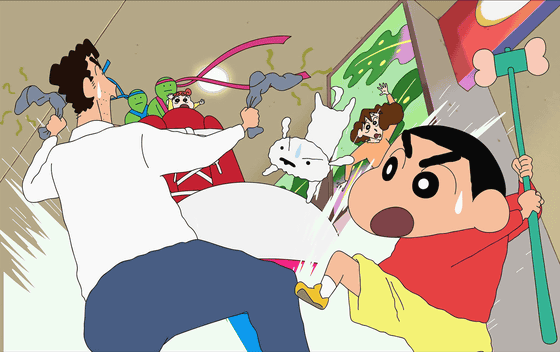 G:
Was there any difficulty in directing 'Crayon Shin-chan' this time?

Kyogoku:
You may not understand it because you are used to the TV series (laughs) There are promises such as 'When you laugh, you do not turn to the front', so at first I feel that it is difficult to put in such a 'style' I did. I wanted to avoid saying 'I don't do it because I don't know it', so I think that doing the TV series helped me.

In the current animation, it takes time to make it with many people, but Shin-chan still takes time to take charge of one drawing person and one director, so it becomes easier for individual colors to come out. I am. Surprisingly, the division of labor is progressing in the current animation, and I think that the opportunity to pay attention to the director has decreased in late-night animation. The number of things like 'The picture is different this time' has decreased. However, because 'Crayon Shin-chan' has that, I wanted to make a movie with individuality.

G:
When I thought that the scribbles that appeared in the play were really real scribbles, I was convinced that a tremendous amount of credit was given to the ending and that it was a real thing. While there are scribbles that children often draw, there are quite a wide range of scribbles, including those that are quite good. What criteria did you choose for the scribbles that appear in the play?

Kyogoku:
That is the members of the production committee, and the energy of the scribble kingdom is 'the leisurely power of children', so it would be more convincing if the actual children's scribbles came out, and everyone would be happy. There was nothing wrong with doing it in Shin-chan's movie, and there were many good points, so I definitely wanted to do it. Even so, when it comes to recruiting, it requires a process to scrutinize and cut out, so in that respect I left the trouble to a place other than me. If you choose, Kondo Producer put a lot of effort into it.

Kondo:
We put a lot of effort into the application guidelines. I couldn't give back anything just because I had the scribble drawn, and when it appears in the work, it remains not only in the main story but also in the medium such as Blu-ray, so be careful. is needed. However, as a result, we received a total of 3000 copies. This was really thankful.

G:
3000 …… That's awesome.

Kondo:
I wrote in the recruitment guidelines that 'existing characters are useless', but after all, everyone has drawn characters ... It is unavoidable, but 'In fact, just because we do not know I was very careful not to say, 'It was some kind of character.' The director was in the process of drawing the storyboard and directing it, so I finally checked each one by myself. After that, the director also looked at the OK ones and proceeded, so the director also checked a good number of sheets.

G:
How was it when you actually saw the graffiti?

Kyogoku:
Some of them have a solid head and body, so I thought 'everyone is good at drawing' (laughs). There are some parts that are drawn like the residents of Rakuga Kingdom, but since the appearance is too momentary for that alone, I made a part that features singing and dancing. It's a surreal and chaotic part than I expected, and I like it. It's as if I'm throwing at the customer, 'What kind of emotion do you see here?' (Laughs)

G:
Certainly, there was a scene where 'what on earth are you looking at?' (Laughs)

Kyogoku:
I think it is thanks to the children's scribbles that we were able to create an atmosphere of 'fun feelings'.

Kondo:
Regarding the CG of graffiti, I asked Mr. Chika Iizuka of CGI to do my best. I asked him to do it all by himself.

G:
When I was watching the movie, I thought, 'I'm doing something hard,' but it was harder than the viewer thought.

Kyogoku:
I don't use CG a lot, but I think I was able to do something interesting, such as CG processing something drawn in analog. I think there are small scribble movements that only the worker can understand, so I would like to hear from them in an interview.

G:
The details are spoiled, but the relationship and development between Shinnosuke and the scribbles traveling this time was quite spectacular ...

Kyogoku:
I think that swashbuckler has a human drama part of 'meeting and parting with people', if not only. Also, as long as my friends are 'scribbles', I can't stay close to Shin-chan all the time, so I'll definitely say goodbye somewhere. This work has that sadness and the farewell that is coming, so I didn't try to make it cry too much so that it wouldn't be overwhelming, but I drew it as a matter of course and put it out as it was. There is. For me, there is something emotional about old movies.

G:
I was impressed that it was amazing to do so much in a recent movie.

Kyogoku:
It may not be so much that the climax is almost cloudy (laugh)

G:
With Shin-chan, the mysterious atmosphere is like 'If it's' Crayon Shin-chan ', this is also an ant', but I thought it was a ridiculous situation except for 'Crayon Shin-chan'. Many people with children come to see this work, but are you aware of the reaction of your father and mother during the production?

Kyogoku:
I think the basics should be for children. However, I still have the feeling of my childhood, so if I make it so that I can enjoy it with my own feeling, I'm sure that my parents' generation will enjoy it.

G:
Producer Kondo said that this work was the first producer, but was there any pressure if it was a long-lasting work like 'Crayon Shin-chan'?

Kondo:
It's the first one as a producer, but since I'm involved in 4 to 5 productions, I was more excited to say 'I can't do it at last'. I felt the pressure as I made it, but I wasn't worried because the direction I was facing with Mr. Kyogoku did not shift until the end.

G:
How was it when you saw the finished product?

Kondo:
When the music of Mr. Arakawa and Mr. Fujisawa appears during dubbing, it comes to me no matter how many times I see it. When it comes to graffiti, I think I was able to follow the flow of emotions, which can be called the magic of pictures and sounds, and I was able to put out something like 'please see' without thinking 'I'm sorry'. I will. I would like you to experience the enthusiasm of this movie, which you challenged with a challenging lineup, at the theater.

G:
How about finishing the production for the director?

Kyogoku:
While I was making it, I could see something like 'I want to fix it here, I want to fix it over there', but when I finished the preview, I was impressed. I'm glad that I was able to work with these staff rather than achieving myself. It was the same when I reviewed it the other day, so I feel like 'Don't finally see it.'

G:
When you were in charge of the work 'Crayon Shin-chan' this time, did you have any points such as 'It was harder than you imagined at the time of the offer' or 'It was actually hard, but it worked as a result'?

Kyogoku:
There is no such thing as 'the scene here is especially'. From the scene of the head to the final scene, there were some flashy and soberly interesting parts, and I didn't want to give the best or inferiority. Each part has its own charm. However, apart from that, there is one point that made me feel a sense of accomplishment that 'the movie was made.' In the scene where Shin-chan himself solves a big difficult problem with the feeling that it is fun, if he makes me think 'that's why I can't solve it', it won't work as a movie. There is a sense of accomplishment in the production as a whole that I was able to express that with the power of animation that I was able to solve it with the power of children.

In American movies, there are solutions such as 'someone sacrificed' or 'a hero appears', but I think that this type of 'with the power of a child' is surprisingly rare these days. From a child's point of view, it seems to be 'proud'.

G:
So that's it. On the way back from watching the movie, I was told, 'I saw something amazing, but what was amazing?', But I couldn't come to the opinion that this was the case. Perhaps there was something like the fact that the story was established correctly and that it was great from a child's point of view.

Kyogoku:
Regarding this, I did not clear it with one element, so I think that it is the whole rather than any scene. The dubbing site was also like a festival, like 'If you do it' (laughs), and I think that the accumulation of such things has come to fruition because the children actually came. .. I think it's been a 'monster' in the past year. I think a strange work was born that seems to be a royal road but not a royal road (laugh)

G:
I agree. Looking at it, it felt like a royal road, but I had a strong impression that something terrible was happening.

Kyogoku:
I like to talk about movies at coffee shops after watching them. 'What about that?' (Laughs) When I look back, there are some discoveries.

G:
Finally, please give a few words from the director to the readers who read the interview and were interested in this movie.

Kyogoku:
I like the moments when I find it fun or exciting after watching a movie and get different powers. I hope that this work will inspire customers to take a leisurely look and change the scenery, run, challenge, or take action after the end. Graffiti on the floor and walls is at your own risk (laughs)

G:
Thank you for today.

'Movie Crayon Shin-chan Clash! Rakuga Kingdom and Almost Four Heroes' is a road show today, September 11, 2020 (Friday).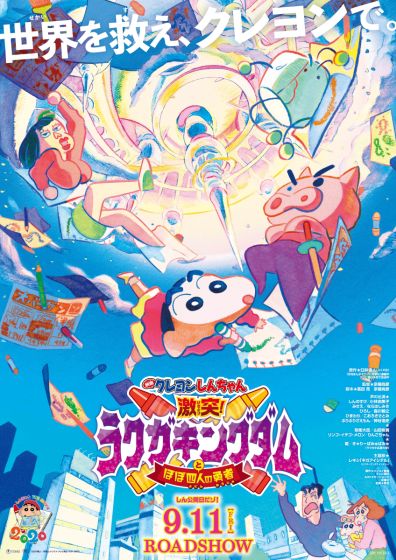 'Movie Crayon Shin-chan Clash! Rakuga Kingdom and Almost Four Heroes 'TVCM If You Do It [Big Hit Screening] --YouTube

©臼井儀人/双葉社・シンエイ・テレビ朝日・ADK 2020