How was the battle of anime competing for the top audience rating made? The movie 'Haken Anime! Interview with Azuma Tani, Takafumi Otsuka, and Keiko Matsushita producers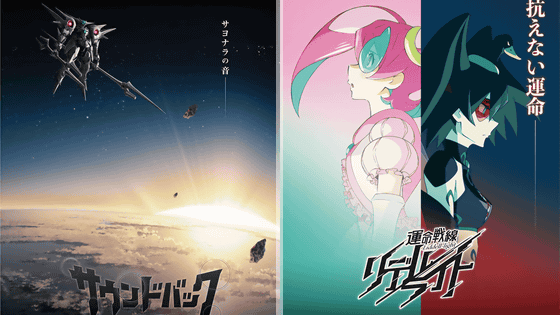 The original animation 'Soundback
Sou no Ishi
' (Sabaku), in which boys and girls ride on robots to protect the earth, directed by newcomer Hitomi Saito, and the new work '
Fate Front Liddell Light
' directed by genius Chiharu Oji for the first time in eight years. 』(Rider) fighting for the No. 1 anime position, with the struggle of the director and his friends, the movie'
Haken Anime!
Will be released on May 20, 2022 (Friday).
The original is a novel by
Mizuki Tsujimura
, a writer who has won the Naoki Prize, the Japan Booksellers' Award, the Eiji Yoshikawa Literature Newcomer Award, and the Mephisto Prize. A rookie director, Hitomi Saito, is
Riho Yoshioka
, a talented producer who pulls his eyes severely, Tasuku
Emoto
, a genius director, Chiharu Oji,
Tomoya Nakamura
, and a hard-armed producer who lets the director make a work for a long time. Machiko
Ono
will play the role of Kayako Yushina.
One of the features of this work is that it is a work thing in the animation industry, and 'Sabaku' and 'Rider' are actually partly produced as animation and flow in the work. We talked to Azuma Tani, who actually produced 'Sabaku,' and Takashi Otsuka and Keiko Matsushita, who actually produced 'Rider,' about how they worked on a very special original animation.
The movie 'Anime Supremacy! 'Official site
https://haken-anime.jp/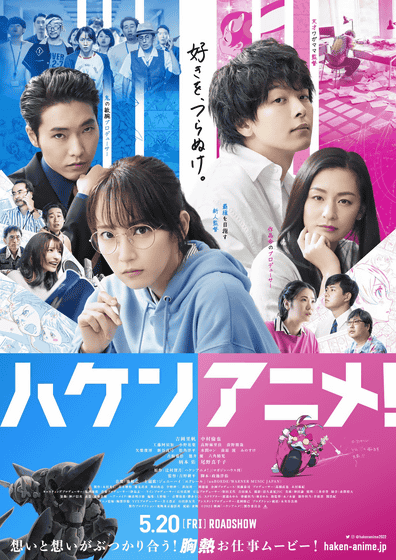 GIGAZINE (hereinafter, G):
'Anime Supremacy! What was your feeling when you were offered to direct the anime that appears in the movie?

Director Azuma Tani (hereinafter referred to as Tani):
I usually make animation, but when I was young, I wanted to make a live-action movie, so I wanted to try it because I was involved in live-action while working on animation. thought. This time, I was drawn into the original and read it crazy, but before that, I was allowed to read the manuscript in the middle of the script, so after reading the original, I said, 'I often summarized this much content in 2 hours!' thought.

G:
Certainly (laughs)

valley:
The original is a work centered on three women, but it is said that it is splendidly summarized by director Hitomi Saito of 'Sabaku'.

Director Takafumi Otsuka (hereinafter referred to as Otsuka):
When I heard the story, I simply thought, 'It looks interesting.' Of course, I thought it would be difficult (laughs). Like Mr. Tani, I was also interested in live-action film. I'm not 'I want to shoot', but I'm interested in 'how I'm shooting'. This work is composed of an animation part in a live-action movie, and it is not a fusion of live-action and animation as an expression in the work, but a story of 'the scene where animation is made'. In other words, animation is regarded as animation. I've always thought 'I wish I had that kind of thing', but it didn't really happen, so I thought 'I'll really do it!'. I read the original story first, and read the completed script while wondering how to put it together.

G:
How was it when you read it in that order?

Otsuka:
First of all, the eyes, the prince, and other characters that appear in the novel, 'I know !?' 'I'm sure that person is the model' (laughs)

G:
There was a special thanks in the postscript (laughs)

Otsuka:
Then, while it's very interesting, I don't want to make the anime they make ... or rather, I don't think I have the artistic technique of the characters in the novel, so that's the way it is. How can I help the work? That's why I shouldn't do something different from what the director wants, instead of 'I'll do it!', So I felt like 'let me think about whether I can exert my strength once.' ..

G:
Did Tani have any concerns?

valley:
In the work, it is a work that competes for the 1st and 2nd audience rating, so it is drawn almost like 'Japanese animation summit confrontation'. I was worried, or wondered if I could make it.

G:
Is there any point you worked on to make the animation in the play look like a 'real hegemony animation'?

valley:
Although it is an animation that competes for the 1st and 2nd audience rating, it is a play within a story, so it is a role to amplify the fun of the main story, so there may be some misunderstandings, but you should make something that is 'the best in Japan' I thought it was. After consulting with director
Kohei Yoshino
in the main story, I got the feeling that I could do it.
'Soundback playing stone' directed by Tani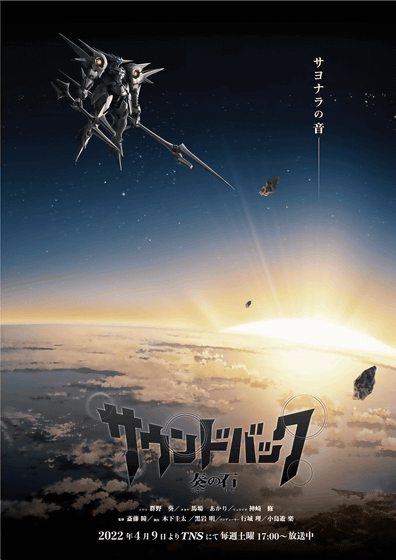 A lot of materials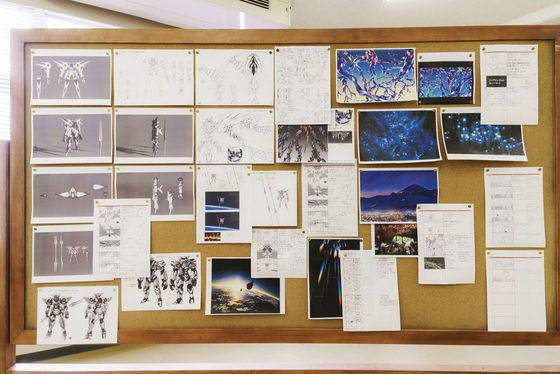 G:
So that's it.

valley:
Another thing, the main character, Hitomi, has moved from the game industry to the animation industry, and has been recognized for his talent and made his debut as a director. I went to a store and then came to the animation industry, so there is a part that resembles my eyes. I wonder if I can guarantee that kind of reality because I haven't grown up as an animator myself.

valley:
Also, since I'm not from an animator, I was worried about 'Is it really movable?', But since there is a character designed by
Eisaku Kubonouchi
, it is the same as the live-action film, but the layout is nice and cool. I thought that it would be possible to meet the requirements.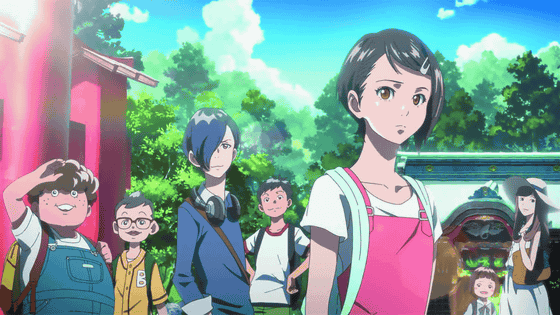 As if the character had a life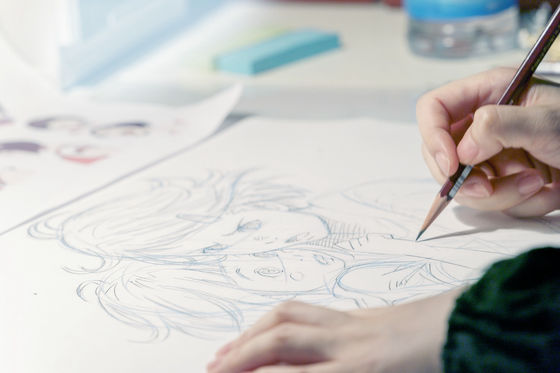 G:
Similarly, how was Director Otsuka in making a work that competes for the top?

Otsuka:
First of all, I was wondering what Mr. Yoshino, the director, thinks. If I was looking for an insanely artistic image, I wanted to tell him that I wasn't, so I talked to Mr. Yoshino. Then, when I asked, 'What kind of layer is the target of the work?', 'There are people who are familiar with animation, but since it is a live-action movie, it is an animation that ordinary people see.' If you think about that kind of layer, I thought that if you put out an artistic thing that is said to be 'awesome' in the animation industry, you would rather not understand it.

'Fate Front Liddell Light' by Director Otsuka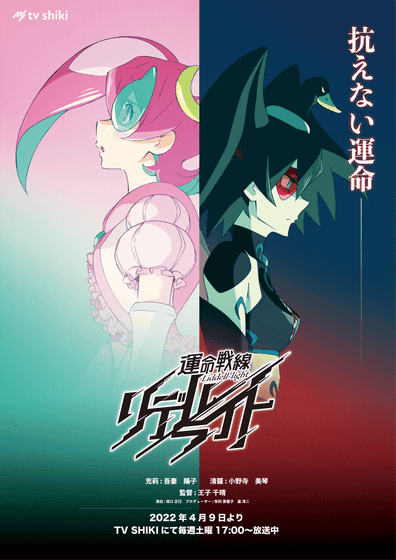 G:
Oh, I see.

Otsuka:
To the last, I think it should be reduced to an expression that the general public thinks 'this is artistic'. When I gave my opinion, Mr. Yoshino also said, 'I thought so.' On the other hand, I was asked, 'If it's too strange, the general public won't understand it, so what should I do to make it easier to understand?' Let's think of expressions that can be conveyed as artistic. ' It was great to be able to talk with Mr. Yoshino about how to make it something that customers can enjoy properly.

It seems that the cut bags of 'Rider' are piled up in the work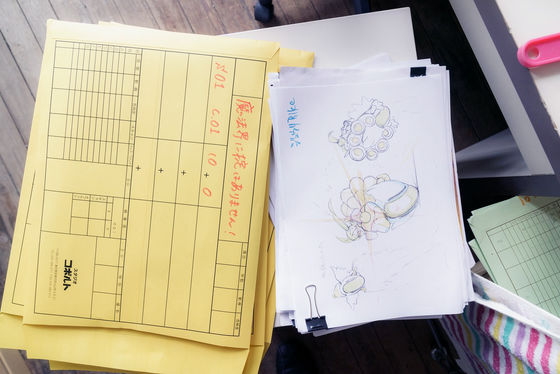 G:
That's why the video became a match.

Otsuka:
Another thing I thought about was simply how long it was. Since it is a live-action movie, the total length of the animation is about 2 to 3 minutes. It wasn't clear at that time how it would be used as a bonus. I don't know if it fills the screen or just a little on the TV monitor at the edge of the screen. In that case, the impression when it comes out is more important than the detailed calculation and drawing of the cut split, so it is important to do so with 'color'. Since Director Chiharu Oji was an up-and-coming artist, he decided to 'play with colors' and took steps with Director Yoshino.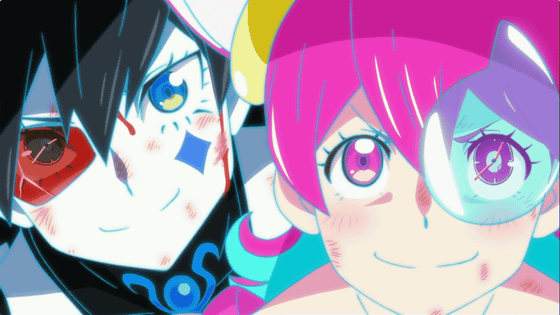 G:
The prince is set as a 'legendary genius anime director', and his words and actions are depicted as a person with genius skin. Have you ever seen such a type of person?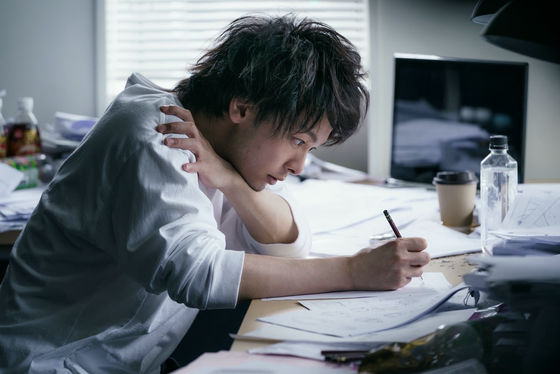 Otsuka:
Is it genius skin ... It's difficult, but if you're impressed by seeing it up close, there are senior
Mamoru Hosoda
from the Toei era and
Rie Matsumoto
, who is also a junior, but you might get angry when you say 'genius'. Hmm. I'm trying to find something that suits my expression, so I think I should describe it as 'excellent.' They are more interested and hard-working than people, and I think they were extraordinarily amazing.
valley:
It seems that everyone can sympathize with something that is sensitive to people or that ordinary people can not catch because there is something like a fishhook with high sensitivity. It's like that. I think it's really amazing to see people doing that kind of thing.
G:
In this work, each director has a unique producer, but from the director's point of view, what kind of person is the producer?
Yukishiro Osamu Producer with Director Hitomi Saito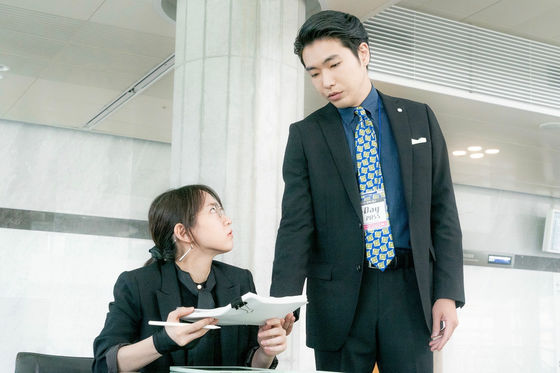 Arika Kayako Producer with Director Chiharu Oji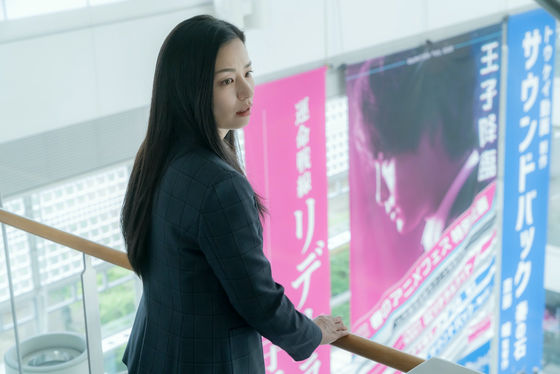 valley:
Even if you say 'producer' in one word, there are many different things. There is a 'production committee' in animation these days, but I think that the words have spread because there is one producer from each company that invested, and not all people are familiar with animation. For me, I think that the producer is the person who works closely with the director who decides the direction of the work to make the work. The relationship between a director and a producer can be likened to the relationship between a manga artist and an editor, but it's a deep and eternal theme. There is compatibility, there is luck at that time, there is also how much money was collected, and it will be a long time to talk (laugh)

Otsuka:
Well, there are various types of producers I've been dating with, but it's still difficult to work with them unless they can be 'buddies.' From the director's point of view, the 'producer' is still a person from the production company, but since various things happen in the making of the work, sometimes it's okay to fight, but we solve things together. I like people who can do it and who can move forward. There is an aspect of a three-legged race, such as pulling up when my heart is about to break, and pulling up when the other side is about to break. The image of the producer in the film was shown to be fun, but there was a part that was exaggerated as entertainment, and I thought, 'Is there such an extreme person?' (Laughs)

G:
(Laughs) This time, Keiko Matsushita, the producer of 'Fate Front Liddell Light', was also present. How did you see the image of the producer?

Otsuka:
There are various elements.

Keiko Matsushita Producer (hereinafter referred to as Matsushita):
It feels like a mix of various elements, not just the on-site producer, but for 'Rider', it's really the difficulty and difficulty of producing the prince director. Creators are always fighting something, so how do you become an understanding person, protect yourself, and gather cooperators? I felt that the content drawn was correct, as the producer was drawn to the charm of the director.

G:
It is said that there are various producers, but in the case of Matsushita producer, how did you become a producer?

Matsushita:
I don't really realize that I'm a producer (laughs)

G:
(Smile)

Matsushita:
Originally, I was aiming for the video industry, and I was in the process of producing CG. When I saw the CG animator wearing acting, I jumped into the drawing with an interest in 'What's happening to the animator's brain drawn by hand !?' ..

G:
Great daring …….

Matsushita:
Many of the directors and animators have strong personalities and are attractive, but everyone was struggling in a lonely army. How can I convey what I think? While watching such a battle, the range that can be seen gradually becomes wider, and I think that it is better to have 'protective power', and what I am doing while moving Was the name of the animation producer.

G:
That's how it happened.

Matsushita:
That's why I don't realize that I'm a 'producer'. However, it is a very comfortable place to be involved in interesting works every day.

G:
'Anime Supremacy! ], The appearance of the clash between the first director's work of the expected new director and the return work of the genius Prince's director is drawn. How was it when Director Tani and Director Otsuka were the first directors?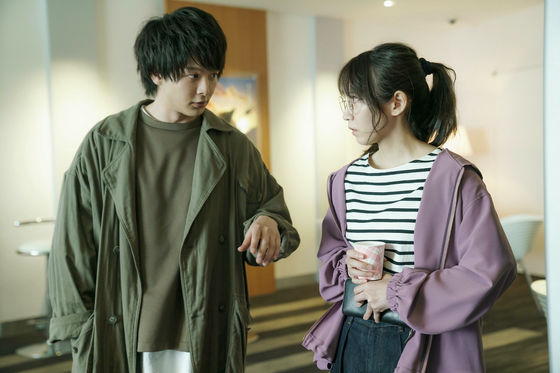 valley:
My first directorial work was an animation of ' Pyu to Blow! Jaguar '. I was still young, energetic, and ambitious, so I was working on the front. Since it's a FLASH animation, it doesn't move much, and at that time, there were harsh comments about the work in the era when Nico Nico Douga was very popular. It's (laughs)

G:
I don't think the director himself will see the comments ...

valley:
I had all the cast members come out, but I hit my heart with what I wanted to do, and one of them threw my headphones.

Otsuka:
eh!

valley:
I retake it many times, asking me to stuff the lines in a place that doesn't fit very well. I personally felt that I wasn't very familiar with the situation, and I didn't remember the details exactly because I was soaring, but I remember well that I was thrown my headphones, and now It is a good memory to be.

G:
What ... How was Director Otsuka?

Otsuka:
For me, the first feature film of ' Pretty Cure All Stars ' was the first director, and everything was difficult. At that time, it was my first time to do this all-star movie in March, and I was thinking 'I want to direct the movie someday', but at that time I was selected at the age of 27, and I was really excited. .. 'I was accepted enough to be entrusted with such work.' I'm grateful, but at the same time, I want to do the biggest thing.

G:
yes.

Otsuka:
So I remember trying all sorts of things, spending all my time. Fortunately, there are no big mistakes, but it's just a work that I worked hard every day ... I can't do that much anymore (laughs).

G:
Is that so much (laughs) What kind of part do you feel is rewarding or 'good' when you work in the animation industry?

Otsuka:
I think it's probably a little different from the other directors. Looking back on my childhood, at that moment, I gathered friends who were there and thought about 'what kind of fun play to do' and put it into practice, and thought 'this would make it interesting'. We were trying to figure out how to play as much as possible with everyone.

G:
Hmmmm.

Otsuka:
It's still connected, and I like how to make the work that came to me interesting to the target that should be delivered. When you achieve it, you will find it rewarding. For example, 'Pretty Cure' is a work for small girls, so I think that it will be conveyed properly to small children. Instead of 'I'll do this because I want to do it', I'm thinking 'I'll do this because I'm sure it's more fun for small children', and I'm thinking about how to express it to make it interesting. ..

G:
Oh, I see.

Otsuka:
I think about who is the target and try to make it the most enjoyable for that person, so I also emphasize how the customer received it. One point is 'so that people who like the work can enjoy it', but 'if you can enjoy it better' is my reward.

G:
How about Director Tani?

valley:
I recently heard that 'spoilers' are OK, and some people say that 'double-speed viewing' is also OK. The reason seems to be 'I want to eliminate wasted time', but I think that wasted time is important. I think that is 'culture'. It's a swordsman era, but I think that having an emotional experience with books and anime will help you to develop a good side of your heart. That's why I wish I could make something called 'waste', and I want to be that way.

G:
So that's it. I would like to ask the producer Matsushita, but how about it?

Matsushita:
It's really personal, but I like this collection of talents in front of me. The moment when people in the world tell me that it's an interesting person and that it's an interesting work, the best time is when the reaction comes back. The picture is cool! ' I recommend it with confidence, so if there is even one person who feels 'I like this person's place, I like this place', I can do my best. That's the best time to think about how to convey it to the world.

G:
So that's it. Based on these thoughts of those who are actually involved in animation, 'Haken Animation! I hope you enjoy the whole story. Thank you for talking with us today.

The movie 'Anime Supremacy! Is released on May 20, 2022.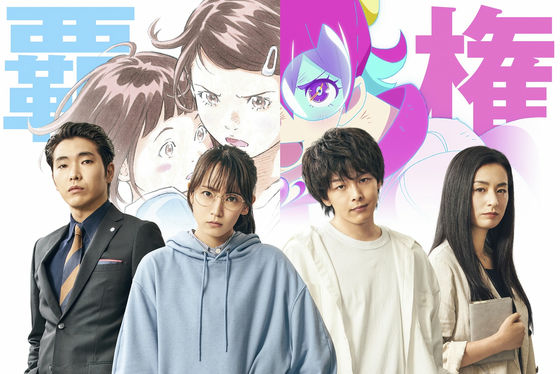 The movie 'Anime Supremacy! This notice <Released on May 20, 2022> --YouTube


◆ 'Anime Supremacy! ] Work information
Starring: Riho Yoshioka, Tomoya Nakamura, Asuka Kudoh, Karin Ono, Marika Kouno, Seiji Rokkaku, Tasuku Emoto, Machiko Ono
Original: Mizuki Tsujimura 'Anime Supremacy! (Published by Magazine House)
Director: Kohei Yoshino
Screenplay: Yosuke Masaike
Music: Yoshihiro Ike
Theme song: Genie High 'Eclair' (unBORDE / WARNER MUSIC JAPAN)
Production Production: Toei Tokyo Studios
Distribution: Toei
©2022 映画「ハケンアニメ!」製作委員会