Interview with Masaaki Yuasa: Anime Films "Night Is Short, Walk On Girl","Lu Over the Wall" Director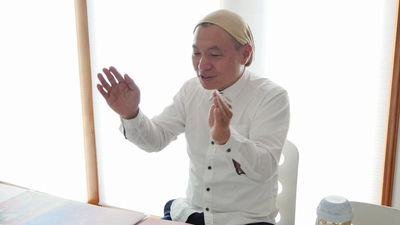 Masaaki Yuasa, an animator, directed two animation films for two months in succession: "Night Is Short, Walk On Girl" (夜は短し歩けよ乙女 / Yoru wa Mijikashi Aruke yo Otome), based on the novel written by Tomihiko Morimi, is released on April 7, 2017, and his first original anime film "Lu Over the Wall" (夜明け告げるルーのうた / Yoake Tsugeru Lu no Uta) will be released on May 19, 2017. This year, his 30th anniversary of working as an animator comes around, and we had an opportunity to interview with him, so asked him so many details.

Character goods at the animation studio Science Saru, where we had an interview. There's a stuffed Wangyo from Lu Over the Wall, too.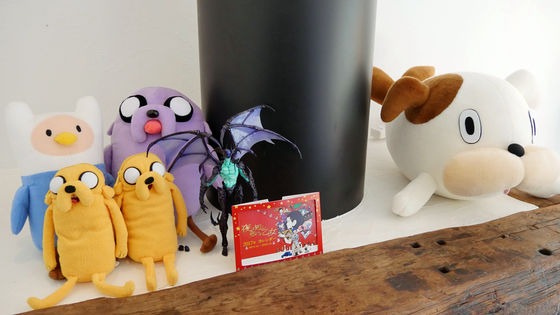 A table-tennis table with autographs of casts of Ping Pong THE ANIMATION.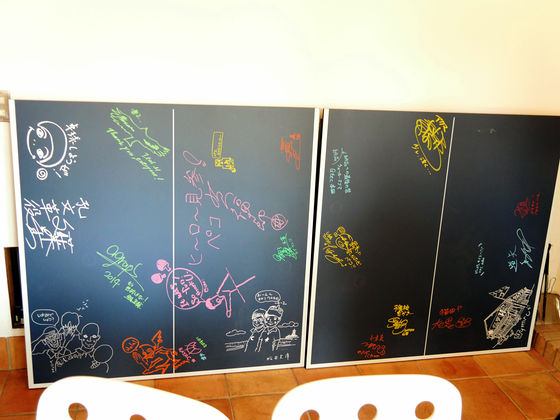 GIGAZINE (G):
Which part do you think that you did better and made better expression than you imagined in making Night Is Short, Walk On Girl (Night is Short) and Lu Over the Wall (Lu)?

Director Masaaki Yuasa (Yuasa):
Let me see... Night Is Short became a film with fun as we imagined, haha. I wanted to make the musical scenes interesting, and I was really interested in making those scenes. Eriko Kimura, a sound director, casted carefully. For example, she casted Junichi Suwabe as bogus Jogasaki, since he played Jogasaki in The Tatami Galaxy (四畳半神話大系 / Yojouhan Shinwa Taikei). She also casted the one with a good skill as a singer for Noriko, as Noriko has to sing at the last part of the musical scene. This film became more interesting with her remarkable talent for casting. And speaking of Gen Hoshino who played Senpai, at first I thought it would be interesting with his normal performance. However, he acted with strong emotion to Senpai's characteristic. Although I didn't think of expressing the feelings of Senpai at first, thank to his excellent performance with a shout, those feelings came out a lot.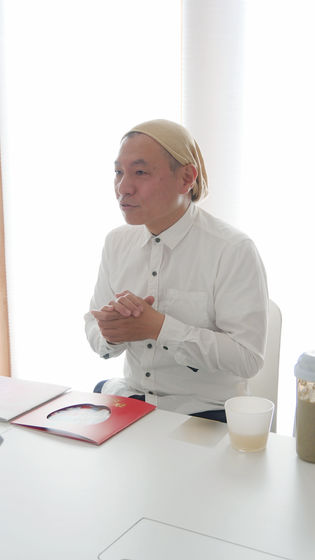 G:
And how about Lu?

Yuasa:
It was really a hard work, but we could finish it somehow, haha. We couldn't easily fix the structure of the story, and started production without a reliable script. Therefore, it was difficult to finish the story and balance each scene at last, however, I think it becomes an interesting film. Each drawing is beautiful, and there's innumerable good points. One of those is the showy scene which was taken charge by Shinya Onishi, that scene became much dynamic than I imagined.

G:
On the contrary, which part do you think was difficult than you imagined, or unexpectedly difficult in making two films?

Yuasa:
I think there were some difficult parts, however, it is a director's job to overcome obstacles with ease, so I don't feel like "I really had a hard time". Speaking of Night Is Short, I had so many interviews that I have nothing to say anymore... but well, I remember one thing. Some of the main characters in the novels written by Tomihiko Morimi are called like "Senpai" or "Otome", instead of their names. Therefore, it was difficult to hide their names when their names come out in the film. I make their names invisible with a flash, or make them out of frame.

G:
Lu is your original anime film, and did you have any difficulties in production?

Yuasa:
As for me, I make a challenge in production of Lu, and I felt "Anyway, let's make this film cheerfully", while thinking of audience... I think it's similar to making ceramics.

G:
Ceramics?

Yuasa:
I do my work with feelings that "I want to make them like this". Speaking of Night Is Short, I could understand that I made an interesting film when I see it on screen. But on the other hand, speaking of Lu, I don't know its figure until the audience gives their impressions, and my heart is racing.

Q:
Lu Over the Wall is your original anime film, and Reiko Yoshida and you are listed as scriptwriters. How did you make this story? How did you share the roles?

Yuasa:
We started from the idea that "Let's make the story of a boy and a girl of different species", and the boy was a vampire at first. However, we thought he should be more native so he became a supernatural being. Moreover, Ms. Yoshida joined and said "His character should be more fresh". I tend to be told "You are too unique", so I chose a mermaid which is not much unique and everyone knows. If there's a mermaid character, I can make the story with water, and have a shade of meaning that "a wall of water and air", so we made a cute mermaid. Originally I was thinking of a character with incompatible and horrifying personality, however it became unnecessary as we make other barriers.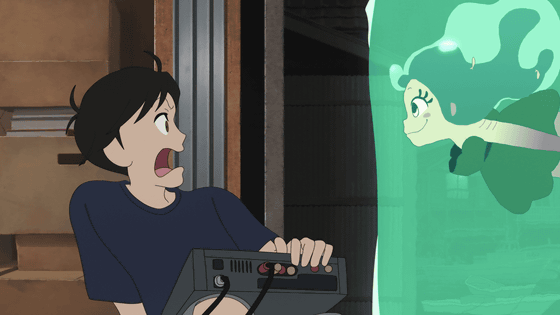 So we started to think of the theme. Recently, I feel the atmosphere that telling our honest opinion is difficult, and I think "You can say your opinion more naturally. You should overlook what others say, not raise their eyebrows", so I made the story that the boy becomes to be able to tell his honest feelings. His story is connected with the story of the town, and I want to change the whole town, too.

This time the story is our original, so I was aware of making the standard story which is easy for most people to understand. I was given a lecture from Ms. Yoshida, like "You should start the story by the book like this", or "When this happens, next this will happen, if not, the story will be strange". And I also talked with other people. I think I repeated those things, taking a lot of time.

Q:
How long did you take time to fix the story?

Yuasa:
About 1 year, including those days without Ms. Yoshida. I started from August a few years ago, and finished on next August, haha.

Q:
Were you aware of make the character designs that are common and evident?

Yuasa:
The characters will be unrefined and old-fashioned if I designed them, and I wanted to make them more gentle, delicate and have a taste of girls' comic. Then I came to think that Nemu Youko will give those kinds of atmosphere to the characters. However, the mermaid's character is really interesting and there were full of ideas, and that was the very part that "became more interesting than I imagined".

Q:
You've said that you like E.T. and a Kappa, an imaginary animal. As Lu is a story of mermaid, so did you want to describe a contact with things from different worlds?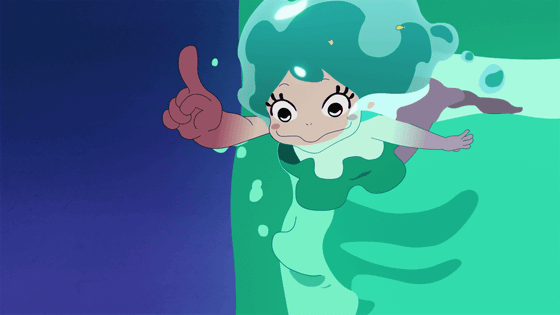 Yuasa:
Basically I grew up with Doraemon and Obake no Q-tarō, so I like Mr. Fujiko's "SF" (Sukoshi Fushigi, something with little wonder) things. Like Back to the Future, I also like the world "with something strange, but everyone doesn't care so much of those things".

Q:
You are particular about some points in Lu from an early stage of writing script, and what is the main theme that you wanted to describe?

Yuasa:
Speaking of the story, the main theme is "Kai opens his heart". Lu, a girl of good will and who tells her opinion frankly, comes to the very conservative town, makes mistakes and has many troubles and conversation with people. Kai feels really nasty and sad that his mother went away, however, he understands the circumstances around him. He restrains himself, as feeling "I can't manage things even if I tell my opinion", and saving up his feelings without putting into words. However, Lu comes to his town, and although he somehow understands he can't get along with Lu, he thinks he should tell his feelings. Then he changes, spews out his grudges. The town was dark before, and as he opens his hearts, the town becomes open and the light shines out at last.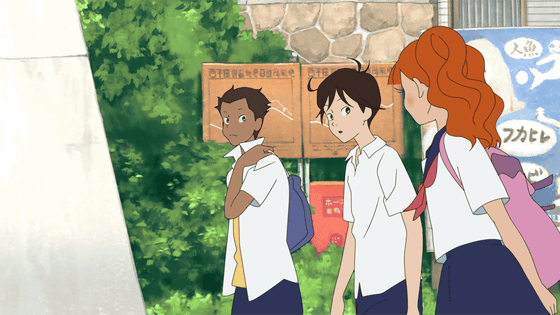 And all the characters aren't "stereotyped good or bad people", but they all have their own opinions and their action affects in some ways. I keep in mind that making the town conservative somehow.

Q:
Did you keep to the point of "not telling good from evil"?

Yuasa:
Yes. In addition, I was at my work, wanting to make it interesting as an animation, and all generation will have fun.

Q:
In this film, it is one of the big point to see it with fun.

Yuasa:
It connects with what you take things in serious condition, and how you spend every day. As meeting with Lu, Kai gradually realized that his daily life is full of interesting things, and have fun living in his town, though it was boring to him before. He doesn't only say what he hates, but instead, he can see what he likes. I think this film describes such a story.

Q:
Speaking of images, I think you are particular about describing water every time.

Yuasa:
I really like and have fun with describing water. It's also interesting to draw "unique water", not the real one. Although I'm trying to draw such water and have full of ideas, I often can't put my idea into reality. This time, I chose a mermaid character since I thought I could draw water.

Q:
Did you have an effect of describing water?

Yuasa:
I think I did my best of all my works. However, I want to create more works, haha.

Q:
In 2017, you released Night Is Short, Walk On Girl and Lu Over the Wall, and in addition, they announced that you will be the director of DEVILMAN crybaby. It seems that 2017 is your year.

Yuasa:
Speaking of the year, my 30th anniversary of working as an animator comes around. I'm happy to release three works in such a year.

Q:
While you release these three big works, people may pay attention to you even if they don't know much about anime. Although those three works happened to be released in your anniversary year by chance, do you think of any factors which make you greet this year which called to be the "Yuasa year"?

Yuasa:
I think I succeeded to create three works because those were the works created as the company. Seeing my chronological table I directed a film every other year. So far, after finishing a work, staffs break up and it was difficult to gather them again, and there was no job offer. However, since I established my company, Science SARU, in 2013, I can receive an job order of my own accord. I gradually made a system that once the staffs finished drawing, I can tie them to the next work. This time, two works accidentally come continuously, which was a shorter term than I expected. I will be happy if I can create my works once a year or once in a year and a half.

Q:
Do you feel any change around you, for example, are you often asked to create works?

Yuasa:
For a bit, I think I receive an job offer more than before. I was thinking "Why don't I receive more offer, though so many animes are produced?", haha. However, I think we have to promote ourselves of our own accord. I have a mind to be able to do everything by my own, and I have wanted to do such a workload, but I sometimes think that I'm too busy. Speaking of the content of the works, I feel I can make it a little just as I intended. After producing Mind Game, I came to think that I want to create works that more people can understand easily. However, I used to make rather extreme works, so people around me seem to think "He is such a kind of person", haha. I will create such kinds of works if they want, but on the contrary, I seldom receive any offer of normal category, so I think I have to make various kinds of works and show them I can do so, anyway. Like a work for adults, for children, a horror film, a funny film, or a peaceful film with no accidents, which I have never created,

Q:
It's good for you to be able to release your original works in such circumstances.

Yuasa:
Yes. Lu became more curious than I imagined, however, it became an unprecedented work, and you can see it without affectation.

G:
You've said that you want to work much more, and I think you have such ideas in your mind before you started producing Night Is Short and Lu, and this time you could release these two works. Do you have anything that you wanted to make and succeeded to make?

Yuasa:
I hadn't created works which describes everyday life, so I wanted to create works that the characters vegetate a little in everyday life, to describe their life, and to make works easier to understand than before. Also I've wanted to make a film with Flash animation, and I had a chance to do that as I established my company, therefore, we made Lu with Flash for 100%. Though I established the company there was no enough staffs, so we started producing Lu, a long anime film, as we train up our staffs at the same time. From the very beginning I wanted to make an original film.

Speaking of Night Is Short, we had a talk about it after producing The Tatami Galaxy but it met with a setback. Therefore, we keep in mind that we should complete production anyway. We combined four stories of the original work into one story in the film, and we had difficulties with making animation in some parts, but we've made it. We created the film with thinking of making it interesting in various aspects.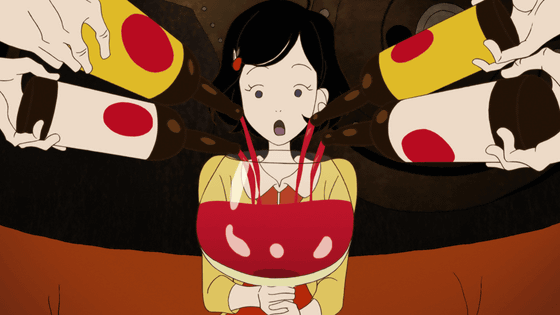 G:
Which is the difficult part to make it as an animation?

Yuasa:
In Night Is Short, there's one popular story of fall, Gotsugo Shugisha Kaku Katariki, and I thought that story was too difficult to make as an animation. Animation is an technique to describe a fiction and show it as if the story happens in real world. In direct opposition, if a contingency happens continuously, it actually will become a fiction, and I'm so worried that it would be difficult to create. However, we hit on a plan to make the story as a musical, and it will be so different. And as putting all the opportunist and accidental thing together on a fortune of people, or "This person is so romanticist", I thought I could make this film without destroying the original intention. The story of winter, Makaze Koikaze, is rather a quiet story, so I thought I could liven up the latter half of the story gradually, in a way that only animation can realize.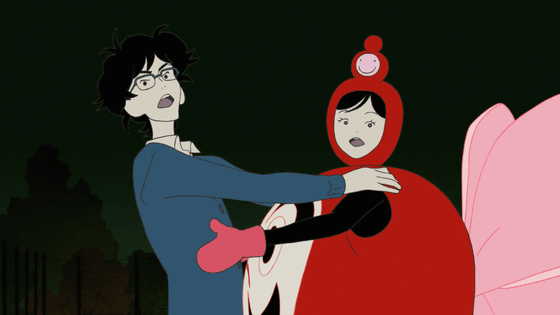 Q:
The voice of Lu singing seems like the one we haven't heard before, and it was so interesting to me. Did you have an idea in your mind, that you wanted to make such a voice from the beginning?

Yuasa:
From the beginning, I had in my mind, "I want the voice of non-human. Even if a human sings, I want to make it as if non-human species sing." If something from a different world comes in the story, I want to make it like "it really comes from the different world". However, I sometimes fail to do so, haha. If you describe an realistic with completely different culture, the audience can't understand well. For example, in Galaxy Express 999, there's a bar and the characters drink there. Such a cultural part should be the same. But in the same time, I wanted to show that Lu lives in a different culture, acts and thinks differently. Therefore, I wanted to make her voice which isn't similar to a human voice, but similar to a ocean animal, or a khoomii (a Mongolian throat-singing).

Q:
Like a dolphin's voice?

Yuasa:
Like a hyena and other animals howling in the jungle, and I asked Shinichi Sakurai and sound staffs to make it "a little more like a sound of marine", haha.

Q:
Did you actually mix those animal voices with a human voice?

Yuasa:
Maybe, the voice of Lu was made with processing Kanon Tani's voice a little. Speaking of Papa's voice, at first we planned to mix SE, but listening to the voice of Shinichi Shinohara, who played Papa, we decided not to mix SE, haha.

G:
This maybe a strange question, when I see the articles of your interview or coverage, you always put a knit hat on in the photograph. Why do you always put a knit hat on, despite there are so many kinds of hat and cap?

Yuasa:
This is the most comfortable hat for me, so I settled to put this in the end. I used to be bad at setting my hair since I was a student, then I became fond of putting a hat. But I feel stuffy and my hair becomes crumple up with a hat. Therefore, I want a hat which I rarely put it off. Especially, I want the one I can put in every season, including summer, and the one I don't feel like putting it on, so my hat becomes a knitted one. I sometimes live without hats before, but after I had my head shaved, I always put my hat on. I once tried to put a cloth around my head, seeing my friend doing so, like a ramen restaurant cook.

G:
We often see such a ramen cook, haha.

Yuasa:
But I think a knit hat suits more to me, so I put a knit hat on now.

G:
Now I know how it came about. Sorry for the question far from animes.

There are some scenes that the characters drink alcohol in Night Is Short, and you describe as if they swallow lump of something in such scenes. I was surprised to see those scenes, and thought that though we drink alcohol with such a feeling, I didn't expected that you describe like that. How do you put such expressions in your head?

Yuasa:
I want to draw "an atmosphere". Probably, what I create have existed since early times. There's a similar expression which a character drink down "glug-glug-glug", in the old cartoon animation. I want to express obviously, for example, they enjoy drinking, and they eat their fill. If their belly become just a little bigger even they eat a lot, the audience will doubt, "Was the meal really delicious?", so I want to describe their belly much bigger. I want to put something with deformation, to show expressions like comic. I think that's a strength of "drawing". In the first story of The Tatami Galaxy, Ms. Akashi swallows grilled meat, and I casually described it thinking that it may be funny if a person like Ms. Akashi acts like that. Then the scene was liked by everyone, so in Night Is Short every character swallow their drink with big movement as same as Ms. Akashi, haha. I modified the expression a little, thinking that some parts were too big, just a small action is enough, haha.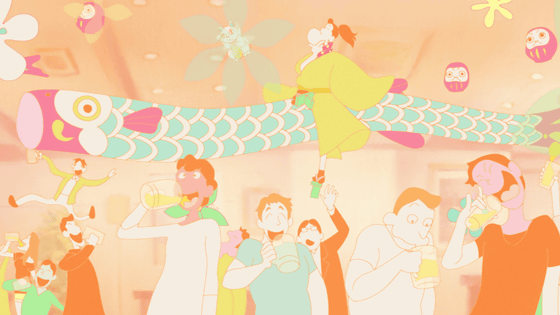 G:
In Lu, there's a scene that Kai goes down the stairs, and I think it was a pleasant way of going down the stairs. But on the other scene, he goes downstairs in a very different way. I feel the difference in the ways of expression.

Yuasa:
Although it depends on how they feel at the time, a height of a step differs with stairs, so there's the one that you can go up in a quick pace, or the one you need to take every third step. When I meet such stairs, I remember "I have never described such a way of walking before". Even without any instructions, we as an animator can create an acceptable scene that character goes up and down the stairs, and that's not an unsuccessful scene, but as enjoying drawing, I want to put my idea like "I was going up the stairs like this", or "I go downstairs like this if I'm in a hurry."

G:
I see, those scenes reflects your own experience. In many interviews, you said that even if you think of yourself a normal person, you are told that "You are strange", "You are out of step with the time" by people around you, and you wonder why. Do you have anything in mind why people say such a thing?

Yuasa:
For example, I can enjoy a film with just one really interesting scene. But when I ask other people about the film, they say "The story, or the cast, was not good". I think "Oh, they have their point of view. I also think those parts weren't good, but this scene was interesting so I like this film very much", haha. When I was in high school I belonged to a kind of manga club, and I was said "Your opinion is unreliable."

G:
Unreliable... haha.

Yuasa:
I was said "I will be smashed if I hear your opinion", haha. Although I think a film interesting when I first saw the trailer, it isn't interesting to see the same scene in the theater. I think "I've seen the scene, so can I have another one with a little extra?" When producing Mind Game, I thought I created an interesting work, but I also received negative opinions, like "There's no story", or "It wasn't interesting". Therefore I became really anxious about how people see the movie. It used to be difficult to gather people's opinion before, but now there's a SNS and we can read so many impressions. As I researched on SNS, I found that everyone has a different point of view. It is different, but everyone seems to pretend like "We have the same point of view". For example, a movie fan sees a movie with an analytical way of looking, and someone who is trying to write a story has "a format of movie" in his mind, sees and values a movie whether it is out of place or not. However, I think seeing a movie and spending a happy time is enough.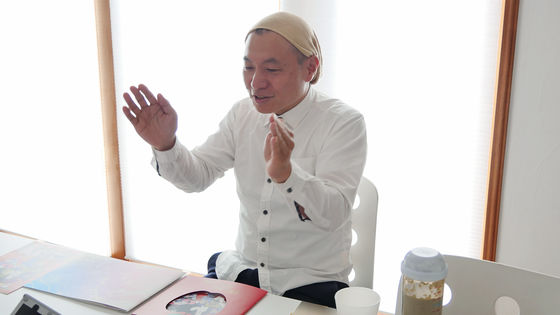 G:
I see, haha.

Yuasa:
Seeing a two-hour movie, feeling "Ah, it was interesting anyway", eating meal and going home, is enough. But people see it in various ways. Therefore, I come to think much about the audience's way of seeing movie. At first I thought the story was important, but I came to think that the audience see a framework or a structure, previous to the story. Therefore, they don't mind that the same thing happens in the trailer and the actual film. If only they grasp the trailer movie, they can enjoy the actual film at the end, therefore it seems that they know the movie is interesting before they see it. They enjoy a framework, which is unexpected to me. Speaking more of the movie, as I tell my taste in movie, people suggest me movies in similar categories. However, I'm very particular about categories since I really like it, so I judge those movies rather severe, I will say "I don't like it" if I think so.

G:
Since you've just told us about your high school days, I want to know that how you spent time as a child and as a student. I think you have rarely told those kinds of things in the interviews. From where does your sense or idea of making animation come?

Yuasa:
When I was a child, I was praised for drawing. I tried hard to remember the anime illustration on TV, and the next day as I went to kindergarten and draw the illustration, everyone became exited. So that I used to "watch animes on TV, remember the character, and draw it". My parents didn't interfere with me, and I wasn't scolded so much with doing graffiti. (Looking around the room and pointing the white wall) I always wanted to do graffiti on such a white wall, or on a paper. This kind of a wall takes a pencil very well, and when I was a child I thought "Oh, it really takes a pencil well", haha.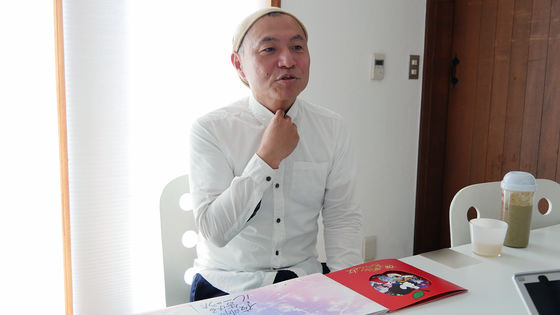 G:
Haha.

Yuasa:
And frosted glass as well. I was lack of paper, and I was given a flyer that its backside is white. As I still lack of paper, I used an album. In old times, we put photographs on the sticky pages of albums, and put a cellophane over.

G:
Yes, we used to do so. I think I have such kind of albums in my parents' house.

Yuasa:
I took all photographs away from the albums, and drew illustrations on the pages, haha.

G:
What!

Yuasa:
Probably I was sometimes scolded, but not so much, so I drew illustrations feeling relaxed. I also like animes and comics, and anime was booming when I was in the first year of junior high school. I was thinking that I should graduate from animes and comics, but as I read newspapers and watch TV, they said "Japanese animes are equal to adults", and it seems that adults are allowed to watch animes. I didn't know whether those news were true or not, however, I used them as an indulgence, haha. I didn't know how to make animes so I was thinking of being a cartoonist. Then as the magazine which introduces the animator job was released, I came to think that I want to be an animator. I was in a design fee in high school, and in a Faculty of Art doing oil painting in university. I was a lonely and unsociable student, always being alone, haha.

G:
Haha.

Yuasa:
Although I wanted to be an animator as soon as I graduated high school, I was persuaded to go to university. However, I couldn't get on well with rich and unsteady people in university, instead of being sociable, I used to work part time. I had a fun to master works of part time, and once I mastered one work, I moved to another one. Then as I improved my business performance, they scouted me for becoming a regular employee, but I didn't like that kind of scout so moved on to another part time job. While living like that, I had a fun that the world came in sight.

G:
What is it like that "the world comes in sight"?

Yuasa:
It is fun to know the details like a situation of a store, or each store's system. But after human relationships becomes complicated, I have no interest anymore and I quit the job, haha. I had a hard time when I first started working. As I started a job of setting and researched many things, I feel like the world is "opened" for me,

G:
I probably read about that in Yuasa Masaaki Taizen, you wrote "My world was opened as I participated in this setting". I thought "Was your world closed before?", but in fact there's a difference in ways of opening.

Yuasa:
Exactly.

G:
In Lu, animation and music go together perfectly from the beginning, and saying of other scenes, too. A style of making animation to music and song is often seen both in ancient and modern animes. Especially the animation and music of Lu match so well, and do you have something in your mind to realize it?

Yuasa:
Basically, I like music. Maybe I rather like the rhythm, I'm entrusted with a mission to get into the rhythm when I attend a pop music concert. However, sometimes the concert suddenly goes silent after livened-up popular song, saying "This is our latest song". Everyone sits immediately, but I can't sit down and I'm still standing. The closing notes of the previous song lingered in my head, and I think "Even if I told to sit down, I can't do that immediately..." I want to get into the rhythm anyway. "I can't go along with what you say, even you play a ballad suddenly", haha. "A tempo" is important for me when I make a picture conte, too. I don't know whether they are same thing or not.


G:
A tempo?

Yuasa:
There's a rhythm like tan, tan, tan, tan, and I make a picture conte with such a rhythm. It's natural for me that a picture is shown with music.

G:
Do you have a rhythmical feeling from the stage of making a picture conte? Are you aware of the rhythm while you make a picture conte?

Yuasa:
Yes. The actual background music has its own exact rhythm, so I remake a picture conte to music.

G:
In the interview appeared in the official website of Lu, you said "Recently, if we create a work that is out of the royal road or takes a turning which said to be dangerous, an outsider immediately jeers and says 'The professionals are saying like this, so you can't succeed in your way', 'Go back', 'You must change'. We want to go forward, however, such opinions sometimes become an obstacles, and frustrate us. Kai is a boy who was put many spell on, and Lu, a mermaid, comes to him to open his heart". From the word "out of the royal road" I was reminded of the way of making Kick-Heart, which you ask for investment on a crowd funding service. Is your experience, which you built up in Kick-Heart and other works, reflected in the plot of Lu?

Yuasa:
Nothing special, but I felt a very conservative atmosphere. But last year, 2016, not so much conservative movies were a big hit. so I think such an atmosphere is changing. It seems that those who created what they wanted to will win. I thought "Oh? Was that the right way?", haha.

G:
The last question is about Science SARU. I've heard that the monkey drawn in the logo is your self-portrait, having a image of yourself. Why do you image yourself as a monkey?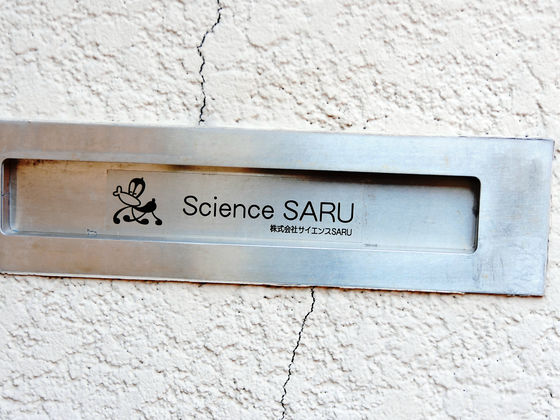 Yuasa:
In the first place, I doubt whether it is a monkey or not.

G:
What a surprise that its character is revised from the very foundations, haha.

Yuasa:
I needed my self-portrait when I wrote a column article, but since I was unpleasant to draw myself, I made the character with a taste of manga. It looks similar to a monkey from Kemonozume, so everyone call the character "saru" (means "a monkey" in Japanese). And since My self portrait is called saru, my company is named "Science SARU". As conclusion, the reason why that character was born is "I drew it as my self-portrait in a column article", but I'm not convinced that it's a monkey.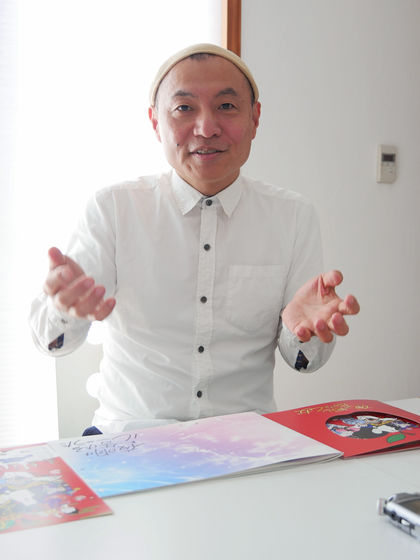 G:
Really? haha. Thank you so much for taking such a long time today.

・Film details
"Night Is Short, Walk On Girl" (夜は短し歩けよ乙女 / Yoru wa Mijikashi Aruke yo Otome), released on April 7, 2017, in Japan.
Gen Hoshino, Kana Hanazawa
Hiroshi Kamiya, Ryûji Akiyama (Robert), Kazuya Nakai, Yûko Kaida, Hiroyuki Yoshino, Seiko Niizuma
Junichi Suwabe, Aoi Yūki, Nobuyuki Hiyama, Kazuhiro Yamaji, Mugihito

Based on "Yoru wa Mijikashi Aruke yo Otome" (Kadokawa Bunko) by Tomihiko Morimi
Director: Masaaki Yuasa
Screenplay: Makoto Ueda (Europe-Kikaku)
Character original design: Yusuke Nakamura
Music: Michiru Oshima
Theme song: ASIAN KUNG-FU GENERATION
Production company: Science SARU
Production: Nakame no Kai
Distributor: Toho
kurokaminootome.com
©森見登美彦・KADOKAWA/ナカメの会

"Lu Over the Wall" (夜明け告げるルーのうた / Yoake Tsugeru Lu no Uta), will be released on May 19, 2017, in Japan.
Distributor: Toho
©2017ルー製作委員会