Mr. Masaaki Yuasa Director Latest movie "Song of Dawn Telling Rou no Uta" poster Visual banning, "Singing ballad" spinning youth Love story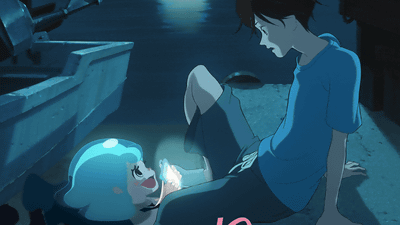 Known for TV animation such as "Tatami Half Mythic Ryuu" and "Ping Pong The ANIMATION", on April 7, 2017 (Friday) a movie "Take a short walk in the evening Maiden'Is refrained from publicationFirst original movie directed by Masaaki Yuasa "Song of Ru says dawn"Poster visuals have been lifted.

Movie "Song of Dawn Ru no Uta" Official Site
http://lunouta.com/

On the poster, along with a catch phrase of "I love you like you", the encounter between the hero's boy / Kai and the mermaid girl · roux is drawn. Also at the bottom of the poster is a copy called "Mermaid that spins" Ballad wanting to sing "and young love story of a boy".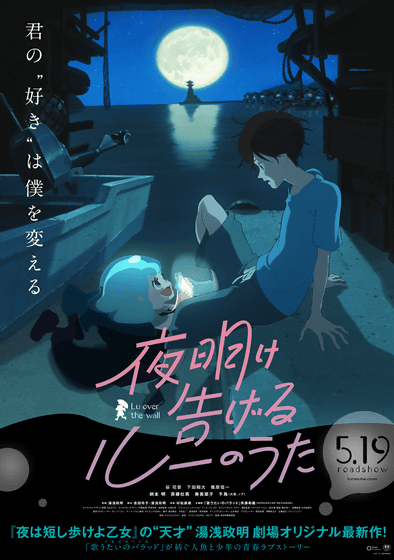 The lifting of the ban on visuals was February 14 was said to be in line with Yuasa's "Importance of communicating true feelings".

Although the story makes it possible for Kai who had a feeling of being depressed and school life to be backwards to gradually move out with innocent roux and acting together, the mermaid is "to bring disaster It is thought that there is a groove between Lou and the inhabitants of the town ... ....

On the official website, a making image of the production work which the art director Hiroyoshi Ohno took over 20 hours was photographed with fixed point camera is released on the official website.

Mr. Ohno wrote a TV anime "1982"Tonight at Mong PeShe is in charge of art director for the first time. Mr. Hirochang Ogura and Mr. Toshiharu Mizutani in 1983Studio eleganceWas established. In theater work is known as "AKIRA" in 1988, "Wagon's Takkyubin" in 1989, etc. In his latest work, "Perfection Mitsukoshi ~ Miss HOKUSAI ~" in 2015, "Letters to Momoko" in 2012, "Okami Kids' Rain and snow "and so on.

The comments from Ohno are as follows.

I was amazed at Yuasa's idea.
Although it was explained that "Nichinomachi", the stage of the story, multiplied the images of various cities such as Kyoto, Nagoya and Kurashiki like a mosaic ... ... it is painting it
The place I had to flex in my head was hard.
This time was my first experience with a picture like interlocking with real feeling and a strange idea.
What kind of wind is in the head of Director Yuasa (laugh).
Background of the poster is the scene where the mermaid Rou and the boy Kai meet for the first time.
Although it is night, I devised it to become a dramatic atmosphere with the moonlight so as not to become too dark.
It was my first experience to capture the working landscape, but I am glad that you are interested in how the background art of animation works depicts it.

"Song of Ru says dawn" is released on May 19, 2017 (Friday). As Director Yuasa's work will be released a month or so before "Make the walk a short walk at night" so please fully enjoy Yuasa's worldview.
© 2017 Roux Production Committee