Decided to appear in the parent role of the protagonist played by Aina Shibata in the anime movie 'Children of the Sea Beast' with Inagaki Toshiro & Yu Sakurai, poster visual ban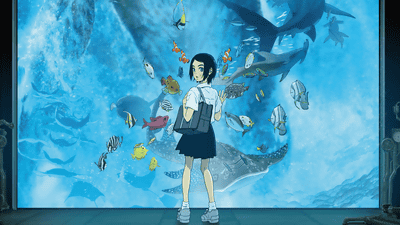 Daisuke Igarashi as the original of the cartoon, " Tekkonkinkreet " " Mutafukazu -MUTAFUKAZ- " of STUDIO4 ℃ movie that is engaged in the animation " marine mammal of children posters visual" became the ban. It is announced that Ms. Aina Shibata will play the protagonist , but the appearance of Mr. Toshiro Inagaki as the dad and the appearance of Mr. Yu Sakurai as the mother are also decided.

Theater poster visual & additional cast ban!

The poster visual looks like this, and the figure of the protagonist, Ayaka Ankai, is in front of the large tank.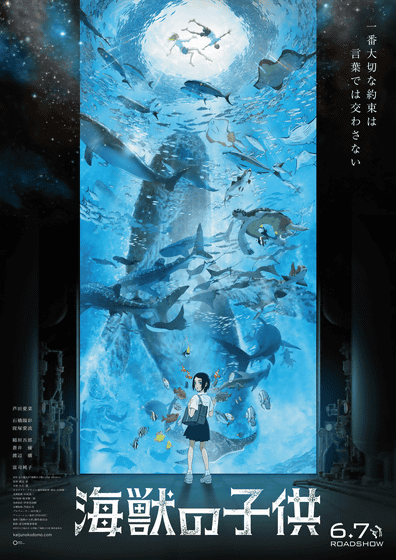 The newly announced cast is 4 people. Junko Toji as Dede watching over the brothers of "Sea" and "Sky", Toshiro Inagaki as Toshiaki Masami, Toshiaki Asuka, Yui Toshii as Tonohana's mother and Ankai Kanako, and Tonohana as a teacher in the handball club Toru Watanabe.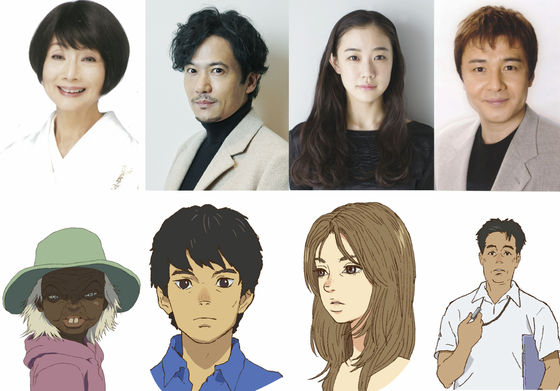 The comment from each cast is as follows.

Mr. Masaaki Ankai, Mr. Inagaki,
This movie is not a simple and clear entertainment piece that is easy for everyone to understand. There is such a depth that adults can think even if they look, and when they look beyond the reasoning when they look at children, the work they feel is something that is well. Even in a movie I saw as a child and thought, "I have a part I do not know yet," there are still works in which one scene or voice of a character is clearly left in my mind. I hope this film will be one of the works for children today.

The role of Kanako Ankai / Yu Sakurai:
Anyway, the picture is beautiful and I loved the original that would take me to the bottom of the sea just by opening the page. I want to see this world on screen for a long time! I really wanted to, so when I got this talk, I would definitely like to do it! I answered immediately. Starting with the boy role "Shiro" in "Tekkonkinkreet", he plays the role of mother in "Child of the Sea Beast" 13 years later. I am glad to be back in the STUDIO 4 ° C work. I watched the main video a bit for recording, but it was overflowing with more "colors" than I had in my head when I was reading the original, and it was a great deal beyond imagination. . Since it is a work that can be exciting once again alive, I want many people to watch it.

Teacher role: Mr. Toru Watanabe:
I thought it was an adult version of a fairy tale that you can feel deeply about life with a very beautiful picture. How do you face as a teacher the heroine with glass-like delicacy and human instabilities of the second grader. It is also an eternal theme of parenting, whether it is a gentle saying or a kindness to face by strictly pushing it out, but I thought about making a role while reflecting my own experience.

Dede role, Junji Fujishi:
When I received the story of "Child of the Sea Beast" and saw the video, the depiction of the aquarium and the ocean was so beautiful that I wished that my grandchildren who would like to go to the aquarium together would like to see it. With her voice work since "Summer Wars", Dede who played this time is a woman with a strong conviction who pursues things like the secrets that all life in the sea, mystery, life and space all over the world is born It was very attractive. There were a lot of poetic and philosophical lines, and I was nervous and challenged because it was different from ordinary speech, but I think I was able to pour my soul into my voice.

The movie "Child of the Sea Beast" is a national road show on Friday, June 7, 2019.

【6.7 released】 "Children of the Sea Beast" Special Report 1 ("Children of the Sea" Teaser trailer)-YouTube


・ "Child of the Sea Beast" Work Information <br> Original: Daisuke Igarashi "Child of the Sea Beast" (Shogakukan IKKICOMIX)
Director: Ayumu Watanabe Music: Joe Hisaishi Character Design, General Drawing Director, Director: Kenichi Konishi Art Director: Shinji Kimura
CGI Director: Akimoto Kenichiro Color Design: Ito Miyuki Acoustic Director: Koji Matsuda Producer: Eiko Tanaka Animation Production: STUDIO 4 ° C
Production: "Child of the Sea Beast" Production Committee Distribution: Toho Video Division
© 2019 Daisuke Igarashi Shogakukan / "Child of the Sea Beast" Production Committee