''Yojohan Time Machine Blues' Special Screening in Kyoto' Report


'Yojohan Shinwa Taikei', an anime produced in 2010 based on Tomihiko Morimi's novel, and the play 'Summertime Machine Blues' by the theater company Europe Planning have achieved a 'demonic fusion'. The anime 'Yojohan Time Machine Blues' will be screened in theaters for 3 weeks from September 30, 2022 (Friday).

This time, a special screening was held in Kyoto, which is the stage of the work.・Yusuke Nakamura gathered and had a special talk.

'Yojohan Time Machine Blues' Official Website

https://yojohan-timemachine.asmik-ace.co.jp/
'Yojohan Time Machine Blues' Official (Tomihiko Morimi, Author, Makoto Ueda, Original Draft) (@4andahalf_tmb) / Twitter
https://twitter.com/4andahalf_tmb
The event was held at T Joy Kyoto
.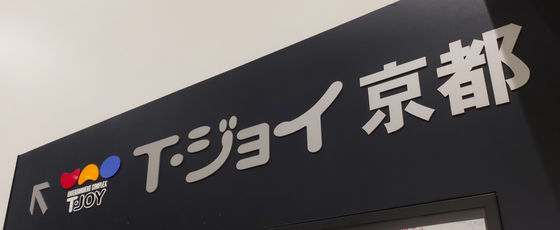 Below is a brief summary of the event. Statements are not reproduced word for word.
Tomoko Misaki
was in charge of the MC. In addition, since it is a talk event after the screening, topics corresponding to so-called spoilers will also come out.
MC:
This work is a devilish fusion of 'Yojohan Shinwa Taikei' and 'Summer Time Machine Blues'. How was it born?
Mr. Tomihiko Morimi (hereinafter referred to as Morimi):
I have had a relationship with Mr. Ueda since around 2008, and I often have Mr. Ueda turn my original work into an animation script. I've been indebted to him a lot, so I asked him once in a while to try to write a novel based on Ueda's play. Let's try it is the beginning. I mentioned earlier that I am the original Morimi, but strictly speaking, Mr. Ueda is the original.
Mr. Makoto Ueda (hereinafter referred to as Ueda):
At first, I thought that Morimi-san would put pressure on me if I was overjoyed, so I reacted calmly. When Mr. Morimi and I were talking, it felt like 'I'm writing', but after that, when I heard that the editor in charge was proceeding, I thought, 'It's true.'
Morimi:
I don't write too much, so the editor in charge officially took the story to Mr. Ueda and proceeded concretely. I got hit on the buttocks.
Ueda:
Contrary to usual, I was in a position to wait
MC:
This tag has existed in the past, but was there a difference?
Ueda:
I wrote the original play 'Summertime Machine Blues', and 'Yojohan Shinwa Taikei' was a work that I immersed myself in writing at some point. What has become The scripting process went very smoothly. Normally, I would prepare for the original work before writing, but this time I had my own original draft, and since it felt like I had met the characters of 'Yojohan Shinwa Taikei' again, I was able to write it straight away without any preparation. It was a script that went smoothly. It was definitely better to talk about the hardships, but I was able to do it really quickly.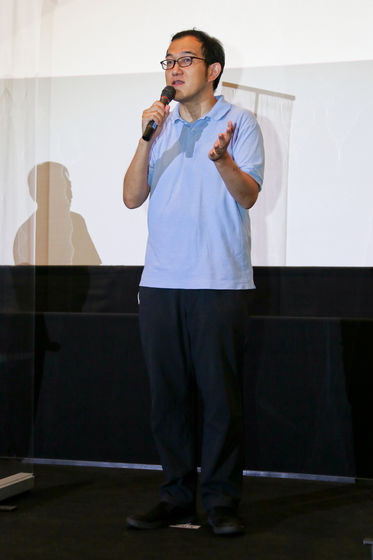 (Everyone laughs)

Morimi:
Mr. Ueda is the one who knows the most.

Ueda:
I was able to do it without any tension.

MC:
Director Natsume was instrumental in making the anime. How did you feel when you got the offer?

Director Shingo Natsume (hereinafter referred to as Natsume):
I was frankly happy. 'Yojouhan' was a TV series that I also participated in as a director, and it was a fun work, so I wanted it to not end, so I was sad when it ended, but it came back as 'Yojouhan Time Machine Blues'. I was happy that I could recreate that fun feeling again because I got an offer as a director.

MC:
What kind of work were you aiming for?

Natsume:
I was able to get into it easily, or rather, the story had a solid skeleton, and the characters were fixed and clear, so I was able to do it straight without any difficulty, and it was fun doing it all the time. .

MC:
Twelve years ago, there was an anime called 'Yojohan Shinwa Taikei', and Mr. Asanuma and Mr. Nakamura continued. How did you feel about the challenge?

Mr. Yusuke Nakamura (hereinafter referred to as Nakamura):
I, Asanuma-san, is my only LINE friend. I decided not to do LINE ...

Mr. Shintaro Asanuma (hereinafter referred to as Asanuma):
You're saying that!

Nakamura:
Mr. Asanuma is the only one I have registered as a friend, so for me it's a tool for conversation with Mr. Asanuma. For the past 12 years, I've occasionally talked about things like, 'I'm doing this right now.' I was very happy to meet Mr. Asanuma again in the work and to have him voice the character I drew.

Asanuma:
……I feel like I have to talk about hardships in this flow.

(Everyone laughs)

MC:
No no.

Asanuma:
It was a lot of fun. By the way, who among them has seen 'Yojohan Shinwa Taikei'?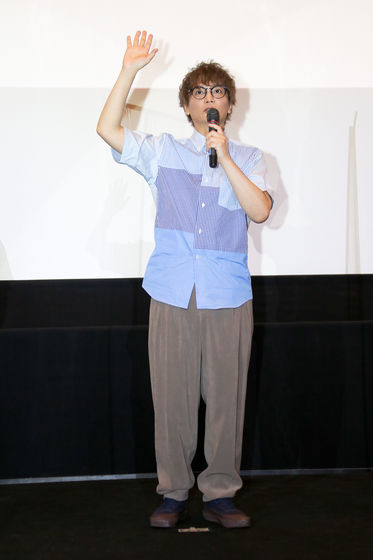 (many raised hands in the venue)

Asanuma:
To be involved in a project that so many people like so much again, I feel both joy and fear... In terms of athletes, it's like I have to surpass the record I made at that time.

Nakamura:
Is it the degree of fast talk?

Asanuma:
That's also part of the quality, and I felt like I was crushed by the pressure because there were so many people who liked it so much that I couldn't let them down.

Nakamura:
I read an interview between the director and Mr. Asanuma, but this time I saw that it was a story between Mr. Natsume and ``Since there is an explanation of science fiction, it doesn't have to be as detailed as the previous work.''

Asanuma:
It ended earlier than the director said, 'I would like this scale,' and 'I'm trying too hard' (laughs) 'But won't everyone be disappointed?'

Nakamura:
It's like a YOSHIKI drum, with a corset around his neck.

Asanuma:
I don't want people to think, 'As expected, Asanuma can't help being 12 years older'. But he said, 'This time I'll explain carefully, so this is enough.' It may have felt a little slow, but there's a reason for that.

Nakamura:
I also read that Mr. Asanuma and the director had a sense of incongruity when playing 'I', such as 'Am I growing more than I used to be?'

Natsume:
I honestly received it from the novel and the script Mr. Ueda wrote, so I wonder if there was a change between Mr. Ueda and Mr. Morimi...

Morimi:
When I write, I can no longer recreate the original world of Yojohan Shinwa Taikei. Just as Mr. Asanuma thought it would be difficult to play the role he played more than 10 years ago, I wanted to recreate the world of 'Yojohan Shinwa Taikei' that I wrote when I was a graduate student. I can't do that, so I gave up on that from the first time I wrote it. 'Don't aim for that,' he said. In the first place, rather than doing a direct sequel to Yojouhan Shinwa Taikei, the challenge was to figure out how to turn the European project Summertime Machine Blues into a novel. I was thinking of not sending it to. It seems that it has grown by making the characters easier to move, or rather, in the original 'Yojohan', things proceed mostly in the head of the main character, and I think that was also the work of Uri. This time, the characters move and the story progresses outside.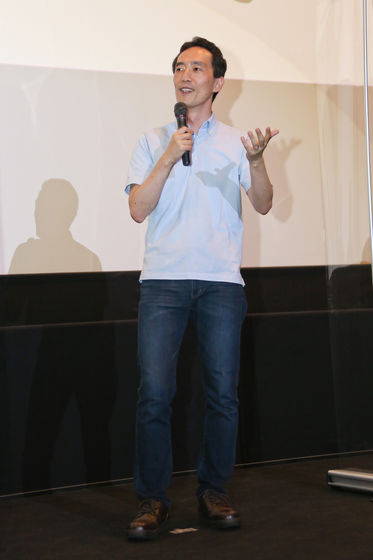 Natsume:
I was also making it, and 12 years have passed there. I wanted to create something like that between the lines with a new atmosphere. I wanted to show the changes in the contents while following the images, pictures and characters.

Asanuma:
It's a delicate topic, but there are various professions that do acting, but I think voice actors are the only ones who get told 'I've gotten better' when I've mastered my technique. In the world of anime, there are games, pachinko, and new titles, so it's not so common to perform for the first time in 12 years. The mic and studio also change, so those with good ears will notice, 'Huh? Is it a half step down?' I was often told that I had changed, so I had a strong desire not to change. Also, for me, ``I'' is a character with a strong feeling, so I didn't want him to grow.

(Everyone laughs)

Asanuma:
'I' should remain 'I', foolish, barren, black-haired maiden, who can't say anything and blame someone else for her life. But didn't it look reliable in this work? When I was having a dialogue with Mr. Akashi, I said, 'Isn't this too much growth?' So, when I asked Director Natsume and Sound Director for some time and told them, 'Actually, I'm growing,' my fear of growth disappeared. By re-recording it, it has become a work that I am satisfied with.

Nakamura:
Kind of like Asanuma.

Ueda:
It's troublesome like 'I' (lol)

MC:
Next, Mr. Nakamura, did you have any difficulties with character design?

Nakamura:
It was the same with 'Yojohan Shinwa Taikei', but in this work, the book was published first, and I thought that each character had spent time on a parallel time axis. I try to make it look like the character. Speaking of Akashi-san, no matter what kind of dress you're wearing, as long as the collar has a collar, you'll look like Akashi-san. Even if you had to remake 'Yojohan' once again, I think Akashi-san did a good job. Even if I changed it, I didn't feel any discomfort. Also, I think the 2010s and 2020s are different from Jougasaki's highly conscious feeling.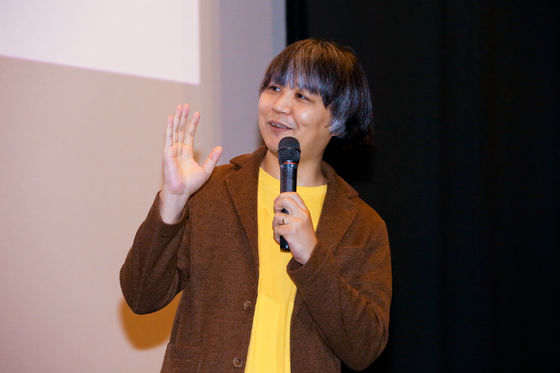 (Convincing voice from the audience)

Nakamura:
In the 2020s, I'll be doing muscle training and I think I'm addicted to cryptocurrencies.

(Everyone laughs)

Asanuma:
There is no such scene! (smile)

Nakamura:
It seems that my juniors are approaching me about virtual currency. Although it does not appear in the work.

MC:
Are there any episodes that left an impression on you about post-recording or that you made such an order?

Natsume:
The interaction with Mr. Asanuma is impressive. What should I do in order for ``I'' to be ``I''?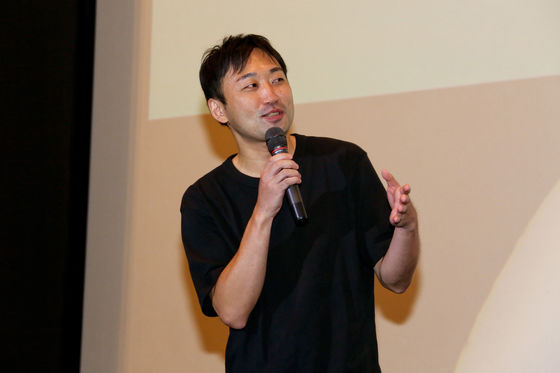 Asanuma:
It sounds like a song by Yutaka Ozaki (laughs).

Natsume:
While I thought that 'I' was a big character in Mr. Asanuma's mind, when I was interacting with him, I felt that he was 'creating something.' Lately, I haven't had the chance to meet and talk with him in person, but it was fun to see what was going on, and I had to retake the shots many times, maybe twice. There was a moment when it just clicked, and after all, I was deeply impressed by the process of trying to get to the bottom of things and getting the work to settle down. By the way, how was your day? Was it fun?

(applause)

Natsume:
I don't have a chance to hear the customer's reaction directly. The last talk show was before the screening, so I couldn't spoil it, so I really wanted to listen to it this time. Thank you.

MC:
Since it's after the screening, it's okay to spoil it, so please tell us the lines and scenes that you are passionate about.

Ueda:
It's a story that keeps making sense all the time, but I like the after blues part after it's over, so it's the closing scene. Beer and fried rice, going to a Chinese restaurant. Crossing the river is something that you can usually do, but it's very moving and makes you want to do it. I'm the type of person who wants to drink ginger ale when listening to Quruli's songs, so I'd definitely recommend going to a Chinese restaurant on your way home.

Asanuma:
……And this is the scene where everyone from the European project is out, isn't it?

Ueda:
I still can't see it properly. I usually don't post-record the script. The worst part was that I was next to a member of the theatrical company during the post-recording. I will never do it again lol

Natsume:
Good for you, right?

(applause)

Natsume:
I thought Tamura-kun was cute. 'Ah, Mossari-kun is here,' he said. I love the appearance scene and it's irresistible.

Asanuma:
In Yojohan Shinwa Taikei, the setting is reset for each episode, and the titles, encounters, and relationships are slightly different, but this work keeps the same relationships until the end, so it feels more like a college student. There are various scenes, but I thought it would be nice to have a scene where everyone goes to a public bath. It's not a rosy campus life, it's just being naked (laughs). I said, 'It's really troublesome,' and I thought, 'Oh, it's me.' In terms of lines, since he talks so much, it's not about ``which line'', but about breathing in and trying to speak before talking to Akashi-san.

Natsume:
Breathing, breathing, nuances of speaking.

Asanuma:
The first word, I think I was careful.

MC:
I am very sorry, but my time has come here. I would like to hear from each and every one of you.

Nakamura:
For me, when 'Yojohan Time Machine Blues' was completed, there was nothing like ``I wanted this place to be like this'', the mood, the acting, the music, etc. I thought, 'Ya'. This time, it will be screened only for 3 weeks, and if you don't come twice, you won't be able to get the presents for visitors, and Disney Plus will have an extra episode, so I hope you enjoy it.

Natsume:
I think it's a perfect movie for the end of summer, so I'd be happy if everyone could watch it again. I was able to work with Morimi-san and Ueda-san, whom I looked up to, and it was very stimulating. Please take a look... Ah, you've already seen it, please watch it again.

Ueda:
I think it's a movie where you can see Kyoto very well. I've lived in Kyoto for a long time, and when I was a university student, I drew this picture of my life when it was called a public bath, but it wasn't that beautiful. That was Morimi-san's novel, and I thought, ``Kyoto is really interesting. I think so. I believe this is the power of animation. I hope you can walk around Kyoto with those eyes.

Morimi:
Mr. Ueda and I both spent our university days in Kyoto, and perhaps Mr. Ueda's 'Summer Time Machine Blues' and my 'Yojohan Shinwa Taikei' were written separately, but they all came from the same soil. I felt like I was there. It's been around 20 years since we came together. It's a grand story when you think about it, and I think it's interesting that the things that college students who lived in the same soil separately created and created separately are now united into one thing. I've seen it about 10 times already, but I still don't get tired of it, so please watch it as many times as you like. It's a movie that deepens and tastes when you understand what you couldn't keep up with the first time, so I recommend it.

Asanuma:
Thank you for enjoying the movie. I can't believe I'm standing in front of you all in Kyoto with this face. When I was feeling a little lonely during 'The Night is Short, Walk on Girl', I want to use the time machine to go back to my place and say 'It's okay!'. It will be open to the public for only 3 weeks, and it will be over in a short time like the summer of youth, so the opportunity will soon run away, so instead of thinking ``I have 3 weeks'', ``I only have 3 weeks'', I will tell people around me that it will be interesting. I would be happy if you could tell me or write on SNS.

(applause)

Asanuma:
Also, I saw a very interesting play today. It's a really interesting piece called 'That kind of gentle golem' in Europe, and it will be in Kyoto until tomorrow (September 19th), and in November at the Umeda Art Theater in Osaka. It seems that they are also doing it in Tokyo, Yokohama, Saitama, Niigata, and Aichi.

Ueda:
The kindness is too great to repay!

(Everyone laughs)

Asanuma:
I hope that one day Mr. Ueda and Mr. Morimi will make 'Yojohan Time Machine Once More'.

(Everyone laughs & applauds)

In the photo session, in addition to the normal standing posture, there are also five people in a "Mochiguman"-like pose. However, while being filmed, we made a tsukkomi by ourselves, saying, 'It might be different from the taste of the work.'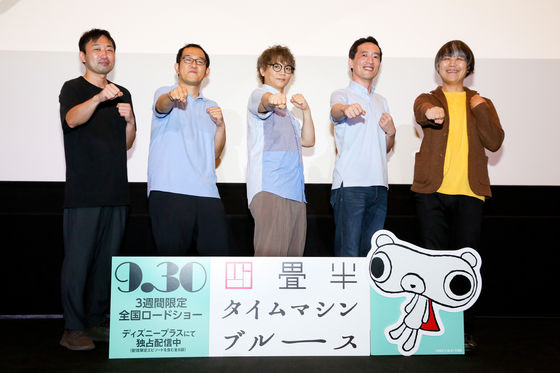 Stage greeting from the stage taken by Mr. Nakamura

The stage greeting ended safely. Thank you to all the participants and staff ???? Ah, it was fun ☺ pic.twitter.com/GR4vX2W97r

— Yusuke Nakamura ???? 20th Exhibition Until 9/25 in Osaka (@kazekissa) September 18, 2022


It seems that the original giant pop was prepared in the waiting room

I went to the stage greetings.
They look like they built a time machine together. But it was a very rare opportunity to actually meet. Some of them are nice to meet each other.

I was greeted by a huge pop, and it felt like a comfort trip. Thank you very much. #Yojohan Time Machine Bluespic.twitter.com/5fEfPfd48o

— Makoto Ueda (European Planning/Screenwriter) (@uedamakoto_ek) September 18, 2022


The synopsis of 'Yojohan Time Machine Blues' is as follows.

August 12th, Sakyo-ku, Kyoto in the scorching heat.
The only air conditioner at 'Shimogamo Yuusuisou' stopped working. My bad friend Ozu submerged the remote last night.
When 'I' was discussing countermeasures with the cool beauty Akashi of the movie circle 'Misogi', a strange male student Tamura appeared.
He is said to have traveled in a time machine from 25 years into the future.
At that moment, a flash of genius came to me.
Why don't you go back to yesterday with this time machine and bring back the remote control before it broke!
However, Ozu and his friends freely change yesterday and rewrite the past.
'I', who had a premonition of the danger of the world's extinction, hurriedly intervened, but it was too late!
Will the remote control be able to return to normal life?!
And where will the love between 'I' and Mr. Akashi go...?
'Yesterday' and 'today', the world's careless waste of the time machine begins!


'Yojohan Time Machine Blues' will be a limited road show for 3 weeks from September 30, 2022 (Friday). In addition, from September 14th (Wednesday), exclusive distribution of all 6 episodes will be available on Disney Plus.

Special release! ``Yojohan Time Machine Blues'' main opening video-YouTube


◆ 'Yojohan Time Machine Blues' work information
·cast
'I': Shintaro Asanuma
Akashi: Maaya Sakamoto
Ozu: Hiroyuki Yoshino
Master Higuchi: Kazuya Nakai
Jougasaki Senpai: Junichi Suwabe
Hanuki: Yuko Kaida
Senior Aijima: Setsuji Sato
Tamura-kun: Riki Honda (European project)

·staff
Original work: Tomihiko Morimi, draft by Makoto Ueda
Director: Shingo Natsume
Screenplay: Makoto Ueda (European Planning)
Character draft: Yusuke Nakamura
Music: Michiru Oshima
Theme Song: ASIAN KUNG-FU GENERATION 'Demachiyanagi Parallel Universe'
Animation Production: Science SARU
Production: 'Yojohan Time Machine Blues' Production Committee

Exclusive pre-delivery on Disney Plus from September 14th (Wednesday) (all 6 episodes including delivery limited episodes will be delivered sequentially)
Nationwide road show for 3 weeks from September 30th (Friday)
Distributor: KADOKAWA/Asmik Ace
Copyright: ©2022 森⾒登美彦・上⽥誠・KADOKAWA/「四畳半タイムマシンブルース」製作委員会