A work full of heat is born in a hot field, 'Don't put your hands on the video lab!' Preview & Interview Report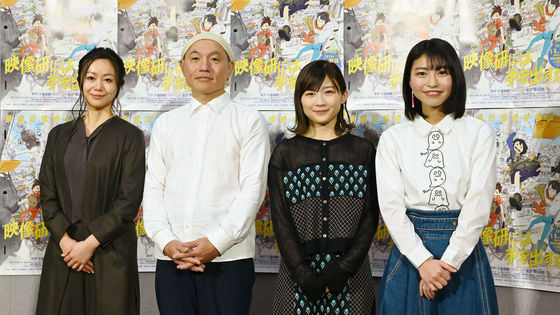 Monthly publication from July 2016! In the cartoon that has been serialized in the spirits, steadily build up popularity, it has been determined by the TV animated and live-action movie 'Do not take out a hand to the video Research!'. A preview and presentation of the TV animation was held, and director
Masaaki Yuasa
and Midori Asakusa,
Sari Ito
, Sayaka Kanamori,
Mutsumi Tamura
, and Swallow Mizusaki,
Misato Matsuoka
.
TV animation 'Keep Your Hands Off Eizouken! 'Official site
http://eizouken-anime.com/
Director Masaaki Yuasa worked as an animator for "Chibi Maruko-chan", "Crayon Shin-chan", etc., and then in 2004 the first movie director work "Mind Game" and the 2010 TV animation "Shinjohan Mythology" Received the Grand Prize in the Animation Festival of the Arts Festival. The 3rd Annecy international animation film as the Japanese director following the original feature film `` Ru no Uta that announces the dawn '' released in 2017, following Hayao Miyazaki's 'Red Pig' and Director Isao Takahata's 'Heisei Tanuki Battle Ponpoko' A director who has won the Crystal Prize (Grand Prix) in the feature film section, and who has spread around the world.
It's been 22 years since director Takahata Isao, and director Masaaki Yuasa won the feature film Grand Prix at the Annecy International Anime Film Festival with `` Rou no Uta to announce the dawn ''-GIGAZINE


After the preview of the first episode, Director Yuasa, Mr. Ito, Mr. Tamura, and Mr. Matsuoka were on the stage. The fact that I was watching the preview on the big screen together was a question and answer session that kept me excited.

Masaaki Yuasa (hereinafter Yuasa):
I was nervous as you watched the first episode because the expectations were rising (laughs), but I think it will get even more exciting, so I would like you to expect it. There was a drama on the subject of anime at this station, but it's hard to know what kind of work it is to actually make an anime, so I hope you enjoy the place 'It was difficult but I enjoyed it'. I am making it. I look forward to working with you today.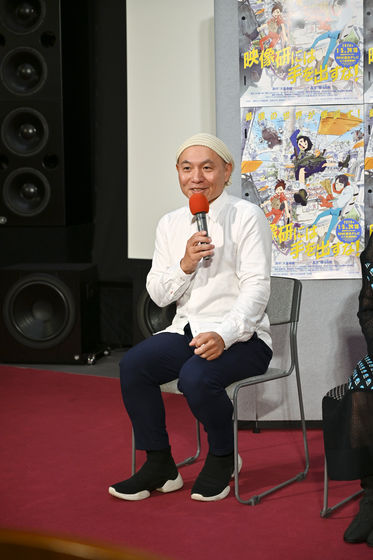 Ms. Midori Asakusa, Sato Ito (hereinafter referred to as Ito):
I haven't had much experience working as a voice actor, and I was nervous because there were more fans in this work, but as I recorded the voice every week, it seems like I read the book, but I felt very hot, Every time, I try to do it while thinking that it is 'fun'. I'm doing my best, hoping that it will reach Asakusa, Kanamori, Mizusaki, and the people who see the passion of our creators.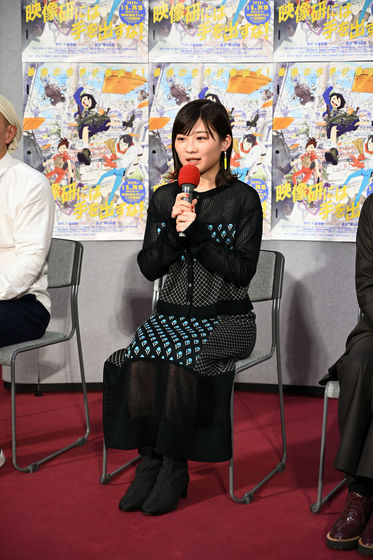 Sayaka Kanamori, Mutsumi Tamura (hereinafter Tamura):
I'm nervous because many people gathered and I realized that the work was very much expected. We also showed it on a big screen, but I thought it was really interesting. I'm glad I was involved in this work, and I'm glad that I was able to answer various questions by letting me sit on the stage without letting the excitement cool.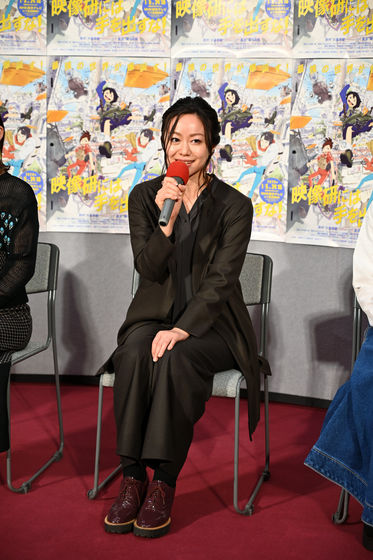 Mizusaki Swallow, Misato Matsuoka (Matsuoka):
I also showed it, but it is a work that I feel like I have finished watching one movie, and I also expect that this will continue every episode, and everyone is expecting it, I hope to carry on this expectation and continue to do my best. This work is full of charm and enthusiasm, so I will do my best today to tell you about it.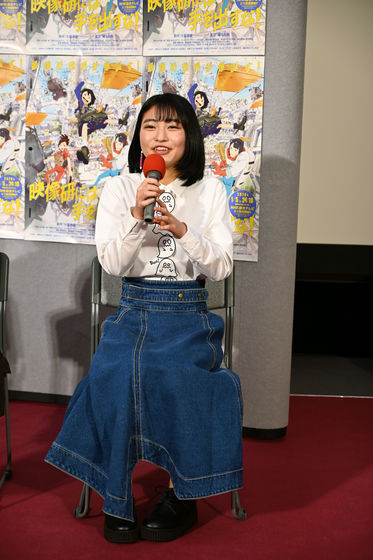 Q:
Please tell us your enthusiasm for working on TV animation for the first time in 5 years. Also, since it is a work that focuses on animation production, I was careful about it because it is an animation, and director Yuasa is a challenging production, so please tell me if you have any challenges with this work .

Yuasa:
It's a popular work from the original, and the staff and cast are doing their best, so it's going to be a very interesting work, so I hope that many people will see it.

I thought it would be difficult to talk about 'making anime' in manga into 'making anime' in anime, so I'm having a lot of trouble making how to do it, and that was another highlight. I think there is. I don't know if it's a fantasy scene or what kind of animation they will actually make, so I wonder if that is also a highlight.

It may seem more bulging than the original, but the manga has a lot of space between lines, so I'm making it while assuming what's there. I don't know if it's challenging (laughs), but I'm always thinking 'I want to make animation while having fun' like IKEN, and I think I can do most of the things. I think that I can think of something without being bound by the examples I have seen so far. That is because the image that Asakusa and his colleagues at the Institute for Imaging Research think about is actually connected to the image, and I think this work is full of the real pleasure of creating what you imagine.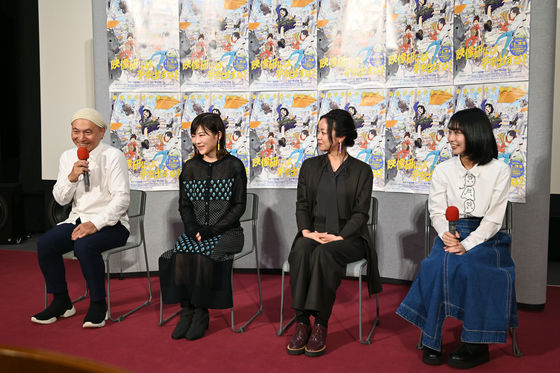 Q:
I had a great time and enjoyed it. I think it's attractive that high school girls push forward with what they like, and what they are doing is what you think.

Ito:
I've always imagined a 'strongest house' like Asakusa ... I think that the house is important, I love it, I can not enter the model room when I was in elementary school, so I can see from the outside, take a friend who is not interested in the place where I am building, and ask the carpenter I heard the story, 'What can I do?' I like going to people's homes and I like to see them. Throughout my life, I search for the structure of a house on Instagram or SNS and create the strongest house in my head.

Tamura:
A great thing has come out (laugh). I'm not very good at all, but I've been on the bran floor for a while. Recently, 'enteric activity' is also popular, and I want to spend it healthy. It seems that living things start from the intestine, so if you invigorate the intestine, you will be energized as a person, and I think that you can do your work well. Recently, I have pickled paprika, avocado, and tomatoes. I often pickle radish or carrots on the bran floor, but I am addicted to the fact that such fashionable vegetables can be delicious.

Matsuoka:
I am absorbed in this dubbing. It's one week a week, but I'm living around this post-record, I take a break after the post-record, and think about the next post-record from the next day. 'What kind of story will you have next week?', Read the manga, make a feeling 'Here or there like this', read the script, 'Do you want to practice and watch the video?' I also manage my physical condition for a week.

Tamura:
She is the first regular, she.

Matsuoka:
Yes. For the first time, I was greatly involved in anime, and I thought that it would be memorable for myself and for everyone, so I am full of feelings that I should do my best. I've been living around this for another week.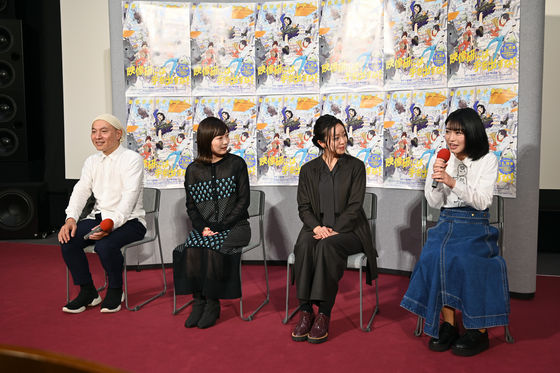 Q:
I have a question for Mr. Ito. What was the difference and difficulty in acting as an actress and playing with only voice?

Ito:
First of all, it's a big difference in the point that you play with only your voice. There is a video in front of me and I'm listening to it when I see it, but sometimes I have to make my own expression even though I have the correct expression (laughs). It doesn't reach anyone, but I'm continuing thinking that it would be nice if I could feel my voice by making that expression. Basically, it's easy to do 'subtractive play' in which I usually draw a large play and pull it, but my voice work is 'exaggerated'. But it's just right, and the atmosphere changes when you ride the picture. I think it's quite a sum. This time, I will perform with a very easy-to-understand direction, such as 'Here is Tora-san' and 'A historical drama.' Although there are some commonalities between feelings and ordinary plays, I think the approach is fundamentally different. Rather than sending it from myself, I feel like bringing the character to life as I am, and I am happy to be involved in character creation.

Q:
There was a feeling of fast running, and I felt that I was speeding up. Did you have any ingenuity while you were acting hard?

Ito:
As I was doing it, it became 'hot!' And I was so hot that I had to lower the air conditioning a little. Anyway, when I'm acting with 3 people, I am pulled. There is a sense of entering the world while acting. There is a sense of unity in the air, I have a voice, and it's fun every time. I hope it gets hot. Anyway, there are many technical terms in dialogue. 'Tap hole', 'catapult', 'injection switch' ... I can't say it now (laughs), but it's so fast that I can't help Shiumei. But I think it's fun and I'll do it. Asakusa has a two-sided nature, and the tension rises with animation, but in the public, I love the gap 'No, eagle ...', so I think that cuteness can be conveyed. .

Tamura:
The first episode is a scene of meeting with Mizusaki, and the tempo is gradually improving. You are accelerating more and more. As I make what I want to make with heat, it gets more intense and the amount of dialogue is increasing. right! directed by!

Yuasa:
(Lol)

Tamura:
Since the scale is fixed, there is a certain amount of information and heat in it, so it's really condensed in one word, and it's really amazing. And not only the terminology of animation, but also the terminology in the animation I'm making. I don't think 'catapult' or 'injection switch' is something that exists in the anime scene, but it's tough to say because it has to speak like a natural thing. Kanamori does not have that kind of scene, but it has a role as a producer, such as having a student council meeting and negotiating with external people, so it is a little poisonous so that people with a very strong individuality can do it without losing. I feel like talking.

Matsuoka:
Each of the three people has their own particular angle. Asakusa is a set picture, Kanamori is an act of making money, and I or Mizusaki is particular about animation. I also read manga and did research, but Mizusaki-chan also likes animation, but I thought he would love acting before that. It was linked to me as well, so I was able to create words quite quickly when I talked about my commitment.

Mizusaki-chan also has many aspects like Asakusa, such as a charismatic reader model. I don't have that aspect, but I think Mizuzaki-chan is acting like this in this aspect. I played. From now on, the images and the energy of the actors will continue to rise, so I hope you enjoy it.

Q:
The ending animation is also in charge of Mr. Sumito Owara, the original author, so please tell us about any episodes about the production. Also, it seems that the three people have the same piercing or earrings, so I would like to hear about that point as well.

Yuasa:
I saw Daido wrote 'I want to draw endings' on Twitter, so when I told him to do it, I decided to stay near the studio and go for 3 days. Therefore, I tried to compose the ending with pictures drawn by Daido.

Tamura:
This was bought by Mr. Matsuoka when I had a social gathering with three people the other day.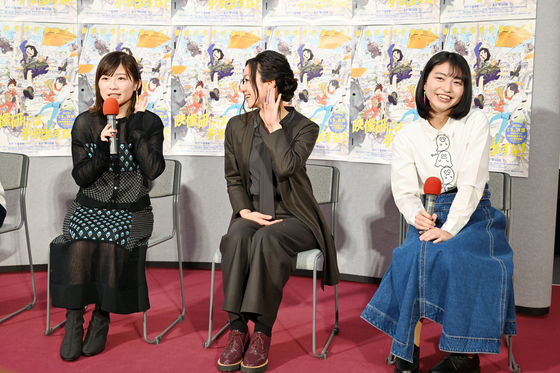 Ito:
Asakusa is yellow because he thought about the colors of the characters.

Tamura:
Kanemori is purple and Mizusaki is pink. Because I draw animation at IKEN, I used a pencil design. Eraser is also included. Since there is a conference like this, why don't we have the three of us together?

Matsuoka:
I was excited.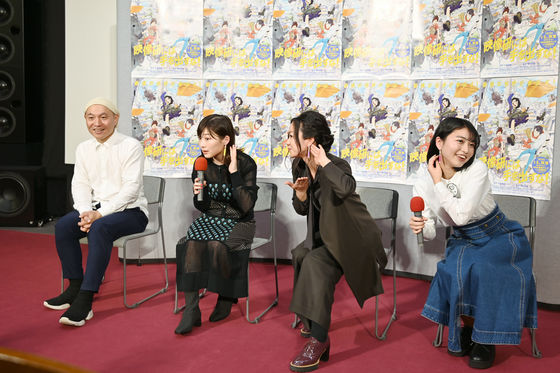 Writer
Osamu Kobayashi
:
I think that the structure of the school that is the stage of the work is complicated and it is difficult to move it, but is it made in 3D? Also, in the first episode, various things are moving in the image board, and it is like getting a delusion to be visualized. Please tell me if there are any difficulties because it is rough.
Yuasa:
Although I'm not working in 3D, I had the art setting do my best. The original work is drawn carefully, and I am trying hard to add more. Since animation is often drawn exactly, it is rather difficult to draw it roughly. There is no detail and it is difficult to make it look three-dimensional, and it seems that shooting is more difficult. It is a highlight as a picture, so I hope you will pay attention to it.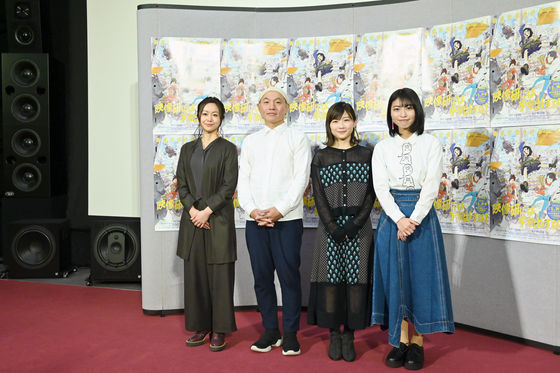 At the end, I asked them to show me matching earrings nearby.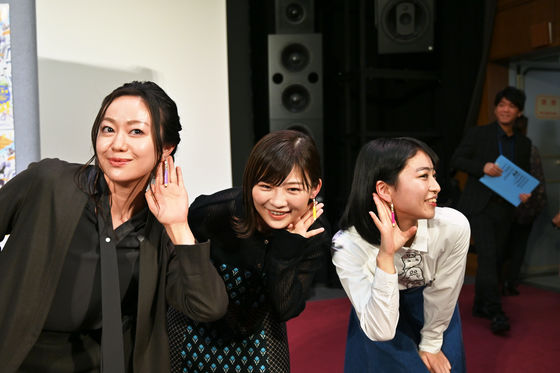 The story of the earrings makes me cry, and the other words that impressed me are the strongest house intestines, mainly the weekly dubbing.
Broadcast from January 5th next year
????????????

pic.twitter.com/v07mLVHNlY — Masaaki Yuasa (@masaakiyuasa) December 26, 2019


'Don't mess with the video lab!' Will start broadcasting on NHK General Television from 24:10 on Sunday, January 5, 2020.

TV animation 'Don't mess with the video lab!' PV 3rd [1/5 (Sun) 24: 10-Broadcast on NHK general TV]-YouTube


・ Continued
'Don't put your hands on the video lab!' Interview with the original author Sumito Owara, the anime said 'I didn't mind if the three protagonists were different.'-GIGAZINE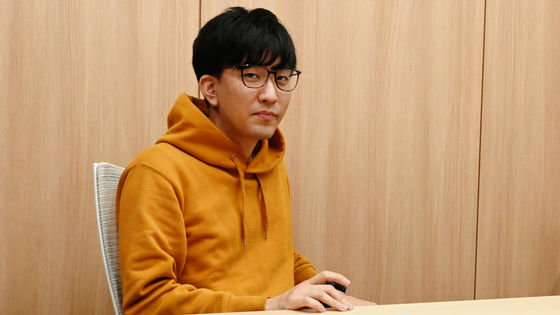 ◆ Work information 'Don't put your hand in the video lab!'
·staff
Original: Sumito Daido
Director: Masaaki Yuasa
Screenplay: Yuichiro Kido
Music: Oortaichi
Character design: Naoyuki Asano
Art Director: Masanobu Nomura
Color design: Ayaka Nakamura
Director of Photography: Yoshihiro Sekiya
Edit: Akari Saito
Sound Director: Eriko Kimura
Animation Production: Science SARU

·cast
Midori Asakusa: Sari Ito
Sayaka Kanemori: Mutsumi Tamura
Mizusaki Swallow: Misato Matsuoka
Hyakumeki: Yumori Hanamoru
Sakiki Sowande: Mikako Komatsu
Prof. Fujimoto: Kazuhiko Inoue
Robo Lab Ono: Tomoki Ono
Robot Lab Kobayashi: Yusuke Kobayashi
Robo Lab Goto: Ryunosuke Watanuki
Robot Lab Seki: Shiori Izawa

© ︎2020 Sumito Daido / Shogakukan / 'Iken Lab' Production Committee