Interview with Mari Motohashi, who was in charge of the storyboard and direction of the animation 'Keep Your Hands Off Eizouken!', And draw out Asakusa's individuality by eating Zunda mochi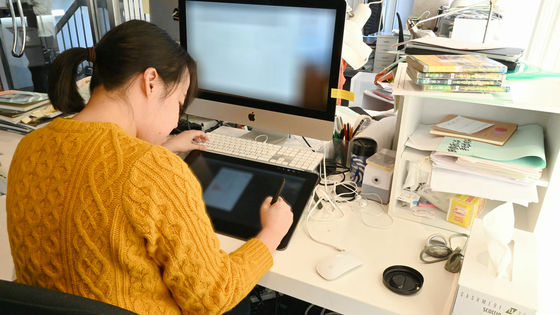 Masaaki Yuasa director and Midori Auditor-Sairi Ito's Asakusa, Sayaka Auditor-Mutsumi Tamura Mr. Kanamori, swallow officers Misato Matsuoka appeared Mizusaki
'Keep Your Hands Off Eizouken!' Premiere and conference reports
,
original author -Following the interview
with
Sumito Owara,
we also interviewed the staff of Science SARU who are actually involved in the production of 'Don't get involved in the image research!'. First of all,
Mari Motohashi,
who was in charge of the storyboard and direction of the first episode. Under Director Yuasa, we asked him how he was working and what kind of painting he was making.
TV animation 'Keep Your Hands Off Eizouken! 'Official site
http://eizouken-anime.com/
Mr. Motohashi who answered the interview.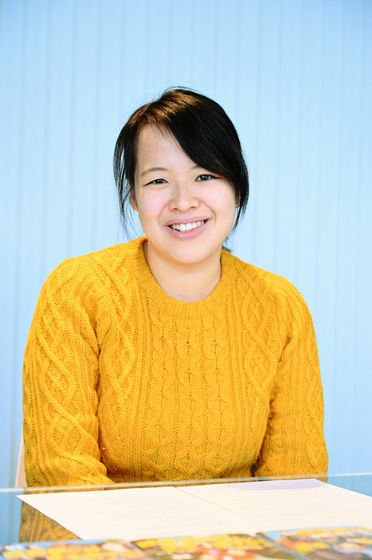 GIGAZINE (hereinafter G):
I watched the first episode as soon as possible, 'Keep Your Hands Off Eizouken!'. The content of the original was inflated without changing the episode greatly, did you draw the storyboard in order from the head?

Mari Motohashi (hereinafter referred to as Motohashi):
The way in which storyboard work proceeds varies depending on the person, but in this case, we proceeded from the beginning. If I get used to it, I can draw from a place where it is easy to draw, but this is the first time I'm in charge of a 30-minute animation storyboard, and I have to think about the overall flow. Director Yuasa also told me that I would like to see it all, and from the whole flow, I added that it was slow and sudden, "here is too much volume" "I want to have an impact here, I want to suppress action"・ Since I will subtract, I thought it would be best to start from the beginning.

G:
How many round trips did Yuasa check the storyboard?

Motohashi:
Basically it is once. After checking, showing the corrections from the director and having a meeting while watching, this is the same for other stories. If you make too many corrections, the motivation of the side of the storyboard will decrease, and there is also the characteristic of the person in charge, so there is no point in correcting all. Basically, it is an image that the director adjusts so as to bring out the writer's creativity and not become irregular as a whole.

G:
Did you make any major corrections in Episode 1?

Motohashi:
There weren't many revisions to everyday parts, and he said, 'It's easy to see and it's pretty good.' However, in the conversation scene, I put the character in front of me and the opponent continued to cut it in front of me ... so in that case, 'In that case, if you sometimes insert a picture in the horizontal position, it will be well balanced. I got some advice. Regarding the action scene, I don't have much experience, and I think Director Yuasa also wanted to do it in the first episode, so I asked him to make major changes to improve it.

G:
You don't have much experience in action, but what is your favorite scene that Mr. Motohashi is easy to draw?

Motohashi:
I don't have this, but I'm afraid of gaps ...

G:
Gap phobia?

Motohashi:
When I place a character, I'm really worried if there is a large background or a space that doesn't fit. So even at the stage of storyboarding, I was thinking about the layout, such as drawing the background firmly like the layout.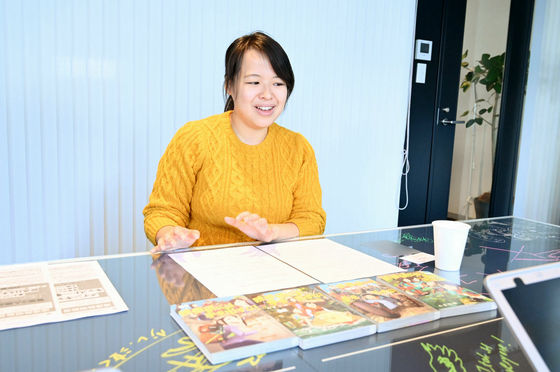 Motohashi:
At the end of the day, there are some people like Mr.
Satoshi Kon
and
Tsutomu Shibayama
who draw and paste a storyboard to make a layout.
G:
Looking at the director's storyboard, I think 'I'm drawing so much at this point !?'
Motohashi:
Depending on the original painting man, I think that just copying the storyboard's image may lower the motivation, so there is a way to leave the part that the person can draw. For everyday parts, compositions with a special angle of view are not suitable, so things such as a super wide-angle desk with a desk that looks as wide as a counter will look nice, but they will look unnatural. So, in this storyboard, I drew it with the aim of making it as orthodox as possible. So I think that most of the cuts were OK.
G:
30 minutes It's the first time you are in charge of a storyboard for anime, 'Keep Your Hands Off Eizouken!', But did you have any experience with storyboards themselves?
Motohashi:
The short animation series '
SUPER SHIRO
', which has been distributed since October 2019, and the rest of the work, we did a practice task of drawing a storyboard together from one script in-house.
G:
Was it difficult to handle one 30-minute anime?
Motohashi:
It wasn't surprisingly difficult for the storyboard.
G:
How long is the working time?
Motohashi:
Approximately 300 cuts for about a month. If you are an early person, some people will draw in 2 weeks.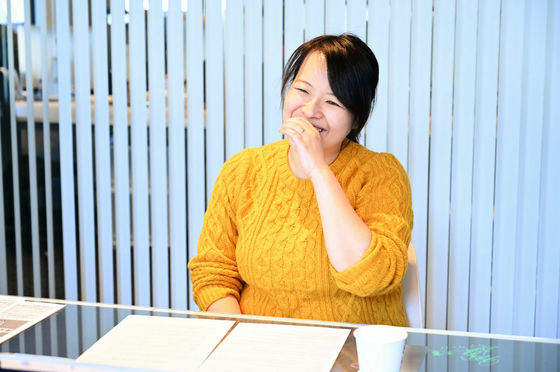 G:
How did you work on the work this time?

Motohashi:
It was the first time for me, so anyway, 'I have to absorb various things from Mr. Yuasa.' Although an animator feels like a writer, in the production of animation, the director is the director, and I think that 'making the things the director wants to make' is the professional work of the director and animation director. I am. Regardless of the position of director, original picture, and art, the correct answer is 'to make the picture that the director wants', so I aimed to 'don't put myself out in a good way.'

G:
What did you think Yuasa wanted to absorb?

Motohashi:
Mr. Yuasa has a career of 30 years, but since I have been in the animation industry in Japan for 3 to 4 years, I was able to absorb know-how anyway. People who have experience have the ability to solve problems or 'use this picture this way' even when trouble occurs. Also, there is a difference between the movie version and the TV series.

G:
I see, i see. There is also something like "how to turn around". Mr. Motohashi played an active role as a Flash animator at an overseas game company, and then joined Science SARU. Why was it Science SARU?

Motohashi:
Originally, there was a time when I was working with Mr. Yuasa and Mr. Unyoung who started Science SARU. I was a member of a Japanese studio at a game company, but after the studio broke up, I was able to get a Science SARU when I was working elsewhere. Then, there is a drinking party where SARU members gather, so when I went, he said, 'It looks like something interesting.'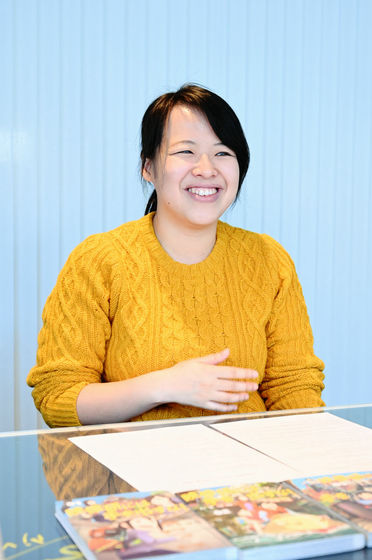 G:
(Laughs) You've had a relationship before.

Motohashi:
Mr. Unyoung seems to have sent me an email at the time of launching Science SARU, saying 'I want a Flash animator, why don't you come?' However, I didn't notice that address because I didn't use it at all (laughs).

G:
What was your first impression of the original 'Don't Touch the Video Lab!'

Motohashi:
I thought, 'Isn't it necessary that I'm not a high school girl?'

(All laughs)

Motohashi:
I wonder if I matched it with the high school girls club activities. I thought that the main characters could be boys, but on the contrary, the feeling of being genderless is very good. It looks rather real. I feel that high school girls are actually refreshing. Even in the field, there is a caveat that the character doesn't often pose or look like a girl.

One scene from the first episode. It's certainly a high school club activity, but what I'm doing is pretty genderless.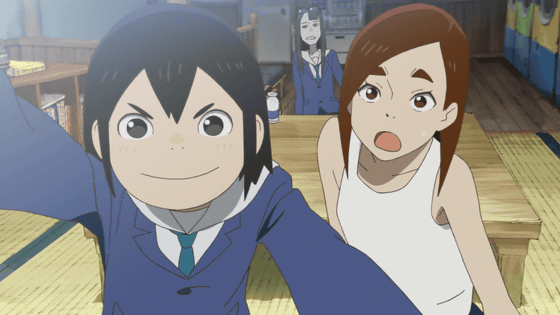 G:
Won't you do something like a kid?

Motohashi:
I think Mizusaki still has a feminine part compared to the two, but Asakusa feels like an elementary school student. Kanamori looks like an Intellectual.



(All laughs)

Motohashi:
Asakusa and Kanamori are easy to understand (laughs), but Mizusaki also wears a cat when in model mode, but his personality is so different that he doesn't look like a 'girl.' It is quite difficult to convey such a thing to Mr. Genga.

G:
It's a girl character, but it doesn't move that way. How are you communicating?

Motohashi:
Basically, I tell the director of each story the contents, and when the director checks the original picture, I correct it with the feeling that 'This character does not move like this ...'.

G:
Do you also draw instructions at the storyboard stage?

Motohashi:
I agree. I'll fix the director though. Depending on the director, it may be 'I want to do this'. 'Iken' can be said to be a 'school girl club', but since the original author Daido's enthusiasm for animation is abundant, it is also popular with creators.

G:
indeed.

Motohashi:
Also, I think Kanamori is a good spice. It's fresh to say, 'I don't have time, so let's just do something.' This kind of response is really on-site.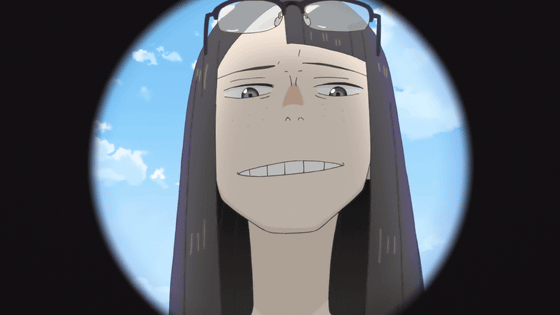 G:
That point is said to be the original work that even people involved in animation production could see.

Motohashi:
I agree. In addition, when the project started, Mr. Yuasa said, 'I want to make it look like there is an animation industry,' and the story of Mr. Yuasa's own experience is also included here and there. As Yuasa-san, I think there were lots of things to sympathize with.

G:
The original author Sumito Owara tweeted on Twitter that 'Iken, as far as I see the story, the concentration of one story is supposed to be naughty ...', but something to the story Did you have any feedback?

As far as I see from the Institute of Imaging Research and Conte, the concentration of one episode is supposed to be unreasonable. damn. Is it possible to broadcast on such a super anime TV? Www ordinary Aniota I can only make a reaction www www this is www

— Daido Sumito Owara (@ dennou319) July 30, 2019


Motohashi:
For the first time, I am very impressed to know what you are saying.

G:
Did you increase the concentration intentionally? Or does it feel like it went up naturally if you were doing it?

Motohashi:
I like animations that move well, and I like cartoons from overseas with simple characters, and animations of those ages such as 'Dog Frog'. I have talked about old anime with Yuasa-san, but I was told that 'Mr. Motohashi, you know quite old animations' ... I think that's why I thought that moving animations increased the concentration. I don't know.

G:
It was really moving.

Motohashi:
In the first episode, there is a scene where Asakusa eats a mochi rice cake. That's the behavior that Asakusa first appeared, but if it's a normal animation, it's 5 to 6 pieces, put a container of Zunda Mochi, open it, eat it, and move it, just move your hands My body doesn't move, but I wanted to make Asakusa's character stand out, so I think it's better to focus here, so I'm increasing the number of original images.

G:
In this way, rather than moving the hand in a straight line, it feels like you are turning your arm.

Motohashi:
Normally, the orbit when placing it is also a straight line, but in order to make it easy for the customer to see, I usually move the arm largely. At times like this, I give the video a hint of the orbit, saying, 'I want to make this movement.' When eating, the human movement first takes food, but at the end it picks it up from the face. If you lift something and put it in your mouth without moving your face, it will look like a robot, so if you eat it close to your face, eat it, and if you eat chopsticks ... then the number will increase. I'm sorry.

(All laughs)

Motohashi:
This was the first reaction that brought out Asakusa's individuality, so I wanted to stick to it. If you do it properly, the presence of the character will increase, and it will be more convincing than reality. Everyone, I casually watch it when I'm watching it, but I naturally make a cut that can flow naturally (laugh)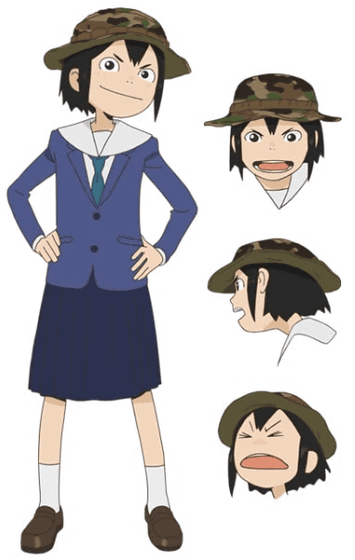 G:
Is there any other scene that is built like that of eating Zunda Mochi?

Motohashi:
When Asakusa sits on a chair when he was little, the number of 'grab a rotating chair and sit down' has been increased by a factor of 2-3. The movement of the legs is usually about four cuts, but it is stiff.

G:
How did you come to understand that the reality increases as you pursue eating and foot movements?

Motohashi:
Experience? If you actually try to do the movement yourself, you will find that 'this part unexpectedly moves up to this point', so you should not move it yourself.

G:
So that's it. Is it an image that if you insert a cut with more details first, the character's reality will increase?

Motohashi:
Well, I think reality is important. Anime is a fiction, so if you don't give it a persuasive power somewhere, it will be cheap. So if you don't pay attention to the hand holding the glass, the hand holding the pencil, etc., it's just an animation. It is an animation of characters who are enthusiastic to make anime, so I think that if the actual characters do not move so well, the quality of the whole work will decline.

G:
Oh ...

Motohashi:
I thought it was very important when I was in charge, so I was very conscious of it.

G:
So that's it. I enjoyed the first episode with excitement. Thank you for the place busy.

Mr. Motohashi who immediately returned to work after the interview.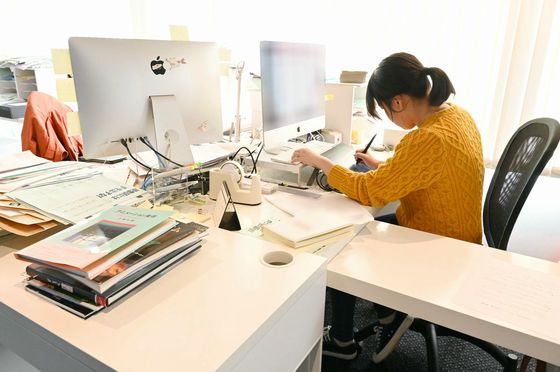 The process is becoming digital, so I am working on a tablet.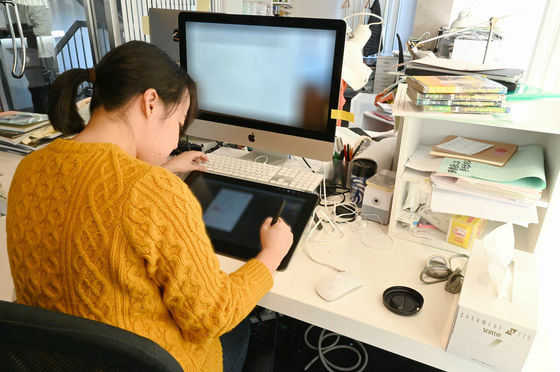 Following Mr. Motohashi, in the fourth episode, we conducted an interview with Mr. Fuga Yamashiro, who is in charge of storyboarding and direction.

・ Continued

Interviewing Fuga Yamashiro, who is in charge of storyboard and production, episode 4 of the movie that I saw, dividing it into frames and using it as my own production material.