Interview with director Tamura Kotaro of the anime movie 'Josee, the Tiger and the Fish', what is the work of the team as a whole?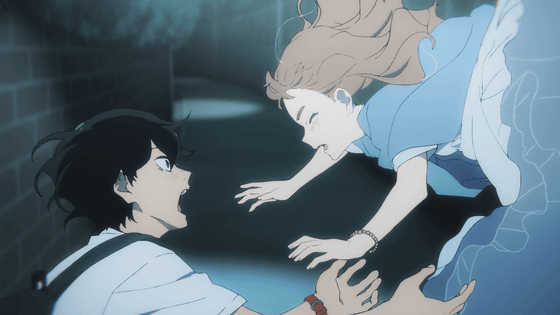 The anime movie 'Jose to Tiger to Fish
' based on Seiko Tanabe's novel will be released on December 25, 2020 (Friday). We asked Mr.
Kotaro Tamura,
the director of this work, in detail about how he animated a famous work that was made into a live-action movie in 2003.
Anime movie 'Jose, the Tiger and the Fish' official website
https://joseetora.jp/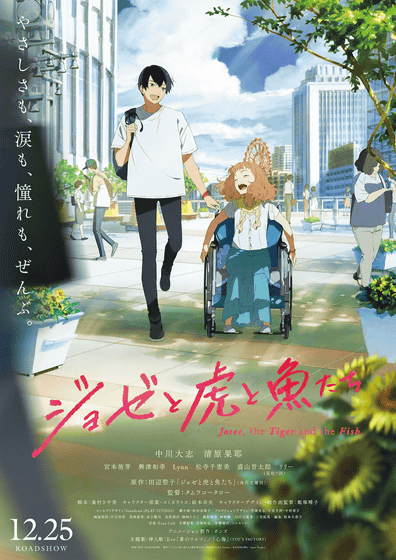 GIGAZINE (G):
From the beginning, it's a story that seems to be tied up by the South producer, but at first I didn't expect that much because it was a movie work that Mr. Bonds was working on.

Director Tamura Kotaro (hereinafter Tamura):
Eh (laughs)

G:
That's because the 2007 release of '
Sword of the Stranger Muouhatan
' was so terrifying that 'it would be difficult to exceed this.' However, when I saw this work, I was very surprised that 'I will show you in this direction.'
Tamura:
Oh really! Thank you very much. It was betrayed in a good way.
G:
Anyway, I felt 'I saw a great movie'.
This time, a dialogue between director Tamura, screenwriter Sayaka Kuwamura
, and producer
Shuzo Kasahara
was posted on the press sheet, and the director said, 'The first entrance to'Jose, the Tiger and the Fish'was the original novel.' Mr. Kasahara prepared various novels in a paper bag and read them all from the beginning, but the one that caught my eye was 'Jose, the Tiger and the Fish'. ' But which part was the element that came to your mind?
Tamura:
First of all, the title was very good. It's a strangely caught title. Actually, I hadn't seen the live-action movie released in 2003. I don't know if it's the original or the movie, but maybe I heard the title somewhere and remembered it.
G:
So that's it.
Tamura:
Is it because there are many motifs? I don't really understand the three motifs of 'Jose,' 'tiger,' and 'fish,' but what is the connection between them? ' Even though it was set in Japan, there was a mysterious intonation, including the beginning of 'Jose', 'French!', So I got caught first. And when I finished reading the work, I thought, 'Well, is it the end here?'
G:
Sure, I understand.
Tamura:
The original story ends with 'I think there's something going on in the future', so when I finished reading it, I felt like 'I'm really trying it out.' I think this has a lot to do with the fact that I am the creator.
G:
'Tryed'?
Tamura:
This original work can be taken in any way, so I felt like I was told, 'I have prepared an attractive stage and characters, so let's complete this puzzle.'
G:
So that's it.
Tamura:
It can be seen very positively and backwards, so I think the range of impressions of the readers is very wide. The live-action movie has a great way of inflating it by director Isshin Inudo and screenwriter Aya Watanabe. Without knowing that, I thought, 'I feel like something interesting drama will start from here.'
G:
method.
Tamura:
Most of the paperback books in the paper bag given by Mr. Kasahara were completed as a story, but only 'Jose, Tiger, and Fish' was shown only at the entrance and hidden after that. It was a feeling. That's why I thought that my imagination was stimulated, or 'I wonder if I can make a feature film using this stage.'
When I told Mr. Kasahara about that, he was really biting. Maybe it was Kasahara's favorite. When I said, 'This was strangely caught,' the response was 'I like it,' but
Mr. Suzuki,
the producer of Bonds who was present, said, 'Tamura-san, I'm quite prepared to do this. Please. '
G:
Prepared (laughs)!
Tamura:
Since live-action movies have already appeared in the world as masterpieces, the preconceptions of the world are very strong, and there are also very sensitive parts as works dealing with people with disabilities.
G:
indeed.
Tamura:
Mr. Suzuki reminded me that if I wanted to do this, I would have to do it thoroughly. So I calmed down and thought about it, but he said, 'I want to do it if there is a possibility,' and introduced me to the scriptwriter, Sayaka Kuwamura. Mr. Kuwamura is also a fan of the live-action version of Jose, and Mr. Kasahara knew in advance that he was interested in the work. So, I think it was an interesting combination of me, who doesn't know the live-action version at all, and Mr. Kuwamura, who is very influenced and respected by the live-action version.
G:
Fumihiro Katagai, a mechanical designer who participates as a production design in this work, said on Twitter, 'In a hand-drawn animation, a realistic wheelchair is one of the most difficult motifs due to the difficulty of combining both 2D and 3D with characters. 'Jose, Tiger, and Fish' is tackling this challenge head-on because wheelchairs are one of the subjects. It is the result of the efforts of all the staff. ' When I watched the movie, 2D and 3D were so familiar that I could hardly tell them apart, but are there many 3D parts other than wheelchairs?
In hand-drawn animation, a realistic wheelchair seems to be one of the most difficult motifs in both 2D and 3D due to the difficulty of combining with characters. 'Jose, Tiger and Fish' tackles this challenge head-on because wheelchairs are one of its subjects. It is the result of the efforts of all the staff. #Jose Tiger https://t.co/Lmxs2ELx0t

— Fumihiro Katagai / KATAGAI Fumihilo (@fumihilo) September 7, 2020


Tamura:
Some cars running in the city and mobs seen in the distance are expressed in CG. Also, most of the school of fish is CG. After that, camera work that wraps around, such complicated parts and places with a keen taste could only be done in 3D. For these cuts, the building is placed in 3D, and a picture of art is pasted on the object so that it does not look strange with other cuts. So I'm very happy if it looks like a natural flow. As you said, it is the result of the efforts of the staff.

G:
In Mr. Bonds' work, I see camera work that goes around the background in some places, so I wonder if it is a common production with such places.

Tamura:
I like turning it (laughs)

G:
(smile)

Tamura:
I don't want it to look like a sermon-like work that you can see with your knees together. I think it's easy to create a sermon-like aura that everyone can show at a public hall for a work that has the theme of 'wheelchair'. I didn't like it looking like that, and I didn't like it looking like a dark work. In fact, when I interviewed a wheelchair user, when I asked, 'Would you like to see something in a wheelchair?' I don't want to. ' When I heard that, I strongly thought, 'I want to make a work that people in wheelchairs will also be interested in.' Therefore, although it is a work that deals with complicated subjects, 'Isn't it possible to create a bright and light atmosphere?' Is a very conscious part.

G:
The atmosphere was certainly kept bright, probably because of Jose's character.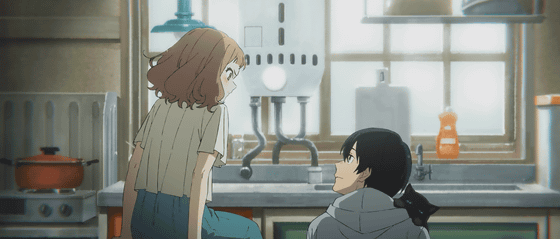 Tamura:
This work is categorized as a serious work for me, but even though it was serious, I wanted to make fun scenes fun and bright scenes bright. If you make it in a dark atmosphere, it will look like it's slipping. Besides, because I make a bright place firmly, it comes to me when it's dark, so I thought about how to make the work look smooth at least so that the difference can be seen clearly.

G:
It has been published in YouTube, Tamura director and concept design in charge loundraw 's, the producer Ryu Ishii told the behind-the-scenes ' SESSION 03 |? It loundraw × Tamura Kotaro × should Ryu Ishii' director - Theater animation In 'Jose, the Tiger and the Fish' Behind-the-Scenes Talk- ' , the director said,' I was trying to paint the content a little and go with this image. ' What is the purpose of painting the loundraw?

Tamura:
In the first place, animation is made by division of labor, so the person who draws the background, the person who paints the character, and the person who performs the shooting process such as adding light or blurring are also different. Then, even in a scene where I thought, 'This is a showcase, so I want to go with a strange atmosphere,' that is not shared, and the film is somehow completed without a goal. That's why I wanted a single 'sample of the completed screen', including the character, background, and shooting process. However, it is difficult to make it in detail because there are many scenes, so I asked each section to roughly color the small frames of the conte so that I could roughly understand how to put in light and so on. I try to convey that 'I want you to make adjustments toward this completed image.'

G:
I see, that's why I had a job title to color the content. In Japanese animation, coloring the content is probably a technique that is so often used ...

Tamura:
In this work, I asked loundraw to draw the image board. The order is 'at the stage when the scenario is likely to be completed to some extent', and the characters and background in the image board are drawn by loundraw in an atmosphere like 'somehow like this'. The original draft of the character design
was being carried out in parallel with Nao Emoto
, so it wasn't completely nonexistent, but the atmosphere of Jose and Tsuneo wasn't solidified yet. On the other hand, Jose's room is designed by designer
Shoko Nakamura
, and the house is designed by
Akihiro Hirasawa
, who draws storyboards based on that. In that case, the atmosphere of the first image board drawn by loundraw will be a little different.
G:
Yes. Yes.
Tamura:
I've been interviewing at the same time. By going to location scouting in Osaka, the arrangement of things changed, like 'This is the actual place.' In the sea scene, loundraw's image board showed that the beach was close to the beach and flat, but the Suma Seaside Park that I referred to had a slope-like coast, and I felt like I could see the beach under a slight slope. What is it? If that happens, the appearance will change, so you will have to redraw the storyboard by matching it with the actual location, and you will not be able to reproduce loundraw's image board. However, the atmosphere of his color was very good, so I want to bring it as close as possible. So I asked the members of loundraw's studio to paint the content of the main scenes while referring to the image board, and I felt like I had them color it.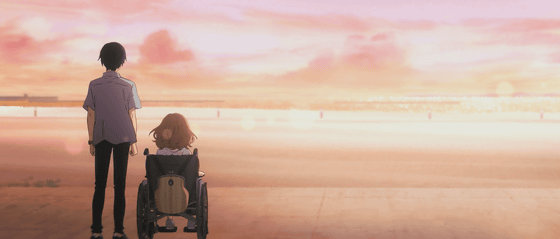 G:
I see, that was the case. In the same video, the director talked about cutting all the storyboards of this work himself. How long did it take to work?

Tamura:
I don't remember exactly, but I think it was roughly 10 months.

G:
10 months!

Tamura:
The length of the movie is long. In the TV series, it's about five lengths, but I had to cut it all together, so it took about 10 months to complete the first draft of the main story. After that, I added the opening and listened to the opinions of various people, and frequently made corrections to the main story, and started the actual production. By the way, I didn't draw the ending storyboard until it was almost completed.

G:
Really?

Tamura:
Until the end, I couldn't conclude with the producer whether to include the picture or not. Since there is an epilogue, there is an opinion that it may be a snake foot to put a picture in the ending. I was worried until the last minute, but when I was listening to Eve's song singing the theme song, my imagination was stimulated, and when the song was fixed, I said, 'Oh, this is the only way to put a picture.'

G:
(Laughs) Sometimes it depends on the power of the song.

Tamura:
The producer said, 'Are you still doing it?' (Laughs)

G:
When I actually saw the work and thought at the ending, 'I'm going to do it well. I see, that's the end.' I felt, 'Don't do it all the way.'

Tamura:
After all, I wanted to draw Jose's independence, so I thought it was important to ask what happened after that.

G:
In the story of the 'behind-the-scenes talk' video again, the director reiterates that 'I am not a painter.' You've worked on a lot of storyboards in your career, but are there any tips or tricks you're doing because you're not your main job?

Tamura:
Is it a knack? Well ... When I actually draw a picture, I think that storyboards shouldn't be drawn unless there is a plan in my head that says, 'If you combine this with this, you will get a picture like this.' If you can see that 'If you combine this part with this part, this cut will be completed', I think that it will be possible even if the picture is a little sloppy, but on the contrary, 'No matter how good the picture is, as a storyboard Even if the picture of the stop is established, it will not work when it moves. '

G:
Oh, I see.

Tamura:
I am careful there. Also, I am conscious of 'I will not make pictures that cannot be realized with the current technology'.

G:
In the video, loundraw asked, 'How should I give instructions to the professional staff of each genre as a director?', And Tamura said, 'I should say everything.' I was giving some advice. Does this 'say everything' mean 'verbalize everything'? Or does it mean, 'What comes to mind or comes up, even if it's not organized, first tell it?' How does the director practice 'say everything'?

Tamura:
I think it's important to say, 'Even if it's not organized, I'll just say it.' For customers watching anime, there are parts that we do not want to understand, and parts that we want to leave room for imagination, but the creators must make it with a clear intention. So, I don't say in the play that 'Jose actually feels like this' or 'Tsuneo actually feels like this', but I have decided and what should I do to express that? I think it's best to talk to the staff about this.

G:
Hmmmm.

Tamura:
In this work, there are lines that seem to be soliloquy, but basically I don't use monologues, and I can't get anything like 'voice of the heart.' Then, in order to understand the feelings of the characters, it is the tone of the voice, the gesture, the atmosphere of the scene, the dark or bright, the music, the sound effects. There are, and I have to express the emotions of the scene in various ways. To that end, I thought it would be better to talk to the staff, 'I want to express my sad feelings here, but what should I do to do that?' The story doesn't go on just by saying, 'It's better to darken here.'

G:
surely.

Tamura:
I think it's best to tell the staff what kind of intention you want to create this scene without hiding it. I don't tell the customers directly because I think it's better to have them understand indirectly, but I don't tell the staff very directly, 'No, I express my anger at this time. I have to say, 'I want to do it,' 'I'm crying at this time,' and 'I'm not crying on the surface, but my feelings are crying.' Then, in order to express that, ask everyone to think about 'then what color do you want?', 'What pose do you want?' And 'what kind of facial expression do you want?' For that reason, even if the words are not organized, I think it's better to tell the staff in your own way. When you receive the information, the staff may suggest, 'If you have that intention, why not try this?' That is the one who says, 'I'll just say it.' If that doesn't convey ... it can't be helped anymore (laughs)

G:
(smile)

Tamura:
It was a bad match. However, the staff of this work picked up what I wanted to say, so I was grateful that the session went well. Really, I can't make a movie by myself, so I think everyone was very enthusiastic.

G:
The director said, 'I started from the production process and became a director.' Did you enter the industry with the aim of directing animation in the first place? Or do you feel like you've become a director when you realize it while you're working?

Tamura:
It's not sweet enough to be 'if you notice', so 'I thought I'd be' (laughs). From the upper grades of elementary school, the expression 'animation' was very interesting, and I often drew flipbooks. When I went to high school, I didn't care about college anymore, and I was just thinking about how to get a job in the anime industry as soon as possible.

G:
Is it an image that you pushed forward thinking 'to become a director' at a fairly early stage?

Tamura:
The goal is not to be a director, but to make a work, so the director is also 'one of the means'. Sometimes it's a scriptwriter, and sometimes it's a producer. In my case, when I read the script, the image often came to my mind as a video, so I thought that the director and director were more suitable, so I chose that career, but the director said, 'In making the work. I think it's one of many ways.

G:
'The moment you become a director, you have to go to a mysterious meeting called'scenario meeting',' said Tamura in a behind-the-scenes talk. Did the meeting for this film go smoothly?

Tamura:
In the case of 'Jose, Tiger, and Fish,' it took a long time, and I think the script was probably rubbed for over a year.

G:
1 year!

Tamura:
First of all, there were very few clues to the original, and it took a long time to decide how to arrange it because it had to be a modern drama. Also, because Mr. Kuwamura, the scriptwriter, had no experience with animation, and I didn't have the words to tell Mr. Kuwamura yet, I think there was a part that it took time to get in line. .. And I also think that the producer wants to release it to the world, so it took me about a year to make it something that everyone could agree on.

G:
Regarding the script,
in an interview conducted during the first phase of 'Noragami,'
Tamura said, 'If you have any questions about the emotional parts or settings that are not clearly drawn in the original, immediately call Adachi or the teacher. He checked it, and he gave me the script and storyboard every time, so he pointed out the part that I didn't want to remove. ' How was this work?
Tamura:
In this work, I think the scenario development team was very motivated. Producer Kasahara, Producer Suzuki of Bonds, and Mr. Kuwamura all tried to come up with 'what to do instead' when 'no good' for someone's idea. I think we could see the chance when each of us came up with ideas little by little. At the time of scenario development, the original author
Seiko Tanabe
was still alive. However, if you don't decide that you want to do this kind of dramatization, you can't bring it to Mr. Tanabe first, and if there is no consensus among us, ask the teacher to confirm it.
G:
surely.
Tamura:
Professor Tanabe wrote 'Jose, Tiger, and Fish' 36 years ago. The teacher is old and it is one of the many short stories, so it is difficult to confirm each one and get an answer, so first of all, 'One answer among us' It's best to put it out and ask about it. '
G:
It's was so. The question is a little off from 'Jose', but in a past interview, Tamura said that when he was a kid, he could only show him about NHK. What kind of work were you looking at?
Tamura:
We had a time limit when we watched TV. So, when I was new, for example, 'I want to see'Dragon Ball'', I had to give up something else. It's like, 'If you're within the time limit, you can see what you like.'
G:
Oh, I see.
Tamura:
That's why I couldn't watch dramas at all, and I couldn't keep up with the topics of dramas that are popular at school. However, we had a younger sister under the age of 6 and it was okay to leave only 'NHK education' on. Animation was also broadcast as a program for children, so I could watch it as much as I wanted.
G:
(smile)
Tamura:
I was interested in 'Yadamon
' while there were some works that looked like sermons. It was a work with a 10-minute frame, but it was a work that greatly exceeded the format. As those who were watching at that time will understand, it is a fairly ambitious work even now, and it starts as a witch girl who is a 5-year-old hero, but in the second half the story progresses on a global scale. is. Moreover, even though it is a witch, the future is the stage and the science fiction element is strong, and none of the characters believe in the power of witches and magic. It was interesting that the story proceeded as it was. At the end, it became a story like hitting the moon against the earth (laugh)
G:
No, surely (laughs)
Tamura:
'What are you doing!' (Laughs). It's NHK's 10-minute frame animation. Nowadays, he usually talks about the destruction of the world in the frame of '
Nintama Rantaro
' and '
Ojarumaru'.
I accidentally saw this in the upper grades of elementary school, so I was really inspired by my imagination and thought, 'This work doesn't lick children.' I was really into it, thinking, 'This is probably a work that even the creators of NHK can think of.' 'Did no one stop this?'
G:
I understand (laughs)
Tamura:
Although there are complicated developments, the story goes on as long as the child can keep up, but go in a heavier direction. Looking at 'Yadamon', I thought, 'Anime is amazing. Music, movement, and character play combine to make a very emotional work.' I liked painting, so I drew pictures and communicated with my friends as soon as I couldn't talk to them on TV. So, if you're thinking of eating in the future with pictures, it was normal to write 'manga artist' as your dream for the future, so I also wrote 'manga artist', but I wrote 'Yadamon'. After seeing it, I came to think that 'animation is very interesting'. Moreover, when I heard that the animation was drawn by hand, I was shocked to hear, 'I'm drawing this one by one !?'
G:
(smile)
Tamura:
I don't think that someone is drawing each and every one of the anime, but that's what it is. I thought that the picture would move freely. I'm an elementary school student (laughs), so I thought I had a world like this. So, I didn't want to understand animation deeply, but when I bought an animation magazine after 'Yadamon', I realized that people were making it, and there, 'There are people who are making this. Does that mean that I have the potential to become myself? ' And when I was a junior high school student, '
Neon Genesis Evangelion
' came out into the world.
G:
It came out (laugh)
Tamura:
I think it was the third issue when KADOKAWA
started Shonen Ace
, but Yoshiyuki Sadamoto
's 'Neon Genesis Evangelion' manga started.
SUEZEN,
who was designing the character for 'Yadamon,' had just started serializing '
Marine Color,
' and I felt like I met him when I bought Shonen Ace for SUEZEN. '
Nadia: The Secret of Blue Water
' is NHK, so I could watch it freely (laughs), so when I thought, 'Oh, is it a new work by the staff of' Nadia: The Secret of Blue Water '?'
G:
(smile)
Tamura:
In 'Neon Genesis Evangelion', many special features of creators were organized. Then, 'the creator was thinking about this kind of thing' came out to the world, and a storyboard collection was released, and from that point, 'I have a profession to make images. It's like that. '
G:
The encounter with 'Yadamon' will have such an effect (laughs) I will return to the past interview again, but Director Tamura was
asked about
the original elements in animating
'Noragami
' and said, 'If I was a fan, I definitely don't want to see it in a digest. It's the scale needed to empathize, so it's time to imagine what the character is thinking if the development happens one after another before you like the character. There is no such thing. ' Although the length of this work is less than 2 hours, it seems that it is being developed reasonably while being packed with many developments and elements, but Tamura thinks that it is 'the scale necessary for embracing emotions'. How much balance is it?
Tamura:
This is a very sensory issue, so it's very difficult to verbalize it ... I have to make some events in the scenario to like the characters, and I have to skip the time to make the event, but in order to skip that time, 'How?' It's like calculating back 'Isn't it unreasonable?' First of all, I decided the key points of the character's event, and I made one scene one scene relaxed as much as possible, but it seems like I skip between scenes tremendously.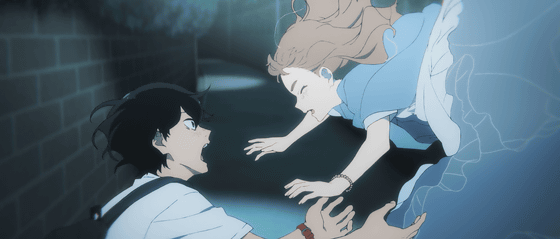 G:
Oh, I see.

Tamura:
So I declared that I would keep it in 100 minutes as much as possible, and this time I managed to put it in 100 minutes.

G:
In an interview published in Animate Times at the time of 'Noragami ARAGOTO ', 'The characters are rampaging on the screen, but I wanted to avoid just feeling uncomfortable. So,' Finally I want the customers to feel like this. '' Then, how do the characters move by the time they get there? ' It is understandable as a concept to make it by back calculation, but there are still many works that have failed. This work has been successful, but what are the possible causes for failure when calculating backwards?

Tamura:
It is difficult to say what the factor is, but the back calculation can only be done from the scenario. Storyboards take a lot of time to draw, so it's difficult to redraw them significantly later. However, if it is a scenario, it is relatively easy to rewrite. Since it is a character, you can cut out a part and shift it to the first half of each scene, or listen to various people's stories and give immediate feedback. That's why I decide the flow at the time of the scenario and draw the storyboard on it, and I never leave the car at the end. Instead of 'somehow this will happen', he says that he will make the scenario 'this scene will take this scale, so I will put it in it' including the feeling of the scale.

G:
Indeed, if you proceed with that kind of thinking, it is unlikely that you will fail.

Tamura:
The sense of length of the shaku is a little different between the drama and the animation, so that was one of the parts that took a long time to reconcile with this work.

G:
So that's it. In the same interview, 'What I have cherished for a long time is the motives of the main characters. While seemingly doing slapstick gag, I verify all their behavioral principles. It may look like you're doing it, but it's all about thinking and drawing. ' How was 'verifying all the principles of action' done in this work?

Tamura:
At the stage of the storyboard, it was decided within me that 'this person is thinking like this at this time', so I feel like I'm putting on a play so that it doesn't stick out of that decision. is not it. Therefore, if the characters do not stick out from the emotional line that I imagined, it will be OK, but if it does, it will be retaken. The sound is similar.

G:
Not only the picture but also the sound has an assumed line in the director.

Tamura:
I agree. There is a certain degree of freedom, but I say, 'Because it's out of here, fix it.'

G:
'Noragami' directed by Tamura is based on a manga, so 'Unlike the manga that readers read at their own pace, the tempo is forced in the video. So the shocking scene, that is, the peak of the story, is It will be necessary to organize the time axis and put it together in one place without distributing the information. ' In the case of this work, there are many parts that are different from the original novel because the story is modernized and the volume is expanded, but how did you organize the scene?

Tamura:
Emotional turning points, peak points, etc. are at key points in the story. At that time, it is better to collect information, or to organize emotions in emotional scenes, and to organize sad scenes into sad scenes and fun scenes into fun scenes. It's not good to disperse too much, especially the scenes that you want to be emotional are not too complicated and are boosted in an easy-to-understand manner with music. On the other hand, other scenes may handle unexpectedly complicated information. So, if it's a sad scene, what kind of picture to make to boost sad feelings, what kind of plot to make, what kind of color to use, etc. are all decided by back calculation from the emotion line. That's why it means 'calculate backwards based on the scenario'.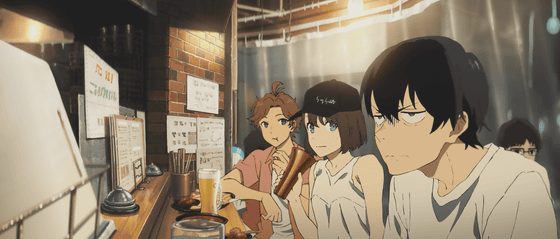 G:
Oh, I see. That kind of thing is also 'calculated backwards' including the deadline. I mentioned at the beginning that I was surprised to see this work, but as a creator, is there any part that made it feel better than I expected?

Tamura:
This is the scene of a diving shop where Jose and Mai Ninomiya meet for the first time. In that scene, the music in the store is just playing, so I can't borrow the power of music separately, and I can't use the monologue. However, Tsuneo is Tsuneo, Jose is Jose, and Mai is Mai. However, it was really difficult because I had to bring it to a state where only the viewer could understand the feelings of everyone. If that scene isn't established, all the latter scenes won't be established ... 'Why Jose got angry,' 'Why Mai was frustrated, and why did she respond with a smile?' But if it doesn't look like a normal scene, it's useless, and you have to do everything smoothly. Since the place is a diving shop, you can't use strange colors, you can't change the way you shine light, and no one can talk about your feelings. It's not a big play, but if all the hookups up to that point are the key and the stacking isn't working well, the scene itself won't work.

G:
Well, I see.

Tamura:
I show that Mai likes Tsuneo before Jose comes out as information, but it will not be established unless such things are properly communicated, and that Jose is shy, the world I have to tell that I have a complex with girls of the same generation. For me, if that scene goes well, everything will go well in the second half.

G:
No, it's amazing. I've heard a lot of strange things over a long period of time, but thank you for your answers.

Tamura:
thank you very much!

The movie 'Jose, the Tiger and the Fish' is a national road show on December 25, 2020 (Friday).


Anime movie 'Jose, the Tiger and the Fish' Long PV --YouTube
[Released on December 25] The opening scene of the anime movie 'Jose, the Tiger and the Fish' has been released! !! --YouTube
©2020 Seiko Tanabe/ KADOKAWA/ Josee Project
Distribution: Shochiku / KADOKAWA
Along with the release of 'Jose, Tiger, and Fish,' we also interviewed Masahiko Minami, the representative of Bonds, who was in charge of animation production, following Director Tamura.
・ Continued
Interview with Masahiko Minami, the representative of animation production company Bonds, talked about the meaning of animating 'Jose, the Tiger and the Fish' and his thoughts on the work he created --GIGAZINE