Interview with Yuta Sano, animation director of 'Pupelle of Chimney Town', which summarizes 'garbage humans' into 'non-human' movements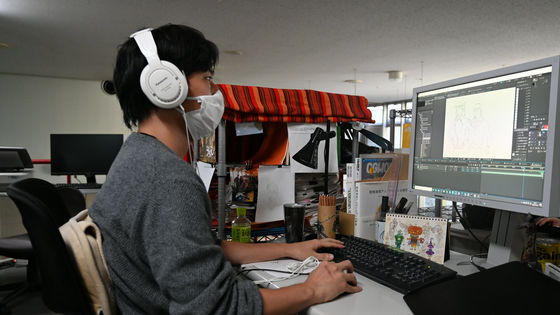 In 'Movie Entotsucho Pupel' released from December 25, 2020 (Friday), there is an 'animation director' in addition to the director who organizes the work. Yuta Sano, who was in charge of this position, asked me a detailed story about what kind of work he did.

'Movie Entotsucho Pupel' Official Website | A blockbuster screening!

https://poupelle.com/
GIGAZINE (G):
Mr. Sano is in charge of the animation director in 'Pupelle of Chimney Town'. What does the animation director do?
Animation director Yuta Sano (hereinafter Sano):
It depends on the work, so I can't say it unconditionally, but basically the 'director' is the 'general manager of the production' who sees the whole thing. In the case of animation, there are other technical problems with the animation itself, so it is necessary to have a 'responsible person for movement' who controls all of them. In the case of drawing, the position is 'animation director', and in the case of CG, it is not drawing, so it is 'animation director'.
G:
What kind of work is required for 'supervising the movement of 3DCG'?
Sano:
Basically, even though it's an animation, it's acting. If each animator makes that performance, it will all be a separate performance. If someone does not supervise, the quality will be different, and even if the quality is high, if it is not the movement required for the work, it will be transmitted to something different. So, I feel that a director is needed to put together all the points such as 'whether the acting has reached the quality of this work' and 'whether the movement is in line with the direction of the work'. Of course, I also make animations myself.
G:
'Movie Entotsucho Pupel' has a picture book as the original, but the picture book does not move. What is the difficult part to actually move it as 3DCG?
Sano:
There are a lot of difficult points, but first of all, since many of the characters appearing in this work have quite unique proportions, it is quite difficult to think about 'how they move when they move'. If it is a character close to a human, basically it is enough to make it move in the same way as a human, but in this work, although it has a human shape, if it is an actual human, a person with such wide shoulders and short legs There are a lot of characters like that. On the other hand, dinosaurs are completely different things, so it has another difficulty, but it's a little easier.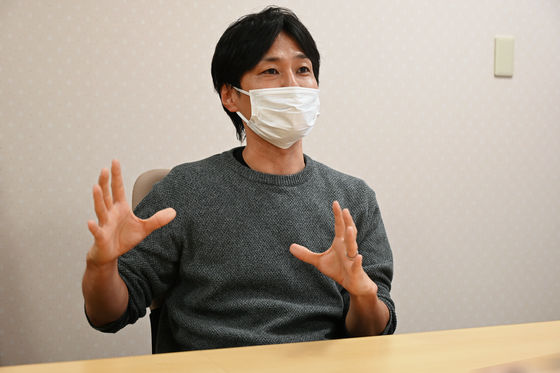 Sano:
The character of this work is 'the proportion is completely different from humans, but the character is human', so the viewer expects the movement of humans. Therefore, it must be a human-like movement, but if you move the human movement as it is, it will not match the character of this work and it will feel completely different.

G:
Is it a 'totally different move'?

Sano:
For example, the character Rubic in this work is a toddler who is about 2 or 3 years old in terms of body shape, but in reality, he is not 2 years old and thinks like an adult. However, if you move in the same way as the proportions at the key points, I think that those who are looking at the work will say 'this kind of movement is cute', and depending on the scene, Rubic's 'have your own will firmly' There are times when I have to put out the part that says, 'Take an adult-like way of thinking.' Also, Bruno looks like a giant rather than a human (laughs).

G:
That's right (laughs)

Sano:
How does such a character interact with Rubic, who is about 90 cm tall? That kind of thing doesn't exist in the normal human world, but people who see it see it as something that can be normal, so we have to show it properly. That kind of thing is very difficult.

G:
I see, it's true when you say it.

Sano:
Animation basically doesn't make the same proportions as the real human world, so any piece has the same problem. Atsuko Fukushima, a designer, is a solid person in this work, so the character looks like a real human being at first glance, but in reality it is very deformed and has a completely different proportion from humans. So, 'I can't lie, but I have to lie.' That was a very difficult point.

G:
Oh, that's ... (laughs)

Sano:
The characters of mobs and the people walking around them have very wide shoulders, and they are stroking shoulders. There aren't many people like that. Just moving my hand causes my shoulders to move, and this is so conspicuous that I can't move my shoulders (laughs). That kind of place was quite difficult.

G:
When you hear that, the role of the director who puts the whole thing together is important.

Sano:
The biggest problem was the other main character, Pupel. Pupel is a 'garbage man', so he's not a human. Therefore, if you move normally, you will look like a human in a costume. However, if it looks like there is a person inside, it is useless and you have to move the creature called 'garbage human'. …… But no one knows even if I say 'Please make it a garbage human movement' (laugh)

G:
(smile)

Sano:
'What is a garbage man?' (Laughs). Since the animator who makes movements is a human being, the movement of Pupel also becomes human-like. So, 'It's kind of human, so don't be human.'

G:
That kind of instruction was possible (laughs)

Sano:
It's quite difficult to 'do not look like a human being'. Pupel has something that looks like both eyes, but if you have two 'eye-like things', humans will recognize that 'this is a human face', so 'a little eye 'Shift'. I made sure that my eyes were always pointing in a slightly different direction, or that they were tilted a little. Also, when looking back straight, if you are a human, your eyes will come first, your face will turn, and your body will turn, but in the case of Pupel, you will move them all together. If you are a good animator, you will unknowingly make a movement that precedes your face, but if you do so, you will become human-like, so 'Please do it a little worse.'

G:
What does it mean if you don't do it badly?

Sano:
Pupel changes gradually, so at first I strengthened the feeling of gagging on the face and made the movement a little strange, and made the movement so that I could see it changing. Such adjustment was quite difficult. Individual animators gave me their own idea of 'garbage human movement', but I think it was important for a person in a supervisory position to put it all together and give direction as a whole. Hey.

G:
I'm convinced. It is said that this work is composed of 1437 cuts, but how long does it take to produce it?

Sano:
How long will it be produced? I think it was in 2020 that the work of actually making the animation part began in earnest. In the case of 3D animation, it requires a lot of preparation.

G:
So that's it.

Sano:
I spent a lot of time doing preparatory work such as modeling and rigging to put bones into the model, and I couldn't get started while saying 'I have to start making animations'. I really didn't even remember what I was doing during the production (laughs). I was checking the animation every day.

G:
Since the beginning of 2020, animation work has just overlapped with the epidemic of the new coronavirus.

Sano:
I agree. In my case, the hurdle to move to a remote environment was high, but since it is a job that can be done with a PC, it can be made considerably easier just by creating a remote environment, and it is relatively affected. I don't. I don't have time to commute, so it was a great help to be able to use my time effectively. However, if you work remotely, your voice and sound will be out of sync, so it's quite difficult to match your lip-synching and movements, so I'm groping for that (laughs).

G:
Eh (laughs)

Sano:
It is said that he will move by predicting that he is not talking around here. When it comes to drawing, I think about the timing of 'don't talk like this here' and lip-sync. That's why I get a voice later, but in the case of CG, I often take the voice and sound first with Presco, so there are quite a few people who can not move unless they do it while listening to the sound. There are many. I think it was hard because it was difficult in a remote environment.

G:
This 'Pupelle of Chimney Town' is STUDIO 4 ℃'s first feature-length full 3DCG movie, but when I read past interviews, other animation production companies said 'in the usual way' about the production flow.
While there are many places to proceed, I saw
a story that STUDIO 4 ℃ may be particular about reviewing and starting from time to time. What kind of review was done in this work?
Sano:
It's not a review, but the machine power was overwhelmingly insufficient around rendering, so I bought a lot of machines. The environment changes every time, which is a good point of STUDIO 4 ℃, but on the other hand, it is also a bad point. For TV series production, the same production flow can be used, so if you keep the fixed parts and improve the quality in other parts, you can improve the quality steadily. However, we all start over from scratch, so it's nice to be able to take on new challenges, but there are too many places to develop, and it's really hard to get to the point where we are particular about it.
G:
Oh, there are such disadvantages.
Sano:
So, it seems that it took time to prepare for this time as well. One of the reasons why I started full-scale animation in 2020 was that I didn't know how to do it and I wasn't ready. This time the background is also 3D, but that is a big challenge. I've done a lot of short stories with 3D characters in the past, so I knew how to do it to some extent, but when the background becomes 3D, the amount of information is large and the amount of data is extremely large. I didn't know how to do it at all. That's why preparations are postponed as it is (laugh)
G:
Let's leave it (laughs)
Sano:
In the end, the art director came in and the background team worked very hard to complete it. In this work, the background is made with software called SketchUp, but the animation is made with Maya. If you want to realize camera work that moves the background with the character, you need to put SketchUp data in Maya, but SketchUp data is too heavy to put in, and even if you put it, it is too heavy to render I can't do it at all ... While researching various things such as 'what to do' and 'it seems to be faster with Blender', I prepared by rewriting the missing parts by hand. In the end, it is often done by hand.
G:
At the end, the force technique works.
Sano:
So it's 3D based, but I'm retouching it with my hands.
Mr. Sano working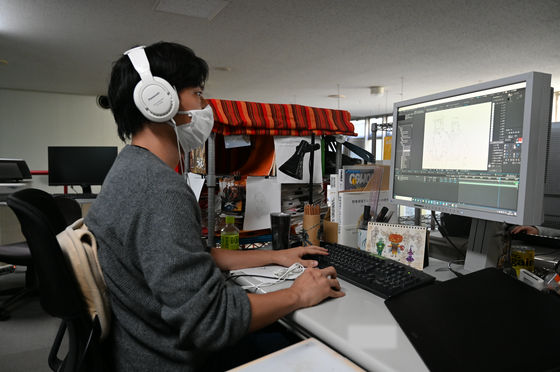 G:
What is the point that the background becomes 3DCG and it becomes difficult?

Sano:
It is difficult to say that the hand-drawn background is also difficult, but for example, if this room has only one cut, if it is hand-drawn, it will be finished by drawing one sheet, but in the case of 3D, even if the background has only one cut, all modeling I have to make it from. Also, in the case of hand-drawing, it is quite easy to draw only the visible range, but if you make it in 3D, you do not know what it will look like, so you need to make the invisible range as well.

G:
So that's it.

Sano:
If you don't make an invisible area, you may later say, 'You can't see here.' In that case, if it is hand-drawn, it is enough to draw the range that is not enough, but if it is 3D, it is difficult to start over from modeling, so I will make everything from the beginning. That would be difficult because it would require a tremendous amount of work.

G:
The initial burden is heavy.

Sano:
The advantage of 3D is that it can be reused. If you have two cameras, you have to draw two if you draw in art, but if you make one in 3D, you can move the camera position and shoot. However, STUDIO4 ℃ has been a drawing studio for a long time, so I attach great importance to the drawing layout. Then, if it's a live-action image, you can cut it out with a camera, but it feels like 'it's not pictorially cool.' In the case of drawing, the background is drawn down for each cut, so you can create a layout that is decided for each cut. However, if you make it in 3D and cut it out properly, it's not very cool. So, in the end, I have to remake it without reusing it.

G:
For a well-defined layout.

Sano:
It's hard to make it once in 3D and then remake it again. Besides, if you make it in 3D, you can't match the hand-painted texture. A little dirt, scratches, or bumps can be drawn in the case of hand-drawing, but if you try to make such bumps in 3D, you can't do it without a lot of polygons. However, there is a limit to the number of polygons, so even when you say, 'It's a little too straight here,' you can only straighten it.

G:
(smile)

Sano:
You say, 'OK, let's do it by retouching,' and in the end, you end up drawing by hand.

G:
I see, that's what you have to do in the end to retouch.

Sano:
As for the texture, not only the drawing picture but also the close-up picture is made, so the resolution becomes extremely high and the data becomes extremely large. It was terribly difficult because there were various things such as rendering becoming difficult as the data became large.

G:
Does that mean that the work of this work has accumulated know-how?

Sano:
I have accumulated know-how, but if I do it with that know-how, it will be difficult like this work, so I think that I have to accumulate more in the future (laugh)

G:
In terms of rendering, I heard that a render farm was added underground for the production of this work.

Sano:
In full 3D, everything you do requires rendering. In a normal animation, there are two colors of normal color and shadow color with a solid color of the character, and in the case of a heavy work such as the 1980s, a shadow called No. 2 shadow is added and there are three colors, but in the character of this work Is like a picture book and has textures such as stains and three-dimensionality, so I'm rendering a lot to express that. In order to render Rubitch alone, in addition to the normal solid color and shadow color, we also render a mask to instruct 'This is the shadow'.

The reason why I put out the mask is to change the mask by hand and retouch the shadow when the shape of the shadow is not good. In ordinary animation, shadows are not drawn around the eyes or around the mouth. However, in the case of 3D, since you can't lie, shadows under your nose or obstructive shadows will appear, so you need to erase them. If you render with one sheet of shadow and normal color, you will not be able to retouch, so render the shadow color only for the shadow color, the normal color only for the normal color, and so on, and remove the shadow with a mask. I am.

G:
You're doing insanely detailed things.

Sano:
In addition, there is a rough and textured texture, a color mask with separate colors for when you want to remove only the eyes or when you want to remove only the skin, and a material with only lines to give a three-dimensional effect. It also renders its own shadow called occlusion. That's why you have to render 7 layers for one character. If there are 10 seconds, there are 7 layers of 240 frames, and if there are 3 characters there, it will take 3 times as much, and the number of renderings is extremely large, so rendering does not turn around anyway. So, if I did it on my own machine, I wouldn't be able to work on it during that time, so I needed a place to leave the rendering to me. That is this render farm, and if you load a lot of machines dedicated to rendering and throw it there, the rendering result will come up, but since everyone can render, the rendering farm will fill up soon. (Laughs)

G:
I see (laughs)

Sano:
If the scene is too heavy, an error may occur, which is very difficult. I have to find out what is the error in the 240 frames, but since there are many layers, I open each one and say 'This is not enough, this is not enough' (laugh) )

G:
It's like a ghost story (laughs)

Sano:
And then re-render it again.

G:
It doesn't mean that once you make a movement, you press a button to render it.

Sano:
There isn't. Everyone was doing it while saying a lot.

G:
Is it an image that the background is also layered and the rendering time is increasing steadily?

Sano:
The background of this work is a lot of chimneys and smoke, so there is not enough time to make all of them, so make a lot of materials to put in the back, in the foreground, and in the middle. I'm going to stack it up, but that's why the number of layers has become tremendous. Also, if you can see 'Don't reuse' by using reusable materials, it will not be established as art, so in order to avoid that, I think 'I think it is better to make it from the beginning' I'm doing a lot of hard work. I'm sure it doesn't look like it's being reused at all.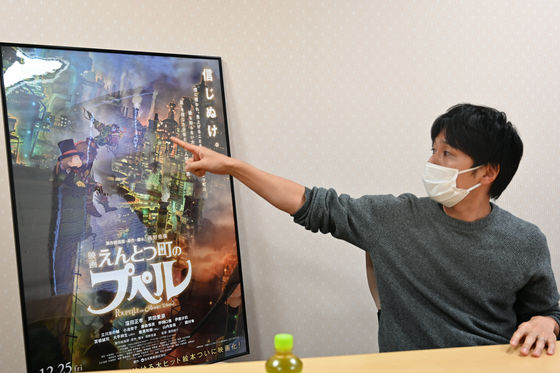 G:
This part, 'I think it's better to make it from the beginning,' also leads to the fact that I don't know what kind of production flow is best.

Sano:
All the staff have the same thing, 'let's make something good anyway', so it's about how to do that. Even if you enjoy yourself, it's meaningless if it doesn't become good in the end, so I think there was a place where you said, 'I thought I'd enjoy it, but on the contrary, it became difficult.'

G:
So that's it. The story goes away from the work, but how did Mr. Sano decide to enter STUDIO 4 ℃?

Sano:
The process was a little different, and I specialized in astrophysics at university.

G:
Astrophysics!

Sano:
I really like '
Star Wars
' and I studied astrophysics at university because I wanted to study space, but I thought 'It's very different from Star Wars' (laughs).
G:
(smile)
Sano:
So I thought again, 'I want to do a movie.' I wanted to study in the United States because I wanted to do 'Star Wars', but at that time I was looking for a science and mathematics teacher as an international volunteer because I couldn't speak English because I didn't have money. I applied and went to Papua New Guinea. In Papua New Guinea, I was a math and physics teacher for two years, received a certain lump sum, and communicated in English locally, so I became able to speak English.
G:
Oh.
Sano:
I came back to Japan and tried to go to the United States to study movies, but the tuition fee was too high, so I went to Canada next door and studied CG for a year. When I came back to Japan, I immediately applied for STUDIO 4 ℃, but the response was slow, so I worked as a 3D animator at another studio for a year. During that time, STUDIO 4 ℃ also called out, and I was wondering which one to use, and I came here because there were many videos produced in-house and the image of making an interesting work matched.
G:
It certainly has changed a lot.
Sano:
So, originally, I had no knowledge of anime. And it is also rarely seen, when entering the STUDIO4 ℃ asked, 'Mr. Sano, what is it? I animation as seen recently,' and ','
Spirited Away
answer When the 'known animation at all with the' kana ' Isn't it? '(Laughs)
G:
Well, it's amazing. How about jumping into the world of anime?
Sano:
Anime is a very interesting world, and the more you know about it, the more interesting it can be. Osamu Tezuka and others longed for Disney, and while they didn't have a lot of budget, they made various ideas and developed it, and it is a field that has evolved to a technology that surpasses Disney. I was studying so-called Pixar-like animation in Canada, which is a 24-frame full-frame animation, so when I came back to Japan, I thought that the time-lapse animation was 'something cheap.' However, when I enter the studio and make animations like this, it seems that there is also a very interesting pleasure there. There is a completely different difference between 'dropping into 2 frames and making with 12 frames' and 'making with 3 frames and making with 8 frames'. The 24 frames are said to be the limits of the human eye, so they look like they are moving normally. With 12 frames, the afterimage phenomenon is used to make the part that normally gets jerky look like it is moving. However, afterimages will not be in time for 8 frames, so this time, using the interpolation phenomenon, you can make it look like it is moving by making a pose that predicts the next pose from pose to pose. That's why if you change the pose that moves in 2 frames to 3 frames, it doesn't move. It doesn't move unless I pose properly for 3 frames.
Disney's animation can only be expressed in full frames, so it's like how to make the tame and claws in it. However, in Japanese animation, there is an option to make it full frame, 12 frames or 8 frames, and how to make claws, tame, speed, etc. There are quite a lot of variations, such as putting 3 frames inside and adding a keren flavor. It's really interesting, isn't it? Such a place is mathematical, and I feel that it is connected, probably because I am from a science background. Many animators analyze a lot. I don't think you can do good things without combining both sensory and rational methods. That's why that kind of thing is really interesting.
People say, 'Why do you come with this kind of background?', But I think I'm doing what I'm doing now, making full use of all the paths I've taken. It's been 10 years since I came to STUDIO4 ℃, so I've already entered the anime industry quite a lot.
G:
So that's it. It's a question related to the story of that movement, but I can't draw it in 2D animation, but is there any movement that can be drawn in 3DCG? ..
Sano:
I think the strength of 3D is 'realistic movement.' In 3D, the shape of the model is fixed, but the drawing is not fixed, so you can make it any shape. Therefore, I think that the softness of movement is not comparable to drawing. However, unlike drawing, 3D allows you to try various things on a computer, so you can make quite detailed movements. In the case of drawing, it's a rough idea, but I show emotions with big movements. I express emotions and movements. On the other hand, in the case of CG, I think the strength is that it can be expressed using movements that are really small. I wish I could express the emotions of this character with a little movement or trembling.
I think that animation has the goodness of animation, and live-action has the goodness of live-action. After all, when you look at the live-action drama, the acting of the actors is really good. Even if you're not moving, the difference in facial expressions, the inclination of your body, 'I wonder if this person is really a good person, but I feel unpleasant', 'What kind of emotions do you say this? 'Kana' is really transmitted. I think that such small movements are not comparable to live-action animation. In that respect, I think that 3D is a little closer to live-action expression than drawing. I would like to make use of the fact that animation can never be done in live-action, and make live-action 'movements that can receive emotions' one of the strengths of 3D. This isn't what is generally said, but I think there are strengths in that area.
Animation is what brings characters to life. Even if it's moving, it's not an animation. If there is no life, it is not an animation. This work is a deep work because the voice actors and actors give good voices, but even if there is no voice, emotions overflow from the movement of the character. I want to make it so that people who see the movement of the character can cry, laugh, be happy, or be sad, so that emotions can be transmitted only by the movement. increase.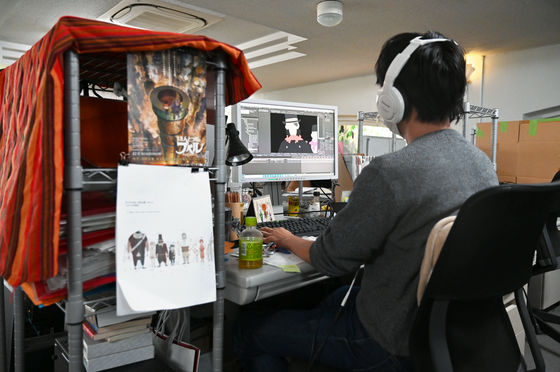 G:
very……. Thank you for taking the time.

With this, I talked to Yusuke Hirota, who directed 'Pupelle of Chimney Town,' and Yuta Sano, who was in charge of animation director, but I also wonder how the planning of this work as an animation movie progressed. Where it becomes.

So, finally, we interviewed producer Eiko Tanaka of STUDIO 4 ℃.

・ Continued
Interview with Eiko Tanaka, producer of STUDIO 4 ℃, who produced 'Pupelle of Chimney Town' --GIGAZINE