Director Shizu Mizushima talks about full CG animation movie "Exposed paradise-"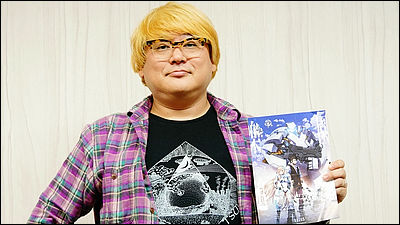 From Saturday, November 15, the movie "Exposed paradise - Expired from Paradise-"Will be made public. This movie is the original original theater work for Mr. Shimji Mizushima and Mr. Shima Masushima who worked on screenplays and is made as a full CG animation work. This time thatShimji MizushimaI have asked the director about the work, about CG, about casting and various story.

"Exposed paradise - Expired from Paradise-"
http://rakuen-tsuiho.com/

GIGAZINE (hereinafter, G):
This time, the reason why Mr. Mizushima was supposed to be in charge of "Expedition from Paradise-" was based on the condition that it is "2D supervisor and person who understands 3D" When I looked for talented people, Mizushima's manager's name came from multiple people, and finallySangjigenofHiroki MatsuuraMr.Noguchi ProducerI asked Mr. Mizushima to introduce Mr. Mizushima.

Director Mizushima Shiji (hereinafter referred to as Mizushima):
I heard that Matsuura-kun got in touch from Toei animation people "Do you want me to join?", I got in touch through Matsuura-kun.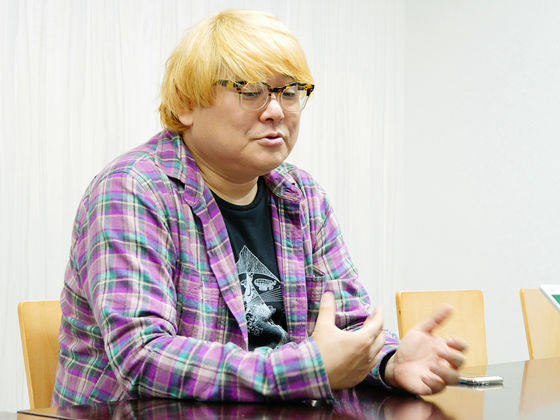 G:
I think that there are quite a few people if you say "Anime Director", but do you have a pride that "There is understanding in CG among them?"

Mizushima:
Since time has passed since 3DCG was used in the main part, I do not think that I am a person with special understanding, but I was thankful that I thought so from the 3D side Then, I thought that drawing and 3D are fundamentally different, so it is interesting.

G:
"Oh, did not you come to me after all?"

Mizushima:
There is no such thing. However, with Sangjigen, he worked on "movie of alchemist" and "Mobile Suit Gundam 00" together while doing work with listening to how to approach 3D and what can be done So from the other side I was told that "It was easy to do thanks to what kind of picture I wanted to clearly have". When there was a part which I did not understand, I was asked a few times that I was convinced if I explained that "It is this place" when I was called by myself straight.

G:
Hmph.

Mizushima:
I have not had too much dreams in 3D, and there is a part that I was evaluated by being able to explain in a logical order how to want a picture. It seems that I was able to direct direction that it was easy to explain how to get NG · Retake clearly "I want you to improve this place". As a reason for having you choose, I wonder about that point, (laugh)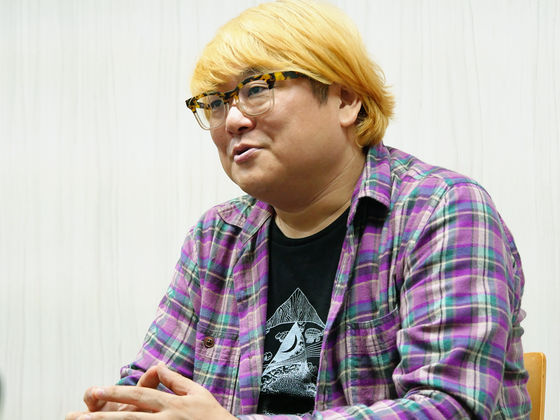 G:
I see. Does that mean that there are a lot of people who are not well-informed on the spot?

Mizushima:
Like "I can do it coolly because it is 3D" I think that I was dreaming too much, and now I also have it. This time, looking closely and thinking, I think that there are many people including me who do not understand how the model performance is, what kind of volume can be achieved in the budget, and so on. As a director, you should request greedy pictures that you want, so it is ant to not think about budget there, but you have to do a judge of the real problem, "Do you want to complete or not?" I It is a type that thinks about it.

G:
Hmm ...

Mizushima:
As I realized that it is not free because of various circumstances, it seems to be difficult for the 3D side if I do not think severely about where to pass. As for communication, I think that the stance like 'Do not speak without understanding' is still early. It is still necessary to throw lots of words, carefully search the words that are being transmitted among them, and take a unified language.

G:
Noguchi producer was speaking about whether there are many know-how gained from the 2D site on the 3D site.

Mizushima:
Well, there will be something that can be brought back from the 3D site, and in 3D there are parts that can be referred to, such as the degree of freedom of flow and animator built by 2D animation animation and the range of work However, I think that it is unnecessary for 3D to refer to all 2D workflows. As 2D animation has the current condition that field collapse is occurring due to freedom, I think that 3D does not want it so as a director.

G:
Collapse on site ... ....

Mizushima:
In the end, it will be a personal skill, but in 3D it is a common model as a base, and there may be words as easy as it is, there are places where quality is easy to maintain. Degradation has not yet begun as the soil of the "line making a single work", so if we can keep it, it will be possible to get an interesting position in the future video industry. I think that this is also Cellulk, Photo Real and so on, so I think that I can express more differently, so it would be great if the number of works increased.

G:
If the number is large, you can broaden it.

Mizushima:
In 2D, the creation of symbolized works occupies a large part, but after it switched to 3D in part, it is possible to create works that "can freely like this" and "good at this place" in animation animation Well, I guess I will be able to do more. To chase 2D in 3D means deforming the 3D model or overdeforming it, but if you are hand-drawn animation you can more freely lie a flat lie best on the plane, so it will grow I hope so. I think that there is a proposition that we have to go to where we are required as a market.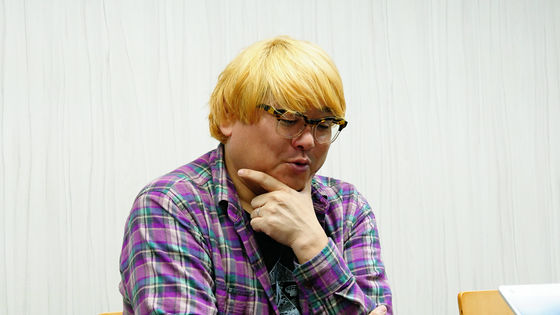 G:
At the beginning of moving the plan of "exiled paradise", it seems that Noguchi producers thought that it might be an art film type, but what kind of talk concluded the director Mizushima Is it?

Mizushima:
I did not know the original direction (laugh) I usually like to film "take a movie", and then think that I can make interesting things because Ikkyu is a screenwriter. That was the original 3D movie.

G:
I see. Although "the expulsion of paradise" is the first work as an original theater movie without any other original work for Mizushima director and also for Mr. Kamiuchi, did anything seem like a fighter to do it Is it?

Mizushima:
Well ... especially ... (lol) But I was happy. Up to now I have done three movies, but basically it was spin-off of the TV series or simultaneous transmission with the TV, I never got a story saying "I can leave the movie alone" . Because I also thought that "I am a TV person," I was glad that you could say "Please do a movie" from a long-established store named Toei Animation. Moreover, I thought that this got a good opportunity by saying that it is Screenplay of Kakubuchi-kun.

G:
Original story and original stuff, how does theater and television approach differ greatly?

Mizushima:
Although this depends on the production company involved, there is a big difference in the difference between the original and the original, whether there is a base or not. "Exclusion of paradise" is something like "Original work by fictitious genius", but in making the movie, scenario development was consolidated while discussing with Kakubuchi-kun. Whether you are on a TV or a movie, you are going to work with a screenwriter to make a book, and if you put it in a container, I will discuss with an animator who will draw and give you a draft, while doing a dub and make a detailed meeting The process of finally making it one piece is the same. In the case of a television, since there are several opportunities to make fine adjustments to general large stories repeatedly, since the movie is a one-shot game as it makes multiple copies of about 20 minutes according to the broadcasting frame , The span is long, but how long you can find and fill the hole yourself. It is hard to do while movies are doing because the meaning of one game is big and the quality must also be raised. Especially since animation does not come out as it will become what will happen if it is not in the second half ... .... On the other hand, it was good because 3D animation showed rough motion from the beginning.

G:
Do you have any difficult steps in making "Exiled Paradise" this time?

Mizushima:
One is 'model quality'. At that time, I did not even know how much I would finally become a model after doing the model, making it so that everyone can see Saitoh's pretty character from any angle properly and make it as a person I thought that I wanted to have the softness of it. I checked it carefully and said that I was thinking very well at Yokokawa-kun of Modeler and making a model, checking it finely. This is one point.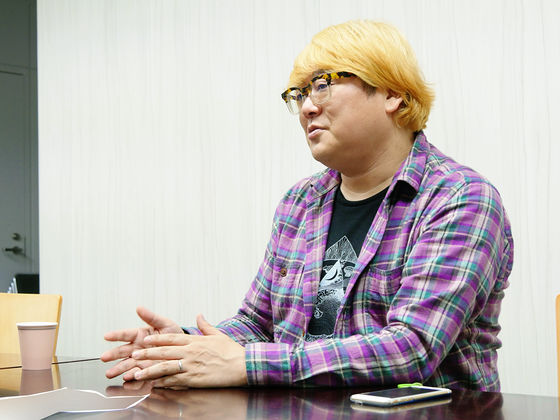 Mizushima:
After that, as for the 3D animator, it is not done to make the screen directly from the picture story until a while ago, the animator takes the layout and puts the provisional motion in the form of a rough original picture and adapts the motion accordingly I was doing what to make.

G:
I see.

Mizushima:
However, as I was doing it, I thought that 3D animators would not be able to fundamental study of making pictures, and I thought that 3D animators should do that part for 3D animation as well, so " I want you to do it without the roughness of the 2D animator this time, "consulted Mr. Yoshioka who is Chief Animation Producer of Graphicica. In that case, considering that it will be available to the industry as a graphicnica in the future, 3D animators also have to have "power as an animator" in the future,Ichiro ItanoAlso, he said, "Let's do it!" And I asked them to do it in the form of doing daily plays with the directors. This is another point. I also have to do daily plays that the principals think they are not good, and the layout must be summarized with sense, so I have never done before, so why is the camera here? "" Why? Whether it is focusing on this character at this angle of view ", I had to do it once and do it only because I had to explain carefully carefully, so I wore it and it was like a Senbonknock. Since the schedule is prepared in the long span of a movie, if I keep it here perfectly, when I do the next work I thought that the base was completed and I did it firmly. It seems that almost none of the director class people are almost always in the work place and always discuss themselves.

G:
It is a feeling that it was making work while nurturing people of 3D animators.

Mizushima:
I agree. It is commonplace that the 3D director is on the scene, but in director and expeditioner in the field exactly in the exile of the paradise, tell the director's intention, or how to make it as a 3D screen while using 2D animation methodology And explained it. For example, the part not in the picture story also explains, "If there is such an act, the picture here stands out." When it is 2D, the animator draws thought by looking at the picture storyboard, but because 3D did not have the soil which actively carries out such work yet. "It is not everything in a storyboard." "A storyboard is only a design drawing that conveys the feelings of a character, it is your job to enrich it." If an extra part comes out, I will tell you that it is extra, and I will pass it if something that you've added is good. Some people draw in a storyboard, but I want to interact with an animator, so I decided to keep it as a storyboard that is not so fine.

G:
Even if it is common on the 2D site, there are many things that are not so in 3D sites.

Mizushima:
Because there is also a first time, it seems like this workflow was adopted this time.

G:
Is there anything you can do better than you thought this time?

Mizushima:
I thought that it would be even more difficult for me to do it anymore (lol) Even if I am thinking that 3D animators are not good at everyday acts, people who can do it inside the company follow me, or if I do it in 2D I have to give up already, I will be doing the part saying "It is useless," I think that how to use the schedule went well. For 3D animators we have done a lot of work, so it was not easy to say that it was easy, but there was room to compare to the scenes we estimated based on the sense I normally do. Thanks to that, I was stuck with thoroughly until the end, so it was a great worksite for me.

G:
He thought that the director would be a more amazing scene.

Mizushima:
Because it is a type that thinks that it would be better to stay at the scene if work or judgment goes smoothly as I am there because it is almost overnight stayed when it is a TV animation, so I ask the room to be prepared Become. It was good, because it was possible to respond by sending something when I got something when I got something, that it seems to be ok without this time. I think that it was easy to respond because control was included including the production ability of Graphico.

G:
This is not limited to Mr. Grafnika, what can be done at any site?

Mizushima:
If it is a 3D company it can be done to a certain extent, but when it comes to 2D the man original man is outside, so if it matches up to that schedule it will absolutely collapse. We have to wait in the state to check the work that the original man is doing separately, so there are parts that we do not know where to break off and where work today ends. From the production "Mr. ○ ○ surely rises at this time, so please look so far", but if it does not work I have to wait forever, I can not make my plan It is. On the 2D site, there are too many frees, and the schedule is getting more difficult to assemble than before.

G:
Oh, I see.

Mizushima:
I am from work but I am overwhelmingly free people more than I was doing. However, from a production company, there are many frees because it is contracting with a private business owner, so it is not an employee, so there is also the aspect that it is not necessary to have risks inside, it is painful itching . There is also a budget problem, there are parts that you have no choice but to do, it can not be said that it is "2D so" unconditionally. However, it is also not possible to get the pace to be aligned in making a work, and work will concentrate on good people and the schedule can not be read. In the case of 3D, the entire production company is improving the name value of the company, so to speakKyoto animationIt is the same as anything else, so I think it is correct. Some animators take jobs with individual names and do not deny it, but it is certain that the schedule can not be read when the freelance increases. I think that production is hard now. That's what "SHIROBAKOAs you can tell if you look at (laugh)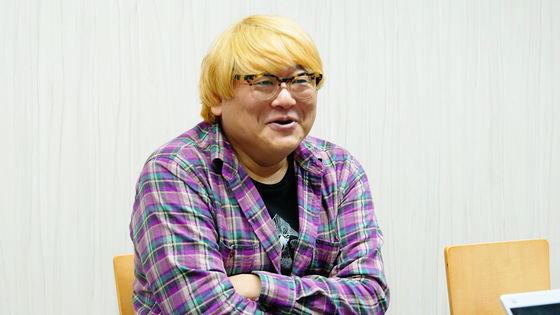 G:
I see, I'd like to change the direction from here on, and I would like to ask about the story of Cast. The first announced name isRie KugimiyaMr.,Shinichiro MikiMr.,Hiroshi Kamiya'S 3 people. The director told Mr. Kinomiya "I finally got a pretty girl."

Mizushima:
Kugimiya-san is "Full Metal AlchemistIt is a person who is able to act together with Mobile Warrior Gundam 00, even though it is owned by Oedo rocket, although it is owner of a very pretty voice I think that. ...... Because it is ...... so that boys will become better than pretty girls. In Hagaren and Oedo rocket you get a hero's role as a younger brother, or a cute but habitable role, so at 00 it is Nera · I thought that they did not do the role of an orthodox heroin by having them do the Trinity.

G:
Hmph.

Mizushima:
Before we start developing the scenario of "Exile in Paradise" this time, when making the design of the character,Kamakuchi-kunWhile talking about character character or the whole story that I would like to draw, I thought that Mr. Kinugimi would fit into Angela and asked "How is it?" And the answer came back So I decided to advance the picture on the basis of it.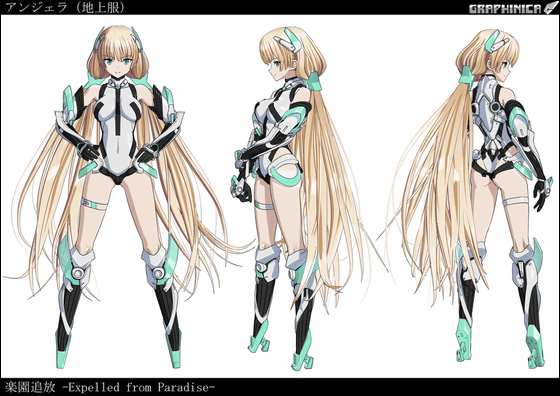 G:
I see.

Mizushima:
Regarding Angela's partner Dingo, this scenario was made in order from the beginning like a novel, so I came to the second half of the story and I was confident that "Mr. Miki is good". Originally the names of other actors were raised, but as a person with that voice, there is a part that shifts from what I would like to show as a relationship between Angela and Dingo ... ... about that actor so much Since I did not see it, I saw various works, but I felt different. It is the current Dingo statue that I revived my age and strengthened the treasure hunter's sense by surpassing the soldier's color, that I came to the end and came to the end and said, "Does it come true if you do this?" Kakubuchi kun said, "Then it looks good on a ten-gallon hat or the like," so when you try it in a Western style, "It may be nice" (laugh), Mr. Miki's name came out there That's right. By making the dingo young, I wanted to be a mysterious character with parts that I could not grasp somewhere as a guide on the ground while scooping things like romance emotion with packing my age with Angela. There was also a boost that "I think Mr. Miki would be nice if the manager is so perfect," and Miki took charge of Mr. Miki. As for me as well, Mr. Kugimiya and Miki are two people who are trusting full breadth, so this combination is acceptable for this combination.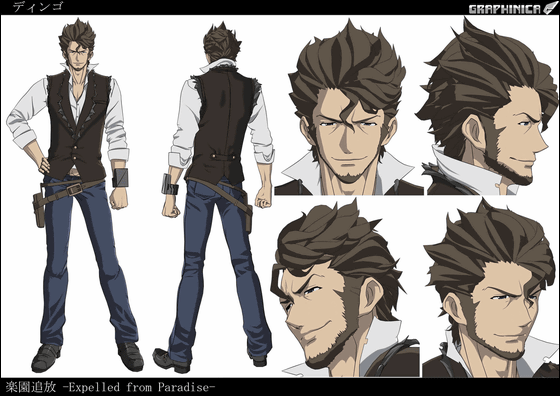 G:
And Mr. Kamiya is the "frontier setter" role.

Mizushima:
After finishing reading the last scene, it is a character of such a role as frontier setter, when thinking about what kind of voice can give human warmth, here, when Kamiya is talking normally, a cool atmosphere There is it. From my point of view I have a metallic impression. Regarding Frontier Setter, you must be an actor who is in trouble if you are a "human" as a character, and can also have strengths. So, I thought that I would like to join with Kamiya-kun in me and I thought that it would fit, so if you asked me "What's wrong?", Say "There is no reason to refuse Mr. Mizushima and Mr. Ikutsu" So I officially asked my office. When I handed over the script, I was told, "It's amazing amount, it's been awful" (laugh) But I said "I'm thinking it is really nice, so I'm busy." While busy! (Lol)

G:
Frontier setter did not appear at all in the trailer, but only Kamiya's voice, so what kind of guy was I supposed to think, "It was not!"

Mizushima:
Yes, it is rainy. Maybe the father's son may think that "Are you using Kamiya Hiroshima?" (Lol) But since the figure is like this, there is no rule that the actor must be such a person. This timeToru FuruyaAndMegumi HayashibaraMr.,Kotono MitsuishiMr.,Minami Takayama, I was delighted that they accepted me as a movie in spite of the many notorious tasks. That is why I had a heavy play and I think that I've done it luxuriously.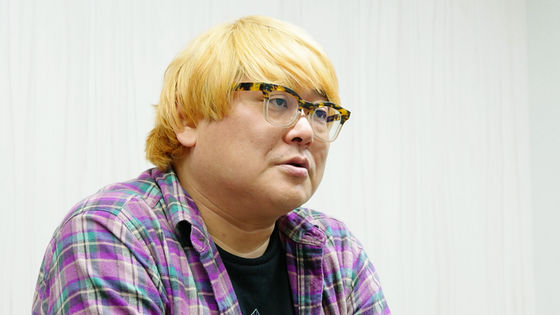 G:
Regarding the character named Angela, when I first met Dingo, it looked like it was expressed as "Lolita", but was this figure from the beginning? I also thought that it was Mr. Kugimiya.

Mizushima:
Well, as a character design, it is based on this as it comes out most often in the main part, and that her acting skill including the difference between content and appearance was necessary. The person himself seems to deny "I'm not such an adult", but when I work with her, I think that it is an adult even if I look at the attitude of working on work, not just looks , I thought that a place like a gap playing a pretty girl in a play was also necessary for this character, so there are skills that will be superimposed without being conscious and will respond to the play you request, If you can withdraw Mr. Kinomiya's play, there is no problem. I think that people who have that "depth" had nothing but Mr. Kinomiya. I thought "Angela = Kinomiya san" at once.

Dingo & Angela.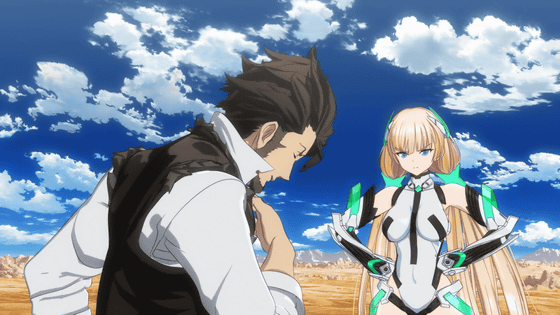 G:
Angela looks young with this hairstyle, but although my hair was going to be shorter, I heard that the schedule itself was gone.

Mizushima:
In the first place, is it necessary to put in an event to make hair shorter? This is what I came out at an early stage, but I wonder if it is a snake feet. It is OK to shorten it for a while, but I decided to leave it as it is for the time being and let me think if I complain about it in the 3D site (laugh) However, as a trial how to handle such long hair Or, how to hold the hair drawn cartoonically is important, and in reality, even animation animations are pretty failing. There is a person who draws while being drawn in the setting, but when the hairy hair has turned too far outside or up, it is a thing that is established as a stop picture because it is animation, "animation If you are depicting "a state that is stopped in", you have to be calm. When I do it myself, I will instruct "Please put the hair together and calm down", so this time, I will give 3D people a reality of even a symbolized character with works It is an opportunity to show you how to put it in.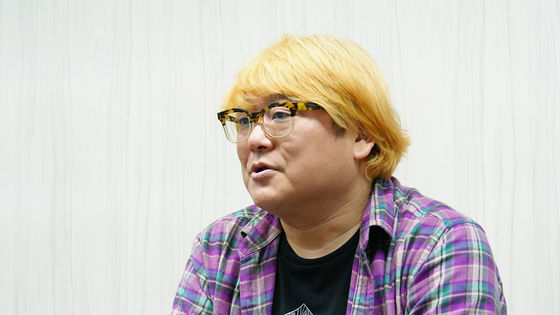 G:
I see.

Mizushima:
For example, you can judge whether or not you should end it at the end of the cut after the hair swells and swells with a gag depending on how the next cut is taken. If the hair is swollen and switching between the bag and the cut while talking about the wower, it is OK to restore in the next cut. As this is a sign that it is shifting one after the gag, it is only necessary to draw judgment by a person who makes a cut by looking at the picture storyboard, so if the production is not good, Try it in the way that I think is the most interesting. On the other hand, what the director told me is one of the answers, and since the director has various patterns, I will study. This time I was directing with a director, so I told you to do as I said.

G:
I thought that Angela 's hair was tough with a long time, but that part was also useful.

Mizushima:
I guess I can do without being afraid even if a job to handle long hair already comes. Because the female animator was particularly committed to the movement of the hair, I think that men also got a reference when seeing that female animator is moving the hair softly, and it is also great that it can be accumulated as a library . I can also copy and adjust the motion itself so that I can improve the efficiency of the work, so I have to say how much originalness is given in it, if I want to do it I can just copy it (laugh) The things required by the cut are also different. New work is necessary if it is necessary to create new things, but there are some places where it is enough to adjust some motion already cut for cutting. However, since individual personality will not grow if it becomes work, it is not good unless you think to adjust skills you pass so that everyone's skill will grow. In the case of Mr. Graphicnica, Ichiro Itano stays solid, so I think that it is becoming "underlying power of Grafnika" without doubt.

G:
Finally, this "expulsion of paradise" was a full CG work but would you actively work on CG-centered works in future?

Mizushima:
Yes, I myself am going to write a proposal and I am planning to work with Graphico. Because there are also combinations that we have cultivated this time, there is also a desire to boil down more about how I relate to himself in Graphico. Recently I was concerned with "expulsion of paradise" next year so I will also do 2D television series and I hope this time I can bring that know-how. In the future, I will positively use 3D for drawing, so I think that I want to keep good relationships forever. At the same time San Diegen and other 3D studios will also think "we are" and I think that more companies will develop if they raise their name on television series and feature films. Until now, there was a place somewhat uncomfortable with CG, but finally it has become possible to create things of a level that will penetrate the public with CG as the main character. There are styles like Disney, but rather than chasing it, Japan is the current flow of trying to get the best of Cellulk first.

G:
I see. Thank you for today.

Director Mizushima has a leaflet using this visual. "Paradise expulsion" is released today from November 15 (Saturday) at 13 places throughout Shinjuku Baltic 9 and Umeda Burk 7.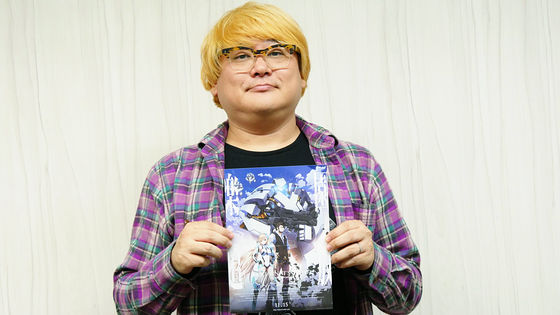 After this, further interviews with the producer of Noguchi Koichi and the production team of Graphicica will be posted so please look forward to it.

© Toei Animation · Nitroplus / Paradise Expulsion Society

· Continued
"CG has reached a place where expressors can do what they want to do", Full CG animation film "Exorted Paradise" Noguchi Producer Interview