Interview with Eiko Tanaka, producer of STUDIO 4 ℃, who produced 'Pupelle of Chimney Town'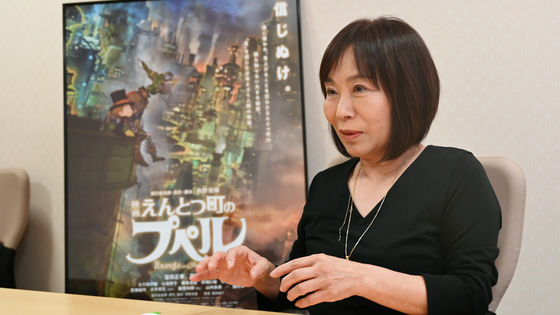 We interviewed producer Eiko Tanaka, who has led
STUDIO 4 ℃
and produced many works such as '
Poupelle of Chimney Town
' released on December 25, 2020. This work is a work centered on the growth of STUDIO 4 ℃, such as
director Yuusuke Hirota
and
animation director Yuta Sano.
I asked various questions such as how the producer who led the studio shaped the work, and why Mr. Tanaka got into the producer business in the first place.
'Movie Entotsucho Pupel' Official Website | A blockbuster screening!
https://poupelle.com/
GIGAZINE (G):
I'd like to ask you from the basics, but on the official website of
STUDIO4 ℃, there is a page that says 'STUDIO4 ℃ was made in this way
', 'The name of STUDIO4 ℃ is always fresh, so at the optimum temperature to keep it fresh. It seems that it was taken from a certain 4 ℃ (the temperature inside the refrigerator is 4 ℃) ', but ...
Eiko Tanaka Producer (Tanaka):
That's a little different (laughs). The intention of 'high density' is that the highest density of water is 4 ℃. It is used to mean that it does a high-density work and that it diffuses in response to changes in temperature. At the time of an interview, I remember being told, 'That's the temperature of the refrigerator, isn't it?' And saying, 'Yes, the substance is the most stable.' That was interesting. So I think I used it.
G:
So that's it.
Tanaka:
At that time, I said, 'The most stable state of a substance means that it will not rot, and I also included the message that' the work I make will not rot for the rest of my life! ', But the refrigerator The story was more interesting (laughs)
G:
Previously, the blog service JUGEM was provided with a template for '
Tekkonkinkreet'.
At that time,
an interview was conducted, and
producer Tanaka asked, 'What kind of work do you do?' 'Especially as a production producer, stuffing, casting, compiling scenarios, what kind of world view do you want?' , I am involved in determining the image of the work as to what kind of color setting to use. It means that the entire production team will be directed to the same landing point. ' In the case of 'Pupelle of Chimney Town', how did you get involved as a producer?
Tanaka:
Do you feel that the answers you answered have become a little more intense? You're a little more fundamentally involved in the work.
G:
Is it 'fundamental'?
Tanaka:
There are two companies I produce, one
called 'Beyond C.
' and the other called '
STUDIO4 ℃
'. 'Beyond C.' mainly produces and plans, and manages the funding and production of works. 'STUDIO 4 ℃' will provide a big path from the scenario to the completion of the work. In the very first scenario, we build a world view, clear the image of the person, raise it as a setting, and firmly set out the policy of which direction this work should face and what and how to make it. .. Since the teams are quite diverse, it means that each person points to the index so that they point in the same direction, or that they are always watching and having meetings so as not to shake.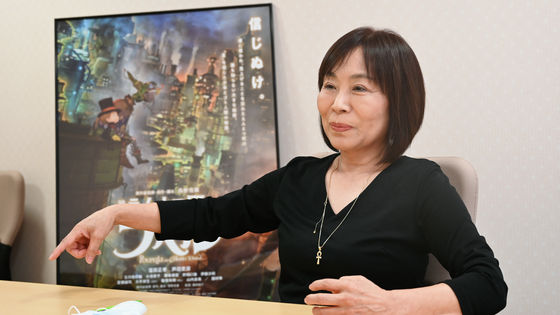 Tanaka:
As for the movie 'Pupelle of Chimney Town', the director Hirota is STUDIO 4 ℃. It seems that there was a few months after graduating from university and working part-time, but soon after that, I came to STUDIO4 ℃ and worked as a director from the beginning, and this work will be my debut as a film director. Almost all of the other main staff are STUDIO 4 ℃. In that sense, 'Movie Entotsucho Pupel' is a work that everyone at STUDIO4 ℃ worked on as one, and rather it was the first feature-length 3D movie work at STUDIO4 ℃ that could not have been done without it.

G:
Did it make it easier for you to communicate with each other?

Tanaka:
I agree. Almost everyone knows only STUDIO 4 ℃ (laughs) I think it's a great team.

G:
Producer Tanaka, who is in a position to watch over the team, talks about his career at the creation seminar 'Welcome to the world of anime creation!' At AnimeJapan 2016.
According to an article by Abema Times,
which tells the story of the seminar, 'Mr. Tanaka, who thought that he had been focusing on anime since he was a student, majored in Japanese language teaching when he was a university student. After graduating, he was a Japanese language teacher overseas. I'm going to be, but I gave up because of a motorcycle accident. '
Tanaka:
(smile)
G:
He added, 'Even though I got a job at an advertising agency, my boss changed jobs to the animation industry, and as a result, I joined Nippon Animation. increase. As pointed out in the article, it's a career that isn't all about anime, but why did you major in 'Japanese language teaching'?
Tanaka:
While studying English literature at the Department of English and American Literature at Aoyama Gakuin University, I was wondering when to escape from Japan (laughs). So, after graduating from university, I entered the International Department and took a class called 'Japanese Teaching Method' in the International Department. I thought. However, in a motorcycle accident.
G:
Oh, I see. That's why
I entered Nippon Animation
and led to an amazing career in which I played the three roles of producer, desk, and production progress alone in the production department.
Tanaka:
That's what it's all about in the end. There are various events that I can't say (laughs).
G:
(Laughs) In
an interview conducted in 2006,
'I basically think that I am a very ordinary person. Producer that I can understand even if I see it without getting too involved in the work I will look at it from the perspective of. I was making works with the awareness that such things are required. ' Was there something that made me realize that I was a very ordinary person?
Tanaka:
Fufufu, that's right. Generally speaking, the movies I watched are generally popular, whether they are Japanese or Western movies. I thought, 'I'm very popular.'
G:
Indeed, in the sense that it is a majority, it is an 'ordinary person.'
Tanaka:
that's right. Even when I appreciate the paintings, I am usually impressed rather than 'making new discoveries from a different angle and perspective.' I self-evaluate as having a very popular view.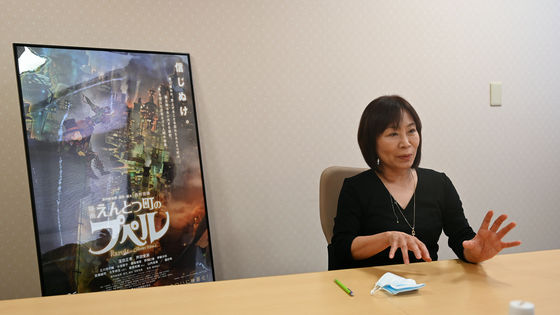 G:
Speaking of painting, it's a bit off topic, but in an interview during the
Genius Party,
there was an analogy
of painting. 'I don't want to see paintings as an author. By knowing that, for example, the awesomeness of what the painter asked for by scraping his ears will be conveyed even more. There is such a drama in 'Genius Party'. Instead of receiving the work itself as a separate message, the creator's thoughts are synchronized with the recipient, 50% of the work, and the creator and the recipient. I feel like 50%, 200% in total. It doesn't fit (laughs), but I think that the ability of the recipient to accept it will make the work amazing. ' What will happen to the feelings of the creator and the recipient in this work?
Tanaka:
'Genius Party' is made by each so-called genius and creators with the enthusiasm of 'let's spit out what they originally have', and the influence of their individuality and expressiveness appears to the recipients. I think it was a word that I thought it would come.
There is a difference between such a work called 'Genius Party' and 'Movie Entotsucho Pupel', which was originally aimed at entertainment. In the case of 'Pupelle of Chimney Town', the work itself is a so-called 'general work'. For example, in addition to the director alone, the art director, animation director, CGI director, cinematographer, and sound It's full of directors and directors. It's an entertainment work in which each director enhances their abilities by multiplication, so I hope that you will appreciate how powerful the work is from that point.
G:
Is it related to the fact that a large number of 'directors' are involved in a comprehensive work, and that 'staff are not born'?
Tanaka:
Well, I think that 'Movie Entotsucho Pupel' is really a work that can be said that 'animation is a comprehensive work.' We have completely defended our stance that each and every one of us will demonstrate their abilities independently in their respective fields of supervision. On the other hand, if there was any infringement, the team's policy was to decide, 'I've left it to others, so let's leave it as it is.' If it's weak, we'll put in leverage, and if it's immature, we'll put in support, but even if it's the first time for each, if we decide on a policy of taking responsibility, each staff member will grow as well. right. Whenever I make any kind of work, I think that what people can make and how they can develop and express themselves is what they can make.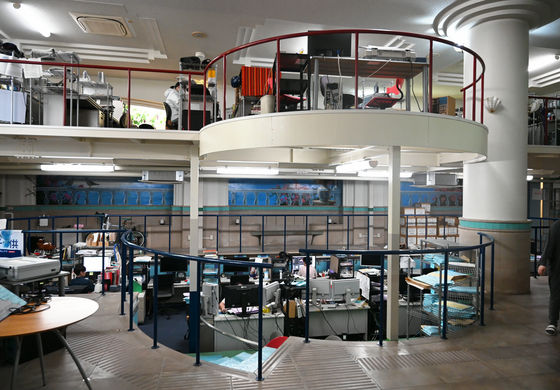 G:
Producer Tanaka said, 'I'm the type who climbs trees when I'm praised (laughs), and I'm trying my best when I'm told' Mr. Tanaka is great. ' Even if I feel like I've become great, I won't shine at all. ' From the producer's point of view, do you feel that the staff should have been complimented here?

Tanaka:
There are many. First of all, this work would not be completed without the staff (laughs). In addition, there is a constant pursuit of quality. The guts that never give up or throw out. Of course, great sensibility, expressiveness, and talent. But before that, I made a lot of mistakes.

G:
Failure?

Tanaka:
that's right. Anyway, a lot from the stage when I started making works ... For example, I made it without a background. The art setting itself was happening more and more, but the more complicated and large the art setting was, the more I couldn't think of turning it into an art board and using it as a background. I started making art boards around October 2019, and in a year I made a board and got to the background.

G:
Oh……. In the first place, when did you start working on the movie 'Pupelle of Chimney Town'?

Tanaka:
Scenario making started around the winter of 2017, and we had many meetings with Mr. Nishino. Finally, in the summer of 2018, Mr. Nishino stayed in Yatsugatake, and the final draft came up around mid-August. That was the 12th draft.

G:
12 drafts ……!?

Tanaka:
Yes. I'm going to rewrite it, Mr. Nishino. It's amazing. What I think is great is that when we come up with an idea, it immediately rewrites, 'Oh, that's good!'. It's interesting because it gets better and better with the addition of dance scenes and dolly scenes, and the addition of Laura's line 'I'll definitely be back!'.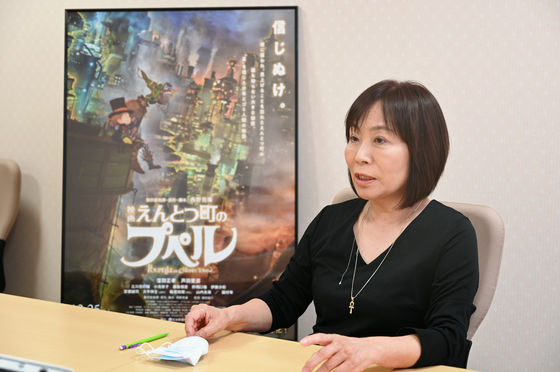 G:
The brush is fast, isn't it?

Tanaka:
quick! So we had a meeting right away. We make changes and have meetings, and the content is corrected and drawn. I started the contest work from the summer of 2018, but Mr. Nishino has changed the scenario several times since then. Initially, there were about three people working on the contest, and the policy was to make the best use of Mr. Nishino's 'Sonomanma' in the contest. In the six months until completion, the director made a surprisingly detailed setting such as 'Bible', a world view, and 'This guy really likes ice cream' as a character setting, but 'I let everyone understand this. It's impossible, so let's do it once. '

G:
Amazing (laughs)

Tanaka:
The content went up once in March 2019, but it was probably 2500 cuts, about two and a half hours, so I made it one size smaller. At that stage, Mr. Nishino gathered Mr. Nishino's fans and did something like dubbing by an amateur. However, I started making works using the temporary dubbing material and said 'Wait a minute!' (Laughs)

G:
It's hard ...

A pile of cut bags. A purple cut bag was used in the production of 'Pupelle of Chimney Town'.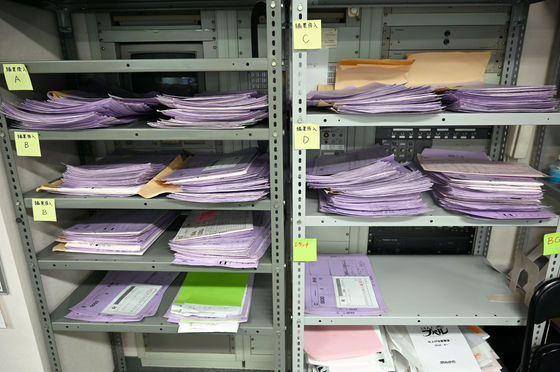 Tanaka:
Anyway, I had to make it the scale of the movie, so first I raised it to the V content, cut it, and I, animation producer Shun Hasegawa and the director put in the correction lines and it was completed in 2019 It's September of the year. However, when I went through it, there were some failures and there were many places where the composition was difficult to understand, so I re-edited it. I put out a missing number, added additional scenes, changed the lines, and the work was progressing considerably, so while receiving a tremendous boo from the staff, the correction contest was finally completed in December 2019, and the voice of the guide was voiced by the voice actor. I put it back in.

G:
it was good.

Tanaka:
I changed it a lot, so I was thrilled and handed it over to Mr. Nishino, who rewrote all the scenarios accordingly. This is the 'final draft of the scenario'. Normally, that is not the case. However, if Mr. Nishino thinks it's good, he will accept it more and more positively, so I think it's really wonderful. In addition, the animation is absolutely left to the professional STUDIO 4 ℃. There was nothing wrong with it.

G:
There was such a background.

Tanaka:
Therefore, the composition, lines, and scenes of the first draft, the twelfth draft once completed, and the final draft are quite different. I think there was still a lot of work to be done, but I think I did a lot of work in this production schedule.

G:
Is it something that you have done in your previous works to remake it to that extent?

Tanaka:
No, no.

G:
This seems to be difficult just to organize ...

Tanaka:
It's hard, there were a lot of hard things this time. I was instructing how to update the V-con and upgrade it, but the director was against it, and I was working with producer Hasegawa on the other hand in a different way. I found it (laughs). However, Hasegawa also said, 'I don't think Mr. Tanaka's method is meaningful,' and the work was stopped in three months. The character model was also difficult to complete because the director was particular about the precision. So I switched to handing over all the authority to Mr. Imanaka, the character director.

G:
In the direction of 'I have to complete it anyway'.

Tanaka:
that's right. She is a creator with extremely high modeling ability, so she said, 'I know where the director is particular about, so leave it to me.'

G:
I see ... Is it like working and dealing with 'it doesn't work'?

Tanaka:
It was a trial and error. Since it is a 3D animation, I often think that 'picture books move'. However, there was also a big mistake that the rendering was heavy and the machine got stuck because the texture was developed in excellent condition. After checking the rendering time, one cut '200 hours'.

G:
There will be confusion one after another.

Tanaka:
The model also has lines, shadows, and highlights, and there are 6 layers for just one character. There are 300 people in the battle scene at the end, and each person has 6 layers. Already, cut 52 has 1000 layers. Even though there are only three characters.

G:
It seems that the machine will stop (laugh)

Tanaka:
It was a series of happenings. At the end of June, 14 cuts were finally completed, and at the end of September, only 70 cuts were completed. It's a miracle how we were able to reach the completion of the first issue of 1465. Talking like this sounds like something interesting, but it was really hard. Moreover, it was a corona disaster.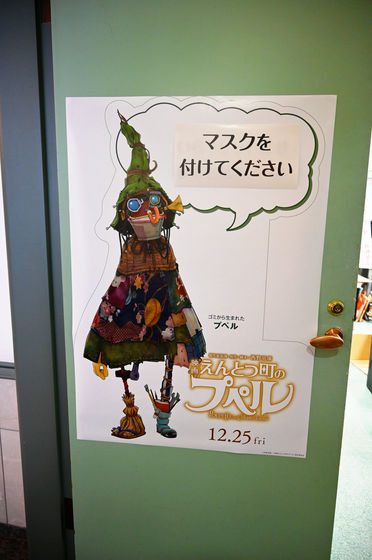 G:
That's right…….

Tanaka:
Returning to the question in the first half, the 'basic' of 'what you did as a producer' is the development of the world view, the composition, the scenario, the construction of the flowchart of the site, and the role and specialty of each section. Taking into account the nature, we created a team to ensure the quality by having each person work independently and responsibly. Of course, we have completed this work in sound production including music! I think that was the place.

G:
It feels like you've survived a great place. No, thank you for everything other than the work.

'Movie Entotsucho Pupel' is showing a big hit.

'Movie Poupelle of Chimney Town' Special Video: Pupel Edition-YouTube


'Movie Poupelle of Chimney Town' Special Video: Rubic Edition --YouTube


'Movie Poupelle of Chimney Town' Special Video: Scoop Edition-YouTube