Interview with Toshimasa Ishii & Music Kensuke Ushio, a short animation 'Soba e' filled with beauty in 3 minutes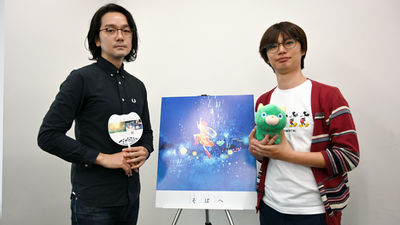 The short animation ' Sobahe ' was
produced by Toho Animation
and
Orange,
an animation production company such as the animation '
Land of the
Lustrous
', under the theme of 'inclusion', which is one of the corporate principles of the
Marui Group
. , It is a work that matches the fantastic atmosphere and beautiful music.
I had the opportunity to talk to Toshimasa Ishii
and Kensuke Ushio,
who worked on the music, about what kind of people created 'Soba e', which is a full size less than 3 minutes, so it's not just about the work. I have explored various topics, including personal topics.
Marui Group Original Animation 'To Soba'
https://www.0101.co.jp/sobae/
Mr. Ushio and Director Ishii who talked to me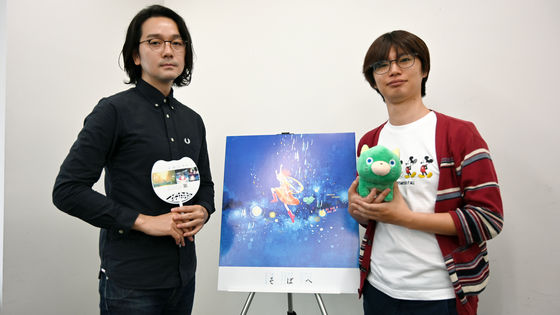 Q: Q:
How did Mr. Ushio join this time?

Director Toshimasa Ishii (hereinafter, Ishii):
After being told by Toho's producer Katsuhiro Takei that 'there are people who would like to ask,' he asked for his name and said, 'Please!'.

Q: Q:
Did you know Mr. Ushio from before?

Ishii:
Okay. There was a place where I thought, 'I can do it together!'

Kensuke Ushio (hereinafter referred to as Ushio):
I was urged by Mr. Takei to say 'Let's do it!' In Shinjuku's Golden Gai and said 'OK!' (Laughs). And this is what happened.

Q: Q:
Did you talk to us when you first met?

Ishii:
When I first had a meeting, it was really practical.

Ushio:
that's right.

Ishii:
It's not like face-to-face. Was it the timing when the contest was completed and the cut was finished?

Ushio:
You were able to take a storyboard. I was in a state where I could understand the time axis by shooting the storyboard.

Ishii:
Looking at it, I said, 'I'll do it like this,' and it was like an ordering meeting. Before that, I was talking via Mr. Takei, and Mr. Ushio brought me something like 'I have an idea to do this', so it immediately became a story of the work. If I had a chance, I might have had to drink alcohol first, but I felt like I came to this day (laughs).

Ushio:
I'm a little nervous. I'm most nervous about the director next door (laughs)

Ishii:
It's been like since dubbing.

Q: Q:
Are you two close in age?

Ishii:
I am 32 years old

Ushio:
I'm 36. What kind of word do you use? If you are a junior high school student, 'Run around'! (Lol)

(Everyone laughs)

Ushio:
Putting it aside as a joke, the age is very close. The impression I had when I first met was 'it's really kind and the atmosphere is soft', but when I do dubbing and music matching work together, it's really stubborn (laughs). I think that the person who doesn't give up with a smile is the type who faces the work most. Also, I'm the type most disliked by producers (laughs). At first, when I received the storyboard from the director, I was very writer-like, so I thought it was 'very credible.'

Q: Q:
What kind of image did the director convey to Mr. Ushio?

Ishii:
After getting involved in the project, please see it when the contest is completed ...

Ushio:
There was also a storyboard. I received some pictures that are also published in Design Works.


[Short animation 'To Soba']
Design Works (collection of setting materials) is on sale! Introducing the vivid colors and warm textures that color the world of 'Sobahe'. Please come into contact with the world view through this book.
For details and order
]]]

Https://T.Co/AgxlA0BJXJ # Marui to buckwheat _ to # buckwheat pic.twitter.com/FEh7vr6BdE — Marui No Anime (@marui_anime) May 30, 2019


Q: Q:
If anything, is it a visual form?

Ushio:
I think the first exchange of words was at the time of the first meeting.

Ishii:
I'm planning a story like this, and there are themes such as 'rain' and 'inclusion'.

Ushio:
For me, 'inclusion' was a very conspicuous theme. When I was talking to the producer and director Takei, whose name was mentioned earlier, I was glad that I was able to derive something like a structure from the concept on the spot and stick to the end as it was.

Q: Q:
How did you inflate the image and create the sound from the themes of 'rain' and 'inclusion'?

Ushio:
There are various kinds of rain, such as a lot of rain and dripping. In the past, I used to have the theme of 'rain' in my solo work, but from a slightly more microscopic point of view, it was like the trajectory of each rain. Thanks to that, there was a 'how to make' in my drawer, so this time I thought about what I could derive from a more macroscopic perspective, including the towns and people. Various musical instruments are playing with a certain phrase like a drop of rain, and it becomes music as a whole.

If there is a song like this as a frame, it creates a state where it is raining and the whole is a sequence, and there is a melody in the middle of it.



Q: Q:
Are various musical instruments 'rain'?

Ushio:
Okay. I envisioned that each of these could be a violin, a xylophone, or a piano. And since I was able to derive from the first concept that Haruka Fukuhara's voice could be put in the future, if you think of it as an inclusion as a whole, the composition will be decided at this stage. I was able to say that, so it is strong that the final form was visible to some extent from the stage of the first meeting.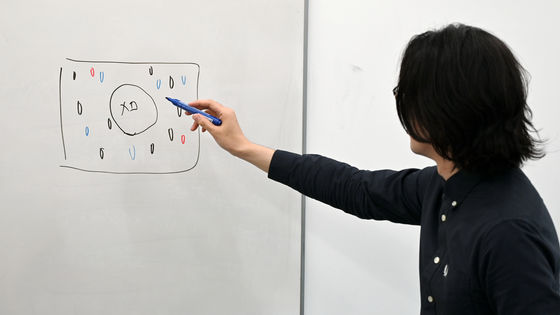 Q: Q:
When you make a song, do you come up with such a picture when you get an offer?

Ushio:
I often make it based on the concept, so basically I make the story, the concept, and the 'core of the work' first, and then make the song deductively. This time it was very clear.

Q: Q:
Do you see such a picture right away?

Ushio:
It immediately came to my mind from the letters.

Q: Q:
How was your impression of Mr. Fukuhara's voice?

Ushio:
While such a figure came to my mind, the lyrical part comes from the pictures and colors. It's like the feeling of a melody and the warmth of the tone, and I often get inspiration from the visual part, and this time I wanted to give it a slightly gentle impression, so I wanted to use unvoiced sounds. It's not a sound that shakes the vocal cords like 'da' or 'gi' in the voice, but a sound like 'ha', 'hi', or 'tu'. Also, since I have to shoot a lot of raindrops, I made a good beat sound like 'ta' 'ti' 'tu' instead of a rising sound like 'mu' 'nu' so as not to be slow to the rhythm. I wanted to. If it was a female voice, there was a strong possibility that it would be buried in the rain, but Mr. Fukuhara had something like the kindness of the character, but he made a voice that came out in front, so that is very attractive. I thought it was.

Q: Q:
Is it easy to use?

Ushio:
Well, I think it was wonderful because it was 'easy to make' and had a good voice to make it.

GIGAZINE (G):
In an interview with Haruka Fukuhara posted on the official website, Director Ishii said, 'I entered the scene with the image that I would finish with a feeling close to the cell, but ... the approach was completely different (laughs). But what exactly was the difference?

Ishii:
The usual work is to draw a storyboard by yourself, place an order with an animator, and check what has come up. These days, that's no longer the case, but when I look at the timesheet, I say, 'I don't like this!' (Laughs). However, this time I'm using motion capture to get the actors to move from the beginning, so I can't do that. Since the actor plays, it doesn't work to say '6 frames early' or 'accumulate 2 frames'. So, I was asked to play with a live feeling, and it might be a bit jarring, but I wondered if this might be the case. I messed with the timing at the production stage, but it was completely different where and what to watch out for.

G:
You said that you were new to motion capture, but what was the difficult part other than timing?

Ishii:
Normally, it's hard to explain the feeling of a play using your own body or voice.

G:
So that's it.

Ishii:
When the picture comes up, I just put in a comment saying, 'The facial expression is about this' and 'How to spread your hands about this.' However, when it comes to actually having a play, it can't be helped to overstate it. The actors also think about it and play it, so if you pack it too much, it probably won't work. 'Next time, do this, do this ...', the movement becomes like a program, and 'It's different.' As for how to go up and down the stairs and how to run, he said, 'It's like drawing as a picture in animation, but when you actually run, it looks like this.' When I applied it to the model and made it into a video, I realized that I wanted a little more keren taste. This time, I was careful about some parts, and I found some parts that I couldn't do. If you do a work with motion capture next time, there may be things that can be reflected from the contest stage.

G:
What are the points of reflection or struggles in motion capture?

Ishii:
I was thinking that I had decided what to do with one cut, or that I would make a key move. However, if it is motion capture, you can ask the actor to play without deciding on one cut for a long time, or 'This cut will move the character's emotions from here to here' or 'Stand up from sitting in the dialogue' I thought it would be better to keep it as simple as possible and let the actors handle the interpretation.

G:
Oh, I see.

Ishii:
Normally, when I'm drawing a storyboard, I think 'I'll stand at this timing and at this speed', but with motion capture, I'm in a state where I can get the thoughts and ideas of others, so I'll leave that to myself and how much I can do. I think there will be many works that do not break the cut at all, because you can feel how much you can pick up or make things that you can not give up.

G:
Mr. Ushio commented earlier that he wouldn't give up with a smile. What kind of part did Director Ishii not give up with a smile?

Ishii:
Regarding the picture, it's the size of the movement. When I did motion capture, I had my hands spread out quite a bit and had them move or jump, but the height of the jump wasn't enough. Even if the actor runs in a hurry, it may not be so if you make a picture. It's called '3 runs in 1 frame', but if you don't make it as fast as possible, it doesn't look like it's moving fast in the picture. Hooking a poncho on a signboard and then popping it in front of the screen (main story 1: 19 ~), that distance can't actually be advanced with that number of steps (laughs). Seen from the side, it looks like a considerable jump. I'm shooting because motion capture can't make such cuts with a keren taste, but I asked CG to 'prioritize the picture.' The orange animator also understood that he had the know-how so far, and he said, 'Let's go a little longer,' and said that it was a good cut. I have an impression.

G:
Also in an interview on the official website, Director Ishii said, 'I felt pressure when I first heard about Mr. Ushio's music.' 'I gave Mr. Ushio a rough cutting based on storyboards and added a song to it. I was asked to do it, but when I listened to what came up, the excitement that matched the video was firmly created. ' Did Mr. Ushio think that this would put pressure on him?

Ushio:
No, no way (laughs) The big flow is 'I lost my umbrella, found it, stroked it at the bus stop, and started dancing', and I was making songs and excitement according to that time, so if there is pressure If you feel like, I think it's something like 'Don't change!' (Laughs) I'm very sorry.

Ishii:
It was highly complete from the beginning, and it fits my image. It's amazing that there is a rising feeling that 'the sounds are gathering more and more here, and those who are watching it are absolutely happy.'

Ushio:
Most of the time I made fine adjustments from rough to master.

Ishii:
I agree. Let me say selfishly (laughs)

Ushio:
I won't give up with a smile (laughs)

Ishii:
When the work was completed, I could never say something like 'I don't have music this time ...'.

Ushio:
I can't blame the music. It's nice.

Ishii:
'The music is perfect, so let's bring it to perfection,' he punched. Perhaps the first punch was Hiroshi Nagasaga's concept art, then the punch with music ... and finally, it was one of the big steps in bringing it to the finish.

Ushio:
The concept art was really good. This orange one. Is this the director?

Ishii:
Before the contest went up, I talked to Mr. Nagasago and asked him to draw it.

Ushio:
The fact that the director also based on this concept art may be the reason why it didn't shake much.

Ishii:
The orange image at the end of the main story was a picture that said, 'This work is okay,' so I didn't deviate from that.

Q: Q:
Did you make any fine adjustments after the entire anime was made?

Ishii:
There is almost no.

Ushio:
What was really interesting about this work was that I first shot a storyboard drawn by the director called Conte Shooting, and after that, I haven't made an animation picture like Previs, but the movement of CG is There was an image of a certain state, and I was able to apply sound to the image of that state. It was easy to see the completed form and it was a new discovery.

Q: Q:
Is it because you know the sequence?

Ushio:
The image of a stickman moving in the same way as the completed form is easy to match the sound as a picture. For example, there is a place where the 'darn' sound of the piano hits the jump, but it is easy to measure the timing, and it is easy to make a combination if you can see the picture. It is easy to understand that 'that place over there wants to be like this'.

G:
In an interview posted on Steinberg's site, Mr. Ushio said in his college days, 'Because I was a computer geek, it seems that Pro Tools was operating abnormally quickly.' 'The computer is a Dell workstation Precision. I'm a computer nerd, so I can make it myself, but the Dell workstation has great support.' 'The computer for working outside is a Lenovo ThinkPad.' I was talking about it, but what kind of PC are you using now?

Ushio:
Recently, my PC hasn't broken much. It used to be broken (laughs) ... Is it okay to talk about this?

G:
It's okay.

Ushio:
I've been using 'Opteron' duals, and I've been making my own with multiprocessors even before the era when it was said that it was dual core like this. I like semiconductors (laughs) It was hard at that time. It doesn't work at all, and it falls off soon ... I've been doing things like IRQ competition, measuring latency, and so on, but if I make it myself, I'm in trouble if the PC breaks the day before the deadline. However, with DELL workstations, if you sign a maintenance contract, they will bring you the parts and fix them within 24 hours.

G:
I understand ... I have had it repaired.

Ushio:
It was easy because an uncle like 'Pull off the motherboard and return it as a new one' came, but recently the PC has not broken no matter what I do, so I can not make it myself, but a suitable BTO I'm done with it. I've been using Sycom's BTO for the last three years. From 5820K on X99 to 6950X. Multi-core is not very good for DAW and other music.

G:
Oh, that's right.

Ushio:
It can't be helped if there are too many cores, so I'm killing hyperthreading and overclocking early.

G:
Is that more effective?

Ushio:
I agree. For example, this time, for Mr. Fukuhara's voice, there is a process of adjusting the sound quality and volume with a compressor using an equalizer, adding reverb echo, and adjusting the sound field. 'Adjustment / sound field adjustment' cannot be done at the same time in chronological order.

G:
Oh, I have to do it in order.

Ushio:
If you do it in order and the previous process is not completed, the next process cannot be performed, so you cannot process in parallel. So, Cubase needs about 8 cores.

G:
Does it make no sense anymore?

Ushio:
It doesn't make sense and the CPU is playing. If you have a voice, a violin, and an oboe and want to adjust the overall sound quality after putting them together, it doesn't make much sense because you can't move the entire adjustment thread until you've finished adjusting each sound. is.

G:
Did you become familiar with such parts naturally as you used them?

Ushio:
It was at the same time. It feels like 'computer geeks are doing music'.

G:
In the part that mentioned Cubase in the same interview, 'I knew the name Cubase from high school because I liked table tennis, but I could not buy it because it was expensive, so I bought and read only the manual of Cubase VST I was there (laughs) '. Why did you decide to read the manual even though you didn't have the main unit?

Ushio:
I had decided to become a musician (laughs).

G:
Do I have to buy Cubase anymore?

Ushio:
I have no choice but to buy it. That's been the case since I was in elementary school.

G:
primary school! ??

Ushio:
When I was in the 4th grade of elementary school, Tetsuya Komuro was in a boom, so I saw Daisuke Asakura and Tetsuya Komuro and decided, 'I'll be a musician too.' I'm reading a MIDI book, but I don't have a PC.

G:
You always read a book first.

Ushio:
You read a book. That's why I started working with Takkyu Ishino, and I was able to use software that I hadn't used since the first day. I've been reading it all the time.

Ishii:
'I know ...!' (Laughs)

Ushio:
'This guy will move!' (Laughs) I really felt like 'I know.'

G:
Ushio's mean that 'loved the original animation', Na published an interview to the tally as the 'anime otaku, come Shasharide a guy like you've never engaged in also the site once until now animation I don't want to see it (laughs) '' I'm doing something like watching only one episode of 'Kokoro Library' once a year with my local otaku friends and crying together. '

Ushio:
I saw this year too (laughs)

G:
(Laughs) Furthermore, there is a story that ' when I was a high school student, I was looking for a cover with Aoi Nishimata's scratches on G's and bought it.'

Ushio:
I want you to stop talking about that on sites with a lot of PV! (Lol)

G:
And in the interview with Animate Times, the name of 'Revolutionary Girl Utena' was mentioned as a particularly favorite work, and in college it was an annual event to review the whole story of 'Legend of the Galactic Heroes', and even crying for the first time. There is an episode that it was the 'El Hazard' series, but ... What made you start watching anime?

Ushio:
Our generation had 'Evangelion', so watching anime ... I don't know if it's a girl, but if it's a boy, it's kind of like 'a little cool' or 'different from people'. As for the trigger, when I was a senior in kindergarten, the first volume of 'Ah! My Goddess' came out. I read it.

G:
That's right.

Ushio:
I was wondering, 'What is this feeling of sickness?', And when I was in the 4th grade of elementary school, I read Ken Akamatsu's manga 'A.I can't stop!'. As a result, when I was in kindergarten and elementary school, I was always addicted to 'manga with girls falling'. When I was in the 5th or 6th grade of elementary school, I thought, 'It might be interesting to see anime rooted in it.' When I saw 'Voice / Yu Club' that I was doing in the evening on TV Tokyo, there was 'Tokimeki Memorial', 'Chu in Shibuya!' And 'Evangelion'.

G:
Wow ...

Ushio:
It's like self-education.

G:
Are you still watching anime?

Ushio:
I've been working on anime for a few years now, and I've been working as a musician ... It's strange to say that nowadays, anime has a budget and production is gorgeous. There are a lot of works by really talented people using professional orchestras. The level of animation is so high that it makes me dent when I see it (laughs). 'It's amazing. I can't do this.'

G:
What ...

Ushio:
For me, anime and music didn't really stick together, and I liked music because it was music. This is a metaphor for the music knowledge that I often do, but anime music should be done by people who can do anything, boasting a collection of books like the National Diet Library. But I only listen to electronic music in my life, and when I was a high school student, I was a youth who said, 'I don't listen to this because it has a song!' Or 'I don't listen to it because it has a guitar.' If the people who play anime music, drama music, and movie music are the National Diet Library, I have only an assortment of items like Kanda's science fiction specialty store (laughs).

G:
(Lol)

Ushio:
Instead, it's a specialty store that divides the genres that everyone puts together as 'SF' into genres, and even has the first edition. That's why it's a little hard now and I can't watch anime anymore. Even when you call out to me, it's like 'the strange collection of books is interesting', so I hope you won't get bored. There are a lot of great composers, so I feel like I'm quietly collecting old SFs.

G:
So that's it……. Next, I would like to ask Director Ishii, but in an interview Vol.3 on the official website of the work, 'I majored in physics at university, but when I entered Ani Lab, I noticed the fun there, and this one I'm in the industry. ' Why did you major in physics?

Ushio:
Is it physics?

Ishii:
Okay. Originally, I've loved physics since I was in high school, and I wanted to do a research job in space. So when I went to college, my parents said, 'Physical fun!' And let me go to college. And when I was in the 4th grade, I said, 'I'm going to do some anime' (laughs) My parents also cry. It was amazing.

G:
You said you were at Ani Lab. What happened at Ani Lab?

Ishii:
When I entered the Department of Physics, I wanted to get a research job or work at a research institute. On the other hand, I watched anime when I was in elementary school, stopped watching it once, and came back in the latter half of junior high school. When I was in high school, I was watching anime and found out that 'animation seems to be made by individuals.' Just like lettuce light came out and I knew that I could make it with it, so I had the feeling that I would like to make an animation as well. That's why I was making digital animation using lettuce at the university's Ani Lab, so I thought it was interesting. Even though we are making anime in a group, there are 20 people, and from the current way of making anime, it was a completely messy way of making.

G:
What is messed up?

Ishii:
A person who wants to do this kind of work raises his hand and somehow draws a storyboard. Twice a year, there is a screening where the Ani Labs in the Kanto region gather, so we all make it in the summer and winter to bring it there. If there are about 50 cuts, it is said to be 'many' and will be reduced. Now, I divide one scene in half and have the animator take it all together for work, but at Ani Lab, if a person who reads the storyboard wants to draw here, each cut I will take it to. It has nothing to do with the connection (laughs)

G:
(Lol)

Ishii:
There is no animation director and no direction, so when I get a cut, I draw, paint, draw the background, and even shoot.

G:
It's a great way to make

Ishii:
Finally, the director or the person who drew the storyboard will check it. However, even if I say 'I want to do this', I can't fix it (laughs).

G:
It's amazing (laughs)

Ishii:
There are stories and lines at the contest stage, so for the time being, you can see what you can see as a flow. Then, I found that group production was quite fun, and there was a senior at the university who entered the studio as a video man, so I listened to that story. When I'm doing it in a circle, drawing is fun at first, but at that time, there was a special feature such as Yasuhiro Irie in an anime magazine, and when I saw the original picture, I said, 'If you can't draw like this, you can't be an animator. I thought I couldn't be a drawing man. I was sifted with a good feeling, saying, 'That's absolutely impossible.' I learned that 'But if you are involved, there is also a way to enter in production and direct', so I asked a senior who was doing directing, so I asked 'I want to try it, so I will go for the time being', it will be like this I did.

G:
So that's it.

Ishii:
If there is a connection between animation production and physics, is it 'controlling something'? In physics, you can make various predictions with mathematical formulas, but in animation, you can control various things with timesheets. It is very interesting to be able to create something that 'this is the most comfortable' depending on the control.

G:
This time, the director commented that 3D was his first challenge and that the video expression unique to 3DCG was interesting. Did you feel any discomfort when compared to ordinary animation?

Ishii:
I didn't. Although the movement of the character is a very strange movement, the expression of water is rational, and I asked him to do it by simulation. That fairy's poncho is also simulated.

G:
It's the transparent guy that I mentioned earlier that was hooked on the signboard.

Ishii:
It was a lot of fun to see. So, as a way of showing, if you want to swing the poncho a little bigger, add a pseudo weight, or if you want to move the raindrops on the window glass a little more slimy, change the gravity. It was really nice to be able to change the parameters of gravity, water viscosity, and air resistance, and adjust, 'It will be like this when actually adjusted, but it would be better to bring it closer to this cut.'

G:
It's not 'as it really is', it's adjusted. I thought it wasn't natural.

Ishii:
I'm making a lot of adjustments. For example, a cut that puts Bashan and his feet in a puddle, it is slow from the middle, and if it is a time sheet, I am hitting a lot of dots with a gap between the original pictures, but I am changing the air resistance on the way.

G:
In the middle! ??

Ishii:
That doesn't stretch the movie that much, it changes over time. When I heard that, I thought, 'Wow!'

G:
I wondered how I was shooting ...

Ishii:
We are changing the water by applying various forces. But that kind of thing makes it look memorable.

G:
It is said that he made a color script in this work. It seems that not every work has a color script, but why did you decide to make it in this work?

Ishii:
First, Mr. Nagasago's concept art came up, and if it was an ordinary animation, he would use it as an art board and ask the art director to draw the space. However, there was a little time before I asked Mr. Art to work from the state where the content was up and there was concept art, so I asked him to color it. The boards are not connected by a simple linear shape, and sometimes there are sudden steps, so it was great to be able to pass through them once. It's easy for the art director to draw if there is an image first, and I'm grateful that I was able to say 'please make it look like this' even when the colors change due to scene changes.

G:
Did the director give you instructions such as 'I like this feeling' regarding the expression of rain?

Ishii:
That's right ... At first, I was asked to raise it in a simulation and explain that I'm doing this, but it was really strange that such a picture could be made with just that. When I say, 'I want a drop in this area,' the one with the drop comes up immediately. After all, I think that those who are working are amazing. There are various approaches, such as 'If you do this, raindrops will form here' or 'If you do this, it will work'.

G:
How did you feel when you first saw the finished product of this work?

Ushio:
I'm very happy to say, 'I can complete the concept-based creation.'

G:
Happy?

Ushio:
If you can 'do as expected', multiplication will occur and it will be more than expected. I'm glad to see that.

G:
Is it convincing to see the so-called mini Ushio who is inside Mr. Ushio?

Ushio:
I'm saying 'I can't do it!' (Laughs)

Ishii:
I was watching through when I was at the scene, and at the stage of delivering it, I thought 'Oh, I did more!', But when I saw it on the screen at the opportunity of the preview, 'Oh, good, it's over. The impression changed. After the preview, I felt that it might have become something that people could see properly. Regarding music, the completed form came up from the beginning and I felt pressure here (laugh), but if Mr. Ushio's music was the base from the beginning, please make a video that matches that. Then, I think it would be 'I wonder if this was good ...'. It was a good match for my rough cutting, so I really want to say thank you to everyone. This work was completed at my own risk, thank you, I'm really sorry.

Ushio:
You can't objectively see 'while the iron is hot' right after it's finished. Even with music, when it's done, I do mastering work through human hands, but when I return to my usual environment after that, I suddenly become able to see it objectively. I think 'it's fine'.

Ishii:
Since it is published on YouTube, I get impressions from various people, but the part that says 'I failed' can now be said to be 'Isn't it?' 'I like music' is 'Isn't it?' (Laughs)

Ushio:
I'm afraid!

G:
Thank you for talking to us today.

Short animation 'Sobahe' Full Ver. --YouTube