Interview with Yuma Miyagawa interview composer "Space Battleship Yamato 2202 Love's Warriors" telling Yamato's likeness as "postcard"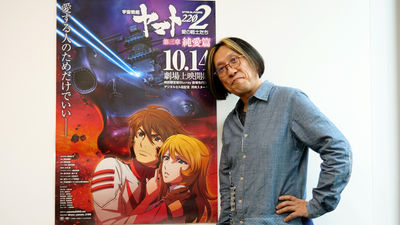 Theaters are screened in all seven chapters since February 2017 "Space Battleship Yamato 2202 Ai no Senshi"That he was watching the original movie" Farewell Space Battleship Yamato Ai no Senshi "and the TV anime" Space Battleship Yamato 2 "Nobuyuki HabaraYaHideki Oka, I learned about the existence of Yamato on the theater version TV broadcastingHarukoshi FukuiMr. and others are engaged. In that staff member, I am in charge of musicAki MiyagawaIs a continuation group from the previous work "Space Battleship Yamato 2199". Moreover, my fatherYasushi MiyagawaHe was in charge of music for a long time from the first "Space Battleship Yamato", so to speak, a hardcore "Yamato" parent and child. I have asked various stories such as how I was involved with "2199" "2202" and how I was watching my father's work.

Space Battleship Yamato 2202 Ai no Senshi
http://yamato2202.net/

Composer · Stage Musician Yuri Miyagawa Official Website
http://akira-miyagawa.com/

Q:
For Mr. Miyagawa, I think that "Yamato" is a very involved work. Can you tell us about the frank comment that was supposed to do the "Space Battleship Yamato 2199" in 2012?

Akara Miyakawa (Miyagawa):
I am exactly "Yamato generation". "First Yamato" and we are calling, when there was a television broadcast from 1974 when it was a junior high school second grader. We were the first guests and it seemed to be trembling sensation or real feeling that "a new history advanced one!" Was extremely real. The servant felt like Yamato "was made too much" after that from me.

(All lol)

Miyagawa:
Everyone will laugh when this story is told? It is somewhat to the minds of everyone "Why did you say" Farewell "?" Would you say "forever" What is it? "(Laugh)" Although I told you forever "Do not do it again Some things that seem like a half joke are spreading like me, and some of them are honestly withered against it. It was my first generation, my father's music was proud, and for the "Space Battleship Yamato" all the staff, from the story from that design, I am really proud of it. So, there is something like "Do you do it again" in 2199 ...? I intended to go to a place to preach that "Please go ahead," no more. Before that, live-action version,NishizakiHe also directed himself, did not he?

Q:
Is it the resurrection?

Miyagawa:
Yes, Revival Hen. I wonder if that was the time for the conductorNaoto OtomiI was calling "Please do it together" from Mr. Masaru, but I declined to tell her honestly, "It's not saying that it is not a subject of assertiveness, but what I do not do is my intention." After all I am a little awkward, after that, I have not worked with Otomo san once (laugh).

(All lol)

Miyagawa:
That's why I decided to refuse it again. General directorEmergenceBecause it was that Mr. wanted to see me, I would like to meet with you and say "I do not want to do it for this reason". When I saw it, I might have said about half (laugh) Then "Mr. Akara, I am the same idea", Mr. Terubuchi said. "What I'm trying to make is" remake of the first 26 stories ". He admits my claim as "exactly as I say" and said "I am truly creative is the first 26 episodes" and "How about rebuilding, how is it?" Then ... then this time you're not yourself, are not you? (Laugh) "Music:Takayuki HattoriI came out, I'm shocked. It's a joke though (laugh)

(All lol)

Q:
But, if Miyagawa answered that he would not do it, it seems enough.

Miyagawa:
I am Takayuki Hattori "Symphonic Suite Space Battleship YamatoI have seen LP signing my father (Yasushi Miyagawa). It is that Miyagawa Yasushi had the impact of "signing me". It was about the impact of Hattori family and Miyagawa family, Yamato (laugh)

(All lol)

Miyagawa:
So, "I will suffer if I do not do this myself, so I want you to do it by all means," it is an immediate response within the day. But it was good. It was also nice that such director was there, and I also thought it was good to do it.

Q:
Have you felt Mr. Tatebuchi's enthusiasm for you strongly?

Miyagawa:
It can be said that enthusiasm, and "a unique world view" can also be said. He was not the one who is trying to assemble stories with only the local ones within animation. I have not realized it at all yet, I was working on Yamato with a stance like drinking until morning and talking about the universe. I did not start from "Yamato for Yamato fans", and the general wonders of the universe, wonders of life, miracles of meeting, such as good and evil were twins. It was fun talking and I am also interested in that kind of thing because it was a person who has so many philosophies and things like space philosophy including such things. Well, musicians and artists are about big, are not you? "I think it is a politician who talks about a decade for a bureaucrat, it is a politician who talks about a hundred years, and an artist who talks about a thousand years is an artist." So, Mr. Masubuchi seemed to be enjoying it because I understood such a story, and it is an honest place that I fell into "2202" in that trend, though (laugh)

(All lol)

Miyagawa:
In "2202" there was no such ritual like "I will not let you down." For anything, it is impossible for only good things to be heaven. It does not really matter if you do not look at both heaven and hell. For example, but I can see both of heaven and hell is because raising children, Yamato's such that heavy of about feed their families is the Tteyuu for me. Simply Is the or "fun was it" not 's "new I myself was able to discover" or just it, "I'm heavy." "I ne big mon burdened still" (laughs). It is a feeling that it is not going to be doing Yamato unless it faces boldly and confronts it. It may be a bit overkill, though.

Q:
Is it that you had tasted that "Heaven and Hell" since "2199"?

Miyagawa:
"2199" seems to have eaten heaven, the whole sweet spot first. There was a feeling like "I got all the places where fat grew". Hell will come after this, after all (like lol).

(All lol)

Q:
In '2202' the directorNobuyoshi HabaraAlthough I am switching to Mr., are there any differences at that point, differences in job interactions and impressions etc?

Miyagawa:
That was completely different. Mr. Uchubuchi was a type to enter from philosophy, but Mr. Habara might not be the same. Although I do not know whether there is only a chance to do such a story, though. Then, Mr. Huhara has the impression that judging judges is very good. When choosing "Which one do you like this over?", It seems to be better to choose which one is closer to the goal or the future is brighter. Since Mr. Masubuchi starts with philosophy, he suffers from not being able to come to terms with what he said before the judge (lol)

(All lol)

Miyagawa:
I think Mr. Uchubuchi is getting hooked on myself in the trap I set in. I think that it is very manly as an artist, but Mr. Huhara definitely relies on choosing the way to not fall into that trap, so I am very relieved.

Q:
Is it an impression that work is easy to do together?

Miyagawa:
The word "easy to do" does not apply to a bit, but it is "sense of security". Even though I saw what I had done, I was relieved. I feel that the flow of time is smart, I feel that there is no waste, and there was a feeling that "I say" I can do it "like these things. The younger brother said "The same rut is stepped on" and if you have a hole, are you cleverly being smart? I imagine selfishly, is not Mr. Habara something like the second son or the third son? I am the eldest son and fall into a hole type. I do not have to do it is a type of hardship (lol)

Q:
When it was "2199" it was a story that there was no past music and it started with ear copies.

Miyagawa:
Since the father of the archive like a the there is still, I Yamato of music had been found is that almost no there. Thinking just one side of the page, but I'm certain the battered wreckage something like, "This is ○○ Guide" is not made in like a form, brilliantly there is no 73 songs of the first of Yamato. I do not remember seeing the music of "Farewell". So, but I did feel that was referred to as "sound source there is no" from Columbia who was in charge of music at that time, I'm sound source is. Everyone has a CD (laugh)

(All lol)

Miyagawa:
As for multi-recording, there may be a recorder for multi, too. But it was a story to rewrite everything in any case. Anything, the information received from the image will change to gully and the design will change. The most important thing is texture, old animation was like a color of flipbook comic strips. It was a taste of that time, but now that CG has become more and it is somewhat understandable if you re-record it as the "time density" of the video and the "time density" of the music do not match Why But, when you need to re-record it you will need a score so "When you hear that you are copying ear, do you?" Mr. Moutoubou seemed to be interesting in the morning "Well that's not to be the case" Feeling.

(All lol)

Miyagawa:
At first, I thought, "Are you serious!?", But (laugh) But, on the other hand, I was also very excited about myself. Several things come to mind as "Do you think I can write that song on the score?" Writing on the score is to make it clear what kind of structure the song is, so I will re-learn about what was realistic on the musical score once more. Then it was funny after all. Ear copy can be anyone who is a systematic composer who leaves music university, but I feel like I'm just taking a lesson. That father says, "How quickly can my father postpone this one minute's song for two minutes?" (Laugh).

(All lol)

Miyagawa:
It is good, that kind of technique is (laugh) I wrote up myself, so I can tell, 'Oh, I wrote this song in half an hour'. That's why there were a lot of things like "Oh, that's it, I did it ..." There are several things like .... The details are a bit tricky company secret (laugh)

Q:
Is not it completely different from just listening to songs and raising it again on the score?

Miyagawa:
This is totally different. "Even though there was only this element, I just had semitone transposition here, so my dream spread like this." "And after that, it's a semitone down and back!" Something like it is not an editorial man, I do not know, I do not notice. I understood it all and it was fun. There were several songs saying "God is staying", I thought it was a big deal. At that time, Yasushi Miyakawa was noticing.

Q:
"2202" has raised the song "Farewell" on the score.

Miyagawa:
We call it "salvage" in the sense that we will rescue the old songs, but when we try to copy "Farewell" ear, "This is clearly the stage of discussion, differentiation from the first Yamato I figured that "I do not care". In musical terms.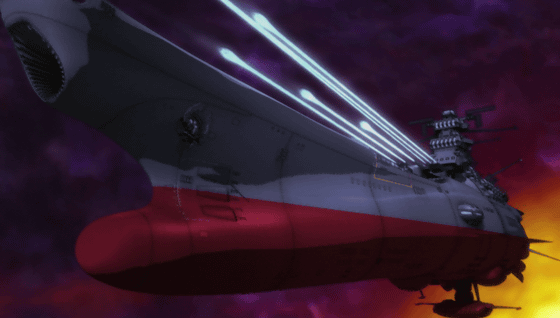 Q:
What is it like?

Miyagawa:
That means that there are strangely many parts of strings. The first Yamato was a rather rock-like song. There are a lot of active scenes in the rhythm section. However, "Farewell" is basically based on stringed ensemble intentionally. In other words, there are quite a lot of world music that does not use rhythm cords, codenames and so on. In place of the former rhythm corps, the strings are almost playing. I guess it was probably because there was a meeting at the meeting saying "Since this was how it was like this before next time". As I thought, my father was not trying to make exactly the same thing and started changing from musical instruments to "I will not use this instrument for a while" in order to maintain my motivation I thought it was strange.

Q:
Is it reason why there was a classic impression?

Miyagawa:
Yes, as a result it sounds classical. And there, that pipe organ Bach, that's why.

GIGAZINE (hereinafter referred to as G):
"White comet" using pipe organ is "2199" when "Immortal Space Battleship Yamato New Disco Arrange"There was a story saying" I fulfilled the revenge "after doing rearrangement of the version," 2202 "a form close to the original is flowing with a special report," Oh, a white comet came "was thought. I was told that the performance was done by the performer at the Sumida Triphony Hall this time, did you have anything to say as yourself?

Zodar the Great Empire led by "White Comet Empire"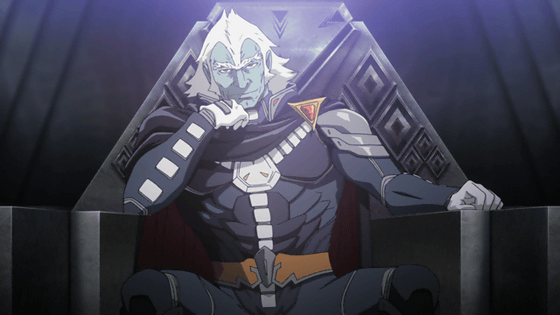 Miyagawa:
The "white comet" remembered the memories of when I played at that time and the impression that the score was sure like this remained. I prepared a perfect score by listening to my performance as a high school student many times, and handed it to the organist Hiroko Yoneyama. I also had the option of playing by myself, but I thought it was a joke (laugh)

(All lol)

Miyagawa:
On the day of recording, beside playing the pipe organ I stand up and listen to the sound and she asks "Does this is OK?" I heard that "This sound is okay, is not it? If you choose it or check how to play it,LitYou do it. "" Oh, there you arePhasing, It is getting good ". When asking "Do you learn to study?" What is it because you got a CD? So did you study the guy who I played when I was in high school! (Laugh) That's why I thought, "Oh, I played it musically like that". In the meantime, "It's a bit different there.MarquardtI played and played Rittal Dand here, I got one beat here and it got here strongly, "I was working very hard on the pipe organ playing the pipe organ. At that time, I remembered that I was "when I was with you." Mr. Yasushi Miyakawa led me so hard to command, inspiring and explaining the music. I had forgotten such a thing. Since I was full of eyes at that time, it has always been a tearful eyes and played for me, whether it can be played without mistaching or not is a problem and it is said that it is "problematic" or "musically like this" Even though "I understood, it is not that kind of problem!" That was what I was doing like "Dad!" (Laugh)

(All lol)

Miyagawa:
I forgot it for a long time but surely Yasushi Miyakawa wrote the command beside me "While like this, here, I came here like this, I will take a break and go for a while", I I was coaching that. It is a delivery of a musician and a musician's baton, it is also a delivery of a parent and child's baton .... It is also a composer and a performer and it is a complicated baton. I remembered that various things were put there. After that, I also repented to my child "I'm not just showing my back, let me tell you what I should convey". Once in a while I was disturbed inside the house and I was doing it to Ginza, even a kind of father like me, (laugh). I thought myself was a bit better father than Yasushi Miyagawa, but not only that, but it's not enough to say "I have to pass the raw baton unless I think about this important thing" I started.

G:
Even if Mr. Tae is busy not going home much, even if I came back, it was midnight so I could not hear much talk and I heard a story saying I could not hear the hard work of making Yamato's first 73 songs in a month But, in fact at the time of the pipe organ recording, for example, the baton was handed.

Miyagawa:
so! I thought that before, I copied the music sheet, I took a lesson beyond this world and the other world. However, again, I remembered very much that "Daddy commanded beside bubbles beside me, said that it was okay," I remembered as if I saw my current self ...... It's strange, is it sleeping all the time in memory, opening a drawer to something's rhythm, you come out to slacken?

Q:
Although I heard that not only Ear Copi but also Mr. Akaru himself composed a lot of parts, the musical background is also different, and there are also differences in their individualities, and the songs transcribed from the original and What kind of things were you thinking about living with your own songs?

Miyagawa:
If it answers that question, it is a correct answer to say "I did not think about anything". At the beginning I do not have a bit of confidence,Tomohiro YoshidaI asked Mr. "I do not care", I wrote words from around, I was writing. However, when I arrange what I finally made after recording, I have no sense of incongruity at all. This is strange thing. Even though the style is completely different, I also dare write songs that my father did not write. This is because seedling at "2199" was very good. Mr. Masubuchi prepared "Gamirasu national anthem", "I want me to make it because there is no melody" young people hold ambition ". It dropped into "2202" as it was, but it was good as it was said that it was said that "nothing discomfort", "Mr. Arai, well done well" to customers around himself, not just himself.

Q:
Yes, I have no sense of incongruity at all.

Miyagawa:
It is any artist who is influenced or not accepted, but longing for fashion named "Harmony", curvaceous like a big dragon named "melody" (lol), "rhythm I'm not sure if I am admired by such things as DNA, or from experiences, but the feeling is still the same. And maybe it will not rush to "express the times". Well, I wonder if my father was a little bit overwhelmed ...... No, but ending is "A red scarfThat's it.

(All lol)

Miyagawa:
That was lagging behind the times in age. When I was a junior high school student, I could not accept that one. "Dad!Mahinas StarsIs not the age different? "(Laugh). It is certain that it is a good song and I was able to understand it even after becoming an adult, but that is one proof that it did not think of any fashion. The other thing is that I did not use a computer. Yasushi Miyakawa himself did not use the computer and did not use any computers in the music. That's why I am the same. Although it is because it can not be used.

Q:
It is not even recorded separately.

Miyagawa:
I think that it is music to do with a single shot. That is why something like "Miyagawa music" might have been successfully jointed with nature. But when my father is also aware, I do not think there was any problem at all, but the writer really is in trouble if he says "I want you to write songs that look alike". There are many things that are really well done for battle scenes songs, but "Because the enemies are also different this time, it is said another something that feels like that". Is that cumulative over 900 songs? You saw an incredible hell, did not he? Can I already use the same song as before? I think that.

(All lol)

Miyagawa:
But I knew that it was boldly fighting though "I am fighting while I am out of action", I think that my father was really great. There were many in the song "Farewell."

Yamato desperately fighting from the third chapter "Space Battleship Yamato 2202 Love Warriors".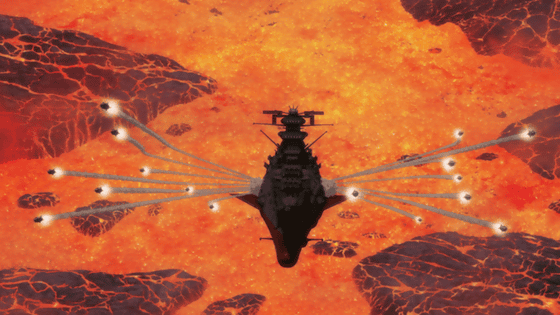 Q:
From there, there was also something that was told that "please take out another step, something."

Miyagawa:
This time I noticed that the figure that struggled was equal "Yamato". "Yamato" is "struggle" "an ascent". Why everything from battleship Yamato? 'Cause it's Yamato, it's not a' space battleship Nagato 'not (laugh)

(All lol)

Miyagawa:
Anyway, "You must be Yamato", and "Without this it is not Yamato." In this one that I wanted to do for the first time, it was also based on replacing the Pacific War with the universe. Therefore, this work carries various things. It is sociality or philosophy. So if you do not do it, if you do not struggle, it is not Yamato.

Q:
I see.

Miyagawa:
I do not know if customers are watching Yamato, whether they are struggling together or not thinking together, but I hated the last scene of "Farewell Space Battleship Yamato" . As for war, I was in a school where studying carefully and carefully, for example, I was told that I was going to write the impression of "Kokadatsumi" on the theme of summer vacation, so when I saw that scene, "This is with the Special Squadron It is understood even by a high school student that it is good. ...... But it's cool (laugh). When Yamato is thrusting in, "Farewell Earth" flows in a masculine chorus a cappella and it becomes a gene. "What is I?" I guess.

(All lol)

Miyagawa:
So I will start struggling. Weapons are not cool. The battleship is also a big weapon, and I also had plenty of model guns. Because it's cool. On the other hand it is also a tool of murder. Then, "What is I? What is a human?" Even though my head knows, my senses are opposite. But, there is the identity of knowing that "struggling, thinking, discussing what is not answered" and "to be totally different in the case of a person" is "to undertake Yamato" That's right.
I think that why it is possessed by such things, but if I get "ill" at that time, I have to keep going for a lifetime. Although it is a story like Kamusu (lol), it is my relationship with parents and children to show both "heaven and hell", so I guess that it will become a true lore.

Q:
In the past, there was a story that the information density of the image side is totally different now and then, but is it feeling that if you make music with the same density as that time it will spill it?

Miyagawa:
It seems that it is called "punctuation" or simply does not fit. I do not know what the term is right, but it seems to be somewhat irrelevant. If you make music of the same density I think that it will feel like "why do not leave the picture as it was long ago." There are places I think about this, and I think that there are not many things that can sing a melody in film music and animation music now.

Q:
Rather than one piece of musical instrument protruding, since many instruments are stacked at the same standing position, is it difficult to keep the melody?

Miyagawa:
Now I can overlay musical instruments freely using a synthesizer, so I think that there are aspects that make sounds similar or somewhat like "mixing all colors", making the melody difficult to understand. But, in fact, I think that it is said that "I do not need it" when applying a bold melody. In movie music, there are plenty of instruments such as chopping the rhythm only as "Dung Dun Dunduun", heavy bass sounding "Zune" and sometimes slightly different instruments entering. One of the reasons is that visual information has been cleared so that visual information has been used up to a considerable amount of information in the whole movie.

Q:
Does it become noisy if you insist on sounds?

Miyagawa:
Yes, I do not need a melody, I just need a sense of air of music.

Q:
Is it becoming "abstract"?

Miyagawa:
Although it can be said that the music itself is becoming abstract, but with the sound that air feeling is more likely to be there there, the melody may be ultimately abstract, right? There is a very difficult problem there, but I think that there are many cases that information is buried and "Please do not need melody, only air feeling". I imagined it because I never worked so much with such a director (lol)

(All lol)

Miyagawa:
So, in consequence, the melody that can not sing a bit may be able to balance the information. If it's an old movie, Francis Ford Coppola's "GodfatherThe main theme is very famous, is not it? People are watching in various places, people watching leap tremendously and can freely image. At that time, the image blurred or flew black, and I do not know what the details of the subject are. It seems that the old film had something the audience had to turn on imagination. The record also comes with noisy at first at first, but with that, imagination switch on it. "The sound you hear is that the diamond's needle is scratching PVC, but it sounds like a real sound, is not it?"

(All lol)

Miyagawa:
CD is truly sound clear, "itself" will come out and it will be transmitted. In that case, the structure and system of the receiving brain are different, and it is probably that it was how to enjoy old movies and analog records to make full use of imagination. My insistence is that imagination is half made by the creator and half by the recipient, which is normal. Although I could not prove it, when I do the work of "Yamato", I respected the music quite a lot, and all of the staff are trying to let the music tell the music. In that sense, I think that "Yamato" may be one of the last fortresses.

Q:
There was a story saying that the melody was lost as the visual information increased, but Mr. Miyagawa prepared more music with "2202".

Miyagawa:
I think that it is reliable if we can verify and prove things one by one, such as talking with Hashihara director about that, making Yamato's color a bit darker.

Q:
I see. The old animation is supplemented within the brain quite well, and actually it seems to be "that ... ... it was such a picture".

Miyagawa:
Yes Yes. That's why it's interesting to know how much the information volume of "2199" and "2202" is. But, if it is true space, I will not even sound. Besides, if the battleship is in space, whichever battle ship is suitable for, it faces up and faces each other. At that point, Yamato is becoming a fantasy that can not be seen unless you use a lot of imagination, and if you ask for realness there, it may be a bit off the "Yamato way" again Not (haha)

(All lol)

Miyagawa:
At that point, Yamato may be different in kind and usage of information from other works. I have been recording loudly, but there are other things I think that everyone else will be interested in even other cuts. For example, it may relay in real time the place you are recording. How valuable is it now? In the past, the studio was like a school, everyone, when I left the university, I was in the next school called studio. So, I learned about the various style of music and how to work as a professional.

Q:
Method

Miyagawa:
Now it is "separate appendix", originally the composer enters songs into the computer, so if you are a computer you just prepare instruments that are a bit insatiable and record only there. For example, I record strings and then record the flute, but none of the stringers and the flute person meet. There is no community anymore. At that time the school itself will be gone.

Q:
I heard that this time it was a lone record of one shot, is it because there is a clear difference between dare to record one?

Miyagawa:
One is that I can only do it, but there are places where I try to throw a stone on purpose to make that striking a little.

Q:
Do you also feel that you do not want school-like things to disappear?

Miyagawa:
Because I learned there. "this is4 beatsStop doing with,Bossa novaLet's go by "When you say" How do you do bossa nova? ", There is no business called studio there. Everyone shares a common, blurred style and it is a studio's treasure that comes out in the wind like "Oh, Bossa nova. Are you OK with this?" There are more good musicians and musicians who blow the new era wind, "Good, your drum is new," and sometimes there are musicians that will not be called.

Q:
It is painful.

Miyagawa:
Even though I'm determined, everyone decided to do it on time. Instead, it would not be 10,000 yen per hour or else. That's why I am dividing it out. Everyone gets on Mercedes-Benz, but if the phone ceases to come, it ends. Even if you say the end, it will not completely disappear, so this time I went to the tour, made an orchestra I wanted to do ... ... That was exactly my school.

Q:
As I mentioned earlier, when I made new songs in addition to the original songs that my father made, "It is a tricky thing to think nothing about", but what is the part that stimulates the song making, what kind of material is the part Or?

Miyagawa:
In my case, I am always asking "title" or "I want you to express it with about 2 kanji characters". Even if it is tentative, dreams will spread very much if you write "emotions" or "emotions", even if it is a battle song, "progressive retreat" or "consecutive wins streak". Afterwards, when it is said that "I want music from this frame to this frame in the finished con- tainer", that is why my arms rings. In other words, it is a feeling that either you will get a very specific subject or you will get a lot about it, either of which stimulates you. That would mean that you can stir your imagination.

The fleet of white comet empires enough to fill the sky.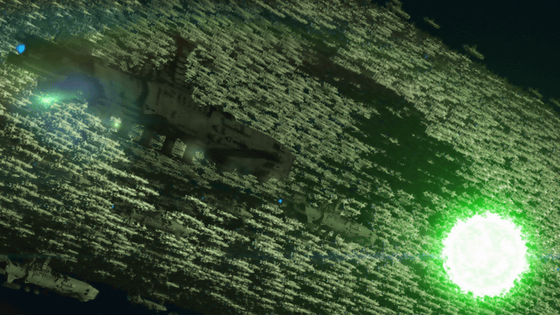 Q:
Method

Miyagawa:
I mentioned earlier "Yamato is a" struggle ", but I wrote songs I was not asked for this time. I can not say because the title is temporary, but I recorded in August. Since I came up with it, I played the melody on the piano and told the staff, "I heard such a thing," but he told the staff, so he told me "I will take it aside where I use it", so I struggled to make it by struggling That's it. It is to make that unbelievable song "This may be something," because I made the stuff as the mercherer told me, recorded it in the work, "I did it" "Thank you It is a different way to say "It is OK to see you again." Because it is Yamato "It is not cool, is not it new? It is not like Yamato" It struggles in various directions. I also thought that I would end up with composition. It may not actually be used for what it is, so do not miss it (laugh)

(All lol)

Q:
Is it that there are also things other than Yamato to write and write without permission?

Miyagawa:
There is nothing we do not have, but in that case we will have a bit more discussion at the beginning. In the first place, my Yamato started quite like that. From your father while you are a ronin, "Please write me a song" "Because I was told that it was a battle scene for the time being". That's why I wrote it, "It was like something Mr. Nishizaki," it was from such a place. I want to revive myself of that moment once more. I thought that I would like to feel the start of that time again.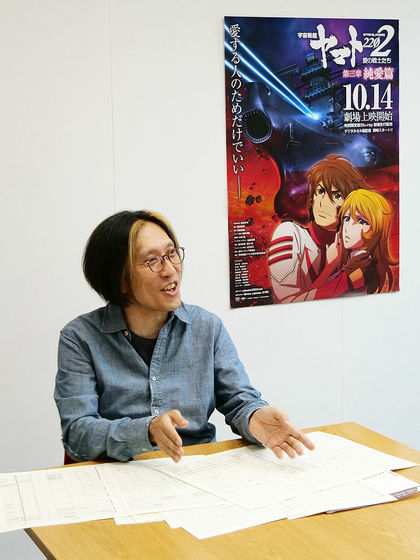 G:
It was that Mr. Miyagawa's encounter with Yamato was a junior high school student, but there is a story that just around that time, it was influenced by the broadcast and made a song called "Let's ride on a spaceship". Were you excited with Yamato even in the surroundings?

Miyagawa:
That's all at once (lol) Because it was 2 classes in the 1st grade, it is roughly 80 people in the same grade. Among them, I saw only three people. Broadcast was at the second year of junior high school, I was drunk because I was in full swing from the end of middle one of the band.

G:
I see.

Miyagawa:
Our school has changed a bit, September or October first I saw "theater festival", I think that the cultural festival was November.

G:
It's a bit late.

Miyagawa:
The broadcast of Yamato has started from October. That means that I was inspired by the Yamato I saw there and decided to make a song called "Let's ride on a spaceship" (laugh)

G:
I see. (Wow) I saw the broadcast, it was about as soon as I made it.

Miyagawa:
I made it on that day, is not it? (Laughs) Like a song "Let's go aboard a spaceship, Tuntuntu Tutu Tou Tuun Tintin" is a childish song. Sabi became a solo of tambourine and bass, "Dadan, Tuttutututu Dadang, enemy aircraft attack, direction, lowering!" I can not say "a wave cannon" indeed (laugh) I say "Ray gun, prepared!" "Ray gun, shoot!" Pete and press the high key of the organ. Then, the old guitar amp has a device called spring reverb, and when you shake it sounds like "dawn." So after rocking the organ and rocking the guitar amp and doing "pea, dokan", 3 people saying "done" will start # 2 (lol)

G:
It's amazing (lol)

Miyagawa:
Around that time, everything in me was like a big bang at all. First of all, you want to do a band like the Beatles. in additionELP (Emerson Lake and Palmer)I wanted to play the organ with the influence of, and I would like to include information on "Space Battleship Yamato". And I knew that it was going to be a musical-style song, a theatrical music after all, and the four elements came in at the same time. So in the next year, middle 3, Culture Broadcasting's "Hello PartyI went to the amateur band battle that I was doing on a program called "Weekly Champion". At the monthly, we lost in touch with college students' bands and lost, but from the program people said "I am junior high school student and this planning ability is amazing".

G:
Oh ... that is amazing. This "Let's ride on a spaceship" has been greatly influenced by Yamato, but was the impact great while watching anime from before?

Miyagawa:
I think that animation was watching on a popular scale. I loved "Mazinger Z" and I was watching like "Gachaman" to be devoured. I do not remember the story (lol), I came to see birds, I remember being cool,Bob SakumaThinks the music was the best. Also, I also liked "Super Jetter" and "Space boy Solan" maybe. Then it becomes an airplane to "Giant Robo" ... "Magma ambassador"? That side was already completely deprived of my mind (laugh) I remember the most vividly is "Sorcerer Sally". I remember the first episode in Sally's generation. Even a boy was OK at all and it was a story with a dream. After that, I love Yamato as animation or TV comics.

G:
"Yamato" came over there.

Miyagawa:
Everything so far, all entered the closet. It was from Yamato that it came to say "○ ○ generation". I said "Sally-chan generation" earlier, but before Yamato there was no idea of ​​a generation, it was all tenacious. From the Yamato "Yamato generation" "Gundam generation", the stratum of generation fans are stacking up ridingly. Until then, Sally knew about adults, Ultraman saw adults sideways as well. Ultra Q was everyone's thing.

G:
I see.

Miyagawa:
"Eight o'clock! All the members gathering" also said that the school principal's content was saying "vulgar programs" (laugh). However, from Yamato, if you are out of generation you do not know much about the story. Baby boomers do not know Yamato at all. It's a blind spot.

G:
As I said earlier, there is a difference between spats and strata.

Miyagawa:
Oh yeah, the first issue is "Space Battleship Yamato". Culture and culture started from there, so the space battleship Yamato boom is such a big event that it seems to be the 10 biggest news of 1974, and that's why I have responsibility.

G:
Although it was a big social phenomenon at the time of "Farewell", I heard about the experiences from the Yamato generation including Habara, but the line was drawn even at the beginning.

Miyagawa:
Well, it is the first otaku culture.

G:
By the way, did you know that your father is in charge of Yamato music during broadcasting?

Miyagawa:
of course.

G:
Have you heard the song beforehand?

Miyagawa:
It was not there. I asked from my mother "I'm making dad's song" Yamato "this time," he thought, "Hey". We used the previous work "Wansa-kunI loved the work, so Yamato was "Hee" and "What's the price" feeling. On the day when the broadcast of Yamato began, bags and sister "Alps girl HeidiSo I saw that Yamato seems to start, I was lying on the bed in my father 's bedroom, which was getting out of my head, looking at portable TV.

G:
At that time, I heard that "Heidi" was very strong as a rival, but Heidi was strong even at Miyagawa family. I am glad that there is a portable TV.

Miyagawa:
Heidi could not take away from my sister. However, it seems that the impact has doubled since I saw it on a portable TV, though (laugh)

G:
It was held in Nippon Television Music in 2001Interview with Mr. Yasushi MiyakawaIn the middle of that, there are many things that he helped me with "he's awesome!" (Work) but I have never helped him, I also asked for arranging a new "battleship Yamato" I've been recording at, but when musicians are recording, to me "OK! "All you have to do is come to express yourself".

Miyagawa:
Haha (haha)

G:
"However, being overtaken is lonely" is also said, but Mr. Arai himself, did you have something like 'Was your father here?'

Miyagawa:
As a real feeling it is not exceeding at least one. But, now my three children are standing behind and I think that I want to go beyond it, I said "I have not exceeded my father yet," my thoughts will not be divided. Therefore, I think that it is good to think that "I exceeded the moment of birth" already. Parents can not be exceeded for a lifetime, it is impossible to exceed parents. But, if you look at it on a different scale, there are lots of things that go beyond.

G:
(Lol)

Miyagawa:
I can tell the children "Do your best, work hard and beyond, no more." Well then I think I'm beyond my father "I think it's terrible" (laugh), I will exceed it if the ruler changes. For example ... .... "The amount of shiny hair is exceeding" (laugh). I do not care like that. Both of my daughters are studying abroad, one in France for six years and the other in New York for four years, but I was afraid of studying abroad and that's amazing. It is not certain that you are speaking French, beyond me (laugh) because there are lots of such things. So, the moment of "being over" ... .... Yes, sometimes "when Dad is conducting," Dad said that "The way of conducting is better for Akara is better", but Oh, I see, my father could not do this. "

G:
It's kind of a nice relationship. I was told that I did not like to compare with Mr. Tae-san, but I feel that there was a point to change clearly somewhere when I was talking about this story.

Miyagawa:
Everyone is still disagreeable compared. After all, I wonder if I was switched by becoming a parent. Speaking of which, it was about mid 20's that I managed to get on and managed to get on track. For the first time, it was said that "Arai is very good," and there was a mistake that once the phone call to me took place at my father's workplace. That person was talking to my father endlessly, but I realized that Tsujiki certainly did not fit and said "Is not it, is not it, Ara-kun, I was sorry?" That's why my father was mad enough to turn upside down (laugh)

G:
How (LOL)

Miyagawa:
As expected, it seems that it was a storm that "happy" hid in the clouds at that time (LOL), but that has happened several times so far, it has been introduced as "Mr. Akira Miyagawa's son's son" Although I do not know whether it is a fancy, "everyone knows"quintet"This is Mr. Ara's father's father, this situation is also coming up. It was since I became my 40's, but I was doing it interestingly because it was amusing.

G:
Hmph.

Miyagawa:
Parents are also great springs, so the feeling of being "frustrated" "I want to get over" is a source of vitality. 'Because I can not do why' I am frustrated. As I mentioned before, I asked if I surpassed it or not, it depends on me. However, I feel like I can not use it for vitality. You can think of life as anything you want.

G:
I see, thank you. Mr. Miyagawa made a lot of new songs with "2199" and "2202", as many fathers made songs and layered on top of each other, but "Yamato in the middleStarting with the songs that are loved as if they were from long ago, how are these songs that you can call a new staple have been created?

Miyagawa:
It was about that I wanted to hear this already (laugh), but at the beginning I had a little embarrassing feeling. I do not know what I can use.

G:
Well, it is surprising.

Miyagawa:
that"Heaven and Hell"And"Hungarian dance"Bunchabuncha" reminiscent of "Orthodox" or rather old-fashioned. Saying to Yoshida-san of the sound director, "When I hear that this is overkill?" He said "No, it is the best." Everyone was pleased when I opened the lid.

G:
As Mr. Miyakawa, was it an unexpected response?

Miyagawa:
Yes Yes. I do not think so, and that kind of thing happens, I will not go to the point I wanted to, so I guess that I believe in intuition.

G:
Do you have many new songs coming up and saying, "Were this successful?" "Were you struggling, but you made something good"?

Miyagawa:
It was a melody of scenes related to Saburo Kato and Mikoto's children / wings, thought it was their own field of excellence without hardship. I am a little ephemeral, but I am sincerely thinking that it is "my melody." Then ... ... From the same motif as "Farewell" of the theme song, "Tintin Turn" comes out something that will be different melody for the first time. This is a little drastic challenge.

Satoshi Kato of the Cosmo Tiger Corps (left). I was not on board for Yamato, who is traveling because there are things about my wife.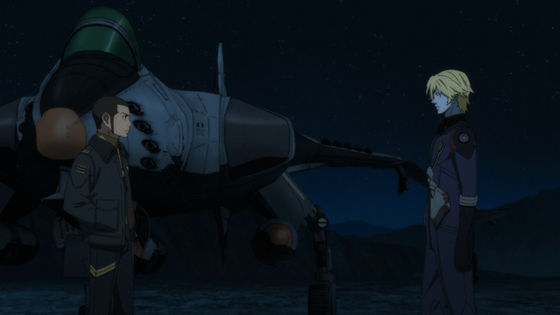 G:
It is surprising to hear it for the first time ... ....

Miyagawa:
It is obviously a different melody. Such a thing that we have sealed so far and actively doing what we did not dare to do, I want to keep making Yamato's "postcard" degree more and more and continue to make more Yamatashirashi struggle I am thinking.

G:
Indeed, I'm looking forward to that song echoing in the theater. Thank you for today.

Miyagawa:
Thank you very much.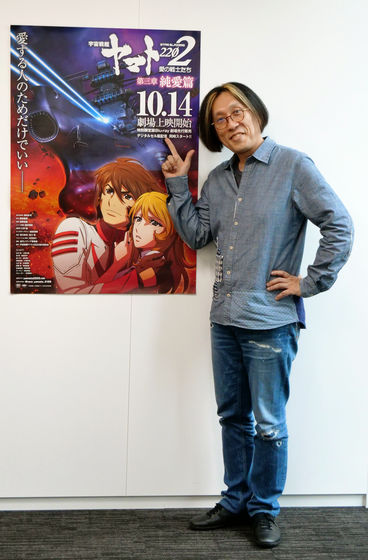 By the way, the "Space Battleship Yamato 2202 Love Warriors" Chapter 3 Pure Love Hen theater is open to the public on November 3, 2017 (Friday). Distribution on YouTube for a limited time is also being delivered for the first 10 minutes.

"Space Battleship Yamato 2202 Ai no Senshi" Chapter 3 Pure Love Hen Collection 10 mins [Limited Time Limit] - YouTube

© Nishizaki Yoshinobu / Space Battleship Yamato 2202 Production Committee