Mysterious edge is the last, 'Space Warship Yamato 2202: Warriors of Love' Interview with Nobuyoshi Hahara & Series Composition, Harutoshi Fukui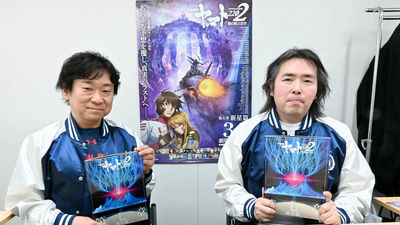 Reconstructed the 'Farewell Space Battleship Yamato', which was released in the theater in 1978 and won a big hit, and the TV series 'Space Battleship Yamato 2' aired after that with a new interpretation as a completely new series, February 2017 The "The
Space Battleship Yamato 2202 Warriors of Love
", which has been shown in theaters in sequence, will finally be finalized in the 7th chapter "Ninseitei" [final chapter], whose screening started on March 1, 2019 (Fri) Yes.
The various stories that would be heard only when the project was over for over three years when the project started were counted in this way will be heard by director Nobuyoshi Hahara and Mr. Harutoshi Fukui, who was in charge of the series composition Yes.
Space Battleship Yamato 2202: Warriors of Love Chapter 7 'The Rising Star' [Final Chapter] Theater Trailer (60 Seconds)-YouTube
·table of contents
◆ How was the outcome decided?
◆ People who changed by creating the theme of "love"
◆ War / mechanism depiction depicting the conflict of 'logic of power'
◆ How was the outcome decided?
GIGAZINE (hereinafter, G):
The seventh chapter 'Ninseitei' [final chapter] finally received the theater screening. It was the last chapter that I saw in various scenes that overlapped with 'Farewell Space Battleship Yamato' (hereinafter referred to as 'Fallwell') and 'Space Battleship Yamato 2' (hereinafter referred to as Yamato 2) until the last end, and it was painful to see. In this seventh chapter, as a catch phrase 'from' farewell Space Battleship Yamato 'to 40 years overturn all expectations, to the true' last '' is used, and when I first saw it, 'but though,' If I was thinking "Farewell" or "Yamato 2" or "Which is the form?", It was neither "Faraba" nor "Yamato 2" and neither. How did Fukui create that end?
Series composition / script Harutoshi Fukui (hereinafter referred to as Fukui):
At first I thought, 'What should I do?' The story of the poster of 'Faraba' where the ancient times and snow, after all the hard work, was over and started to smile on the other side of the bank, came out. When I wanted to end with that face, there was such a story from Mr. Habara.
As a bonus, the first chapter advance ticket comes with a '2202' poster homage to the pattern of this 'farewell' poster.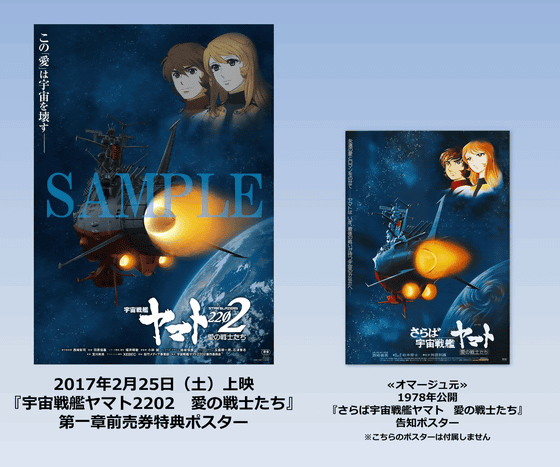 Nobuyoshi Habara (hereinafter referred to as Habara):
that's right. At the time of the plan written by Mr. Fukui, '0' of '2202' is 'φ', and it was told in advance that 'It is neither' Farewell 'nor' Yamato 2 '. It was connected to the extent that I think that I know and do it.

Fukui:
In fact, it was surprisingly no plan (laughs)

Habara:
Surely, this is also a 'edge'.

G:
I decided to set the landing point exactly here and proceeded with the work.

Fukui:
All I had to do was draw a route map on what to do for this landing.

G:
The route was really painful from ancient times. Although he departed from Yamato, which was sealed by a wave gun, he eventually had to shoot it while traveling ...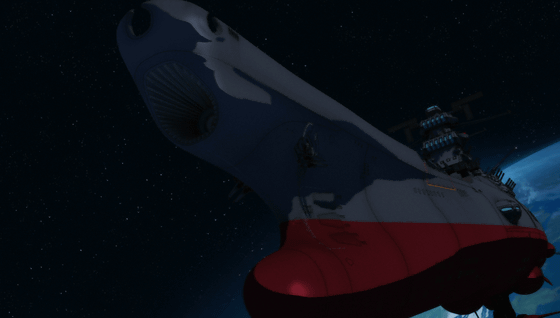 Fukui:
It has been forgotten by the forest snow.

G:
It's too bad now (laughs)

Fukui:
While people are alive, there is nothing more than what everyone experiences somewhere. Passion and conviction that I had when I was young are, to varying degrees, meeting in two to three years when I go out to society. Ancientity is just a turning point, but as a position we are being driven into places where we have to do something about our age. From youth, she rushed up to adults and stripped the mask of the child. I think it is a very rare experience that 'a lover forgets everything about myself', but when we come to the age of us, parents may become so in the future, seeing Yamato I think some of the people in the world have already experienced it.

G:
surely…….

Fukui:
In the past, there was something like 'It's a human being, it's a life. Let's live,' something that you can aim with your shoulders together, or a sense of morality or scaffolding that you can lean on. I think that it is right there that Showa is nostalgic. Now that it has already passed, there are also talks about whether it is a virtue that is made by closing eyes on various things, but if you do your best you will improve your life and the surroundings will develop as well. was. However, in the present age, it is hard to live. If you are told 'There is such a hard thing on living. Please endure.' edge Should I live alive? If you say that 'it's an adult who doesn't say that kind of thing,' and if you can make a story about sharing and trying hard at all in this work alone, you will die with the pure feelings of your youth. It might be interesting to the ancient progress 40 years ago.

Habara:
'Ancient Susumu played by
Daisuke Ono
' raised from 'Space Battleship Yamato 2199' (hereinafter '2199') is also perfect for this '2202'.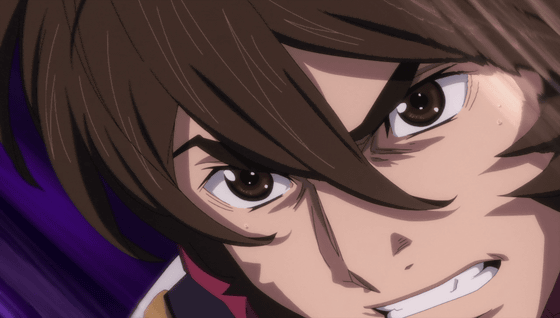 Fukui:
I am serious and natural.

Habara:
Yes, it's a serious character, but there are places where I can't help it.

◆ People who changed by creating the theme of "love"
G:
In this work, it was actually drawn that a variety of loves were drawn when Fukui-san put the theme of 'love' and was able to be directed. The love of the lover like the ancient times and the snow, but also the love of the family of the Kato family, the love of the parent and child came out. This time, in terms of this "love," I think that the characters of Zeder the Great and Gatrantis, who said, "So we need 'love', have been greatly affected.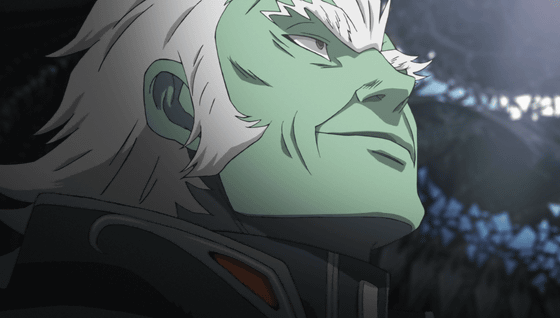 Fukui:
There was nothing around in the old work. As for Zudder, at the time of the planning book, he wrote, 'A person who thinks that' redoing one more time 'is the greatest benevolence for people is trying to do something with Teresa.'

Habara:
It did not shake.

G:
The surfer also changed a lot.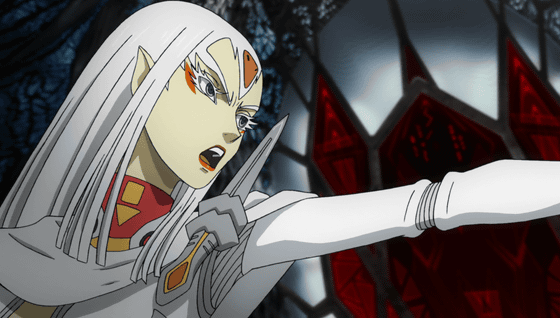 Fukui:
As for the serverer, it was about equal to 'no image'.

Habara:
The choco choco comes out, but it was almost a 'reporting person'.

Fukui:
There is almost no impression of 'person who makes a big deal with Deathler'.

G:
In the case of 'farewell', in the second half, the turn will disappear. No way that such a character would get an important position so far.

Fukui:
At the time, I wondered why, 'Why only this person is not green'.

Habara:
That's right.

Fukui:
It is an idea to make use of the 'difference in skin color' that the surfer is the only human being and the others are all human beings.

Habara:
The 'Yamato 2' surfer is black hair and the impression is quite different, but the surfer is a character molding of the image of 'Farewell', and the 'Yamato 2' surfer image has been passed on by Tora Katsura.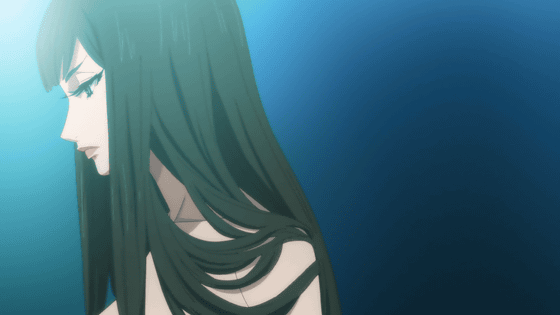 G:
It is a form that incorporates both.

Habara:
There is an example of incorporating the point that 'Gamiras had a blue skin but the character that appeared in the early stage was not so' in '2199' as 'that was a Saluza annexed to Gamiras'. Because there is ....

G:
And, there is a big change that the serverer is actually a human being who has nothing to do with Zuda. With regard to the cast,
Hideaki Tezuka,
who played the Emperor Zuda, played the role of Ginneman in '
Mobile Suit Gundam UC
', and
Yuko Kaida
, who played the serverer, played the role of Marida Cruz, and felt the connection of the pseudo family. But…….
Fukui:
It is a coincidence.
Habara:
It is a coincident.
G:
In the last chapter, it was also revealed that the mill played by Ms.
Uchiyama Masaki-
san was a Zudder's juvenile, so was it meaningful?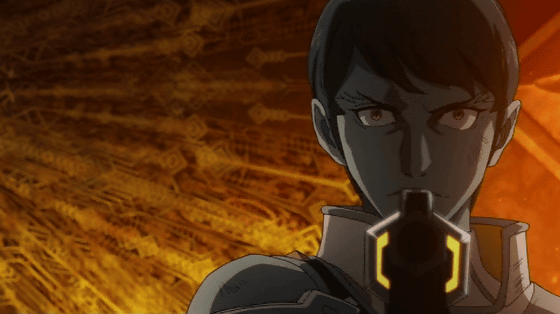 Fukui:
Moreover, Uchiyama-kun, who was a banner, is said to be the side that says 'Still ...!'.

(All laugh)

Habara:
In order to put it in order, a serverer first appeared in the 'Hospital of the Stars', so I was asked by Mr. Kaita to play it, and then I decided to go to Zuda. When I was given the names of two candidates by Mr. Yoshida, a sound director, and wondering 'How to choose ...', I saw a variety program with Hideaki Tezuka. So Tezuka-san was laughing with great fun, and he chose Tezuka-san, thinking that he would like to work with this person.

G:
Oh, that's how it happened.

Fukui:
And I suggested about the mill.

Habara:
As the mill had an impression of
Ichikawa Osamu
's high voice, when I was thinking about what to do, when I imagined with Uchiyama-kun, this line of speech came in perfectly and I thought, 'This is it!' .
G:
What was the reason why Fukui-san pushed Uchiyama-san?
Fukui:
When you talk in a way that does not have a feeling of jealousy, 'a voice close to Uchiyama Uchiyama's voice' came out. When I dropped it, I thought it would be addicting.
Habara:
It was wonderful.
Fukui:
For example, if I had a character similar to banner, I would never use it, but I thought it would be fine if it was the other way around.
G:
It is a character with a considerably bloated background as well.
Habara:
No way if it will be ah.
Fukui:
Was a woman fan of those days excited that there is a neutral character next to Deathler?
Habara:
At that time, I had the impression that there were more female fans. It's Mori Ranmaru, right?
Fukui:
I thought that I would like to take care of such places.
G:
The 'Faraba' mill was a black-haired, large-eyed, 'sweet' impression.
Fukui:
When I thought about how to play more roles while using the form and the role of Mill as it was called 'seeing', it became a Zodier's juvenile. However, at what point will it be ah?
(All laugh)
G:
The main character is ancient, but in this way it was drawn that Zuda was variously, and I received the impression that it was also a Zoda story.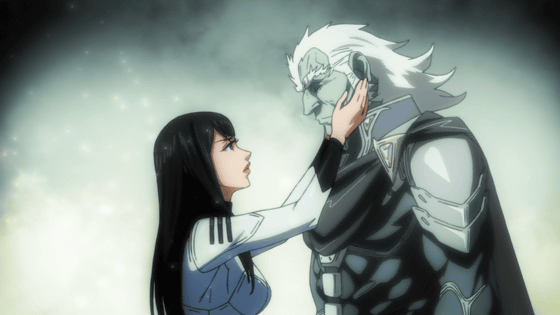 Fukui:
It is a conflict of values that the ancients say 'No! You are different!' When confronting Zoder with 'Farewell'. This time, one of the things that we have to carry heavy things in ancient times is that on the other hand, it would not be a drama unless we also carry heavy things to Zoda. However, it can not be said that what is different from those days at the time of 'Farewell' is 'It is absolutely different!'

Habara:
That's right ... ......

Fukui:
Especially in ancient times, we were shooting a wave cannon by here, and we decided to 'have only to live with all sorts of defects and contradictions,' and if we thought that something would work if it could support it, it would be support It can not be said that it is 'different' because it has been lost. If you say that, when you're ready to go completely misunderstood, I think that you will not come back if you do so. It was said that there was a fluctuation until the end, and I was scolded that I could do it. It is important that you are not a hero at all. Ancient is a man who originally has no solution. I can only cry after seeing the ruined Gamirasu, I feel in the same view as the customer, feel the same thing as the customer, and I can not do a great range of my ability, not a great ability but a great decision and idea Where there is no reason, there is a man who can only do something seriously. At that time, it was good that such a man was a hero. Even if you make a mistake, you say 'there will be tomorrow'. However, if you make a mistake or bump in the world, you will be told 'Well, then you're over'. The ancient advances of those days are now very hard to live in our hearts. So, if you can communicate with the ancient advances in yourselves and communicate as 'Don't forget it,' you will see different landscapes while you live every day.

Habara:
If you look at the last chapter and review it from the first episode again, you will find another landscape.

G:
I would like to review it while feeling what Zuda was carrying. The story of Gatlantis is impressive because the episodes of Goland and Noru were just the 13th episode of the turn.



Fukui:
At that time, I felt that I had to settle down on the 'wave gun problem', and I said, 'Everybody was on the back and everyone was shooting'. But, as a result, don't forget that it was all this terrible thing. I thought that I had to balance it.

Habara:
I agree.

Fukui:
After all, please remember that such tragedy accumulates in Yamato every time you shoot.

Habara:
Furthermore, after Gatlantys, a scene where a new baby is born and everyone smiles comes in, and I was surprised at the scenario of the second strike after the second strike.

G:
While Zuda and Saber are reborn, it is 'key man' that was created as a completely new character. He showed great success until the end, but I heard that Keyman was a character that I aimed at and raised. It was a character with an edge with a wolf.



Fukui:
A man who has nothing, shadows and love. This time, if you take out such a character carefully, I think that the reason for existence is to keep firmly, 'It is painful because I knew love.'

G:
Yes Yes.

Fukui:
It's not that happy because I have encountered something that I don't want to lose in my life and I feel I feel lonely to die. It is no exaggeration to say that the whole theme of this work. I was brought up as a character that embodies 'I'll do my best in the world, but I'll do my best.' If I had some more time, I wanted to do something with the wolf. I was allowed to do it on the drama CD (included with Blu-ray & DVD as a corporate bonus).

Habara:
It was a big change ball (laughs) It was difficult in the original scenario that it was difficult in the original scenario, though it was planned that the rabbit would care about the keyman in the original scenario, but in the flow from '2199' There was a concern that if you look at it, you might be seen as a "lovely woman". So I got a little more professional, and I didn't put it on the surface, but I felt that I was attracted by the places where the professionals were trusting. If I had time, I thought it would be nice if there was a scene where the feelings were in touch.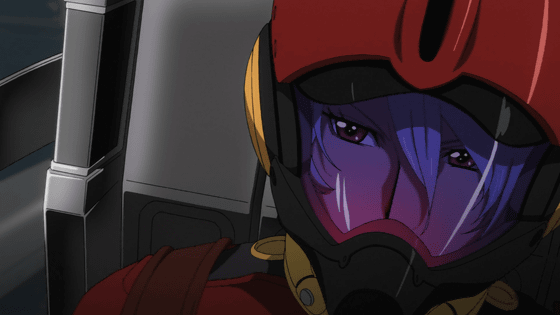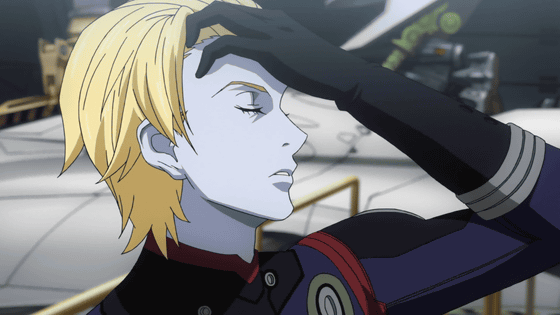 G:
It was a good touch that Samurai helped Keyman from a sinking fighter.

◆ War / mechanism depiction depicting the conflict of 'logic of power'
G:
Many sister ships of Andromeda also appeared in this series, and the Earth fleet gained a larger-scale force than 'Farewell' and 'Yamato 2.' Was it a policy to increase the fleet size from the beginning?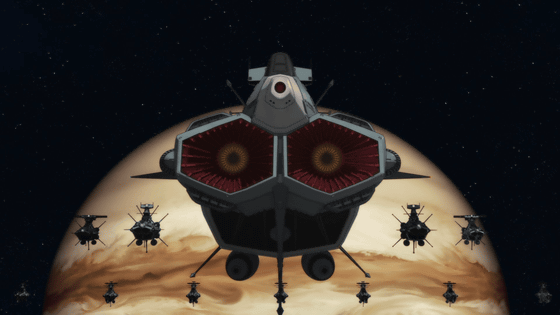 Fukui:
It's already a good time for 'time fault' (laughs)

Habara:
At the time of 'farewell' I was surprised at Andromeda 1 (laughs), but doing the same thing is meaningless.

Fukui:
I thought that I wanted to make the composition of Gatlantis, which is pushed by only volume, denying the mind, and the Earth, which is swallowed by it, as a firm thing. After the war, the moon on which the skyscrapers of Manhattan were riding is attacking, as it symbolizes that Japan's development will continue to be the acceptance of monetaryism. 'The power is justice, you obey.' In addition, the ancients hit no and resisted their lives.

G:
I agree.

Fukui:
'Farewell' is over there, but in reality we have been tense together for decades. It is said that 'the good old things are combined with the logic of power' is just now, so 'the other side has been done with' the logic of power ', but here too we have prepared the counter measures', It was decided that I would squeeze the result of the collision. It will be amazing pictorially.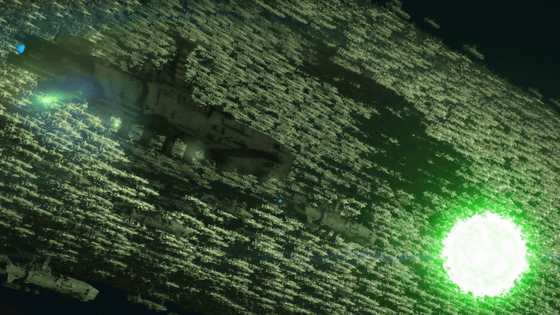 Habara:
After all, it is not burning that coming out with warping with dokadoka.

G:
It's not like how fleet maneuvering is, and that the picture that a ship that has been warped out is flicking from the front was just an expression as intended.

Fukui:
That's right. Eventually it will probably be stupid. The only thing that clashes with them ... How many people are dying in it, because the actual feeling about the dead human beings is accumulated in the first half of the course, it feels like 'this is no good' I want to reach a climax where I shared with each other.

G:
However, 'Oh, there are five Andromeda class at the same time !?'

Fukui:
Of course. Because it is another belly to be attracted to the goodness of the mecha.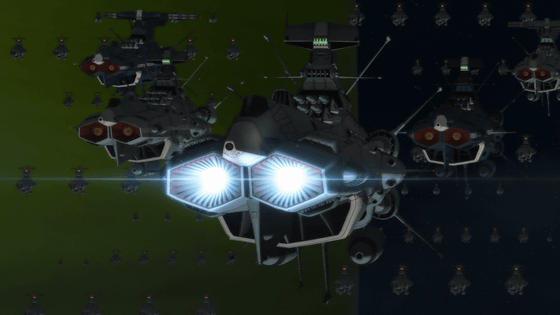 G:
As Habara, is there any mechanism that is good for you?

Habara:
Hmmm ... there are many. As for how to show each mechanism, I tried to take advantage of the features. I think that I received various ideas from Deputy Director Kobayashi, and I made it to work well. Personally, while the story is becoming intense toward death, I also need catharsis, so I think that it might be cool and the flow was going well when it came out again.

G:
Flaken was surprised. When I saw the face that appeared in the notice, I just thought, 'Are you mistaken for another character?' Since I had survived to the end in '2199', I was thinking about what to do, and I was here to make a turn. I hear that this was a good deal for Habara.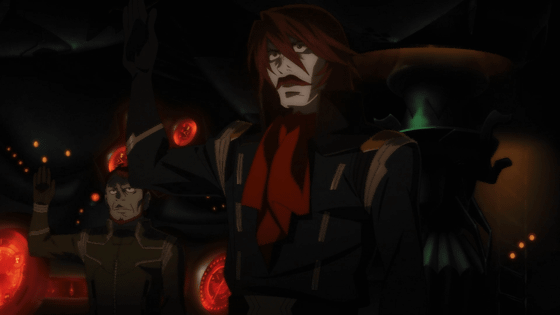 Fukui:
At first I wasn't thinking about that, and I thought that the final battle was Yamato and Gatrantis, and it would be useless to be an individual and an individual battle. When I was told from Ibahara-san and tried to rewrite it, it came to be rather perfect by coming out in response to what Zoder said, 'It's a strange relationship.'

G:
Thanks to the power of the edge, it was good to see Burger again. Returning to Meka, Yamato's sister ship Galactic appeared in the second half of this series. The appearance that the observation dome attached, the point that Saki Todo, who is the daughter of Commander Todo, is the captain, and the point that the crews are all women are also unique.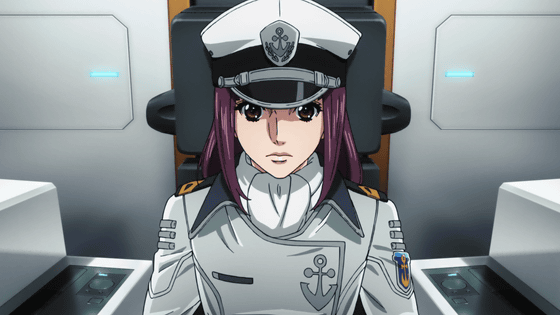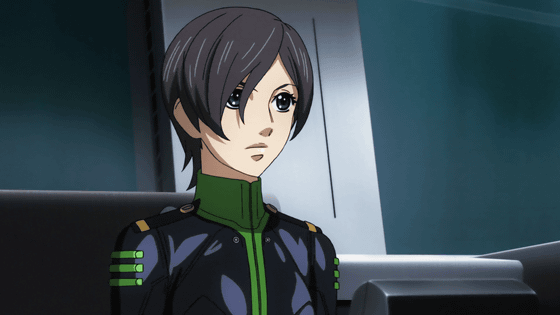 Fukui:
I'm going to guess.

(All laugh)

G:
Have you decided on the appearance of galaxies from the plotting stage?

Fukui:
Well, it was from the plot.

Habara:
'I wonder if it will replace the sister ship,' I was thinking that I would do with such a force that the way it looks. And I'm going to be a woman-only arrangement, but let's have a clear reason for existence.

G:
'G plan' is it. If you think that 'the ruin of the dead' has come, it was right to escape from the earth as an idea. Speaking of which, when I
heard a story from mechanical designer Junichiro Tamamori
, I heard that the interpretation that 'wave barriers are released like magnetic lines connecting a chimney and a third ship bridge and the third ship bridge is strong' But, speaking of this, I realized that the third bridge was safe.
Habara:
Because there is a wave barrier generator on the Third Ship Bridge, if you lose it, the wave barrier can not be used. I also thought that I was destroyed and pinched.
Fukui:
It seems that the gravity of the ship disappears when the third bridge is destroyed. So I can not break it on the settings.
G:
I was surprised to hear the story from Mr. Tamamori, as it was the image that the third bridge was wrecked or melted.
Fukui:
I was thrilled to break it, but I was surprised to hear that there was such a setting.
Habara:
I wanted to break it (laughs) Well, instead of eating it, Eater stuck it with a lot of fun (laughs), but I think that because of that shape, I felt a pinching feeling of stabbing.
Fukui:
If you overdo and go over the limit, you're gag now.
G:
Were there any mechas or weapons that said 'I was glad I could show you this' or more?
Fukui:
I'm glad I got a lot of drill missiles (laughs)
Habara:
There is also it. I wonder what else .....
Fukui:
After all, Mr. Habara is not Yamato?
G:
Hahara, who says 'Yamato' when asked if you like your favorite character.
Fukui:
Since I was a child, I watched TV every week and the man who was drawing a picture of Yamato is finally moving the real thing.
Habara:
Yes, I was happy. Somehow I'm searching for the angle I still don't look at, or trying to move Yamato, saying, 'If you look at it from here, it's cool.'
Fukui:
Is it in my head?
Habara:
Now I have a model, so I'm actually moving it. In terms of production, CG is so great recently that I had to draw an explosion to 3D a long time ago, but now it is just about to finish in 3D. I came to a place where I could not do it in drawing, so this time there was a flow that "what wasn't" in Conte was 3D, and a great CG came up, so I was allowed to do 3D check happily.
Fukui:
Even now, the launch scene of Episode 4 is probably changing in how you make it.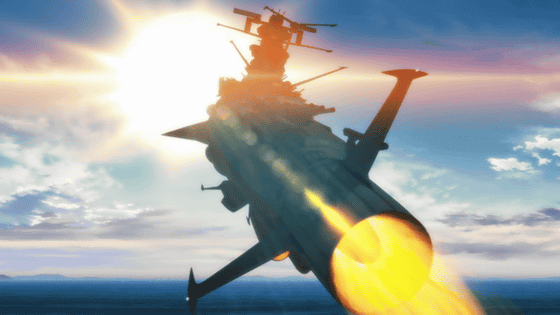 Habara:
The waves will also be done in 3D. The wave of the last episode has no hand-painted sequences at all, and I do it all in 3D.

Fukui:
We have made progress in the past year and two.

G:
'2202' is about 3 years in a row, but did you make a big difference between when you made the first story and when you made the final story?

Habara:
It's totally different. I think it was also great that the production staff liked Yamato. Yamato enthusiasts are included in the 3D staff, and even though I am not asking for it, I make the contents of the warships and make roses. I didn't draw in Conte, but I said, 'If it explodes, the surface will fly away?' (LOL) Those people said 'Let's do something like this next and let's be surprised.' I think it would be something that would make you happy.

G:
Last but not least ... Have you ever done anything with '2202'?

Habara:
Absent! It has already burned out (laughs)

Fukui:
I can not say exactly what I think 'I finished clean with this,' but I can not say that (laughs) but I can not say that I was 100% confident about the subject headed by 'Remake of' Farewell '' There is.

G:
Thank you very much for all the people who put out all the items.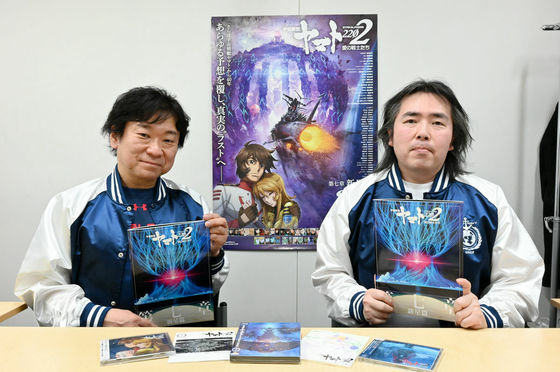 "Space Battleship Yamato 2202 Warriors of Love" theater screening rushed into the third week. The first-come-first-go presents are 'Shikura Nagakura', 'Saito Saito' reproduction character original picture and 'Farewell Space Battleship Yamato [Mori Yuki]' setting picture.

The stage event 'Space Battleship Yamato 2202 Award for Love' is to be held at AnimeJapan 2019 held on Saturday, March 23rd and 24th (Sun), 2019, and live broadcasts by Nico Nico It has been decided.

And, to commemorate the completion of the series, the final day of the screening at Shinjuku Piccadilly will be held on the 28th of March 2019 (Thursday), with the 'final screening day stage greetings' with Habara and Fukui on the stage. Please enjoy '2202' to the end.