'Space Battleship Yamato 2202 Love's Warriors' Final Chapter Theater greetings report, 40-year reply to 'Farewell Space Battleship Yamato Ai no Senshi'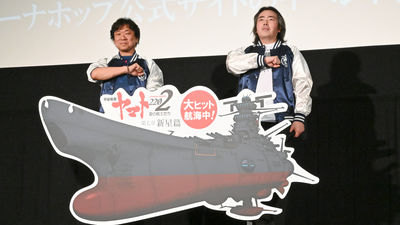 Theatrical screening of " Space Battleship Yamato 2202 Ai no Senshi " Chapter 7 "New Star Hen" [Final Chapter] screening began on March 1, 2018 (Friday). Many fans gathered from the first day and the stage greetings by director Nobuyuki Huhara and series composition · Harukoshi Fukui made a great deal of fun.

Space Battleship Yamato 2202 Ai warriors
http://yamato2202.net/

Mr. Osamu Kobayashi and director Hahaha, Ms. Fukui, who was in charge of the event moderator.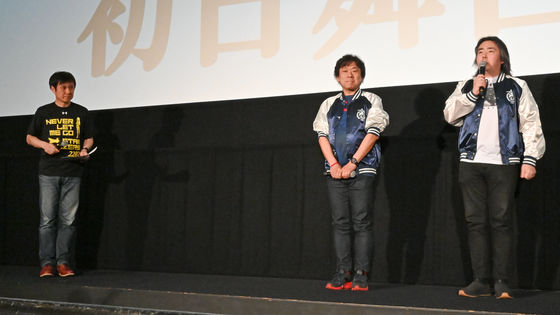 MC · Masaru Kobayashi (hereinafter referred to as Kobayashi):
The two of you are standing in the opening day stage greetings from chapter 1 to chapter 6, but what is the final chapter, how do you feel?

Supervision and Nobuyoshi Habara (below, Habara):
I have no soul left anymore. It is feelingless.

Series configuration and Harutoshi Fukui (below, Fukui):
It was long. On the first day of the first chapter of the stage greeting, when asking my son "I will go!" Tomorrow "What will I do?" The flow of time is cruel.

Kobayashi:
Will it be a little longer if it is in the production period because it will screen all seven chapters over about two years? When the two of you first touched "2202", it was a story that Ms. Habara saw the plan written by Fukui.

Hanehara:
That's right. If Fukui did not know that Mr. Fukui would join and talked with Mr. Oka that there were no such things as Oh no, a proposal titled "2202" came out from Ms. Fukui and he said "Ah!" )

Fukui:
It was being fought in an unknown place.

Kobayashi:
Although it seems to be the relationship between the earth and Gamirasu, Yamato and Andromeda in "2202", what are the points that the two of you were good at this time?

Hanehara:
Because it was the first type person, I was afraid at the beginning, but I was wearing a strange T - shirt at the time of the book reading, so I was saved quite a bit (lol) I was made to go away.

Kobayashi:
When viewed from the Fukui-san, how was Habara's?

Fukui:
What role did you think when you thought in total, was "Mom" including fans?

Hanehara:
Not 's dad!?

Fukui:
Even where it might be a ghost ghost, there were also points that I learned thanks to being a natural character.

Kobayashi:
How was your impression when Ms. Habara first saw Mr. Fukui's plot?

Hanehara:
I was surprised to see that "The warriors of love" was attached to the title, so "Now, you are going to add" love warriors! "?

Kobayashi:
The Habara's I did not like that feeling of?

Hanehara:
It was completely different. Since it is original in 2201, I did not think that it would come with "2202", and the title was also big like the current logo from that time as the last "2" is big and it looks like "Yamato 2" since I was surprised.

Fukui:
When I reviewed the project plan of the time, it was as it was to say that it is not different. I joined the elements that Mr. Habara and Mr. Oka were doing there, and got a nice conversation. Those that penetrate through the center feel like it was visible from 3 and a half years ago.

Kobayashi:
From the time of Chapter 1, it may be "2", but it may be "Farewell", but as the logo's 0 is "φ", it may be different from both which do you have but ....

Fukui:
The correct answer was "neither".

Kobayashi:
"Time fault" comes out in the second episode, and I, as myself, as a fan of the work saying "What is this?" And "When using Cosmo Reverse, it is not only good but certainly good" and I feel convinced, and "it will do you do?", there was a lot of sense. I saw that the two people were touched in the interview "I will bring back what I added to this work, then do not do a baton touch", but this time, including that, this last is understood There was a thing to fall into.

Fukui:
That means "tidy up cluttered things".

Kobayashi:
I thought, "You do not have to do that far," I thought, that ancient feeling of the last episode, a trial to bring out the feeling that I thought it would not come back. Mr. Habara, it was terrible.

Hanehara:
While checking the contests, thinking "Do not do this truly awfully scenario, do not be afraid", "But if you do it, you have to make it a bit worse," or something.

(Venue lol)

Hanehara:
Finally it leads to where ancient worries.

Kobayashi:
But is the key man was just "key man" in this series, the story that out of the people's Fukui?

Hanehara:
Yes, I came from the original plot. It is the winning cause in me that I was reading the script and hearing it with Hiroshi Kamiya 's voice. I felt "I understood" and thought that I could spread it.

Kobayashi:
I heard that the scenario raised by Ms. Fukui and Oka was a terrible volume.

Hanehara:
It was a treasure trove of ideas. Because the scenario comes as a special limited edition Blu-ray bonus, I hope you read it. Yamato is the important thing to listen to music and show me the mechanics, there is a part that it will never enter if you do it, there is a part that I did.

Fukui:
If it is "Mobile Suit", I will enter.

Hanehara:
Because we jump around with Bunbune

(Venue lol)

Hanehara:
With the feeling of making a new Yamato, Mr. Fukui had a proposal of "a speedy feel like an overseas drama", but I did a terrible thing to cut at the stage of the contest (lol)

Kobayashi:
Every time when the chapter ends, everyone was told, "Why end here!" (Laugh) Finally this final chapter consists of 23 to 26 episodes, but once it finishes with 25 episodes, it is a true value from it.

Hanehara:
If I thought it was over, "Is that still time?"

Kobayashi:
Is there any change in the tension of the production? There was feeling that the speech was "too much" to "let me hear."

Hanehara:
That is the part that relied on the actor anymore.

Fukui:
After all the actor is a big deal. Acting is "calorie", I have decided I amount that can be used in one day. In dubbing, I go to the production after doing the test, but something completely different from the actual number comes out, there are times when I feel "I was saving". When it was the final story, Yoshitada Otsuka thought that it was over with this, because I thought that I was adjusting to about "I will not talk today because the actual number uses calories".

Hanehara:
I am in the forest snow. At the time of dubbing, I was crying how many times I cried when I was checking, though I was a director (lol)

Fukui:
When I was saying Gusugusu at the after-recording booth, I was thinking of something (laugh)

Hanehara:
Because I'm crying.

Kobayashi:
In the second episode, the lines saying "Ancient king rescued the planet" have already come out of snow, did Mr. Fukui have stood a hint?

Fukui:
I did not think at the time I wrote the second episode indeed. In the final story, "A, This is it §" I thought.

Kobayashi:
No doubt it seemed to be here. In this seventh chapter, I think that there was a lot like that "hints of that time are here!" Was not it hard to put together?

Fukui:
"When I noticed that, I had that kind of setting" part, when I read back the plan, I thought "I could not have thought about this at this point ...". This is still "edge". There are times when things work out, is not it?

Kobayashi:
Finally, at the time of the first chapter, Ms. Fukui had a story saying, "It is not just a remake but a meaning to make in this era." I would like to ask about that again.

Fukui:
I think that it would be obvious if you could see the ancient times, but this time, ancient times, I have many bad things to see. It feels that it is "terrible" because you have done the same experience somewhere. If the children are the target work, it is also different, but if the person who has experienced life experience is the main target work, although the animation is the directing ability and the drawing skill, both the story and the story can be done I thought. Our generation is a generation betrayed in the future since the collapse of the bubble economy. Why do you live tomorrow indeed as you keep getting lost everyday? At least, I thought that you could get catharsis in the film. The ancient tribe of 40 years ago "I will struggle so hard, I will die as much as drawn to the desperate future", I murmured to the ideal with forest snow. But this time I felt as if it would be a reply to "Farewell" if I could prove that "If you keep on living you might have such a miracle". I think that people who receive it are various, but what you wanted to do is your answer to "Farewell" for the first time in 40 years.

(Clapping at the venue)

Kobayashi:
At that time, I heard the song by Kenji Sawada and it ended, but again this time "Love from Yamato" is used. I did not think that even in the last chapter I used in Chapter 1.

Fukui:
It has decided that used originally to last, now talk of trying to use even the first chapter. It was the same lyrics, although it was the same song, whether it sounds completely different and was aimed.

Kobayashi:
I think that there is something that can be felt from dialogue and songs when I look at this kind of story for the second time and the third time.

Fukui:
Until the end Thank you bear with me in such a harsh drama. Thanks to you, it has become the highest number in the remake series, including advance sale and software sales situation. I would like to further aim for your continued support, so please continue your continued support.

Hanehara:
It certainly did not think that such future is waiting for children's age. That made a long journey with you was a treasure for me. If you do not mind, if you can review again from the first episode after seeing the last round, I think that you can see it again with a different line of sight. Please love Yamato from now on. Thank you very much.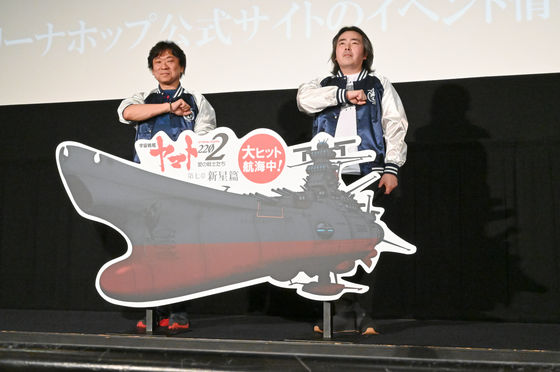 Kobayashi:
Please enjoy a large screen by all means. Thank you for today.

At Shinjuku Piccadilly, Andromeda and Yamato of 3 m in size were exhibited at entrance, and many people were turning the camera.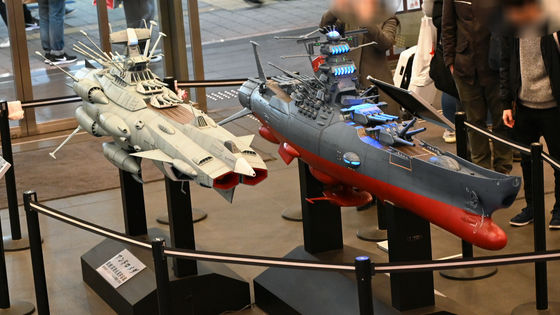 "Space Battleship Yamato 2202 Love's Warriors" is being released acclaim. From Friday, March 8, the first-come visitor gifts (duplicated character original picture / Mechanical setting line drawing / "Farewell Space Battleship Yamato Ai no Senshi warriors" character setting picture) switches to the second week's item, "Yamamoto Rei" It has become a "key man", "Farewell space Battleship Yamato [Daisuke Susumu Kodai & island]." Please check the public theater on the following page.

Theater list ┃ Space Battleship Yamato 2202 Ai warriors
http://yamato2202.net/theaters/index.html