Interview with screen writer · Oka Hideki who "chose to see Yamato 2 until quitting the cram school" Space Battleship Yamato 2202 Love's Warriors "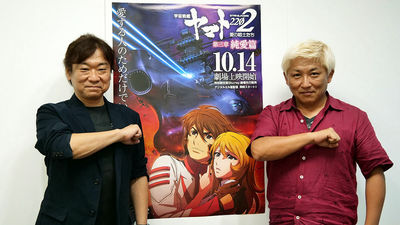 In the sequel of "Space Battleship Yamato 2199", the movie "Farewell Space Battleship Yamato Ai no Senshi" and the TV anime "Space Battleship Yamato 2" remake of "Space Battleship Yamato 2202 Ai no Senshi"The 3rd chapter" Pure Love "is screened at the theater from October 14 (Sat) on 2017.

With this workHarukoshi FukuiI am in charge of the screenwriting with Mr.Hideki OkaMr.Overflowing with Yamato Aidirected by·Nobuyoshi HabaraMr. Oka who participated in the recommendation of Ms. Oka himself is also strongly thoughtful to Yamato, and he was about to leave the cram school to see Yamato 2 during junior high school days. Including that episode, I had Yamato love hotly talked.

Space Battleship Yamato 2202 Ai no Senshi
http://yamato2202.net/

The third chapter "Pure Love" key visual which is currently open is like this.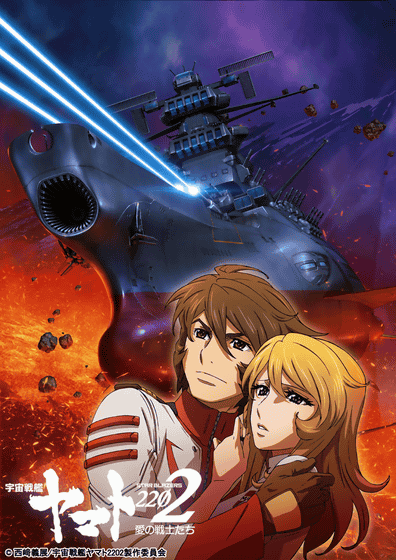 GIGAZINE (hereinafter referred to as G):
This time the staff making "2202", Oka enters between Habara and Harukoshi Fukui of the series composition as the age. What kind of work was mentioned before Yamato?

Hideki Oka (Oka):
At that time, both live-action photographs and animated cartoons were called "TV comics", but the things that were flowing on TV were all elementary school days that I was seeing.

G:
All, all!

hill:
Oh, it was a bit too much. At the time, there was a strict rule that "TV is 1 hour a day" at that time at that time, meaning that I was desperately choosing in the tie and looking at every program.

G:
It's amazing ... with an hour's wishes.

hill:
I only watch 4 programs a day on part B ... (laugh). Looking up to about 5 to 6 episodes, "Yoshi, I found out in general" I feel like flowing to other programs. I guess you are a nice kid. Because the number of channels was small, there were many cases that both cases were seen on the counterprograms in Hiroshima ... in the city.

Nobuyuki Habara (hereinafter, feather):
Oh, I see.

hill:
What I was told was not to see "Genius Bakabon".

Hanehara:
Er ... Why not!

hill:
I say "Become an idiot when I see it." Parents. "Lupin IIIIt was nice to have a sex appeal.

G:
Is it safe? (Laugh)

hill:
However, I was watching the Bakabon though it was said so (lol) So there are few programs that I do not know at all. But is not it such a TV child who grew up in a generous era of those days?

Hanehara:
Certainly, I have seen almost.

hill:
Because it is such a child, it was drawn in monster, Ultraman and television comic pictures only in the slogan.

Hanehara:
"Tiger maskOr is it?

hill:
Yes, Tiger mask! "Kamen RiderWhen it began, riders' graffiti number increased at a stretch. "Mazinger Z"Also," Wow, what is this face! "" I do not know what kind of shape it is "I was struggling to paint while painting. so,"Great MazingerApproximately the development of the brains has finally caught up, it will be able to capture complex three-dimensional objects, but "Yamato" has appeared in such a fall.

G:
You came.

hill:
And, "I do not understand!" (Laugh)

(All lol)

hill:
"What's going on is this!" Is it too complicated? The line is overwhelmingly large, and in my head, it was somehow like an image that "Stegosaurus is flying in space". Those that are sharp are concentrated on the ship's top, so if you are in what you know Stegosaurs.

From Chapter 3, Yamato goes in space.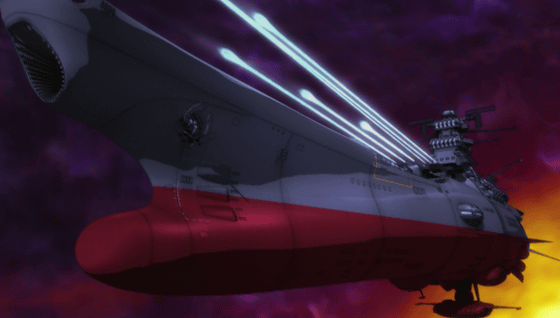 (All lol)

Hanehara:
I see. (Laugh)

hill:
There is a foreign object such as Stegosaurus with an eerie black hole in his face, and it is the first impression that "What is this? What will start now?"

G:
Was that kind of encounter? At that time, regardless of the target age Yamato appeared while picking up all "TV comics", everyone said "Great thing has started!"

hill:
However it is. It is due to the grade school being different from Ms. Habara, there are few friends' impressions talking about "Yamato".

Hanehara:
Well, that's right.

hill:
At that time, I got lost as well "Monkey corpsIt was a faction. That's why 'Yamato' is about to be picked up in the main broadcast. However, my parents love "Yamato", "What does it mean to impress parents?" Is impressive in children's minds, and I am trying hard when Yamato rebroadcasts existed did. Many people were addicted to this rebroadcast nationwide, so I was one of them.

Hanehara:
By the way it reminds me that it was.

G:
As you grew up, animation was embarrassing, did not it be a graduation?

hill:
There was some. I wonder about the end of fourth grade. However, we are "re-enrolling" soon. (Laugh) In our generation, a revival boom has already started when it is about the fifth grade of elementary school. At that time Yamato's fans' activities were slowly spreading nationwide,UltramanThe movement to reevaluate was also emerging. When I was in junior high school first grader, the surrounding environment was completely filled with its hands.

Hanehara:
Yes Yes.

hill:
"Star Wars"Came and summer of 1978 where" Farewell Space Battleship Yamato "came came, is an unforgettable summer that decided my fate. What I saw at that time, what I felt, myself living in such air, it keeps going on even tens of years old. That is the driving force to become an assistant director of movies and TV dramas, it is the root of what Habara has invited to come here.

Hanehara:
I agree.

G:
I could meet such a summer, I envy that I could experience it.

hill:
For me, the summer of 1978 is "sacred place". Personally, I have the impression that everything was decided in that summer.

Hanehara:
Even as age, the timing was probably good.

hill:
Everything will spread out as a junior high school student. At such timing I saw the sequel of "Space Battleship Yamato". In the following year "Galaxy Express 999"is. "There is a wonderful world different from here somewhere far away, and traveling towards that place, I surely think so" I was immersed in the illusion. It is quite a mess when I think about it now, but I guess many children thought that way in those days.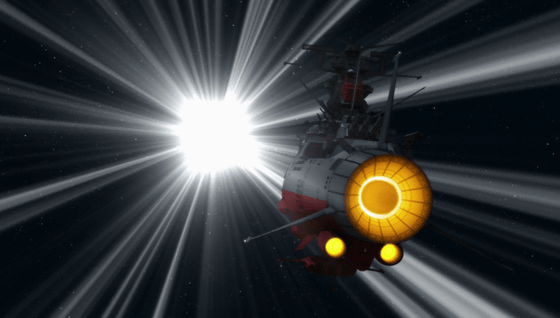 G:
Did everyone get excited at junior high school?

hill:
I agree. Both boys and girls are definitely talking about "Yamato", are not they? However, after "Gundam" came out, there was an impression that the stance of the class members to fiction changed somewhere. Before "Gundam", I feel that animation was consolidated by the word "romance". "Gundam" came there, and everyone was taught that it was "cynical" or "balancing with reality" or "such things can be inside animation". As a result, I feel that I started to see animation a bit objective, critically. This may be due to the fact that our growth and work trends happened to be linking that way by chance, but I am a human of that generation. However, as the surroundings changed and the work also changed, why it continued being dragged by the smell of old-fashioned colors that Yamato had for a long time.

G:
Hmph.

hill:
Only "Yamato" was exceptional, I wanted to taste the "Yamato" likeness, I continued chasing "Yamato", and there are other clauses I was watching while thinking about something in other works as well.

G:
Did you have a work that scented "Yamato" like other than "Yamato" series?

hill:
"Armored Fleet Da Lager XV". "Why is it so much Yamato!" It is somewhat similar if you can not go through.

Hanehara:
Understand!

hill:
The staff also wears a little bit, and Keisuke Fujikawa is the main script. Afterwards "Space aircraft carrier Bruneoa". There is a memorial that I began to see it with delight "I can taste more" Yamato "like things!

Hanehara:
It's already the same staff (laugh).

G:
Yamato, which became a big social phenomenon in "Farewell", came back as "Space Battleship Yamato 2" after that. Mr. Habara had already decided to become an animator, and I was glad to see that Mr. Isao Kaneda was included as an animator, but how was Mr. Oka?

hill:
"Farewell" after all was touched greatly and finally shedding tears of anodoro. However, after two months I will probably begin. "But I guess I'm surely alive forever. In your soul, with your soul in your heart" What was that, then? I thought, but ... I saw it all "I have to see all over and over". After all, I quit cram school ...

Hanehara:
really! To see?

hill:
On the day of the first episode of broadcasting, I failed to go cram school. Already, a mistake irreparable! In the mind, eventually I abandoned the cram school from the second episode and chose "Yamato".

G:
How! (Lol)

hill:
It is a mess of upgrading in the fall of the first year of junior high school.

Hanehara:
As English gradually becomes harder (lol)

hill:
I wonder how I persuaded my parents .... I can not remember, but I quit.

G:
It's amazing to quit and choose to watch (laugh)

Hanehara:
I also heard it for the first time.

hill:
However, I miss seeing the first episode.

Hanehara:
So I was sorry for it.

hill:
It is impossible for us to imagine that I was in a meeting for a long time (laugh)

Hanehara:
I can see it on the net (lol) Because I never got on video at that time.

hill:
It is a story about home when there was no video itself.

G:
The story that the summer of 1978 was a milestone existence came out, but was it also this time that I was decided to proceed to the way of the image in this way?

hill:
I went to see "Star Wars" in July of this year. When I went out in the morning I did not think anything, but on the way back, "Become a movie director!" (Laugh) I did not have a change at that time, so I saw him four times from morning till night. It is not "looking at a men's third day meeting," but it's like that it is becoming a different person when going and leaving. I had been watching the movie until then, but I thought until "I want to go to making side" was "Star Wars" for the first time.

Hanehara:
Oka 's house was a movie - related work?

hill:
No, my father is a bank clerk, my mother is a women's clothing shop, I am a normal child. But I was watching "Star Wars" and it got it. I think now, from myself I also feel like "I have started seeing things with critic eyes". "Space Battleship Yamato 2" seems to be the first animation I saw with that kind of consciousness.

Hanehara:
"If you are going to do this" (laugh)

hill:
That's right. "If you are going to do this,". At that time, there was already such feeling.

G:
After that, it may be great that I could see 'Yamato 2' at the making eye.

hill:
I will come back when I talk about it at the time like this. ...... Hey, something strange, at that time I had a feeling like 'Naturally there is' Yamato'. Why did you think so?

Hanehara:
Because it was one after another.

hill:
Looking back now, it is quite long time for kids, like 5 months or 1 year between works and works. But why did not it seem like a disappearing feeling ... probably the one in the world said "I will not let go of" Yamato ".... That kind of fever is in the whole world including business, so "Yamato" is somewhat concerned about "anything you can see". I thought it was like "it's natural and it's a very good thing to show interesting things every time". But only "completion" is different. That is because there was clear air that the world no longer needed "Yamato". I went to see it with the feeling that "I will have to go, who goes" was only "completion edition".

Hanehara:
Just "Crusher jawIt was a simultaneous screening with you.

G:
I am convinced that Ms. Habara recommended Oka very much.

Hanehara:
Is not it? I have seen a "Tiger mask" while poking a pot, but at that time I had a feeling that "the part I feel while watching my work is very close to me", " I called to him. "

hill:
so. I have worked in Indonesia for about a year and a half, but there was a time when I was not in Japan, but suddenly an email came from Mr. Huhara on his return home "XEBECIt was decided to make it, please write a proposal "(Laugh)

Hanehara:
"Farewell" and "Space Battleship Yamato 2" ... ....

hill:
"It is a remake of" White Comet edition. " At first I thought "Wondering what's going on?", But as you tell me it's true, "let me think a little freely" then Then I sent the proposal to Ms. Hanehara, that is the trigger.

G:
Regarding the screening of "2199", will it overlap at a time when it is not in Japan?

hill:
Because I could not see only Chapter 7 of "2199", when I went back to Japan temporarily, I jumped into TSUTAYA first. "Star Arrival ArkEven at the theater release, I was in Indonesia, so I will be playing Blu Ray later. I, when I love "Arku", when I was talked about "Planning Book" from Mr. Huhara, "Would you like to get in touch with Gatlantis with this continuation ... Starting with Gamirasu, Gato Lantis and the Earth becoming three? Thinking ... "and throwing what he wrote freely with feeling that he got a title like a three-part title to Mr. Huhara.

G:
In this work, Haruhito Fukui made a flow once to make a screenplay, delimited every number of stories, Oka created a scenario. Everyone talks with Wai Wai while watching it, and it seems to be the form that Mr. Fukui put together again at the end, is this quite a form?

Hanehara:
I think that it is unusual.

hill:
I guess there is not much.

G:
How much has been decided by Ms. Fukui at the stage of "making flow?"

hill:
The outline of the story is perfectly done ... I wonder if the way of saying ... ... is good. There are quantitative variations for each story, but overall it is amazing character volume. The volume of the part I think Fukui wants to write here is particularly overwhelming. This is what we call "composition memo", and the work to equalize it as a program of one story 30 minutes will come next. This is "making a long plot" that I was doing.

G:
"Make sure to bring this line of" Farewell "" "Serifs of" Yamato 2 "here, are they also decided?

hill:
Although there is a policy to reproduce the name scene, I think that there was no such instruction that Mr. Fukui's original work would pull the lines seriously. I am not thinking at all at the first stage when I also start working. There is a thing called "あ ... ...!" While working (laugh)

G:
Will not you write while playing Yamato 2 or Farewell? I thought it might be necessary to bring out the dialogue, but would I completely leave it to the library in the brain?

hill:
The trigger of dialogue and music, the basic thing is imprinted in consciousness. However, the screenplay and the completed video are not so different from each other. So this (Shueisha "Farewell Space Battleship Yamato Ai's Warriors Decided Version Road Show Responsibility Edit Vol.2") Was always available at hand. There is only this one that properly lists the script at the time.



G:
I see!

hill:
after,Toshio Masuda'S proposed composition is "Deluxe Edition Farewell Space Battleship Yamato Ai's WarriorsIt is not included in the purpose of tracing "farewell" separately, but in order to return to what the staff at that time was making the drama framework for the aim, Masuda Toshio manuscript That's what made the big deal. Also,Cobalt series of paperback booksIs a story of "Farewell" written from the viewpoint of "forest snow" rare as then. These three things seemed to be "original landscape which I should never forget", I kept it at hand for the screenwriting of "2202" which lasted about 1 year. I do not mean "borrow here and take it", but I feel like "I want to be conscious of the aim and feelings of the people who were made at the time". Although "2202" is a remake of "Farewell" and "Yamato 2", a lot of new elements are coming out and the theme of this work is passed through Mr. Fukui. As for me, "What is the original landscape" Would not it be better not to forget? ", I was reading in a word. Anyway, the writer at that time is good at writing. It is "name tone" full of sense of rhythm. In 40 years the Japanese itself changed. There is not anyone who can write this now.

Three volumes of books Mr. Oka showed me during the interview.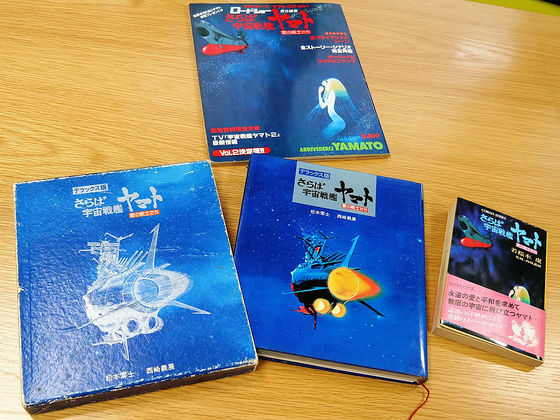 Hanehara:
Certainly it is true.

G:
Are there any places you noticed something again by reading back when writing a screenplay again this time?

hill:
I'm have thought, "Farewell Space Battleship Yamato" is "anything that could be purely form" the best in the feature-length Yamato. Especially 30 minutes from the beginning, there is no waste as long as there is no inconvenience to Yamato departure. I felt once again the sharpness of sharpness of Mr. Toshio Masuda of those days. Speaking of which, I saw many Masuda Toshio movies during work.

Hanehara:
which one? "Tiger, Tiger and Tiger!"And?

hill:
I also saw "Tiger, Tiger and Tiger!", And "Zero war Kuroun family"Also. That climax is the base of "Farewell Space Battleship Yamato", is not it? After all, Mr. Masuda's color is "deep in theater version Yamato". I reconfirmed it.

G:
I tried writing the script this time "Is this successful?" "Is it a hard work, is there a way to see it?" Is there a part like that?

hill:
Is it the tenth story in Chapter 3?

Hanehara:
Are you talking about the universe fireflies?

hill:
That's right. It is based on the episode of "Yamato 2". I was surprised when Mr. Fukui asked me to "fire fireflies". In the second half, Space Cavalry and Yamato Crew will be fired at once. It has changed a lot in the stages of drawing contests and direction.

Hanehara:
Yes.

Saito of the ancient and spatial cavalry.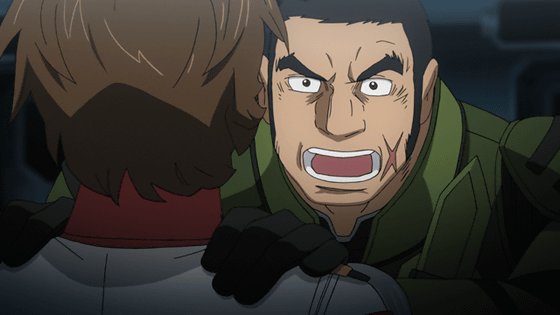 hill:
That is wonderful. "That's fine, that's correct interpretation!" I thought.

Hanehara:
Well, it was good (lol) I wish you could check on the theater by all means.

hill:
In Fukui-san, "It's a part that I can not avoid here" was written with composition notes, I also wrote it somewhat lively, but I was surprised that it was directed with a completely different interpretation. Things that I could not imagine will come up. That scene, I like it very much.

Hanehara:
By the way,Special limited edition Blu-rayThen we have a screenplay of the tenth episode. Mr. Fukui made a choice.

hill:
Ah! I see. (Laugh) It is surprising, is it ten story?

Hanehara:
I thought that it would come in 9 episodes, but Ms. Fukui was supposedly ten (lol)

hill:
Ten episodes are "episodes that smell like 'Yamato'.

Hanehara:
Well, there is a feeling like "Yamato 2".

G:
So we can see how we changed. Thank you very much for a long time today.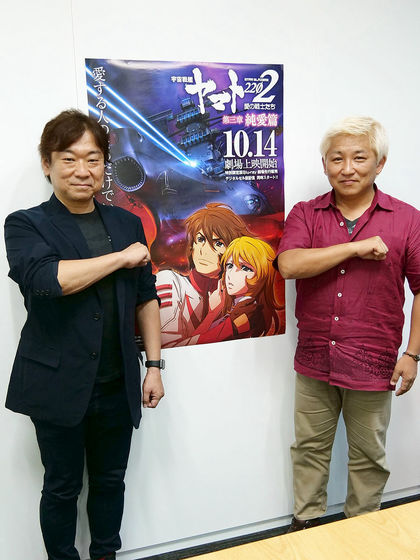 "Space Battleship Yamato 2202 Ai no Senshi" Chapter 3 "Pure Love" is screened for 3 weeks at 25 nationwide schedules from October 14 (Sat) on 2017. The series is composed of all seven chapters, and theaters are screened sequentially. Also, according to the disclosure, the fastest advance sale of special limited edition Blu-ray is being held at the theater.

"Space Battleship Yamato 2202 Ai no Senshi" Chapter 3 Pure Love Hen Book Preview 60 seconds ver. - YouTube


Chapter 4 "Tennen Hen" is the start of the theatrical screening on January 27 (Sat) 2018.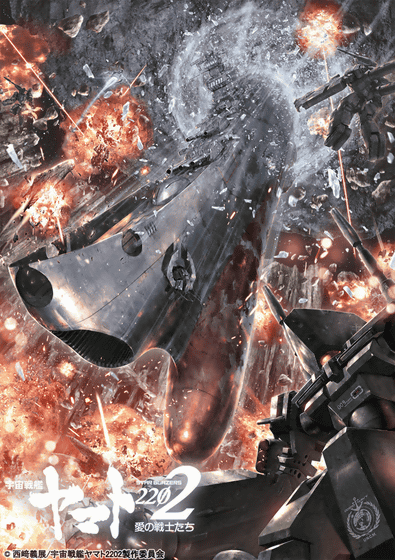 © Nishizaki Yoshinobu / Space Battleship Yamato 2202 Production Committee