"Finally I stepped one step," Fukui Haruhito and the director also relief, "Space Battleship Yamato 2202 Love's Warriors" Completed Show Screening Report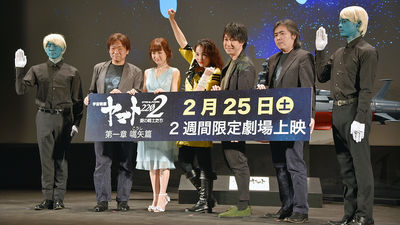 Theater screening starts from February 25 (Sat) 2017 "Space Battleship Yamato 2202 Ai no Senshi"The first screening of the completion showcase which can see the main part earlier than anyone was held on February 6 (Monday). Directed by Nobuyuki Huhahara, directed by Haruhito Fukui, series composed of Kenichi Suzumura, and Mr. Sayaka Kanda serving as Teresa's role appeared in the screening, spreading a sense of anticipation talk.

Space Battleship Yamato 2202 Ai no Senshi
http://yamato2202.net/

The venue was in front of the Yurakucho stationYomiuri Hall.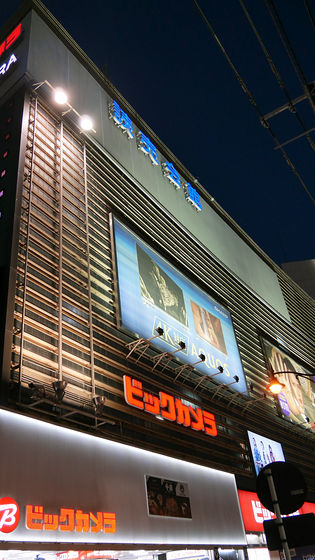 People are gifted when they rise to the floor with a hall with an elevator.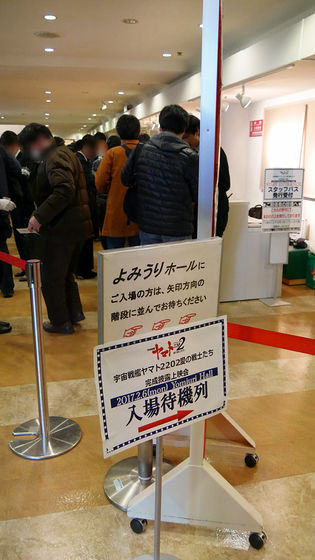 This was because sales were done before the event started.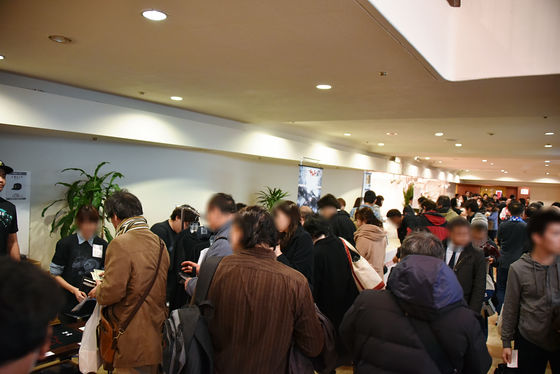 It is convinced that crowding is not possible because there is no goods sale after the performance.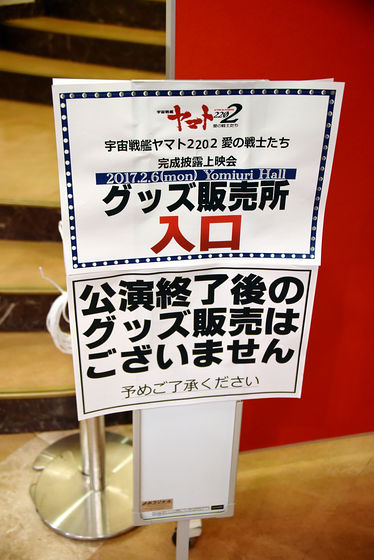 Advance tickets with a postcard tailored to the posters of "Saraba Space Battleship Yamato Ai no Senshi" were sold at the venue only.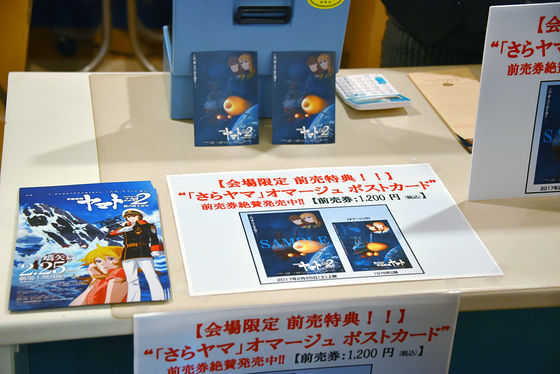 Besides orthodox goods such as hats and towels ......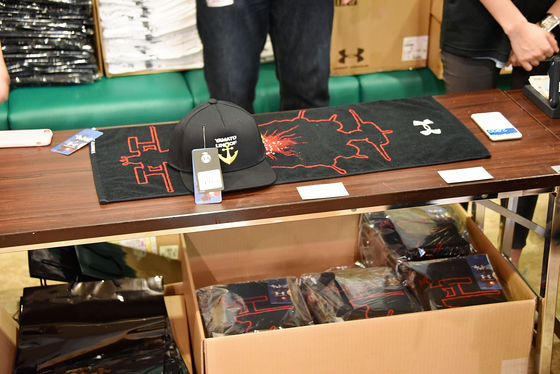 Also stainless steel tumbler engraved with Yamato and Andromeda.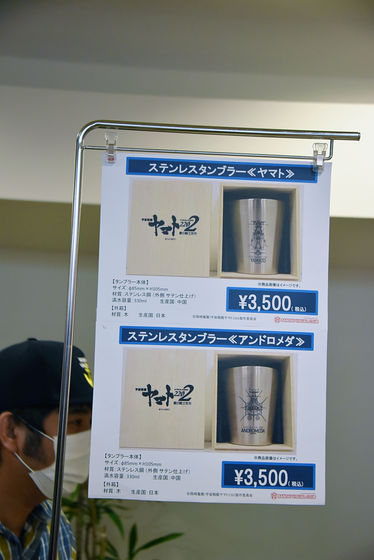 T-shirts were sold as well.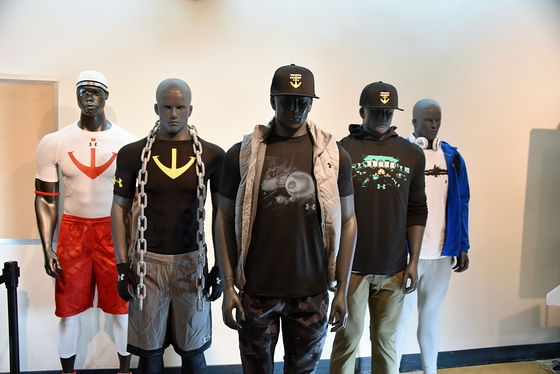 The suit next to it was a costume of Rei Yamamoto who is collaborating with under armor, it was not for sale.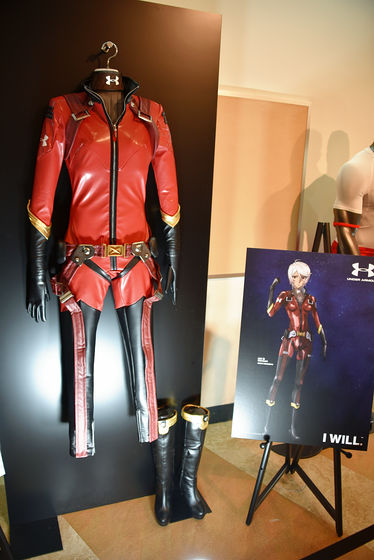 Forest snow wear the uniform of Skymark Airline.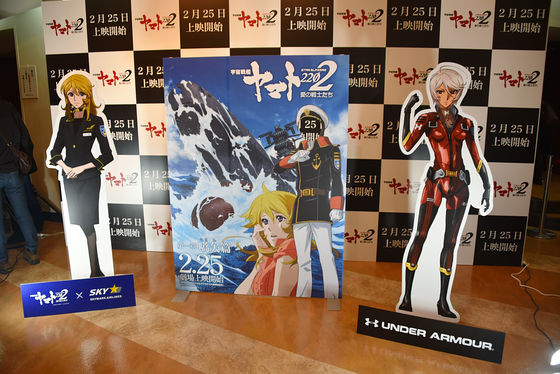 At Skymark Airlines, Yamato Jet will be in service from February 25 (Saturday).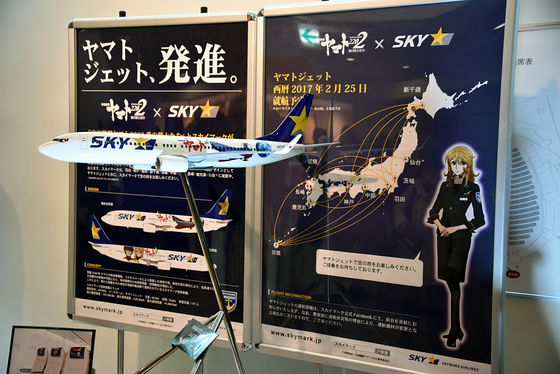 The logo of "Space Battleship Yamato 2202" behind Skymark's logo, and the silhouette of Yamato and the earth are drawn behind the aircraft.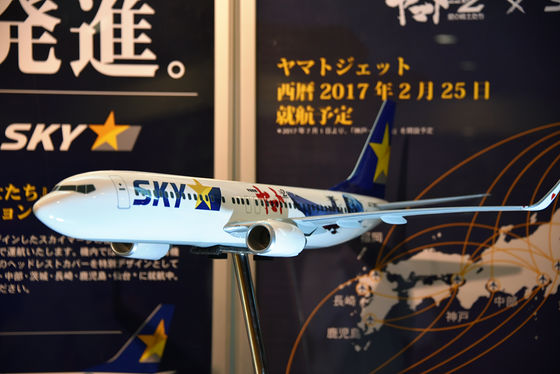 Panasonic'sCreator Q, Limited to 333Space Battleship Yamato ModelAppeared. Certainly the color is consistent with Yamato, but the original shape feels like a planet bomb.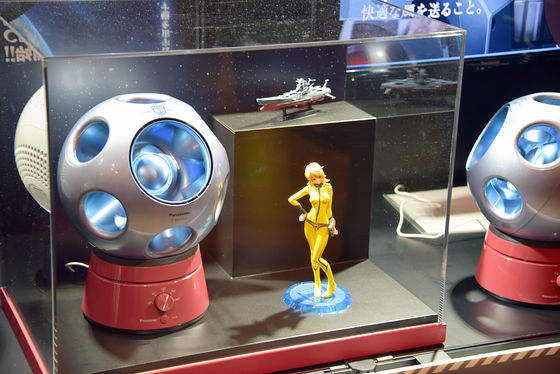 From February 25 (Sat), the lottery V premium will be released one by one. All 3 grade · 8 kinds, 1 time 2000 yen.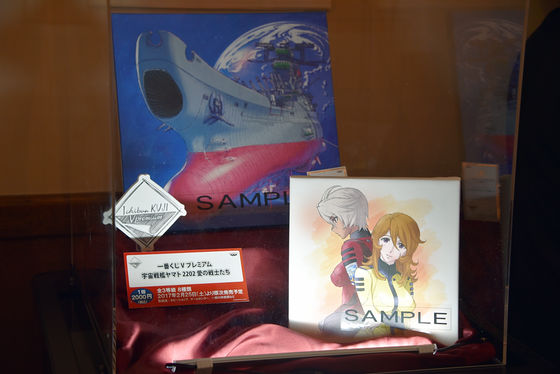 S.H.Figuarts · Mori snow, Yamato girls collection · Forest snow (private clothes Ver.), 1/1000 scale plastic model Andromeda was also exhibited.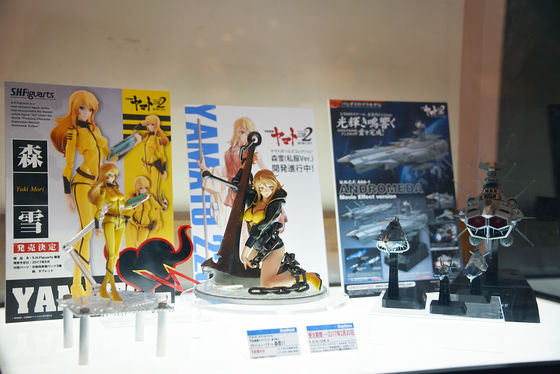 Andromeda is about 444 mm in length.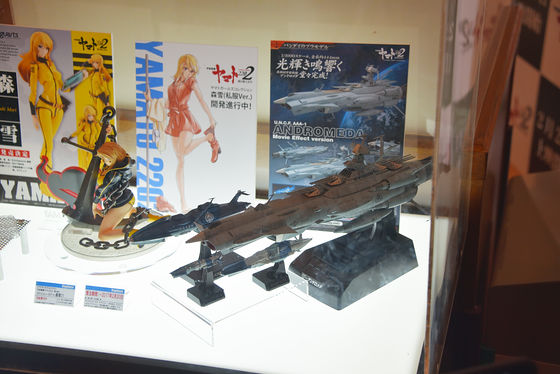 At the venue, Yamato was sitting in front of the screen, and it was a good shooting subject until the event started.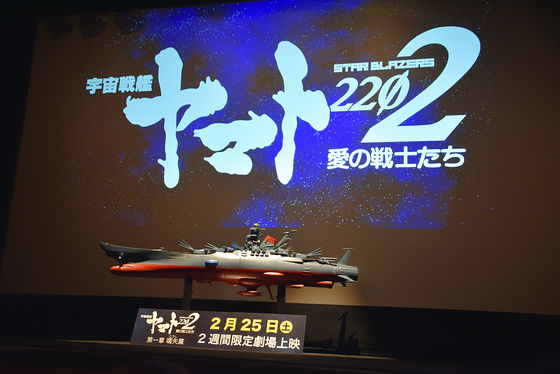 ◆ Staff & Cast Talk
The moderator of the eventChiaki MatsuzawaMr.Nobuyoshi HabaraDirector, role of TeresaSayaka Kanda, Daisuke Is on role of roleKenichi Suzumura, Of the series compositionHarukoshi FukuiAttended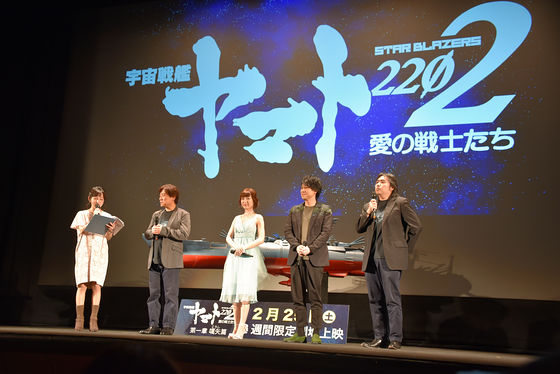 Director Huhara who was questioned about "hardship" was a heavy pressure to take over because 2199 was a very good work, but it seemed safe to be able to see the first chapter safely in this way. Mr. Fukui also said that he finally entered a step while still entering, confident that he was doing with zero regret at first.

Mr. Suzumura who plays the island following "Space Battleship Yamato 2199", the island which had still left a young atmosphere in 2199 has grown along with the ancient people in the journey, so it has a massive atmosphere and reliable I talked about what I was conscious about playing a certain human being.

Meanwhile, Mr. Kanda newly joined the work. It seems that he is challenging to play with big seniors while giving advice from the ancient role Daisuke Ono "If your stomach is full anyway" so that your stomach does not ring during drinking. Director Hahara who chose Mr. Kanda already knew his skills with "Anna and the Queen of Snow" etc, so when Kanda's name came up as a role of Teresa, since I have not read the mail yet "OK "It is said that it was enough momentum to reply that.

Incidentally, Mr. Fukui expressed Teresa as "a character not easily involved in entering the top 3 among characters that appear in animation," but I thought that it was a feeling that it would not be too cold, but Mr. Kanda It seems he felt that he heard the voice of himself perfectly.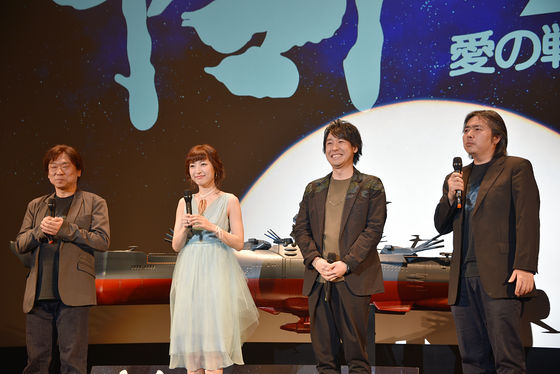 Unfortunately, the island does not come out in the first episode, Suzumura who saw this story with a complex feeling, but since its contents was "It's Yamato!", It's a wife as it is three times saw I also recommended Mr. Maaya Sakamoto "Yamato, you had better see it" recommended. Mr. Suzumura, I do not know what the future 2202 will develop, but from the fact that I went alongside Kanda, who acted as Theresa at the event, Teresa and the island, which was expressed as a character that is hard to get involved, something goes well together Well ... I was asking.

Mr. Matsuzawa gave a hit prayer as "goddess Teresa", Mr. Kanda who was somewhat unreasonableness prayed for the hit of the work in the form of borrowing the words of Theresa.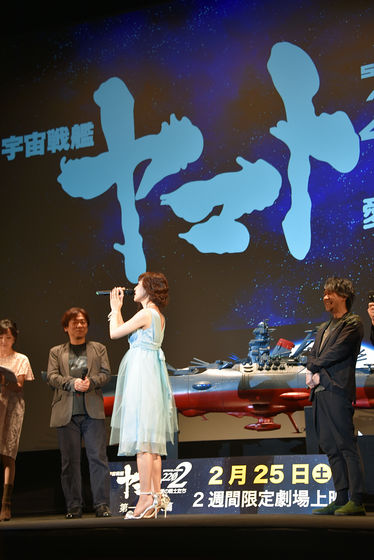 Mr. Nora Hirano (Moriyuki version) says "I have rolled Cima from Iskandar" with this as if it is a screening of this movie and appeared accompanying the Gamirasu people.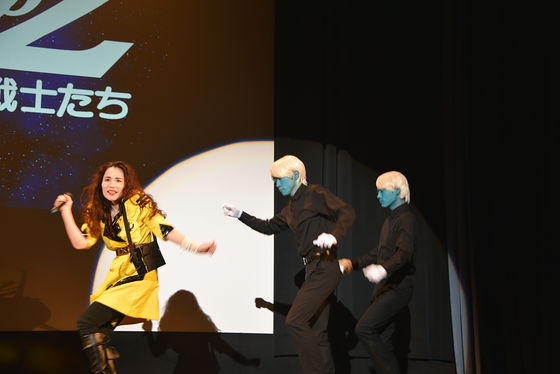 In a way that Mr. Suzumura is to be put on by Ms. Hirano, to show off a real story with "Do not you think Tiramisu and Gamirasu?"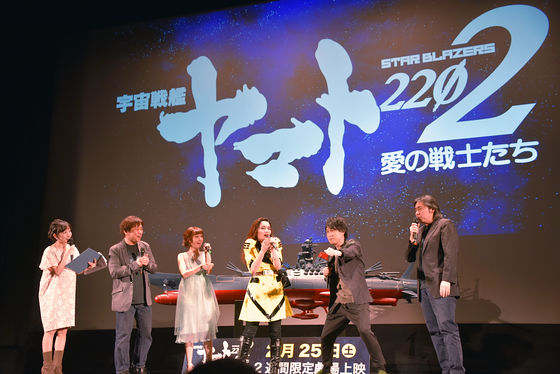 Actually Mr. Hirano was saying that he was the same age as "Farewell Space Battleship Yamato Ai no Senshi", I was amazed at this year's "Yamato Bubble" aiming for a buzzword grand prix, Suzumura and others were laughing a lot.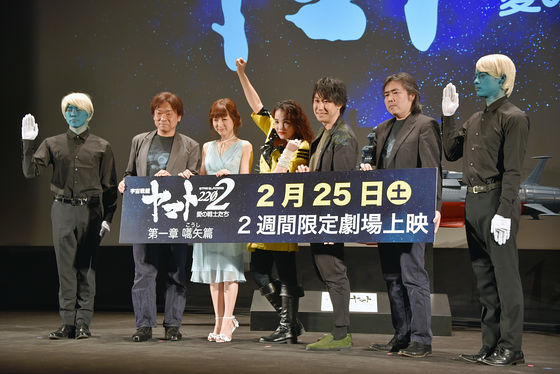 ◆ Nobuyoshi Habara & Harukoshi Fukui Talk
Talk was held by Mr. Huhara and Ms. Fukui after the screening. Mr. Fukui said that it was a bit uneasy to see the reaction of customers right after the screening, but the venue was surrounded with many applaudes.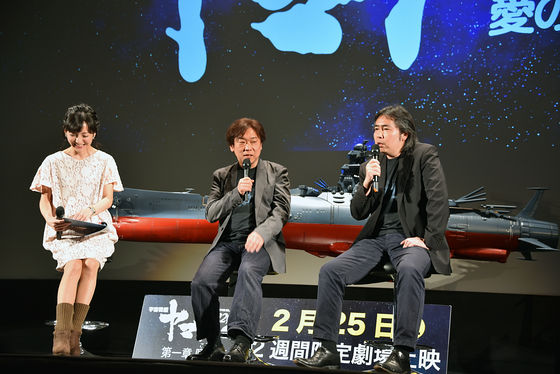 What is used as the ending theme is Kenji Sawada's also the ending theme of the movie "From Yamato with Love". Mr. Fukui, who was not seen at the theatrical release, heard "Farewell" for the first time in a drama record that a friend got, but the ending is what Nishisaki Yoshinori talks in place of Mr. Kenji Sawada's vocal. Mr. Fukui said, "It is valuable in that way", he told his work that he could use "I love more than Yamato" so that I can feel emotion as well.

Also, as a back story, it was revealed that there is a regular version and "version K" in the Cosmo Tiger II of the space fighter that appears in the work. This is derived from Animator · Kaneda Iyo, it seems that "When the nose and wing tip are subtlely lowered with tribute, as you come closer to the screen" nose will grow ". Even if it is a big battleship of Gatlantis, depending on the scene, we use a model that is twice as large as normal, and there are places where priority is given to the power of the image rather than the consistency of the size.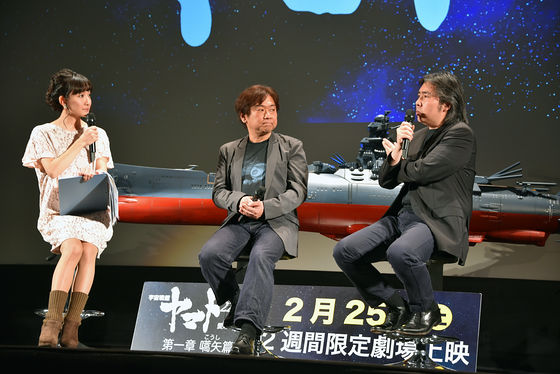 Although it is based on the movie "Farewell Space Battleship Yamato Ai no Senshi", it is a work to which contemporary style interpretation was added, so that it is a work that can be enjoyed by not only fans of former years but also people who are not So please check the end of the new trip of Yamato. By the way, Habara received baptism of "Farewell" at the time of the second grade of junior high school student, and Mr. Fukui met the "legendary giant idea" at the time of the second grade of junior high school student, so when someone of that age sees some influence on life Maybe I will receive ... ....