Two-thirds of anti-virus apps on Google Play are not working properly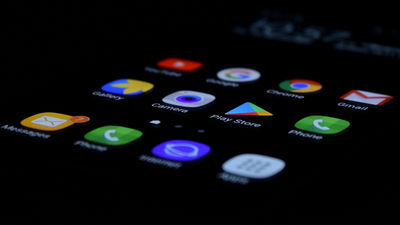 by Pathum Danthanarayana

Two-thirds of Android apps for Android distributed on Google Play are completely useless, and some have even shown that smartphones can even be infected with malware, new research shows .

Android Test 2019 – 250 Apps | AV-Comparatives
https://www.av-comparatives.org/tests/android-test-2019-250-apps/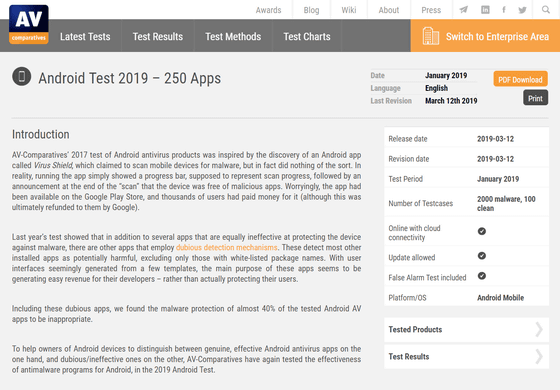 Two-Thirds of Android Antivirus Apps Are Total BS
https://www.tomsguide.com/us/android-av-apps-bogus,news-29621.html

AV-Comparatives, an Australian anti-virus research facility, has tested how 250 anti-virus applications present on Google Play show behavior against 2000 samples of malware. Tests have shown that only 80 of the 250 apps can prevent minimal malware.

According to AV-Comparatives, only 1 in 10 of the tested apps were able to detect all 2000 types of malware as samples, that is, only 25 of the tested anti-virus apps is. Also, more than two-thirds of the tested anti-virus apps were "garbage apps" that could not even block 30% of malware.

AV-Comparatives is that most anti-virus apps are fakes, and many of them are "fakes" created solely to display advertisements and promote the developer's career.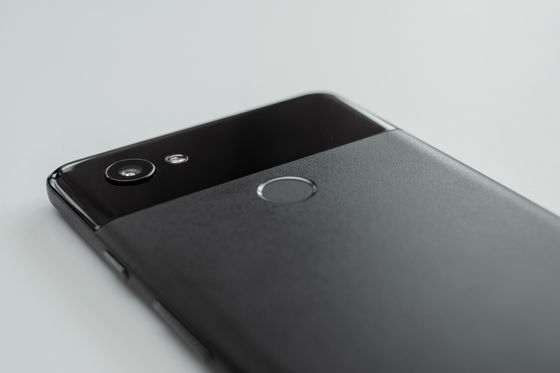 by Michael Mroczek

Tom's Guide states that "Use well-known companies anti-virus apps to properly protect Android devices" and AV-Comparatives "The main purpose of these apps is to actually protect the user It's about creating revenue for developers, "he says.

All of the prepared malware samples could be detected: AhnLab, Antiy, Avast, AVG, AVIRA, Bitdefender, BullGuard, Chili Security, Emsi, ESTSoft, F-Secure, G Data, Kaspersky Lab, McAfee, PSafe, etc. Only apps from 23 antivirus vendors: Sophos, STOPzilla, Symantec, Tencent, Total Defense, Trend Micro, Trustwave. For example, Bitdefender's anti-virus app is " mobile security for Android ", Symantec's anti-virus app is " Norton mobile security for Android ", Avast's anti-virus app is " avast mobile security ". It can detect malware targeted.

Norton Mobile Security Android Edition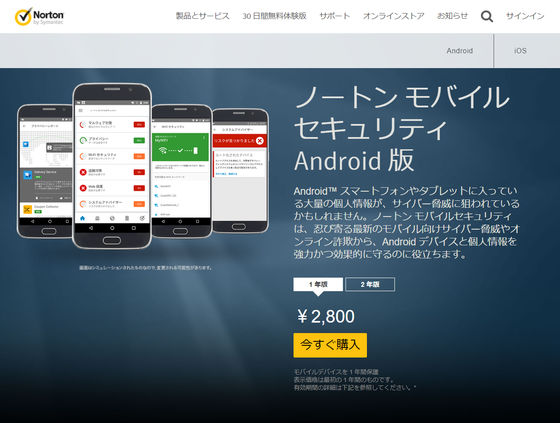 Among other things, AV-Comparatives mentions PSafe's anti-virus app " dfndr security ". Although dfndr security uses Avast's antivirus engine, it does not work properly with Android 8 Oreo or later. However, the test results are classified as "capable of detecting 100% of malware".

Also, AV-Comparatives points out that the malware detection rate of Google Play Security, a security system for Android by Google itself, is only 68.8%.

The popular anti-virus app " Security Master " from Cheetah Mobile has a malware detection rate of less than 30%. There are 138 antivirus application vendors with a malware detection rate of less than 30%.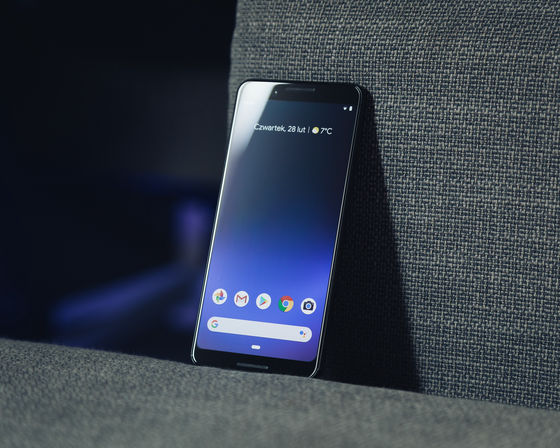 by Tomasz Zagórski

Certain apps are whitelisted by apps from certain companies, such as Adobe, Facebook, Twitter, WhatsApp, Instagram, and Google, to prevent high-profile apps from being detected as malware, says AV-Comparatives. You This implies that malware developers can bypass the detection of antivirus apps by including the whitelisted developer names in the app.