"Playback Nakamura Ryutaro" report full of feelings that I would like to continue to enjoy the director's work by Ryutaro Nakamura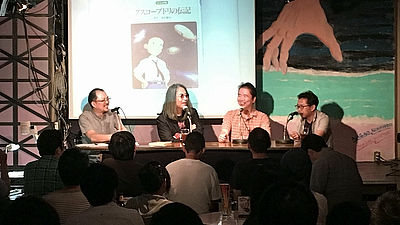 "Serial experiments lain"Or"Kino's journeyAnimation director known for works such as "Ryutaro NakamuraHe died in June 2013. In the summer of 2016 that three years have passed since then, "I would like you to continue seeing Ryutaro Nakamura's work continuously"Playback Ryutaro Nakamura"The event was held.

First of all,Theater version Kino's journey Sick country - You You-"Was screened. Chairperson of anime criticRyota FujitsuMr. Nakamura served as a guest and deep screenwriter as guestChiaki Chiaka, Animation Production CompanyshaftHe is the representative director ofMitsutoshi KubotaAttended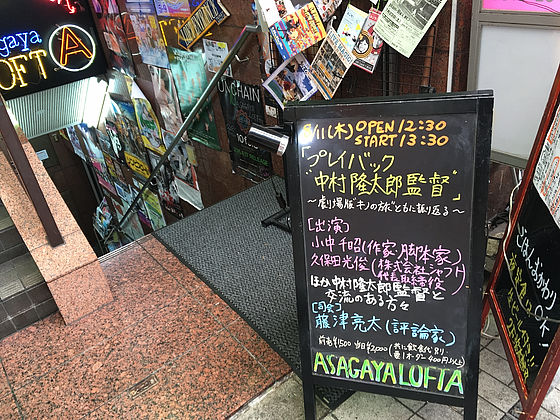 Below, we will deliver the contents of the event in a summary form slightly.

Mr. Fujitsu toasting, Mr. Konaka, Mr. Kubota.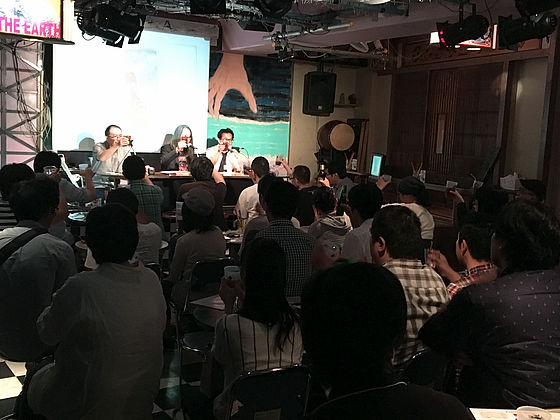 Ryota Fujitsu (Fujitsu):
First of all, I think that you can tell stories when two people got to know Nakamura.

Chiaki Konaka (hereinafter, Konaka):
I got acquainted with "serial experiments lain". In fact, it may be another director, I and pioneer LDC'sKoji UedaThe screenwriting work by the producer was advanced to about 5 episodes. At that time, I was in charge of productionTriangle Staff"How about Ryutaro Nakamura?" I got a name. When the story of the first episode came up, "It's okay !!" It was amazing with Ueda producer. At the meeting, "Yeah ... well ... that's right ..." or was a very silent talkative. Was it the time of the year-end party of the triangle staff? "Ryutaro, do you speak a little?" I went to a coffee shop because I can not drink ... ... It is from there.

Mitsutoshi Kubota (hereinafter, Kubota):
First I met Ryutaro about 20 years ago, "Legend of CristaniaIt is when he was producing an OVA named "OVA." Since the shaft was in charge of the second episode of all three episodes, Ryutaroro brought a container with the president of the triangle staff, but as Mr. Konaka said, he is a very few words did. After the work was completed, I started talking a lot. After that, TV anime "Sakura wars"And" Kino's journey ", and"RECI asked for a director. It was at the time of making "REC" that there was a story about "Theater version Kino's journey" production. When I was a TV animation "Kino no Journey", I did a drawing director, I am doing a character design in the movie versionIto YoshiakiIt is Kun.

Fujitsu:
Mr. Konaka is in charge of the script in "The Movie Keno's Journey".

Konaka:
I was in charge of the TV seriesMurai SayukiIt was like a pinch hitter of Ms. While I thought that I would like to work with Ryutaro again, I got a call to where I had not had a chance.

Fujitsu:
Try looking at it again, how is it?

Konaka:
While listening to Mr. Kubota says she was standing next to me, I was thinking "Hmm." (Laugh). I love it. As I crane up with a single cut from the sitting facing the front of the call, I remember that the character was saying that he was hand-painted.

Kubota:
As a technology at the time, there was still a lot of difficulty in matching CG and hand-drawn animation, and I repeated many times. Probably I think that we have fixed it even after the theater was over. Technically it is a dawn period, and now I feel that I could have worked a bit better.

Fujitsu:
Although it is only 30 minutes in length, was there anything you felt as being the first work of the shaft as a work of the theater premise from the beginning?

Kubota:
I was in charge of the production and challenged "to put out all what I can have". Ryutaro's order was also high, there was a cut that seemed to be serious even if it looked like a theatrical work, and the staff was conscious of trying hard.

Fujitsu:
Scenes in which images are displayed instead of screens as screens, and reflected in human characters. That seems to have been put in by Mr. Konaka that he seems to like Nakamura.

Konaka:
I thought that I tried hard at digital shooting at night.

Kubota:
Mr. Ryutaro stuck to the scene at the time of filming and was working as far as time permitted. It was the same at the time of editing, it was a director who felt the response of what he did to the staff.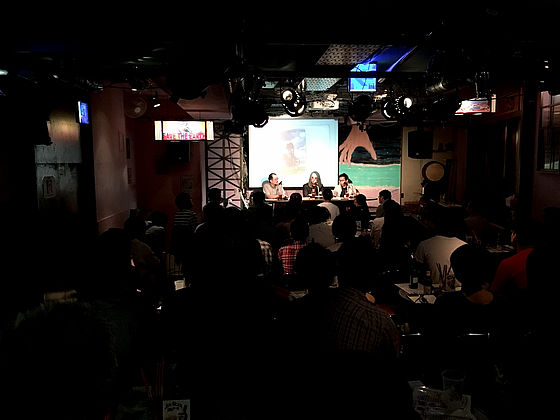 Fujitsu:
What was the place where Mr. Konaka felt Nakamura's preferences and commitment?

Konaka:
Originally it is a photographer's writer, so I write a "screenplay for live-actions" that seems like a scene saying "I'm silent and doing something work silently" when I am unleashed. But, the story of the first episode that Ryutaro drews was, on the contrary, this was "Do you do this full cut !?" Even so, at the time of screenplay of an animation, I try to write it carefully to break cuts well in dialogs and monologues, but when I do with Ryutaro, I leave it to "How would you like to cook this?" There was a part to see.

Fujitsu:
Do not be conscious of being an animated cartoon and write it, it is a feeling to see what Nakamura will do.

Konaka:
That's right. Also, assuming that elements that are not in the scenario would come in with a container, I was conscious of creating gaps that could contain them.

Fujitsu:
I tried "lain" and found that there were many parts that Nakamura had discovered that he likes such things.

Konaka:
I thought that what Mr. Ryutaro wanted to express was "heart". A sharp image representation may be strong as an impression, but in the fundamental part, it reads human's sadness, sadness from the scenario more than anyone and outputs it with the best expression. In the case of "lain", unlike games in animation, although it may not be a happy end at the end though it digs down the character nature of the girl properly, although it seems that the end that makes something happy ...... It was a message I received.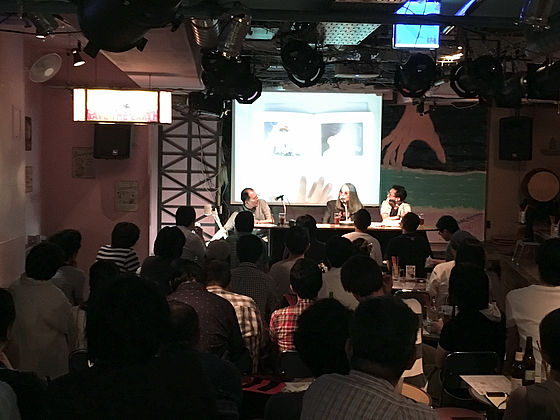 Fujitsu:
Director Nakamura explains Kenji Miyazawa's "Biography of Guskovdori"And the resurrection screening was conducted"Chibikko Tom's great adventure"Has been made. Mr. Nakamura when I was making "lain" etc. with Mr. Nakamura at that time is the same as Konaka-san?

Konaka:
I think that the writer's home ground Nakamura Ryutaro was a hub nail. It was a group of works that we did with it that protruded from there,Himari Hun / GHOST HOUNDIt was a work I brought up to "Nakamura Ryutaro's Home Ground".

Fujitsu:
Is there a feeling that there were two worlds inside Mr. Nakamura?

Konaka:
The world is one, but it seems like whether it will protrude from there. It was interesting that I write what Mr. Ryutaro's vocabulary is not in.

Fujitsu:
From the perspective of Mr. Kubota, how was Director Nakamura as a director? As for "REC" of shaft production, there is an image called "COLORFUL" alongside a different color in the director.

Kubota:
The way to go to the work was a style that does not change in any work, it was a style that I wanted to stick to, "shoot" with the staff anyway, taking time to shoot or edit. I did not ask him, but I think he liked the process of making images with the staff very much. When I remember his way of talking hotly, I think that it was fun to make that work with the staff I like.

Konaka:
Mr. Ryutaro's weapon is a container, directing, direction, but it is also a place where I thoroughly stick to the staff I love strictly. It changed even if the work changed, even if the studio changed, it continued. That's why Mr. Tsuruoka, a sound director who has worked on many works, please.

Yota Tsuruoka (hereinafter Tsuruoka):
Thank you.

Konaka:
Mr. Tsuruoka is doing most of Ryutaro's work, is not it?

Tsuruoka:
For the time being, after "lain" it is doing about "COLORFUL", "Sakura Wars", "Kino no journey", "Shinkai hun".

Konaka:
I am the other "THE Big O"Or"TEXHNOLYZEBut thank you very much for your kindness. Every time I saw him I was complaining about serifs. When a voice actor comes, "Hey, explain!" I was told.

Tsuruoka:
Because it is often difficult to write it (lol) Remembering that Mr. Konaka and Ryutaro did "lain" and felt at that time "I can do this work" I will. He worked on anime work and unleashed what I had sealed in myself, what I thought would get in the way of work. Ryutaro says about the story just about the time ago but he almost does not talk.

Konaka:
Do not you talk to Mr. Tsuruoka?

Tsuruoka:
I do not speak (lol) But I'm happy when I am doing well. "It's not this", "I am glad that this is coming" has come to pass, I think that I did not dislike street things.

Konaka:
Mr. Ryutaro was entering dubbing even if the dubbing was absent. I guess there is not anyone so sensitive to the sound.

Tsuruoka:
I did not say that, "Please do what I do not draw", but I felt that I was asked. The sound is also attached to the extent that SE is not dropped, but "what is there" is not important. Even in the "Theater version Keno trip" you saw earlier, the sounds are ringing in nothing.

Fujitsu:
The sound is ringing in the form of the call.

Tsuruoka:
Even in the title, a mysterious sound is ringing, but that sounds with "© Nakamura Ryutaro" sound that is used from "lain" to "god spirit hunter", and it will be pleased when I do it.

Konaka:
Akio FumijiIt's like 'san's' teen'.

(All lol)

Tsuruoka:
I think that I like it very physiologically and sensually. Because it will make you disappointed when you do not do it.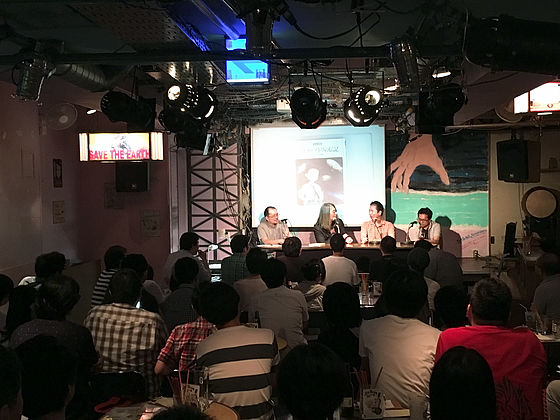 Konaka:
As a work of memories with Ms. Tsuruoka "LazephonThere is. MusicHashimoto KazukoMr. Tsuruoka felt that he put his taste in music. In "Shogi hunting", Mr. Ryutaro and Mr. Tsuruoka are making music,Electric MilesYou do it.

Tsuruoka:
When I was "lain" I did not grasp it yet, after that I knew that I was with Ryutaro and "I can do with this without a limiter", so it was all you wanted when I was a "god spirit hunter" ( Lol)

Konaka:
You also did something that could not be done with ordinary animation. Ryutaro works in any section, but unlike routine routine work, there are places where you get interesting when you put your preferences.

Tsuruoka:
I think there was something that would support me, something that would boost the stuff 's possessions, and I could not have done it without it.

Konaka:
Generally it will be "lain", but now I feel that "Shintoku Hunter" is more memorable.

Tsuruoka:
I also have a feeling of being "haunted hunter".

Konaka:
I was able to draw out Tsuruoka's taste, and I also had a sense of accomplishment. Ordinarily, "Electric Miles, what are you doing these guys!" I will become it (laugh) It is very narrow, Miles Davis 'Pangea' or 'Agarta'.

Fujitsu:
A little back to "Keno" There is a question, I felt that sound was produced by subtraction, but how was the sound made?

Tsuruoka:
This is not pulled. It is not originally attached.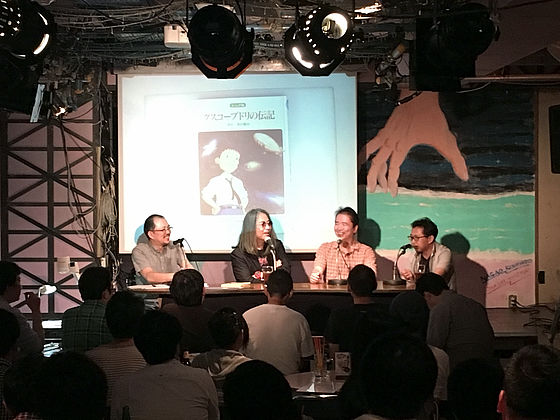 (All lol)

Tsuruoka:
Ordinarily, after putting in the sound, I will thin out considering the sounds I want to hear, but when I was doing "Kino", since the image of Mr. Ryutaro was almost visible, for example, "Wind is blowing It is a touch that you do not need the sound of the wind as you can see it.

Fujitsu:
However, Hermes' engine sound matches the type.

Tsuruoka:
That was attached according to the model at the time of the TV series. It is burning, is not it?

Fujitsu:
I see. Mr. Tsuruoka, thank you.

(Miss Tsuruoka)

Fujitsu:
There are various stories, but is there an episode called Director Nakamura that there was such a side?

Kubota:
I like alcohol, so I often go to drinking when I get along. Then, it is almost always a story that praises the staff, it starts from about 10 o'clock in the evening and will not let you go back until the morning or brightening (lol)

Konaka:
It's about 3 rounds of the same story, right? But, I thought that it was Mr. Ryutaro's communication, and I invited you from me when I was a "god spirit hunter". But, it was not Rakutaro's feeling that it was an animator, so "Wizard Tai!"Character design was servedIto Iko ItoMr. san is coming, so I should tell you a bit ... ....

Ikuko Ito (Ito):
There is not such a wonderful story ... ....

Konaka:
We are not doing such a wonderful story (laugh)

Ito:
Although I am from "Wizard of Tai!", It may have been early to get along with Mr. Nakamura as I can drink. Drunk together, I went out with Mr. Ryutaro until it collapsed.

Konaka:
Mr. Ito will never crush.

Ito:
I'm pretty complimenting people saying, "That number of stories is good, is not it?" Ryutaro made a third episode in the TV series "Wizard Tai!", But he said, "No, two stories are good!"

(All lol)

Ito:
The second episode was a story about girls gathering in the room and having a cry with a cake, but I was sorry for saying "I wanted to be a cabaret sort of aka caca."

Fujitsu:
Words may be great if you say Nakamura's author's character, but what do you think the characteristics were?

Ito:
As with "Chibi-neko Tom", I think that it was those who were able to enter the work as a child's eyes, and that's why it was why they were good at children's work. I had a pilot film with Ryutaro, and a fantasy work of the world using strange words that is not Japanese, where strange creatures fly around, was very interesting.

Fujitsu:
When was that work?

Ito:
Mr. Ryutaro said "FF: U ~ Final Fantasy: Unlimited ~I think that was about when I was doing the job. Just at the nearby seatYasuhiro ImagawaThe director "Seven people NanaBecause I was doing and Imagawa's area was hardened by the Kansai area, Ryutaro said "I feel a sense of alienation a little bit" because he was very lively )

Fujitsu:
I am concerned about the pilot.

Ito:
Well, I am over there.Seiji SuzukiBecause I think that it is detailed ... ....

Konaka:
Yes, I would like to ask you further in detail.

Fujitsu:
Mr. Ito, thank you for suddenly taking the stage.

(Mr. Ito is missing and Mr. Seiji Suzuki will take over in exchange)

Konaka:
To Mr. Ryutaro there were many people who take care of them near Mr. Kubota, Toru Kawaguchi of Production I. G and Seiji Suzuki. Mr. Suzuki is a man who has been involved from "witch Tai!" For a long time. When did you first meet Ryutaro?

Seiji Suzuki (Suzuki):
At first I met at the Bonenkai of the triangle staff, and then entered the advertisement of "Mage Tai!" Actually I am going to see "Gusukobudori no biography" at the time of publication, and when I told Ryutaro when I was a year-end party, "When I was impressed by Gusuko," "It was the first time I saw the face cut." I wonder if I liked it from there. Although the story of "Cristania" was mentioned earlier, I liked the second episode very much, so when I say that, "I am doing 1 story and 3 story with triangle staff, but Suzuki-kun I'd like 2 episodes of gross that the shaft was in charge of. "

(All lol)

Suzuki:
"But, Ryutarou is not a director," I said. Ryutaro wants to talk to the scene as it appears on the story. But at that time, I could not do sessions because I never got into the workplace so much at gross times.

Kubota:
Certainly, when it was "Christiania" it was not that kind of feeling. Since I ended up being deeply involved, I guess it was a shame to have been made in places I did not know.

Suzuki:
When it is "REC", I think that Mr. Ryutaro was also enjoying making it because it is a different color work. At that time, Shaan-san was consistently being finished and shot, as far as I saw, Mr. Ryutaro seemed very happy. But as sake comes in, after complimenting "Suzuki-kun likes the two stories I made of the shaft rather than the one I made ..." comes around.

(All lol)

Suzuki:
That was the only problem I knew.

Fujitsu:
Mr. Suzuki was a story saying I was impressed by seeing "biography of Gusukobudori", which area was good?

Suzuki:
I think that Miyazawa Kenji is science fiction, but I think that everyone is doing fantasy or fairy tale style. But I thought that Mr. Ryutaro was capturing it well. The volcanic scene was also evaluated by volcanologists and I saw it at the Togetter summary, but it seems that volcanic eruption commentary scenes at Guskovdori have been used in university lessons. Even in "Theater version Kino's journey", I stick to the difference between pictures in ordinary pictures and surveillance cameras, I also stick to how to handle it.

Konaka:
I remembered! "Ghost in the Shell STAND ALONE COMPLEXWhen I did (the fifth episode), that was a story using images from surveillance cameras .... Do you like it?

Suzuki:
Perhaps, I think that I searched for an uncomfortable feeling that comes from changing the objective direction or viewpoint. Even in "lain" he was so stuck with the shadow processing and wanted to do such things as "extraordinary in everyday" and so on. But "I do it with a finish so I can not touch the end" is really bad. Kubota-san was saying, but I was tightly connected to the worksite and told me a really delicate place "this, a bit more like this ..." (laugh). I was pleased that it was not ordinary animation like the scenario of Konaka, and that was a very interesting person around that.

Konaka:
Listening to it, I wanted to do another piece, more "This is it?"

Fujitsu:
I am listening to stories from various perspectives of everyone, and I feel that the image gradually emerges.

Konaka:
It has nothing to do with it, but recently there was a visitor and there came a person who is making a movie opening title sequence in France. The person says that young French coach has a fan of "lain". Listening to it, "lain" is not just a nostalgic anime called "That was good for that time", he said that he gave birth to a creator.

Fujitsu:
That means that it affected not only domestic but also domestically. It has become a good time around here, so I would like to answer questions from customers. If you have any questions.

question 1:
It seems that some directors think that the script is a starting point, but how was Nakamura's manager? In addition,TalentAlthough I was doing the project called "Nakamura", what kind of thought was there in "Papa"?

Konaka:
First of all, in the scenario, in the scene of animation the scenario is certainly a tatami, it can often change lines. But, is it because I am strong (laugh), it is likely to stay as it is. In the case of Mr. Ryutaro, I think that it was a draft of about two drafts in "lain". It was a person who says nothing at all about what to do about the scenario too much.

Regarding "Darucha", Ryutaro does not want to do something like this, so long ago, with me, Ryutaro Ryutaro and Abe Yoshitoshi, and three people of "lain" let's do something 10 It was set in the Taisho era where I was talking about a year ago and I was interested. When I was serializing, Mr. Ryutaro was in a state of physical condition, so I did not have any opinion. I really wanted to do it.

Question 2:
It is said that he was a director who does not talk much, but please tell me where the point I thought first was "Do not be this person."

Kubota:
I did not talk much about "Christiania" when making it, but after making the stuff, he praises the staff quite a lot. Also, Conte is "a staff member who will motivate" the story. It is very refined, the picture is also good, and there are some people who say that "You can do it if it is Ryutaro's container." I also wanted to do with Ryutaro and I think that it was a director who will grow the site.

Suzuki:
I do not have an impression that Mr. Ryutaro "does not talk much". It may be because I was not a person at the scene, so it was easy to talk, but even if I heard the story saying "It was silent" it does not come as much as a pin.

Kubota:
Supplementarily, when there are things you do not like or dislike, you do not talk at all. That's why "This is different" (laugh)

Konaka:
As I said, as I saw the first story of "lain" with Ueda Producer "Yes! Thank you!" Because it convinced us further in the direction of the production.

Fujitsu:
It is a feeling that "Answer has come at work."

Question 3:
Birds were impressive in "Kino's journey", but at the opening of "lain" I remembered the crow's flying bitternly. If that could be a director's preference, or if it is a motif that Mr. Konaka used, just happen to ask.

Konaka:
I have never talked about that directly, but it is impressive. Birds come out impressively also in "Shintoku Hun", so maybe for RyutaroJohn WooIt might be like a pigeon.

Question 4:
Ling tone is asymmetrical in hair style and hairpins are crossed, or Mr. Feng of 'Shinriku hunter' is big tits big with breasts and it is more characteristic than shaping if you look at the character once. Is that what was written as a feature in the script?

Konaka:
In the case of "lain", there is a character illustration first, so it is from there. I made a character design for my pajamas for bear's costumeTakahiro KishidaI am adopting something that I drew roughly. It was a person who adopts what the animator has drawn as "How about this kind of thing" when it is touched? Mr. Feng was ... ... It was completely different from my image (laugh)Oka MarikoI think he liked Mr. Feng who she drew. I have a vision of wanting to do this, but I think that it was a director that makes the work thicker by actively incorporating ideas not found in myself. I think that is the quality of superior supervision.

Fujitsu:
Nakamura is on the shaftMorioka HideyukiMr. Ito works with Yoshiaki Ito. Although there is an original, respectively, was the person who takes care of the place where the drawing person will come about?

Kubota:
While creating a new series / work, I think that the character design that matched to it was treasured. I thought that if I was watching "Theater version Keno's journey" it was a theater version design, so I decided to make it realistic, unlike the TV series, and I remembered what I was going to take there is. In that respect, it is tough as it is tough.

Question 5:
Director Nakamura is a person who can draw a picture, but because of its ability to draw, did not he draw on the production site?

Kubota:
There was absolutely nothing we were involved with. I think it was clearly separating "animator" and "director / director". I think that I never did I fix it myself. I also did not see shuffling the layout by myself, and I remember that I was left to a specialized section because I remembered that it was "unusual" when instructed to "so".

Suzuki:
Ryutaro is an incredibly good animator,ShogakuIn the studio 's "SuginoSan 's right arm ", but when I say that, I heard that he was sick. Although he himself did not say so much, "probably", as I say, I think that I was thinking clearly separately among himself that "I am not an animator" as Kubota says. As Mr. Konaka said, I was sticking to the staff, I was sending a love call to Ms. Mariko Oka and Mr. Takahiro Kishida for the animators I liked.

Fujitsu:
I guess that you decided that somewhere you are not an animator but a director.

Suzuki:
By the way, if it is a picture that does not fit my own taste, I'd like "I like that picture, Suzuki-kun likes that kind of picture. I was telling you that people's pictures are good" (laugh)

Fujitsu:
Then, I think that you can receive a message from the end in the end.

Suzuki:
It is very nice to have such a person come to see Ryutaro's work. The pilot film that Ikuko Ito mentioned earlier was making with Ryutaro also says "I wonder if someday" Papa et al. " Please keep on remembering Mr. Ryutaro.

Kubota:
I would be pleased if you could tell even a little that you did this work with Ryutaro. I really got involved with young staff and we worked together at the workshop to leave various assets. I think that I got a good one because the staff is now the center. I would like to tell even Rutaro's wish and the work I participated in, so please support us. And after this, I think that you can see a lot of Ryutaro's works.

Konaka:
How big "Ryutaro Ross" in me is, it comes out that it has become impossible to do animation after that. Even so, I think that I will accept what I left behind by Ryutaro, or I would like to succeed to the next generation, so watch warmly.


A planner of this event, Ryutaro Nakamura's first director's work "Chibikko Tom's Adventure"Cloud Funding ProjectMr. Mitsuhiro Akashi, who is also the founder of Mr. Akashi, said he would like to hold an event next year with a closing remarks.

Not only "serial experiments lain" which is a well-known masterpiece but also "God spirit hun / GHOST HOUND" which Mr. Konaka said is memorable, "Biography of Gusukobudori" that impressed Seiji Suzuki, born of a shaft OVA "Legend of Cristania" etc. There are many works you want to know more deeply, so please wish for continued.