"Mexican Red - Miss HOKUSAI ~" Prior Screening & Director Eiichi Director Talk Event in Machi ★ Assortment vol.14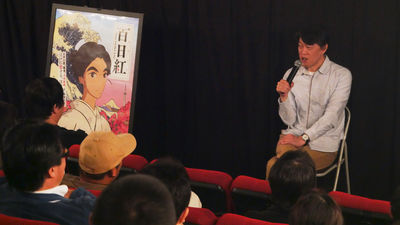 Machi ★ Asobi vol.14In the movie released from Saturday, May 9,Mexico - Miss HOKUSAI ~The pre-screening of the exhibition was held. After the screening, Director Keiichi 's talk event was held, and there was also one act that Princess director responded to questions and photographs from customers pleasantly.

Movie "Momozuka Miss Hokusai" Official Site
http://sarusuberi-movie.com/index.html

Mexico - Miss HOKUSAI ~ (@sarusuberi_mov) | Twitter
https://twitter.com/sarusuberi_mov

The venue for the pre-screening & talk event was the ufotable Cinema Theater 1. All the seats were buried, and so many people packed it so that they could standing.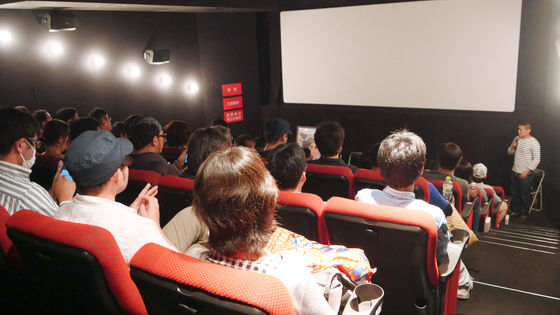 Following the making movie of about 15 minutes, the screening of "MAIN HENSHI - MISS HOKUSAI ~" was performed, and the original director appeared after the screening and the talk show began.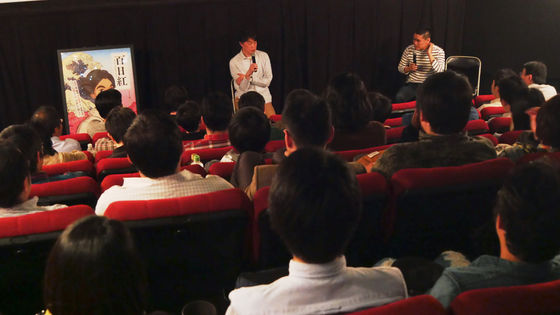 Tokyo Theater Kimura (Kimura):
It is the first time to talk to customers who just finished watching this story, right? Preview screening in Tokyo was a talk before the screening, but I'd like to talk to you freely today, and if you have any comments or questions about it later, I would like to answer.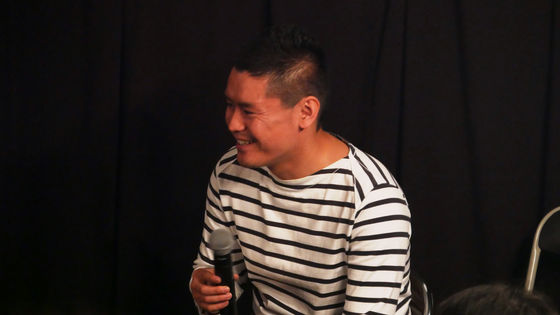 Director Keiichi Hara (hereinafter, original):
Thank you.

Kimura:
Since the making was also shown, you think that the director's story is in the head to a certain extent, but can you tell me the origin of the work first, how did you decide to make animation?

original:
It is a work that made it possible to create various timing and edges overlapping. before"colorful"When I was in trouble because I did not have a job after I made a work called" old acquaintance "Production I. GI will meet President Ishikawa, I brought a work of Mr. Sugiura and talked about "I wish I could make such a work". Then, Mr. Ishikawa says, "Actually, I have moved the plan of Mr. Sugiura's" Masaru Ichiba ", which I did not realize in the end," and when I go to see him next time, "Hara, "I do not do" perfection "or" I do not do it for 90 minutes with this budget, but I will make it in my house, what will you do? "Asked ..." Please do it by all means "and answered in 3 minutes of the plan decided. The owner president's company is amazing, (laugh)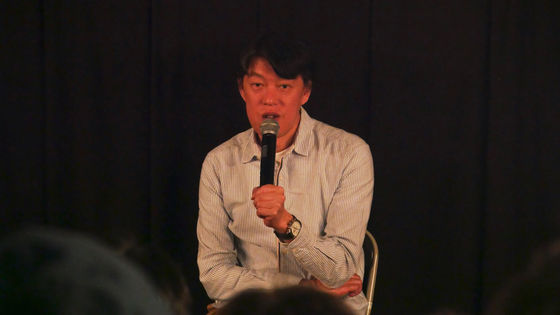 Kimura:
Ishikawa, president of IG, is a relationship from a long time ago?

original:
Mr. I.Mami Esper"I made one month out of the TV series of works called Gloss, and I was going out with Mr. Ishikawa from there.

Kimura:
Before animating "Hyakka", letters were sent to Mr. and Mrs. Suzuki who are the bereaved families of Mr. Sugiura, so that a letter of direct writing like a heart is reflected at the end of the making movie But what kind of feelings did you write?

original:
Because Mr. Sugiura himself passed away and the brothers who have the right of the work must get permission, there was also Mr. Ishikawa's idea, I wrote with feelings .

Kimura:
Mrs. Suzuki was also telling me that he was equally honored, and it was a wonderful letter.

original:
I wrote it with handwriting though it is bad character.

From the letter written to Suzuki and Mrs. Suzuki, the enthusiasm of Principal Director in the visualization of "Momochika" will be conveyed.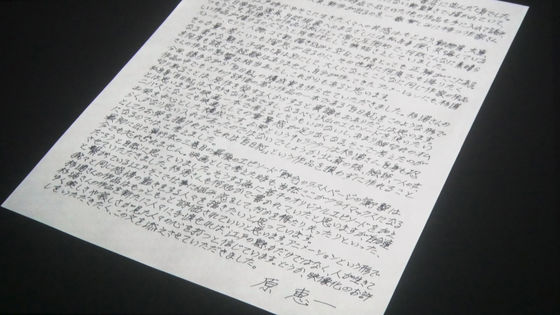 Kimura:
Although it was also a making, though the director Mr. Sugiura likes Mr. Sugiura and thought that there was a thought that it can go only in a bad direction how to do by oneself, it was hard to say that the neighborhood was painful Is it?

original:
The problem was that "I like it too much" this time. When I liked too much, I felt like I was breaking the original, there was a very painful time.

Kimura:
Were you able to overcome the difficult period safely?

original:
Mr. Sugiura is no longer able to make a movie, but it became much easier if I became conscious of Mr. Sugiura on behalf of Ms. Sugiura when I became conscious of Mr. Sugiura. It was a feeling that I am making works instead of Mr. Sugiura.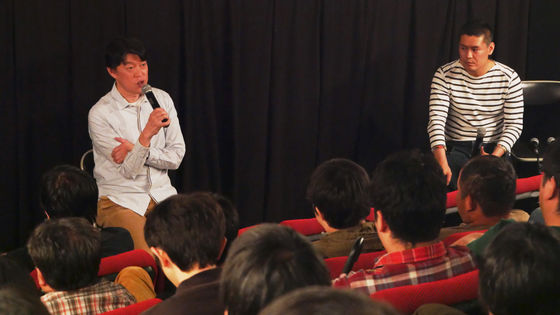 Kimura:
As in the making, the scene that the darkness comes at the moment the invisible hand of the hand touches Hokusai's face, the way the cartoonish space is used is impressive, and in the movie a picture of drawing I thought that it might have been made with a lot of power, but how about that?

original:
That side is the same as Mr. Sugiura's original, and Mr. Sugiura is doing directing. As soon as an invisible inborn breath touches Hokusai, Hokusai will feel the world where she has no picture at all. Mr. Sugiura expressed it with black solid and replaced it as it was.

The scene where Mr. Takeshi touch Hokusai seems to be a scene that I was worried about how to express it in video, as Hara is particularly pleased with the original story.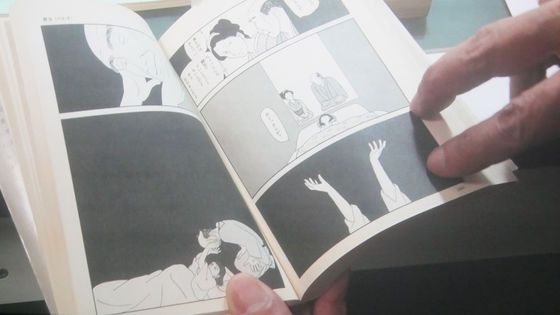 Kimura:
Next, I will ask you about the technique of animation. I felt the image "I draw a picture along the brush when I write a brush," but what kind of method is used?

original:
I set up a professional post called "painting brush painting" and asked animator who was doing Japanese paintings and writing to draw a picture with a brush. Based on the drawing drawn by the person in charge of drawing brush drawing, another animator draws the carrying of the brush so that it does not shift along the line. This is a processing method called "licking octopus" which is a method of putting lines on the screen according to the movement of the brush.



Kimura:
Is it a standard way to say "licking it?"

original:
It's a classic. It is not uncommon processing.

Kimura:
It might be that I felt unusual because the picture was an ukiyoe print.

original:
I wish it was all it was (laugh)

Here we moved to the corner where we receive opinions and questions from customers at the venue.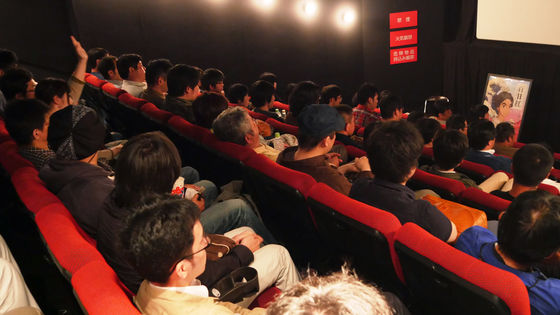 Q:
Thank you for a wonderful work. It was really funny. The drawing of the scene of the darkness which was also the story of the previous time was concerned as to what kind of directing it is making by watching the making, the music flowing together when seeing the image seems to stir up the anxiety, reflects the feelings of Hokusai It was scary enough to be. Of course not only music but also professional one is composed, but when the director is looking at the original or when you are cutting the contest, is the image of the music decided?

original:
I decided the image that this kind of music will come from this cut at the time of a storyboard contest and I am writing it. For example, in dark scenes, I think that it will change over as soon as the hand touches the darkness, write it in the picture storyboard, and make a meeting with the composer to make the sound.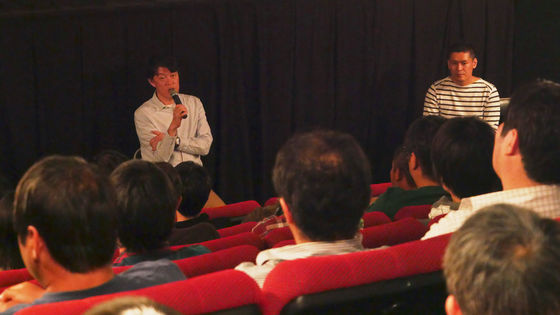 Q:
My son saw it at the Nihonbashi premier, but he said that he was a bit difficult as he was young. In my generation generation, for example in Yoshiwara the entrance and exit of a woman is managed, and Edo's customs such as the fact that the door will not open unless Mingpu crows, I know it in a historical drama or rakugo, but a movie If it explains in too much, it will definitely get ridiculous, but I think that there is some preliminary knowledge. What kind of age group is assumed for this work?

original:
As for the work of this time, the low age group from the beginning is not conscious. It is the first time for me, but since an adult woman is the main character, there is a feeling that it would be nice to be seen by a woman close to that age. Although it is a historical drama, it is not that a woman named Ryori who is "23 years old, single, having work" wondering about work, worrying about love, suffering from family affairs, is not sympathizing with modern women I am thinking.

Q:
I was a do strike generations, but I'd like to ask the wife how it feels to be seen by all means.

original:
By all means not only your wife but you also can see her again (lol)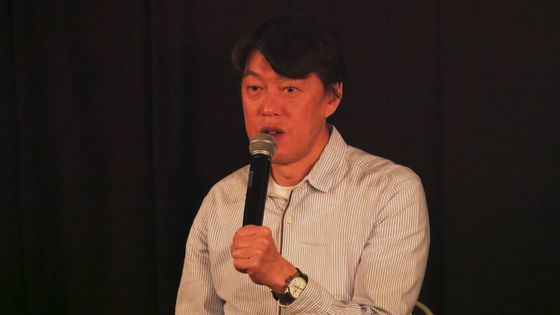 Q:
In the scene above the bridge, the sound is very clearly heard although the picture is moving so much, I thought that the sounds being heard by the unseen grace are expressed well, but I made it with such an image Did you do it?

original:
I agree. For Mr. Grace you can get information that comes from your ears, smells, and information about touching. Above the bridge of a time without cars is that various people go and go and things like salesRod hand swingI thought about letting the customer consciously tell the sound of the selling voice of the large wheel and the wheels of the large octave vehicle.

Q:
The rock-like music is effectively used in the work of the original director so far, the stage of this story is Edo, but the rock style BGM was flowing at the beginning and the scene near the last. Is there a commitment of director to using rock music?

original:
While painting a storyboard, I first thought about starting with a lock. I thought that a woman named Sakae was a rocky woman, and because Mr. Sugiura himself was listening to rock while drawing Edo manga, I thought that there would be a lock this time. I decided to start with a rock to have a surprising character and to show my intention to say "It is not just a normal era play."

Kimura:
The rock at the beginning has a considerable impact, and when I saw it for the first time I was surprised because I never thought that the movie will start with rock.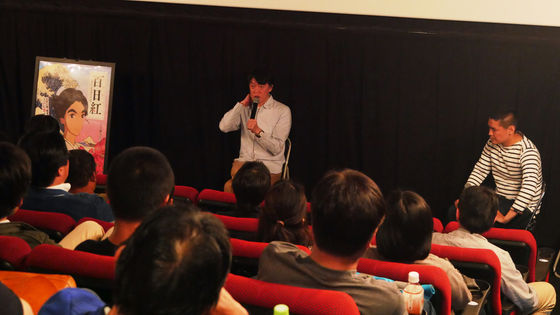 Q:
Hokusai thinks that there is an answer for each person who saw why he did not want to go to see his daughter's grabber, but what is the reason why the director thinks? Sakae said "Because he is a wimp," but, as a father, what is the director supposed to have been thinking?

original:
I think that Hokusai is selfish and selfish. A person who draws a picture to the extent that he / she is only interested in painting can not help it without eyes. Although I did not explain it in the play, I meant that I felt something like Hokusai to become a worker, because the painter 's daughter was born blind and could not see my eyes. Even in serifs, he says that he may have taken his eyes and life, but I feel that I am carrying the work as a painter for so much, that's why I am confronted with my work I am scared. Thinking that way, I drew a parent-child relationship.

Kimura:
The scene where Sakae and Oshima crosses Hokusai in the town is also one of the impressive scenes expressing by crossing light and shadow.

original:
Actually, Sakae sees Hokusai as being a wimp, a crybaby.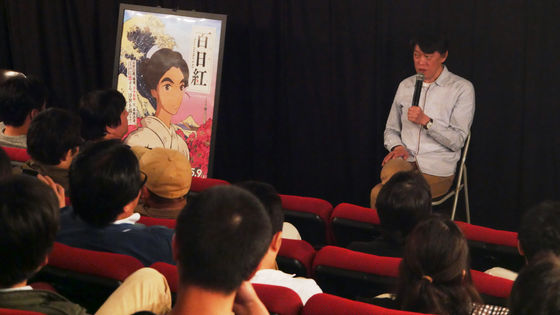 Q:
The everyday landscape of Edo was wonderful. In addition, the extraordinary scenes such as the dragon getting off and the neck stretching were impressive, but Hara himself has ever experienced extraordinary experiences? For example, a dragon comes down when drawing a picture ... .... Do you believe that kind of thing without experience?

original:
I myself have never experienced a wonderful experience at all (laugh). But in the Edo period I imagined that people other than human beings were hiding in the darkness of the night, especially in the darkness of the night, everyone believed it. Mr. Sugiura seems to be "someone who sees". "Eureka"In the issue that featured Mr. Sugiura in a magazine called" Nakazawa Shinichi "in a long dialogue," I saw something invisible to people since childhood ". Even so, I think that something strange will often come out to Mr. Sugiura 's manga.

Q:
In making a work, I think there are "easy-to-make works" and "works that I want to make", but what is the position-oriented work if you see Japanese cypress red from the perspective of ease of making and from the viewpoint of making it?

original:
It is no doubt that Mr. Sugiura's work was wanted. But I liked the work so much and I've always thought that I still can not handle the Sugiura work. It happened that there was a rim this moment and it was possible to make it, and I thought that 'I will finally make it', I was happy, but at the same time there was also the fear that the time came. I can not break Mr. Sugiura's work, so anyway this time I made it by originalism originalism. There was something like a sense of mission that people who do not know the original must convey the wonderfulness of the work called "日n stone".

In terms of ease of making, the original was a series of independent episodes and there was no definite end, so the composition of the story was the biggest problem. Although it comes out only as an episode called "Nozomi" as an original it is a climax so it was a favorite, so in order to bring it to the climax it is necessary to draw the flow of sister relations between Sakae and Oshima throughout the entire story I came up with an idea. Because it was first decided, it was easy if you said that easy.

Also, as I said earlier, I liked the work so much that I felt like I was making a bad copy of Mr. Sugiura, and there was a time when my hands stopped. But the good animator gathered up so the site was easy and the picture making was smooth.

Q:
I think that Sakae of the hero is a Ukiyoe painter who successfully adopted light, but the light of the candle and the light of the lantern were impressive in the movie itself. Were directors and staff struggling to produce light?

original:
When considering the Edo period, it was an age when we had only limited living in the night, so we were conscious that only the darkness was visible outside only in the limited lights, and the direction I also drawn light and darkness consciously. Since this movie depicts "death", I directed it not only for brightness but for somewhere to put sinister darkness and think that both should be drawn.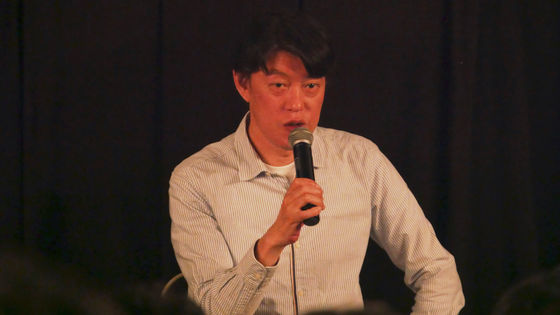 Q:
Before,"Beginning of the beginningI was supervised by a live-action movie called "live-action movie", did you have experience living in making crape myrtle?

original:
As being alive, I was amazed at the videos, cameraworks, angles that veteran photographers make, so even when I draw this storyboard, how to cut the screen and camera work was made alive I will do. In other experiences, there were many negative aspects (laugh). In real life the process of making images is fast. "Hajimari no Michi" ends in 3 weeks of shooting, and during that time cuts and scenes are rapidly finished in front of my eyes. But animation does not work. I entered the scene of making animation for a while and thought I got a bunch of storyboards, I thought "What is this" (laugh). I also wrote a picture on this blank sheet, write a letter and have to fill it in. The start of animation production is the image where the wilderness of white paper is spreading. I fill in the wilderness with paintings and letters, but how far is this wilderness going on? I feel like that.

Kimura:
By the way, how long did it take you to draw a container?

original:
There was also a period of interruption, but I think it took more than a year. However, the storyboard is like a blueprint, and it will feel like building a nice house on your own after handing it to an excellent staff.

A storyboard with fine instructions written closely.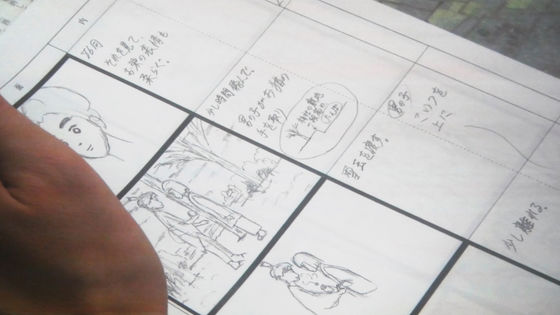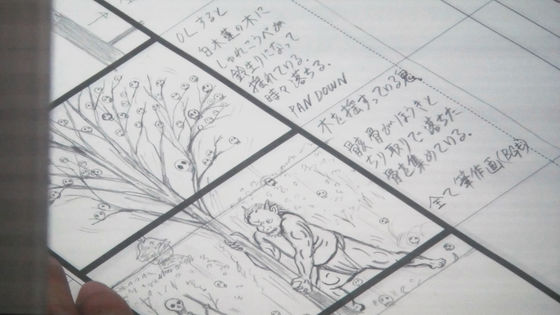 Based on these storyboards ... ...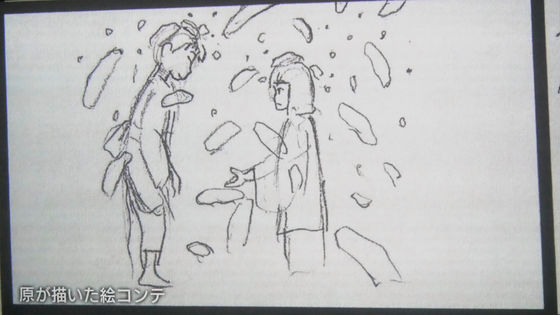 Animator will make original drawings.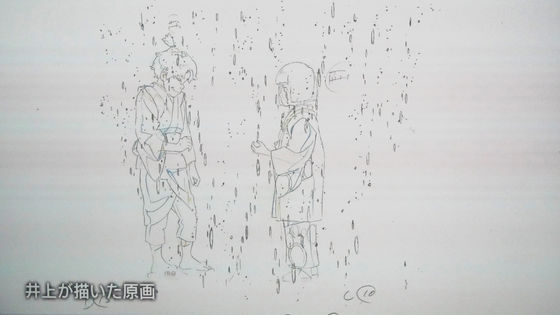 Q:
There is an impression sticking to color,Hokusai MangaAnd Ukiyoe in Ukiyo - e of Hokusai are actually included, but please tell me if there is a book that is more interesting if you read these materials before seeing the movie for the second time.

original:
Actually Hokusai cartoons are cited, and Futako has 36 viewsKanagawa OkinawaAlthough it issued other books ...... Hokusai's research book, the most trusted "Katsushika HokusaiAlthough there is a book called, it is very difficult to read (haha). I wrote it in old words and I also read it is very difficult. Relationships between Hokusai and Sakae are drawn on that book. Sakae is married, but laughing that he is bad at his picture is hopeless, and he has lived with Hokusai since he came back. If I live with Hokusai I think that anyone's picture will be bad (lol). Besides, although it made it beautiful in animation, it was not actually beautiful actually, or that Hokusai caught the characteristic of Sakae and was calling "ago", that he was living in a dirty house It is a book like Hinami's original book. In the Meiji era, a book that a person who has met with Hokusai still has heard it in a lifetime, Hokusai has a variety of episodes written such as drinking, sweet things, troubled with money all year round. When you read it, fun may increase.

Reference books and Mr. Sugiura's works are closely aligned on the bookshelf in the workplace.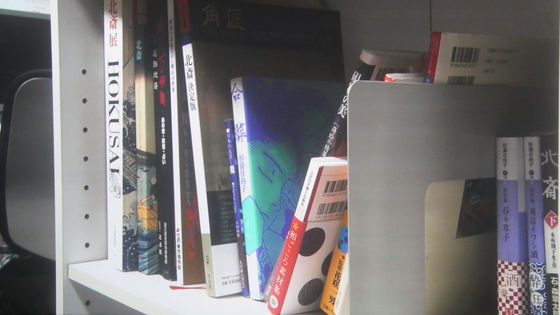 Q:
Who is Hara Sawa's strongest character? Is it still Hokusai?

original:
I am not such a wonderful man (laugh). I think that Sakae became more and more an obsessive character in the process of approaching completion rather than when making it. It was confidence when Mr. Kyou got a voice. I think it was good to choose Mr. Kyou. I want to compliment myself. Mr. Kyou is unnoticeable, intellectual and calm, and is a really nice woman. I actually met and I liked it more and more. Although he is a married woman (lol)

In the character setting table, Sakae drawn on beauty.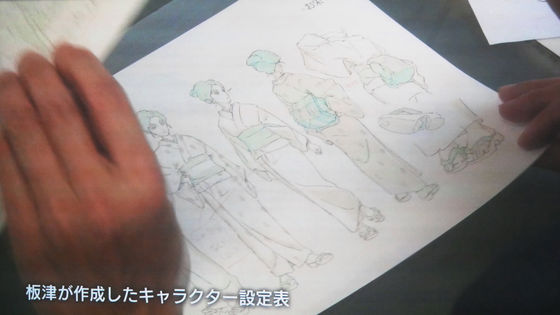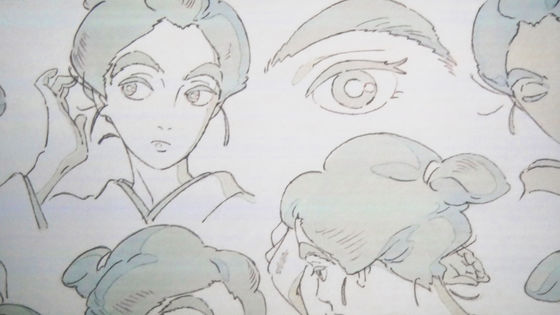 A photography time was set after the question and answer, and the original director was surrounded by the cell phone and camera set up by the guests at the venue.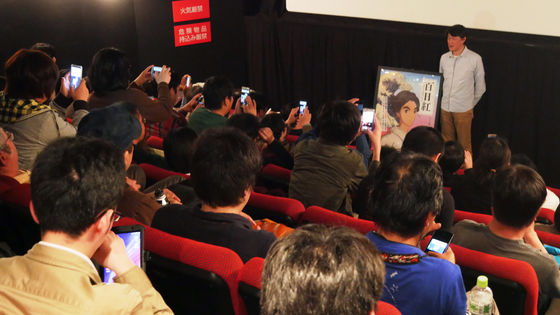 Hara said he invited friends and acquaintances while seeing the filming, and also wish to see "Hyakkusen" again. Also, on the morning paper of the Asahi Shimbun newspaper on May 8th (Friday) the day before the release, quite a cool advertisement will show up, so I hope that you expect it.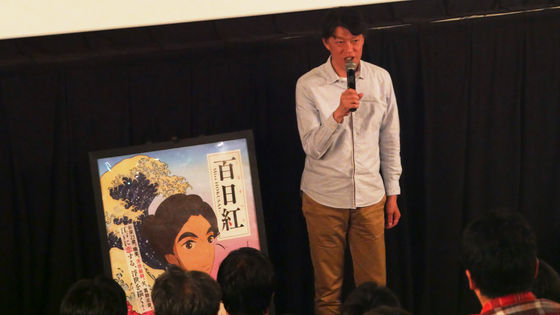 This is the final screening & talk show is over.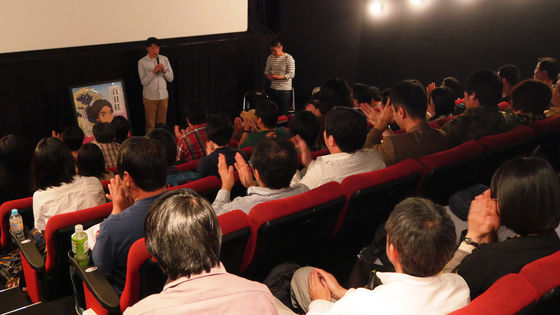 In addition, "Mexico - Miss HOKUSAI ~" is a national road show on Saturday, May 9, 2015.