Omato Katsuhiro and others co-produced the theme "Japan" as a theme "SHORT PEACE" Production Presentation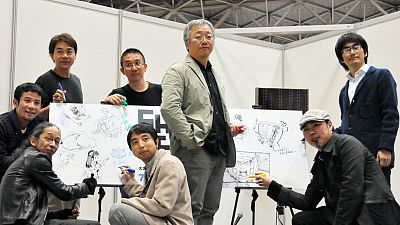 Production presentation of the omnibus movie "SHORT PEACE" composed of four short animation by Katsuhiro Otomo and others directed at July 20, 2013 was held in Tokyo International Anime Fair 2013. Although I was asked about the thought of the earthquake because it was a work on the theme of "Japan", the project itself was proceeding before the disaster, and from the past to the future it was widely crafting "Japan" Mr. Otomo who said that he thought that a theme would be made by a young animation writer. After the earthquake, I commented on the feature that it was difficult to advance the project.

SHORT PEACE || A KATSUHIRO OTOMO FILM
http://shortpeace-movie.com/

Here is the public information video that has already been released.

SHORT PEACE Bulletin - YouTube


The creators involved in this movie entered the stage.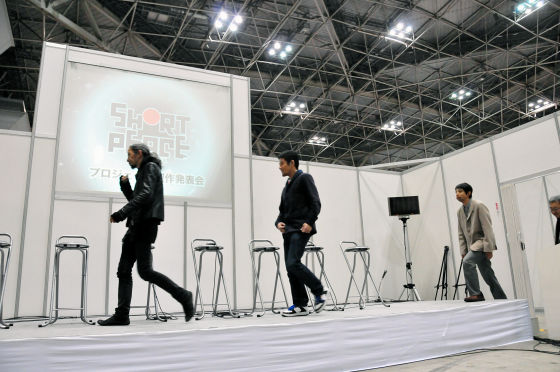 From the leftKoji MorimotoMr.,Shuhei MoritaMr.,Keisuke KishiMr.,Katsuhiro OtomoMr.,Hiroaki AndoMr.,Katsuhito IshiiMr.,Katoki HajimeMr.,Tanaka TanakaMr.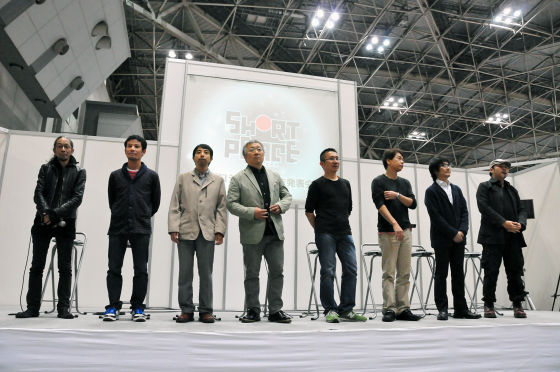 Otomo:
Thank you very much for coming all the way to make a production presentation today. We started this work a year or two ago, but finally all the pieces were ready to be shown to everyone, so please be advised to everyone to ensure that this work will definitely succeed I would like you to do. Thank you.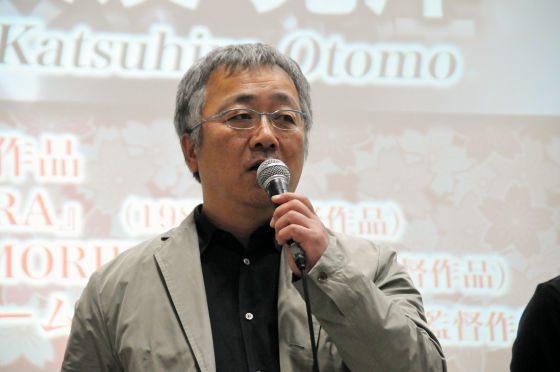 Morimoto:
This time I was invited to the director to participate. At first I thought I was going to do the main story, but I was in charge of the opening with various circumstances. I made it to think that it is going to be a bridge over the work by saying opening only to the end.

Morita:
I was allowed to participate this time by being a young artist, and I made the work at the very beginning. It will be the next work of the opening, but I hope you enjoy it.

shore:
Since the basic is mainly three-dimensional modeling, although this time was the first time to work full-scale animation, I think that a very good work was made thanks to Mr. Morita.

Ando:
I usually get nervous at such places when I work in an anime studio. In the work, I made a story by Mr. Ishii for the story, Sadamoto san for the original character, I was made by making great efforts by the great people, I made it made quite nervous. I hope you enjoy it.

Ishii:
This work was warmingly worked from before, I did not know when and where to publish, but I was made by Ando for being a good plan for this time. I think that it is a wonderful job. I am glad if you all see it.

Katoki:
This time, I directed the director of "Farewell to Arms". It was the first time that Otomo's work was produced, and although the "Otomo Group" had no familiarity, the original was a famous work that anyone who read at that time by Mr. Otomo at that time was a member of the Otomo group I think that it became a good work because it is an excellent staff who has made works.

Tanaka:
I have worked under the character of "Character design" with "Farewell to you weapons". As you all know that, since the original is famous, it is a cult popular work among Otomo fans, rather than saying that you participated as a character design, it seems like a bridge connecting Otomo 's original and everyone of the staff I think that it was a role. As for production, we have left all the excellent staff including Katoki san and so on. Please please everyone.

After finishing our greetings in general, we will sit down and go into a representative question.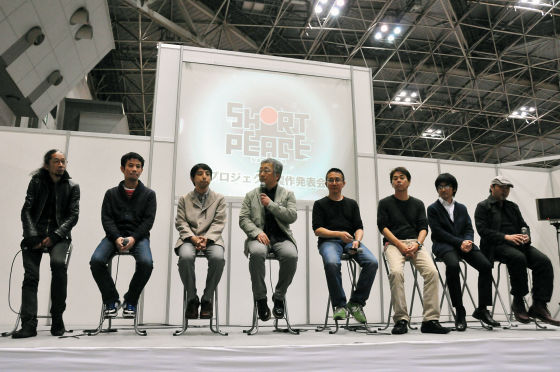 Q:
"Fire Town" developed earlier and won a prize overseas, but what kind of concept did you think to make?

Otomo:
Since it was a short work about 10 minutes from the beginning, I started planning as a short story, so if I did it would be a historical drama. It is the kimono that is troublesome in a historical drama, but it is not such a difficult thing to put a handle in it, it is something I have never done before so I should try it. After that I wanted to try expressing the fire, the old picture scroll, and such place with Japanese taste. I was told that I wanted a little more even if it was told that it was completed and looked "even if there was a little more length", I became this length.

Since it comes out with CG to the pattern of the kimono and the quality of the fiber in overseas, I do not do it so much and is sticking out a hand-drawn pattern. It's not a full CG, so it was hard at that.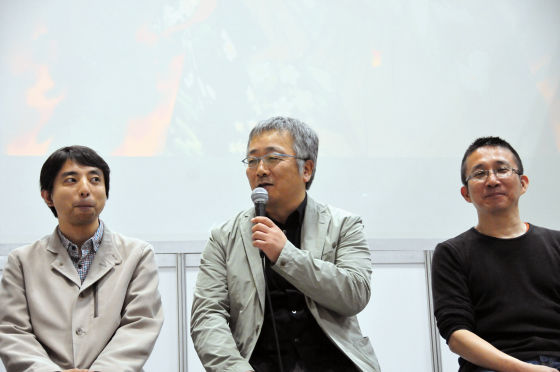 Q:
A question to Mr. Morimoto. I think the opening that I was in charge is an important role, but what kind of stance did you think about?

Morimoto:
When I came in, the direction of the 4 works was becoming visible as a historical drama or SF. Because there was just 3.11, I tried making something like "Alice in Wonderland" that I liked, with the thought that there is next new discovery after opening a new door.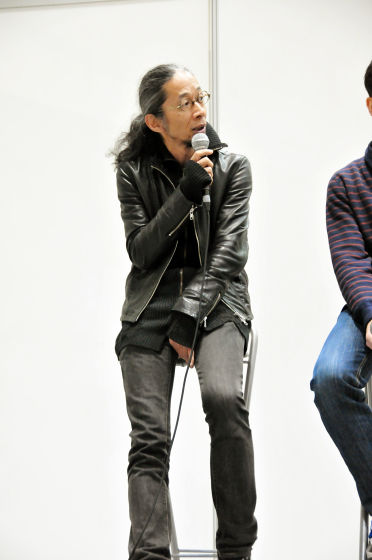 Q:
To two of "ninety-nine". Where did you come up with a work from?

shore:
When first talking with Mr. Morita, I first thought that Japan was a motif, and because I wanted to use something as a motif, I thought of it as a keyword "wasteful". I think that it is based on rationalism that we use it because it can be used since it is an idea to use things that can be used carefully without treating things that are useless. Things that I use are something that I can not use someday, but at that moment I thought about what happened to what I finished my role, and I thought that such thought might be Japanese, I make it as a theme.

Q:
When I saw the picture I was very innovative and I thought that it was hard to represent it with animation.

Morita:
The staff was small, and Mr. Otomo says that "I drawn a handle with hand-drawn", but we were not allowed to forgive, so what should I do (laugh). This time, I wanted to make the work "related to things", so I thought that I wanted to give out the material as a texture or existence, where there was Japanese paper at hand and I thought that "I can use this?" I made a picture that gives a sense of presence. Regarding the story, in fact, I had a story about the theater plan before, and I was talking about doing something with Kishi. Also, as I like Japanese old tales, this project came where I thought it would be interesting if new CG could do it, and there was an idea that the story would be completed in just 10 minutes, so I decided to make it .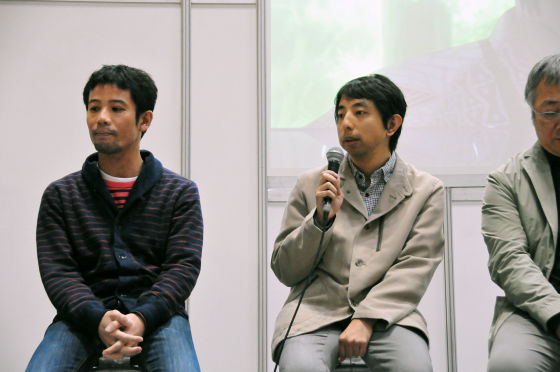 Q:
Mr. Ishii is in charge of the original draft of GAMBO, but what kind of concept did you think about?

Ishii:
I wonder what will happen if the white bear and the demon seriously fight, I just said that I wanted to see it (laugh) I was worried about what kind of movements I could get on when battled with bare hands, but thanks to Ando Director It became a feeling.

Ando:
There was a dummy character design draft of Gumbo and demon which Mr. Ishii had been drawn, and its impact was strong. I thought that it was wonderful even though that the two variants got a fight, I thought it was amazing, but I made it as if I should be able to summarize the story with a variant from outside and a variant from inside.

Q:
I wonder how Sadamoto's hand entered there and how I made it.

Ishii:
Mr. Sadamoto, it was hard to paint with difficulty (laugh)

Ando:
I got it stuck behind and drew it (laugh) But when I do so and Sadamoto's workplace draws with cunning, I can tell you "Can I ask in this direction" only as much as it is stuck? And do not omit symbolic omission like animation as much as possible, and I got it made from the original human beings and made it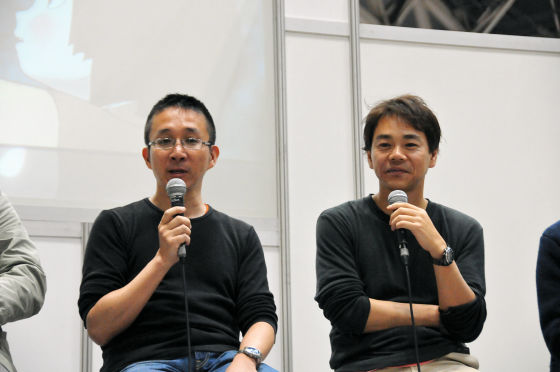 Q:
"Farewell to weapons" I was reading the manga, and it was shocking that I became a picture, but have you thought of various things in imaging?

Katoki:
It is a feeling "serious responsibility". I think that I was shocked by those who are here and those who are older than mid-40s, especially those who did mechanics, unable to forget them. I did not imagine that I would do it, but I felt the responsibility of how to tell everyone anyway. Although the completion degree has been raised as much as the original is good, since it is excellent in terms of how much you can do and the staff is excellent, I believe that it will be big in terms of my responsibility, but a good one will be finished It was.

Tanaka:
Actually, I have not done much designing. I met "a farewell weapon" when I was in high school, and I like everything anyway. When I do the work of character design, though it is my own idea that such people will get better, I think that it would be better to arrange such kind of things, but since the original is too great this time, anyway fan As a representative, it is about consciousness that I wrote a memo of "drawing Otomo san like this" if I draw it like this. On the contrary, there is no outgoing concerning the contents, I am looking forward as a fan.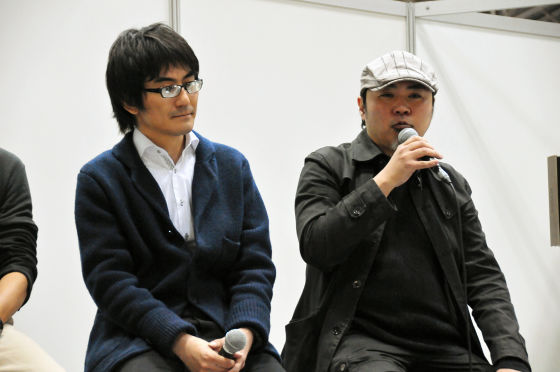 Q:
So I would like to ask Director Otomo, what do you think is that the original was visualized by other staff?

Otomo:
I had Morimoto make "With her thoughts" at the time of the previous short edition, but there was no idea of ​​"that one again", I thought that someone would like to do it. Now I have a new CG technology and my work has been completed, so I'm wondering if you asked Kataki-kun.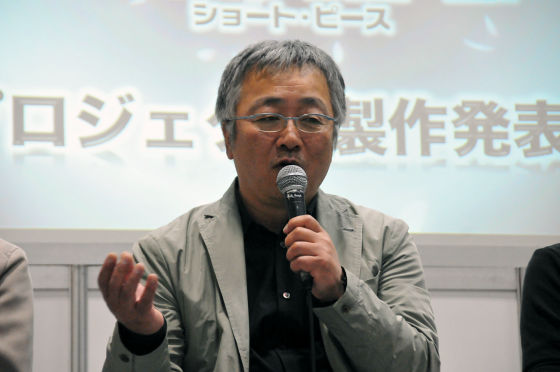 From here we will have a question and answer session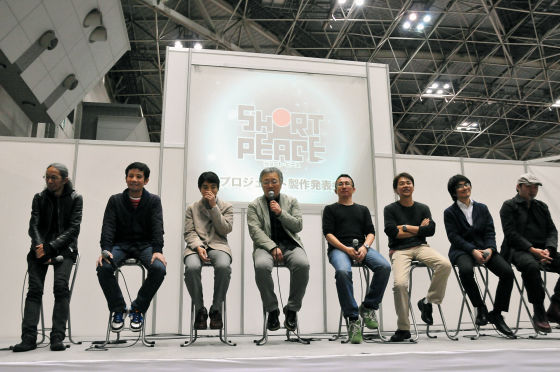 Q:
In Japan and non-Japan, I would like you to tell me if there are creators who are interested.

Otomo:
There are lots of it. Because they are going to send me a book and go to a bookstore to see various books. Who is it ...... in Belgium or FranceB. D. (Bandessine)People who are depicting new people are increasingly coming out now, I think that new people are appearing more and more new manga and illustration are coming out, I think that it is a good environment. I also feel that new animals come in and animated animation. A bit of animation has a tough place.

Q:
There is a work of Studio Ghibli among "SHORT PEACE" and the work published on the same day, are you conscious?

Otomo:
It was long ago that we made, so I am not conscious. Because we can not win against Ghibli, we must do our best with ourselves (laugh)

Q:
I would like to ask about the theme. It is said that "Japan is the stage" was the key concept and it was made with the meaning "I want to show what I like in overseas to Japan", but where was the idea under consideration? Where did it come from saying "Let's make Japan a theme" at the planning stage? There was Mr. Otomo's exhibition after the disaster, but is there anything related to the earthquake disaster?

Otomo:
Since the plan was before the disaster, in reality it has nothing to do with the earthquake disaster. When I made a work set in the UK called "Steam Boy", there was also a story like "COOL JAPAN", so when talking about "Japan", I will talk with the producer that the big thing will be the theme Then, there was a past, that there was a long time ago, there was a future, it became the form now. Another story of doing modern also matched, it disappeared, but the concept is to make it as young animation writer as possible, including from the past to the future.

Q:
Please tell me if you feel concretely what you feel now to "Japan", why you are presenting this now.

Otomo:
"Why now?" ... It is OK not to be right now, but we have always been Japan. When creating omnibus works, "It is not good to dare to do in Japan", of course, we have been pursuing from before the earthquake and there are also memories after the disaster, but basically I am thinking so deeply It is not about "Japan" because I am making it with nothing but "I wish to be Japan as a whole" instead of not.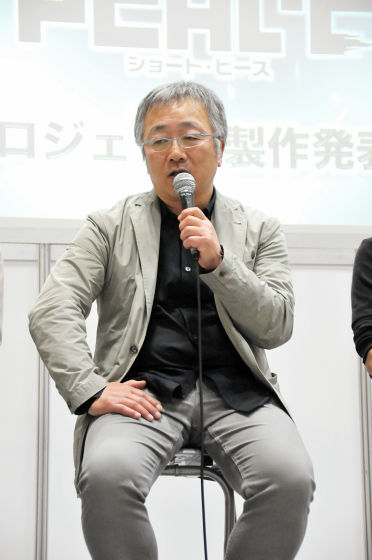 Q:I think whether there is a direction to expect for the feature length since "Steam Boy", but how is possibility etc?

Otomo:
Although we are planning out, after the earthquake disaster, collection of funds concerning the theatrical version of the animation has a tough place, there was a time when it was not possible to adventure quite easily. Even in live-action photography, planning did not pass easily, and the screening grew, but it is finally recovering. Since the project itself was put out before, I also expect that it will start to move little by little.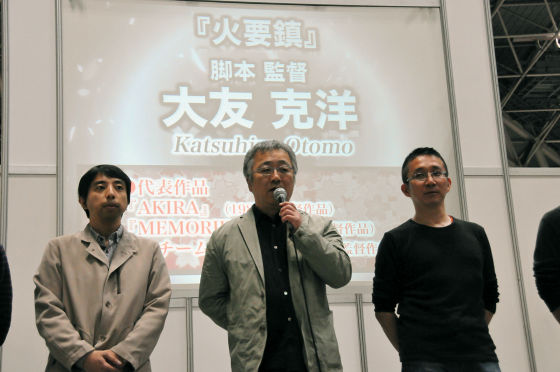 Finally, I put an autograph on each illustration I drew in advance.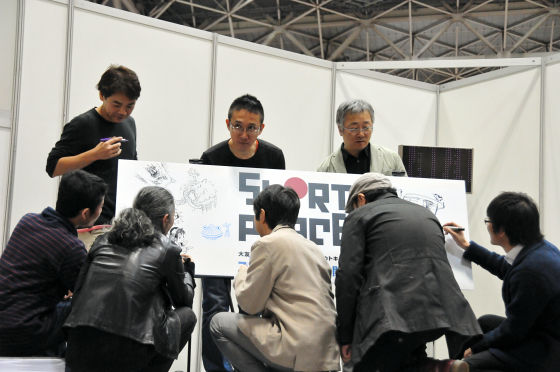 When thinking, Mr. Otomo who was painting the Japanese flag on the back of the character.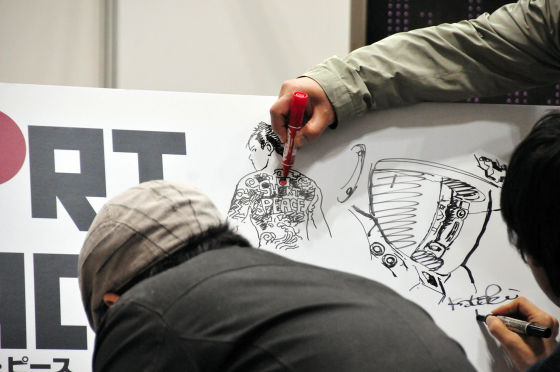 The sign was properly entered.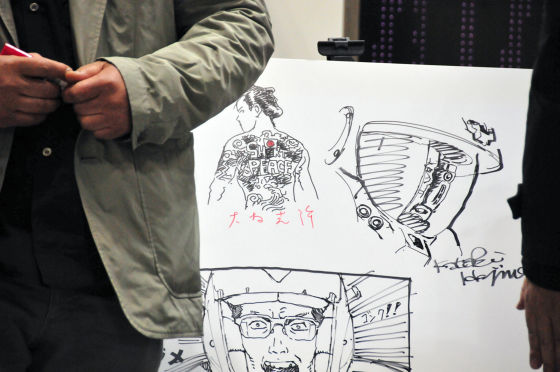 That is why it is completed.



The movie "SHORT PEACE" is open from 20th July.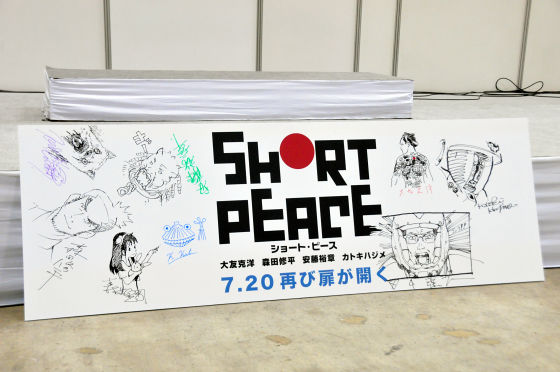 © SHORT PEACE COMMITTEE
© KATSUHIRO OTOMO / MASH · ROOM / SHORT PEACE COMMITTEE