Director Hayao Miyazaki of Studio Ghibli carried out a retire press conference and live broadcast on the net as well


The latest director's work "The wind rises"Published on July 20, 2013, director Hayao Miyazaki of Studio Ghibli carried out a retirement press conference in Tokyo. Miyazaki's retirement,President Hoshino of Studio Ghibli revealed at the 70th Venice International Film Festival official interview on September 1Then, it was announced that we will revisit the interview that the principal will appear.

Studio Ghibli Hayao Miyazaki Retired Press Conference - 2013/09/06 14:00 Start - Nico Nico Live Broadcasting
http://live.nicovideo.jp/watch/lv151185497

Coach Miyazaki who entered, "It may be thought again because it says many times, but this time it is serious," invited reporters to laugh.

· Continued
Suzuki producer reveals that Miyazaki Hayao withdraws retirement and returns to "long animation" obviously - GIGAZINE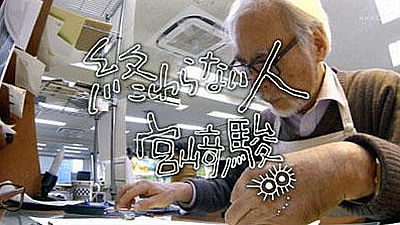 Toshio Suzuki producer, "It was a good timing as I thought retirement when I became frustrated was cool". Regarding the future of Studio Ghibli, it was revealed that it will be open to anyone about 'the story of Kaguya' released on November 23, and that there will be one new work next year.

Regarding the words of Miyazaki's retirement, the following "retirement speech" was distributed.

◆ Official retirement speech

I think that I would like to work a decade more. I want to keep working while I can drive home and work place by myself and go back and forth. That guideline was taken as "another 10 years". It may be shorter, but because it is a lifetime to decide, it is only a rough guide of 10 years.
I am a human being who made a desire to make a feature animation, but I was not able to do how it gradually opens between the work and the work. In short, it just got to be nomadic. "Wind stand" took five years from the previous work. Next time is 6 or 7 years ...... Then the studio does not work, and my 70's will be exhausted for a while rather than the time being.
Even if it is not a feature animation, there are various things you want to try and test. There are a lot of subjects to do, for example, the exhibition of the Ghibli museum. These are not things that bother the studio with most, if you do not do it. It will only cause families the same inconvenience as before.
So I decided to have me removed from the Studio Ghibli program. I am free. Just because everyday life does not change at all, I will take the same road everyday. It is a dream to be able to take a rest from Saturday, but I do not know until I try it.
Thank you very much.
that's all.
2013, 9, 4

◆ Q & A
Asahi elementary school student newspaper:
Receiving retirement reports, children have also received "Very Thank You" "Do not Stop" Voices. What message do you want to deliver to children?

Miyazaki:
Well .... I can not say so cool. If you have a chance and see the movie we have made, something may be conveyed. Let me keep it.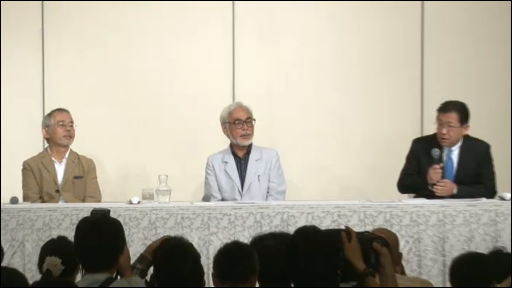 Yomiuri Newspaper:
Is this okay with your understanding that you will retire the feature director? Also please tell me more specifically what you think you would like to do.

Miyazaki:
I thought that this retired speech was written well with me (lol) There, there is also "freedom not to do", as I have said that it is free. As long as the car can drive, I am planning to go to the atelier every day. And I think I will do it if I want to do it. It is a time when we have to take a rest now, and even if we promise somewhere here, we will usually break, so please please understand.

IWJ:
Although it is "Nausicaa of the Valley of the Wind" published in 1984, what are the plans to make a sequel ahead?

Miyazaki:
It is not.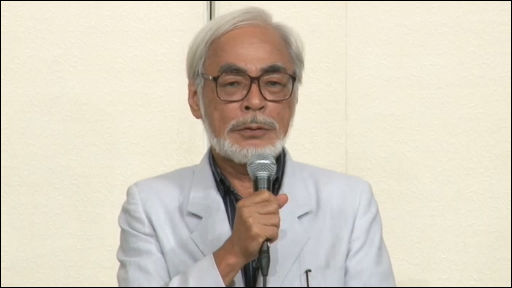 Korea KBS:
Please give a word to fans in South Korea. Also, in Korea we are talking about "Zero war", but what kind of thoughts do you have?

Miyazaki:
I think that you will understand if you can watch the movie, so do not get in the way of various words and think that you can watch the next movie. I am glad that the people of various countries are looking at our work. At the same time, "Wind Stay" is set as an era when Japanese militarism goes to ruin as a work motif, so many doubts came out from family members, staff, and ourselves. I made a movie about how I answer it, so I think that if I do not see a movie it will not be a theory. I would be happy if you could pay the money and watch the movie.

Asahi Newspaper:
Do you have any idea of ​​involvement in the work of the young director of Ghibli, supervised, advised, provided ideas?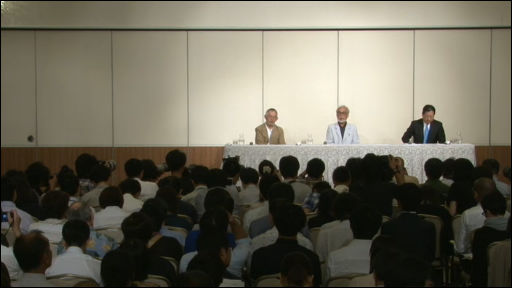 Miyazaki:
There is none.

Fuji Television Network, Inc:
I am serious about retiring this time, please tell me how retiring this time and the past is different.

Miyazaki:
It took me five years to make "Wind Standing". When I start thinking about the next work, I will not finish five years at this age. I wrote also in "retirement speech", but it will take six years or seven years for the next ... .... If there are more months in March, I will be 73, and it will take 7 years from there to be 80. Meanwhile I met Mr. Hitoshi Hitoi, Mr. Hito was 83 years old, the back muscle stretched and the head was clear, this has a good senior. I am also thinking that I should be 83 and become like this. I'm just saying "I will continue my work for another ten years", but I hope to continue, but I think that it will not be on an extension of my previous work. The time of my feature animation is that it ended clearly. Even if it says "I would like to do" in the future, I am thinking that it will be cleared up as an old man 's annoying story.

SPA! :
When was the timing when you decided to retire with Ms. Suzuki, what kind of conversation was it?

Miyazaki:
I do not remember well, but "Suzuki-san, you can not use it anymore" or "That's it" (laugh) This is a story that I've done many times, so I do not know if Mr. Suzuki trusted me at that time, It is certain that when I started Studio Ghibli, I did not feel like going on for such a long time. Again and again, I have talked about what to do or how to stop when I turn.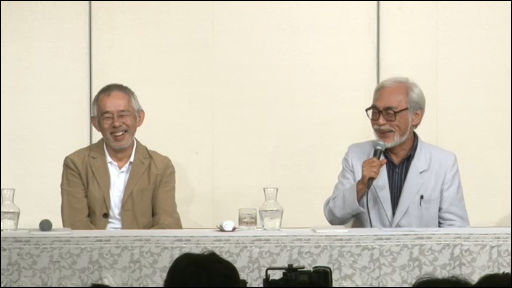 Suzuki:
I do not remember exactly, but the initial preview of "Wind Stay" was on June 19th and it was just after that. When there was such a story from Mr. Miya, I was told that "this is the last" in various works so far, but I forgot the concrete words, but I could not help feeling it was serious this time. That is because I myself counted from Nausicaa and this year was just 30 years old, but there were various in the meantime. Miya also said, while continuing the ghibli, it is not good to do more than this, whether to stop quitting ....... I also thought that there was a tension yarn for the past 30 years, but it shook a little when I said this this time. When I did another good thing, I myself had a place to relax. I think that various feelings worked to keep it when I was young, but I think that it is cool, but I think that there was also a place that I felt like I felt it was hard work. After all, I myself continues to be releasing 'the story of Kaguya', so I am working on connecting threads that are interrupted.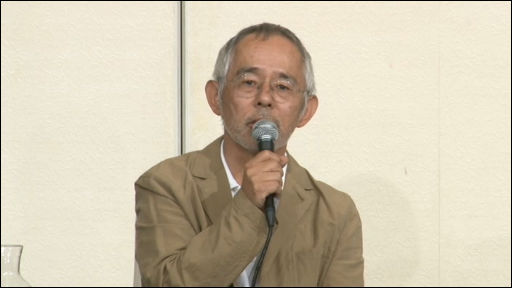 Regarding retirement, we talked about when and how we would tell everyone. Among them, I thought it was to the staff that I had to tell you before telling everyone. When will you tell it and when to tell it to you? I thought that it would be complicated if I told that retirement was just before the release of the movie just before the release of the movie, so I told the inside of the company on August 5 when the movie was released and calm down It was. It is certain that he thought that he could not announce it to everyone, if it goes down there, then it is head of September.

Taiwan Chunichi Shimbun:
Tourists in Taiwan will definitely go to Ghibli Museum in Mitaka whenever I go to Japan. It is now a tourist attraction that can not be removed. My fans are very sorry to retire from the director, but I have plenty of time to retire after retiring, so do you plan to interact with overseas fans as long as you travel abroad?

Miyazaki:
As for the exhibits and others at the Ghibli Museum, I think that I would like to be involved, so it may be a form of volunteer but I am going to be involved. Perhaps because I may become an exhibit (laugh), I really want the museum to come.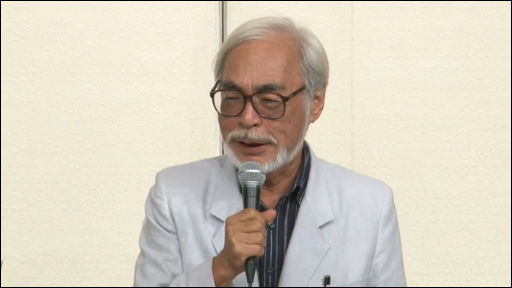 AERA:
It is a question to Mr. Suzuki. Were there any places you had a premonition that this would be the last time you are proceeding with "Wind Standing"? Have you thought that you do not want to end with Ponyo? Also, if there is a aesthetics of the closing etc. by directing this movie to Miyazaki director at the end.

Suzuki:
I guess it was a question of whether there was a feeling that wind blow may be the last one, but I'm going out with a man named Mr. Miya, because of his personality, I think I will keep making it all the time I thought. As for what it means, I will continue making until the time of death, even though I die, I wonder if it is impossible to do everything but I will do it somehow. On the other hand, Mr. Miya is a person who decides once and declares everyone by themselves when they want to do something different. So, I decided to declare it at the end and started thinking about something different. I made wind blows and it came to completion, a story just came out and it was my expectation that I think that I was obediently accepted.

Miyazaki:
I was dying to make a movie, I did not think that. Whether this is going to be a movie or worth making it was heavier.

Russian State Television:
In a previous interview, Miyazaki said that he was influenced by foreign animation writers. Because there are Yuri Norstein in Russia, please tell us about its impact.

Miyazaki:
Norstein is a friend who is a friend, "Do you want to lose?" He has been making a "mantle" for a long time, I think that way of living is also amazing. I was thinking that he would not be joking when he talked to Takahata for a meeting at this time, "I think he was always motivated."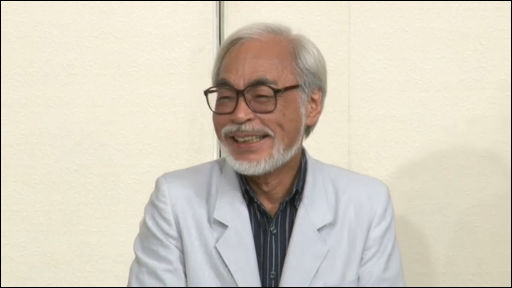 Yomiuri Newspaper:
Which one you dare to make a lot of work so far, dare to give you the most thoughtful work? Also, if there is something that is conscious of putting such messages across all works.

Miyazaki:
Well. What remains the most like a thorn is "Howl's Moving Castle". It is the world of games. But, as a result of making it a drama rather than a game, I really fought, but I can not help it because it is my plan. Because I am a human being who entered the industry under the influence of child literature, I thought that it is necessary to notify the children that "this world is worth living" must be the basis of the work, It has not changed.

Italy ANSA correspondent company:
I make various works set in Italy, but do you like Italy? Although it is an impression of the interview, Mr. Hitoh is a fine person at 83 years old, but if I aim Hinohara sensei, I will live for another 20 years, 30 years, so I think that way is better. Also, I think that everyone will appreciate who the director did the director at the Ghibli Museum.

Miyazaki:
I like Italy. I like including places that are not gathered. There are friends, food is also delicious, the ladies are beautiful, and I think they are a bit scary (lol) Mr. Hitoh is going to be able to reach Mr. Hito in 10 years, How long do you hold out ...... Mr. Hitoh is walking ahead for ten years and I think that he wants to walk all the way.

Since the exhibition has been faded because it was ten years ago, I would like to draw back the museum, rather than saying "You are welcome" as the director. It is something I have to draw with a brush or pen, so I definitely wanted to do it if I could, I thought that I had to do it all the time. Exhibits are supposed to have been cleaned everyday, but they can fade away. When I enter that room I can not see it dull. It made me stand out in one place and it was so conspicuous that I knew that the children would flock. In order to make the museum more lively, it means that we have to do that kind of thing.

Movie writer Kanazawa:
As for the retirement of the feature animation director, as for the museum, I also oversee short stories. Considering this as part of the exhibition, will short stories be made? Moreover, it is a question to Mr. Suzuki. Studio Ghibli was originally established by Hayao Miyazaki and Director Isao Takahata to make works. The story that Mr. Takahata's works are now making a masterpiece is that there is a new work next year, but what will happen in the future?

Miyazaki:
As I said in retirement, I am free. It is free even if you do not do it. I will not use my head right there. I do what I wanted to do before, but that is not animation.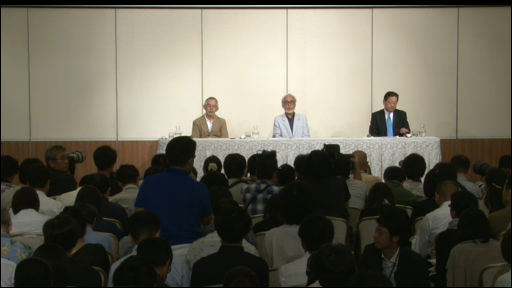 Suzuki:
Ghibli is what I will do now, I am involved in the planning of next year after Kaguya Princess. I am also younger than Mr. Miya at the age, but I am 65 years old, and there is a problem of how much this giant is involved. The future ghibli problem is also the problem of people who are now in Ghibli. I think that it depends on how those people think.

Miyazaki:
As for the future, since the weight of the top will finally disappear, I hope Suzuki will receive a voice saying "let me do something like this". Without such things, you can not do anything. I was writing a proposal at the age of 30 and 40 when I was prepared to do this. It depends on whether there are people who can do it. Mr. Suzuki is not a person who pre-empts such things. In addition, I think that it depends on such ability, ability.

Sunday Daily:
"Wind stand" became the last feature film, did you have something that you wanted to do, did you end up with a plan that ended without doing it?

Miyazaki:
There are so many mountains, but that is because we had no reason to do it because it was not done, so we can not talk about it here. It is only what I did not form so much. There are things that go out in the head as to how such things are, but please do not talk about it to people.

Fuji TV Tokimeki! :
"I am free, I have something I want to do", but what exactly is it? Also, Mr. Miyazaki is a valuable person who was originating from Japan to overseas. Is there something else to do?

Miyazaki:
There is something I want to do but I will not say it because I have no idea if I can not do it. And I do not want to be a cultural person, I'm a father of a town factory. I want to penetrate it. I do not think I want to make a call.

TV Asahi:
Is it okay for you to understand that giving priority to rest? Regarding "wind standing", there are statements about nuclear plants and the Great East Japan Earthquake, but if there is any influence given by what you felt in creating the latest work.

Miyazaki:
The concept of "wind standing" is not affected by nuclear power plants or earthquake disasters. It was from the beginning when I started the movie. I talked somewhere, but I felt that I was overtaken by the times. My rest may seem invisible to others, and if you do whatever you do for your job, it is resting. Because I also get tired when I lie down on the battle ... ... I think that I can walk Higashiyama way to Kyoto, but I think that it is impossible to realize because I may be going to fall on the way (halfway through)

Asahi Newspaper:
"It was overtaken by the times and overtaken," but is this related to retirement?

Miyazaki:
There is none. I do not think everyone knows exactly what animation director is doing, but the way of work is different in each. Since I am from an animator, I have to draw it, so I have to take off my glasses and do this (drawing my face closer to the desk). Even though we are somewhat physically prepared and saved, time to concentrate will decrease, I feel that. Compared with Ponyo, it is 30 minutes earlier to leave the desk. It may be an hour earlier if it is the next work. There is nothing I can do about the problem of physical aging, and irritating with it can not be avoided. "Well then you should do a different way", but if you can do it, you are doing it long ago. can not. I have to decide that it is impossible to do feature animation as I have to penetrate my way.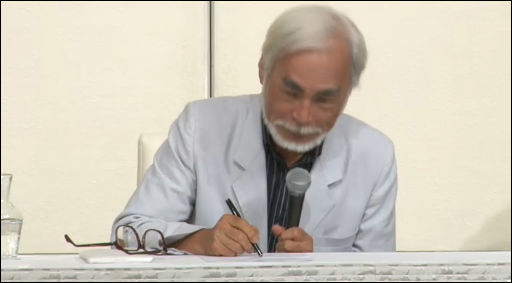 Freelance Shimizu:
Filmography starting from "Castle of Cagliostro" and ending with "Wind Standing", I think that I could have made it to break something and change the world, but how did you see the current animated world called Cool Japan Is it?

Miyazaki:
I'm sorry but I say "doing a job" means living without watching movies or television. In the morning, I listen to the radio for a while and see the newspapers for a while, but that's it. I have not seen it amazingly. I do not even know where Japanamation is. I can not speak without prejudice so I think that I do not have the right to answer it. I think that you can understand when you do desk work at my age, but I can not distract such feelings. As a preliminary preview, I'm going to film a movie in the preview room of the studio, but it comes out on the way. "I have to work". So, I think that it is Sio (tide) now (laugh)

Newsletter:
As a retirement declaration, the past movie director was lost without declaring some people, but why did you decide to declare like this?

Miyazaki:
I did not want to try it, I said to the staff, "I will quit." As a result, it was said from the producer, "It is serious if we received a request for interview about retirement." At first I was told that it would be fine to attend at the atelier, but if it says that there are too many people, it is difficult even in the conference room of the studio, it got here. It is a bad idea to do this, I can not cheat with my mouth, so I wrote the official retirement remarks. When I showed it, I copied it as "This is not good" and distributed it to everyone, I did not motivate such an event. Please understand.

AP communication:
Miyazaki works compatible both commercial success and artistic evaluation, but I would like you to talk about it in the producer's words. Also, if you would like to comment on the impact on Japanese movies.

Suzuki:
It may be an excuse, but I try not to think much about it. Because I can not do the work in front if I think about it. In reality, I did not look back on past works. As much as possible we will seal down. I tried not to think too much about the influence of the work involved in them.

Miyazaki:
I never thought about it. I heard that it reached a turning point, "Good". That's it.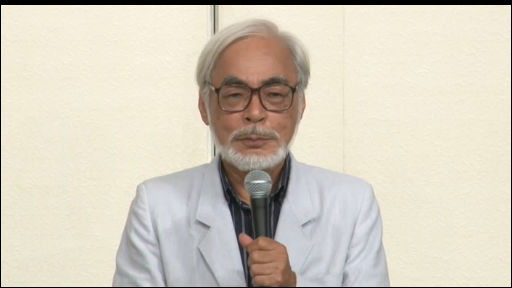 France:
As I mentioned earlier, I like Italy, how about France?

Miyazaki:
To be honest, Italian cuisine matches your mouth (lol) When I went to France on a Christmas occasion, there is a memory that foie gras appeared hard when I went to any restaurant. However, the ruble was nice. There are many good places. There is, but I like Italian cuisine more (laugh) Please do not think this is such a big problem. French friends told me, "Make a French flying boat movie not Italian flying boat", but I have talked about the fact that there are no French flying boats because it is the Adriatic.Paul · GrimaudA person called "Yabunurami no Tyrant" made a work that was published in the 1950's and had a tremendous influence. Rather than me, this has overwhelmingly influenced the generations of Mr. Takahata, five of my seniors. That has not we forgotten at all. Even if I look at it now I am touched by will and the way of making the world. Several works triggered me to decide to do an animator, but at that time the French movie has a much bigger influence. There are several Italian works, but I did not think that I would do animators by seeing it (lol)

Kyodo News:
A half century after joining Toei Animation in 1963, please tell me that it was the hardest thing to look back, making it good to make animation.

Miyazaki:
It was a schedule that was painful, and every work was painful. I have never made work that I know until the end. I made it without the prospect of how this movie will end so it was painful, it was painful. I wrote screenplays and contests thinking that I would not have to make works that could see through to the end. Drawing a storyboard like a newspaper series or a monthly magazine, the staff are doing it without knowing where the movie will arrive, so that was tough for me. However, it was good for me that it would be possible to think between that year and a half to two years. It is not a way to contribute to productivity, because understanding of the movie has deepened and it is possible to think ahead while being fingering if it is not like this It is not ah.

I have never thought that I was good at becoming a director, but I have thought that it was good to be an animator several times. I was happy to be able to draw water well, I could handle the wind, so that I can be happy about two or three days at short, about two hours at the shortest. The director is bad for the stomach because he has to wait for the judgment. I think that the profession of animator was a good occupation that suits me.

Asahi Newspaper:
Still, why did you continue the coaching?

Miyazaki:
I and Takahata Isao were not organized by the company but met at the office of the labor union and talked for a long time. As a result, I first talked to talk about not telling how much I talked to work together, the first thing I did with my own power was "Alpine girl Heidi I think that it was. At that time, I was a human who did not need a meeting at all. Takahata wrote a copy of his manuscript because the director was angered when the schedule was delayed, but I was not a director because he was a man who did not study music or anything. When you are told "When you are going to produce it by yourself", you do not know what to meet and you do not have a prospect when asked what the future story would be like. Because it was such a state, sometimes Mr. Park (director Takahata) helped me, but the puzzle was to pull until the wind did not stand. Even if asked "I'm asking somewhere" when I was asked, "How about this?" I was thinking about something like "I heard it somewhere", and I took out the CD and saying "How is this", "Is not it Wagner? "And. Mr. Park, who came trying to produce a movie, was not the same as mine who wants to draw animation. Probably the producer assisted me well, although I think that there were many such stuff like that. I do not know what kind of talent is, I will forget immediately, I think that I managed to manage it thanks to the team. I think that he was not a director who kept loneliness by force, but he knew that he did not understand what he did not understand, and he could have come as such a man.

Asahi Newspaper:
Takahata's name came out, but as for the new work "Kaguya Hime" to see ... ...

Miyazaki:
I have not seen it yet. As I said earlier, I was caught sharing if I would come to Takahata.

Weekly Shincho:
Suzuki producer talked about changing the dialogue of the last scene from "You, come" to "You, live" with the last work of the length feature "Wind Stay Nu". Do you regret having changed, what do you think about changing.

Miyazaki:
I was troubled about the last. For some reason, if you do not raise a storyboard, Sankichi at the production desk is a girl, but it is frightening. Going to the staff's desk and talking, "Put it in 10 minutes" stuck on her feet or writing it around the desk ... .... Among various things being pending, even though the picture is drawn, since the dialogue can be changed, I finished it in a similar way. I hypothesized where the grassland is, surely this is purgatory. That means that both Caproni and Jiro reunited since they died. If Nako Nako is Beatrice, so saying that it came out "Do not hesitate to come here", I stopped because I started drinking, so I quit. I think that I cleared up with what I quit. I do not understand "God Song" because I read it (lol)

Mainichi Newspaper:
Do you have a desire to express what you want to make in the world of feature animation, the view of the world? Do you have any regrets?

Miyazaki:
I do not summarize that. It would be painful if I had a feeling of "omission", but I thought that I got to the point where I could reach it, so I did not see the movie when I finished. I know what I can not do and I have not turned around since I never hesitate to fix it before I review it. It is said that he was doing the same thing, (laugh), that is what it is.

Nikkei:
I remember when I started Studio Ghibli it was in my forties. In the meantime, how do you feel that Japanese society has changed? Although I am in retirement when my 70s is over, what kind of 70s do you want?

Miyazaki:
When I remember Japan when I made Ghibli, I think it was a time when I was floating and making noise. Economic power country, Japan is amazing. It is such an era. I was pretty much on my mind about that, otherwise I will not make Nausicaa. However, Nausicaa, then Laputa, Totoro, the courier of the witch and the economy are lively but lively, but what about the heart is made about that kind of thing. After the collapse of the Soviet Union in 1989, I also played a bubble in Japan, I started thinking that war would not happen, Yugoslavia became a civil war, and history began to move. The time has come when we can not make it on the extension line of the work ourselves made. So, as he changed his body, he made pigs as a hero, and directed Takahata made the raccoon a hero. There are 10 years, 20 years when the descent period has come and lost, and Mr. Hito said that for 40 years, our studio was caught in the part I was up and that made an image of Studio Ghibli I am bad. Afterwards making a "Princess Mononoke" while making scolding, making until "Wind Standing" ... I think that has come true. However, if you continue with Zulzzle downwards, you may not be able to keep the part that was caught, and it may fall down as a dragon at a time. When I talk with Mr. Hitoh, when I fall down, I think that I have to extend my spine and live properly as possible not only in my friends but also in children at the next nursery school.

China Central Television:
I want to hear it instead of Chinese ghibli fans. Is there a possibility of screening in China in the future?

Suzuki:
This is from Mr. Hoshino.

Studio Ghibli President: Hoshino:
As you can see, there are restrictions on the number of foreign movies in China, and deregulation is taking place at first glance, but it is not yet a flow to screen Japanese movies in full swing. Although I think positively, it is not a situation where Ghibli work is screened at this time.

China Central Television:
The director is respected by various people, but do you have any favorite works and directors?

Miyazaki:
Because I have not seen the work at all ...... Norstein and Pixar's John Lasseter, BritishAardmanI am also a friend. In the meaning of struggling in a confusing place, not a competitor but a friend. I am sorry that I have not watched any movies at all. I think that Takahata's movie will be watched, but I am still rude to see, so I try not to see it.

Nippon TV:
Mr. Anno Hideaki who exists also as a disciple and Steven Alphart and others are out, did you have any thoughts?

Miyazaki:
People in the whirlpool do not notice, people watching TV and Japanese movies everyday, people who are watching dubbers do not notice, but I live on a round-trip back and forth between Tokyo and Saitama, As I said, neither movies nor TV are watching. Then, what comes back from my memory is the Japanese movie of the monochrome era. Since it was seeing only things that appear young people and men and women who are having a hard feeling to live under the dark electricity in the work before 1945, it is revived. When we compare and talk with the current talent's talks, I am amazed at the gap. I wonder what kind of presence it is. Both Anno and Steven Alphat are just presence (laugh). I think that it was quite violent, but I thought that it would be perfect for me for me. But I do not think other people were useless. People who did Nahoko, I was shocked that I was Namiboshi at the luncheon. "Wind standing" is a Dolby sound, but it makes it not Dolby, it does not emit sound from the surroundings, Gaya said that the sound director "was done with two people". Since I could only point my microphone to where I was talking, I could hardly pick up something like talking around. That is natural. When it is 24 ch it happens that the information volume has increased, but the point of expression is vague. That's why I thought that if I tried variously with the short story of an art museum, it would be possible to do with this. It was good that the producer did not hesitate to say "Let's do it". I also had the same problem consciousness with the sound director. It was a pleasant experience, but responsible people in various positions, color and background, video check, production desk, Hisaishi of music ended with a feeling of honesty. It is a thing which ended while I plucked and giggised until now .... Somehow, it was a staff who gathered in my wake-up night, staff of about 30 years also participated. As an experience of making a movie it ended in a nice shape, I think that I was lucky

Hong Kong cable TV:
I did an individual interview before publishing Ponyo, but I feel I am thinner than that. Although it may be rude, how is your health now? I wonder if the work is too thin and thin.

Miyazaki:
My current weight is 63.2 kg. Actually I was 57 kilograms 50 years ago when I became an animator. That was over 60 kg because I got married and started eating three times three times. Although it may exceed 70 kg, when looking at the picture at that time it looks like an ugly pig and it is painful. I have stopped eating out because it is necessary to adjust my physical condition to film a movie. In the morning, eat exactly, lunch boxes made in the afternoon at noon, side dishes not to eat rice at night. This is not too tight. Therefore, I do not know whether my wife's cooperation or conspiracy, but I think this is fine. I think that it is good to die at the end when it reaches 57 kg, it is the weight of the start. There are various problems in health, but there are people worried about, so I will do various things because of it, so I am thinking that I will manage somehow because I am going to follow it accordingly.

Hong Kong cable TV:
Is that now healthy?

Miyazaki:
When you make one movie you will be bothered. It was extremely hot this summer and it was hot even in Kamikochi. I thought that I was cursed. This is still not enough to walk, I think that I'll be fine if I walk a bit further.

Weekly Friday:
I mentioned as "Oyaji of the town factory" before, but what is the reason why the owner dared to announce the sentence "Do not change the constitution" through this booklet "hot air" this summer? In addition, President Hoshino, Miyazaki is sometimes referred to as "Disney in Japan", but how do you feel like being expressed as a president from Disney?

Miyazaki:
I got in touch with hot air and talked frankly what I thought. I did not prepare in advance, so it was an article that you just said as it was talking. I do not want to correct it. Even if it says whether or not to keep sending out, I am not a cultural person, so I will keep it within that range.

Hoshino:
The "Disney of Japan" does not mean that the director is saying himself. Regarding this matter, the director himself received a question from overseas correspondent in the public place in 2008 and said, "Disney was a producer, I have a producer, Disney is an excellent creator,Nine Old MenIt was blessed with. I am clearly saying that I am not a Disney. " I enrolled in Disney for 20 years and studied history firmly, so I think that it is completely different from Miyazaki's director.

Weekly Friday:
(Unknown because there is no microphone, it seems to be a question as to why he responded to the interview)

Miyazaki:
I think that was certainly the Chunichi Shimbun, but Suzuki producer talked about the constitution, threats came to be reached on the net. Surely it will be a joke, but as it is said that "It might be done as soon as you get on the train", Mr. Suzuki is stabbed and you can not inform the face that the three will not be decided I also spoken to Mr. Takahata with a voice. Those who threatened seem to have been caught, but I do not know the details.

Fuji Television Network, Inc:
While working, "Living with all your power, time to be 10 years," is there, is there a decade when the director thinks, and what is the reason? And in the retirement speech, the director wrote "the decade ahead", but what kind of decade would you like for the next ten years?

Miyazaki:
A writer named Mr. Yoshiaki Hotta wrote the essay of the very last year, essay "from the book of evangelism of the Old Testament" only if it is empty sky ". In this there is the word "to bear with the hands of yourselves to do it with strength". This book has been on hand at all times. Ten years is not what I thought, but from a painting teacher, "When I do a drawing work, the limit comes first at about 38 years old, so be careful as there is a dead there." By looking at the secrets of the world, animation is a work that seems to have the secrets of the world in the movement of the wind and people, the gaze, and the movement of the muscles of the body itself. Before becoming a manager, I found out that I had a time when I thought that my chosen work was worth doing. It will be confusing to come up with something to do directing or not to do, but somehow it will come to mind in the last 10 years, I guess I was doing my best.

I think that the coming decade will end in a blink of an eye. Because ten years have passed since I made an art museum, I thought I made it. I guess that's the way it is. That is my opinion.

Fuji Television Network, Inc:
How did you tell your wife that you decided to retire, what kind of answer was there? Also, it was said that it is rooted to tell the children "This world is worth living", but I think that the definitions of this world changed in the course of the decades of production. How are you looking at the world in 2013?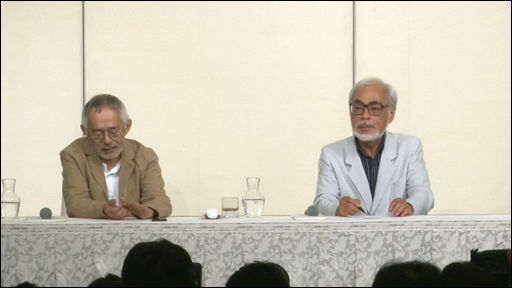 Miyazaki:
In the house said, "I told you about retirement." And "Please continue my luck for you." Although I was told "Fun" (lol) It is said that there is not anyone making lunch boxes this time since usual, and if you ask me a favor ... or not whether I said politely Although it is not certain (lol), it was remodeled by a person who was not suitable for eating out, and I went to a ramen shop that I had been going to a store for a long time and then I made a lot of food, I guess it is eating only delicious, well I do not care about the story.

To a British author I likeRobert WesterallI am filled with what I have to think in my work. This world is terrible, in it there is the dialogue that "You are too good to feel alive on this world." This is not a compliment at all. Then it is a word that you can not survive. Besides, my heart was hit. I think that I am receiving not a call but a lot of it. Even though it is not about books, it is from reading and movies. Therefore, it is not what I invented, "It is worth living" This thing has been repeatedly said repeatedly, and I also inherit it.

Yomiuri Newspaper:
To Suzuki Producer. The place and timing of retirement announcement, was during the festival 's exhibition, why judgment?

Suzuki:
There was a competition in Venice and asking for an exhibition was the last thing. I announced my retirement in the company and I decided the schedule to announce it officially on September 6, but it happened that Venetian matters came in. Consulting with me in Hoshino, Miya-san has many foreign friends, so if you announce it in Venice .... I have to choose the words, but I thought I could publish at once. Besides, announcing retirement first, there is less confusion if you interview on that. People have to go to Venice just as well from Ghibli and it seems that it seems likely to reduce the procedure if it announces there.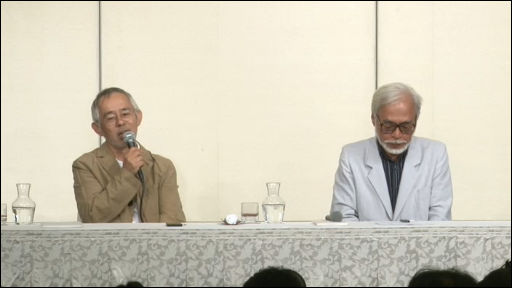 Miyazaki:
It is my first time to tell me that I would officially participate in the Venice International Film Festival (laugh) That is what Mr. Hoshino says saying "yeah!" That's what I meant as a producer There was no.

Northern Japan Broadcasting System:
Toyama's Yoshihito Hotta comes out in the name of a literary writer, and I heard that he is reading from the school days. If there is something like a message took over from Yoshihito Hotta without standing wind, please tell me what kind of thought was made.

Miyazaki:
I can not make it by thinking "Let's put in a message". There must be some reason for not having to be here, but do not seem to understand it. Also, as a work, it is necessary to close the wrapping cloth at the end, and if it is okay not to close it, there is not such a comfortable thing, but no matter how long it can be 2 hours, the remaining seconds are decreasing every second . That was the actual situation, as a serif "There must be no life" was Suzuki-san brought the last line of Nausicaa and put it in a poster and put it larger than the character of "wind stands" I wrote Well, I guess this is a number (lol) Before Venezia I was told that I should go out with Takahata and I declined to give up, but I was silent about Venetia .

Suzuki:
The director commented on Venice, he said he likes Lido (lol)

Miyazaki:
I like it, Lido (lol) There is a descendant in Caproni, who seemed to have seen "Pigs of Red" by chance, sending this huge book with Italian history of Caproni, plan of airplane etc. from Italy "I will do it if there is." Of course it was not Japanese, but I replied that I would appreciate it. So, I could see the structure of a strange airplane that I just saw in the picture. That's why I was beaten my heart. Technical standards were far inferior to Germany and the United States, but they were trying to do things that the Romans thought, Jean Caproni said. It is convincing to think that it is a person of the Renaissance era. There was no choice but to bite the airline in order to do the airline company in a place without foundation. That made me very fond of it. It is also triggering the next movie, but since it is made of things accumulated in this way, I have never thought of making it with my own theme. One book sent to me, that was a long time ago, I guess that what was sown before this is to become a material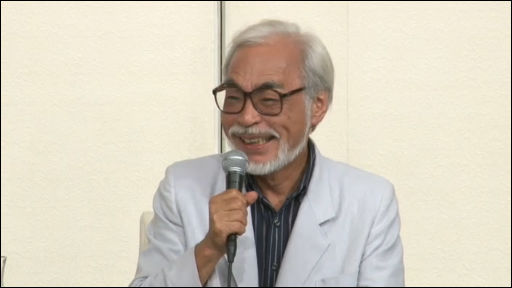 Northern Japan Broadcasting System:
I am thinking that Hotta Yoshihide is the basis of various works among people in Toyama prefecture as I think, but what kind of writer is Hotta Yoshiaki for Mr. Miyazaki?

Miyazaki:
I have been told that the economy is climbing up a slope and this time it got clogged up, but I do not actually understand it. I do not know how to read the world situation before I do pigs, and at such time the essay written by Mr. Horita will arrive. Mr. Horita stood in contemporary history without being blurred when he did not know where he was heading somewhere but heading somewhere, this was a splendid thing. So there were times when I knew my position. Whether "the state will soon die" or how much that helped it.

Toyo economy:
The initial work was 2 years and 3 years interval, but this time it is 5 years. Besides being dependent on age, was there a time-consuming factor such as trial and error of creation and thought to the work?

Miyazaki:
Sometimes I made it at intervals of 1 year. Nausicaa is somewhat different, but both Nausicaqua, Laputa, Totoro and Witch have accumulated the materials that I got before doing the production, and it was in a state to go out if there was an exit. After that it became an era where we had to search for it, so I think it began to take longer. Cagliostro made it in 4 and a half months because it did because I did it hard even to keep the time to sleep, because the whole staff was young and I had the opportunity to do feature animation once in lifetime there was also a dedication is. But, I have a year and a household, and it will become a thing to "take me, take anime". I wrote Horikoshi Jiro, but this is not an obligation (lol) I think that it was not a tolerable condition even when headed to the desk for 12 hours a day, and it was already seven hours. Are you resting or chatting the rest? For me it is not a job but I do not care that I'm talking about arrangements or ah ah. It is how much time I can draw the time to draw at the desk, but it is difficult this time. I left the pencil as soon as I put a pencil. I ceased to impossibly say "this work is done today", I will return home without leaving. Still it was just a limitation. It is only for those who do not know how to do my work, if it is possible to do such things to others. It also took five years to collect staff and write policies. So it is exactly the question of Japan now how to live after the wind does not stand. The other day the young man visited and said that when it comes to the end what Capricorni and Jiro go down the hill, it is frightening. I was surprised to see it as a movie of today, but that is what it is.

Director Miyazaki thanked many people for gathering and wrote the press conference that "Thank you so I would never have this kind of thing never again", and I was laughing at the press until the end.