Mr. Otomo Katsuhiro told me the magnificence of the video expression of "SHORT PEACE Fire Town"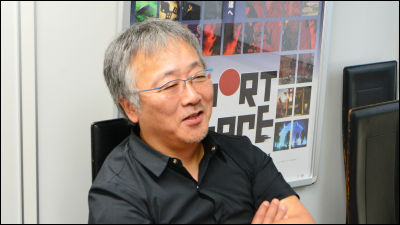 An omnibus anime movie released on July 20 "SHORT PEACE"In one section, directed by Katsuhiro Otomo"Fire town"Has become a spectacular work set on the Great Fire in Edo.The 17th Cultural Affairs Media Arts Festival Animation Division Grand PrizeI also asked various stories such as the expression of the sticking image of motifs of old-fashioned Japanese paintings and picture scrolls, the tips on directing Otomo's neta and the next schedule.

Movie "SHORT PEACE" Official Site
http://shortpeace-movie.com/jp/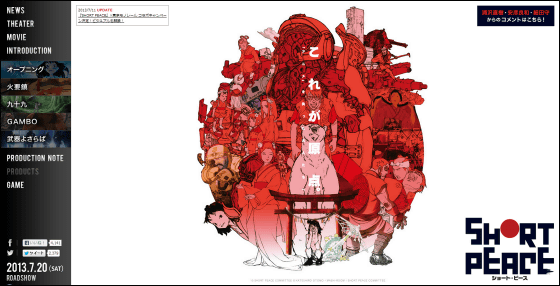 Fire Yu Teng PV - YouTube


GIGAZINE (hereinafter, G):
When I saw "Fire Town Zen", I felt like an emaki narrative style, and at the same time, unlike ordinary perspective method,Inverse perspectiveAlthough there was a scene using, that is, becoming a feeling almost like a parallel rather than becoming smaller gradually in the place where the depth is.

Kotohiro Otomo (Otomo):
It is parallel parallel.

G:
What distinction did you make between the scene using that and the scene that is not so?

Otomo:
Because the first half will be a quiet scene of young people who is the daughter of the merchant's house, I think that I wanted to do as a picture scroll as much as possible and because I will return to normal as the action will be in the second half, the camera will advance. The other part was almost mixed, and in the former one I fixed it like a fix or a side roll. It seems to be divided like "static" in the first half and "dynamic" in the second half.

The part which is in parallel parsing from "Fire Township PV".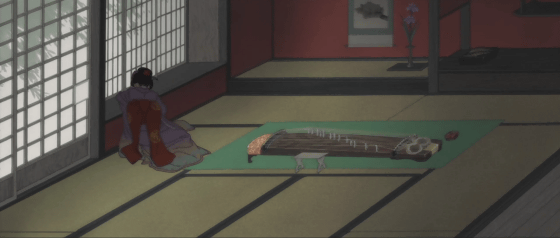 This is usually a parse. Looking at the bar of the window, you may know the difference.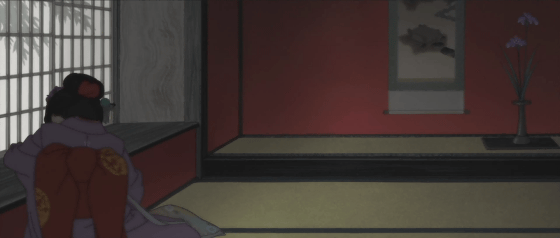 G:
Indeed, there are such differences. Throwing a fan in an important scene as it comes out on the wayThrowing fansAlthough it came out, what kind of thought did you think to use Fanxing?

Otomo:
Because young people are doing sugoro for the first person. I used it because I was pretty rich at that time even though the townspeople of the time were rich, so it seems that they are teaching a surprising play like a public home or Miya.

G:
I think that working on making a plot of the entire work in production, but which part did you do well if you tried it actually or did it according to the image rather than the one you imagined at that time .

Otomo:
I wonder where it is ... ... Fireworks are coming up to the roof and the place where the flame of fire comes out on the other side is painted with a picture storyboard and the layout is done by oneself, but I fixed it later Yes. At first it was an ordinary fire, but I think that the situation of the fire should be more hopeless.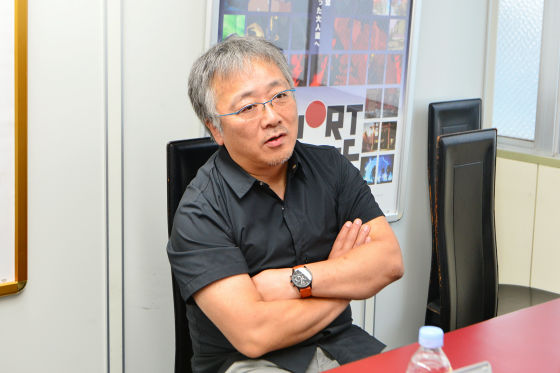 G:
Is it "desperate"? (Laugh)

Otomo:
Oh yeah, I felt like it was "burned out" instead of burning normally. That may have been better.

A state of desperate fire from "Fire Town".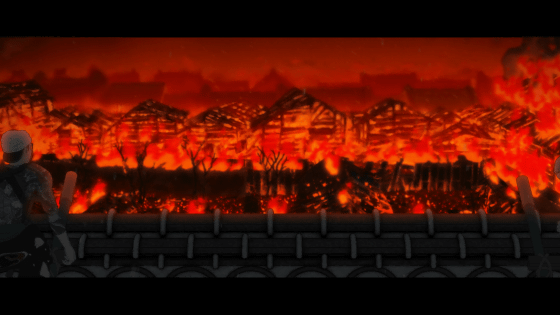 G:
Is there anything that you actually referred to for that?

Otomo:
There are a couple of material pictures, but I saw it and made a more hopeless fire.

G:
The feeling of flame is very unique. Smoke will soak out violently and it will come at a stroke.

Otomo:
Well, that was done by moving the method of old-fashioned Japanese painting that is like a picture scroll. Everyone seemed difficult to work (laugh)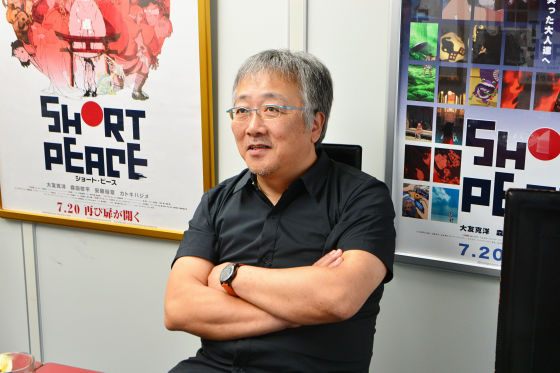 G:
It is different from the amount of ordinary flames (laugh)

Otomo:
If it is normal it is a place to express flames with stop pictures, but everyone suffered a bit by moving it.

G:
I see. So, where is it that it was difficult if you tried it actually than you imagined?

Otomo:
The fire I said earlier was more difficult than I thought. With ordinary animation, I can shine more using transmitted light, but the first flame is all paint. I wanted to make it feel flat, sticky and flat. Because a picture scroll is sticky because it does not hit a light from behind, in that sense it may be making a planar way.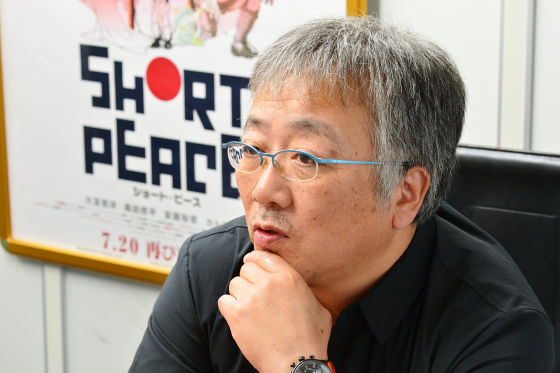 G:
In terms of being impressive when watching it, the tattoos in my body were also awesome.

Otomo:
Well, that raises what you actually drew on a turning chart and sticks it up, but it's tough.

G:
I see, that is why it is so precise.

Otomo:
But everyone is wasted because they are wearing a leg coat from the top of a tattoo (laugh). Actually I have a tattoo on my shoulder properly. So, some of you have a shoulder out.

Firecrackers from the Fire Township.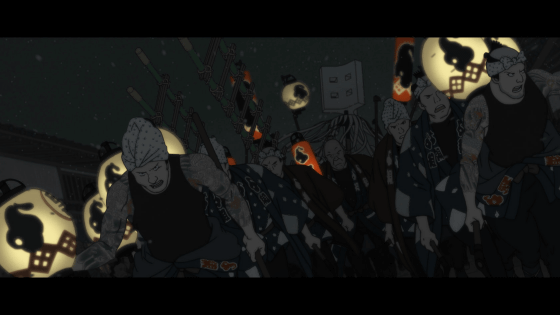 G:
That was it.
Here I can talk a bit, but since I mentioned the story that there was something like a historical drama in another project in a magazine beforehand, since this work has something to do with this "Fire Town" Will you.

Otomo:
There is no relationship.

G:
As an idea, was "Fire Town" the one ahead?

Otomo:
Well ... I do not remember, which one? (Lol) Idea has existed for a long time but I do not draw immediately soon though. Because it fails if you make it thoughtfully, let's lay it down and do whatever you remember how many times you think "you still can do it" (laugh)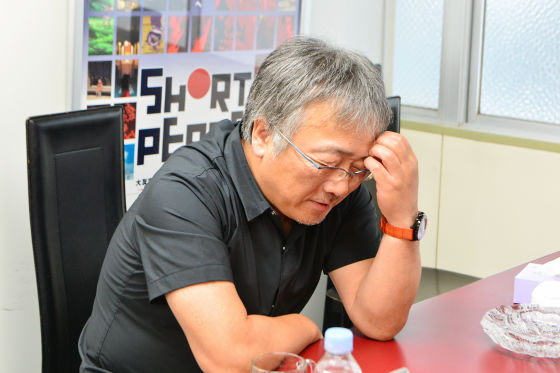 G:
Does "laying down" mean that you will not stop advancing work and collect materials or do not do any work or investigate anything ... ....

Otomo:
I guess it's okay to forget completely once.

G:
Like to make your head blank.

Otomo:
Yes Yes. So when you think about other things, and when you remember, you feel like doing what you think is "This could be done."

G:
Indeed ... ... is that the idea itself is constantly coming up?

Otomo:
Something, I will come many. Even before this, doing it only in the head can not be helped, so at least I thought that I should keep it in the form of a proposal. Before that, I have made plenty of animation projects, but I'm not quite sure, but (laugh) I guess there are about 3 animated films for theaters as well.



G:
What are the differences in what is not what will become a form? If it is "Fire Town", it is in shape at once, appearing in the world.

Otomo:
Oh yeah, how about it ... Because there are things that get too tired and get tired of it, it is difficult to figure out the season.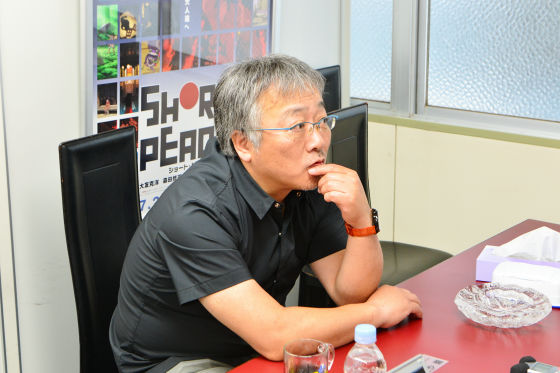 G:
I see. I also mind being careful not to get too old.

Otomo:
And then, the situation at that moment. It may be the effect of the earthquake that somehow become a work that faces Japan in "SHORT PEACE". Depending on such circumstances momentum may come in and "Well, let's do that properly!" I guess it will be like that.

G:
In the case of "SHORT PEACE", how was the project born?

Otomo:
"SHORT PEACE", when I saw the site of the French Annecy International Animated Film Festival, it was said that "we should also make short stories". The work was about 10 minutes short short, so I wanted to do the Edo thing, so I decided to make "Fire Town", but the staff is also needed and we need to think about box office in order to make it So I think that it turned into the form of omnibus.

G:
As for the point of "Edo thing", did you like Edo from the beginning, did you have any ideas that triggered something?

Otomo:
Before this, "Fire Town" was drawing influence of short story cartoons, so it may have been influenced, and if it is a kimono pattern now it can be done with a computer, but making a kimono by putting a handle there so much It seemed that everyone did not do it. Mr. Ando's "GAMBO" has a handle in a girl's kimono, but it can not be done easily when it comes to young kimono.

G:
So, is there a strong part that was possible because there is CG technology?

Otomo:
There was also it.

G:
Recently, movies that have introduced various technologies are being made one by one, but are there any recommended works I've seen recently?

Otomo:
It is a movie ...... I have to watch it, but I have not seen much recently (lol)One hundred million frames of Iwanami movies"There is a book with a DVD with DVD that I saw" Director Hani Suzuki's "children drawing pictures". Hani takes pictures of "children in the classroom", but she set herself in the elementary school around 1955 and has been keeping cameras and photographers all the time in the classroom from the beginning of the entrance ceremony. Then children gradually become accustomed to the environment, receive vivid classes without drawing consciousness of the camera, and draw pictures. I started taking photos of it from around where people got used to, so I thought "I could take this well."

Another one has a recording movie of a large-scale construction after the war of building the Sakuma Dam in the Tenryu River in Shizuoka prefecture, directed by Takamura Takehito, "Sakuma Dam", which was also interesting. I thought that it was wonderful because I was photographing the work done in Showa 30 in full color. Before the dam can be made, there is a canyon and it begins from where you blast it, but stops the flow of the river by breaking all the valleys, then dug a hole and go to the bedrock, everyone rock I am polishing it. That's amazing, it's funny.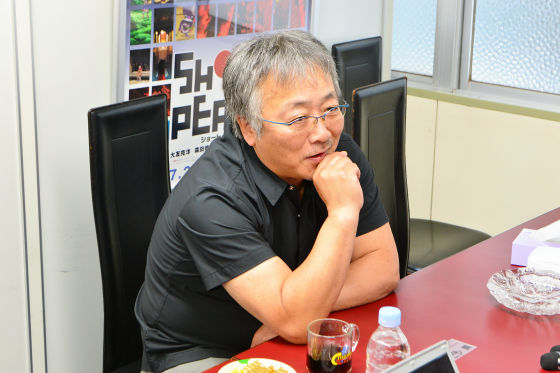 G:
I see, such books were out.

Otomo:
Although it is closer to national policy film than educational film, it seems that it was quite a hit when screening, and now this superb thing is recorded on DVD now.

G:
Just listening to stories seems very interesting.

Otomo:
It is very interesting! Really funny. It's better than watching a bitter movie about that neighborhood (laugh), it's amazing. There are lots of interesting things just because not everyone knows. Although it is not Iwanami, I have been doing things like educational video contests from NHK's educational television for a long time and I often like seeing what kind of plain slime molds did, such as how this was done, I wonder. Others are deep-sea animals. Before thisGiant squidIt was wonderful.

G:
That was amazing.

Otomo:
I like that kind of thing.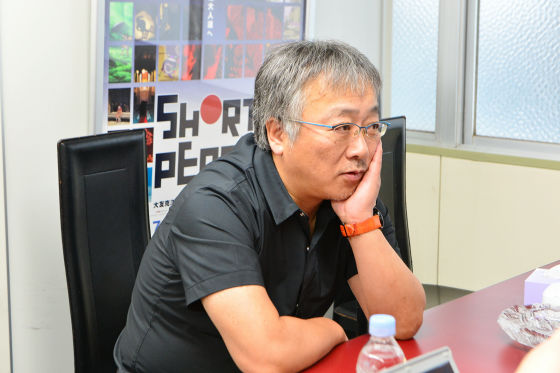 G:
It is reasonable to think that various works are made on the extension line of such things.

Otomo:
Separately it's not looking for news, but it's funny.

G:
The story changes again, but what standards do the staff choose by collecting when making a movie?

Otomo:
Even if I ask a lot of people to talk, I ask that I can not do it because I am busy, so I will decide talking with the producer. The staff also seems to be around and waiting for it to be said that it is said to be a "different work now" from now on and waiting for it to end, while other works begin to move and people flow there. A good person is limited in number.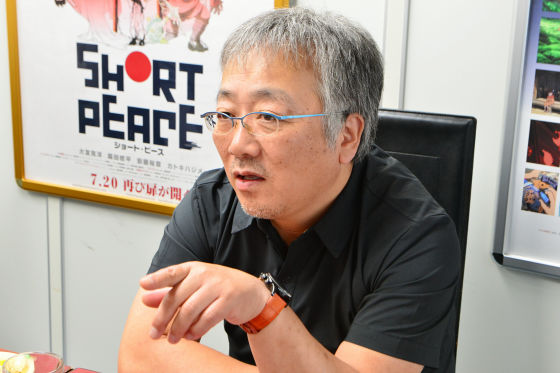 G:
You get in touch.

Otomo:
Yes Yes. Everyone got older and became a director of director or director, and it is a bit of a tough time to feel unwilling to speak freely like the past. I do not know the young animator so well, so I'm wondering if I can come out for a bit more, but I really do not know if I have to ask the animator. Everyone knows the animators well, "Naruto's guy is good" or something. Asking the producer while listening to such information.

G:
There is something like a word-of-mouth. In the last question, "SHORT PEACE" this time I am making "Fire Town", but the plan of the next work ... ...

Otomo:
Right now, I'm working on various projects. I can not announce it at this time, but it works a lot.

G:
Is it okay to expect?

Otomo:
Whether "SHORT PEACE" hits or not is also an important point (laugh), if there is evaluation from you "SHORT PEACE 2You might be able to make it.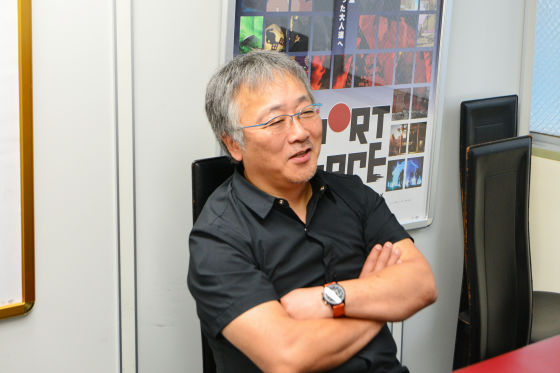 G:
Well, thank you for talking with us today, so that everyone watching this "SHORT PEACE" in order to connect next.

"SHORT PEACE" is an omnibus animation movie composed of four short stories depicting unique culture, history, subculture, and future, set in Japan. Opening video is handled by Koji Morimoto who is known for such as "Animatrix".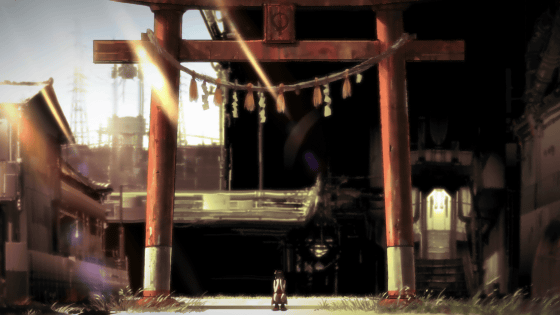 Director Katsuhiro Otomo "Fire Town"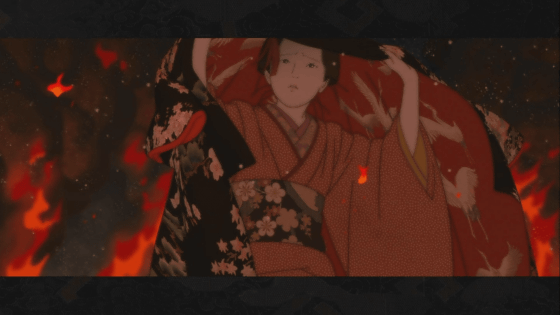 Shuhei Morita director "ninety-nine"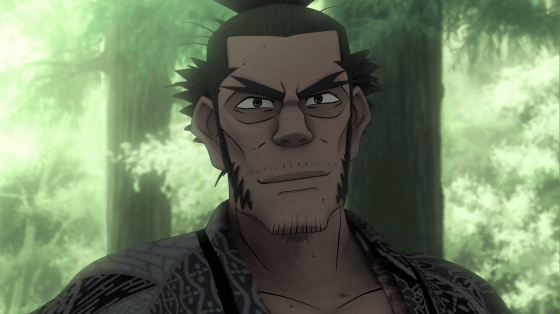 Director Hiroaki Ando "GAMBO"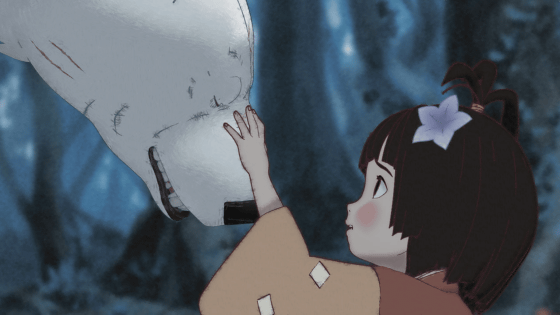 Director Kataki Hajime "Farewell to Arms"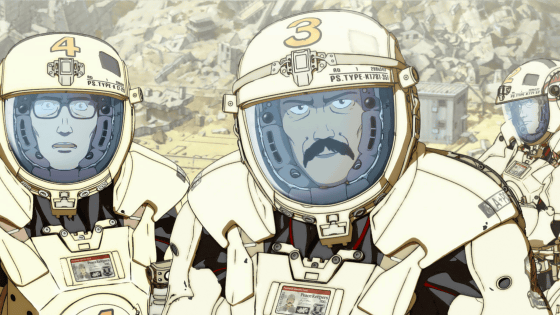 Today from July 20th Osaka Station City Cinema and Namba Parks Cinema and others will be open to the public.

© SHORT PEACE COMMITTEE
© KATSUHIRO OTOMO / MASH · ROOM / SHORT PEACE COMMITTEE