"I will like more animation," announced the stage contents of AnimeJapan 2015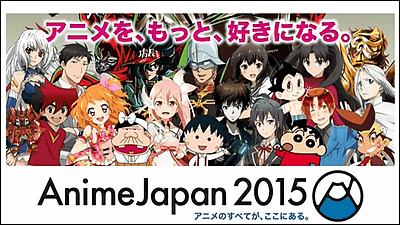 It will be held at Tokyo Big Sight on Saturday and Sunday, March 21, 2015AnimeJapan 2015"Key visuals, new catch phrases, details of stage events, etc. were announced. New catch phrase is "I like animation more."is.

AnimeJapan 2015
http://www.anime-japan.jp/

AnimeJapan 2015 (@ animejapan_aj) | Twitter
https://twitter.com/animejapan_aj

AnimeJapan is the biggest event in the animation industry, born with Tokyo International Anime Fair and Anime Content Expo. It is the first one"AnimeJapan 2014" will be held on Saturday, March 22nd and Sunday, March 23, 2014It was done.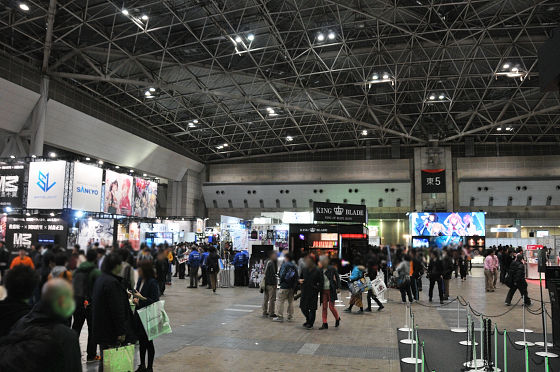 It was in June 2014 that AnimeJapan was not a one-time event, but that "AnimeJapan 2015" was also held.

"AnimeJapan 2015" holding decision, presentation on live broadcast on the net - GIGAZINE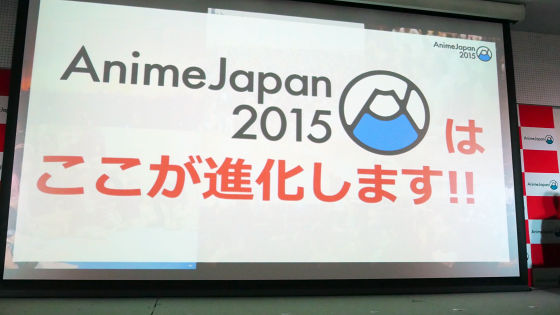 And during the 2nd presentation held on Friday, January 23, details of the stage event etc were revealed.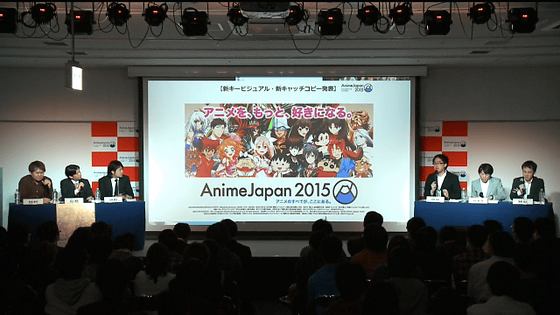 New key visual is like this.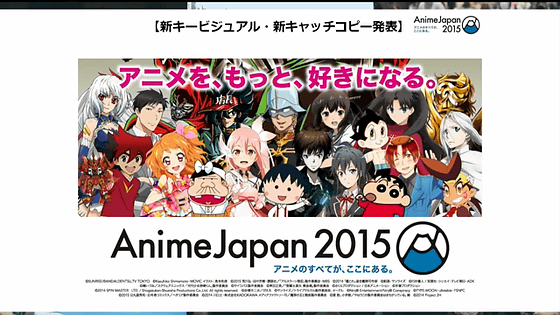 Set in an amusement park "Chelsea Brilliant Park"Decorate the entrance gate.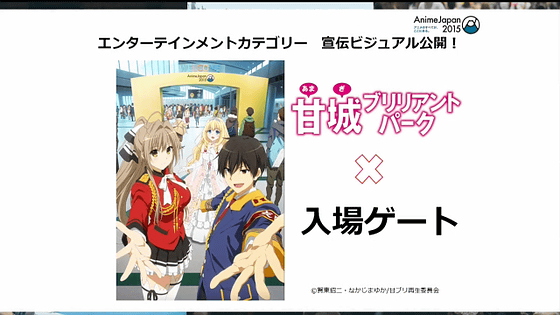 Food corner, food subject matter "Lucky graffiti"When……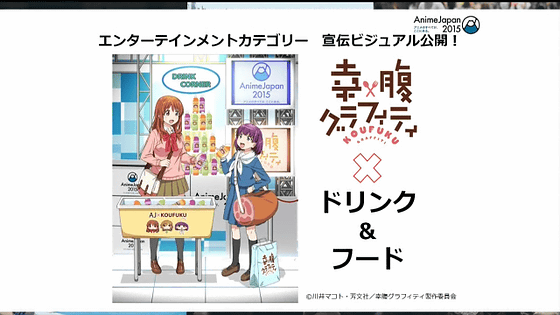 "Eating" has an important meaning as a human "Tokyo Bitter √ ACollaboration with. Half of the menu seems to be safe, but what kind of meat is used for the other half ... ....?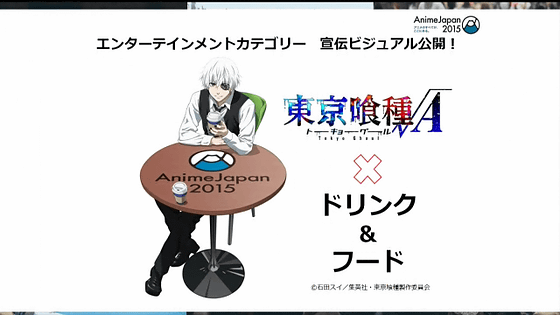 AJ Night will be held as the evening festival event. On the evening of March 20th (Friday), the venue will be at Zepp Tokyo, and the tickets will start accepting applications for leading lotteries from January 30th (Friday).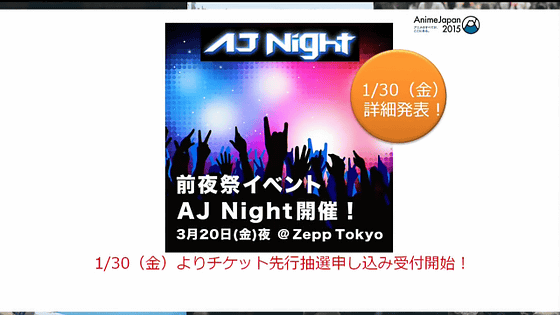 The stage is also three of RGB this time. RED about 2000 people, GREEN about 1000 people, BLUE about 500 people can accommodate.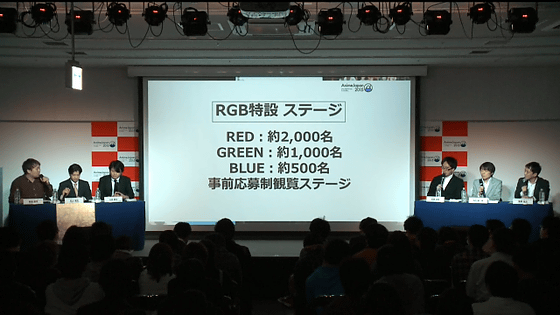 The event list looks something like this.

RED / GREEN / BLUE stage | AnimeJapan 2015
http://www.anime-japan.jp/stage/rgb_stage/

As I write out only the name of the work,
◆ Day 1 BLUE Stage
· Seven deadly sins
· VALKYRIE DRIVE
· SHOW BY ROCK
· Ultra Super Pictures
· Warriors of Arslan
·Gargantia on the Verdurous Planet
· Nagato Yuki's disappearance
· Pleiades after school

◆ Day 1 GREEN Stage
· Sailor Moon
· Fragrance
· Detective Opera Milky Holmes TD
· Bloodfront Front Line
· Dragon Ball F Revival "F"
· Japan Telecom Animation 2015 Lineup Presentation
· Gunslinger Stratos

◆ Day 1 RED Stage
· Ninja slayer from animation (Wasisuta ~ unexpected and interesting program ~ presents)
· My heart wants to cry.
·Idolmaster Cinderella Girls
· Aquarion 10th anniversary
· Theatrical Version Dating · A · Live / Fate / kaleid liner Prisma ☆ Ilya Zwei Hertz !!
· · · Pull! Animation Japan Stuff
· Durarara !! × 2 acceptance
Sound! Euphonium

◆ Day 2 BLUE stage
· Boundary RINNE
· Tokyo Bitter √ A
· Is it wrong to ask a dungeon to encounter?
· Plastic · Memories
· Radio teacher
· Mary of purity

◆ Day 2 GREEN Stage
·Nisekoi:
· High queue !!
·Seraph of the End
· Shokuge no Soma
· After all my youth love comedy is wrong. Continuing
·overload

◆ Day 2 RED Stage
· Knight of Sydney The ninth planetary battlefield (Washista ~ surprisingly interesting program ~ presents)
· Aoizumi New Program & Etaitama
· Hello! Kinro Mosaic
· Wimpy pedal GRANDE ROAD
· Gintama
· Noitamina

Furthermore, in order to continue enjoying animation in the future, we need to do business well, so we set up an area. Because there are people who are in trouble only on Saturdays and Sundays, the business area will be held for 20 days (Friday) and 21 (Saturday) for 2 days to promote visitors and to activate business negotiations.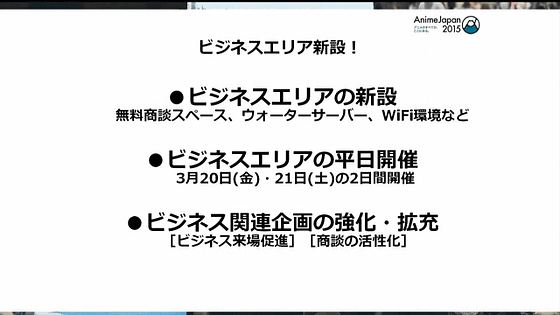 For advertising visuals, island cultivation was appointed as "business speaking".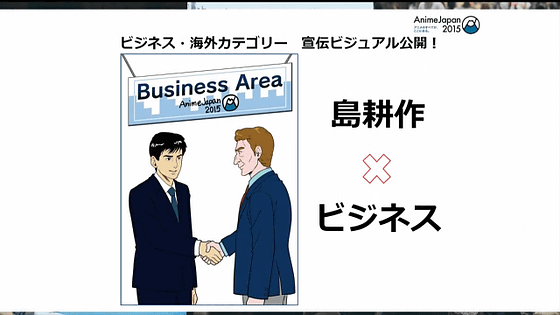 The seminar stage is like this.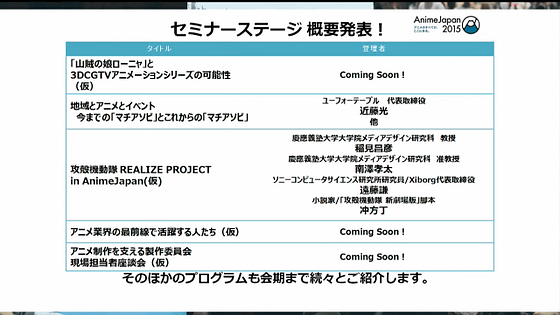 Another thing that is necessary for the future of animation is appealing to the family. This year, "Family Animation Festa" comes with its own name, it seems that it will become a family exclusive area, except enter from the entrance exclusively for the family area.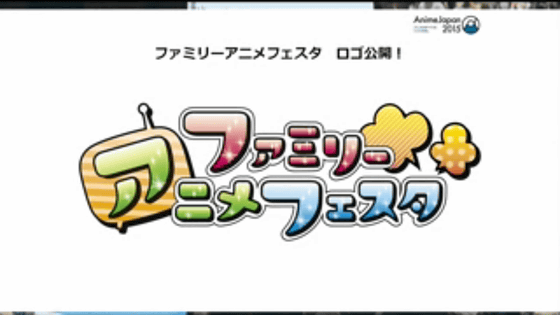 The advertisement visual draws "Chibi Maruko-chan".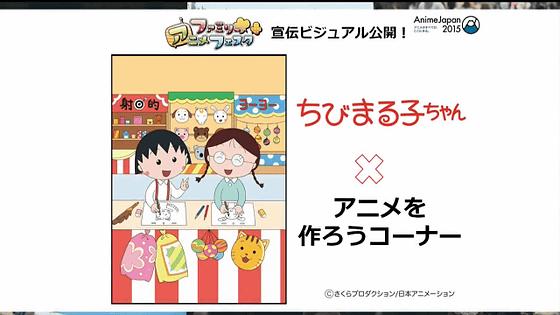 Participating titles in the Family Area include "One Piece", "Yokai Watch", "Detective Conan". Since "Aikatsu!" Is included, there were also comments lamenting not to enter the area. It's also popular in general areas! It is unknown whether booths are established or not at the moment.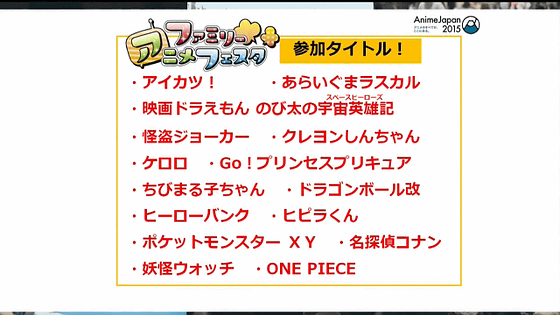 There are various costumes of works and you can take pictures with them.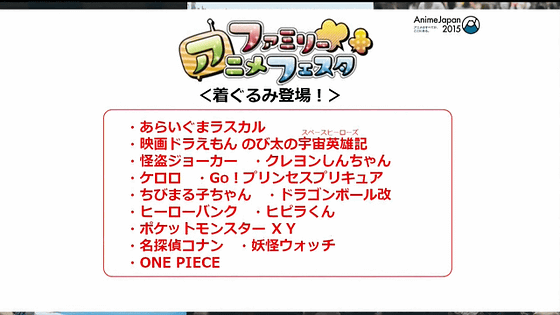 In the RGB stage, it is essential to purchase tickets in advance, but you can not enter after that day, but the stage called "open stage" can enter the day. In AnimeJapan 2015 it became the name "Anime + Stage". Here, in addition to the opening event, the press conference of Animelo Summer Live 2015, the 1st Annualaji Award, the animation original publishing company roundtable competition, the animation goods competition competition, the 3 big Anison festival roundtable discussion, the cosplay performance stage, "animation scene serious chatter Place "etc. are done.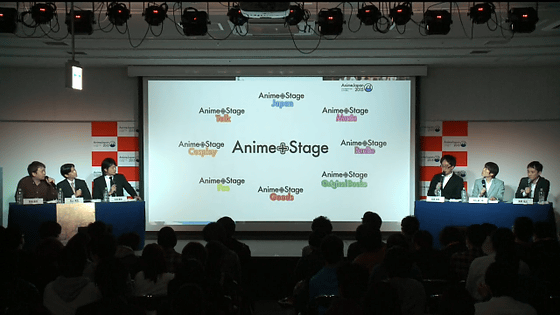 One of Anime + Stage 'Open theater', masterpieces episode is being swept in a state that anyone can see it all day. The theme of the first day is "idol".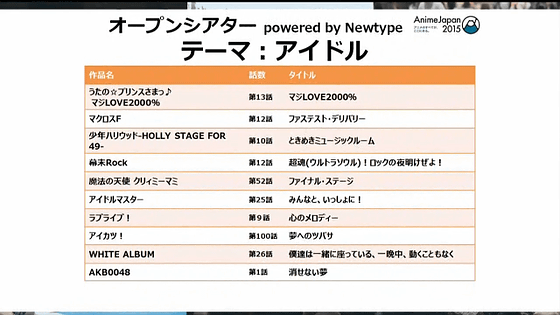 The theme of the second day is "robot".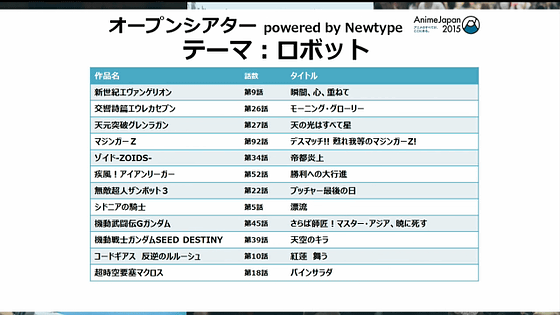 "Production Works Street" exhibiting what process there is until the animation reaches the audience, this time the theme is "Recongista of Gundam G" and exhibits showing how the work will be made I will.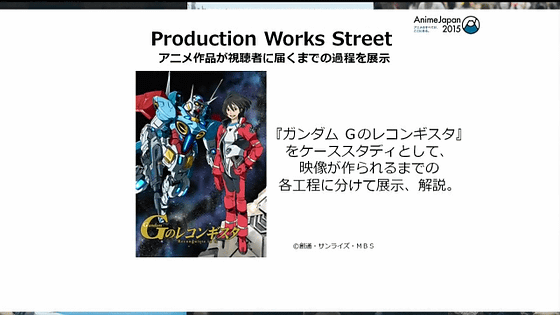 In the creator experience course, you can tell us about making animation directly from screenwriter Yoichi Kato, Mr. Minoru Okamoto of Polygon · Pictures, and director Ito Tomohiko of "Sword Art Online".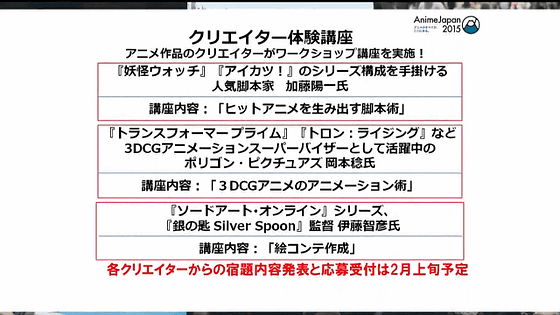 At the charity auction of AnimeJapan 2014, approximately 12 million donations were collected and donations were made. This time it is possible to go to the world of Gundam and Yamato "the right to go to two dimensions" will be exhibited.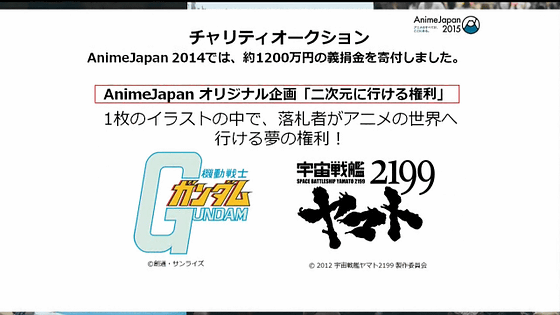 In "Cosplay Year's World", there is a background that appears in the work, it is possible to shoot a cosplay picture more like that.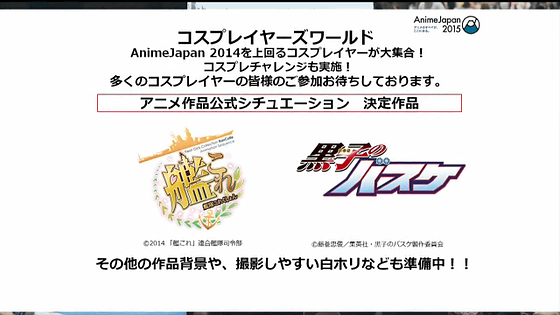 This is also a plan following the last year "Mysterious Game". Last year, it seems that there were many voices that the difficulty level is high, but this time, the screenwriter Takahashi Natsuko is in charge of the script "Spy submission !! Search for confidential information of animation".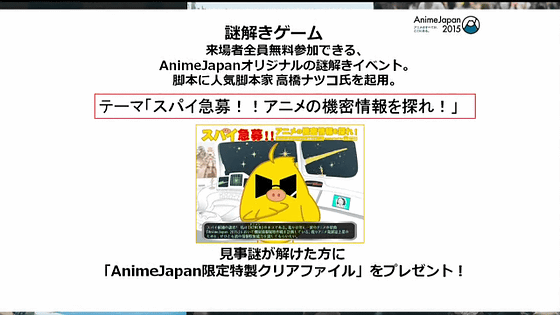 A town con event for animation lovers "Ani ☆ Con" as well.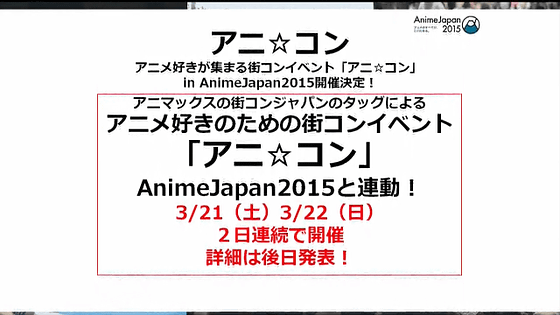 Official goods are also prepared. Currently, collaborative products such as "GOD EATER" × "Fate / stay night [Unlimited Blade Works]", "Uta no Prince sama ♪ (Piyo-chan)" "Monthly girl Nozaki kun (Tanuki)" are planned I will.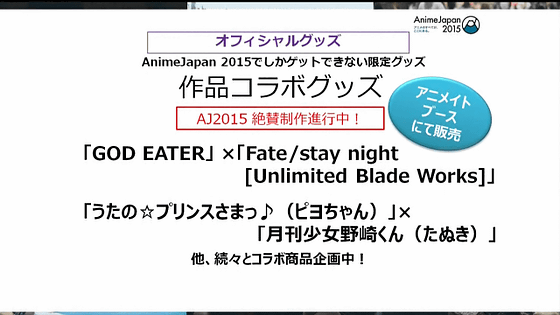 In addition, we sell about 30 types of can batches limited by AnimeJapan at Gacha. It is said that there are also illustrations to draw down inside.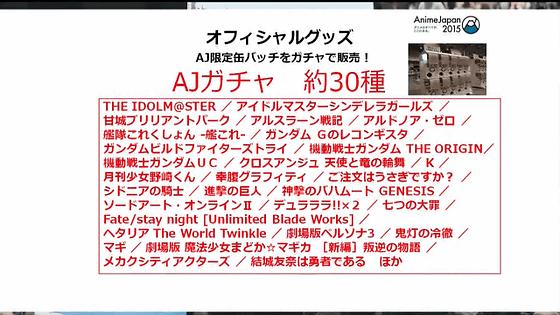 Watching the RGB stage The admission tickets with lottery entry right will be on sale from tomorrow, Saturday, January 24 at animate · CN Play guide · Seven Eleven. Prices above junior high school students include tax 1600 yen, less than elementary school students are free.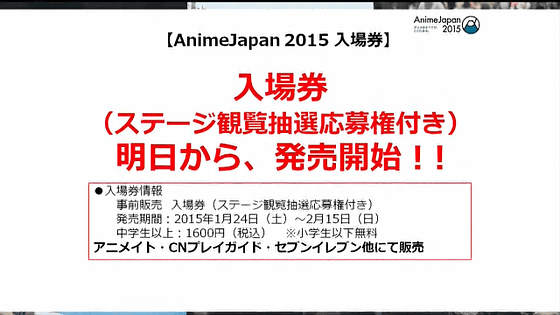 As there are a number of stages and exhibiting booths, such as checking, it will be impossible for them to thoroughly enjoy themselves in two days, so those planning to go will probably want to schedule the plan closely by the day . People who are aiming at viewing the RGB stage must keep luck as to whether they will win a lottery ... ....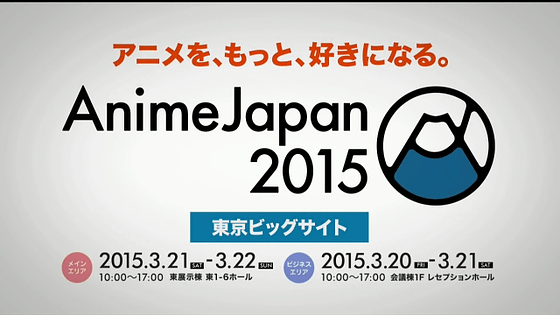 in Anime, Posted by logc_nt