"AnimeJapan 2016" stage program first volume & plan latest information released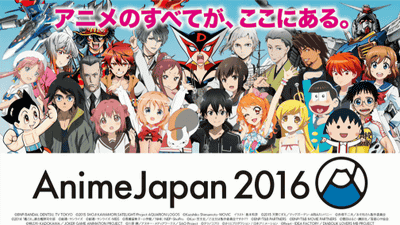 To be held at Tokyo Big Sight in March 2016 "AnimeJapan 2016"The latest information on the first stage of the stage program and organized projects," Family Animation Festa 2016 "The latest information was presented.

AnimeJapan 2016
https://www.anime-japan.jp/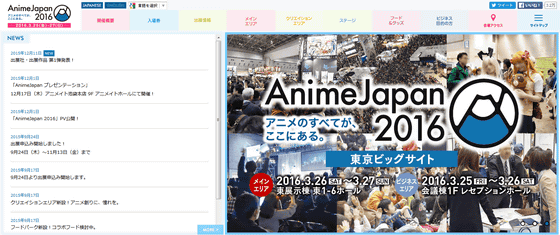 The venue was Animate Ikebukuro head office, and a live broadcast was held on Bandai Channel and Nico Nico Live Broadcasting.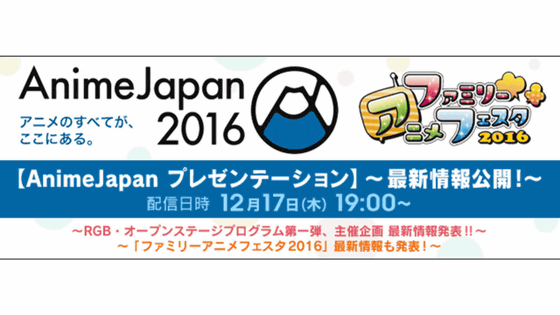 Moderator is AnimeJapan 2016 Kenichiro Ikeuchi of Sunrise who is a comprehensive producer, Yuuma Takahashi of Aniplex.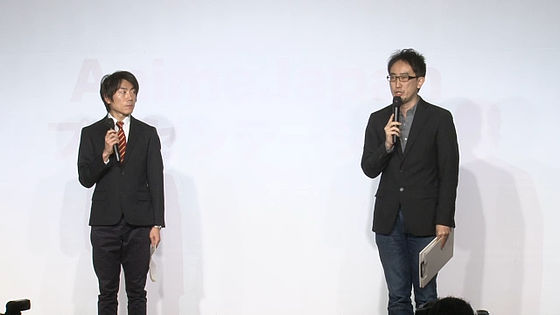 This organization is participating in the AnimeJapan executive committee.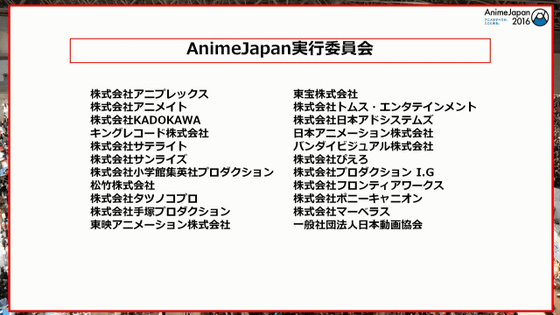 This time, members of 1 group of 17 companies appeared out of them.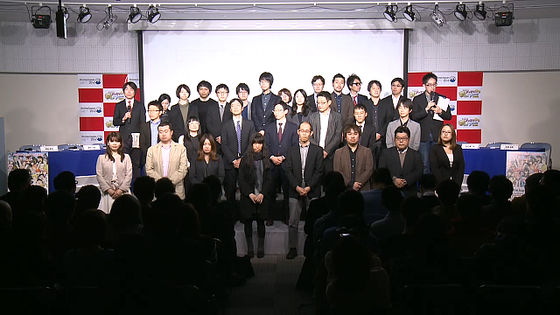 AnimeJapan 2016 is divided roughly into "Entertainment category"Creation category"Business category"Family Anime FestaFour.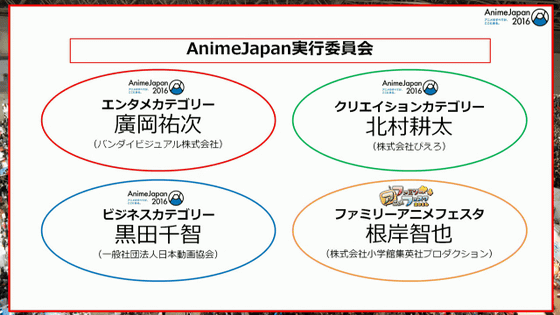 The same as AnimeJapan 2015, the main area is Tokyo Big Sight East Exhibition Building (East 1 - 6 Hall), the business area is the reception hall on the 1st floor of the conference building. The exhibition will be on Saturday, 26th March, 27th Sunday in Sunday 2016, the time will be from 10 am to 5 pm. If you have a fast ticket you can enter from 9:30.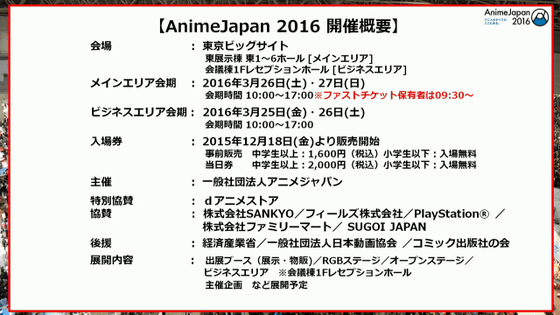 "Family Anime Festa 2016" held at the same time uses the East 6 Hall.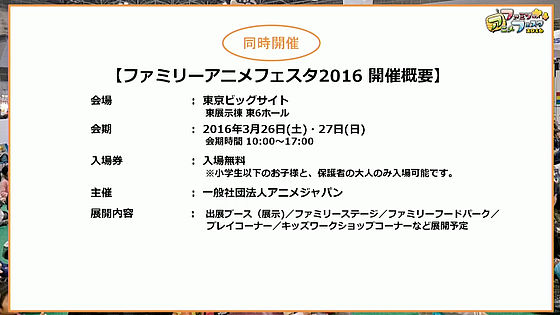 Zoning looks something like this.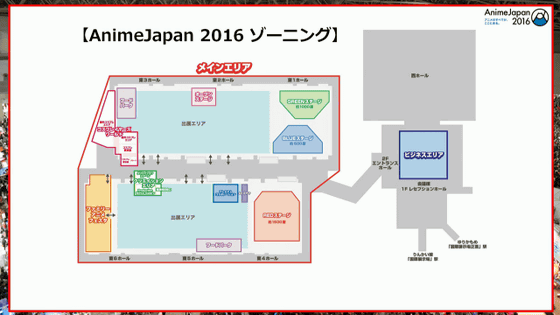 In this key visual, 27 works were prepared from "Astro Boy" to "Mobile Suit Gundam Iron Blood Orphans".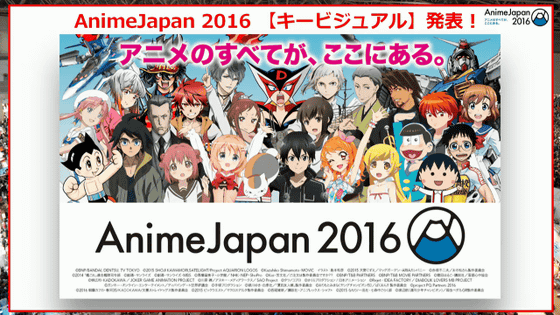 From here on the story of 'entertainment category'. This time as well, "Open Stage" will be set up where you can enter without entering a special viewing ticket.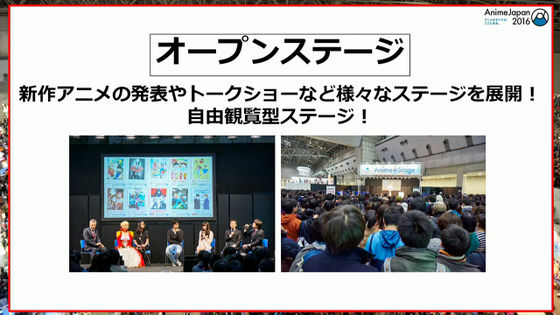 Open stage · The event of March 26 (Saturday) ... ...

1:"Kumamiko" Special Talk Show(Nakashima Ushiya Nazuki Nika, Naomi Kumai role Yasuaki Yasumoto)
2:TV animation "Tera Pharmers" Stage just before broadcasting(Konomaru Lighting Contractor Yoshimasa Hosoya, Marcos Role Ishikawa Toshin, Alex Role KENN)
3: Coming Soon!
Four:Animelo Summer Live 2016 Press Conference(Animelo Summer Live 2016 casting artist, moderator Ken Washizaki)



Five:New animation presentation
6:Animax sponsored "Voice Actor Dream Audition" supported by Hikari TV
7:Heisei 20th Festival Agency for Cultural Affairs Young Animator etc. Human Resource Development Project "Awami Tamago 2016" Presentation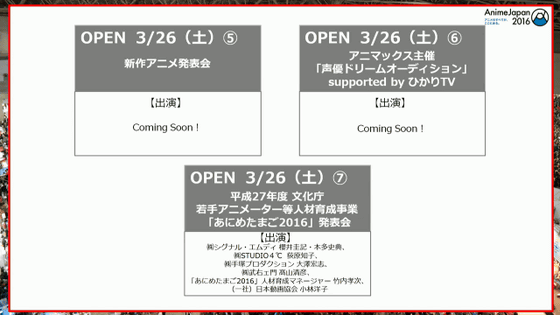 Previewing system viewing stage · The RGB stage accommodates about 1500 RED, about 1000 GREEN, about 500 BLUE.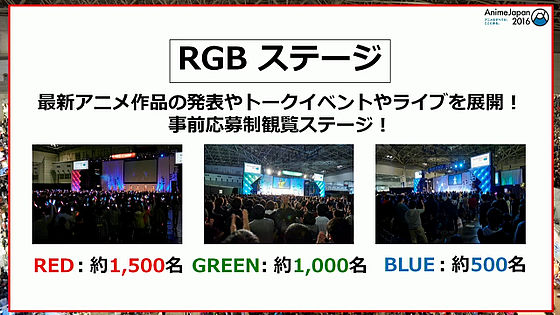 The contents of BLUE stage · March 26 ... ...

1:Ginga machine gang Majestic Prince Zannen stage (temporary)
2:Fragrance SPECIAL STAGE 2016
3:Concrete · Revolutio ~ Superman illusion ~(Ishikawa Kokitan, Sumire Uesaka, Riko Nakamura, other plans)
Four:"Three Three Leaves" Stage (Temporary)(Wakui Yu, Makoto Kanazawa, Ayana Imamura (planned))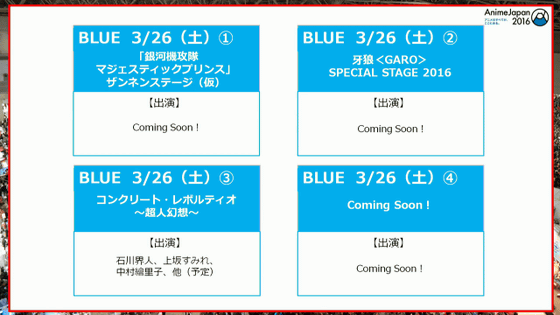 Five:Academy War City Asterisk 2nd "Star Matters Festival"(Ayuto Tenmaru Atsushi Tamaru, Yuris-Alexia von Leesfeld role Kao Yui, Claudia Enfield role Higashiyama Nao, Sayuri Miyazaki Yosako Izawa Shiori, Riko Kudo Ryo Ozawa, 1st Season OP Mr. Sayuri Nishizawa in charge)
6:Did you think that the wife of Netoge is not a girl?(Toyonaga Toshiyuki, Hidaka Rina, Mizuno Inori, M · A · O, Nanjo Aino, Owada Hitomi)
7:Quality Code(Tianhe Maihime role Yuki Aki, Rin Todo Hotaru role Fukuhara Ayaka, etc.)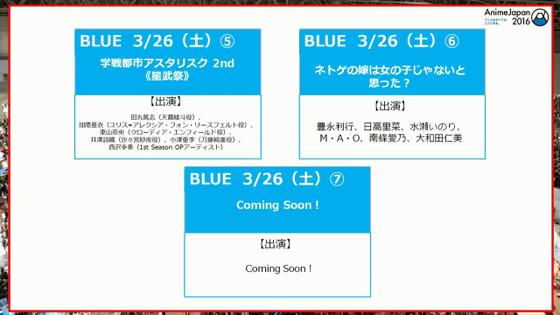 Next, GREEN stage · March 26th.

1:Lacqueline Logic Special Talk Stage(Urasaka Sumire, Tokui Aozora, Komigawa Chiaki, Mizuno Inori)
2:"ReLIFE" Animation new information release(Main cast appeared)
3:Nittele April period animation work stage
Four:"Natsume Yujincho" special stage(Kamiya Hiroshi, Inoue Kazuhiko)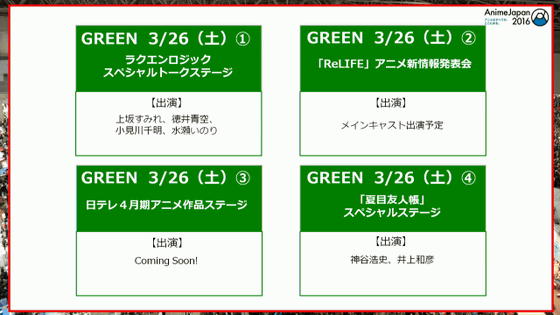 Five:Pretty Soldier Sailor Moon CrystaL
6:TV animation "D.Gray-man" New series Broadcast decision commemoration special stage(Ayumu Murase, others)
7:Pretend Special Stage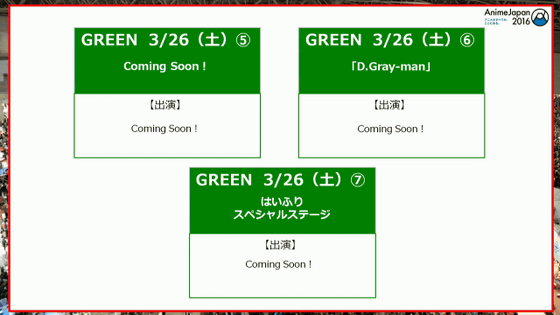 And RED stage · March 26th.

1:"Touken Ranbu - ONLINE -" Special Stage
2:Animate 30th anniversary commemorative work "Tsukita. THE ANIMATION (preliminary)" stage
3: Coming Soon!
4: Coming Soon!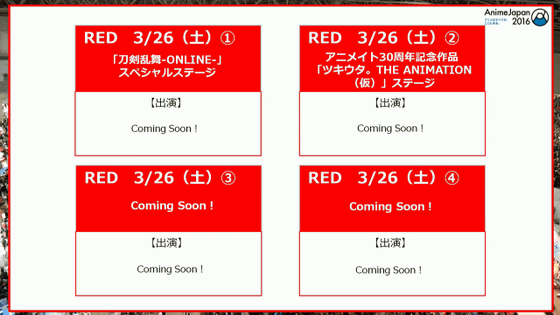 Five:"I liked it for a long time. ~ Confession Executive Committee ~" Event before the theatrical release(Hiroshi Kamiya, Haruka Tomatsu, Yuki Kaji, Aki Kana, Toyosaki Aki, Asakura Momo, Amamiya Tian)
6:Nitroplus New Project Special Stage
7:"Welcome to Euphonium North Uji High School Wind and Band" - Special Event(Kurosawa Tomoyo, Asaki Aka, Toyota Moe, Ebisu Chika, Mitsuko Hotaka, Saori Hayami, TRUE)
8:TV anime "Anbaiku Stars!" Radio Public Recording (Temporary)(Yuki Uonai, Annie Nitta, others)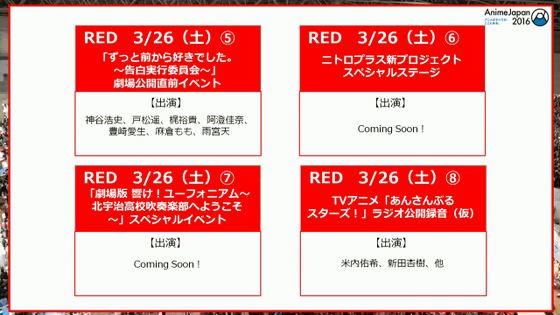 New project "Food parkWarm and entertaining menu will be offered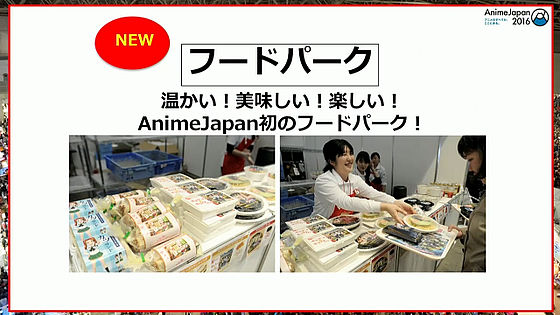 Mr. Osomatsu "Hexagon Oden", Saji Saji "Special Pizza of Yago Yugo", Bloodfront Front "Jack & Rockets Special Hamburger", Seven Deadly Big " Tatekei Soup Special Soup", WORKING !! "Hokkaido curry of Wagnaria" etc. are decided.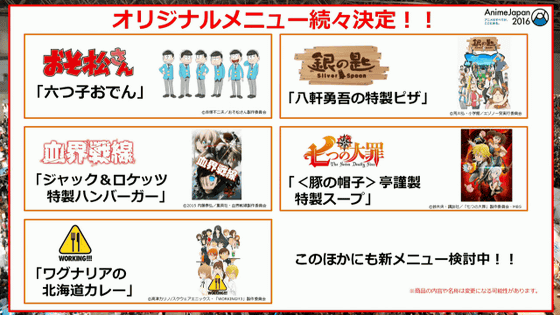 Also,"Food park & ​​theater presented by SUGOI JAPAN"It is said that selected animated works by" SUGOI JAPAN Award 2016 "will be screened.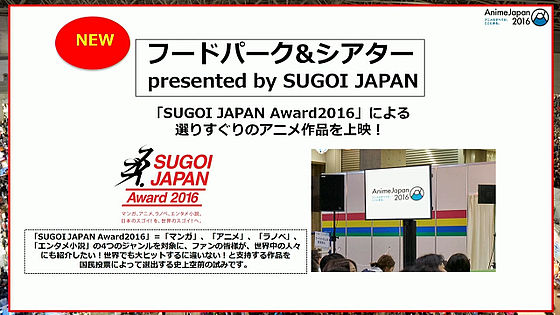 Also expanded in 2016 "Cosplay Year's World"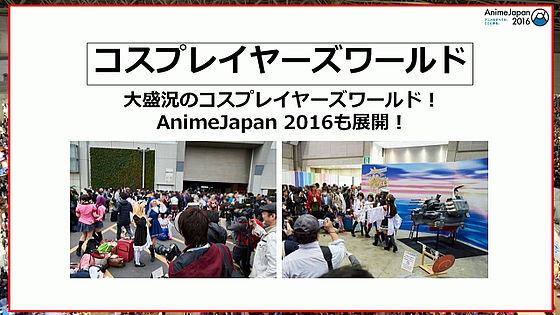 Although an official set that can enjoy more work cosplay is placed, AnimeJapan 2016 first announced that the official set of "Bunraku Stray Dogs" will be placed.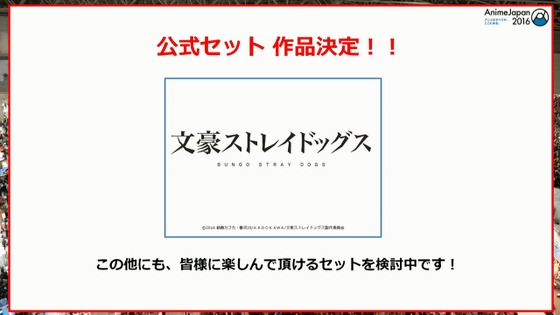 Night Fes"Anison CLUB!" Will be held on March 25 and "AJ Night +" will be held on March 26. Tickets began accepting applications on February 1, 2016 (Monday).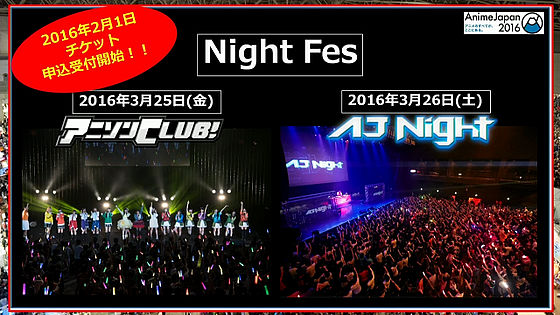 Later on in the entertainment category, I will tell you about the creation category.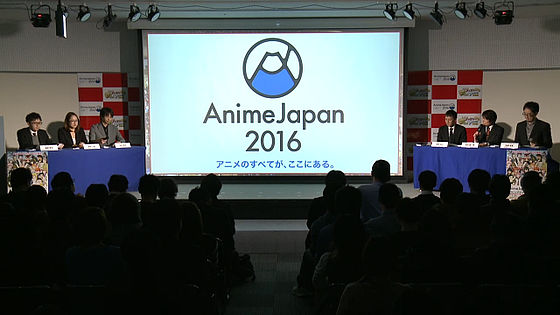 The theme is "To create animation, to adore."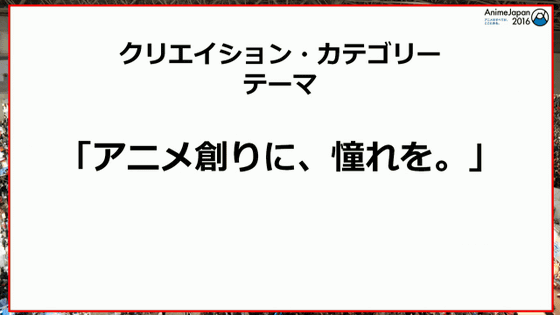 The previous exhibition "Mega warrior Gundam G's RECONGISTA" was chased following the exhibition "Production Works Gallery"This time it will be an exhibition in gallery format featuring drawing (animator) and art.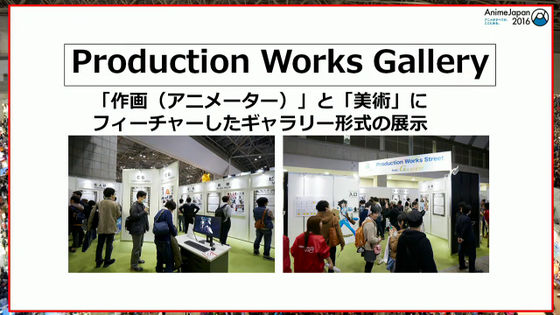 "Creation stage"Two-axis expansion of creators experience seminar stage and seminar stage. Four frames in 2 days, totaling 8 frames.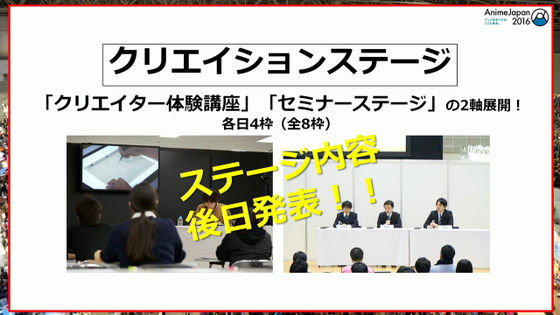 New project "Counseling Counseling Office"Is a corner for people who are interested in animation production and want to aim.



Then the business area. It is held from March 25th to 26th, deviating one day from the main area. In AnimeJapan 2015, 2,500 people visited in 2 days.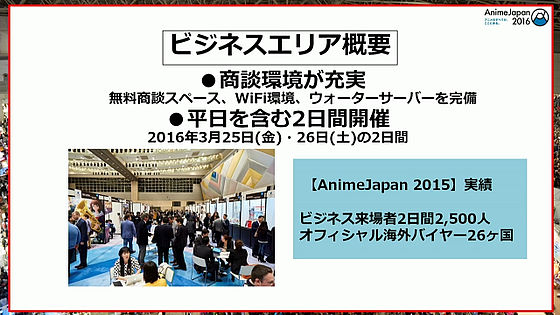 Premium Collaboration / Collaboration 10Animation collaboration cases representing 2015 will be exhibited.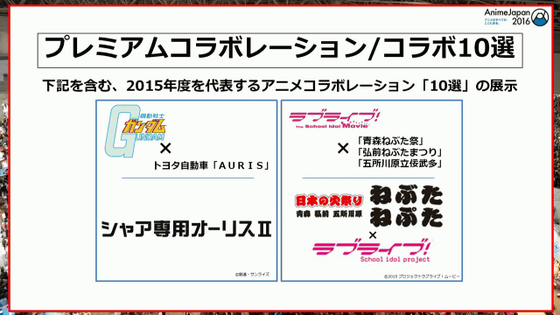 "Seminar StageIs a stage related to animation business that can be viewed by general visitors.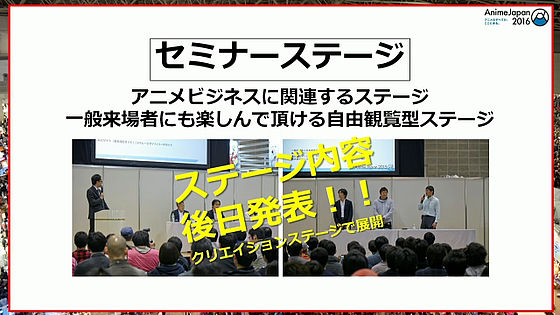 In addition, AJ × JETRO Anime Biz Match etc. are scheduled.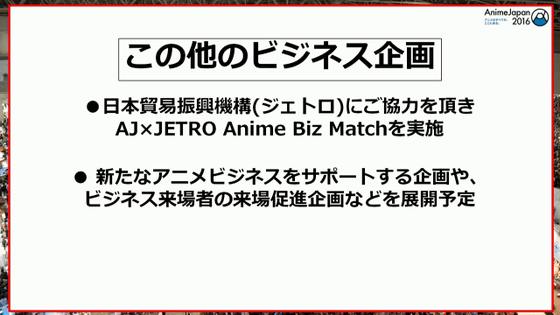 And Family Anime Festa 2016.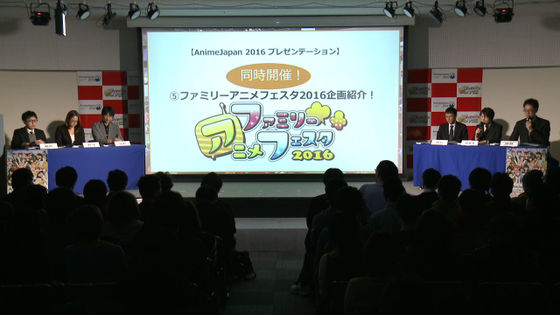 Family limited area where only children under the elementary schoolchild and their parents can enter, admission fee is free. The entrance is separate from AnimeJapan 2016.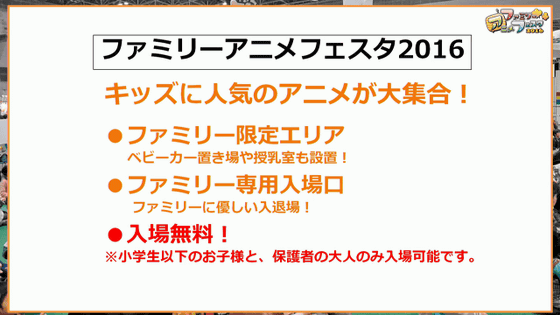 As the first part of the participating works, "Rascal Rascal" "Kaitetsu Zorori" "Crayon Shinchan" "Keroro" "Chibi Maruko chan" "Nin Tama Rantaro" "Hipira-kun" "Puripara" was announced.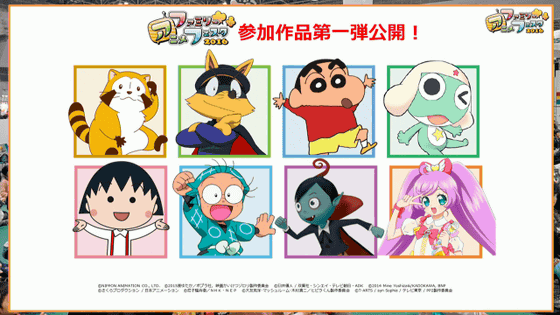 "Family Stage"Animation shows and quiz meetings are held.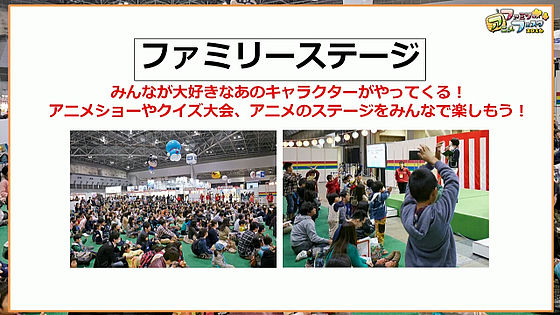 "Kids' Work Shop Corner"Two," Let's make animation with everyone! "," Make goods with everyone! "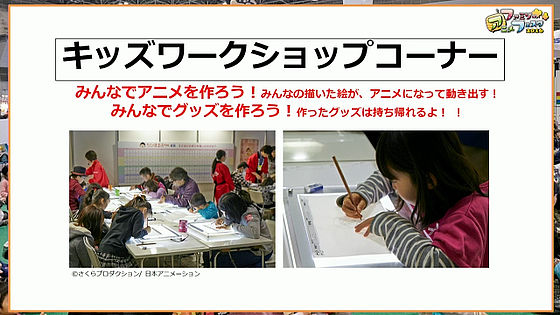 "Play corner"Anime festival came.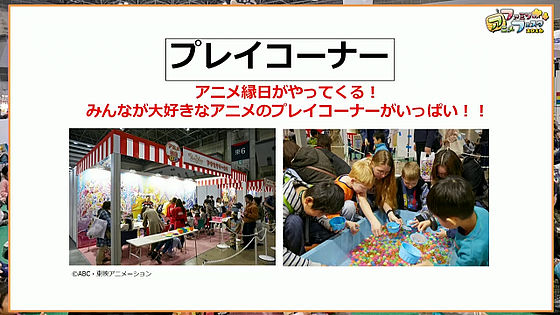 And "Family Food Park"Also.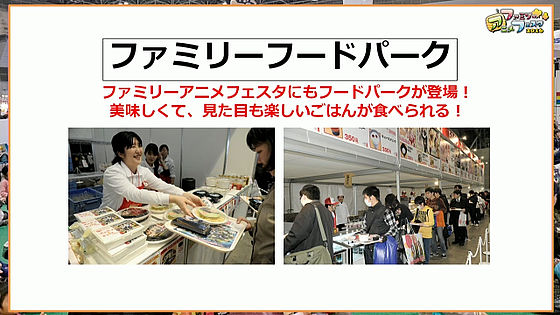 From here we go back to the entertainment category story. An announcement poster of animated works broadcasted and released in 2016 will be displayed "WALL OF ANIMATION 2016".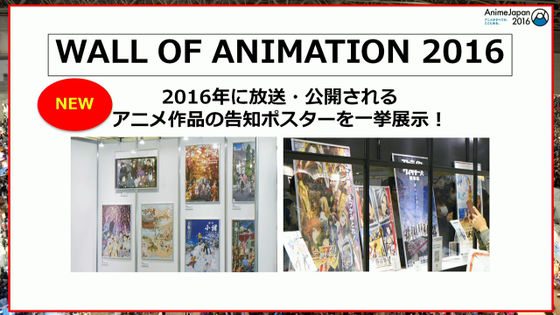 "AnimeJapan 2015 was popular"Premium Collaboration / Traditional Crafts"Appears again.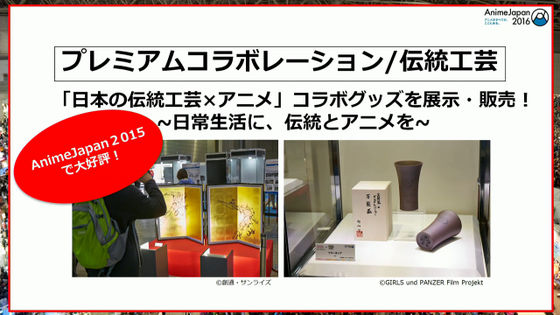 "Premium Collaboration / Fashion"Under the cooperation of SuperGroupies, a form of new collaboration of fashion and animation will be proposed.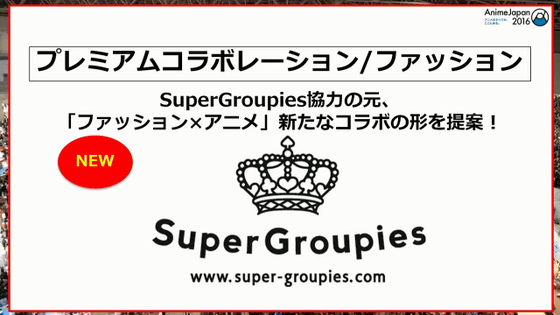 This was also popular with AnimeJapan 2015 "AJ Gacha"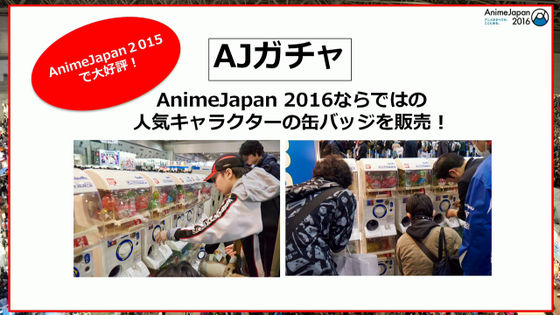 Designs and characters were announced.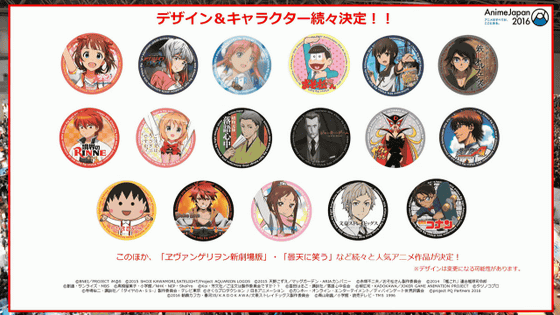 Open Stage · Contents of March 27th (Sun).

1:TV animation "SHOW BY ROCK !!" sequel & short animation production decision special stage ♪
2:Zegapain's 10th Anniversary Project Presentation(Sogol · Kyoto role Shintaro Asanuma, Kaminaki · Ryoko role Hanazawa Kana)
3:TV anime "Divine Gate" special talk event(Akane role Teruyuki Kakihara, Sei Mori Saito, Midori Kanai Ito, Arthur role Yuichi Nakamura, Ramorac role Chihiro Ichigi, etc.)
Four:The 2nd Annual Age Award(Moderator Masuzawa Chiaki announcer, Announcer Award recipient)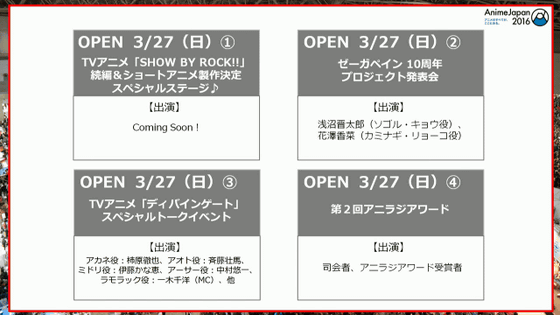 Five:Bandai Visual July New Program Release
6:Tohokushinsha new project presentation
7:Just before the broadcast! Animation "Ba Kuon !!" Stage(Rena Ueda Rika Ueda, Naoko Suzuki, Nao Higashi, Yumi Amano Amane Uchiyama, Sanno Sachiko Tanika Yamaguchi (planned))



Contents of the BLUE stage · March 27th.

1:"Re: A different world life starting from zero" Special event just before broadcast(Maincast scheduled)
2:"SUPER LOVERS" Special stage in Spring(Junko Hatohira, Haruhito Haita, Tomoaki Maeno, Aki Haito Ashiro Matsuoka, Sadako Sasaki, Mr. Aki Murase, Ayumu Murase, Jun Kurosaki Jun Fukushima)
3:Theater version "Yu-Gi-Oh! THE DARK SIDE OF DIMENSIONS" Special stage(Tsuda Kenjiro, Hanazawa Kana, Hino Satoshi, Takahashi Hiroki, Takeuchi Junko)



Four:"NEW GAME!" Cast presentation stage(Ryoui Aoba role, Takimoto Hifumi role, Shinoda beginning role, Iijima Yunori, Yagami Kou role, Toyama Rin)
Five:"Dimension W" Special Stage(Ono Daisuke, others)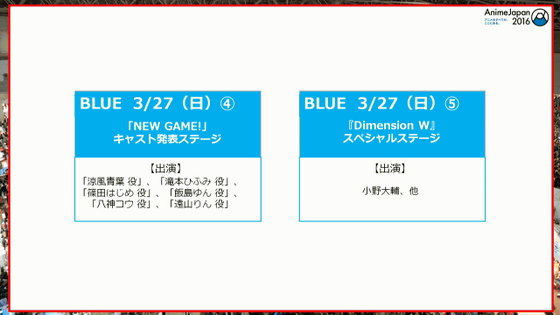 GREEN stage · Contents of March 27

1:"Kizunaiba" talk event(Kaji Yuki, Yamamura Hibiki, Terasaki Yuka, Maeno Tomoaki, etc.)
2:"High queue !! Second season" Special stage(Ayumu Murase, Ishikawa Toshin, Namikawa Daisuke (planned))
3:"Magi Sindbad Adventure" Special Stage(Ono Daisuke, Sakurai Takahiro, Fujiwara Keiji, etc.)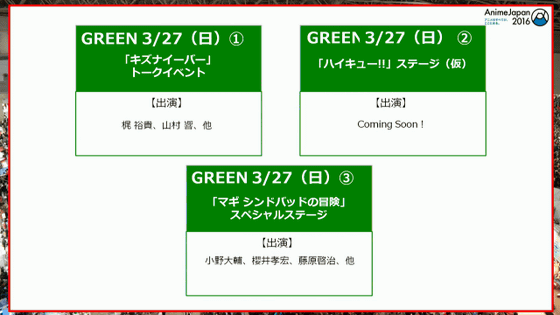 Four:File (N): project PQ original animation movie "Poppin Q" announcement Special stage(Izawa Shiori, Ozawa Aki, Kurosawa Tomoyo, Seto Masami, Terisaki Atsumi, and others)
Five:Anime Monster Strike



RED stage · Contents of March 27

1:TV anime "JoJo's Bizarre Adventure Diamonds Can not Break" Stage just before the broadcast(Toshiki Ono, Yuki Ono, Yutaro Kujo, Daisuke Ono, etc.)
2:B-project Premium Stage in AnimeJapan 2016(Daisuke Ono, Daisuke Kishio, Toshiyuki Toyonaga, Natsuki Hanoe, Kazuki Kato, Yusuke Kamihara, Tetsuya Kakihara, Shotaro Morikubo, Genki Okawa, Toshiki Masuda)
3:"My hero academia" Special stage just before the start of broadcasting(Yamashita Daiki, Miyake Kenta, Okamoto Nobuhiko, Sakura Ayane, Ishikawa Kokitan, etc.)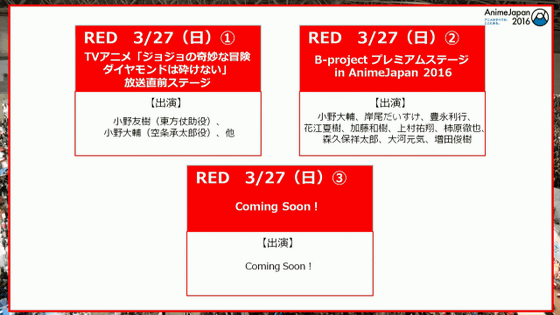 Four:Fate Project 2016(Noriaki Sugiyama, Ayako Kawasumi, Nobunaga Shimazaki, Risa Taneda, etc.)
Five:"Seven Deadly" stage(Kaji Yuki, Amamiya Tian, ​​Kuno Misaki, Yuki Akira, Suzuki Tatsuo, Fukuyama Jun, Takagi Yuhei, Miyano Mamoru)
6:"Bungo Stray Dogs" Special Stage(Nakajima Atsugu Uemura Yujiang, Daisai Osamu Miyano Mamoru, Nakahara Nakaya role, Taniyama Kisho, etc.)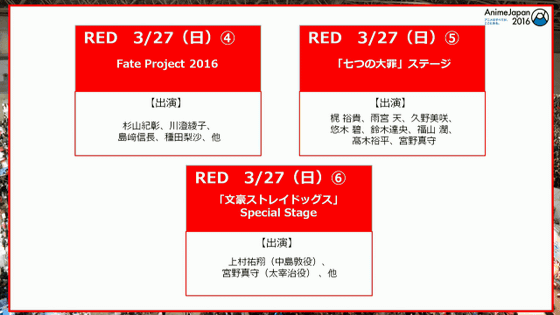 Admission tickets with stage selection drawing entry will be on sale from tomorrow, 18th December (Friday). Adults with junior high school students and above pay 1600 yen including tax. Admission is free for elementary school students and below. Sales are animate, CN play guide, Fami port, ACOS, gamers, written pond.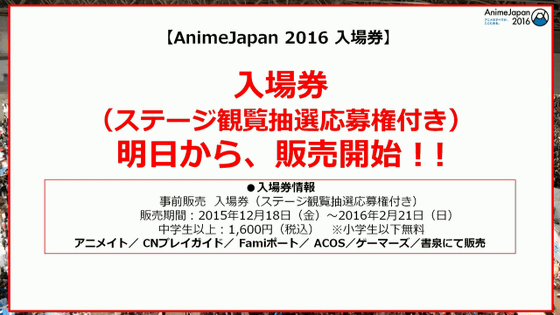 Stage information etc. which was still "Coming Soon!" Will be announced later, so check out the official website and official Twitter.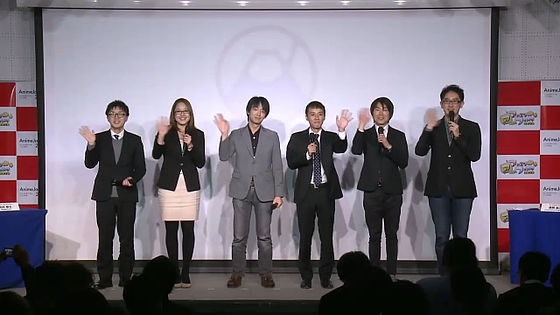 2016/01/25 13:41
The following information was updated.
3/26 RED STAGE PROGRAM 7 "Welcome to Euphonium - Hokuou Uji High School Wind and Bass Department - Welcome to the Euphonium - Kita Uji High School Wind and Band" - Special Event, GREEN Stage Program 2 "ReLIFE" Animation New Information Presentation, Program 5 Pretty Soldier Sailor Moon Crystal, Program 6 TV Animation "D. Gray-man" New Series Broadcast Decision Memorial Special Stage, BLUE Stage Program 4 "Three Three Leaves" Stage (Tentative), Program 7 Quality Code, Open Stage Program 4 Animelo Summer Live 2016 Press Conference
3/27 RED STAGE PROGRAM 3 "My Hero Accademia" Special Stage just before the start of the program, Program 6 "Bungo Starr Dogs" Special Stage, GREEN Stage Program 1 "Kizunaiba" Talk Event, Program 2 High Quief !! Second Season Special Stage, Program 4 file (N): project PQ original animation movie 'Poppin Q' works released Special stage, BLUE stage program 2 'SUPER LOVERS' Special stage in Spring, open stage program 4 2nd annual awards
in Anime, Posted by logc_nt