"AnimeJapan 2016" All articles summary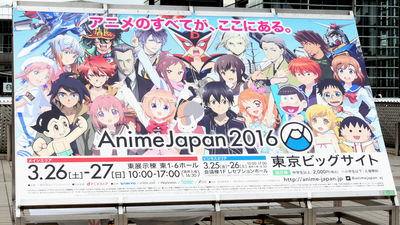 Under the shout of "All of animation is here", Japan's largest animation event that you can feel the current of animation · enjoy · thinkAnimeJapan 2016"Will be held from Saturday, 26th March and Sunday, 27th March 2016. "AnimeJapan" unified the two animation events "Tokyo International Anime Fair" and "Anime Content Expo" that were in the state of being held in the division, and that event will be held for the third time in 2016, We will also report the situation and the event of the venue from the local site this time.

AnimeJapan 2016
https://www.anime-japan.jp/

◆ March 20, 2016 10:02:00
"Touken Ranbu - ONLINE -" animation announcement announcement, animation production is animation production studio and ufotable - GIGAZINE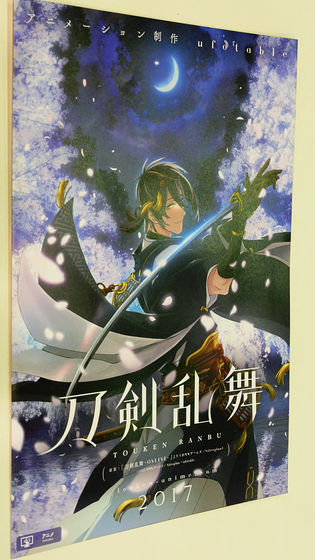 ◆ March 20, 2016 12:00:00
6 Tonen Oden - Jack & Rockets Specialty Cheese Burger - Yago Yagane Special Pizza etc Anime Collaboration Food Concussion to be Eaten at AnimeJapan 2016 - GIGAZINE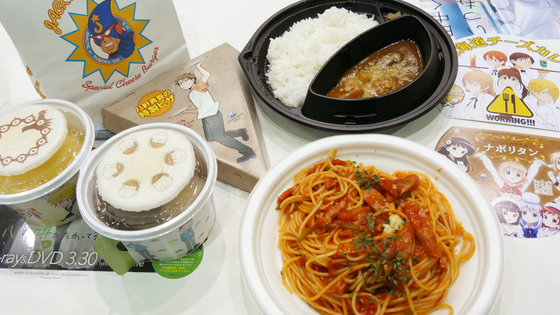 ◆ March 16, 2016 17: 00: 00 second
"Berserk" New animation starts in July 2016 and play song is Susumu Hirasawa - GIGAZINE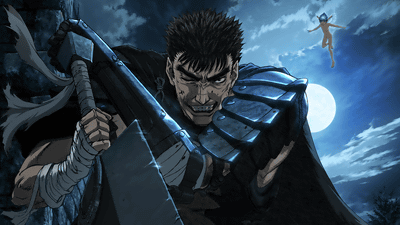 ◆ 2016 Mar 26th 21: 48h 00s
Cosplay & Costumes & companion photos that were coloring the venue of AnimeJapan 2016 Various photographs - GIGAZINE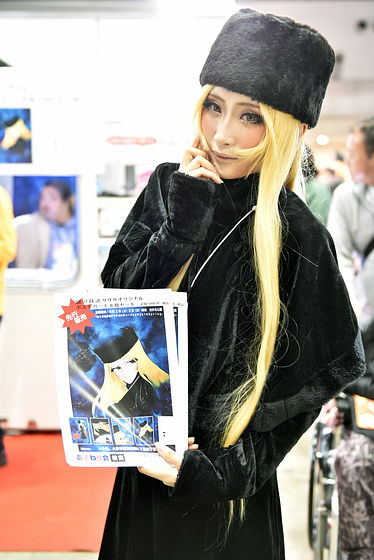 ◆ March 26, 2016 23: 59: 00 second
Commemorating the 100th anniversary of Japanese animation "Project for animation culture after 100 years" started - GIGAZINE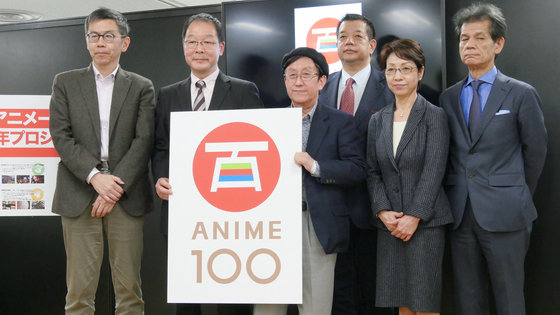 ◆ March 20, 2016 06: 00: 00 second
Producer 's spirit of' Four Sea Tamago 'reborn from Animation Mirai, 4 works produced in FY 2016 - GIGAZINE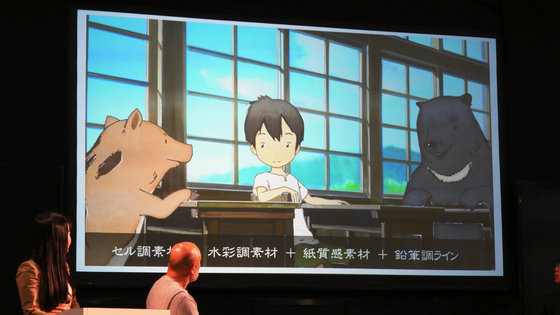 ◆ March 20, 2016 12:35 minutes 00 seconds
"Zega Pain" 10th anniversary project, "The Zega Pain Adaptation" theater screenings etc. Three major announcements - GIGAZINE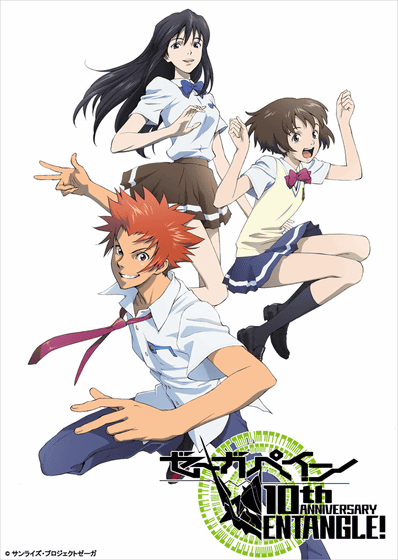 ◆ Venue landscape
The venue of AnimeJapan 2016 is Tokyo Big Sight.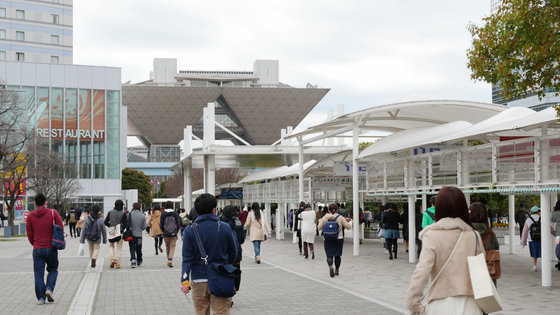 The opening of the main area is at 10 o'clock, but many people have gathered from the main area more than one hour ago.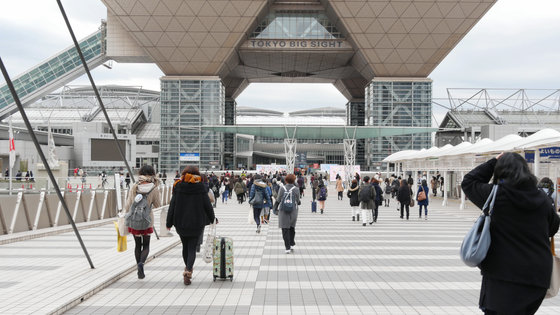 "All of the animation is here"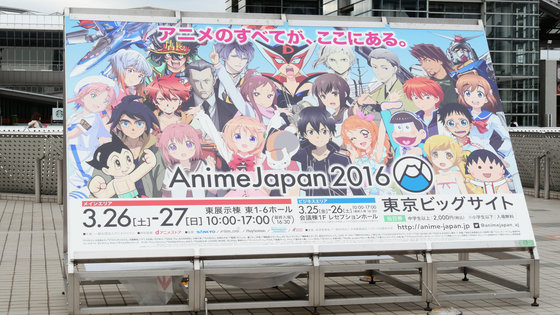 Family animation festa to be held simultaneously.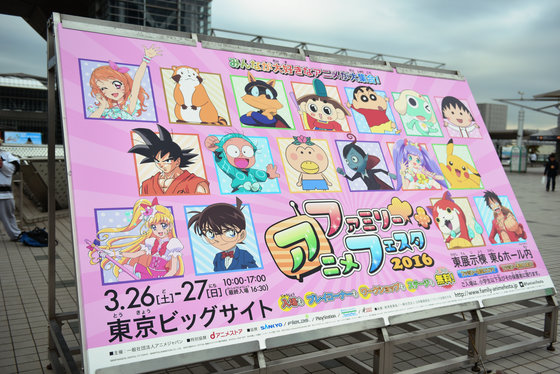 There are lots of animation related decorations in the central passage of the hall.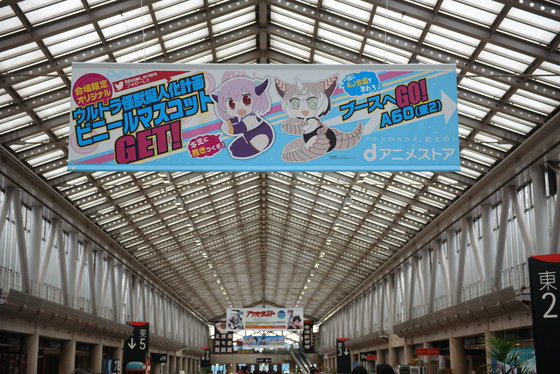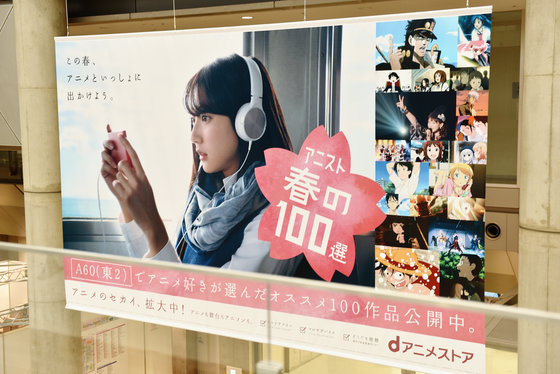 Winter animation in 2016Rakuen LogicWhen……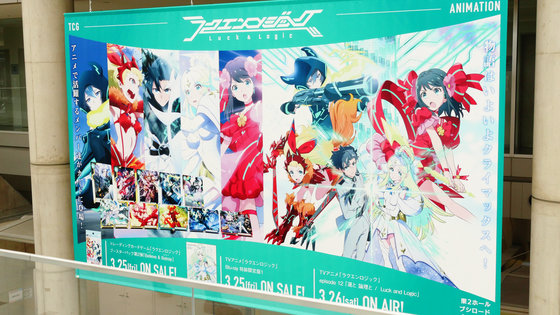 Active Raid - Movement Assault Room Eighth Family -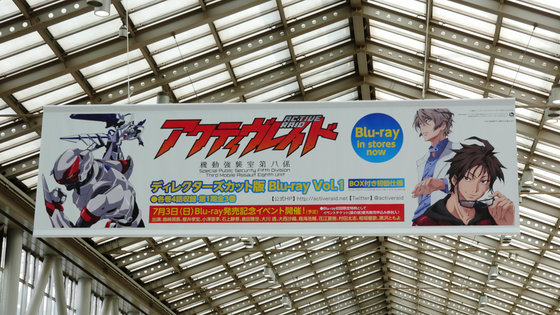 Start of broadcasting in AprilMacross △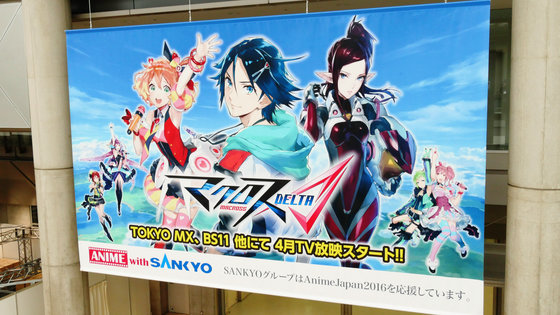 Furthermore, the broadcast started in July 2016BerserkWhen……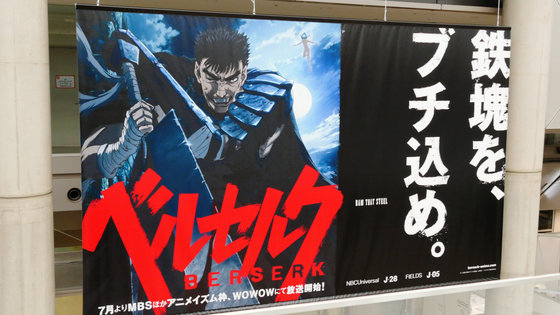 Also started broadcasting in JulyQuality Code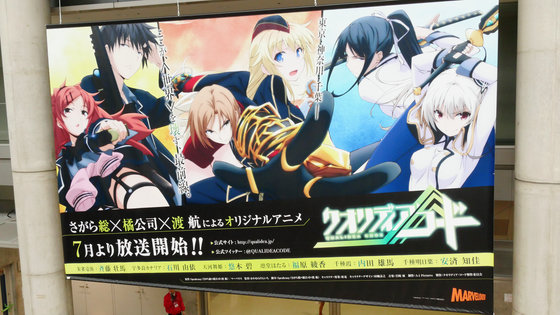 This autumn National Road Show has been decidedFleet Collection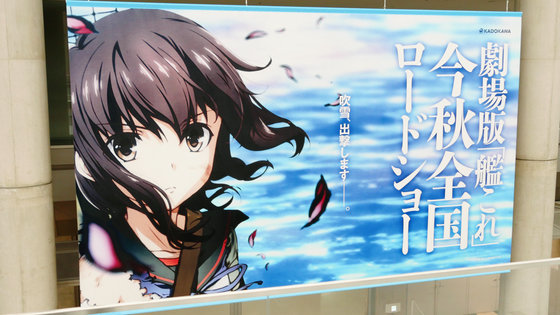 And the stage which starts in May "Touken Ranbu"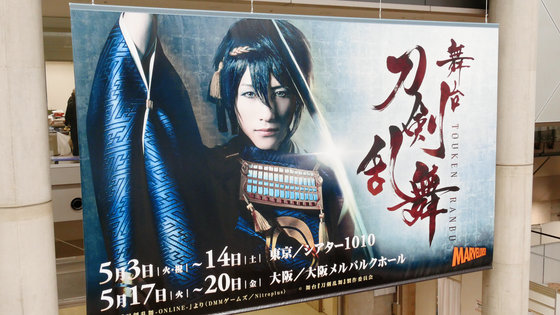 Around the big site in front of the venue like this will wait for entrance The wait queue is slurred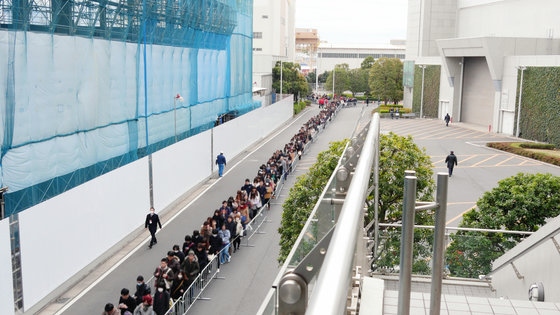 A lot of animation fans near the entrance gate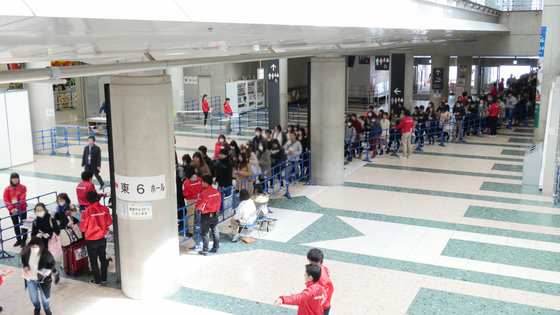 ◆ Cosplay Year's World
AnimeJapan 2016 has a zone "Cosplay Year's World" for enjoying cosplay. Here you can enjoy cosplay in the outdoor cosplay area from 10 o'clock to 16 o'clock. To enter the cosplay here, after entering the venue of AnimeJapan 2016, it is necessary to pay cosplay registration (registration fee: 1000 yen / day including tax). In addition, the official situation set of animation works is set right on the side of this cosplay area.

This is Mr. Osomatsu's official six-child futon shooting set. You can take pictures as if six children are sleeping side by side.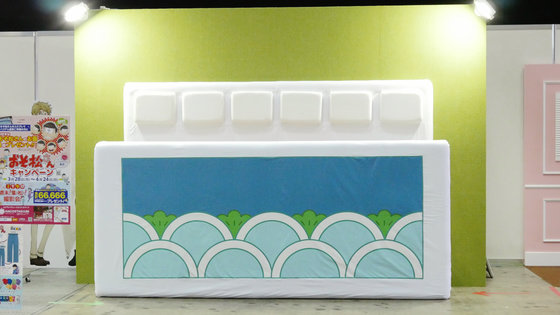 This is a sword art online official background set.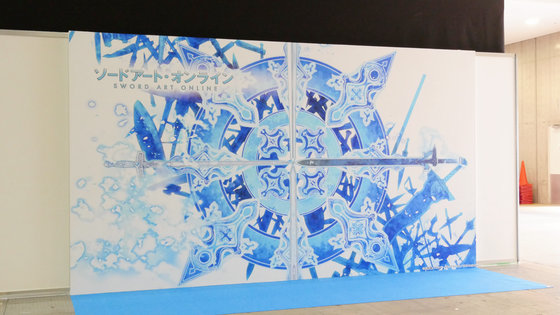 In addition to Osaka's cosplay special studioJaco StudioThere is a background set owned by you, and you can use it freely for shooting.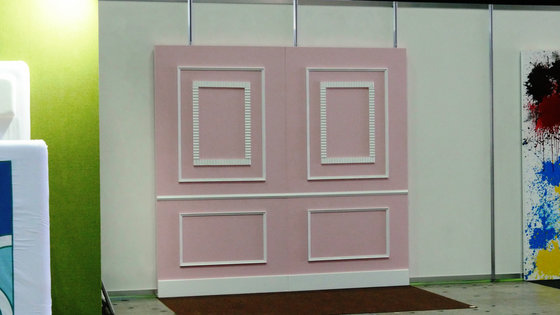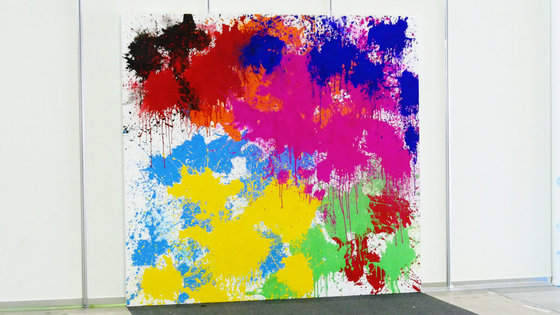 ◆ WALL OF ANIMATION
There is a zone called "WALL OF ANIMATION" right next to the Production Works Gallery in the 6th hole. This is an area exhibiting a poster of animated works broadcasted and released in 2016 at once.

With this kind of feeling, posters of animation broadcast or released in 2016 on the whole wall are slurred.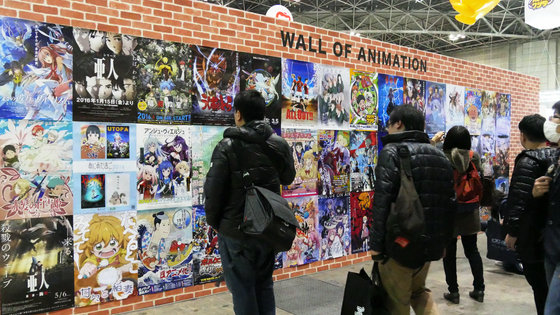 "Twisted egg egg 2016"Poster and trading card game decided by July broadcast is the original"Ange-ViergesPoster.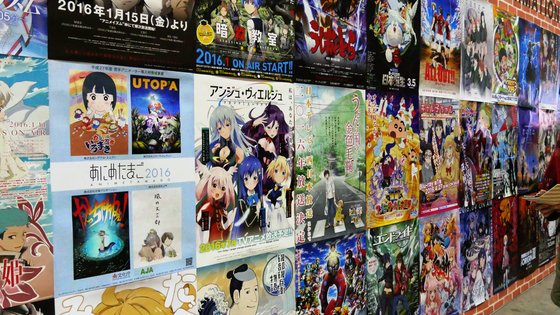 Winter broadcast of 2016 "Forrhythm beyond the blue"Or"Fellow","Assassination Classroom"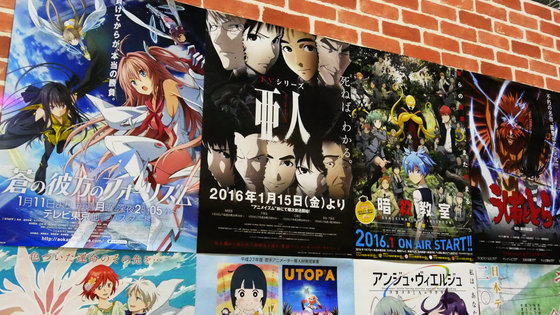 The second episode of TV animation was just broadcasted "High Queue! !", The broadcast of the third period was announced, the main visual was released. In the second stage until the battle with Aoba Josai West High School has ended, in the third stage finally a game with Shoinosawa Gakuen with a beef will be drawn.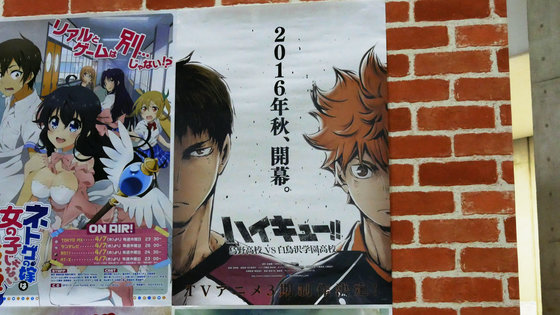 Also poster of 'Natsume Yujincho Boku' which becomes the fifth term of TV animation series.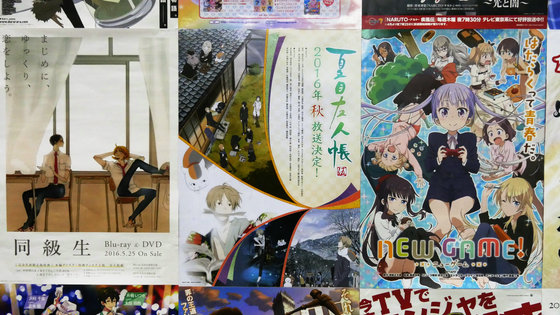 TV broadcast has been decided "Mobile Suit Gundam Unicorn RE: 0096"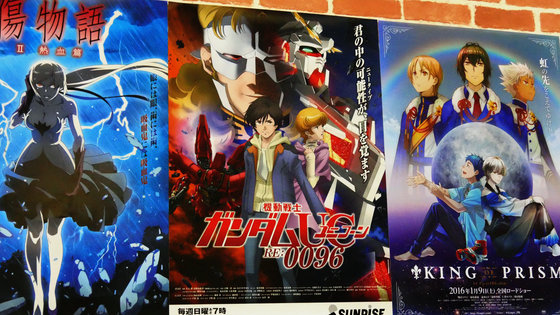 In addition, the latest work by Director Shinkai Makoto released in August 2016 "What is your name?And ...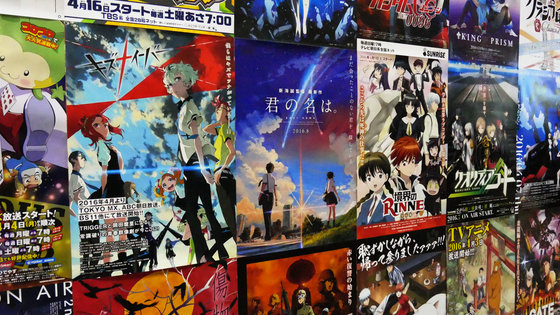 "Mobile Suit Gundam THE ORIGIN III Akatsuki no Uwaki"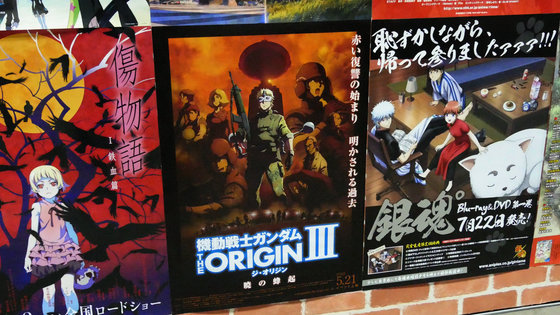 "Digimon Adventure tri.Chapter 2 "Resolve" "classmate"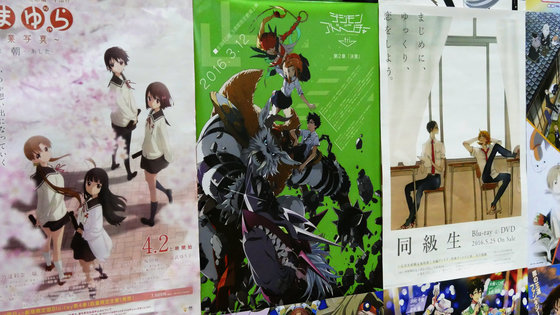 "Sound in theatrical version! Welcome to Euphonium - Kita Uji High School Brass band -"Yu-Gi-Oh! THE DARK SIDE OF DIMENSIONSThere are also posters of theatrical version animation such as.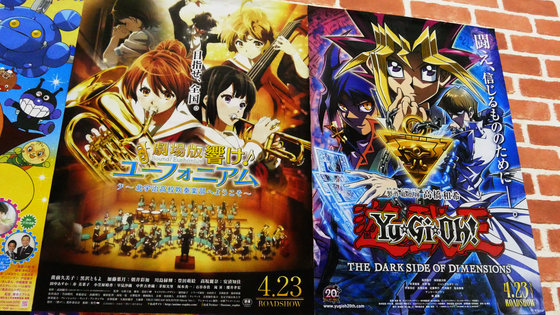 Anyway a lot of posters have been affixed, and how many are 98 pieces.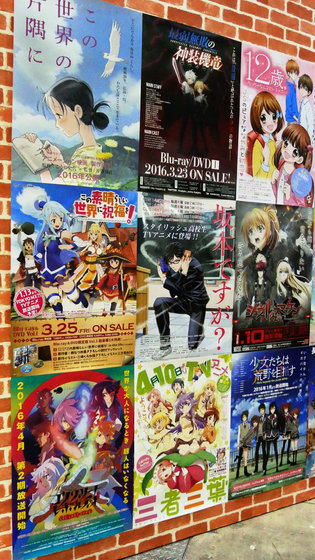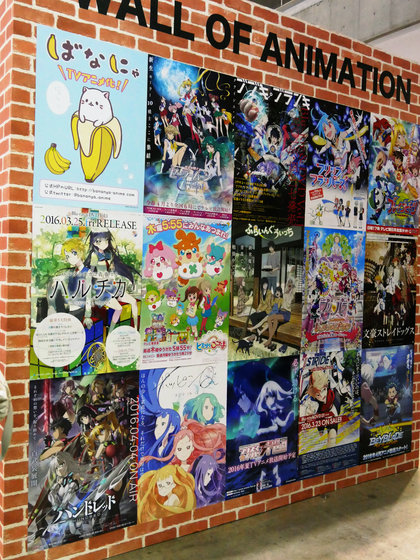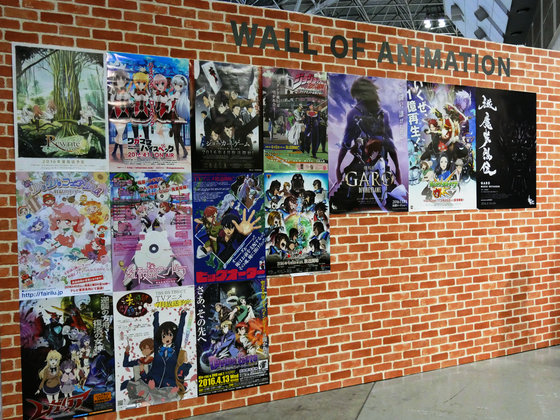 Three larger posters than other posters. This will be the movie version of the flame engraving which became the first animation work of the False Wolf Series from the left "Fragrance GARO -DIVINE FLAME-"Anime Monster Strike"Fragrance GARO - Magic episode -"