Google Introduces Cheap 10,000 Yen Sumaho "Android One" to be released in September 2014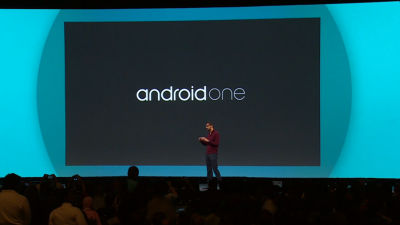 Cheap smartphone whose selling price is around 10,000 yen, which Google has been developing mainly targeting emerging marketsAndroid OneIt will be released in India in September.

Android One set for India debut in September; Micromax, Karbonn ready to launch smartphones - The Economic Times
http://economictimes.indiatimes.com/tech/hardware/android-one-set-for-india-debut-in-september-micromax-karbonn-ready-to-launch-smartphones/articleshow/40876824.cms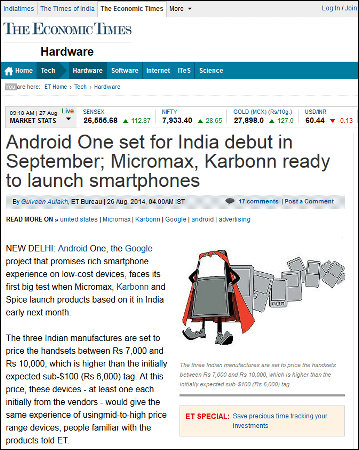 Report: First Android One devices hit India next month for $ 115 - $ 165 | Ars Technica
http://arstechnica.com/gadgets/2014/08/report-first-android-one-devices-hit-india-next-month-for-115-165/

Google held the Japan time on June 26, 2014 "Google I / O 2014"We announced that we will develop" high-quality, low-priced smartphones "for emerging countries including India, and this time it became clear that it will actually start. It seems that the price of the terminal has been slightly exceeding "100 dollar or less (about 10,000 yen or less)" originally targeted, and the selling price in the local area has increased from 7000 rupees (about 12,000 yen) to 10,000 It is said to be about Rs. (About 17,000 yen).

Although the actual device has not been clarified yet, the terminal equipped with the 4.3 - 4.5 inch display is equipped with a quad-core processor, a 1 GB RAM, a 5 megapixel camera, the latest version of KitKat 4.4.4 It is said to be adopted. Moreover, it seems that it is possible to listen to FM radio with dual slot and external SD card slot that can insert two SIM cards in the main body. In the production of the device is a manufacturer of IndiaMicromax,Karbonn, AndSpiceIt is supposed to be in charge.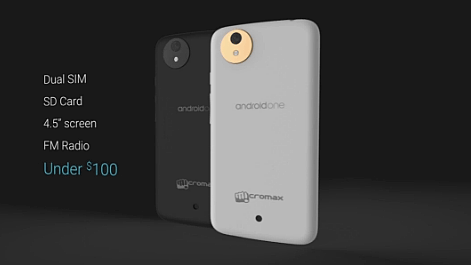 In addition, the OS is expected to appear in October 2014Android LIt is also possible to upgrade to the Android device at low cost to users, aiming for enclosure.

India is a country with a population of about 1 billion people, so Google's choice of India seems reasonable. The world's largest market is now China, but based on various reasons, Google has not put much effort into China. It is already strong in the second market, America. Google's strategy, which aimed India as the third market after this, is a natural flow. In addition, the Indian smartphone market is showing the world's largest growth in the first quarter of 2014, which is surprising given the fact that it is a market with only 10% smartphone usage in India Numbers. There is plenty of room for smartphones to grow in more than 1 billion people in India.

The following article contains one scenery of such India. You can catch a glimpse of the fierce battle spreading to buy train tickets.

Buy a ticket, but the Indian station which fights a fierce death battle for that - GIGAZINE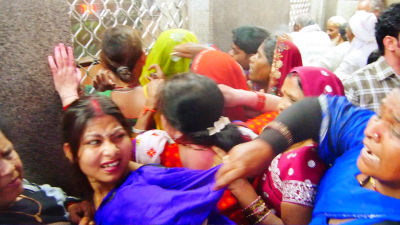 Google plans to promote advertisement with a budget of 1 billion rupees (about 1.7 billion yen). First of all, it is supposed to be India as a test case, and depending on the circumstances, it will be extended to other countries as well. Analyze the market share of the worldIDCAccording to the situation that Android's global share is 85%, iPhone 12%, Windows Phone 2.5% far apart. Future Prospects IDC says, "Furthermore, the need for low-priced aircraft like Android One gets stronger, and it is thought that the market share will increase further from 59% occupied by smartphones as a whole".