Apple will report "Bargain Edition iPhone 4" coming soon to sweep the world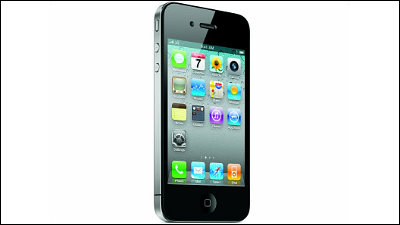 Although it was overtaken by the global share of Google's Android smartphone, it is Apple that continues remarkable growth, such as by introducing iPhone 4 compatible with CDMA 2000 to Verizon Wireless of America's largest mobile phone company in January this year, It is reported that we plan to introduce "Bargain Edition iPhone 4" in the near future in order to sweep.

Exclusive: Apple readies cheaper iPhone for growth markets | Reuters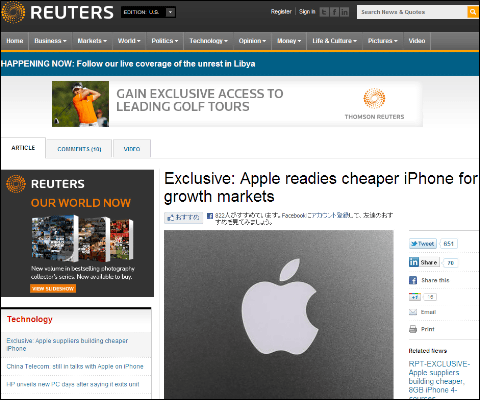 According to Reuters news agency reported by the scoop, while expectations for the release of "iPhone 5" are increasing, two people that Apple plans to release a cheap version iPhone 4 with 8 GB of flash memory together Industry officials said that it revealed.

Apple has traditionally released only high-end models, but is currently looking for new sales channels to maintain further growth. We are already discussing the sale of Chinese mobile and China Telecom and low price iPhone 4 in China, and it is said that intention to introduce the same model to emerging markets where NOKIA and other manufacturers hold high market share.

In addition, industry officials revealed that the 8 GB flash memory installed in the low-priced iPhone 4 was outsourced to Toshiba and Samsung, but Apple and Samsung refused to comment.

By the way, it is the selling price of the cheap version iPhone 4, but analyst lists that the price of iPhone 4 that can be purchased without a contract with mobile phone company is at least 600 dollars (about 46,000 yen) , "It is difficult to fall below 200 dollars (about 15,000 yen)", and there is some uncertainty as to whether low price models will actually spread in emerging markets and the like.

Given the high degree of completeness of the iPhone 4 as a smartphone, the possibility of sweeping the world more than ever with the introduction of low-priced versions is fully conceivable, but next time other camps will ask Apple It seems that attention will also be gathered against countermeasures that are supposed to come out.
in Mobile, Posted by darkhorse_log