Sharp will release the world's first '3D smartphone' within the year, 3D images can be taken with naked eye 3D support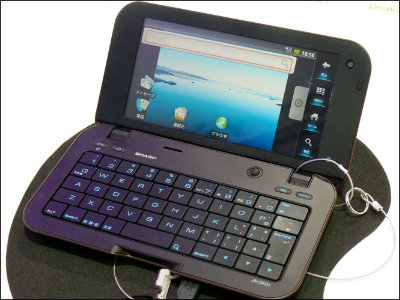 For the holiday shopping season,KDDI announces the launch of smartphones that adopt services for Japanese users such as Osaifu-Keitai and One SegSharp is the world's first "3D smartphoneIt is clear that it is intention to release it within the year.

Nintendo announced in June "Nintendo 3DSSimilarly, it supports 3D content display with the naked eye, and it is also possible to take 3D images.

Note that the above imageSmartphone for au "IS 01"It is an Android terminal for developers based on.

Details are as below.
Asahi.com (Asahi Shimbun): World's first 3D mobile phone launched within the year Sharp - Business · Economy (1 / 2page)

According to an interview that the Asahi Shimbun went to Sharp's president Mikio Katayama, Japanese manufacturers have been forced to struggle with overseas forces on television and mobile phones, and in order to combat the current situation, the "3D It is said that he decided to sell the smartphone in the world.

The company holds technologies such as naked eye 3D liquid crystal that Apple and Samsung do not have, and expects synergy with 3D TV by launching smartphones packed with 3D camera and 3D liquid crystal within the year. And, "Japan in which the mobile phone has become highly functional, has been made foolish as" Galapagos ", but in the 3D age it will be a weapon."

By the way, Sharp holds technology concerning the naked eye 3D liquid crystal, such as releasing the SH251iS cell phone compatible with naked eye 3D in 2002,We are developing a camera module for smartphones that enables the shooting of 1280 x 720 high definition HD 3D stereoscopic images in MayApparently, the smartphone made by the company which will be released within the year seems to be a model that fulfills the skill of those technologies.

Also,Android smartphone "a01" for auAnd "LYNX" for NTT docomo, Sharp has succeeded in installing one-segment reception function on Android smartphone,We will continue to expand Android product groupFor this reason, it seems that Android smartphones, which are very interesting from Sharp, will appear in the smartphone market where overseas forces are ahead.
in Mobile, Posted by darkhorse_log