I asked SanDisk that SSD "SANDISK G3" which has long life span and high performance SSD was various about SSD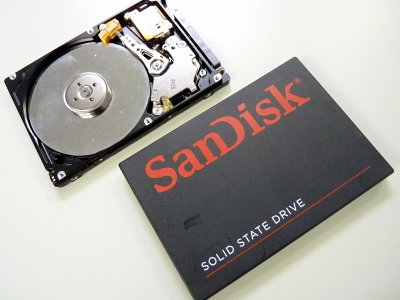 SDHC memory cards and memory sticks that are no longer necessary for personal computers, digital cameras, and mobile phonesSanDisk which occupies the world market share as "flash memory card"However, actually it accounts for half of the company's sales is built in netbooks, laptop computers, etc.SSD (Solid State Drive)Such asOEM (Production by counterpart brand) business.

This time about SanDisk's OEM product circumstances, the company developed in February, developed independentlyExtremeFFS technology for high speed and long lifeBy usingHigh-end SSD "SANDISK G3" series that combines six times the life of HDD, high-speed transfer, high durabilityI tried interviewing mainly.

Although it is "SANDISK G3" that the company will release with confidence, such as a 10-year product warranty is attached, the old personal computer which had been forced to replace until now is replaced with "G 3" for product life It is said that it is possible to prolong.

Also, when the SSD falls to affordable prices,An inexpensive SSD of about 10,000 yen which other companies are launching recentlyWe also asked about countermeasures against.

Details are as below.
This time I did an interview with Mr. Doreet Oren, Director of Product Marketing at SanDisk Corporation SSD Product. I am a computer science major at George Washington University where I am from, and I am a lecturer at various conferences and lectures around the world.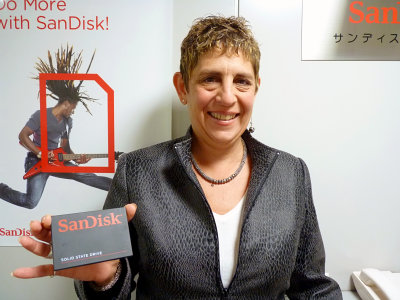 GIGAZINE:
In the first place, it seems that there are people who do not know much that SanDisk is handling OEM (production by counterpart brand) products, but concretely SanDisk's flash memory products are a product group (laptop computer, Is it OEM supplied to netbooks, mobile phones, memory cards released under other company's name, etc.)?

Dr. · Oren:
Although SanDisk is well-known in retail divisions such as memory cards sold under its own name, the OEM business has also achieved considerable success, accounting for 50% of total sales in 2009.

SanDisk 's sales breakdown for 2008 and 2009. In 2008, the OEM business, which remained at 36%, has increased rapidly to 50% in 2009.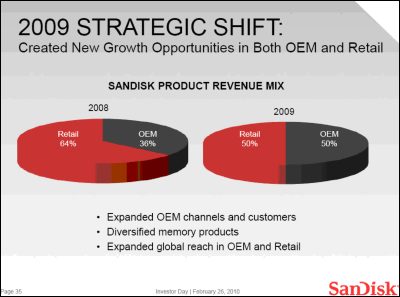 Dr. · Oren:
We are unable to publicly disclose that many manufacturers are basically receiving OEM supply regardless of Japanese manufacturers or overseas manufacturers, so we can not tell you a specific example, but among the top 10 companies in the netbook market , ASUS and HP, Sony, LG Electronics, etc. adopt SSD products of SanDisk. Also,Sony's thin notebook computer "VAIO X"YaASUS's "EeePC T91MT"Etc. have announced that they are adopting SSD of SanDisk.

This is "pSSD" which is used for netbooks and others. The left is serial ATA specification and the right is parallel ATA specification.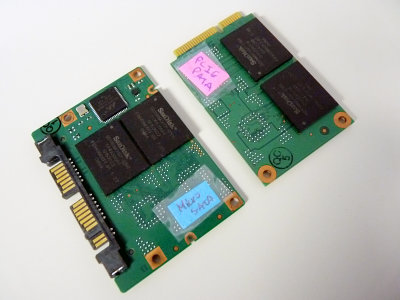 GIGAZINE:
In an interview with Mr. Eric Bone of product marketing at vice president of SanDisk before,The flash memory card product is the world's largest shareAlthough I was asked, what is the share of SSD products?

Dr. · Oren:
Regarding netbooks, as mentioned earlier, 8 of the top 10 netbook makers have adopted our SSD products, and we recognize that it is the brand adopted by the most netbook manufacturers .

Meanwhile, as users strongly demand "netbooks to be inexpensive laptop computers", the result is that large amounts of inexpensive HDDs occupy most of them. However, tablet devices like Apple's iPad are creating a new flow, and I think that we can hope for demand for flash memory products more than netbooks.

Regarding the share of SSD in notebook PCs, we believe that we can build a strong position by "SANDISK G3", which we recently started shipping samples for OEM. Since it has just shipped, it is not in a state where sales can be made.

GIGAZINE:
By adopting "ExtremeFFS" technology for high speed and long life,We began shipping SSD "SANDISK G3", which is six times longer than general HDDs, to North America and Europe for FebruaryBut what kind of targets is this product targeting?

Dr. · Oren:
There are several, but I am targeting users who are interested in SSD, who want to jump to the latest products, businessmen with many business trips, and users who do not spare money for those that are really worth it. Also, we are offering samples for manufacturers currently supplying OEM and are being verified.

Also, in cases other than individuals, we have a large number of notebook computers inside our company and the burden of costly replacement at a stretch is severe, so we are also targeting companies that want to change only the installed HDD to SSD.

Although the aged deterioration of the HDD is basically considered as the reason why the performance of the notebook computer is degraded basically, because it is a lifetime that lasts about two years by converting it to "SANDISK G 3", we are considering replacing in the United States already I also have a company.

And inside SanDisk there was a move to replace the HDD of old notebook computer with "SANDISK G3", and as a result, we performed a test to replace 30 to 40 of our internal PCs as an initial stage, so it was popular The result of extending the target to 70 units and testing and getting feedback was also very satisfying.

Regarding replacing HDD with "SANDISK G3", I was able to make such a presentation in the company, so I was extremely glad that I gained such a rating.

This is "SANDISK G3". It is the same shape as the 2.5 inch type HDD.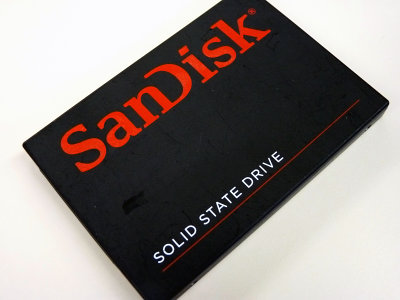 The back side looks like this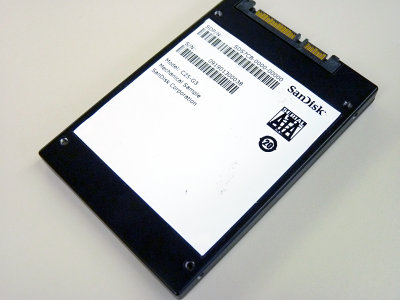 GIGAZINE:
Also,Formal announcement in January 2009It took about a year from release to release, but did you have any hurdles in commercializing it?

Dr. · Oren:
There was. It took longer than expected to secure reliability, performance and durability.

In order to demonstrate the best performance and high durability to SSD, it is not an algorithm called "block base" which is flash control which is currently used as a standard in the industry, but rather an algorithm called "ExtremeFFS" Migration was necessary.

"SANDISK G3" uses a page-based algorithm, but such a change in algorithm is large enough to see whether it happens once every ten years, most flash memory makers are page based I can not move to algorithm.

Since it is our opinion that such products are "to make it properly", we have spent a lot of time building it so that users can use it properly. We are satisfied with the completed "SANDISK G3". Because I am confident in this technology, I have made the warranty period of the retail version 10 years.

Although the spread of SSD has been delayed due to the global economic downturn and flash memory price hike, therefore, the aim is to secure a user experience that can comfortably use OS and applications without urgent productization There was also.

With regard to performance, SSD supports the "Trim command" installed in Microsoft's latest OS "Windows 7", so that initial performance can be maintained for a longer time. If the SSD maker does not correspond to the "Trim command", the performance will slow down as time goes on.

GIGAZINE:
By the way, what exactly is the page base algorithm "ExtremeFFS"?

Dr. · Oren:
Before explaining the page base algorithm, let me explain the characteristics of the NAND flash memory and the "block based algorithm" which is the flash management technique which is currently commonly used.

The NAND flash memory is made up of an aggregate of fine "blocks" that record data, but because of its nature, it is impossible to overwrite only a part of the block in the flash memory, so when writing data , The entire block is erased once.

Even if the data to be written is as small as 4 KB, which is less than the capacity of one block, it is necessary to erase in block units and copy the block in which the data in the corresponding portion is rewritten to the new free area. This takes time to write the data and wears the flash memory more than necessary.

This is an image diagram of the flash memory. In the block, colorful data is recorded, but in the conventional "block-based algorithm" you can not say "overwrite only the red part".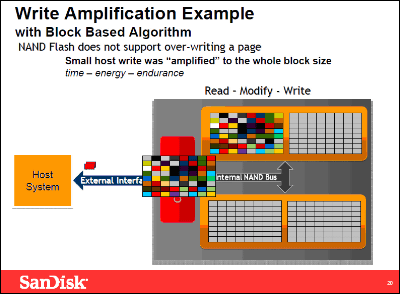 Dr. · Oren:
Now, for page based algorithms, it is not necessary to erase the data in the entire block simply by recording it in an arbitrary vacant area when writing data and marking the old data "invalid" . This enables faster processing than the conventional SSD that rewrites on a block basis and enables useless processing to minimize wear as much as possible.

GIGAZINE:
Are there any plans to provide a high-speed type SSD with a parallel ATA model that can be used with an old personal computer?

Dr. · Oren:
Although already providing parallel ATA products with pSSD, since the latest PCs basically support Serial ATA and analysts said the parallel ATA market is not so large, regarding "SANDISK G 3" There is no plan to launch a parallel ATA model.

In addition to models with the same shape as 2.5 inch HDD, we are planning to provide SSD products to fit various form factors, but we are checking the design, thickness, etc. specified by OEM manufacturer .

GIGAZINE:
Is it still a strength that HDD can not match thickness and design according to demand?

Dr. · Oren:
I agree. At first, according to the shape of the HDD, it was similar to the design like a carriage at the beginning when the car first appeared, now it is like a sports car or a one box car As with cars with different shapes to match, you can offer according to the size you want.

"SANDISK G3" which has the same shape as a general 2.5-inch type HDD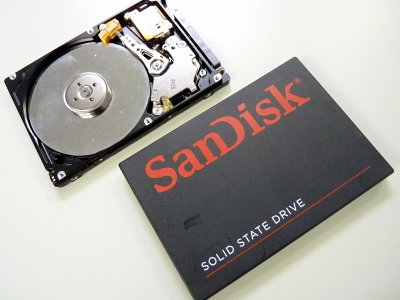 The memory module inside is like this. Unlike HDD, size and shape can be changed according to your request.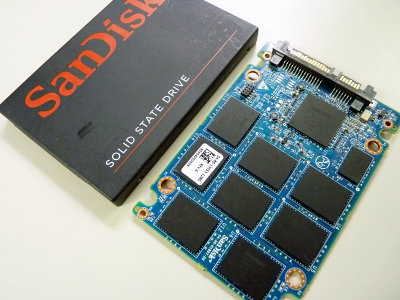 GIGAZINE:
OCZYaIntelLaunched the inexpensive SSD that can be purchased around 10,000 yen instead of limited capacity and performance for PC startup drive, is there a countermeasure as SanDisk?

Dr. · Oren:
It is a situation where we are judging the market trend now. I think that it is necessary to issue products with strengths that can compete when judging it to be an important market.

GIGAZINE:
Intel and Micron Technology Announces NAND Flash Memory with 25nm Process in FebruaryAlthough the movements of competitors are also becoming active, such as doing, please tell us the strengths SanDisk has against the competitors.

Dr. · Oren:
First, SanDisk has a history of handling flash memory over 20 years, and has the advantage of holding numerous patents. For example, Founder and Chairman and CEO Eli Harari is a pioneer who acquired the very first patent on MLC (Multi Level Cell) flash memory.

In general, as the miniaturization (shrinking) of the manufacturing process progresses, the management of the flash memory becomes more and more difficult, but as the shrink progresses, the patents and know-how that we hold lives.

In addition to SSD products, we are also handling flash memory products such as memory cards, having a factory in collaboration with Toshiba, and also working on our own flash memory controller , I am sure that I will continue to secure this position as it is a company with a long history and professionalism.

GIGAZINE:
How far is the flash memory product market actually growing?

Dr. · Oren:
This is predicted by many analysts, but it is said that the market for flash memory products for PCs and mobile phones will grow dramatically in the future.

SanDisk is already expected to grow the most for mobile products, the next is expected to be for personal computers, but SanDisk already has it as mobile flash memory in February this year"INAND" of up to 64 GBHas been released.

GIGAZINE:
Although it seems that SSD having the strength of high reliability and high durability is suitable for server application, is the market for server actually expanding? Also, please tell us how much pace (what percentage in the previous year or not).

Dr. · Oren:
Although the server market is expanding, there are unique specification requirements for servers. The "SANDISK G3" currently on sale meets the requirements of several applications. However, in order to fully launch it for servers, it is necessary to develop products for that market. Currently we are focused on consumers.

GIGAZINE:
SanDisk remembers that there was a semiconductor factory in Yokkaichi city, Mie Prefecture, but Toshiba Corp. has announced that Toshiba Corp., which has a collaborative relationship, will construct the fifth manufacturing building as a new semiconductor manufacturing building, the completion time will be Spring 2011 It is. Does this have an impact?

Dr. · Oren:
Toshiba and SanDisk are partners, but we have different business strategies, so we can not comment on our future business strategy.

GIGAZINE:
Although it is still SSD to be closed by the unit price per storage capacity as compared with HDD, when will it be when the price will drop to more affordable price?

Dr. · Oren:
When discussing cost performance, the unit price per 1 GB is often cited, but according to analysts' predictionFrom 2011 to 2012 it is expected to be "1 GB = 1 dollar (about 92 yen)"is.

Prediction by analyst. For SSD, the unit price per 1 GB will be 1 dollar from 2011 to 2012, and it will be about 0.5 dollars (about 46 yen) per 1 GB after 2013.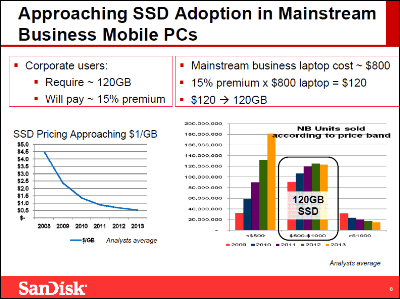 GIGAZINE:
Please tell us the future vision of SanDisk.

Dr. · Oren:
NAND flash memory is expected to be used for a long time in the future, and we expect that the market will continue to grow as many consumer devices that use flash memory will be released in the future.

Also, in addition to the market for mobile devices in the next few years, as the market for personal computers currently HDDs are predominantly expected to grow, "There is a chance to replace flash memory where there is HDDBased on this idea, I would like to continue working diligently to spread flash memory products in the future.

GIGAZINE:
Thank you very much.