The 2009 Formula 1 World Championship is beginning with a one-time finish by a new team in 55 years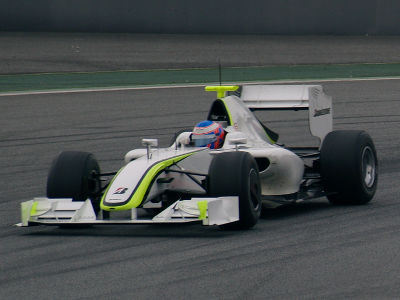 The 2008 Formula 1 world championship became the youngest world champion under the control of Luis HamiltonIt was supposed to reign as a champion this year. However, in 2009 when there was a major change in regulation (rule), Hamilton was forced to face a considerable struggle in the preliminaries of the first round of the Australian Grand Prix, and instead, the new team's Brown GP that appeared from this season has made a breakthrough. It was a shocking start to be a debut fight with one team for the first time in 55 years since 1954 One-touch finish.

Details are as below.
Last year's F1 World Championship was a champion's death tangle until the final race, McLaren'sLewis HamiltonBecame the champion, and Ferrari'sFelipe · MassaI missed the champion. Therefore, although it was thought that Hamilton will show the speed again this year, Ferrari and McLaren suffer from the adjustment of the machine in response to the change of the regulation, the emerging team's Brown GP and Toyota will grow It was decided. Hamilton dropped out in the second round of the qualifying, there was also a gearbox exchange, starting from the 18th grid, how the beginning is Brown GPJenson ButtonWhenRubens Barrichellowas.

Brown GP machine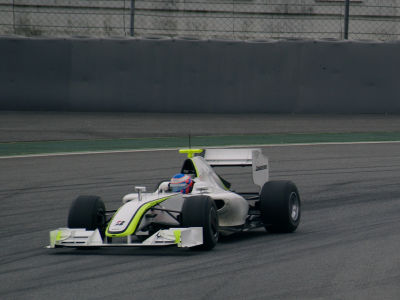 By cotxe87.comCreative Commons

Changes in regulations are made every year, for example between 2007 and 2008 there were banned the use of a traction control system to prevent wheel spinning and the removal of spare cars. However, the change from 2008 to 2009 is a change which severely changes the appearance of the machine in the first place, "introduction of KERS (kinetic energy recovery system)" "change to tire slick tire" "wing miniaturization" It was like.

Toro Rosso's machine.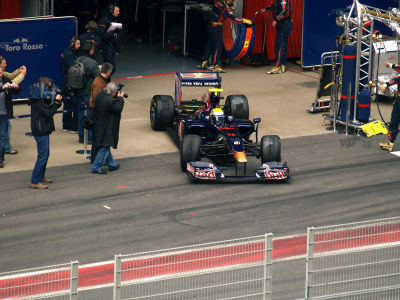 By cotxe87.comCreative Commons

The Australian Grand Prix is ​​the first race of the year and there are also many machine troubles in the usual cases and there are also cases where multiple crashes occur in the first corner, and in the 2008 race only eight of the 22 races completed, the safety It was a turbulent race that cars were introduced three times. Hamilton 's teammate Kovalainen retired due to a crash in the first corner this year. I was fighting 2nd in the remaining 3 lapsRobert KubicaWhenSebastian WetterBrought in contact with each other and both retired. Safety cars were introduced and it was finished as it was and it was a bit of a turbulent race. As a result, Jenson Button once decided Paul Twin without giving up the top position, Barrichello who failed the start and failed in ranking again came back and became a one-time finish by Brown GP. In addition, Toyota's Jarno Trulli entered 3rd place but received a penalty because he pulled out the previous car since the safety car entered, Hamilton who was 4th was carried forward.

4/3 postscript:As a result of FIA 's interview hearing later, Trulli was ranked 3rd as he went on due to the fact that overtaking by Trulli during safety car was not a violation. In addition, Hamilton became deprived of points as he made false testimony after the race.

McLaren's machine.


By cotxe87.comCreative Commons

This race was a record and the new team won the pole position in the debut race since the 1970 Canadian Grand Prix Tirel since the 1970 South African Grand Prix march since 1970. Victory in the debut race since the Wolf of Argentina GP in 1977, the one - time finish of the debut race since the Mercedes of the French Grand Prix in 1954. In addition, Brown GPHonda withdrew F1It is the thing which took over the team from the engine supply source is Mercedes but the management team is continuing as it is and it is not a completely new team so it may be that the accumulation so far lived.

The drivers who fight the Formula 1 world championship 2009 are as follows. Toro Rosso had a possibility that Taku would return to the last minute as to whether either Buemi or Takuma Sato would be appointed, but unfortunately Buenami was adopted. Buemi has finished 7th in this Australian Grand Prix at the moment and has won 2 drivers' points.

McLaren: Luis Hamilton, Heikki Kovalainen
Ferrari: Felipe Massa, Kimi Raikkonen
BMW Sauber: Robert Kubica, Nick Heidfeld
Renault: Fernando Alonso, Nelson · Piquet Jr.
Toyota: Jarno Trulli, Timo Glock
Toro Rosso: Sebastian Bourdais, Sebastian Buemi
Red Bull: Mark Webber, Sebastian Vettel
Williams: Nico Rosberg, Kazuki Nakajima
Force India: Adrian Sutil, Giancarlo Fisichella
Brown GP: Jenson Button, Rubens Barrichello
in Note, Posted by logc_nt